20 Most Expensive eBay Items Sold in 2019
eBay has become Antiques Roadshow for people with a pulse. The popular online marketplace was used to sell some wildly outlandish things in 2019. The top 20 list is dominated mainly by high-end sports cars, although it's the top billings that will surely raise a few brows.
The most expensive eBay purchase of 2019 was a lunch date with business magnate Warren Buffet. The Forbes rich-lister and overall fourth richest person in the world gave up his time for charity, with the $4.5 million raised supporting the organisation GLIDE.
A Signed Tom Brady Playoff Contenders trading card from 2000 came in second place, while a 1997 Michael Jordan Metal Gems card came in at third. Both trading cards went for more money than a 2015 Lamborghini Aventador Roadster, which came in at fourth. A 2014 Newmar King Aire Motorhome rounded out the top five.
The autographed Tom Brady card went for the highest sum ever paid for a football card, beating the one-of-ten Michael Jordan cards from a few months earlier.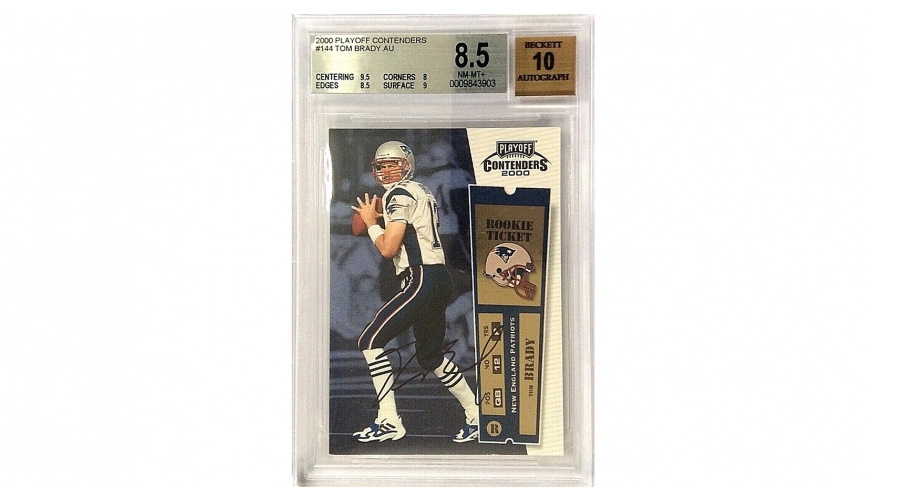 Top 20 Overall Most Expensive eBay Purchases in 2019
Here's the list of the 20 Most Expensive eBay Purchases for 2019 with all prices in U.S dollars:
20th Annual Power Lunch with Warren Buffett to Benefit GLIDE: $4,567,888
Tom Brady 2000 Autographed Playoff Contenders Championship Ticket Trading Card: $400,100
Michael Jordan 1997 Metal Universe Precious Metal Gems Card: $350,100
2015 Lamborghini Aventador Roadster: $349,800
2014 Newmar King Aire Motorhome: $280,000
2019 Lamborghini Urus "Bianco Icarus": $245,995
1986 Piper Malibu: $225,000
2005 Ford Ford GT: $220,000
2019 Lamborghini Huracan LP580-2: $209,900
2012 Lamborghini Aventador 2dr Coupe: $200,000
2019 Porsche 911:$199,000
2009 Lamborghini Murcielago: $190,000
2013 Ferrari 458 Italia: $185,000
2014 Lamborghini Gallardo LP 560-4 Spyder: $174,995
2013 Rolls-Royce Phantom Drophead: $172,100
2017 Aston Martin Vanquish Coupe: $169,700
Magic The Gathering MTG Black Lotus Card: $166,100
Patek Philippe Grand Complications Calendar Manual Gold Men's Watch, 5270G-014: $139,500
Patek Philippe Grand Complications Perpetual Calendar Chrono Watch, 5270G-018: $125,000
Rolex New 18 Kt Rose Gold Masterpiece Pave Diamond Bracelet, 86285, Sant Blanc: $100,001
Top 10 Most Expensive eBay for Charity Purchases in 2019
20th Annual Power Lunch with Warren Buffett to Benefit GLIDE: $4,567,888
Miranda Lambert Closet Clear Out + Meet & Greet: $103,850.29
Stay in the Cinderella Castle Suite at Magic Kingdom® Park: $75,600
Custom "Moon Landing" Under Armour Curry 6 Shoes Worn & Signed by Stephen Curry: $58,100.00
UFC Ultimate Fan Experience + Private Meet & Greet with Dana White: $52,137
Pitch Lunch with Dallas Mavericks' Owner Mark Cuban: $43,108
Creation Storm, 2017 Art Piece by April Gornik: $39,100
Attend the Premiere of Star Wars: The Rise of SkyWalker: $35,108
Alabama Football Experience with Coach Nick Saban: $35,100
Ultimate Le Batard Experience: $25,708
Most Expensive Cars Bought on eBay in 2019
2015 Lamborghini Aventador LP700-4 Roadster: $349,800
2019 Lamborghini Urus "Bianco Icarus": $245,995
2005 Ford Ford GT:$220,000
2019 Mercedes-Benz G-Class: $219,000
2019 Lamborghini Huracan LP580-2: $209,900
Most Expensive Trading Cards Bought on eBay in 2019
Tom Brady 2000 Autographed Playoff Contenders Championship Ticket Trading Card: $400,100
Michael Jordan 1997 Metal Universe Precious Metal Gems Card: $350,100
Magic The Gathering MTG Black Lotus Card: $166,100
Magic The Gathering MTG 1993 Alpha Black Lotus Card: $39,900.68
Magic The Gathering MTG 1993 Alpha Birds Of Paradise Card: $37,877
Most Expensive Entertainment Memorabilia Bought on eBay in 2019
1964 Rolling Stones First Tour Concert Poster with Ticket Sub, Rare: $25,100
World of Warcraft 15th Anniversary Signed Art Print: $20,000
Rock-ola Beatles Yellow Submarine Juke Box, Original, New In Box: $18,500
Life Size Star Wars R2D2 Remote Control Aluminum Full Size Prop: $17,500
1940s-1950s Hollywood Autograph Collection featuring James Dean, Marilyn Monroe and John Wayne: $15,100
Stan Lee Signed Infinity Gauntlet: $15,000
Top Luxury Watches Bought on eBay in 2019
Patek Philippe Grand Complications Calendar Manual Gold Men's Watch, 5270G-014: $139,500
Patek Philippe Grand Complications Perpetual Calendar Chrono Watch, 5270G-018: $125,000
Rolex 18 Kt Rose Gold Masterpiece Pave Diamond Bracelet: $100,001
Richard Mille Automatic Chronograph in Rose Gold/ Titanium Watch : $96,900
Rolex Daytona White Gold Auto 40mm Diamond Strap Deployant Watch: $89,950
Top Jewelry Bought on eBay in 2019
5.01 Yellow Diamond in Gold ring + 1ct Side Stones: $65,950
7.31 Ct Light Yellow Princess Cut Diamond in Platinum 18K: $55,000
Tiffany & Co 2.52 Ct Lucida Diamond Engagement Ring: $41,500
8.84 Ct Natural Sapphire Diamond Ring: $40,000
Roberto Coin Cento 2.008 Ct Round Diamond Solitaire Engagement Ring: $36,000
Top Handbags Bought on eBay in 2019
Hermes Birkin 30 Malachite Togo Green Handbag: $9,850
Hermes Birkin 30 Black Clemence Leather Palladium Hardware Handbag: $9,500
Hermes Birkin Palladium Hardware Handbag with Key and Lock: $9,500
HermesBirkin 30CM Black Gold Tone Togo Handbag: $9,000
Hermes Constance Handbag Evercolor 24: $8,924
Top Sneakers Bought on eBay in 2019
Nike Zoom Vapor Roger Federer Tennis Shoes: $10,000
Nike Air Mag 2016 Back to the Future, Mart McFly, Self Lacing: $9,000
Nike Sb Dunk Low "Freddy Kreuger": $8,000
1985 Original OG Nike Air Jordan 1 Chicago, White, Black Red Bred 4280: $7,500
Top Vinyl Bought on eBay in 2019
Northern Soul Del Larks Queen City 1967: $13,101
Mozart's Piano Sonatas by Vlado Perlemuter: $13,000
Beethoven's Violin Concerto by Leonid Kogan: $9,400
George Szell Beethoven No 9: $7,760
Bob Dylan Freewheelin' with 4 Different Tracks: $7,500
Top Comic Books Bought on eBay in 2019
1962 Marvel Amazing Fantasy #15, CGC 5.0, Spider Man's Origin/First Appearance, Huge Key Issue: $32,000
Fantastic Four #1: $30,000
Amazing Fantasy #15, Origin/First Appearance of Spider Man: $29,999
Incredible Hulk #1, Hulk's Origin/First Appearance: $29,500
Amazing Fantasy #15, Spider Man's Origin/First Appearance: $26,422
Top Action Figures Sold in 2019
1977 Star Wars Action Figures: $12,600
Ideal Super Queens Batgirl Original 1967 Action Figure: $6,000
Complete Set of Original Star Wars Kenner Action Figures from 1976 to 1985: $5,600
Lord of the Rings Action Figures: $4,875
Captain Action Super Queen 1967 Ideal Wonder Woman: $4,200
Top Video Games Sold in 2019
NES Stadium Events NTSC Nintendo Game: $15,499
NES Nintendo Kid Icarus VGA 85+, Gold: $14,000
Super Mario World Nintendo Black Label SNES: $13,500
Nintendo World Championships 1990 NWC Cartridge #273: $13,500
Mike Tyson's Punch-Out Original NES 1989 White Label: $12,211