Beer with an Entrepreneur #2: Going broke – and back again
Restaurateur, businessman and celebrity chef Luke Mangan runs 19 restaurants with 700 staff members and boasts a culinary empire that extends across land, sea, air and rail.
In episode #2 of interview show Beer with an Entrepreneur Daniel Kjellsson meet Luke to talk food, financials and what the rest of us can learn from his dealings with the fickle nature of the restaurant business.
Mangan's drive to diversify and not rely financially on one restaurant has seen him spread his business to sky, sea, land and rail with his food on Virgin airlines, P&O cruises and the Eastern and Oriental Express. Last financial year Luke Mangan & Company turned over about $80m.
The air was his first challenge outside a traditional kitchen. Virgin founder Richard Branson visited Mangan's restaurant Salt in 2003 and then asked the chef to do the food on Virgin Atlantic for passengers at the front of the plane – a partnership that later extended to Virgin Australia. Mangan today has two airline ovens in the test kitchen at his Waterloo base in Sydney, where he signs off on the Virgin food that will be plated for passengers in the air.
Daniel Kjellsson: The Luke Mangan & Co of today, with 19 restaurants, almost 700 staff, licence products and partnerships all in place – looks like a very efficient group of businesses. That wasn't always the case, was it?
Luke Mangan: Well it was certainly never planned, no. Things just happen don't they? I  was kicked out of school young and just sort of fell into it.
You accidentally fell into owning 19 restaurants?
Haha, no. But you know, probably ten, eleven years ago I was nearly broke. Like you said; on the outside looking in, it looks great. But the amount of staff you need behind  a group of restaurants, rents, intense competition and things like that – it's a big and risky business.
At that time, when you were nearly going broke – what were your mistakes?
I had three restaurants at the time and I think i tried to grow too quickly. I also had all three restaurants in one city, which is not ideal. You know, we started our first business in 2000, restaurant Salt in Sydney. We did $5M in turnover – I had predicted about $2.5M. So that was a good thing. But you know, I was a chef and all I thought about was food. But there's all the other costs to consider too. All of a sudden you have to pay $5k a month in linen, superannuations and so forth – things you didn't necessarily consider early on. All I used to think about was cooking and food and a restaurant is about the whole package. But in saying that, we also have 19 restaurants now and I sort of have a different head on my shoulders because of that negative experience I had. So nearly going broke. Best thing that ever happened.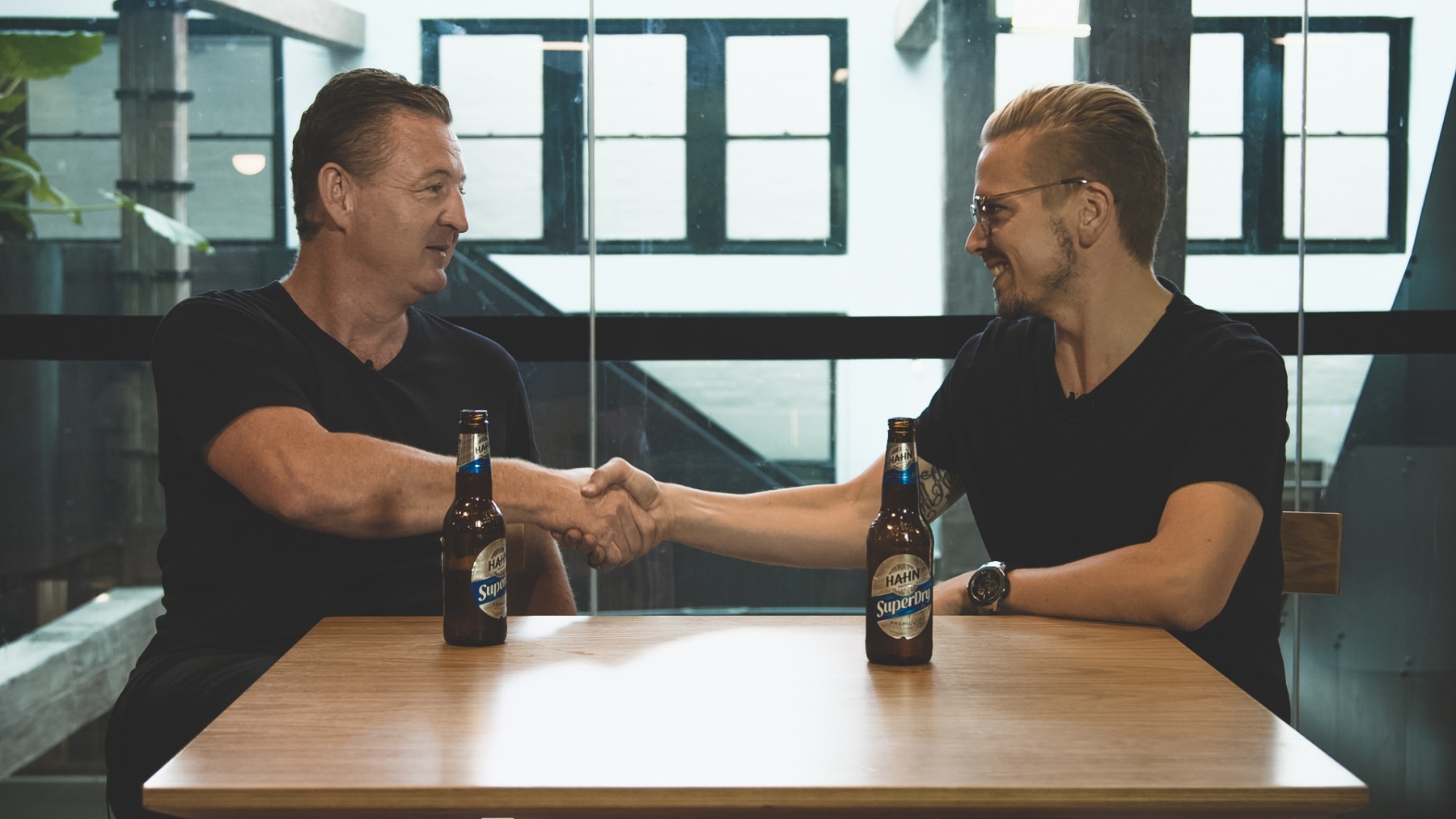 What does money mean to you?
Money means growth. Early on I recognised that the only way for me to avoid being "chained to a stove" was to get out there and get multiple streams of revenue. Balancing the cashflow. When you've got multiple streams of income you can do more things. When I first started Salt, I did a cookbook – another stream of income. From the cookbook came an opportunity to make my own olive oil. Another stream of income. And it just built and built and built. So years ago one restaurant nearly brought the whole thing down. But today? They're not all going to go down.
Beer with an Entrepreneur is proudly supported by Hahn SuperDry. Luke's success shows that you can achieve anything if you set your mind to it and step out of your comfort zone. Click here if you also want to Never Settle!
Show anchor Daniel Kjellsson is wearing Oscar Wylee glasses, a t-shirt from Citizen Wolf and a Halda Race Pilot. Beer with an entrepreneur is filmed at WeWork Pyrmont, Sydney, Australia.