15 Best Canadian Whiskies You Need to Try
There are a lot of great things you can say about the Canucks, but what we love most about the overly-polite northerners is their ability to make a great Canadian whisky. Distilled and popularised in (you guessed it) Canada, these rye-based two-sixers (Canadian slang for a 26 ounce, 750ml bottle of alcohol, eh?) have rightfully held space in every cocktail connoisseurs spirit cabinet for decades. They'll be no mixers allowed from here on out, so if you're ready to be a part of the Canadian Club, put down your cola and read on for a bit of whisky history and our list of the 15 best Canadian Whiskies.
RELATED: Want to learn more about whisky? Check out our comprehensive guide to whisky here.
What is Canadian Whisky?
What makes Canadian whisky different from other whiskies around the world (other than their spelling of whisky/whiskey) is the balance of ingredients their distillers use. Canadian whisky rose in popularity when two cheeky local distillers changed the game and added higher volumes of the flavourful rye to their mixes, resulting in a stronger, spicier taste. Rye is now a defining feature of many Canadian Whiskies, so much so that the terms Canadian whisky and Canadian rye can be used essentially interchangeably.
Canadian whisky is otherwise made of wheat, corn, and barley, with each component being mashed, fermented distilled and aged separately to reach their best individual potential. Once these ingredients have peaked in flavour, they are ready to be blended together, ready to serve or to be aged a little longer. This blending on ingredients at the final stage of the whisky-making process allows distillers to adjust the intensity/presence of each ingredient and results in some widely experimental, and tasty, concoctions.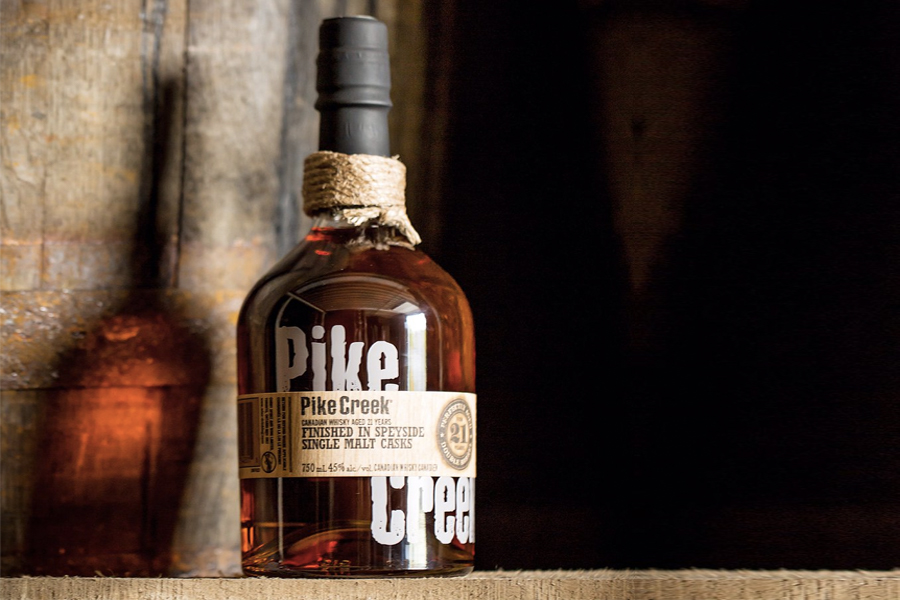 How is Whisky Critiqued?
While an obvious one for flavour-hounds, those new to whisky might be wondering how we judge what is the best Canadian whisky. The answer comes down to three tasting notes;
Best Canadian Whiskies
Taking notes from whisky experts such as Jim Murray and fusing it with the popular opinions of fans and locals alike, we've put together to creme dela creme. While we recommend getting out and trying as many of these whiskies as possible, we wouldn't recommend trying them all in one night (remember, drink responsibly).
With that little PSA out of the way, here is a list of the 15 best Canadian whiskies.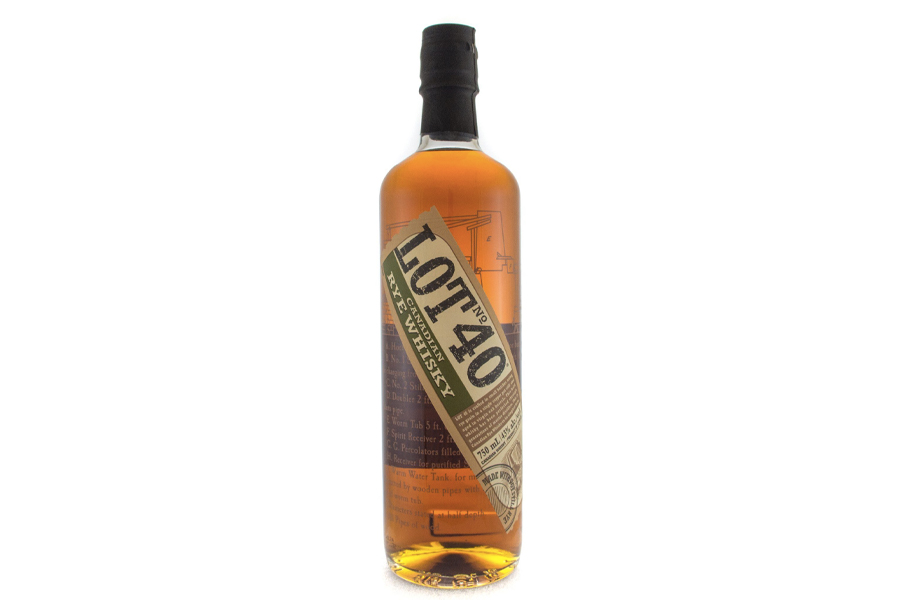 1. Lot No. 40 Canadian Rye Whisky
Kicking off our list is the Lot No. 40 Canadian Rye Whisky, a blend that was discontinued in the 2000s but brought back by popular demand. The nose of this spirit is of clove and cinnamon, while the palate is dry and peppery, known to remind drinkers of freshly baked bread or sour pickles (largely due to the toasted rye utilised in the mix). The whisky hits its landing with a spicy finish, wrapping up a roller-coaster of flavours and leaving you warm on the inside.
Brand: Lot 40
Region: Ontario
ABV: 43%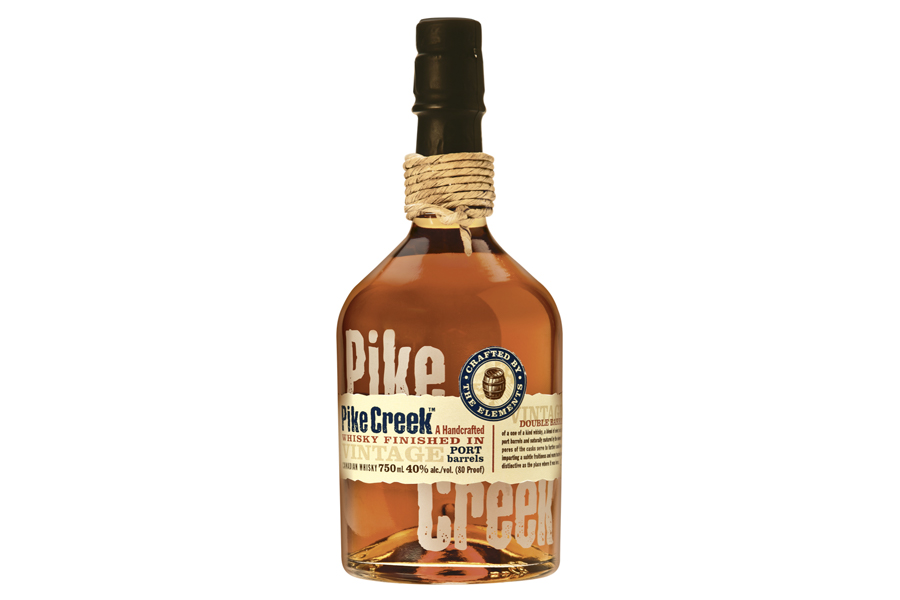 2. Pike Creek Port Barrel Finish Canadian Whisky
Pike Creek is sold as a spirit that has been crafted by the elements. This is because their aging process forgoes the modern practices of temperature control and instead leaves their whisky to face the conditions of each season. This traditional, long aging process produces a fruity whisky, with hints of vanilla and cinnamon and nuts. Its nose is of rye and dried fruits, while its palate tastes of creamy vanilla. This is all topped off by a sweet, warm finish, making it one of the best Canadian whiskies for those are into the sweet stuff.
Brand: Pike Creek
Region: Ontario
ABV: 40%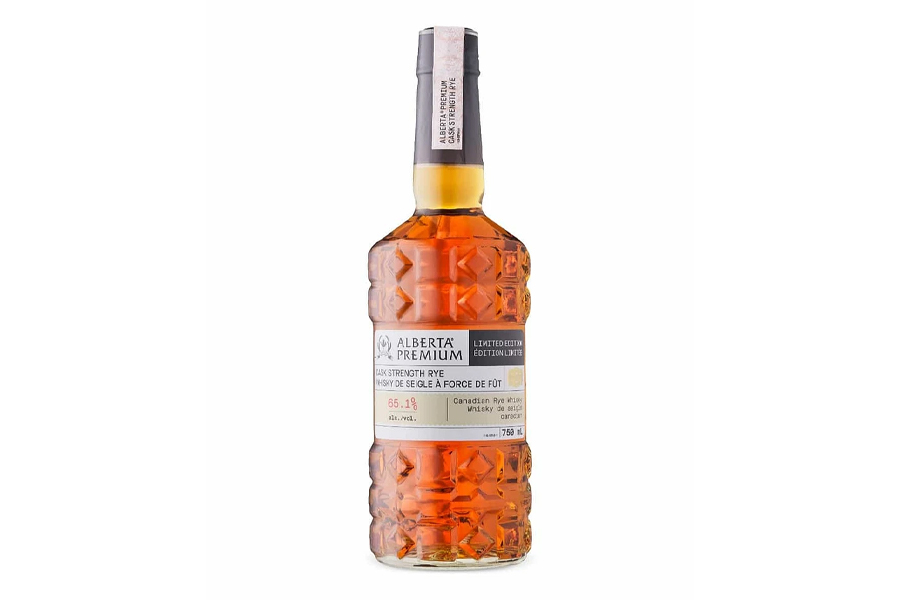 3. Alberta Premium Cask Strength Rye
Claiming top spot in the 2020 Jim Murray Whisky Bible, the Alberta Premium Cash Strength Rye has done a lot for Canadian whisky on the world stage. The 65.1% beast is strong and will more than put hairs on your chest. If you are a fan of cask-strength releases, Alberta Premium hasn't just created one of the best Canadian whiskies, it's one the world's leading drams. While hard to get your hands on, the regular rye whisky is also a fantastic addition, which you can pick up at the link below.
Brand: Alberta Distillers Limited
Alcohol/Vol: 65.1%
Region: Alberta, Canada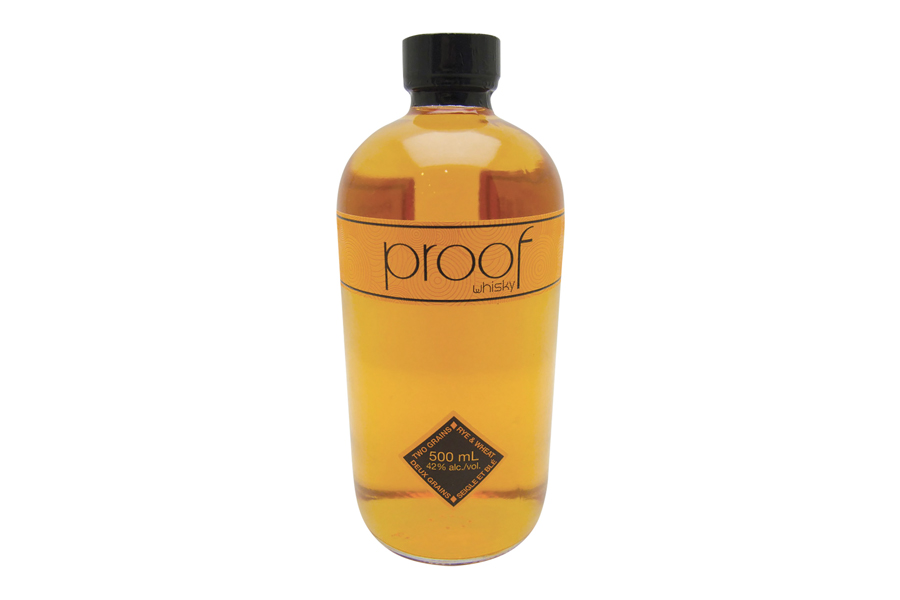 4. Proof Two Grain Whisky
Proof Two Grain Whisky is a spirit you may have already tasted during a night out on the town, although most likely diluted by post mix. Popular on the clubbing scene, its flavours are very similar to that of Japanese whisky, with a nose of citrus and honey. Its palate of lemon, cinnamon and clove is followed by a fiery finish, sure to give you that wake up you needed to kick on deep into the night. Because of its similarities to Japanese variations, Proof Two Grain Whisky is a great start for those wanting to experiment with international whiskies.
Brand: Proof Brands
Region: Ontario
ABV: 42%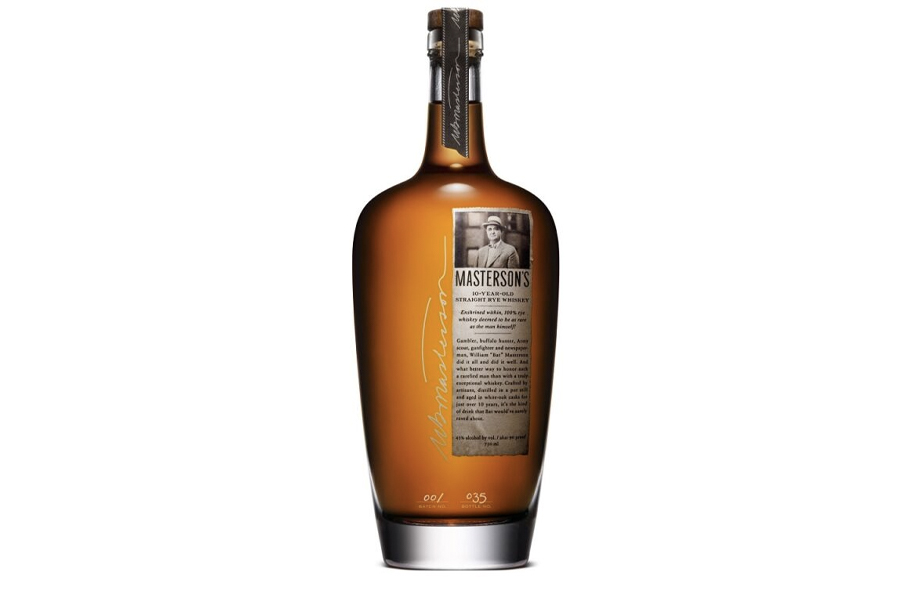 5. Masterson's 10 Year Old Straight Rye
Masterson's 10 Year Old Straight Rye is a spirit for the brave, or for those who are looking for intense flavour in their spirits. The spice of the rye hits your lips immediately with your first sip, continuing its fiery crusade down your throat as you swallow. The finish, however, is of coffee and dark chocolate, resulting in a sharp, tart after taste. This is a whisky where we wouldn't judge you if you had to water it down with a few ice cubes.
Brand: Masterson's
Alcohol/Vol: 45%
Region: Alberta, Canada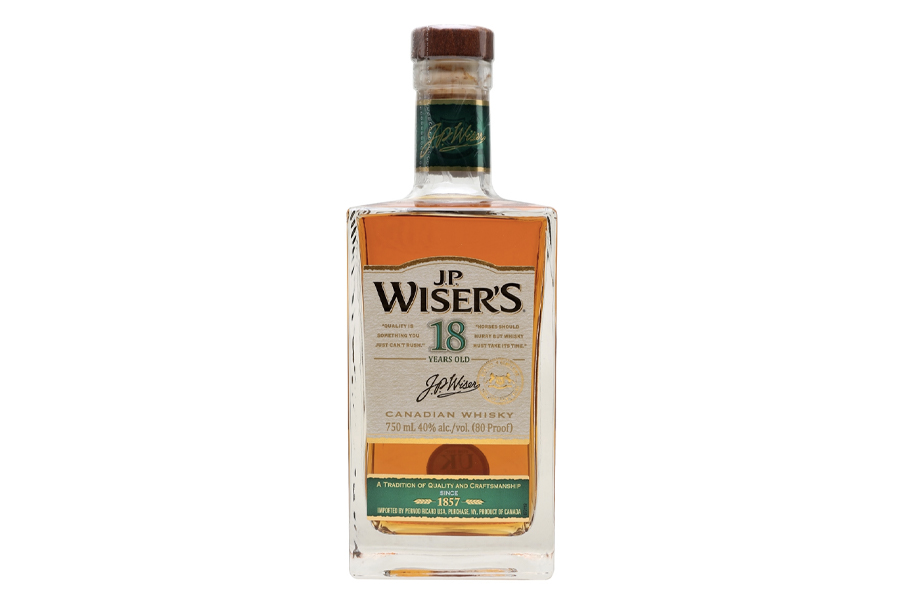 6. JP Wiser's 18 Year Old Canadian Whisky
The kind people at JP Wiser have cared and looked after this brew for 18 years, and now it's ready to leave the distillery and experience the world. A traditional top shelf Canadian whisky, the spirit takes on the earthy, smoky textures of the Canadian wooden barrels it's aged in. Citrusy on the palate and its finish, JP Wiser's 18 Year Old is a great bottle of whisky for a reliable, consistently flavoured drink.
Brand: JP Wiser's
Region: Ontario
ABV: 40%
Craft Cartel's $10K Craft Beer Vending Machine Subscription is Insane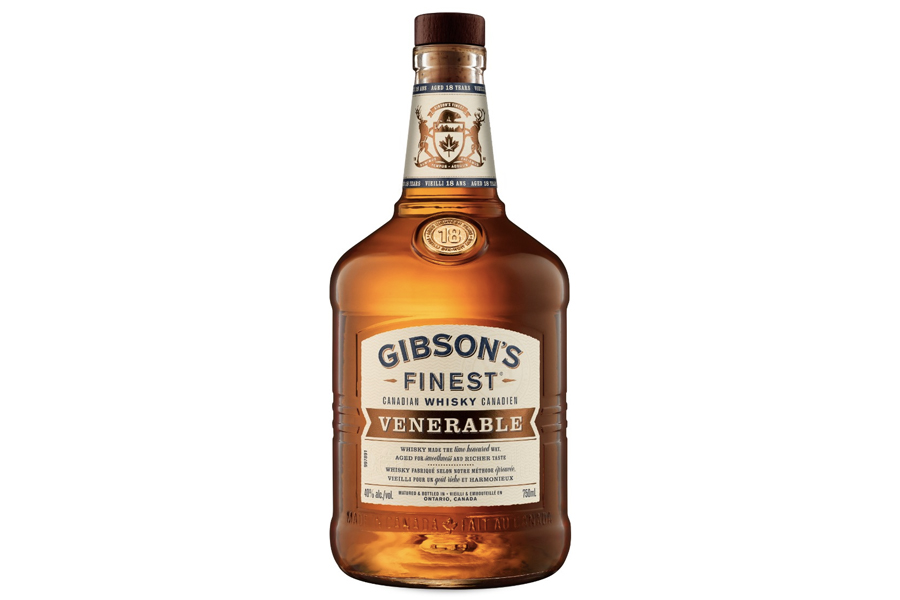 7. Gibson's Finest Rare Aged 18-Year-Old
Another 18-year-old aged whisky on our list, Gibson's Finest Rare Aged 18-Year-Old is a barley and rye-dominate blend. The mix of barley with the rye means that the spirit isn't as nose-hair-burning as a whisky from Masterson's, but still holds a little kick on the palate. With a nose of oak, a palate of cinnamon and maple (eh!) and a smoky, peppery finish, this is a drink for those who really appreciate a Canadian rye whisky, without the sometimes harsh spice and heat.
Brand: Gibson's Finest
Region: Ontario
ABV: 40%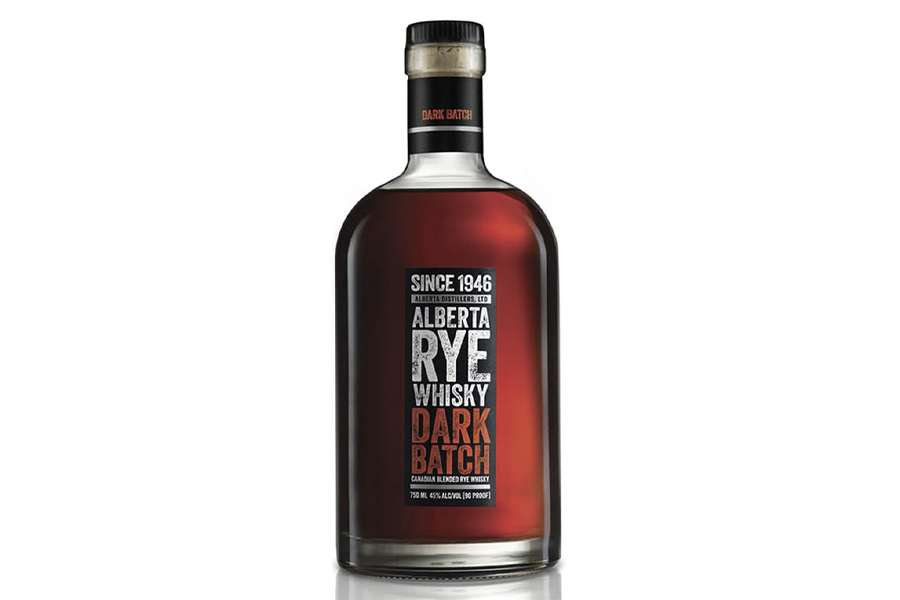 8. Alberta Rye Dark Batch
Coming from one of the country's highest respected distilleries, Alberta Rye Dark Batch is a top-shelf Canadian whisky. Using a toasted rye in their mix, the whisky has a similar palate to Lot No. 40's Rye from earlier on our list, but this time with a hint of ripe fruit in the nose as well. The finish is peppery and sweet, two words that may seem to contradict themselves, but it's more of a two-hit-punch than a combination. Don't just take our word for it, try it for yourself.
Brand: Alberta Distillers Limited
Alcohol/Vol: 45%
Region: Alberta, Canada
WIN! The Whisky Show: Breakout Edition Tickets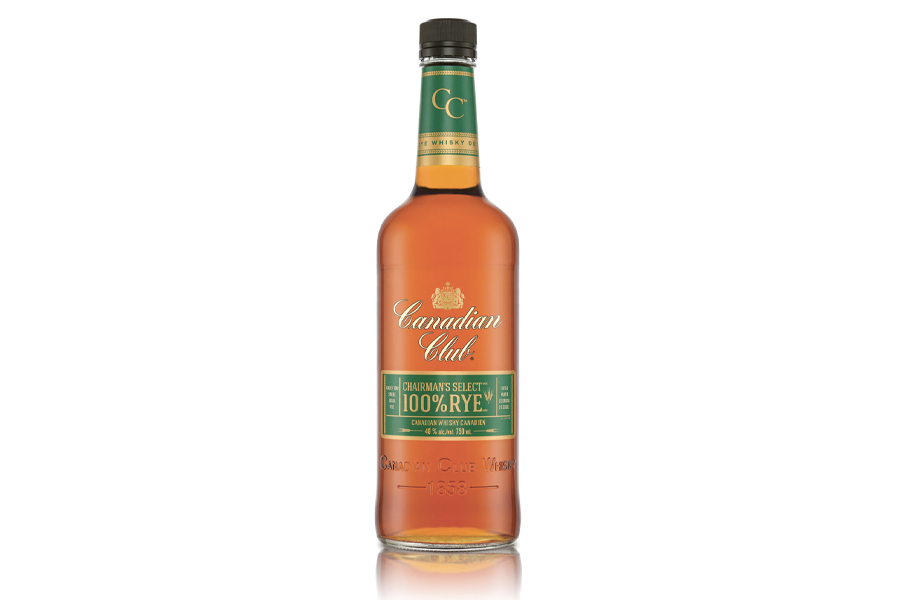 9. Canadian Club Chairman's Select 100% Rye
If you're already a big fan of Canadian Club spiced, pre-mixed and bottled whiskies, the flavours of their Chairman's Select 100% Rye may come as a surprise to you and your tastebuds. Far from the sweet, caramel whisky so popularly served with dry ginger ale, this rye has a little more heat to serve up on the palate. It's not the most experimental on our list, but certainly a safe purchase for those wanting a good Canadian whisky.
Brand: Canadian Club
Region: Ontario
ABV: 40%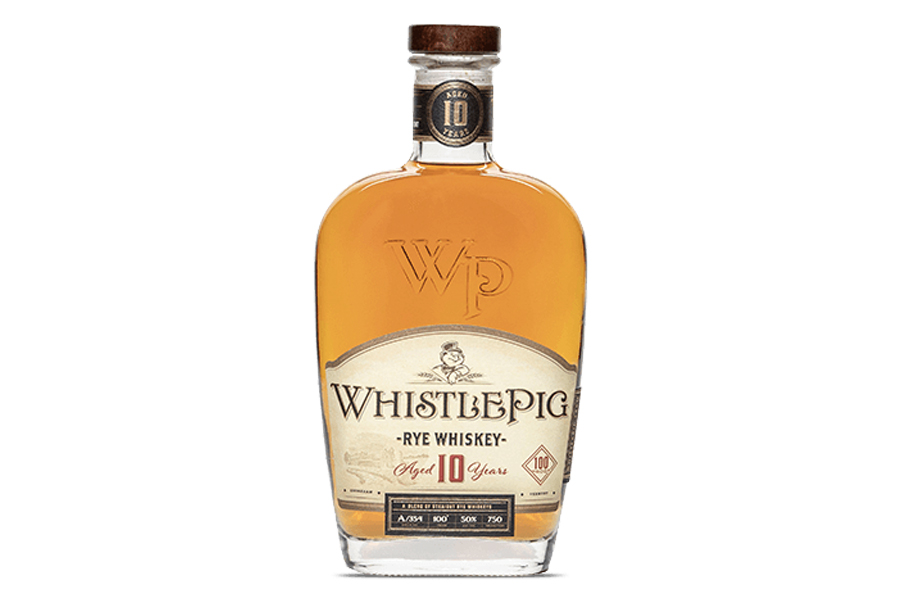 10. WhistlePig Rye 10 Year
WhistlePig Rye 10 Year is another spirit on our list that'll give you a kick with its spices. While technically located in Vermont, the distillery sources a lot of its ingredients from Alberta. With an oaky nose thanks to its ten years of aging, you might not see the spice coming if you didn't already know about it (you can thank us later). The heat of the whisky holds the palate until you reach the finish, where a warm vanilla and nutmeg relieves the throat, and has you already going for your next sip. This is a Canadian vanilla whisky you'll want to have in your liquor cabinet at all times.
Brand: WhistlePig
Region: Vermont/New Brunswick
ABV: 50%
23 Best Australian Mid-Strength Beers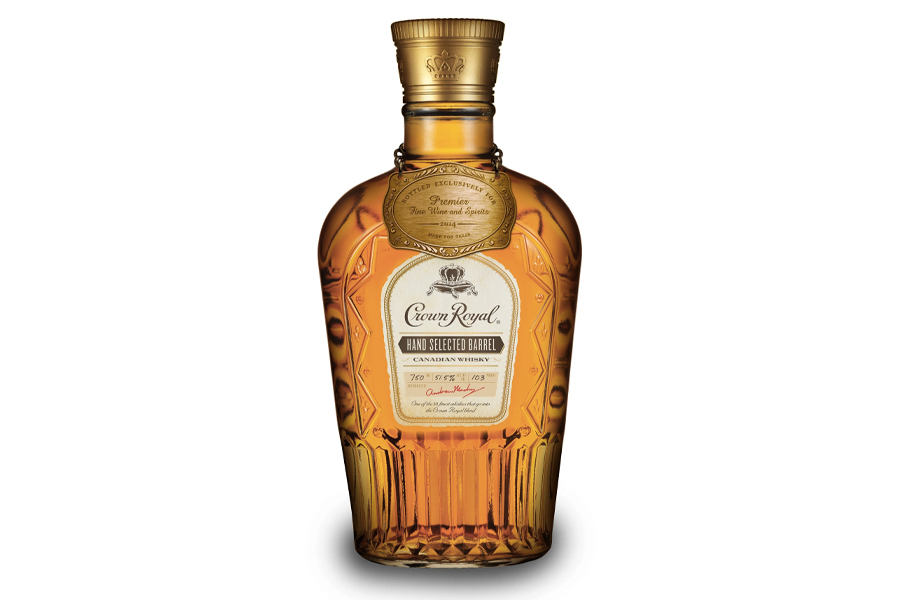 11. Crown Royal Hand Selected Barrel
Crown Royal Hand Select Barrel is the spirit equivalent of the Canadian flag, with a heavy dose of maple syrup to boot. Featuring heavily in the nose of the whisky, along with hints of fruit, the tastes of sweet syrup can again be found on the palate. This consistent sweet taste makes Crown Royal Hand Selected Barrel perhaps the smoothest whisky on our list, with a long and lingering finish of all the flavours mentioned above. For that extra hit of Canadian flavour, this whisky can also be paired with a big bowl of poutine.
Brand: Crown Royal
Region: Ontario
ABV: 51.5%
Chandon Australia's New Étoile Sparkling Wine is a Vision 25 Years in the Making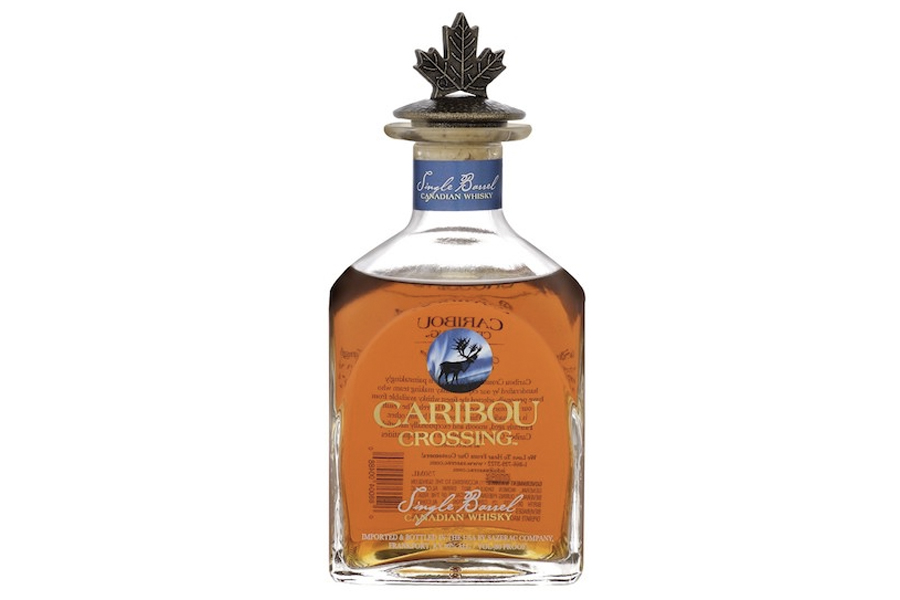 12. Caribou Crossing Single Barrel Canadian Whisky
As the name suggests, Caribou Crossing Single Barrel is aged in a single barrel, for a far simpler and easier to maintain spirit. This simplicity doesn't compromise on taste, however, arguably improving the simple flavours of the Canadian whisky to its full potential. The nose is sweet toffee cut with a hint of citrus, with the toffee coming out on top for the palate. The finish is a gentle pepper heat, reminding you that rye is definitely a factor in the distilling process.
Brand: Caribou Crossing
Region: Quebec
ABV: 40%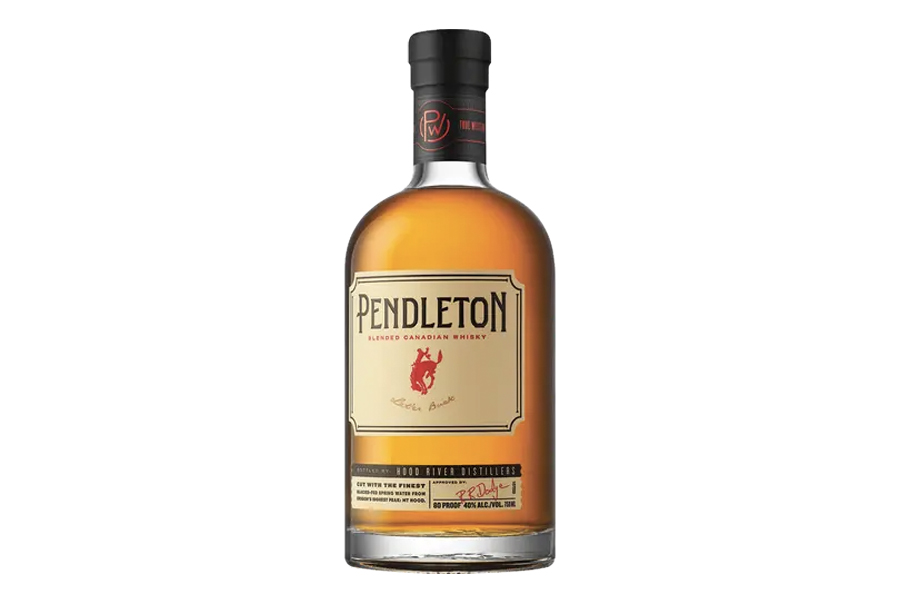 13. Pendleton Canadian Whisky
One of our personal favourites, Pendleton fuses Canadian whisky with American ingenuity. Each bottle is crafted using a blend of ultra-premium whiskies distilled in Canada before being cut to proof with pristine glacier-fed spring water from Oregon's highest peak, Mt. Hood. Smooth and easy to drink, this is one of the more affordable options on the market.
Brand: Pendleton
Region: Oregon
ABV: 40%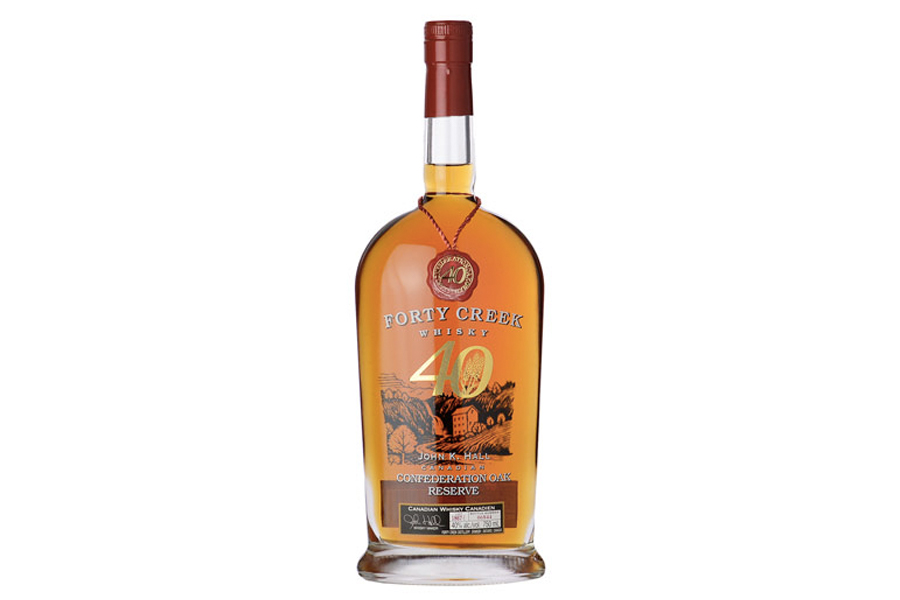 14. Confederation Oak Reserve Canadian Whisky
Following the traditional distillation process, Confederation Oak Reserve is about as safe as you can get with your spirits. Keeping it simple, much like Caribou Crossing's contribution to our list, their whisky aims to achieve the greatest, most distinct flavours from its four key ingredients. Taking its oaky nose and palate from the barrels it was aged in, this is a sweet whisky with a little heat and nuttiest found in its finish. For a safe first time into the world of Canadian whisky, this is the bottle you should be picking up.
Brand: Forty Creek
Region: Ontario
ABV: 40%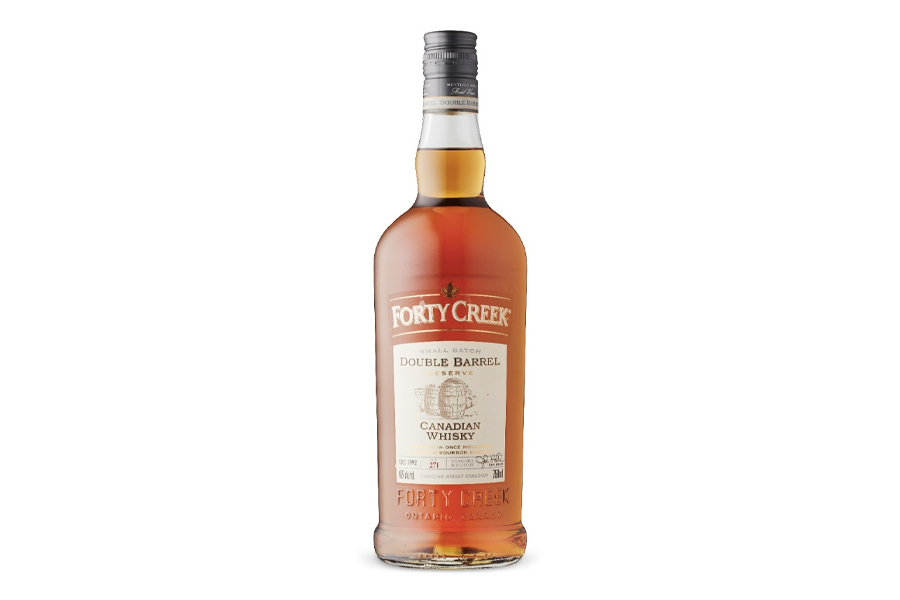 15. Forty Creek Double Barrel Reserve Canadian Whisky
Closing out our list of the 15 best Canadian whiskies is the Forty Creek Double Barrel Reserve, last but certainly not least. This is another top-shelf Canadian whisky, aged for twice as long (as the name suggests) in its twin-barrel proves. This creates a spirit with a sweet, butterscotch nose, with a rich caramel and vanilla palate to follow. As with all good Canadian whisky, the finish is dry and peppery, giving the nostrils some heat on its way down. This is an additio to make space for in your liquor cabinet.
Brand: Forty Creek
Region: Ontario
ABV: 40%
How Man of Many Chose the Best Canadian Whisky Brands
With more than 10 years of experience reviewing beer, wine and spirits, Man of Many's team of editors has selected a list of the best Canadian whisky scotch. This list was curated using first-person experience, along with reviews from independent alcohol sites and users.
Interested in more whisky stories? Here are a few stories to get you started:
Alternatives to Canadian Whiskies
Whisky Types
Whisky by Region
Best Whisky Gift Ideas
Best Whisky Cocktail Recipes
You'll also like:
General FAQ
What is the best Canadian Whisky?
While there are a number of great Canadian whiskies on the market, Forty Creek Double Barrel Reserve is one of the best best-rated releases. Similarly, the Alberta Premium Cask Strength Rye was recently named as the best whisky in the world by leading expert Jim Murray.
Is there any good Canadian whisky?
Caribou Crossing Single Barrel, Alberta Rye Dark Batch and JP Wiser's 18 Year Old Canadian Whisky are all great Canadian whiskies for the entry-level drinker.
What is the smoothest Canadian whisky?
While you could argue that global favourites like Canadian Club are the smoothest, the long-held Canadian advocacy would tell you that Crown Royal Hand Selected Barrel is the smoothest Canadian whisky.