10 Best Jogging Strollers for a Parent on the Run
Thanks to the best jogging strollers, raising a baby doesn't have to mean sacrificing your daily workout. Indeed, with one of these handy contraptions at your disposal, you can take junior for a stroll and hit your exercise targets at the very same time. But what exactly is a jogging or running stroller, one might ask? Furthermore, how can you tell the best jogging strollers from the rest? For the answers, check out our guide below, where we explain what makes for a jogging stroller, when to use one, and what to look for in one. That's followed by a list of the best jogging strollers for men. This one's for all you dads out there.

What is a Jogging Stroller?
Not to be confused with all-terrain strollers–which typically host smaller swivel wheels–most jogging strollers include three big wheels, with the one in front being a fixed wheel or lockable swivel wheel. Wrapped around each wheel is a beefy, air-filled tire. Normally, there's a brake at the handle, and then a separate foot brake for parking. Put these core features together and you have a stroller that's ready to roll at accelerated speeds, hence the name.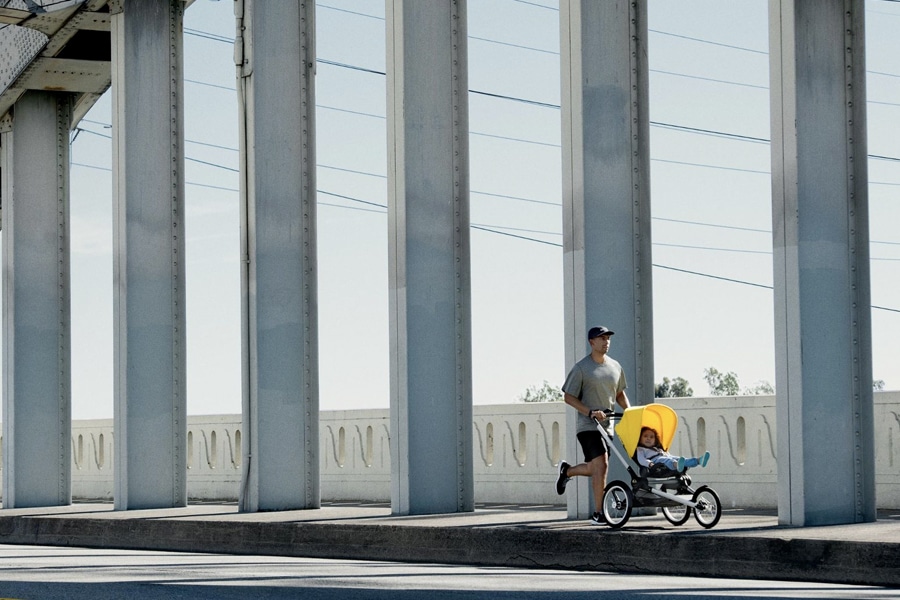 Where and When to Use a Jogging Stroller
Generally speaking, you want to use a jogging or running stroller on smooth dirt or pavement, as opposed to say gravel. Meanwhile, your child should be at least eight months old before you plant him or her inside a jogging stroller. Some experts will say your child can be as young as six months old, but we're playing it safe by saying eight. Speaking of playing it safe, you might want to consult a doctor before taking that inaugural stroller jog, as different babies develop at different rates.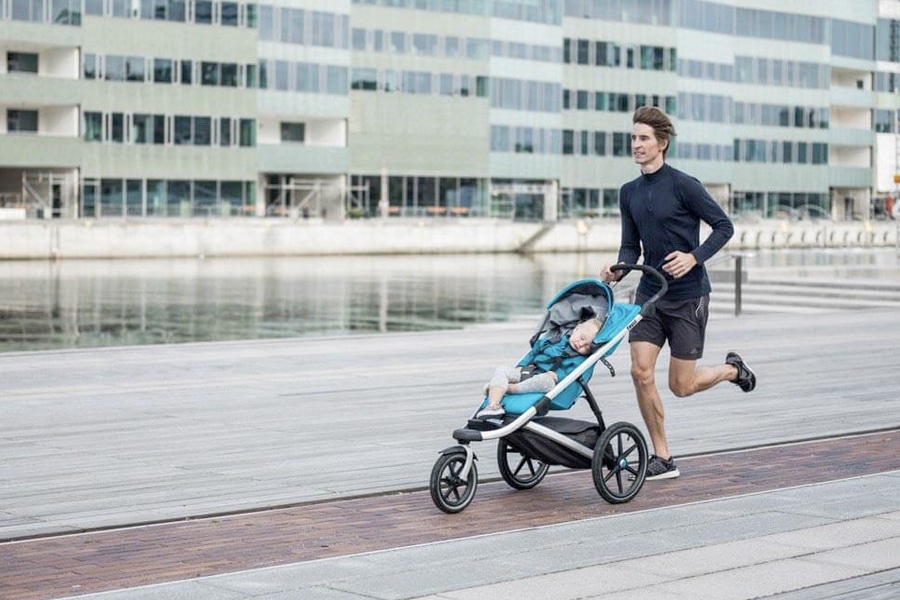 You'll also like:
18 Best Beach Camping Spots in NSW
15 Best Office Chairs for Ergonomic Bliss
12 Best Everyday Carry Flashlights
Things to Look For in a Jogging Stroller
As one might expect, not all jogging strollers are created equal. Furthermore, you and your child might have different needs than the next guy and his child. For that reason, you'll want to evaluate various components of a jogging stroller before taking the plunge. Specifically, you should consider the following: stroller weight, maximum weight the stroller can handle, type of brakes, car-seat compatibility, available trays, storage room, whether the handles are adjustable, whether the stroller can fold down, durability, maneuverability, safety, construction quality, and ease of use.
10 Best Jogging Strollers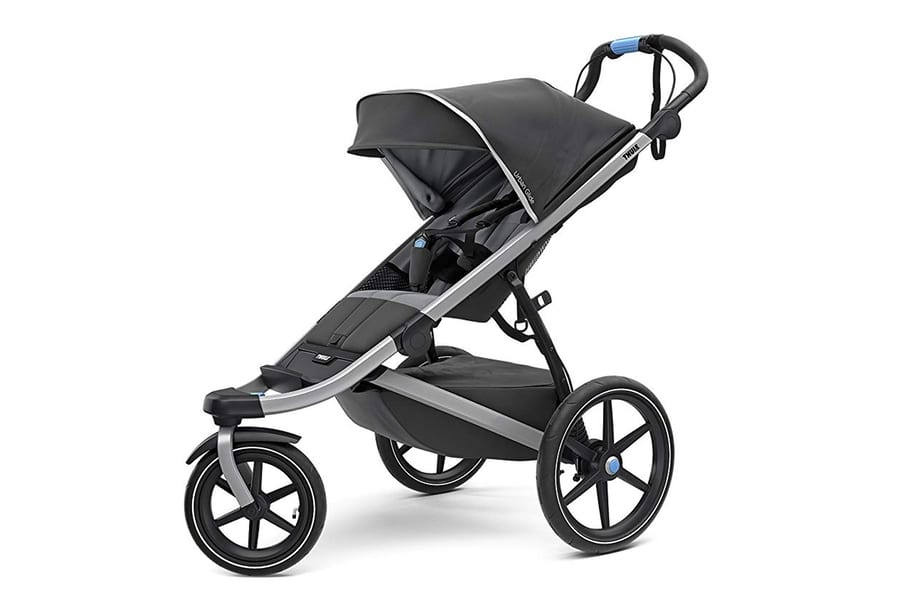 1. Thule Urban Glide 2.0
True to its name, this top jogging stroller from Thule simply cruises through your urban terrain. At the front of the stroller is a swivel front wheel that locks into place for jogging. Also featured is an integrated twist hand brake, a multi-position canopy with side-ventilation windows, a reclining seat, and an ergonomic handlebar. Sealing the deal is a compact, fold-down design, making transport a breeze.
Features: 12″ front wheel and 16″ rear wheels; for all types of terrain; large canopy; 5-point harness
Weight: 25.4 lbs
Color options: Jet Black, Dark Shadow, Thule Blue, Mars
Price: from $529.95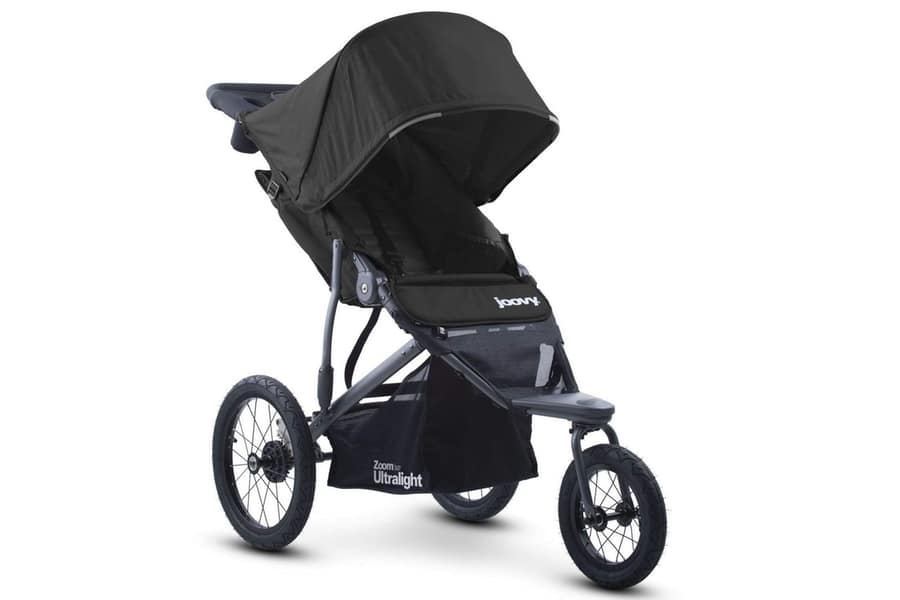 2. Joovy Zoom 360 Ultralight
Wildly popular among dads across the world, the Joovy Zoom 360 features extra-wide seats, a lightweight build, an aluminium frame with shock absorbing suspension, a parent organiser, quick-release 16″ rear wheels, and a 12.5″ front swivel wheel with locking capability. Like many of the best jogging strollers for dads, this one folds down with ease and touts a sleek black profile.
Features: 12.5″ swivel front wheel and 16″ rear wheels; neoprene material; aluminium frame; trunk-friendly fold
Weight: 25.7 lbs.
Color options: Black, Blueberry, Charcoal, Red
Price: from $269.99
3. phil&teds Sub 4 World's Fastest Jogger
For all the truly athletic dads out there, phil&teds presents the Sub 4, which they purport to be the world's fastest running stroller. Between its large wheels, adaptive frame flex, and one hand-dual disk brakes, this nimble stunner delivers prime speed control and a smooth ride. To keep your baby comfortable and germ-free, the seat is made out of aerocore foam, an innovative material with innate anti-microbial properties. Meanwhile, a five-point safety harness ensures your child won't go flying out when you hit those high speeds.
Features: 5-point harness; 80% steel / 20% Aerocore Foam; 20″ rear air-filled wheels and 16″ air-filled front wheel
Weight: 35 lbs.
Color options: Black
Price: from $799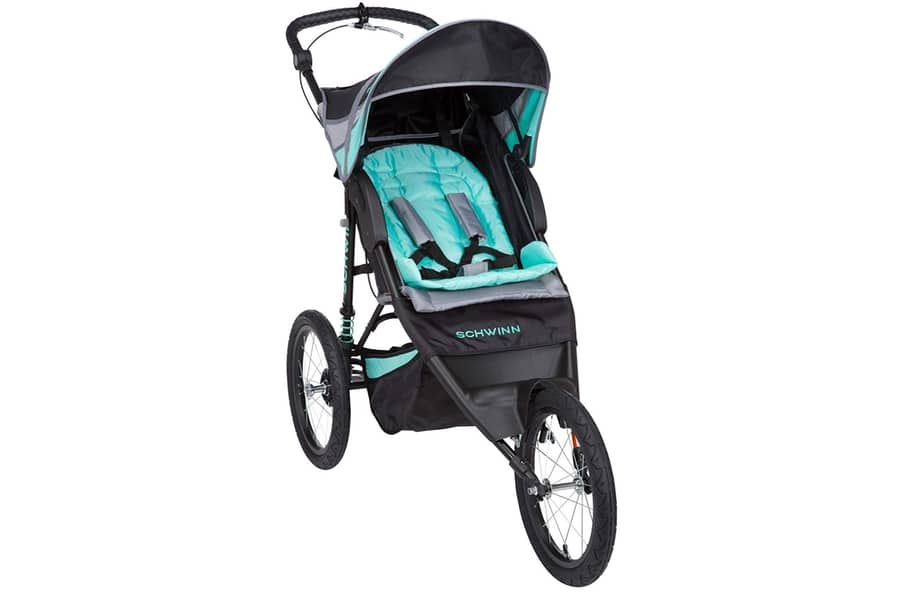 4. Schwinn Arrow
When it comes to their top jogging stroller for dads, Schwinn doesn't mince words nor specs. To that end, the Arrow keeps things straightforward, stylish, and optimal. It hosts an adaptive, lightweight frame, 16″ wheels with spring shock suspension, an adjustable handle, plenty of storage space, an extra-large canopy, and even a little pocket next to the seat. Given Schwinn's stellar reputation as a bike brand, it's no surprise that the Arrow also includes a bicycle-style hand brake.
Features: spring shock suspension; 16″ air-filled tires; UPF 50 canopy
Weight: 28 lbs.
Color options: Nightshade
Price: from $163.29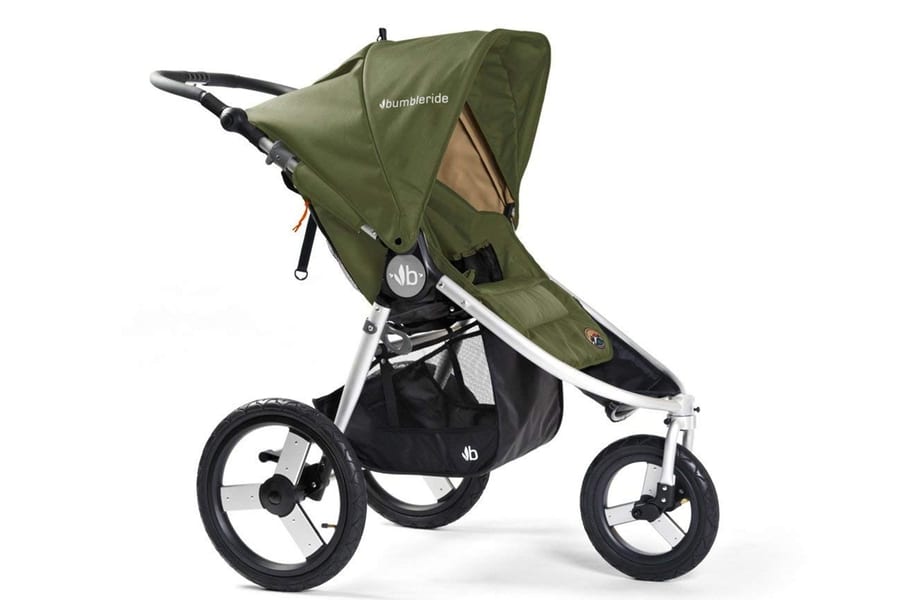 5. Bumbleride 2016 Speed Stroller
Do you have a need for speed? Then make the acclaimed Speed Stroller part of your arsenal. Equipped with all-wheel suspension and a lightweight, aluminium frame, the jogging stroller carries up to 65 pounds and flaunts a striking camp green colourway. On the inside, you'll find 100% recycled fabric and a five-point breakaway harness with shoulder pads. This is easily one of the best jogging strollers for men, with the five-star reviews to show for it.
Features: all-wheel suspension with air-filled tires; Speed3 Steering; two 16″ rear and one 12″ front tires
Weight: 24 lbs.
Color options: Camp Green
Price: from $569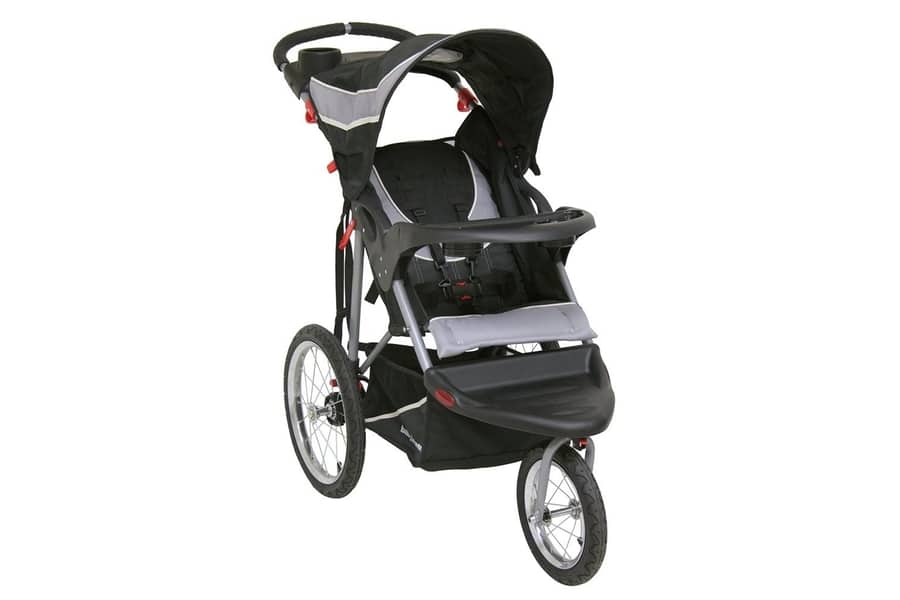 6. Baby Trend Expedition Jogger
The Expedition Jogger Stroller comes to us from Baby Trend, and needless to say, this baby is trending. Perhaps that has something to do with the outrageously affordable price point, as this jogging stroller definitely costs less than the average fare. However, that doesn't mean it's anything short of dependable, with large bike tires, a reclining padded seat, a fold-down design, and a lockable front wheel. If you want to cover the basics without breaking the bank, look no further than this massively popular jogging stroller.
Features: steel frame; 5-point harness; large bicycle tires for all surfaces
Weight: 25.5 lbs.
Color options: Bubble Gum, Lemon Zest, Millenium, Optic Red, Phantom, Raspberry, Tiger Lily
Price: from $109.99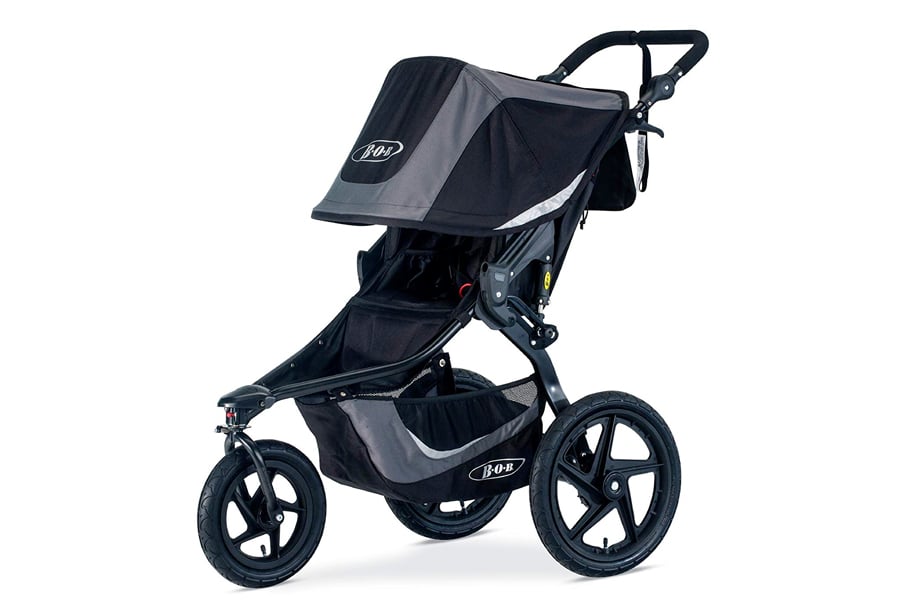 7. BOB Revolution Flex 3.0 Jogging Stroller
A guaranteed head-turner, the Flex 3.0 from BOB Gear is as smooth as it is speedy. Features include a mountain bike-style suspension system, a 9-position adjustable handlebar with wrist strap, air-filled tires, and a locking swivel front wheel. It's also compatible with BOB infant car seats, which are sold separately.
Features: 16-inch semi slick, air filled tires on lightweight aluminum alloy wheels; 5-point harness
Weight: 27.3 lbs.
Color options: Yellow, Lunar Black, Graphite Black
Price: from $450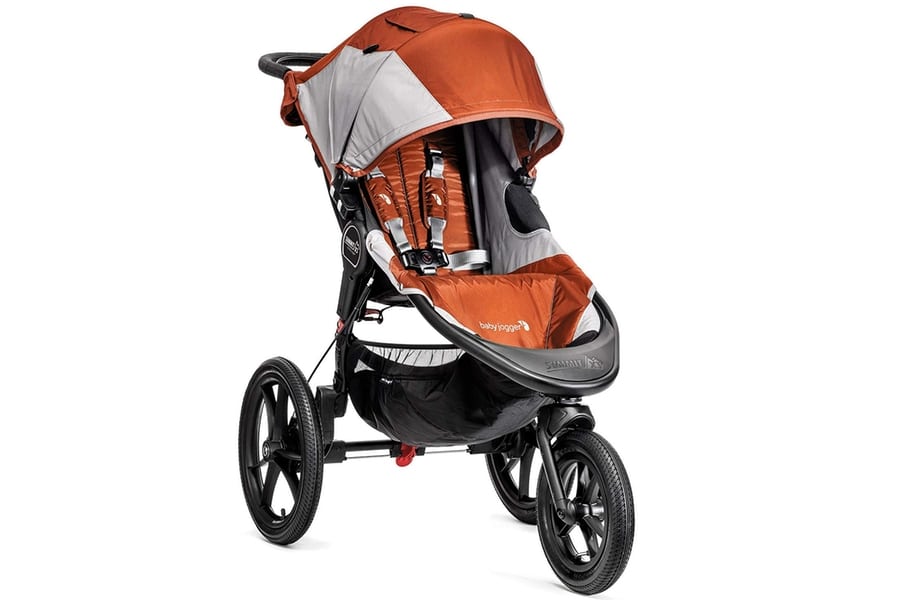 8. Baby Jogger Summit X3 Single Stroller
Thanks to patented quick-fold technology, the Summit X3 from Baby Jogger folds down with one hand. Also featured is an all-wheel suspension system, an adjustable sun canopy with peek-a-boo windows and side vents, and hand-operated rear breaks for optimal control. To switch from jogger to stroller mode, use the front wheel lock on the handlebar. Easy, breezy, best.
Features: 16″ rear and 12″ front air filled tires; patented quick fold technology; hand operated rear breaks
Weight: 34.2 lbs.
Color options: Orange with Grey, Black
Price: from $429.99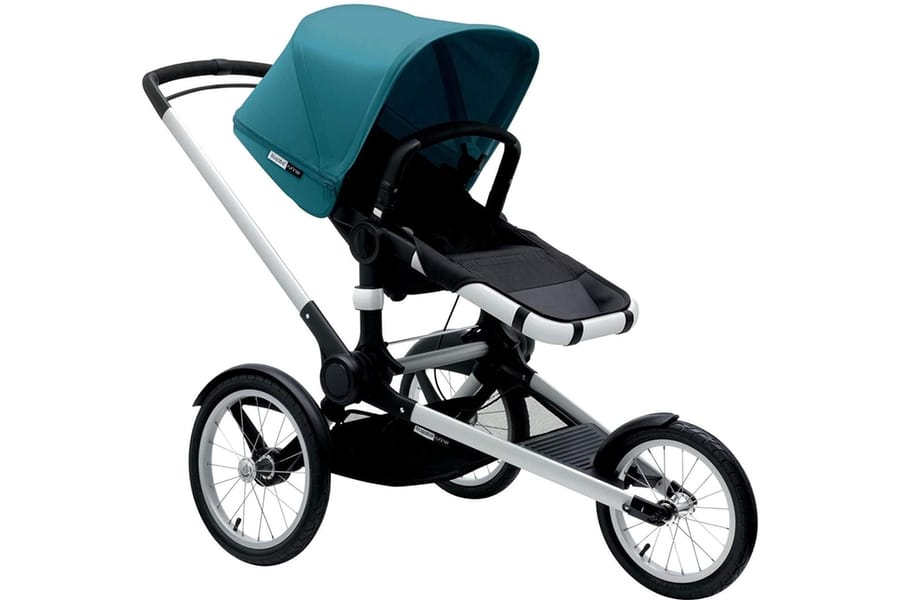 9. Bugaboo Runner
Bugaboo's jogging stroller will definitely cost you, but we say it's worth it. Touting a deft design, it features a reversible seat, large wheels, built-in suspension, and tracking controls on the front wheel, among other things. Indeed, this is a running stroller that quite literally puts the power in your hands.
Features: reversible seat; 16″ rear wheels and 14″ fixed front wheel
Weight: 26.2 lbs.
Color options: Petrol Blue, Red
Price: from $400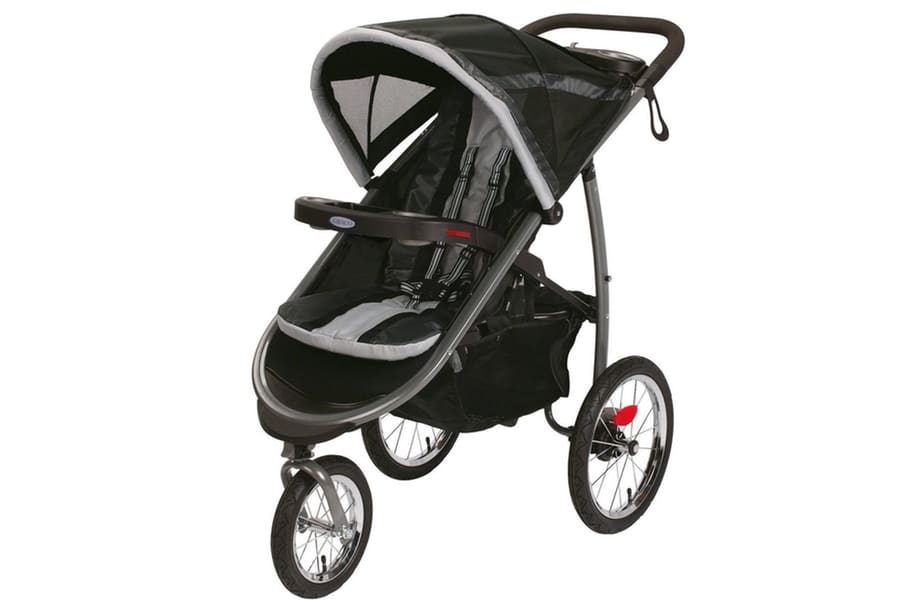 10. Gracobaby FastAction Fold Jogger
Capping off our list of the best jogging strollers for men is the FastAction Fold from Gracobaby. Easy to use and priced to move, this three-wheel stroller folds down in the blink of an eye, with only one hand required for the task. It also hosts a multi-position reclining seat, a storage basket, a child's tray with cup holder, and a deluxe tray for dad with its own smartphone cradle. If you don't want to overthink the whole process, consider this your one and done.
Features: 3-wheel design with locking front swivel wheel for improved maneuverability; air-filled rubber tires with suspension; smooth ride on any terrain; with reflectors
Weight: 31.97 lbs.
Color options: Pierce, Gotham
Price: from $179.99
You'll also like:
18 Best Beach Camping Spots in NSW
15 Best Office Chairs for Ergonomic Bliss
12 Best Everyday Carry Flashlights