13 Best Japanese Restaurants in Brisbane
Brisbane is a bustling multicultural hub designed for foodies, so it's little wonder the River City is loaded with stunning Japanese restaurants and cuisine. Traditionally separated into small portions or bite-size dishes, Japanese food is the perfect sharing meal or dinner date. Welcome the rise of Izakaya style dining. Here in Brisbane, you'll find plenty of these cool, quirky dining venues and even a few higher-end ones too. From traditional and contemporary to wild and wacky flavour combo's, you'll find it all at Brisbane's best Japanese restaurants.
Here is a list of the best Japanese restaurants in Brisbane.
You'll also like:
11 Best Japanese Whisky Brands
17 Best Restaurants in Crows Nest
9 Best Barber Shops in Brisbane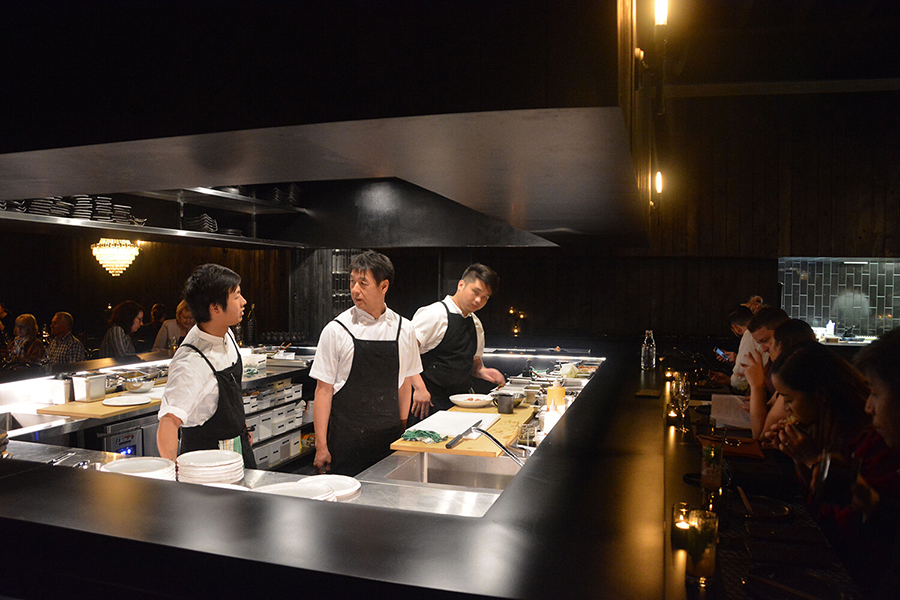 1. Honto
Enter through a secret door to find a dimly lit restaurant and bar area, with matte black walls, huge chandeliers, and a menu with a twist. At Honto the open kitchen allows diners to watch the chefs at work, meaning you can see some of the best sushi Brisbane has to offer made right in front of your eyes. Here the talented chefs prepare traditional dishes with a modern twist and use only the best local ingredients. Indulge in smaller bites such as raw kingfish with yuzu Nahm Jim and puffed rice or the infamous lobster katsu sando. Follow the light bites with a shared hearty main – the whole baby snapper with a couple of sides comes highly recommended.
Address: Alden St, Fortitude Valley QLD 4006
Phone: +61 (07) 3193 7392
Hours: Tues – Thurs: 5:30pm – 10:30pm, Fri – Sat: 5:30pm – 12am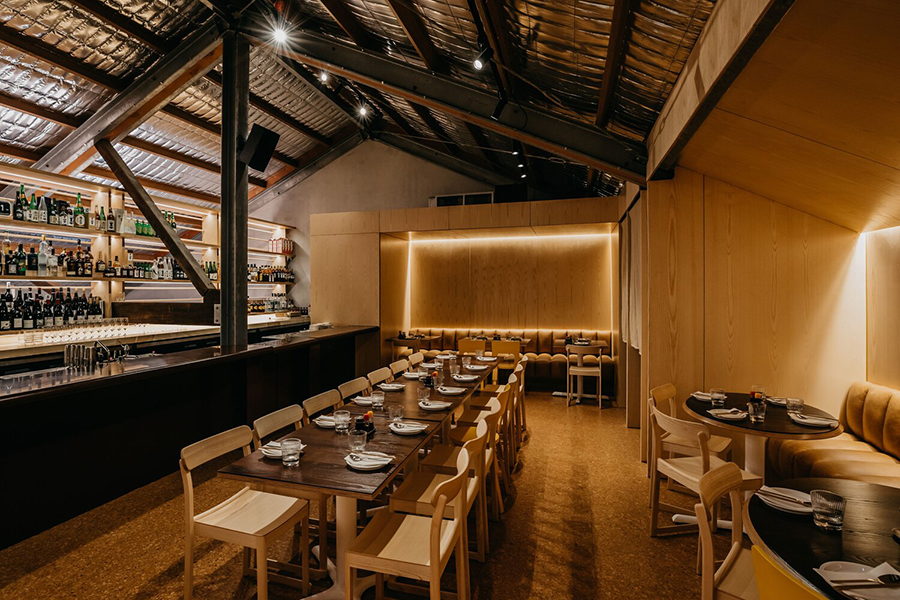 2. Yoko
Sister restaurant of the popular greek taverna, Greca, Yoko is a vibrant, fun dining experience, reminiscent of the lively izakayas of Tokyo. Here the menu focuses mainly on seafood which is cooked on the hibachi charcoal grill and combines it with light, bright flavours that pack a punch. For the full experience, go for the signature 'Yoko Feast' the premium degustation menu, which comprises of an impressive 12-course Japanese feast complete with housemade Miso caramel doughnuts.
Address: Howard Smith Wharves 2, 5 Boundary St, Brisbane City QLD 4000
Phone: +61 (07) 3236 6582
Hours: Mon – Thurs: 5pm – 10pm, Fri: 12pm – 10pm, Sat – Sun: 11:30am – 10pm
3. The Boom Boom Room
Leave your worries at the door and be transported to a dining utopia dressed up in a decadent décor with old school charm. This iconic Japanese restaurant in Brisbane features a menu inspired by quintessential cuisine, including the Kingfish tartare, yuzu, buttermilk, dill oil + cucumber, and boasting an innovative beverage menu with cocktails mixed by the best in the biz, like the Reiki Master.
Tucked away in the vaults of the magnificent heritage-listed site previously home to the Queensland Government Savings Bank, is a Japanese whisky lover paradise with 27 incredibly rare whiskeys secured in a Whiskey Vault. Simply epic.
Address: 49 Elizabeth St, Brisbane City QLD 4000
Hours: Wed-Thurs and Sun 4:30pm-12am, Fri-Sat 4:30pm-1am
Phones: (07) 3243 4800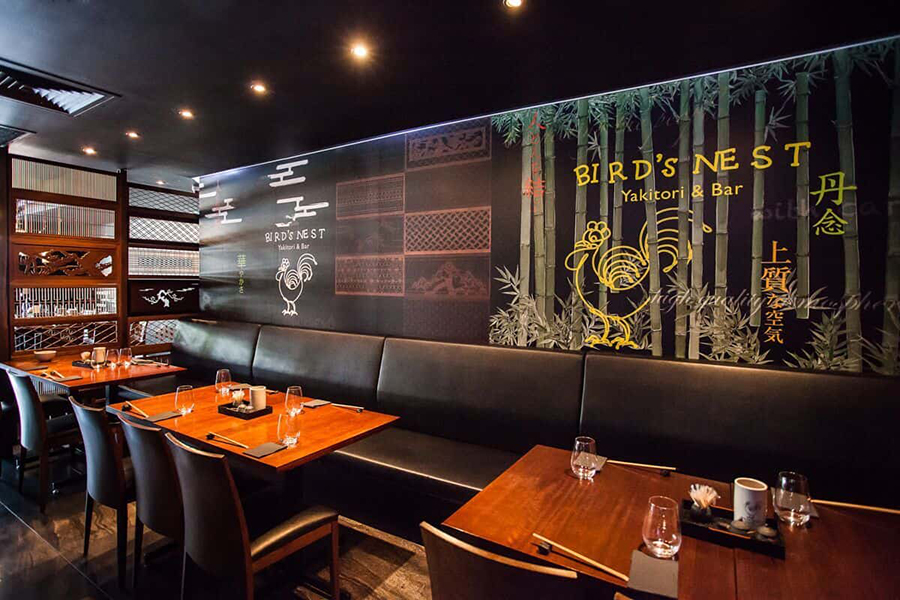 4. Bird's Nest Yakitori Bar
Birds Nest Yakitori bar is in Brisbane's bustling Fortitude Valley, but you'd be forgiven for thinking you were in one of Japan's tiny laneways thanks to the vibrant atmosphere and kooky bold menu design. At this Brisbane Japanese restaurant, you will find an exotic blend of traditional style yakitori; chicken hearts and liver alongside 'Chef's Favourites', pork belly or short rib wagyu beef. The menu caters to a variety of dietary requirements and has an extensive vegetarian yakitori selection. It's not just all yakitori though… there's rice dishes, noodles, and other delicious Japanese classics to choose from. They also have another venue in the West End too, if you find yourself on the other side of town.
Address: Shop 4, 702 Ann St, Fortitude Valley QLD 4006
Phone: +61 (07) 3257 2305
Hours: Mon – Sun: 12pm – 2pm, 5:30pm – 10pm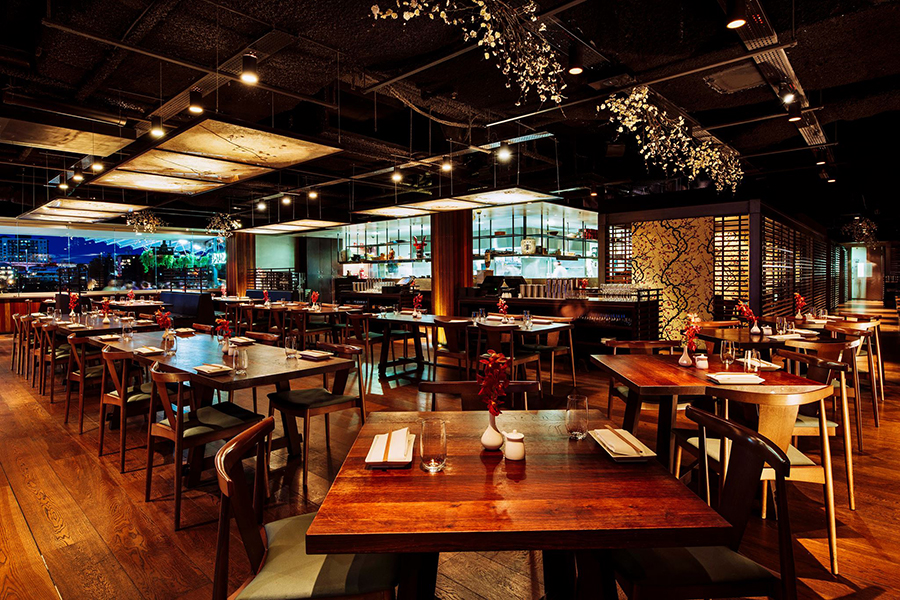 5. Sake Restaurant
With five locations and part of the Rockpool Dining Group, Sake Restaurant is one of Australia's most awarded Japanese restaurants. Focusing on contemporary Japanese style dishes in a sleek modern setting, Sake is best known for its extensive menu of deliciously fresh sushi and sashimi and its inventive omakase menus. Signature dishes not to be missed are the Hiramasa kingfish with lime, ponzu, and jalapeno dressing, and the Miso-glazed toothfish. A treat for all the tastebuds.
Address: Eagle St Pier, Level 1/45 Eagle St, Brisbane City QLD 4000
Phone: +61 (07) 3015 0557
Hours: Wed – Thurs: 5:30 – 9pm, Fri – Sat: 12pm – 2pm, 5:30pm – 10pm, Sun: 12pm – 8pm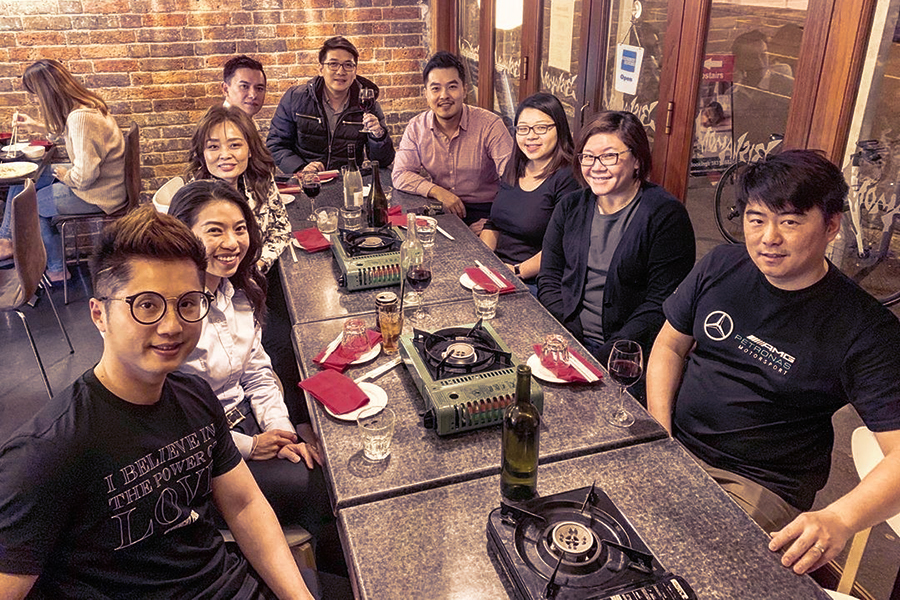 6. Bishamon Japanese
For authentic Japanese food in Brisbane, look no further than Baishamon in the heart of city's popular Spring Hill. Just outside of the CBD, this family-run restaurant believes dinner is best when shared with family and friends. They offer an extensive menu ranging from sushi and sashimi to traditional tempura-style dishes. There's so much on the menu here you'll have to come back time after time to try all the tasty delights. The Shabu Shabu or Sukiyaki hotpot specials are a standout choice. Wagyu beef, pork, and veggies are cooked on a cast stone pan at the table. These dishes are full of flavour and served all you can eat style so you certainly won't leave hungry!
Address: 500 Boundary St, Spring Hill QLD 4000
Phone: +61 (07) 3832 3888
Hours: Tues – Fri: 12pm – 2pm, 5:30pm – 10pm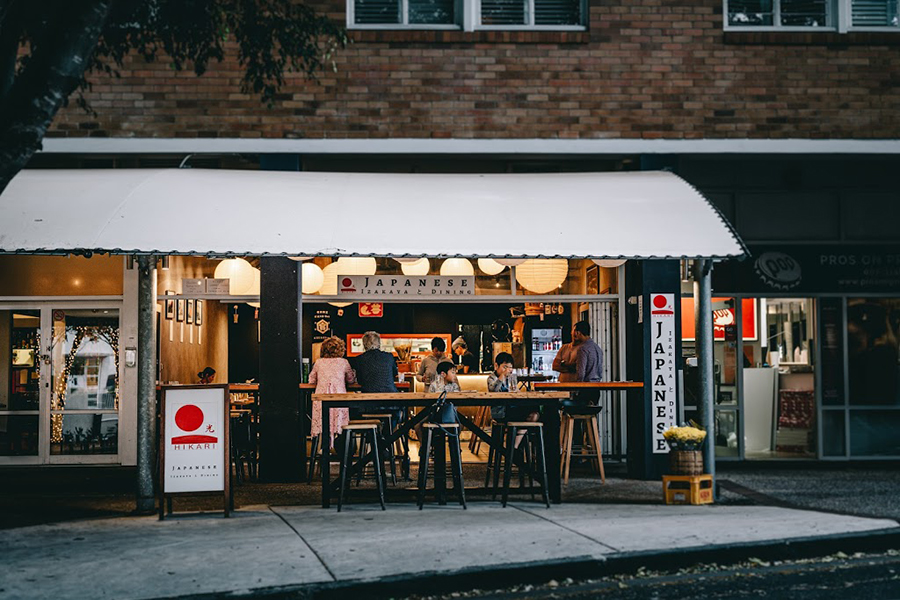 7. Hikari
Hikari fuses Izakaya style dining with Washoku (traditional flavours) to create a funky and unique experience. Stand out menu items include the innovative "Tuna taco" – seared tuna with avo and orange, presented in a crispy gyoza shell, and the "Jalapeno Shooter" which combines salmon and tuna tartare served on deep-fried jalapenos that have been stuffed with cream cheese. Delicious!
Address: 55a Florence St, Teneriffe QLD 4005
Phone: +61 (07) 3257 0381
Hours: Tues – Thurs: 5:30pm – 10pm, Fri – Sun: 12pm – 10pm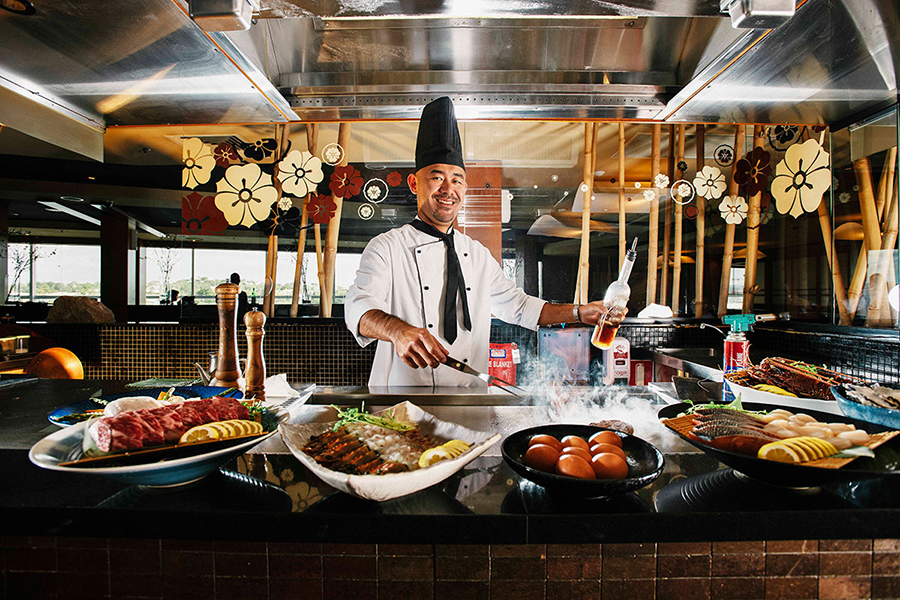 8. Sono
Japanese fine dining at it's finest. The highly specialised chefs at Sono balance creativity and authentic flavours to create a simplistic and unique take on Japanese dining. This multi-award-winning restaurant has beautiful river views and a tranquil atmosphere upon walking through the doors. Here, you have a choice of dining experience, from private tatami rooms, the more casual teppanyaki bar, or the elegant main dining area. This is one of the best Japanese restaurants Brisbane has to offer for a reason.
Address: Portside Wharf, 39 Hercules St, Hamilton QLD 4007
Phone: +61 (07) 3268 6655
Hours: Tues – Wed: 5:30pm – 9:30pm, Thurs: 5:30pm – 10pm, Fri: 12pm – 2pm, 5:30pm – 10pm, Sat: 12pm – 2pm, 5:30pm – 8:30pm, Sun: 12pm – 2pm, 5:30pm – 9:30pm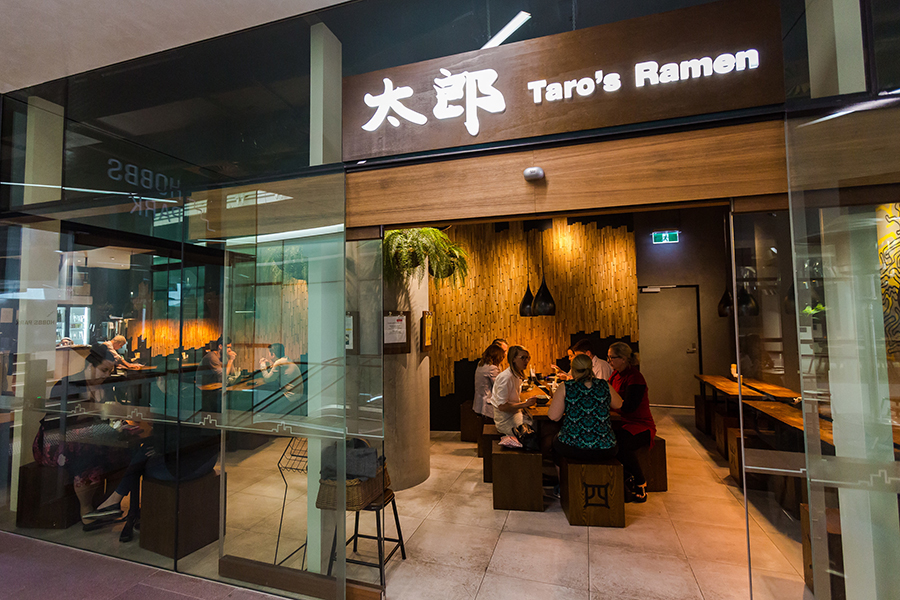 9. Taro's Ramen
Traditional ramen bars offer quick and casual Japanese dining, and that's exactly why Taro's Ramen has become a Brisbane institution. Across four locations Chef Taro offers a wide range of delicious ramen including tonkotsu (pork bone broth), miso, and shoyu (soy sauce). They craft every component from scratch, from fresh local, ethically sourced ingredients. With no MSG or artificial flavours added, this is a truly authentic ramen taste and a complete labour of love from the Taro team, who are continually updating and refining the dishes. It's not just ramen here though. Alongside the mouthwatering noodles, Taro's offers a selection of small entree dishes and house-made gyoza. And, watch out for the monthly specials and lunch deals for unbeatable bang for your buck on weekdays!
Address: 154 Melbourne St, South Brisbane QLD 4101
Phone: +61 (07) 3844 4414
Hours: Mon – Fri: 12pm – 2pm, 5:30pm – 8pm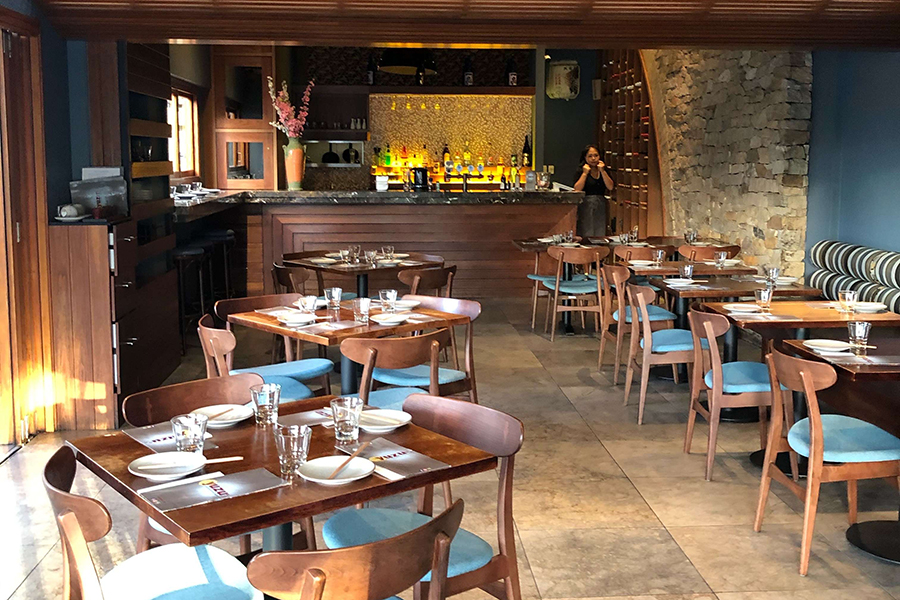 10. Yuzu & Co
Located in Milton, the vibrant dining room at Yuzu and Co. features exposed stone walls, bold colours, and a super funky menu. A delightfully different selection of modern Japanese cuisine is available here. Dynamic flavour twists are showcased in a variety of share dishes such as brie cheese tempura, wagyu beef with truffle salsa, and the popular barramundi teriyaki. Definitely one of Brisbane's best Japanese restaurants for interesting food combinations and amazing wait staff too!
Address: 20 Park Rd, Milton QLD 4064
Phone: +61 (07) 3367 8438
Hours: Mon – Sun: 11am – 3pm, 5pm – 10pm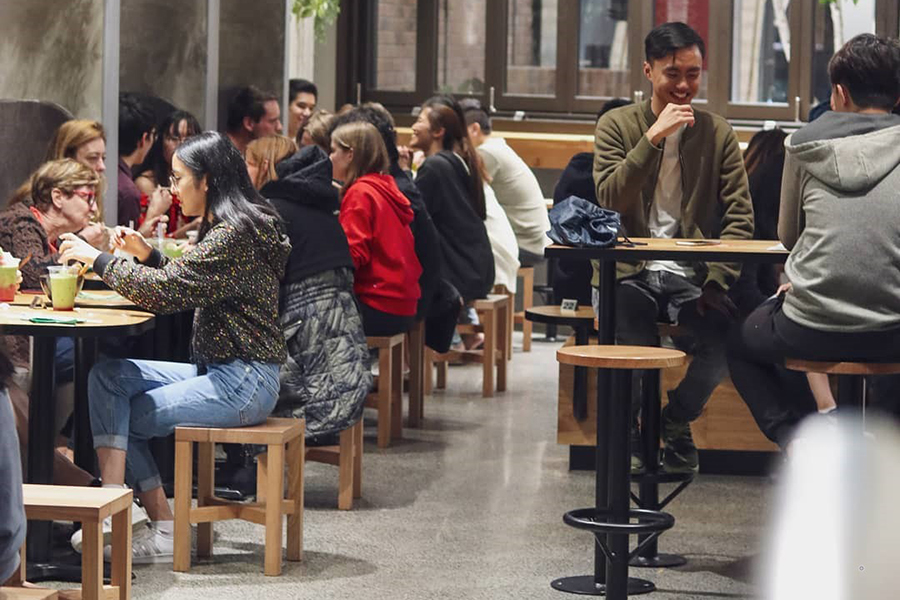 11. Koto Sanpo
Nestled along FudoDori, the Asian dining precinct in Brisbane's CBD, you'll find Koto Sanpo, a beautiful little eatery inspired by Kyoto's teahouses and streetside cafes. The large kitchen, reminiscent of those in Japan, and a clean industrial style interior filled with low hanging plants create a cool, ambient atmosphere. The stars here are the desserts and matcha lattes. So sweet lovers, go no further. Koto Sanpo has also created a 'Koto High Tea' the first Japanese high tea in Australia; small savoury dishes and matcha cakes served with a choice of Japanese teas.
Address: Shop 1/97-101 Elizabeth St, Brisbane City QLD 4000
Phone: (07) 3252 8888
Hours: Sun-Thur: 11:30am – 2:30pm, 5pm – 8pm, Fri-Sat: 11:30am – 2:30pm, 5pm – 8:30pm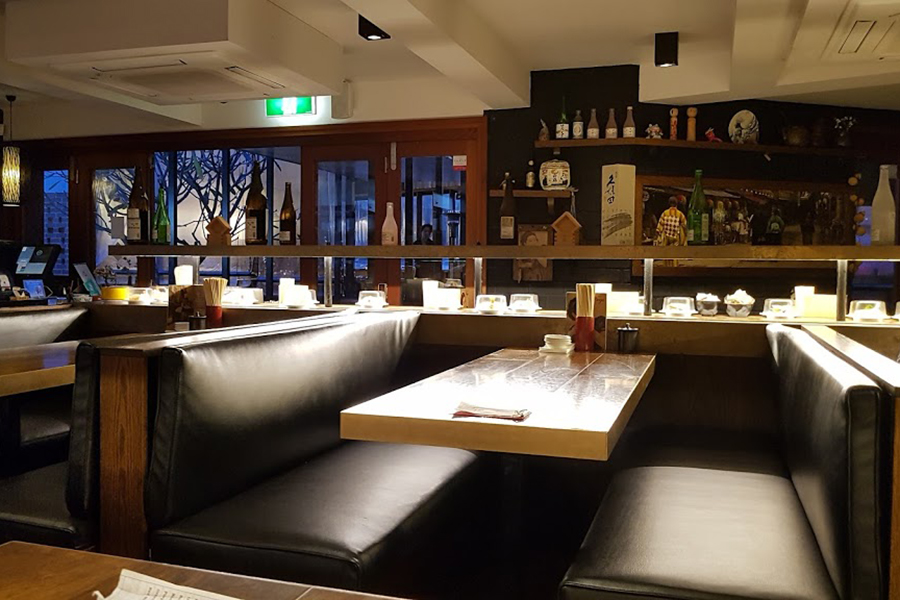 12. Moga
Fans of traditional sushi should head to Moga, one of Brisbane's best Japanese restaurants, complete with an outdoor veranda. With two separate menus, the restaurant comprises of an a la carte dining area and bar seating around a large high-end sushi train. The interior design is inspired by Kyoto's historical eateries with wood-panelled walls and sleek timber furniture and the menu is classic Japanese at its best. With highly skilled sashimi chefs and dishes cooked on their traditional robata grill (hot meat cooked over charcoal), this is Izakaya dining for those who want to impress.
Address: Shop 2/146 Baroona Rd, Paddington QLD 4064
Phone: +61 (07) 3367 2808
Hours: Tues-Sun: 11am – 9:30pm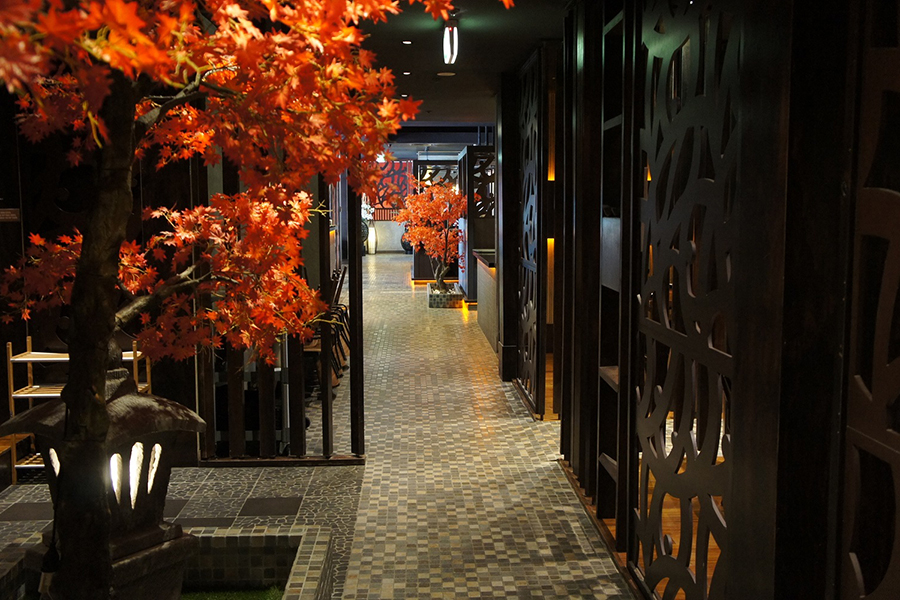 13. Wagaya
Zoom forward into the future and order all your dishes from a touch screen menu on your table at Wagaya, one of Brisbane's best Japanese restaurants in Fortitude Valley. This traditional restaurant on the first floor overlooks the bustling Chinatown mall and is the perfect place for great value, quick Japanese izakaya dining. Expect dishes such as Udon noodles, sushi rolls and overflowing bento boxes stuffed with traditional flavours. There's a large range of interesting alcoholic and non-alcoholic drinks too, including cocktails, Japanese beers, and Sake.
Address: 1 TCB Centre, 315 Brunswick St, Fortitude Valley QLD 4006
Phone: (07) 3252 8888
Hours: Mon-Fri: 12pm – 3pm, 5:30pm – 10pm, Sat: 5:30pm – 10pm, Sun: 5pm – 9pm
You'll also like:
11 Best Japanese Whisky Brands
12 Spots for the Best Charcoal Chicken in Melbourne
9 Best Barber Shops in Brisbane
General FAQ's
What are the best Japanese restaurants in Brisbane?
Brisbane is full of fantastic options for exquisite Japanese cuisine, from izakaya-style eateries to high-end waterfront fine dining. Honto and Yoko are among the top-rated Japanese restaurants in Brisbane,
Where's the best ramen in Brisbane?
Check out Taro's Ramen in South Brisbane for some of the city's best ramen. Taro uses only the freshest, local produce that has been ethically sourced and no added preservatives or MSG. Making Taro's Ramen the best, healthiest, and tastiest Ramen around.
Are there any good sushi restaurants in Brisbane?
If it's a sushi train you're after, check out Moga for traditional sushi dishes such as Nigiri and sashimi. They also have an outdoor garden area for a la carte dining from a separate sushi menu.