10+ Pro Skincare Tips for Long-Haul Flights
If there's one thing that can take its toll on the most well-looked after skin, it's a long-haul flight. From the pressure of the cabin to the lack of fresh air, there are a plethora of reasons for your skin to feel less-than-fantastic when you're 36,000 feet up, and anybody who's flown for longer than eight or so hours knows exactly what we're talking about.
We caught up with Aussie cabin crew member Adriano Mameli from Virgin Australia to find out the best ways to keep your face feeling in fine form on your next flight.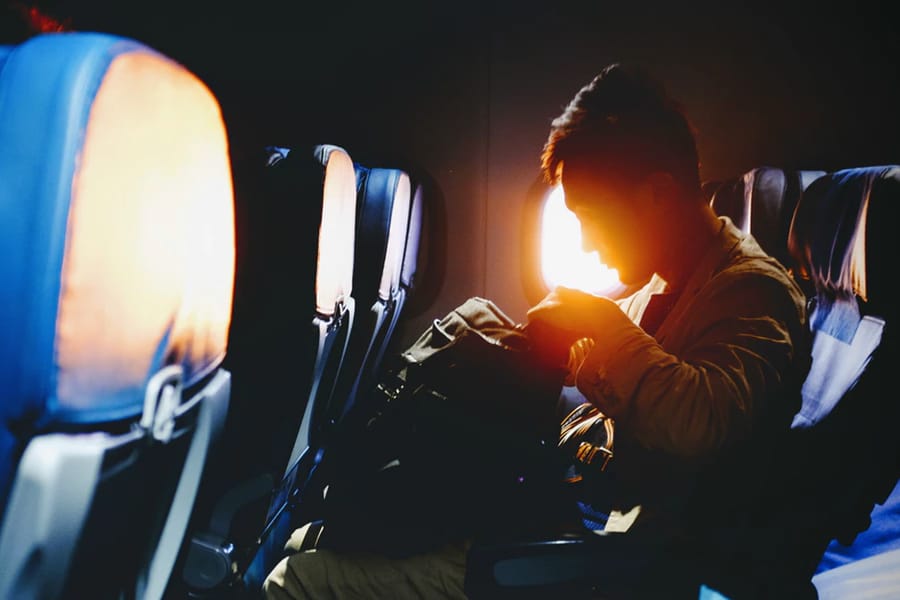 What does your pre and post-flight skincare regime look like?
Being a Virgin Australia long-haul flight attendant and working in a pressurised cabin, it can be quite stressful on the skin. Our skin protects us, so it's important that we protect and look after it. After all, it is our body's largest organ.
My skin gets extremely tired and travelling into different climates and managing irregular sleeping patterns can take its toll. I manage this by keeping to a skincare regime that revives my skin pre and post-flight. It's equally as important that we feed our body the nutrients it needs from the foods we eat, to ensure that we are also nourishing our skin from the inside out.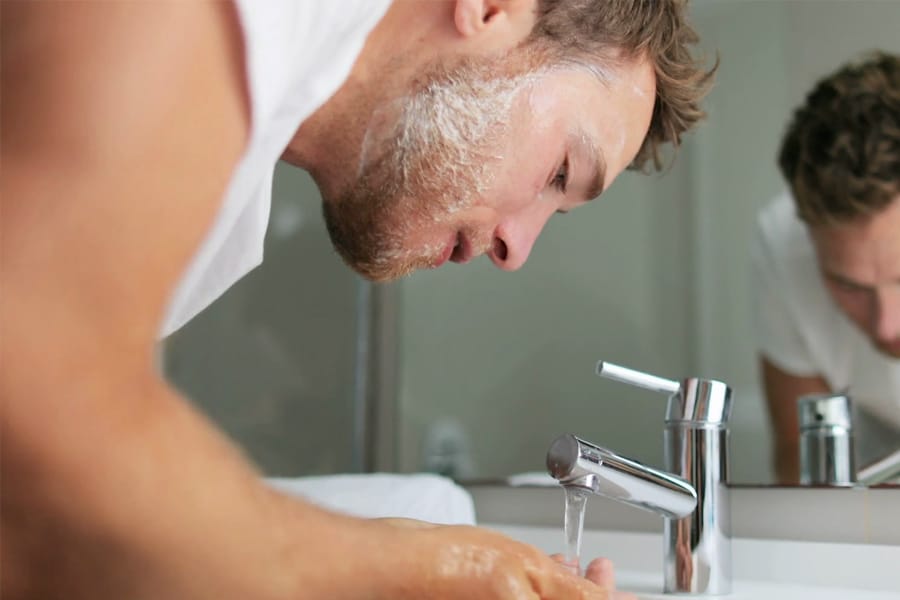 PRE-FLIGHT
Cleanse
Prior to a flight either in the shower or after it's important to cleanse. A cleanser I recommend to everyone is Burt's Bees Brightening daily facial cleanser.
This gentle cleanser gets deep into your pores. What I like about it is that it isn't drying like other cleansers. It works like magic. Once you have rinsed it off, your skin feels softer, dewy and visibly brighter. This one step alone brings some life back into your skin. If you have a beard, it's important that you massage the cleanser into your beard to eliminate any breakouts.
Eyes
Once I've cleansed my skin, it's time to de-puff my eyes.
Kiehl's Facial Fuel Eye De-Puffer is a smooth roll-on and you can gently pat in the excess using your ring finger. It has a cooling formula and wakes and brightens your eyes. This stuff is my secret weapon onboard when reaching into the 14th hour of a flight.
Moisturise
Kiehl's Facial Fuel Energizing Moisture treatment is my daily moisturiser. Its vitamin-enriched with vitamins C and E, and uplifts stressed skin. For men like me that have a beard, this gel formula is perfect, as the gel penetrates the beard and moisturises the skin beneath.
Prior to a flight, I add this little trick into my moisturiser, to give me a sun- kissed look: Drunk Elephant D-Bronzi Anti-Pollution Sunshine Drops.
Add a couple of pumps onto the palm of your hand and into your moisturiser and blend it in. Then apply your moisturiser to your face as you normally would. It gives you that holiday glow, and it doesn't permanently stain your skin and it isn't make-up. It gives you that 8-hour sleep look, when you've probably just had four.
Body
It's important to keep your whole body hydrated and following a shower, I use Aesop Geranium Leaf Body Balm.
This rich formula keeps my skin soft and the Geranium is so calming and beautiful, that it smells like I just left a spa treatment.
Lips
We can't forget to keep our lips hydrated! Hunter Lab Lip Ammo is my go to and it is also available in our Business Class amenity kits. This conditioning lip balm is crafted with shea butter and jojoba and also has peppermint essential oils which make it delicious.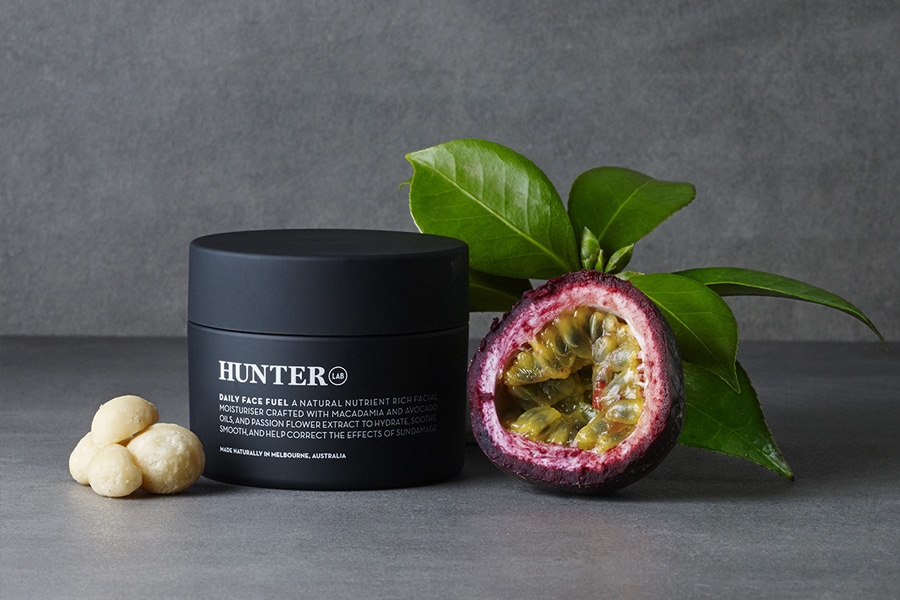 POST FLIGHT
This is when my skin feels tired, dull and stressed, and in urgent need of attention. My post-flight routine is slightly modified to ensure that my skin is getting the hydration it needs.
Once I've cleansed and have attended to my eyes, I moisturise with Hunter Lab Daily Face Fuel. What I love about this is that it is natural, and it intensely hydrates and rejuvenates the skin, and for those of us that are 30 and over in age, it also helps corrects skin-aging free radicals.
The Hunter Lab Daily Face Fuel is also featured in our Business Class Amenity Kits. I promote it to Virgin Australia guests, especially on ultra-long-haul flights between Australia and Los Angeles. There's a certain type of victory you feel when you get off a flight feeling bright and hydrated.
Do you have a go-to skincare item that you always have with you on long-haul flights?
Kiehl's Facial Fuel Eye De-Puffer is my secret weapon. As its an under eye roll-on, its easy and quick to apply and instantly has a cooling effect to wake tired eyes.
What are your top tips for keeping your skin hydrated during a long flight?
Water, water, water. Keep it simple. On a long-haul flight, I drink a minimum of three litres of water. In one bottle I may add 15 drops of chlorophyll (the green pigment that enables plants to process energy from sunlight).
I highly recommend ChlorOxygen Chlorophyll Concentrate Drops. Chlorophyll detoxes your blood, stimulates the immune system, it keeps your body in an alkaline state, prevents cancers and also assists in altitude acclimation. The benefits of chlorophyll are plenty.
You can find it online in Australia. What I love about this chlorophyll product is that it has no flavour, unlike many you may find in pharmacies that have a spearmint flavour. Always talk to your doctor before you take chlorophyll or any other herb or supplements.
Are there any types of food you avoid eating before flying or whilst flying that affect your skin's hydration? And conversely, is there any food you would recommend to eat more of?
I try and avoid overly salty foods and high-risk foods such as raw meats, some poultry and smallgoods. Too much salt will make you thirsty, however, our body needs some salt, (electrolytes), to survive too, so it's finding the right balance. Some crew place electrolytes into their water as a supplement.
I fuel my body with plenty of fruits, vegetables and salads to aid in my hydration. Cucumbers, watermelon, lettuce are my go to, incorporating a clean protein.
Dry and puffy eyes are almost unavoidable on long haul flights. How do you deal with this?
Try and avoid using eye drops as you don't want to become reliant on them. The simple trick to avoiding dry eyes on a long haul flight is to simply drink lots of water. You know when you haven't had enough water on a flight when your eyes begin to tear up and sting.
With all this water intake, I also recommend you book an aisle seat!
To aid in puffiness I highly recommend Skyn Iceland Hydro Cool Firming eye gels. These under eye gel patches cool and soothe your under eyes and are great under eye treatment before heading out to that fancy dinner in Hollywood.
Man of Many recently travelled to Colorado as a guest of Virgin Australia.