Man of Many's Staff Favourites – 16 September 2023
Not the brag, but the Man of Many team has recently snagged a few awards. So if you're curious about what the Mumbrella Website of the Year 2023 team is adding to their cart at checkout, then you should definitely take a squiz out our latest edition of Staff Favourites.
You'll also love:
Man of Many's Staff Favourites – 9 September 2023
Man of Many's Staff Favourites – 2 September 2023
Man of Many's Staff Favourites – 27 August 2023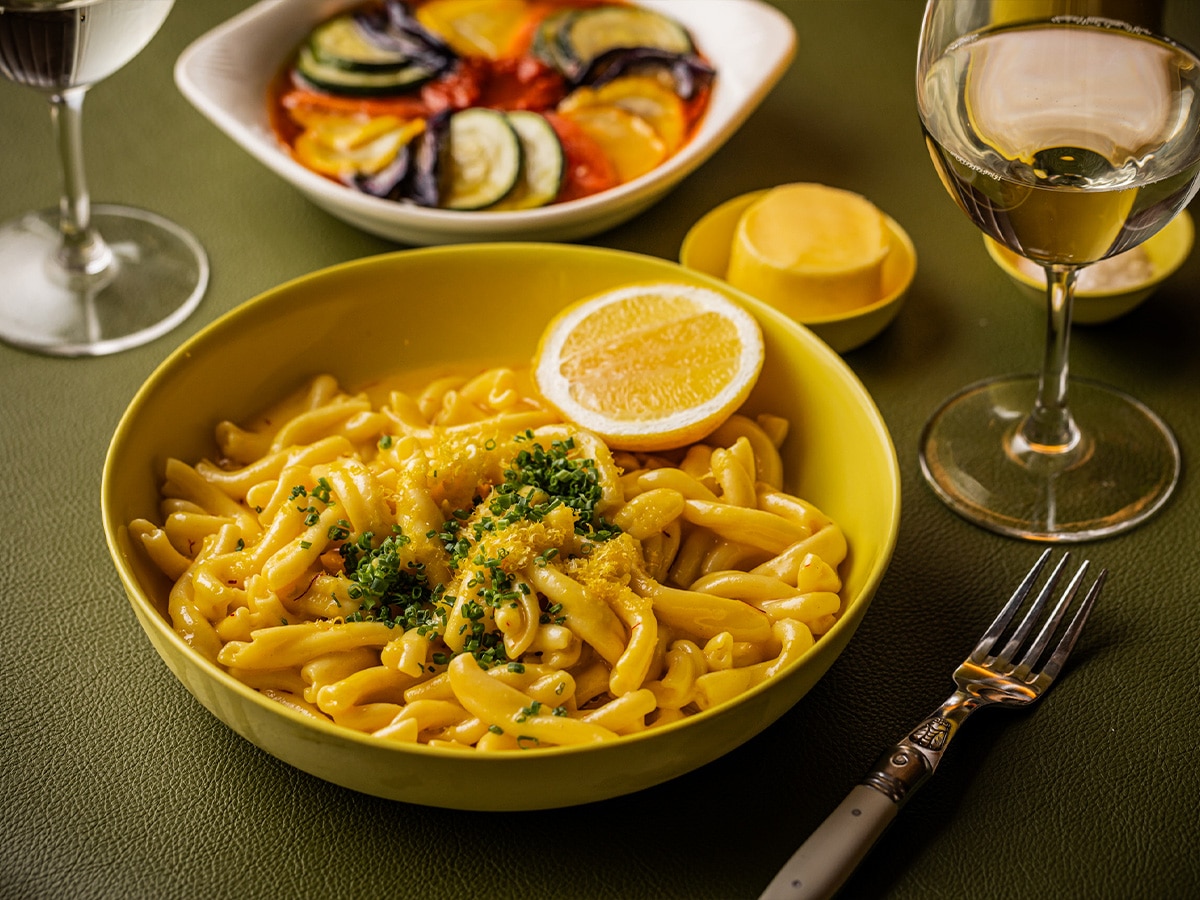 Parlour Restaurant
Nick Hall – Editor-in-Chief
It's no secret that French food is my absolutely favourite cuisine, so when I got the chance to test out Parlour, QT Sydney's new bistro, I jumped at the chance. An uncomplicated take on classic French cooking, Parlour comes by way of renowned Gowings and Esther creative director Sean Connolly and head chef Kenny Radegonde.
Right from the outset, Parlour delivers a taste of Paris. The unique venue, tucked away on the ground floor of QT Sydney and the State Theatre, immediately reminded me of Bouillon Julien, one of my favourite Parisian eateries, right down to the brass mirror scribbled with specials.
If you get the chance to go, I simply cannot recommend the escargot enough, not just for the snails, but more for the delicately torched piece of ham that provides the foundations for the dish. Of course, the tartare is delightful and the Coffee Crème Brûlée will forever live on in my memories. Parlour is located at 49 Market Street in Sydney and is open seven days a week.
Favourite Article of the Week: Kim Kardashian's Acting isn't the Most Horrifying Part of the New 'AHS: Delicate' Trailer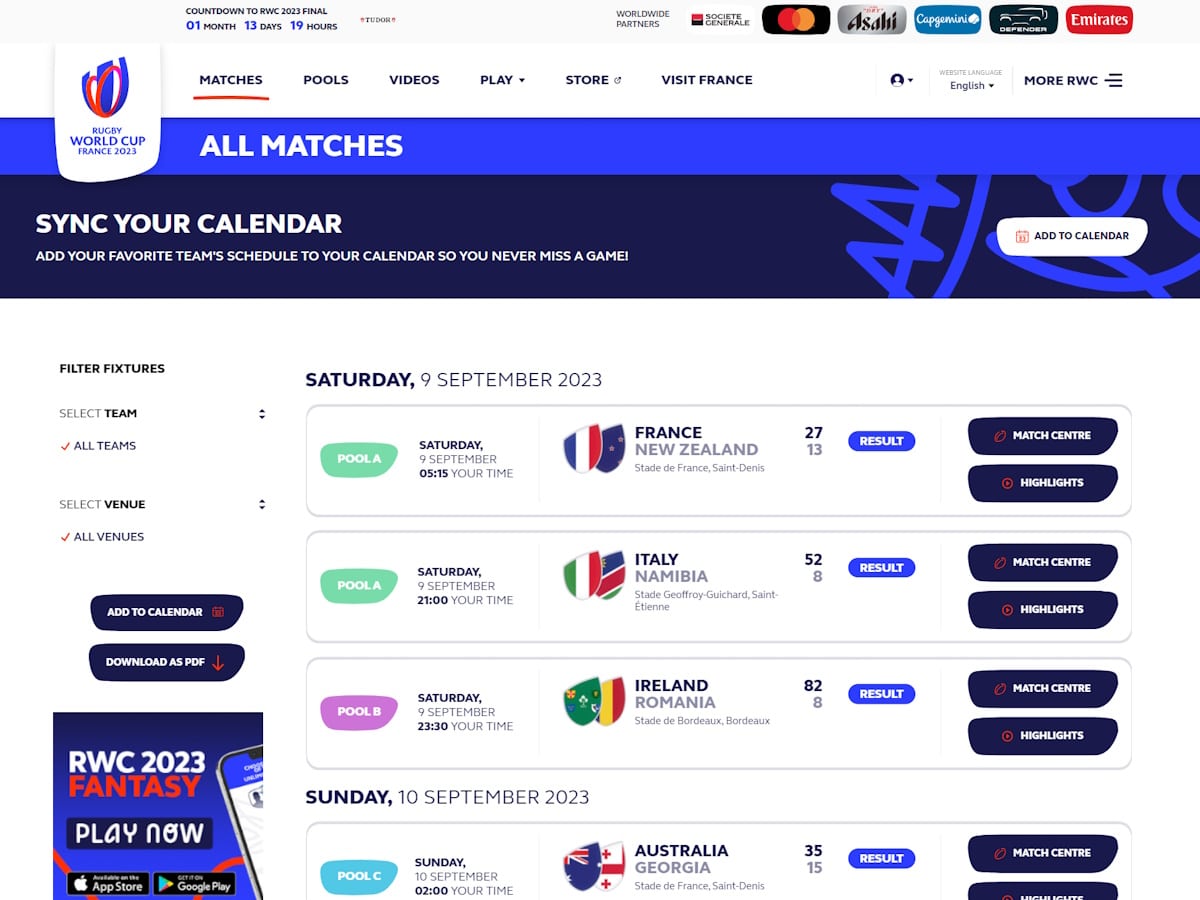 Rugby World Cup Match Calendar Sync
Scott Purcell – Co-Founder
I'm a huge fan of rugby. Absolutely love it. As they say, it's the game they play in heaven. But if you're stuck in Sydney like me, the timezone absolutely sucks for this Rugby World Cup. That's not to say that you can't still keep up with all of the action and matches on the pitch. Last week I came across this absolutely amazing feature where you can sync all of the Rugby World Cup matches with your Google Calendar in your local times. It's a handy reminder if you need to know when to get up at 2am or 5am.
Favourite Article of the Week: 10 Most Expensive Johnnie Walker Whiskies Still on the Market
Farage Zero-Weight Suit
John Guanzon – Head of Social
You may have heard the news that your favourite website recently picked up three Mumbrella Publish Awards, including Website of the Year 2023. Unfortunately, there wasn't a category for 'Best Dressed Team' at the cocktail event but sources say, the Man of Many team would have won that as well. Our friends Farage Australia kindly offered to dress me for the event and I rocked a charcoal Zero-Weight jacket and trousers, paired with a grey Academy Brand shirt. The suit definitely lives up to its name, feeling light and airy.
To quote the great philosopher Ned Flanders, wearing it "feels like you're wearing nothing at all. Nothing at all. Nothing at all". If you're looking for something to keep you cool both figuratively and physically in the warmer seasons, check this one out. After visiting their new flagship store in Darlinghurst, it was a no-brainer why Farage has become one of Australia's most beloved fashion brands. After 25 years in business, Joe Farage and his team always look to push the boundaries of sartorial style and craftsmanship and their stunning new concept store is a reflection of the sophisticated minimalism that the brand is known for.
Favourite Article of the Week: 10 Most Expensive Johnnie Walker Whiskies Still on the Market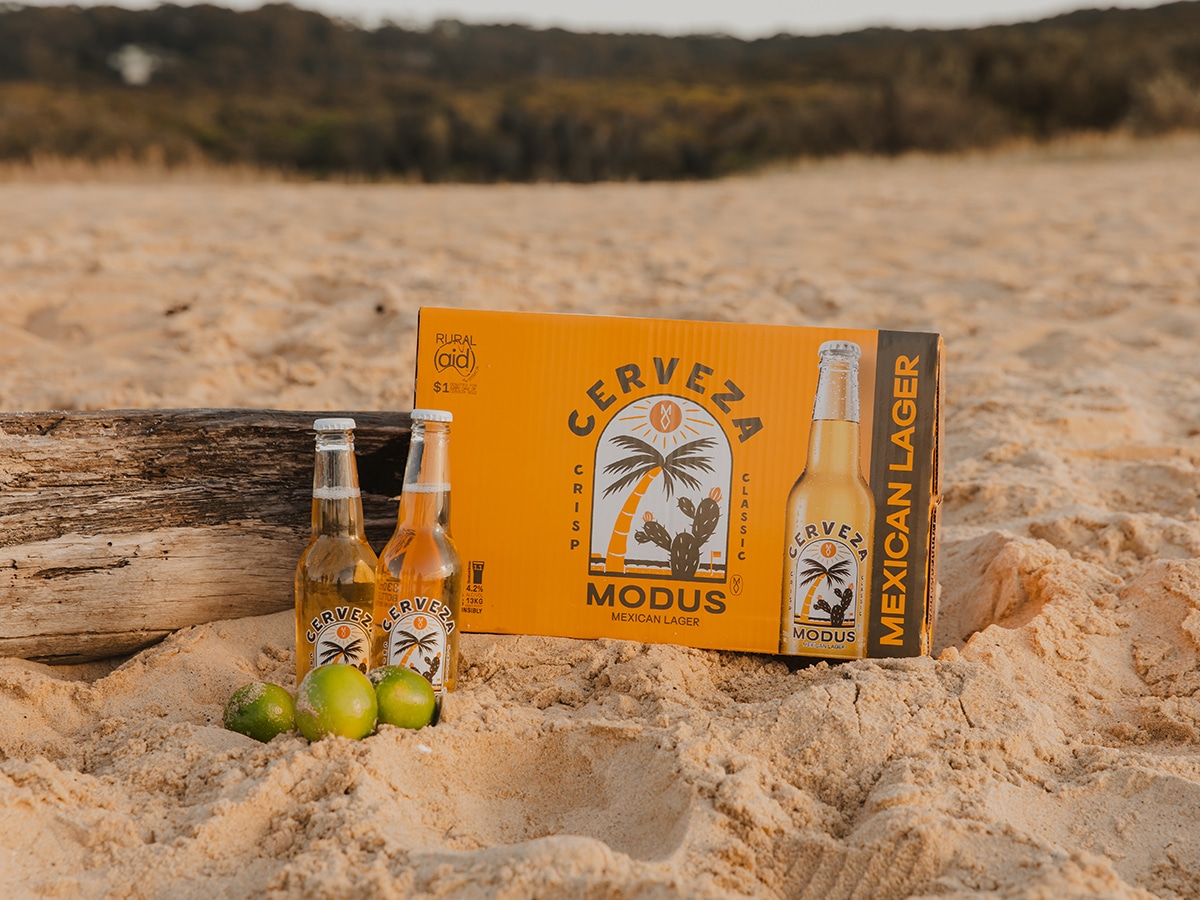 Modus Cerveza
Elliott Barsby – Commercial Director
From the team at Modus Operandi comes your ultimate summer thirst-quencher, the Modus Cerveza. Inspired by the laid-back vibes of coastal Mexico but brewed here in Australia, it's a beer that's a perfect fit for those soon-to-be scorching days.
Best served ice-cold with a fresh lime wedge, it is a frosty, light-bodied lager, with a crisp citrus finish. The zing of citrus perfectly complements the beer's breezy character, making every sip a tropical escape. But choosing Modus Cerveza isn't just about great taste – it's about supporting local. It is 100% Aussie-owned and made, and for every case of Modus Cerveza bottles sold, Modus will donate $1 to Rural Aid, a heartwarming initiative that supports Aussie farmers when they need it most.
The Modus Cerveza is your sunny day companion, a taste of Mexico, and a way to do some good Down Under. Cheers.
Favourite Article of the Week: 15 Best Wine Clubs and Subscriptions in Australia
Uncle Tobys x Vegemite Oats
Dayna Aspite – Branded Content Associate
love a little controversy stirred into my food and this combo dished it perfectly around the office. The G.O.A.T of oats, and the iconic Aussie pantry staple creating THE breakfast of champions was not on my 2023 bingo card but I'm so glad they've made their appearance. As someone who has literally cooked oats every way imaginable, this is by far in the top 3 best ways I've enjoyed them. My favourite thing about this is I'm not even a fan of Vegemite! It brings just enough saltiness to say hi and because of that the topping combos are endless. I really enjoyed this with a bit of Tabasco and a sunny side up egg.Sadly this delicious combo is yet to hit the supermarkets but they're pushing to make it happen.
Favourite Article of the Week: 15 Best Wine Clubs and Subscriptions in Australia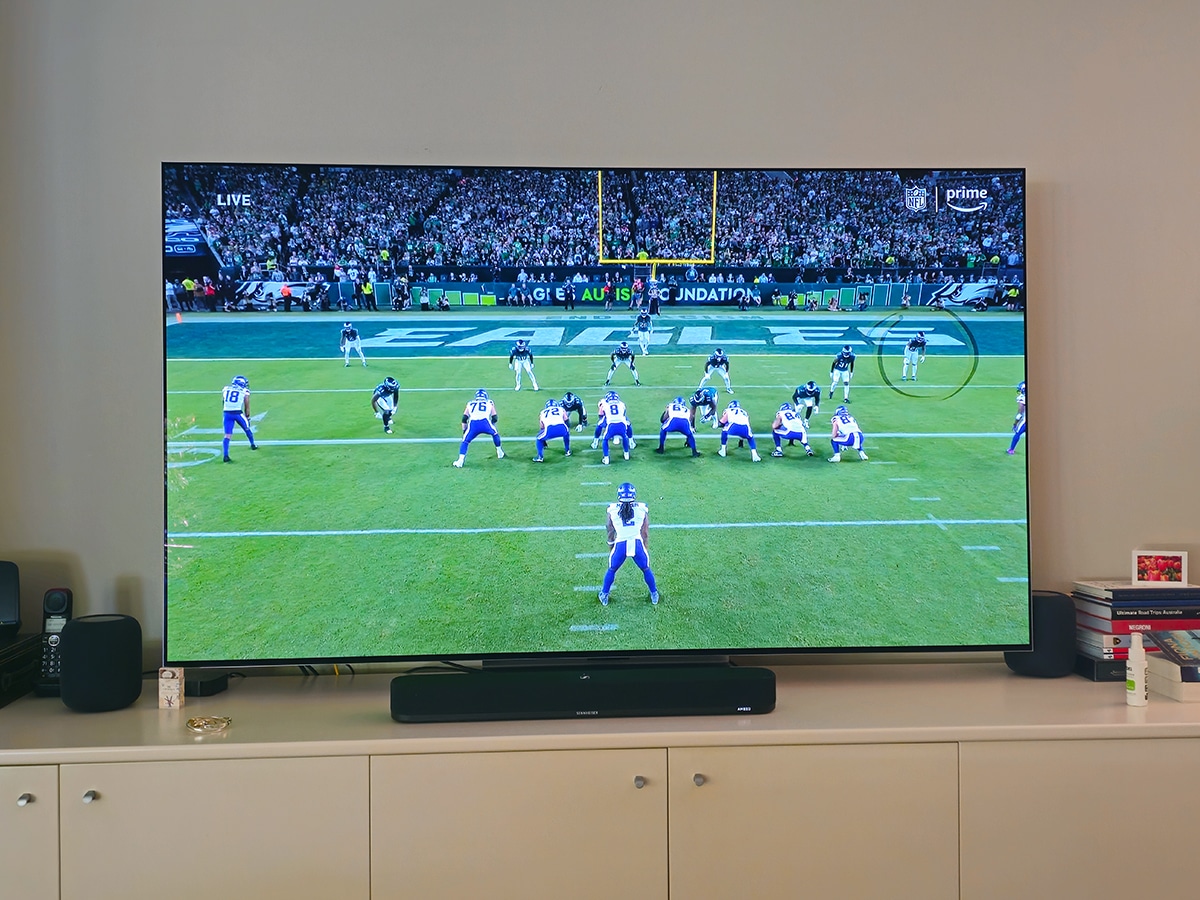 Big TV, Little Soundbar
Ben McKimm – Journalist
So I've been testing the new LG OLED Evo C3 83-inch TV for the last month and I really don't want to give it back. Today, I paired it with the new Sennheiser AMBEO Mini Soundbar that I'll also be testing for review over the next few weeks so look forward to the full reviews of both before I hand them back. I'll quickly touch on these because I've been so impressed by both, showcasing the best of both ends of the tech equation. First, the huge 83-inch LG OLED TV is powered by the α9 AI Processor Gen6 that helps with brightness (usually an issue with OLED), contrast thanks to Dynamic Tone Mapping Pro, and AI Super Upscaling 4K that removes noise and enhances the colours of faces and objects.
I rewatched Top Gun Maverick the other night and it was like being in the movies, the final scenes in the snow covered mountains really showcased the enhancements in brightness and zone mapping. The white snow was crystal clear, yet the green trees and blue water really popped. Of course, I'll be doing it again after setting up the AMBEO Mini Soundbar tonight!
Favourite Article of the Week: 2023 Audi RS 6 Review: Still the Ultimate Wagon?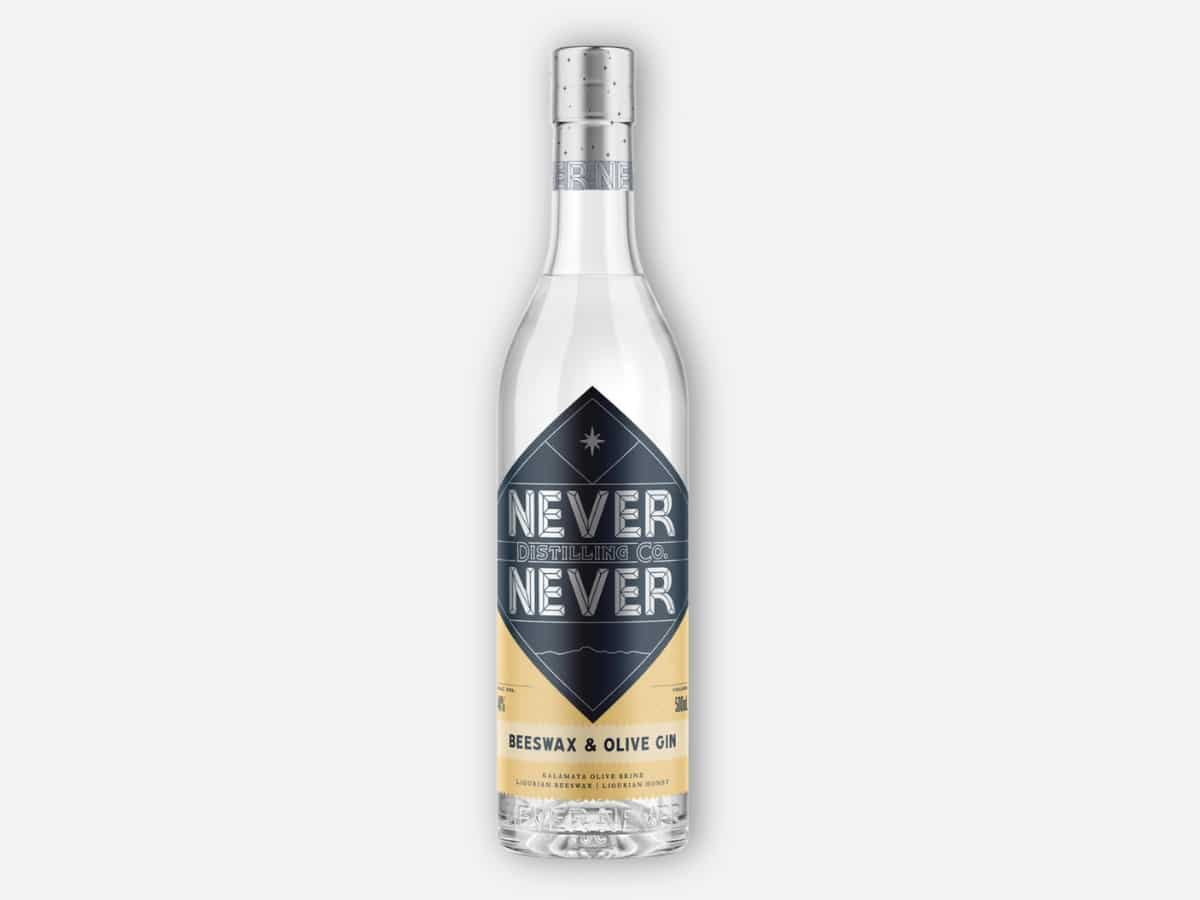 Never Never Beeswax & Olive Gin
Rob Edwards – Branded Content Writer
I've sampled many a gin in my time, but I have to confess that Never Never Distilling Co.'s Beeswax & Olive Gin is quite unlike any I've encountered before. Made right here in Australia, the distillery crafts the gin's flavour profile using Ligurian beeswax and raw honey—sourced from hives on Kangaroo Island—along with Kalamata olive brine from Lloyd Brothers Wine & Olive Company. And what a profile it is, too. Capable of making a mean gin and tonic—look for the light clouding that appears as you add the tonic, courtesy of natural oils present in the botanicals—it was intended to be the perfect gin for martinis and highballs. You really can't argue with the rich, almost creamy results, nor the layers of salted honey on biscotti, dried olives, sweet basil, bay leaf, and fresh orange. This is a gin that stands out from the pack.
Favourite Article of the Week: 2023 Audi RS e-Tron GT Review: Four-Door Electric Supercar
You'll also love:
Man of Many's Staff Favourites – 9 September 2023
Man of Many's Staff Favourites – 2 September 2023
Man of Many's Staff Favourites – 27 August 2023