15 Best Boutique Hotels in Sydney
The boutique hotel is more than just a place to rest your head for the night, it's a unique experience with that extra touch of detail, which has the potential to make your stay in Sydney even more memorable. Sydney is brimming with boutique hotels, old and new, that are reshaping the hotel landscape. The modern quirky decor, contemporary vibe, gourmet food and personal service are just a few of the reasons why you should forgo the usual hotel chains and step into the world of contemporary uniqueness. And if that's not enough, some are even pet-friendly for those who can't bear to part with their four legged friends. Here's the 15 best boutique hotels Sydney has got on offer.
You'll also like:
31 Best Bars in Sydney for a Fun Themed Night Out
20 Best Beer Gardens in Sydney
19 Best Steak Restaurants in Sydney

1. QT Sydney
When it comes to cool hotels in Sydney, look no further than QT. Flush with 200 guest suites, out of towners and locals alike can soak up the Sydney night life from the hotels prime location right in the centre of the commercial district. The selective room décor pays homage to its historic location amongst the Gowings and State theatre buildings, and is guaranteed to leave an impression.
Address: 49 Market Street, Sydney NSW 2000
Phone: +61 2 8262 0000
Price: from A$220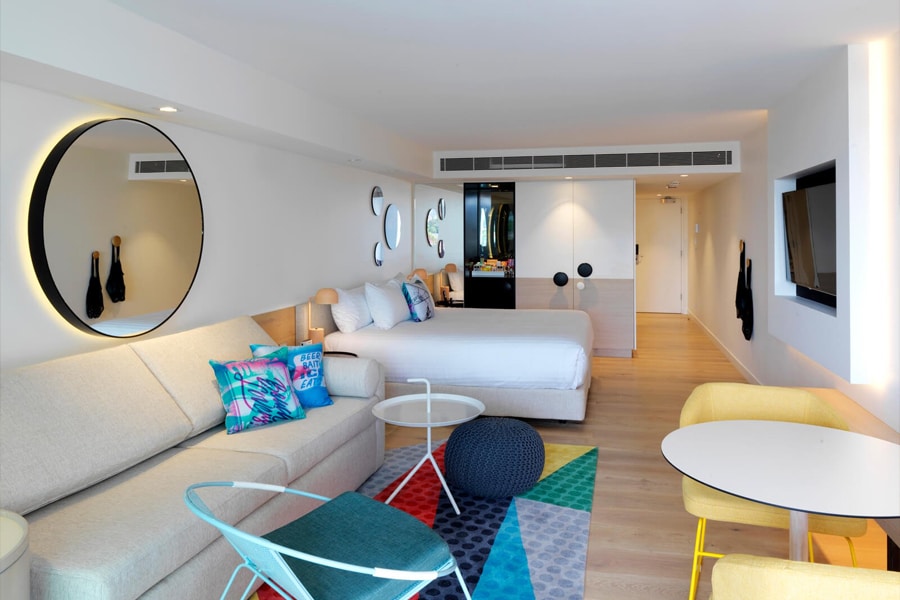 2. QT Bondi
One of the fanciest hotels you'll find in Bondi Beach, the QT Bondi promises opulence and glamour within its 69 oversize apartments and studios. All rooms are designed by renowned Australian designer, Nic Graham, and feature at their poshest end the Gould suites. Take in the city views from your personal balcony, relax on the kind sized bed, and take advantage of all the creature comforts that you can expect from this lush boutique hotel.
Address: 6 Beach Road, Bondi NSW 2026
Phone: +61 2 8362 3900
Price: from A$147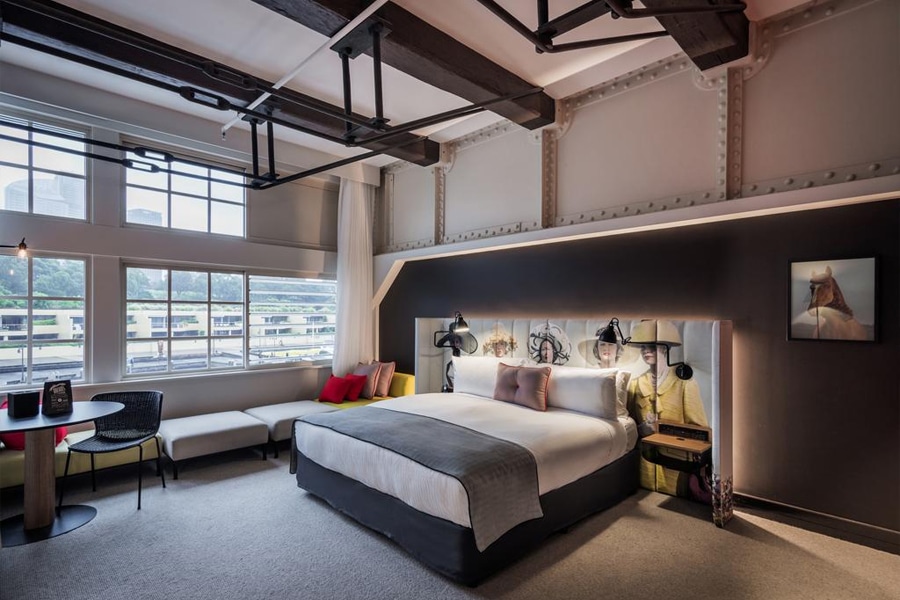 3. Ovolo Wooloomooloo
This 5 star hotel on Sydney's Woolloomooloo Wharf, offers old charm with modern technology. The Ovolo's sleekly designed rooms are fitted with modern furnishings like iPad, Smart TV and plush luxurious bedding. Just a 15 minute walk from the Sydney Opera House and close to the Royal Botanical Gardens, you'll never fall short on things to see and do.
Address: 6 Cowper Wharf Roadway, Woolloomooloo NSW 2011
Phone: +61 2 9331 9000
Price: from A$208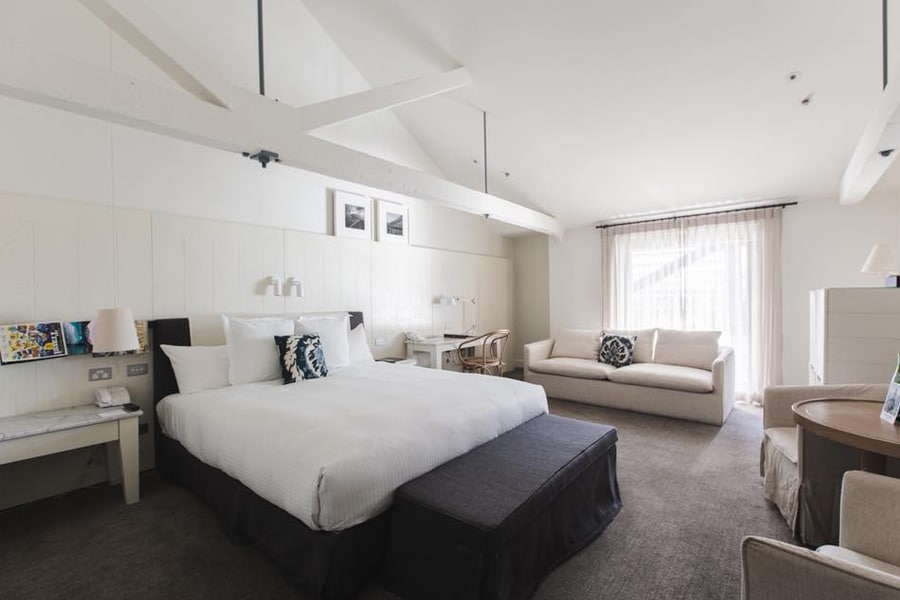 4. Pier One
Nothing says "I'm in Sydney" like views of Sydney Harbour and the Harbour Bridge. Built on the water, Pier One mixes eclectic federation style decor with modern contemporary. The Harbour View Suite offers a lavish room with warm tones and exposed wooden beams, plus full views of Sydney Harbour. Head down to the Pier and pop into The Kerrigan, where you can pick and taste all the good stuff and sample the local beer.
Address: 11 Hickson Road, Walsh Bay Sydney NSW 2000
Phone: +61 2 8298 9999
Price: from A$218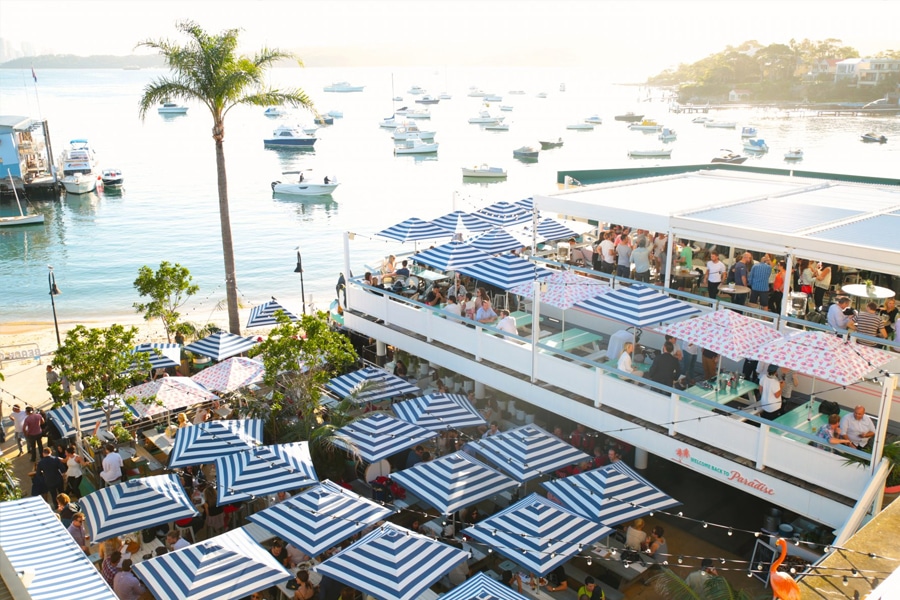 5. Watson's Bay Hotel
Just a few kilometers outside the city, Watson's Bay luxury boutique hotel has got the beachy vibes covered.  The waterfront location alone makes in one of the best boutique hotels Sydney has to offer and features view of the city skyline as well as Sydney Harbour. Sun, seafood and relaxation are all on the agenda, especially at the Watson Bay Beach Club. Fill up on sashimi tasting plates and sip on lavish cocktails in the beach clubs expansive outdoor space.
Address: 1 Military Road, Watsons Bay Sydney NSW 2030
Phone: +61 2 9337 5444
Price: from A$237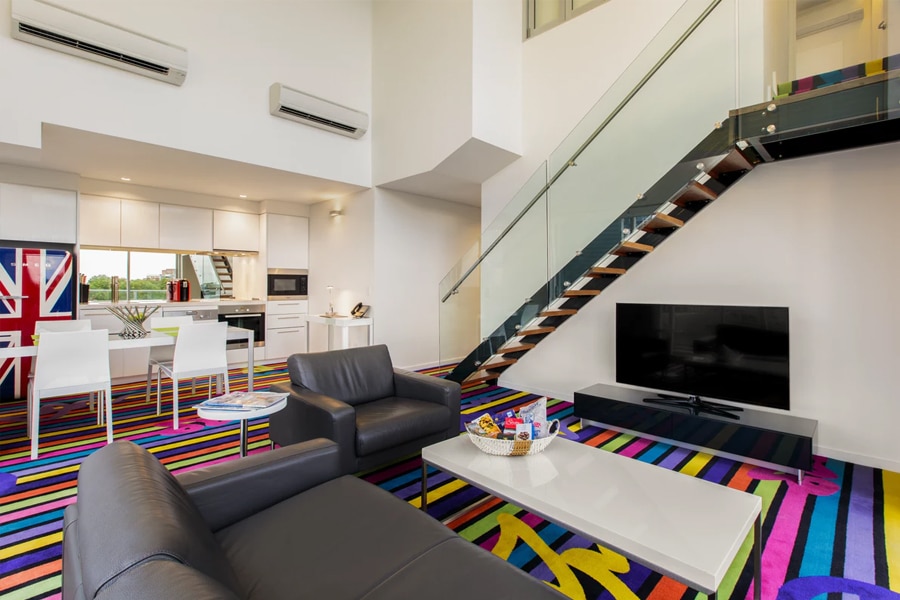 6. Adge Hotel
If you're looking for cool hotels in Sydney with a boutique vibe, Adge Hotel's boutique apartments are sure to satisfy. Eccentric decor and graffiti wall art are littered throughout the hotel and the colourful yet tastefully designed rooms are a welcome change from the usual cookie cutter chains. The services are above and beyond what one would expect, from the welcoming cheese platter to the personal grocery shopper, the attention to detail is what really sets this boutique hotel apart from the others.
Address: 222 Riley Street, Surry Hills NSW 2010
Phone: +61 2 8093 9888
Trading hours: Mon-Sat 10am-5pm
Price: from A$154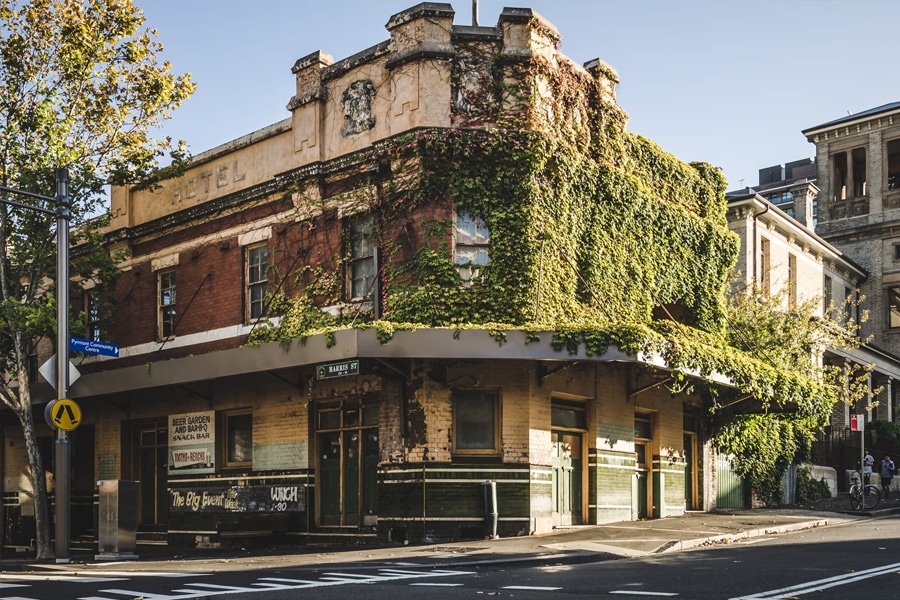 7. The Terminus Hotel
Recently reopened after a 30 year hiatus, The Terminus Hotel in Pyrmont has been restored and rebuilt to boutique perfection. A former pub, the 170 year old building's history is intertwined in the design of the hotel's interior, maintaining some of it original features. Terminus boasts nine sleekly designed rooms offering comfort and function with historic charm and all the amenities you need.
Address: 61 Harris Street, Pyrmont Sydney NSW 2009
Phone: +61 2 9692 0301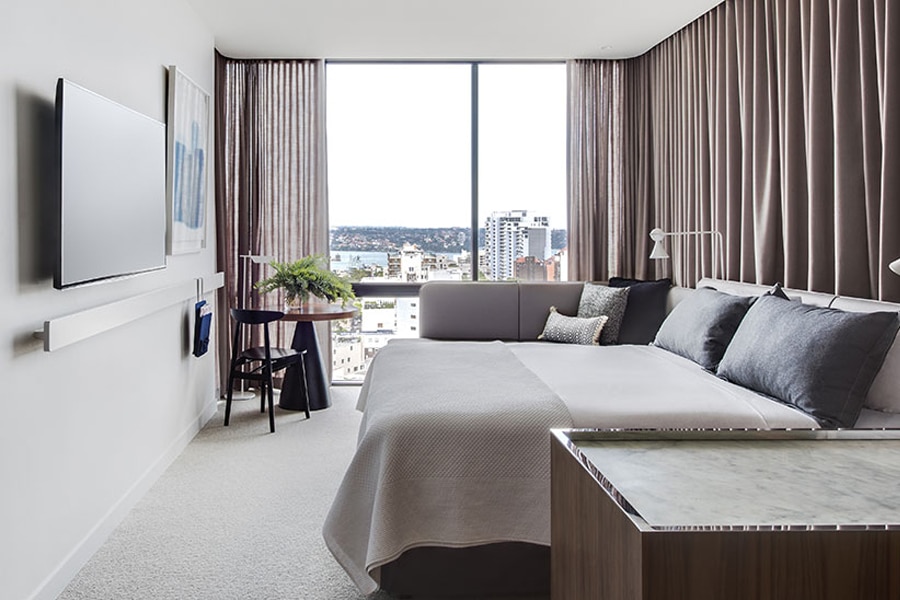 8. Larmont Boutique Hotel
In the heart of Potts Point, Larmont Boutique Hotel Sydney offers one of the best luxury boutique experiences in the avant-garde hub of the city. If retail therapy and restaurants are your idea of a perfect getaway, Hotel Larmont is perfectly situated just minutes from the best shopping strips, cafes, bars and restaurants.
Address: 14 Kings Cross Road, Potts Point Sydney NSW 2011
Phone: +61 2 9295 8888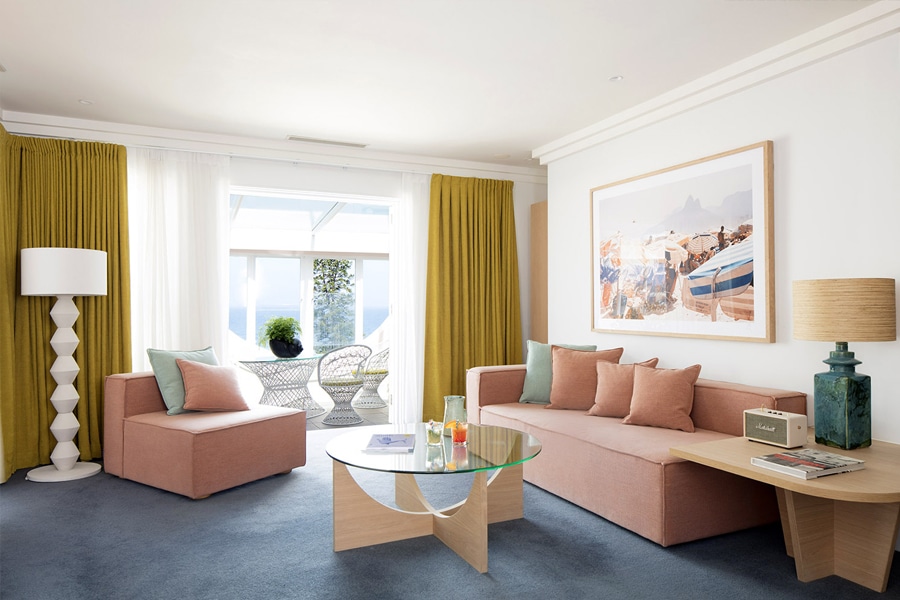 9. Hotel Ravesis
For some summertime glamour look no further than Hotel Ravesis. The flamingo pink art deco style hotel is the perfect spot for a beachfront stay and offers two floors of unique boutique rooms with wrap around terraces and ocean views. You won't even have to leave the hotel for a night out. Chef Peter Streckfuss has you covered at the indoor dining area and a late night club area has DJs and events happening most weekends.
Address: 118 Campbell Pde, Bondi Beach NSW 2026
Phone: +61 2 9365 4422
Price: from A$218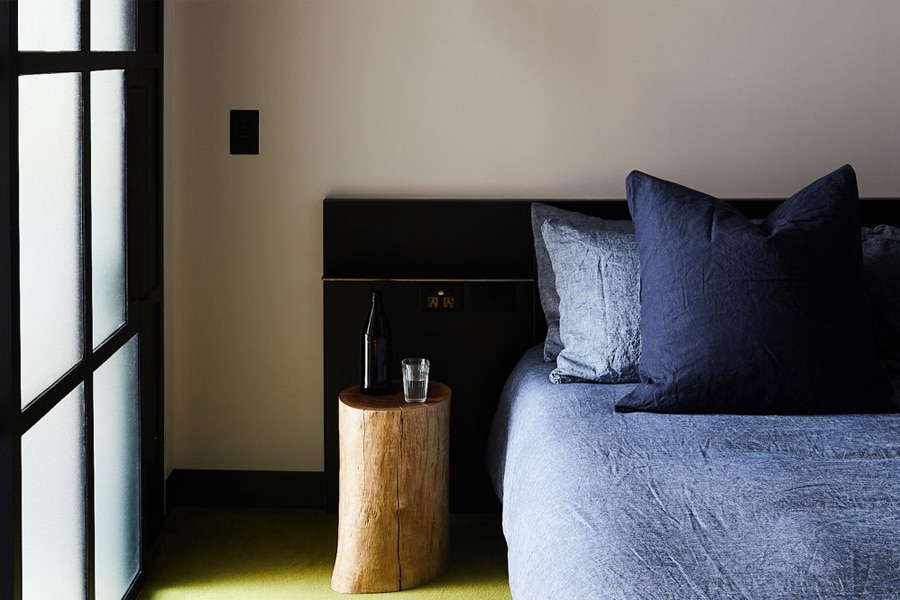 10. Paramount House Hotel
Housed in the former headquarters of Paramount Picture Studios, Paramount House Hotel offers urban glamour in Sydney's Surry Hills. Each room pays homage to the buildings history; exposed brick, reused timber and artefacts found on site have been incorporated into the design. It's perfectly situated close to Oxford street along with it's bars, shopping and night life making it one of the best boutique hotels Sydney has to offer.
Address: 80 Commonwealth Street, Surry Hills Sydney NSW 2010
Phone: +61 2 9211 1222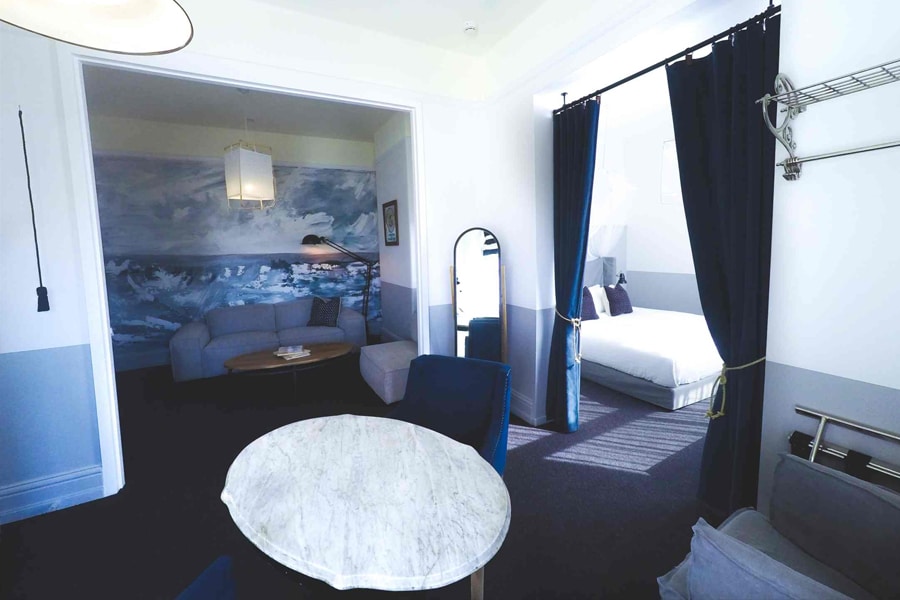 11. Hotel Palisade
Hotel Palisade's tranquil setting and luxury style boutique rooms ensure an indulgent and unique stay. Just a 10 minute walk to Sydney Opera House and Circular Quay, it's perfectly located for those who want to be near the centre of the city but not directly in it. Rooms are designed with a nod to Hotel Palisade's rich past with meticulous attention to detail.  Hand painted murals by Sydney artist Neill Mallard are featured in every room and lend to the nautical theme captured in the design.
Address: 35 Bettington Street, Millers Point Sydney NSW 2000
Phone: +61 2 9018 0123
Price: from A$153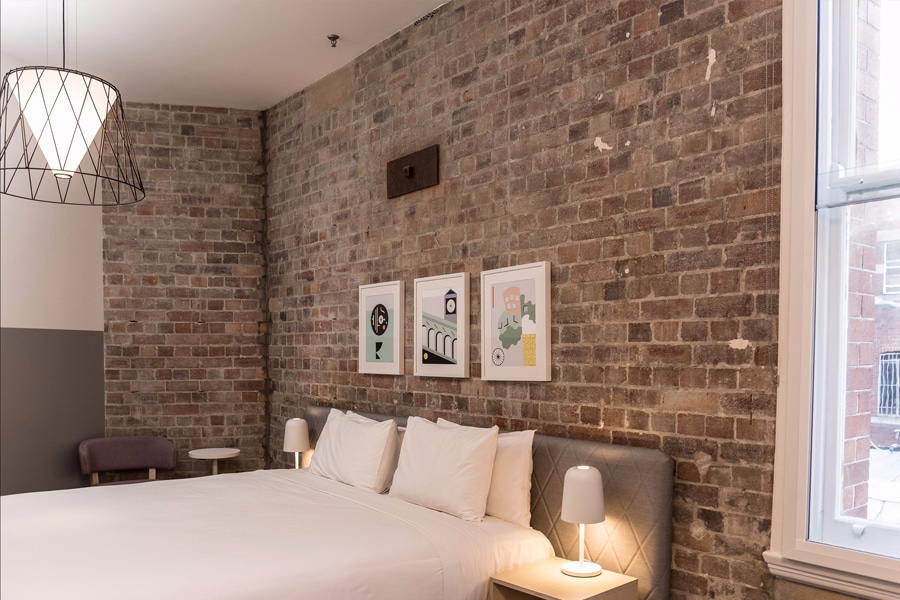 12. The Ultimo
If you're after something really different, The Ultimo is one of the first astrology themed hotels in not just Sydney but the world. 95 rooms in this heritage listed building, offer comfort and luxury, but also a travel guides on things to do, see and eat all based on your star sign. This hotel is really designed with the modern traveller in mind, and is a great place to use as a base for exploring the city. Not only that The Ultimo is perfectly situated to discover and explore Sydney's Chinatown.
Address: 37 Ultimo Road, Sydney NSW 2000
Phone: +61 2 9281 5555
Price: from A$95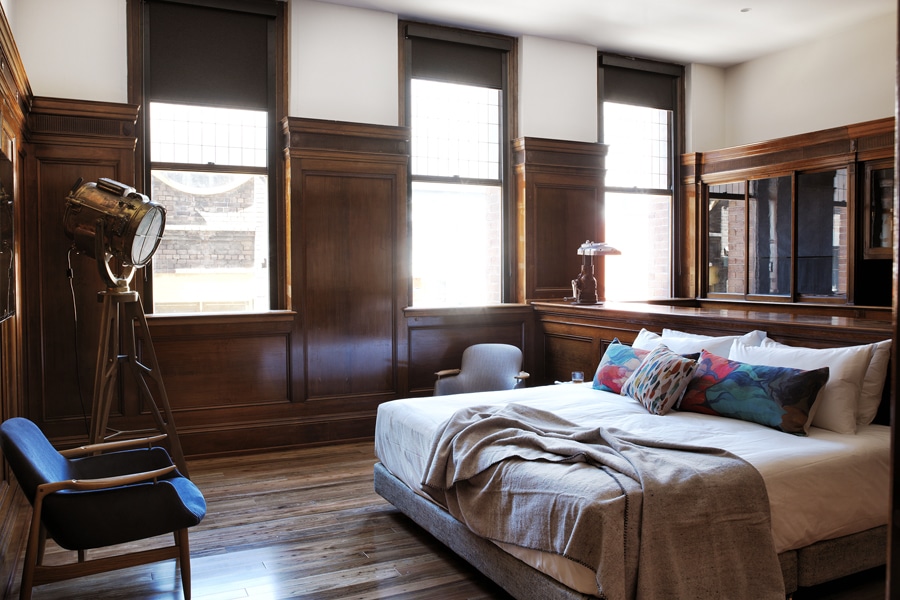 13. The Old Clare
Newly renovated in 2015, The Old Clare is a remodeled watering-hole of the old beloved Clare Hotel. Situated in trendy Chippendale, it's a hotel trying to stand out from the rest. It spans over 2 historic buildings, the Old Clare and Calrton Brewery Administration building, and boasts 62 rooms, seven of those in boutique style. The seven boutique suites are all differently designed with styles ranging from stylish and cozy to opulent and lush. With three new restaurants and a rooftop pool and bar, you'll never run out of things to do.
Address: 1 Kensington Street, Chippendale Sydney NSW 2008
Phone: +61 2 8277 8277
Price: from A$248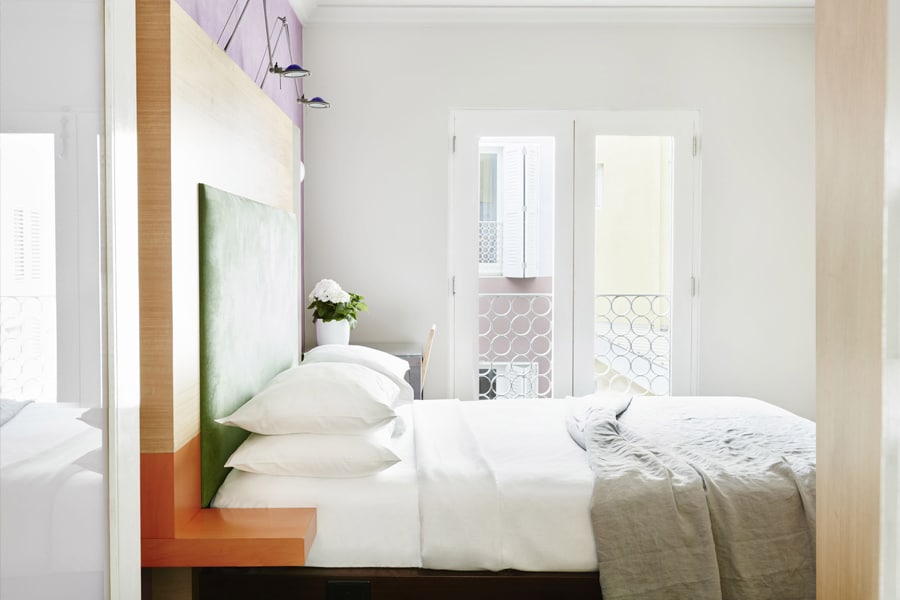 14. Medusa
Just a short walk to Kings Cross Station and Sydney's Oxford street, Medusa Hotel is one of the best boutique hotels Sydney has on offer. The carefully curated unique rooms at Medusa offer comfort, privacy and some pretty spectacular surroundings. Want to bring your pet? Medusa includes several dog-friendly rooms along the private courtyard.
Address: 267 Darlinghurst Road, Darlinghurst Sydney NSW 2010
Phone: +61 2 9331 1000
Price: from A$99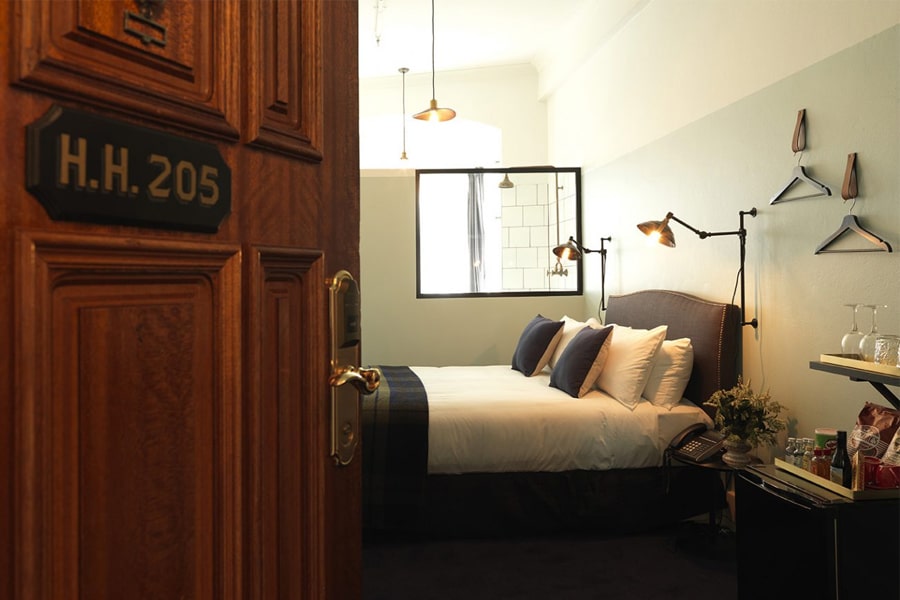 15. Hotel Harry
For something a little different, Hotel Harry sits in a century old Victorian building in Surry Hills' vibrant artistic hub. The old architecture is married with the modern contemporary style of the rooms. The location alone makes it one of the best boutique hotels in Sydney; just a short stroll to pretty much anywhere in Sydney including the Opera House, The rocks precinct, Botancial Gardens, Oxford street and more.
Address: 40-44 Wentworth Avenue, Surry Hills Sydney NSW 2010
Phone: +61 2 8262 8800

You'll also like:
11 Best Day Spas Sydney Has to Offer
A Peek Inside Sydney's Top Suites – Be the King of Your Castle
16 Best Ribs in Sydney