25 Best Farm Stays in NSW
If the city life is starting to take a toll, how about a weekend away or an entire week escape to the tranquillity of the NSW countryside? With so many stunning country towns in NSW, we have found the best farm stays in NSW for you to run away to. Think open fires, quaint cottages, starry nights and endless time in our fresh country air. Getting excited? So are we! Here are some of our favourites.
You'll also like: 
Uber Reserve Explained: New Hack to Keep Your Plans on Schedule
28 Spots for Best Family Fruit Picking Near Sydney
18 Best Glamping Spots Near Sydney
Best Farm Stays near the Hunter Valley
When it comes to selecting the best farm stay the Hunter Valley can throw at you, there are a few things to consider. If it's the authentic, on-the-farm adventure where you live like the locals, these are the ones for you:

1. Wollombi Brook Family Farm Stay
With a choice of two luxury homesteads, you'll never want to leave this beautiful farm in Wollombi. Nestled in the glorious Hunter Valley, the 52-acre property is a country dream come true. Only an hour and a half from the Sydney CBD, you're also just a 15-minute walk from the quaint town of Wollombi. Expect serenity, exquisite views and plenty of native wildlife.
Address: Wollombi, NSW
Wollombi Brook Family Farm Stay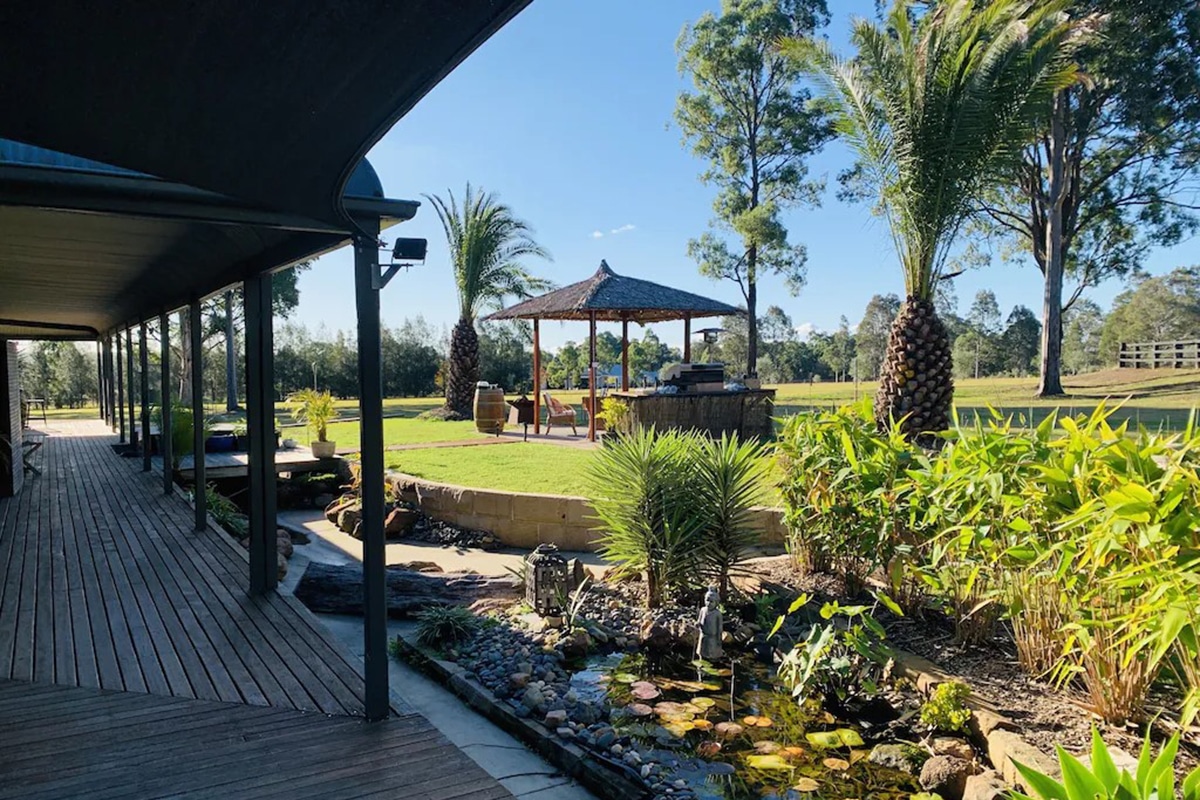 2. Bella Farm Country House
This 4-bedroom country house is perfect for your next Hunter Valley getaway. Step into the true Hunter experience, surrounded by wineries and rolling hills, you're just minutes away from everything the region has to offer. The home is rustic yet elegant and has an outdoor firepit and jacuzzi for you to sit back, relax and enjoy!
Address: Hunter Valley, NSW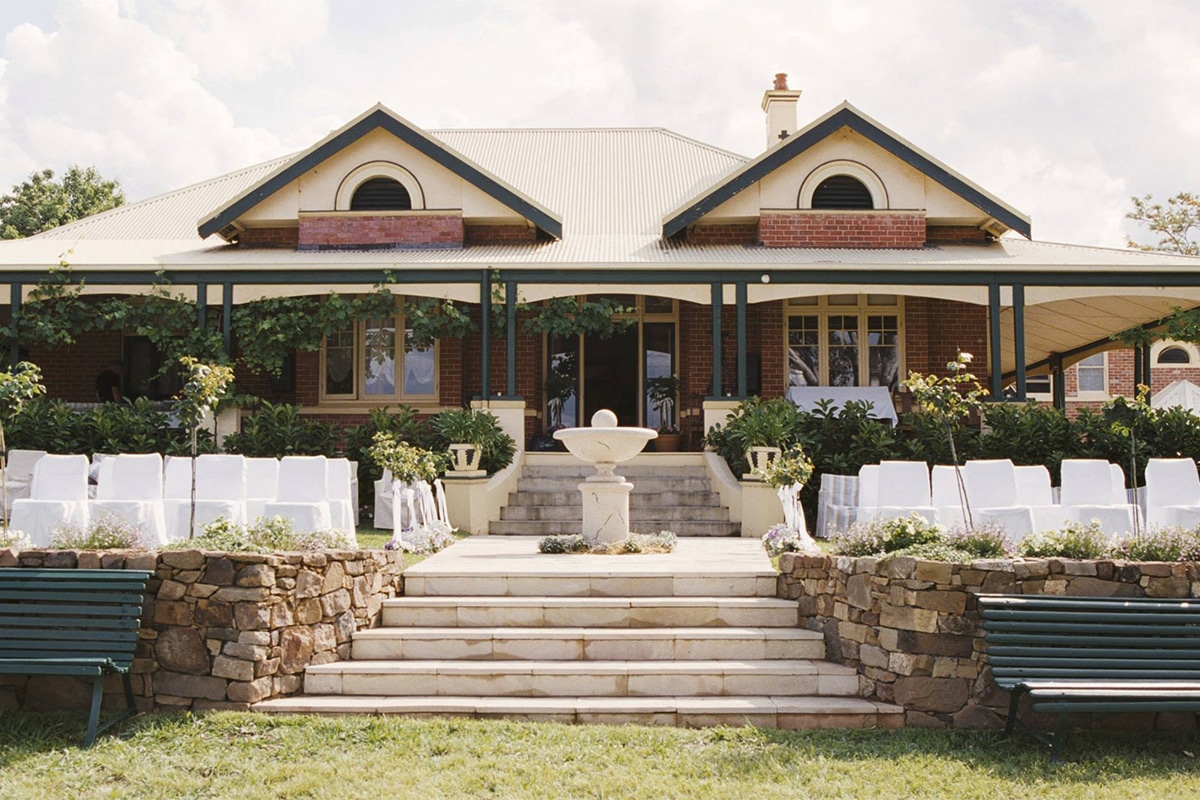 3. Camyr Allyn Homestead
Camyr Allyn Homestead is one of the best farm stays in NSW if you're looking for a cosy, homey time away from home. The home is traditional and spacious and sits on a huge historic farm that's the perfect location for you to soak up some much-needed fresh air. Relax by the pool, play billiards or simply lounge by the fireplace. Located right next to the Barrington Tops National Park, there are plenty of opportunities for adventure and even some fishing at the nearby Allyn River!
Address: East Gresford, NSW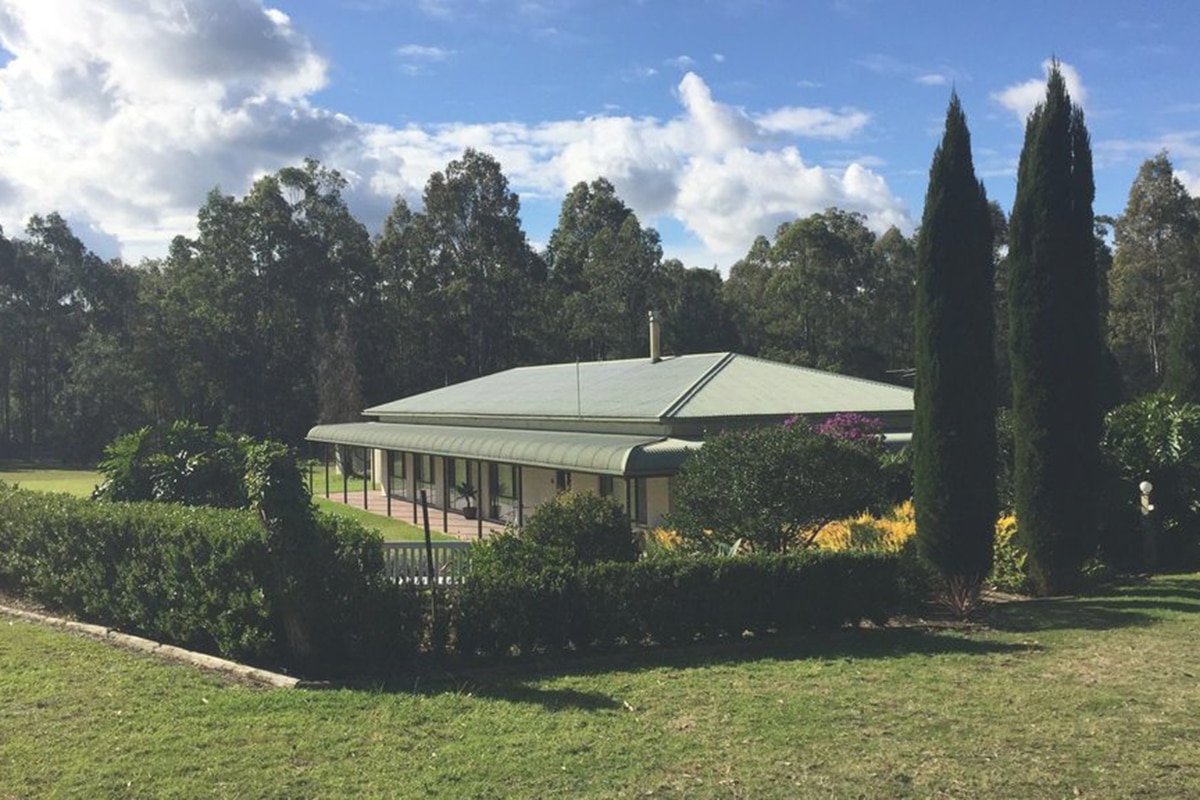 4. Breemiloy Homestead Hunter Valley
Set amid 28 acres of picturesque bushland and sprawling fenced paddocks, Breemiloy Homestead is a luxurious farm stay in the Hunter wine region. Just an 18-minute drive from local wineries, the home can accommodate up to 12 people. This means it's perfect for you and your entire gang of winery-hoppers!
Address: Abernethy, NSW
Breemiloy Homestead Hunter Valley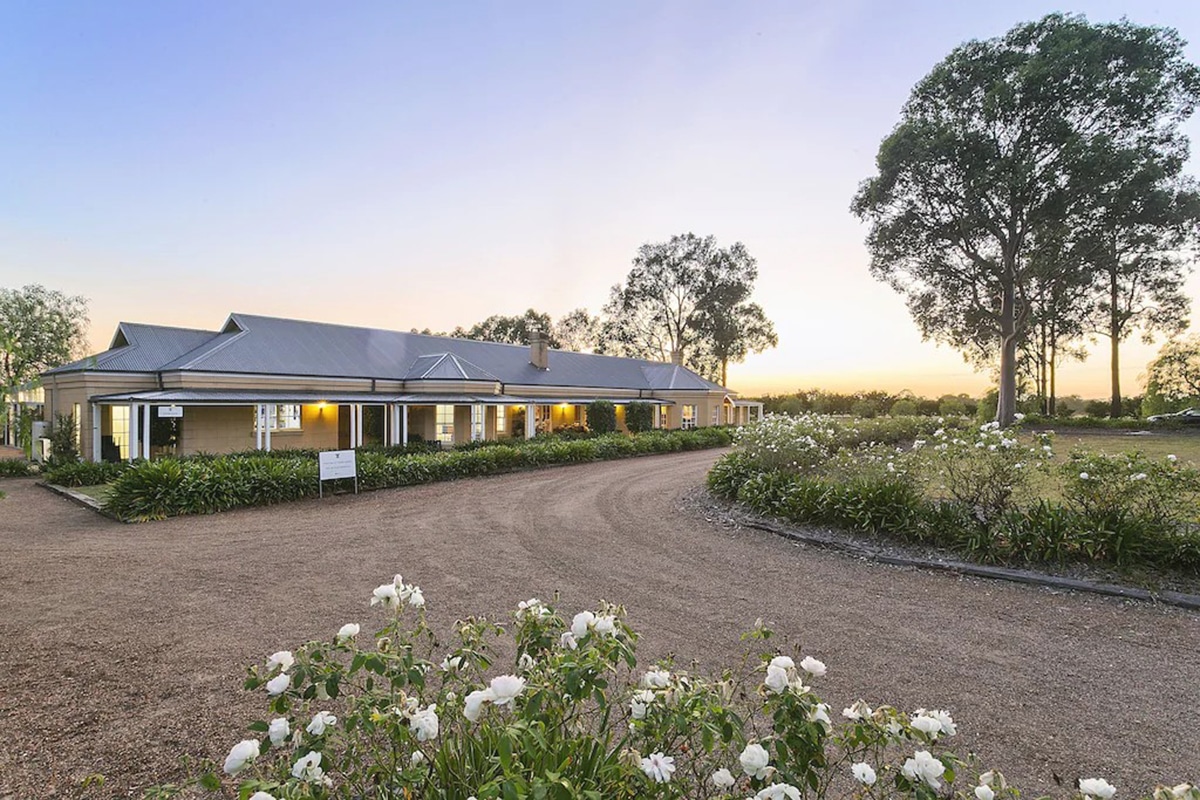 5. Vinden Estate Homestead
If the idea of staying on a working commercial winery doesn't get your inner sommelier screaming with joy, we don't know what will. At Vinden Estate Homestead you'll be right in the thick of the action, a unique space that also offers unprecedented views of the Brokeback Ranges and surrounding Hunter Valley vineyards. The home maintains its beautiful Victorian charm for you to enjoy and also won an award for best accommodation in the Hunter Valley from the Gourmet Traveller 2020 Cellar Door Awards- it's definitely worth a visit!
Address: Pokolbin, NSW
Best Farm Stays near the Blue Mountains
Not all farm stars are created equal. If you are after a more premium accommodation, check out this list of the best farm stays Blue Mountains locals love.

6. Glyn Newydd Homestead
If an organic farm stay is what you want, but you don't want to travel too far from Sydney, this homestead in the Blue Mountains is a perfect choice. Set in an organic olive grove, the property features panoramic views of the Megalong. There is a cottage garden, plenty of lush spaces to relax as well as horse-riding for you to try!
Address: Megalong Valley, NSW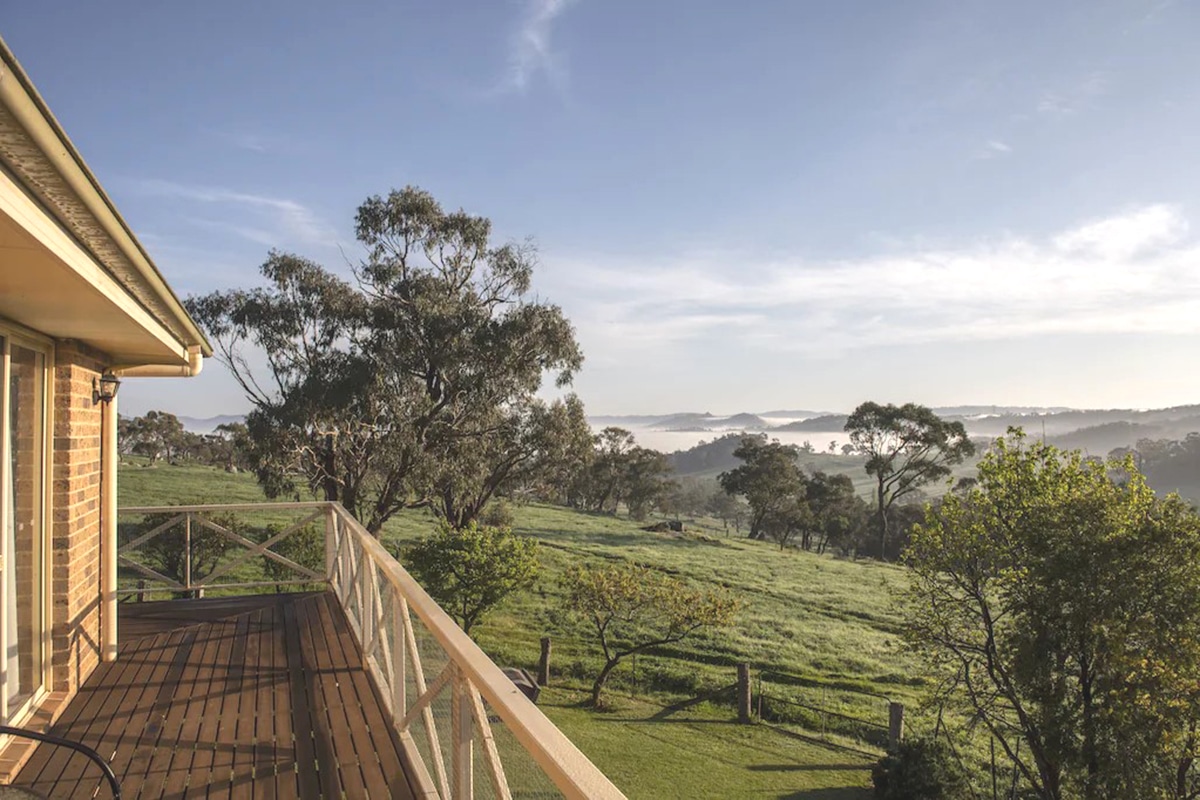 7. Casey's Farm House
Offering breathtaking views across the Marana Valley and the Central Tableland, Casey's Farm House is one of the best farm stays in NSW if you're looking for something that doesn't break the bank. Just ten minutes from the quaint town of Oberon, there is plenty to explore in the local town as well as plenty of activities like pool, table tennis and even a cricket set for you to enjoy!
Address: Oberon, NSW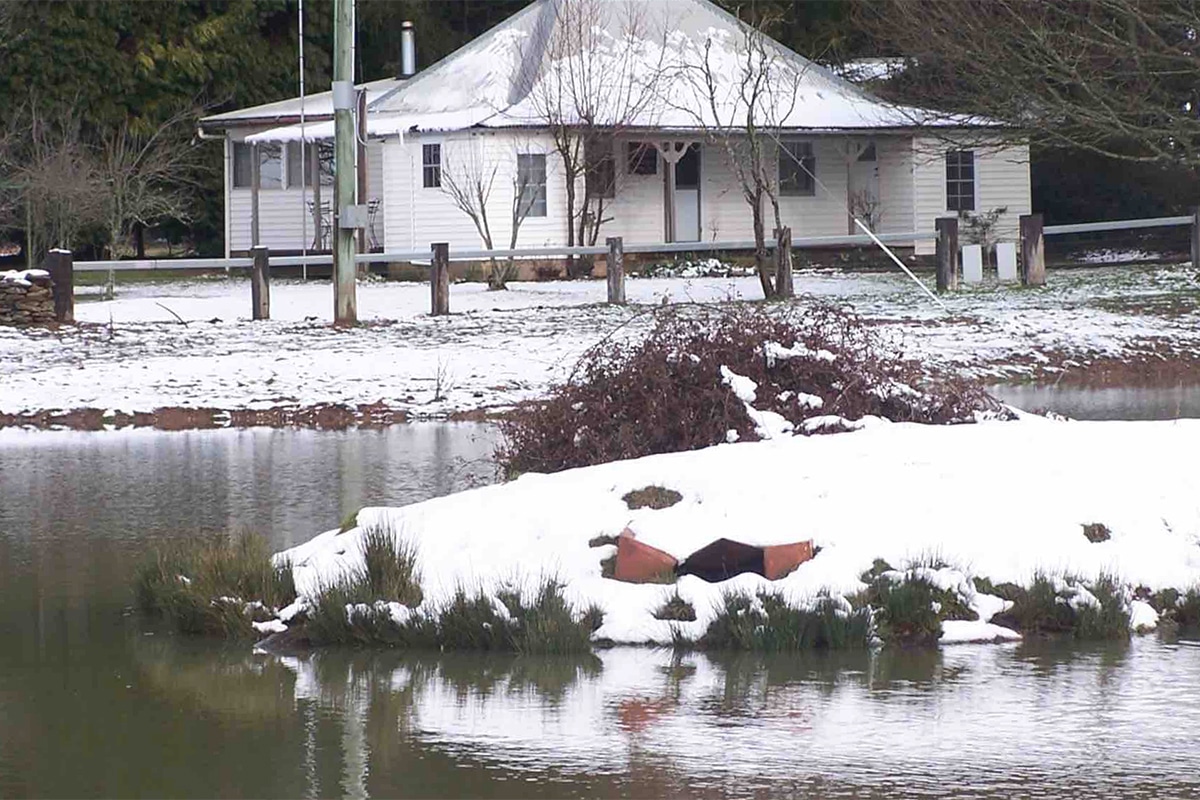 8. Brae Lossie
We love the idea of living on the top of a mountain, so why not fulfil your childhood dreams of being king of the castle with a stay at Brae Lossie Farmstay. The cosy home is situated on top of none other than the Great Dividing Range. Set on 200 acres, you will have your private mountain spring-fed lake that is regularly stocked- so, don't forget to bring your fishing rod!
Address: Gingkin, NSW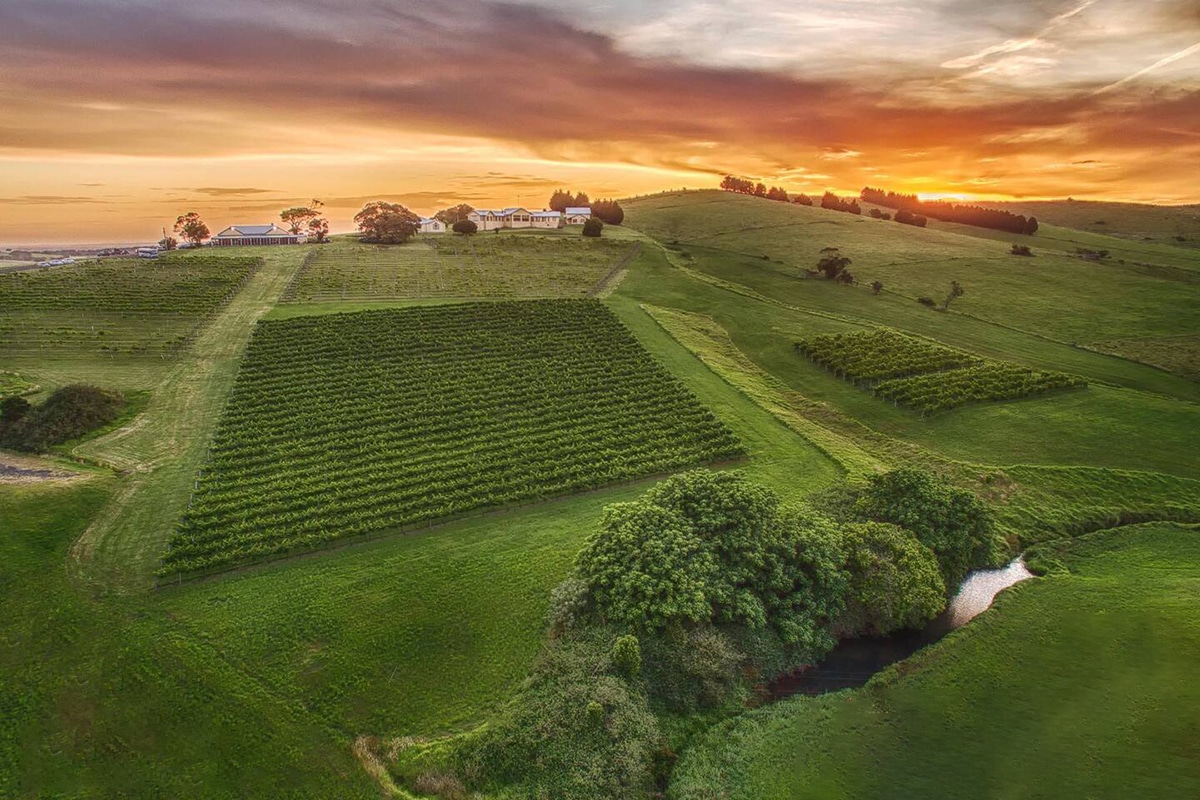 9. Willowvale Estate
Go south for your next getaway and experience everything the beautiful Gerringong has to offer- from beaches to wineries, you definitely won't be bored. Accompanied by stunning ocean views, Willowvale Estate is a luxury getaway with a fine-dining restaurant attached. The team at Willowvale invite you to come and experience their unique vineyard, relax and unwind.
Address: Gerringong, NSW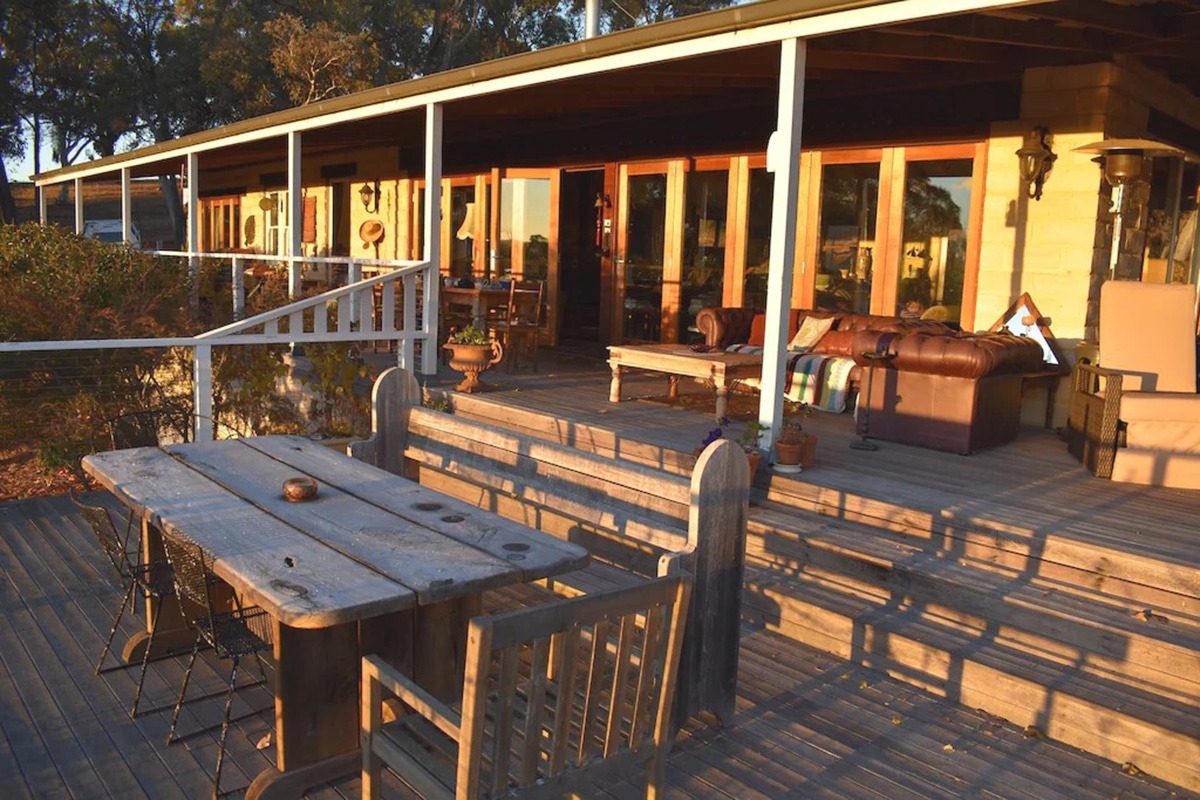 10. Mountain View Escape
Escape to nature with a trip to Mountain View Escape in Portland, just outside Lithgow. The house is built for entertaining- the huge veranda our favourite part of the beautiful historical home. The furnishings are the definition of eclectic and the outdoor area is free for you to roam, bring your dog along for the adventure too- pets are allowed!
Address: Portland, NSW
Best Farm Stays near Mudgee
If you are after a farm stay with wine on the menu, take a look at these great weekend spots near Mudgee:

11. Beaudesert Cottage
This former workers cottage was established in the early 1830s and will effortlessly transport you back to simpler times. It is conveniently located nearby the main homestead of one of Mudgee's historic farming properties and the cottage continues to be a working cattle and sheep property today. The old cottage charm will allow you to relax and immerse yourself fin the beautiful surroundings.
Address: Mudgee, NSW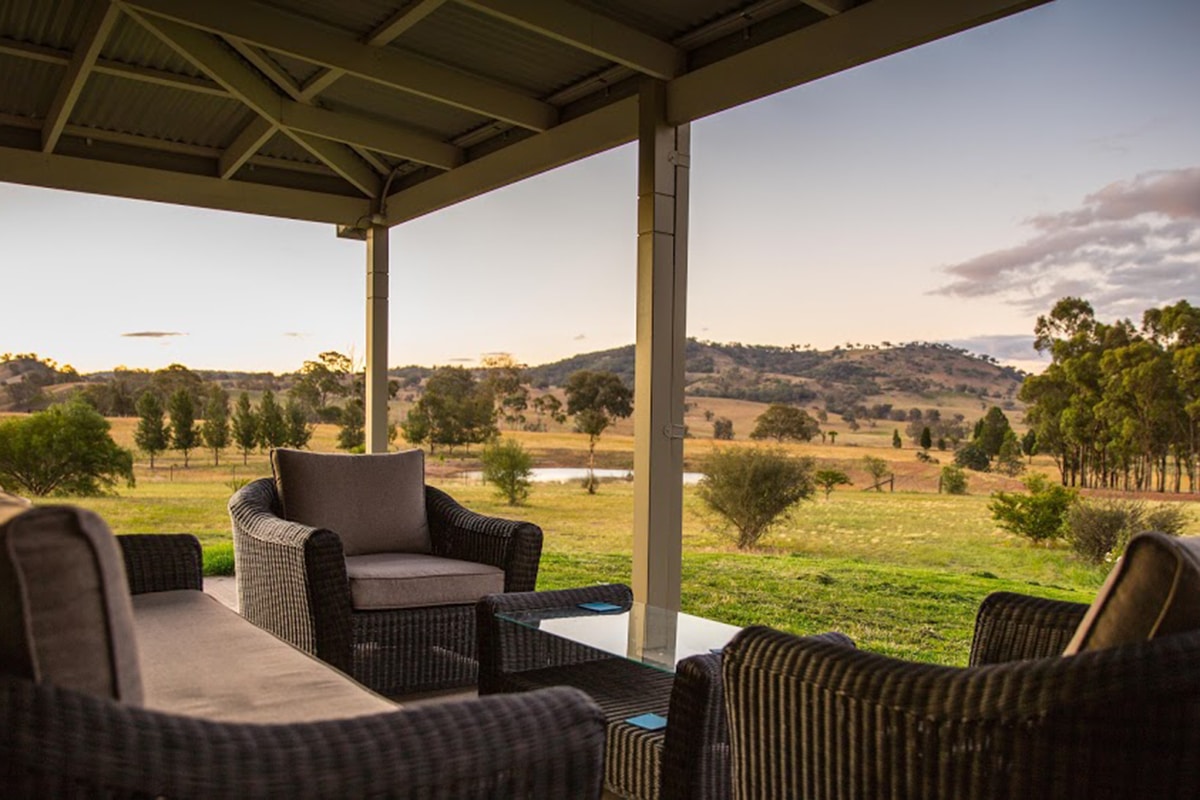 12. Abingdon House
Set amongst the rolling hills of the picturesque Erudgere Valley, Abingdon House is one of the best farm stays in NSW if luxe is what you're after. Surrounded by famous Mudgee wineries, the home is spacious, open plan and bright with views at every window. Prepare for long walks on the 25-acre property and for the joys of eating all the fine food and drinking all the fine wine the region has to offer.
Address: Erudgere, NSW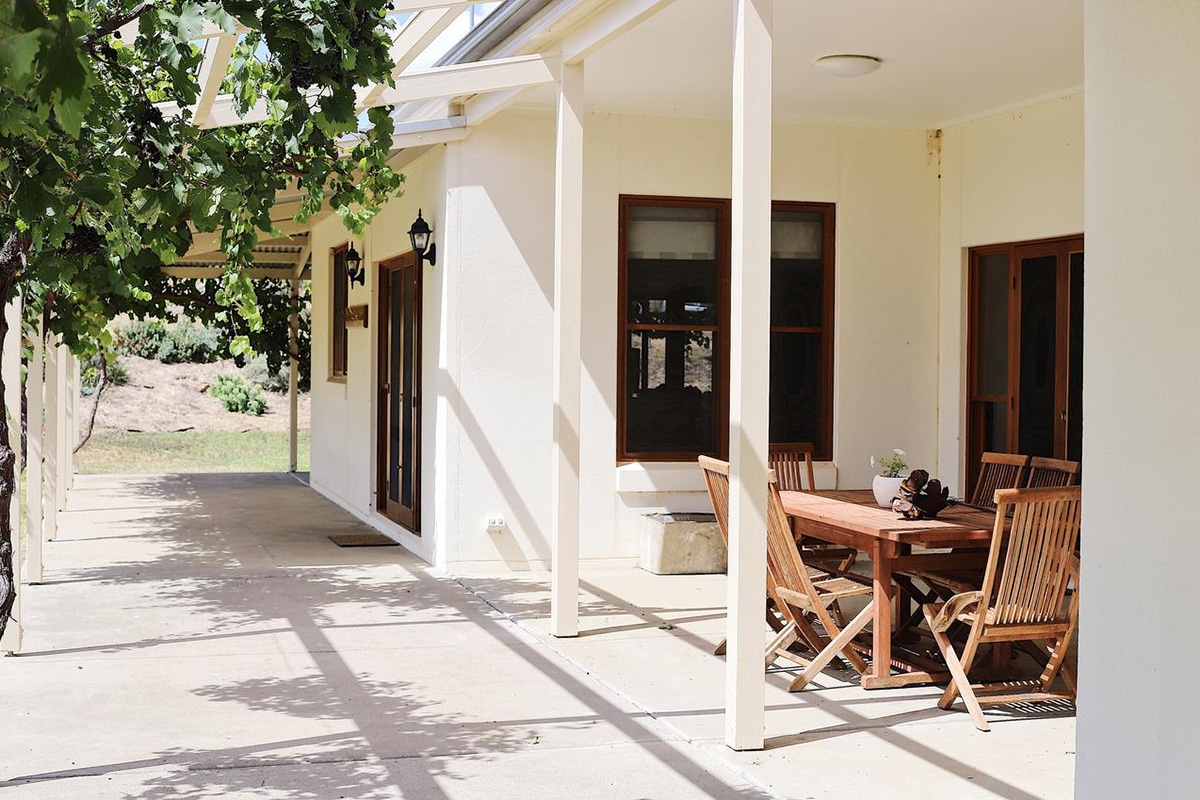 13. Kanimbla Modern Country Homestead
If being amongst the cattle is your idea of a perfect weekend away, Kanimbla is a stunning homestead that will provide you with just that. The modern home is set on 550 acres of sheep and cattle grazing land between Mudgee and Gulgong. Take a walk in the paddocks or enjoy everything the modern home has to offer. Our favourite part is the large veranda that is ideal for entertaining or just for gazing across the endless views of the Beaudesert hills.
Address: Mudgee, NSW
Kanimbla Modern Country Homestead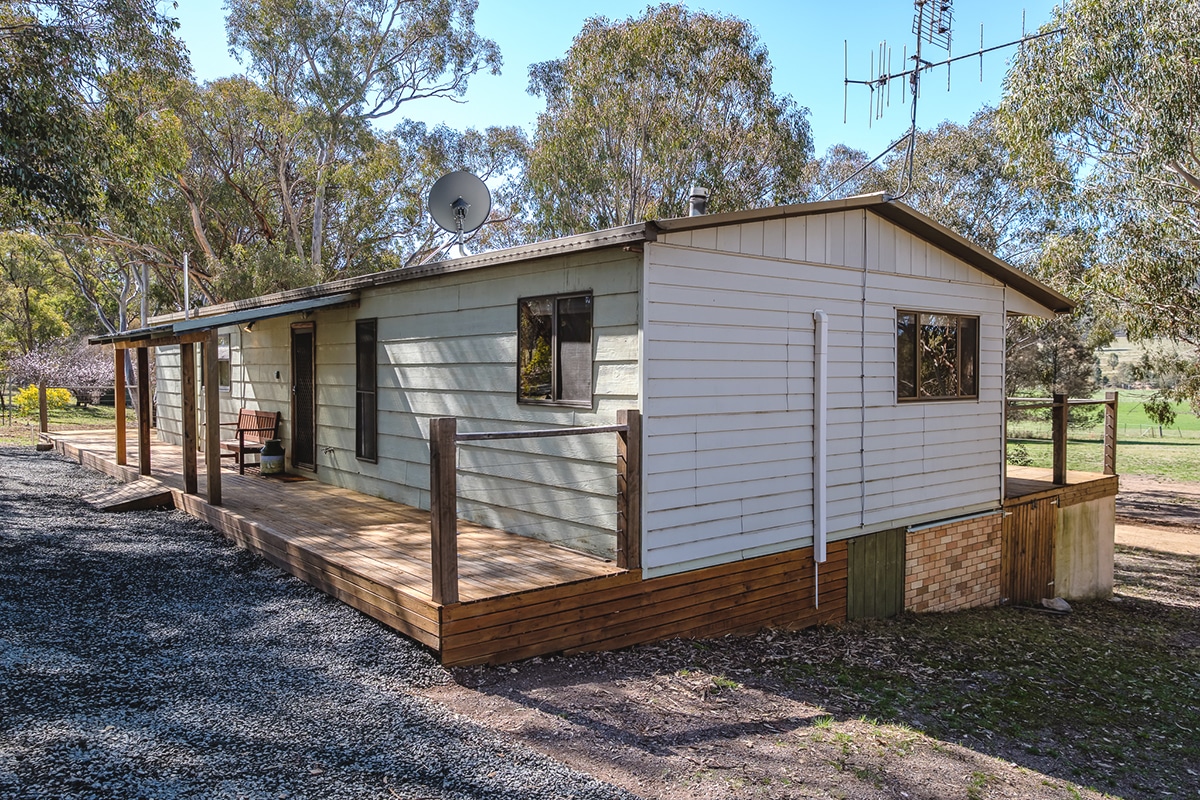 14. WYUNA Lue Farm
This farm is small but has everything you need for a relaxing farm stay. WYUNA is a tranquil working farm on the edge of Lue in country NSW. Expect to see plenty of Kangaroos and birds during your stay, the leafy property the perfect oasis for our native animals. We suggest sitting outside with just a tea and the sounds of the birds, we guarantee you'll find it almost impossible to leave.
Address: Lue, NSW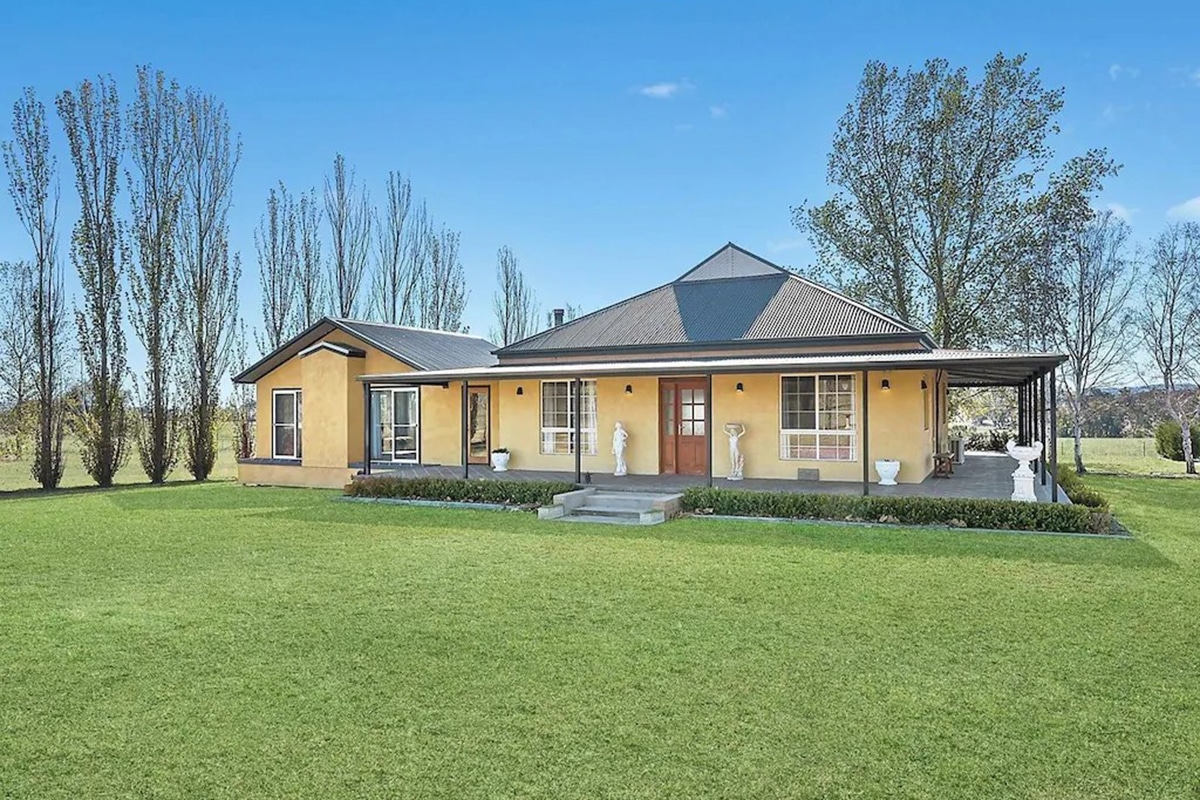 15. Willowbrook Gardens
Located just 15 minutes from the heart of Mudgee is this stunning farm stay nestled on 33 acres of land in Frog Rock. You're close to all the wineries but feel miles away. Perch yourself on the gorgeous veranda or lay by the pool, with exquisite views from every direction. The home is perfect for you and your family- we suggest booking in advance for the next school holidays!
Address: Frog Rock, NSW
Best Farm Stays near Orange
When it comes to the great place of Orange, there are a bunch of great farm stays to choose from. Here are our top picks.

16. The Quarters
Orange is fast becoming the trendy spot for foodies and wine lovers alike, people of all ages flocking to the NSW country town. Just a short drive from Orange you will find The Quarters. The home is a rustic old shearers quarters with an open fire and a large deck for you to soak up the fresh Snowy Mountains air. With amazing views and abundant wildlife, this farm stay also offers mountain biking, or, If this isn't your cup of tea, a nice stroll also does the job.
Address: Boloco West, NSW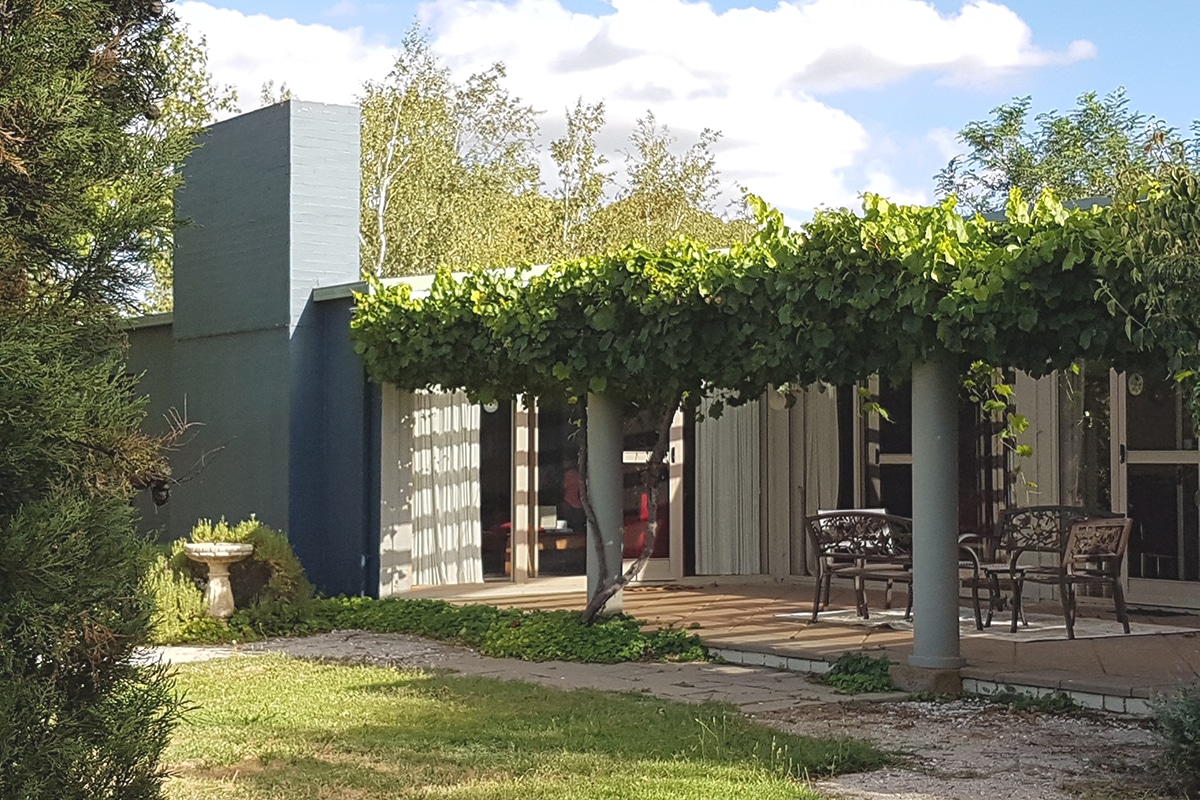 17. Orangewood
Perched on the top of a hill in Forest Reefs is one of the best farm stays in NSW. Located in the southern Orange wine region, Orangewood is the ideal rural holiday. Expect uninterrupted views of the rolling hills, a large kitchen and plenty of light with floor to ceiling glass windows. Tranquillity at its finest, it's perfect for the summer and winter months, with a fireplace and a pool – so just bring yourself, a book and a bit of Zen.
Address: Forest Reefs, NSW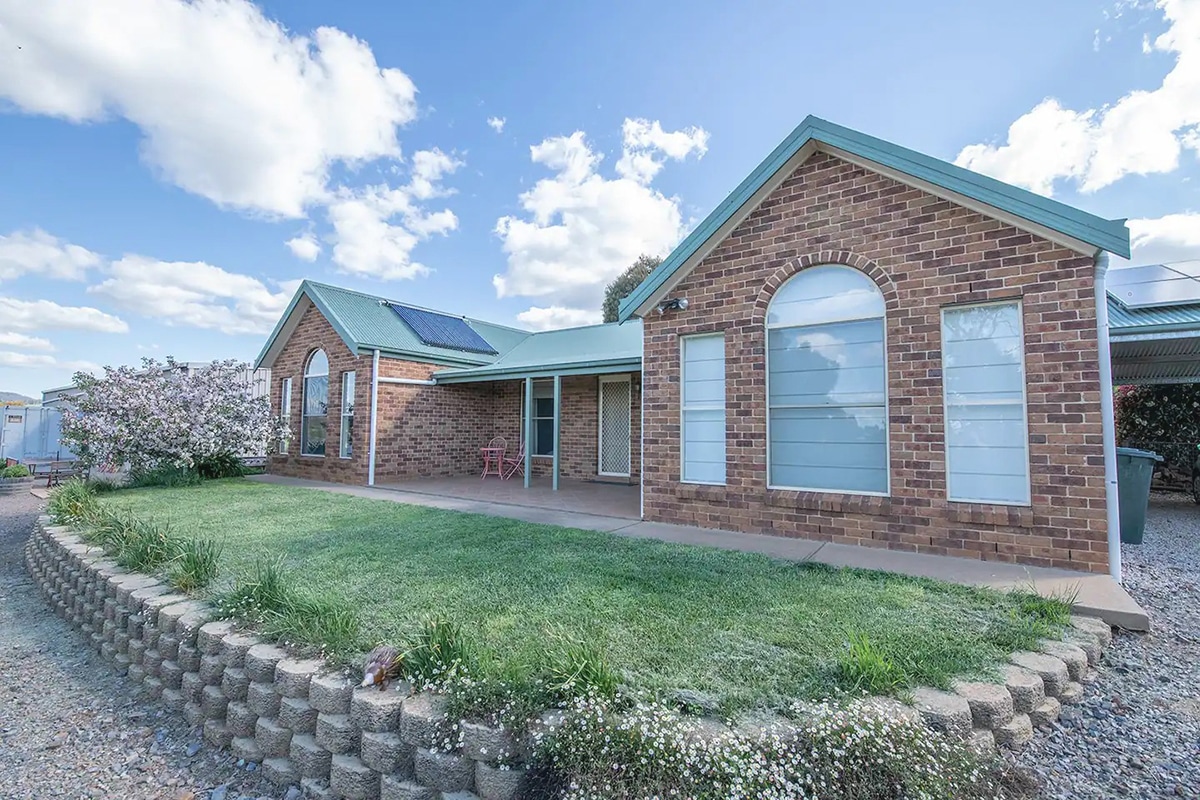 18. Small Acres Cottage
Small Acres is a quaint cottage in the heart of Oranges' spectacular wine country and home to the award-winning Small Acres Cyder. Yes, this means you'll be right next to a cider apple orchard and will be treated to a complimentary cider tasting. Cider lovers aside, this home is comfortable and cosy, also housing a garden with seasonal produce for you to enjoy, alongside your cider of course.
Address: Nashdale, NSW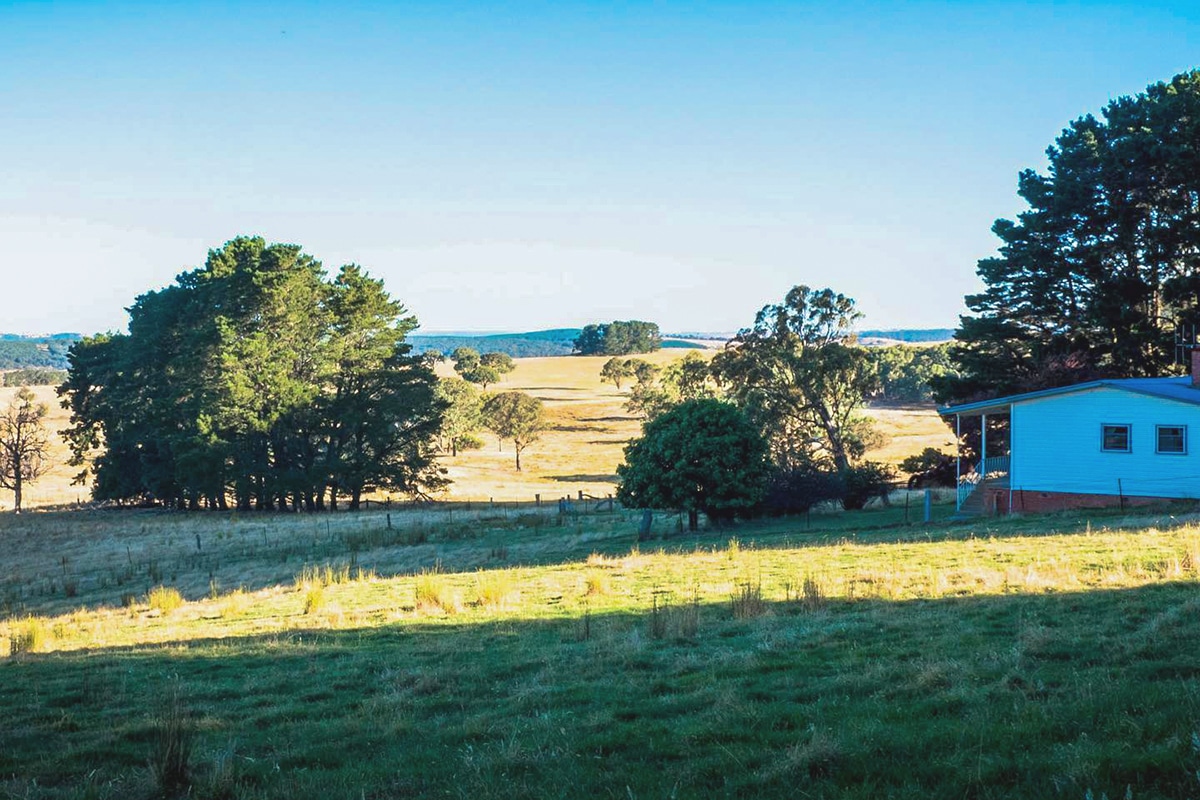 19. Amaroo Cottage
Amaroo Cottage is a family-run farm that shows in the warm hospitality that you will receive during your stay. The home sits on a huge 760-acre farm, which means there's plenty for you to do, or not if you prefer to sit back and relax. For the more energetic among us, there are plenty of opportunities to assist in the daily operations of a farm- a unique experience for all of us to see where our produce comes from.
Address: Newbridge, NSW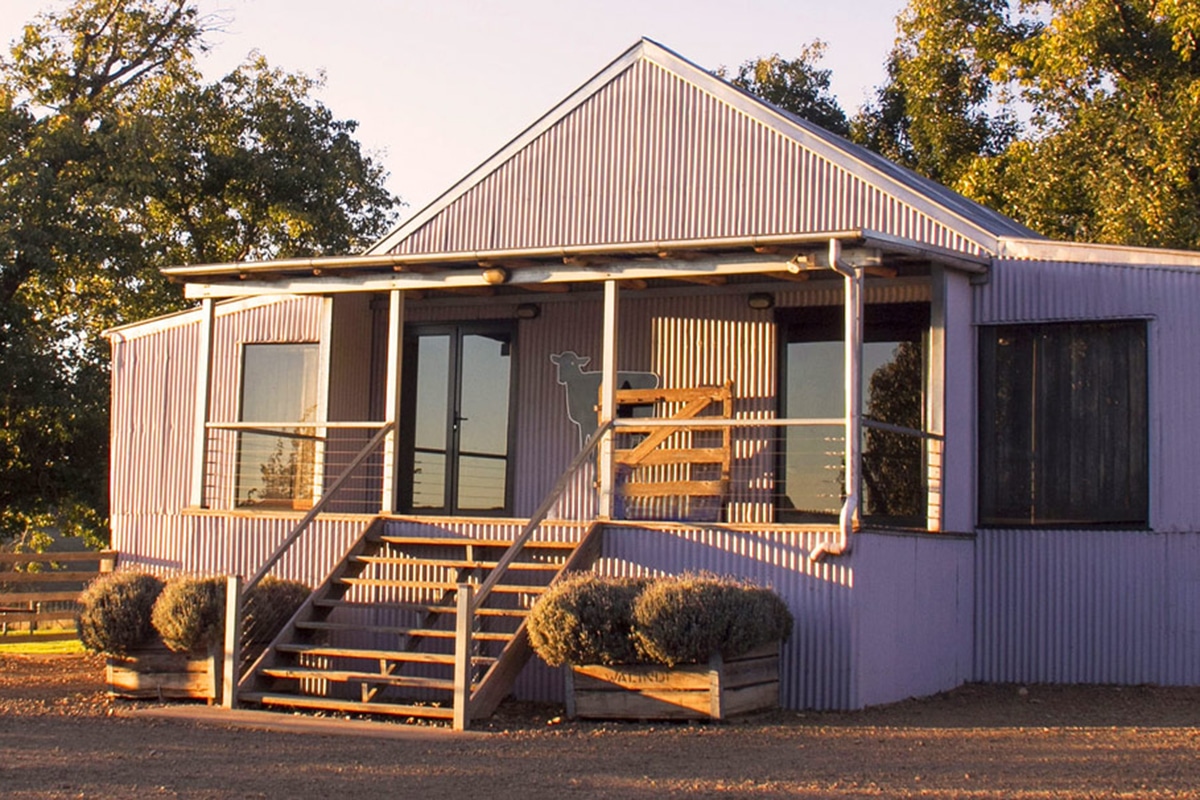 20. The Black Sheep Inn
This unique home shines more brightly than the stunning nature it sits on, a rare occurrence given the beauty of rural NSW. If you want to experience the rawness of rural living, this converted shearing shed will allow you to fully immerse yourself in unique country living. This beautiful conversion seamlessly combines elements of modern living with carefully selected elements of the traditional structure. The finished product perfectly complements the nature that surrounds the home. Fresh air, stunning views and a cosy fire- not bad for an old tin shed!
Address: Borenore, NSW
Best Luxury Farm Stays in NSW
Not all farm stars are created equal. If you are after a more premium accommodation, check out this list of the best luxury farm stays in New South Wakes.

21. Byron Bay Heritage Tooraloo
You may not often put luxury and farm in the same sentence, but this farm stay says otherwise. Think hippie-chic, rustic and modern all at once, that's what you'll get at this Byron Bay barn stay. The barn stay is a refreshing Byron Bay farmland experience, set on lush grounds, not far from the beach and with plenty of activities at your doorstep. The farm also has stunning views across the Myocum Valley.
Address: Ewingsdale, NSW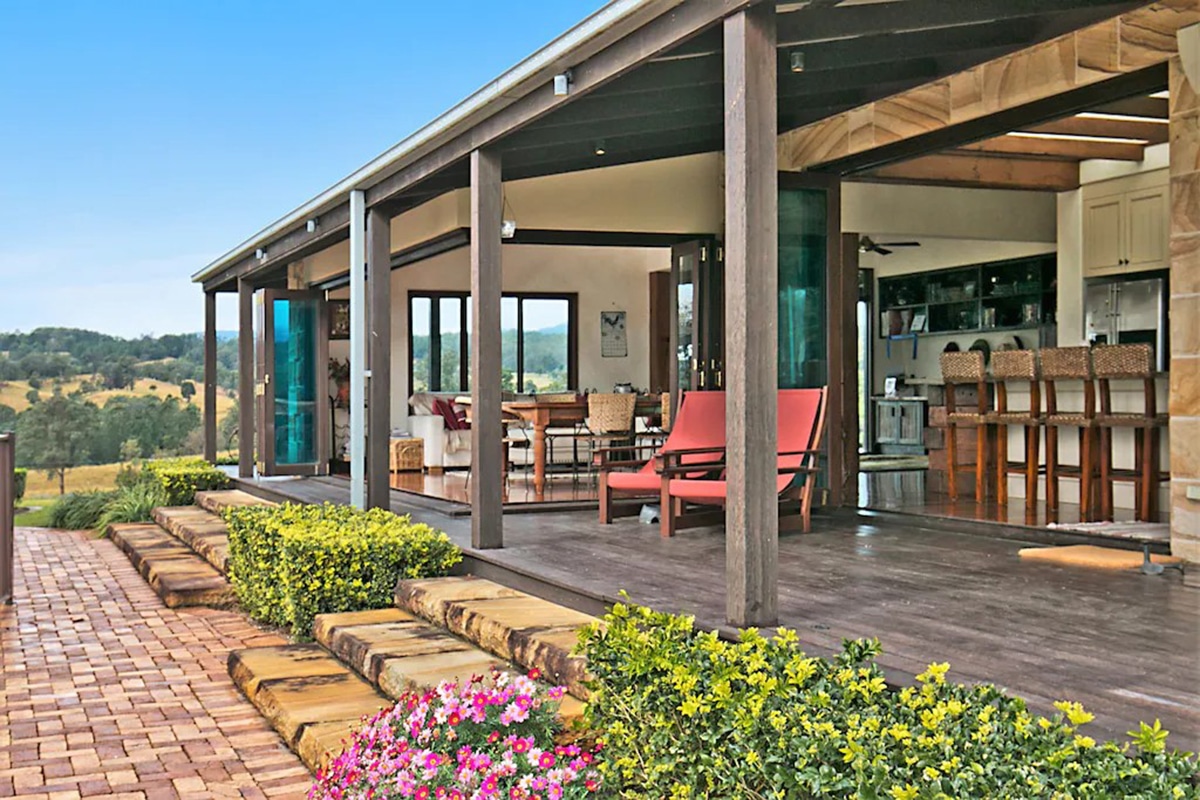 22. Highfield Cattle Farm Experience
Some luxe farm stays in NSW seem almost too good to be true, and Highfield is one of them. Far away from the bustle of the city, Highfield offers you the chance to unwind or go on adventures, all within the unbridled beauty of the farm. There is so much to do, including canoe fishing, horse riding and even a shooting range on site. There is also a wine cellar and a games room if you're in the mood for something a little bit more chill.
Address: Tyalgum, NSW
Highfield Cattle Farm Experience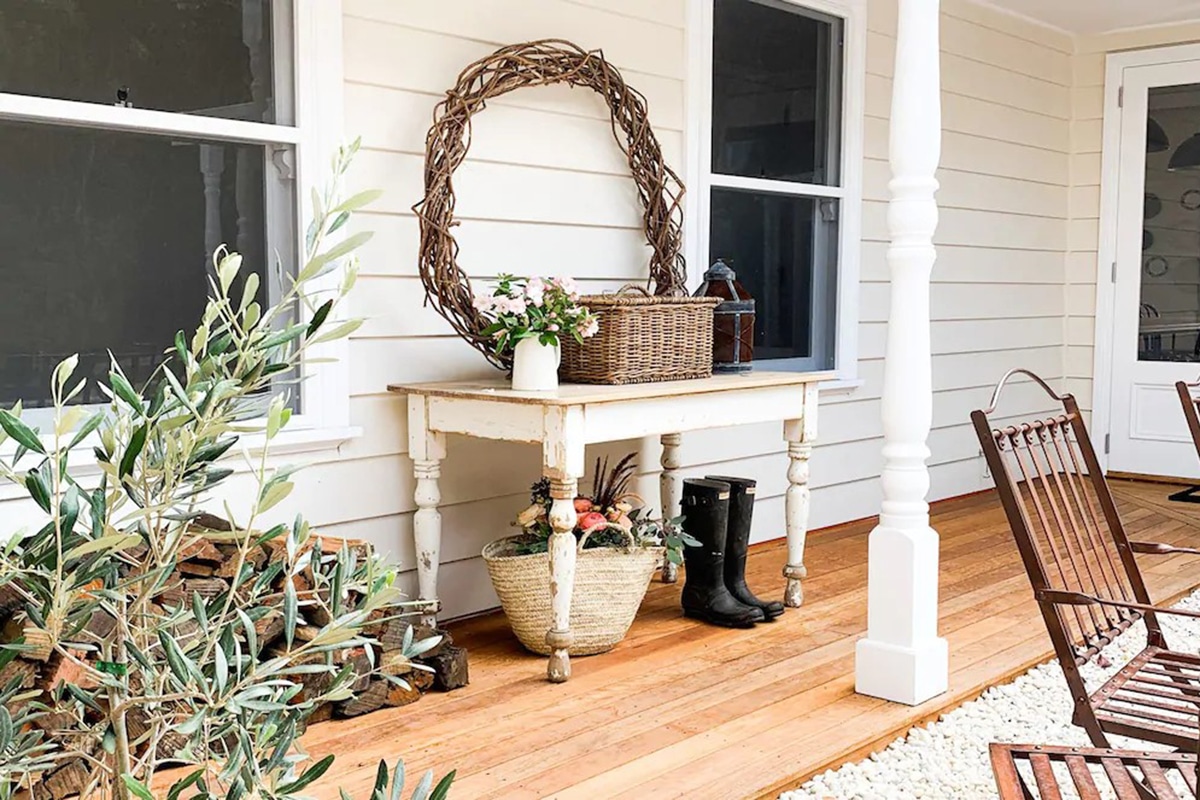 23. Sinclairs of Berry
If you've got a big group, Sinclairs at Berry is one of the best farm stays in NSW to accommodate the masses, in style of course. The bright, charming home is set on a gorgeous 2-acre property in the heart of Berry. The house is bright and full of rustic touches that pay ode to its heritage. The best bit- you can walk to town from the farm!
Address: Berry, NSW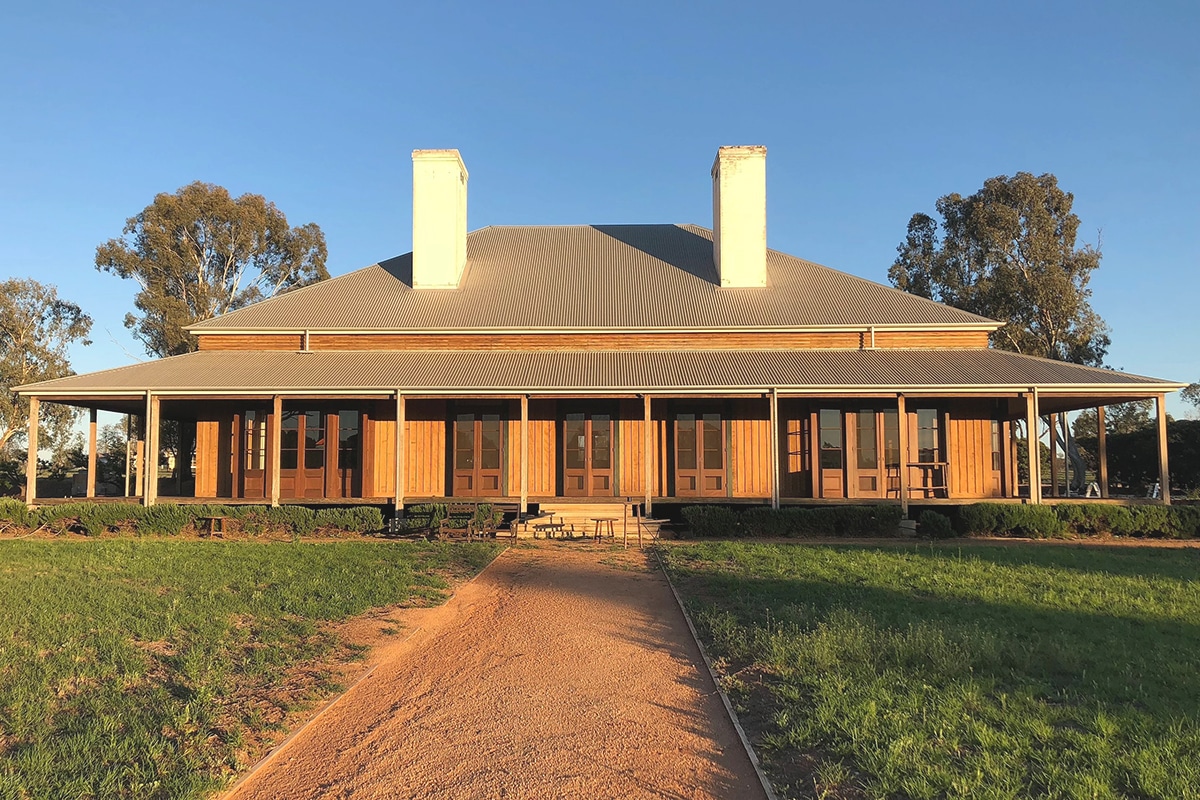 24. Yarrabandai Creek Homestead
On the edge of the outback in Central West NSW sits the Yarrabandai Creek Homestead, with six unique and luxurious cabins. The cabins are beautifully designed, with high ceilings, two bedrooms, a bathroom and a small kitchen. Everything you need is provided in this cosy, small space that will undoubtedly help you to disconnect, go back to basics and savour the fresh air that welcomes you as you open your front door.
Address: Ootha, NSW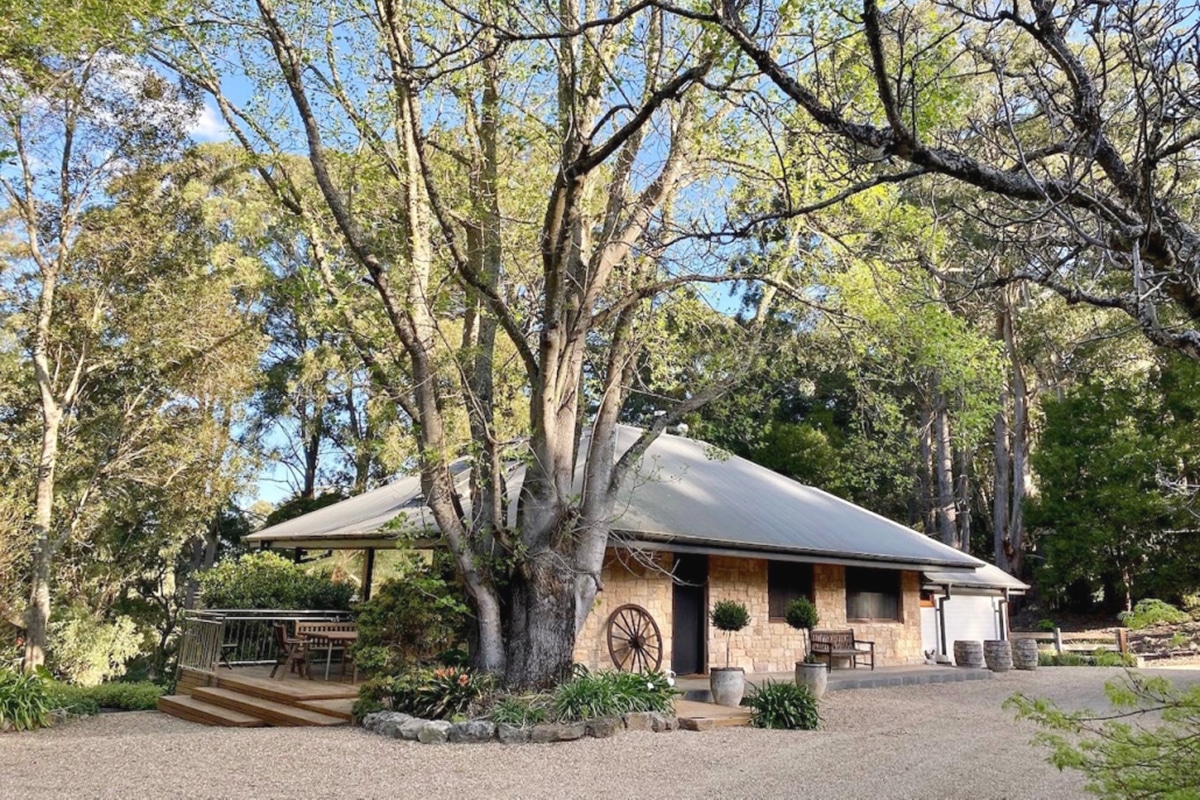 25. Foxton Park
Over 80 acres of undulating paddocks and forest await you at Foxton Park in the picturesque town of Wildes Meadow, just 2 hours from Sydney. Close enough for a weekend away but far enough away to let you escape, the accommodation has three dwellings for you to take your pick- the cottage, the studio or the homestead, or book them all! Reconnect with nature and the animals while you're here- you can collect fresh eggs from the chicken coop for your breakfast and pick fresh fruit, veggies and herbs when in season.
Address: Wildes Meadow, NSW
You'll also like: 
12 Best Fishing Spots in Sydney
28 Spots for Best Family Fruit Picking Near Sydney
18 Best Glamping Spots Near Sydney
General FAQs
What is the most expensive luxury farm stay in NSW?
While there are a number of high-price and high-quality farm stays in NSW, one of the most expensive luxury farm stay in NSW is Byron Bay Heritage Tooraloo Farm Stay.
Where is the best place to farm-stay in Mudgee?
Mudgee is a fantastic place to stay, particularly when it comes to rural and farm stays. One of our top picks for a weekend getaway in Mudgee is Abingdon House.
What is the best farm-stay near Sydney CBD?
The best farm-stay that isn't too far a drive from the Sydney CBD is the Glyn Newydd Homestead.