The Kompanja Camper Van is German Engineering & Luxury
Leave it to the Germans to find a way to the amenities of home with the camper van movement. The Kompanja Camper Van uses a Renault Trafic 3 van to build an adventure van that is up to your exploring or adventuring excursions. Unlike most other companies that use a Sprinter Van as their base, Kompanja opted to go with the Renault Trafic 3. It's an interesting choice as the Renault is much more compact.
Of course, one of the benefits of that choice is that the Renault can fit into a typical parking space, making it much more versatile in terms of finding someplace to stay. Just because it's smaller doesn't mean that the Kompanja Camper Van isn't a performer. The van's DCi 125 horsepower Energy EU6 diesel engine is a standard feature for the van. The interior has plenty of room to keep you comfortable. It measures 1.28 meters by 2 meters for bed space, a full kitchen, and a pop-up roof. That pop-up roof also features a built-in projector system, so you can enjoy your favorite movies with the Kompanja Camper Van.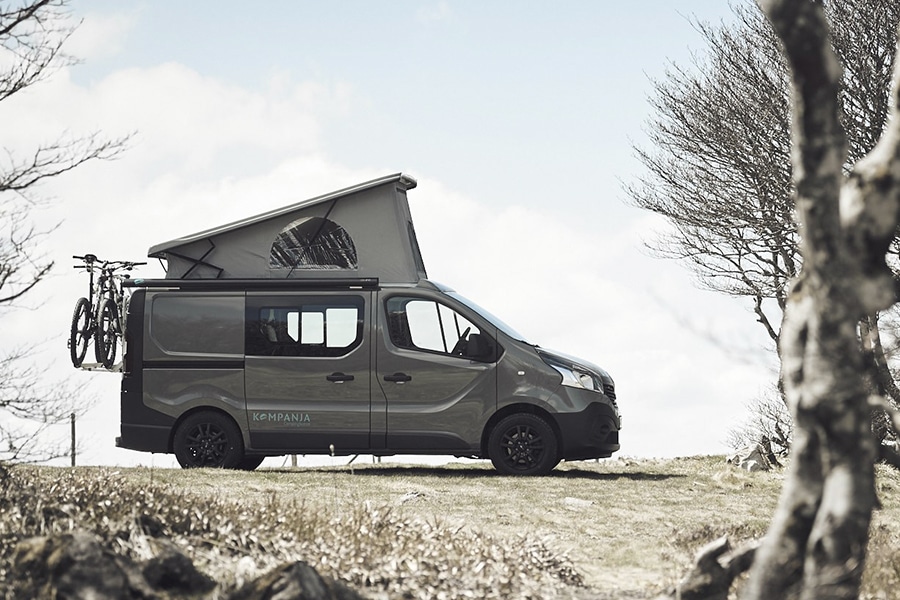 Aside from being a camper van, the Kompanja can also be outfitted with seats for six people, or leave the seats out and use the van as a cargo mover. Kompanja has included several other amenities, such as a table that fits between the front swivel seats and the first row of rear seats, or the black-out curtains.