19 Best Beach Camping Spots in NSW
Camping on the beach is possibly one of Australia's biggest pastimes, and with so many beautiful beaches on offer, it's not hard to see why. There's no better way to wake up than to the sound of crashing waves, as friendly local dolphins swim past (if you're lucky!) In most cases, you don't even need to go far from the city to find a good beachfront camping spot. We have so many on offer in NSW So take a look at the best beach camping spots and bask in the natural splendour of the New South Wales coastline.
Best Beach Camping NSW at a Glance:
Best north coast beach campground: Little Beach Campground
Best south coast beach campground: Depot Beach Campground
Best central coast beach campground: Putty Beach Campground
Best for family camping holiday: Diamond Head Campground
Best for bush and beach camping: The Basin, Ku-Ring-Gai
Best dog friendly beach camping: Mystery Bay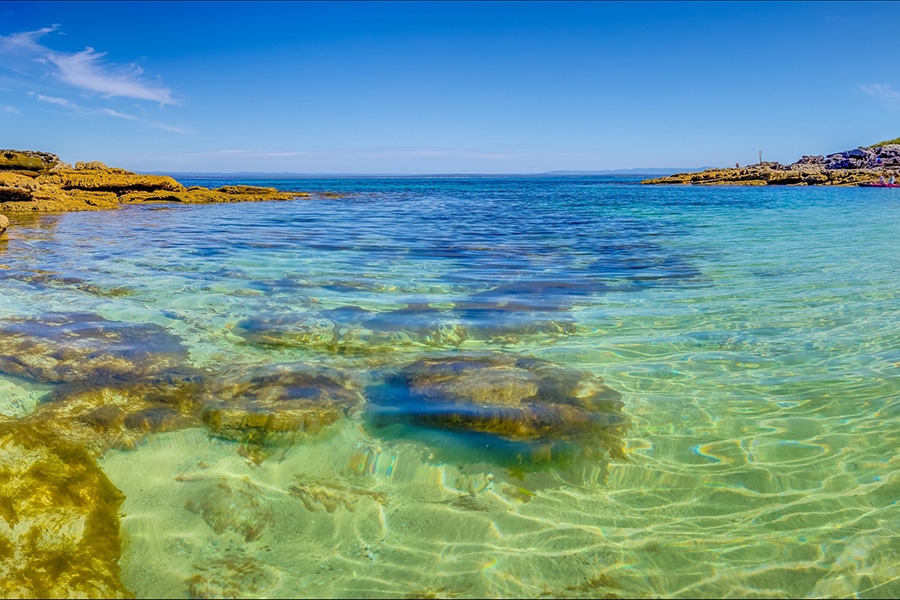 1. Honeymoon Bay, Jervis Bay
Address: Lighthouse Rd & Currarong Roads, Currarong NSW 2540
Phone: +61 2 4448 3411
Distance from Sydney: 209km (3hrs)
Located at beautiful Jervis Bay, this is one of the best beach camping spots in NSW. Honeymoon Bay is a secluded pristine beach area perfect for beach camping. There's plenty to do, from snorkelling, swimming, and fishing just to name a few. No need to book, it's a first come first serve type deal.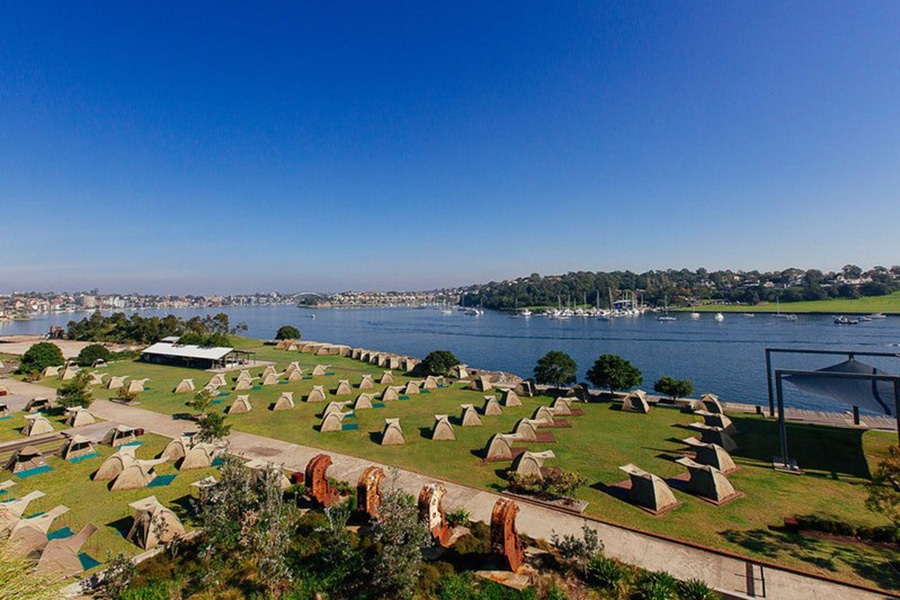 2. Cockatoo Island, Sydney Harbour
Address: Cockatoo Island, Sydney Harbour, Sydney NSW 2110
Phone: (02) 8969 2100
Distance from Sydney: 30 mins by public ferry
The UNESCO world-heritage-listed, Cockatoo Island, is located within Sydney's beautiful harbour and is accessible via ferry. Stay within minutes of the CBD and camp on the river's edge, explore the island and witness amazing views of Sydney Harbour in one of the most unique camping spots Sydney has to offer.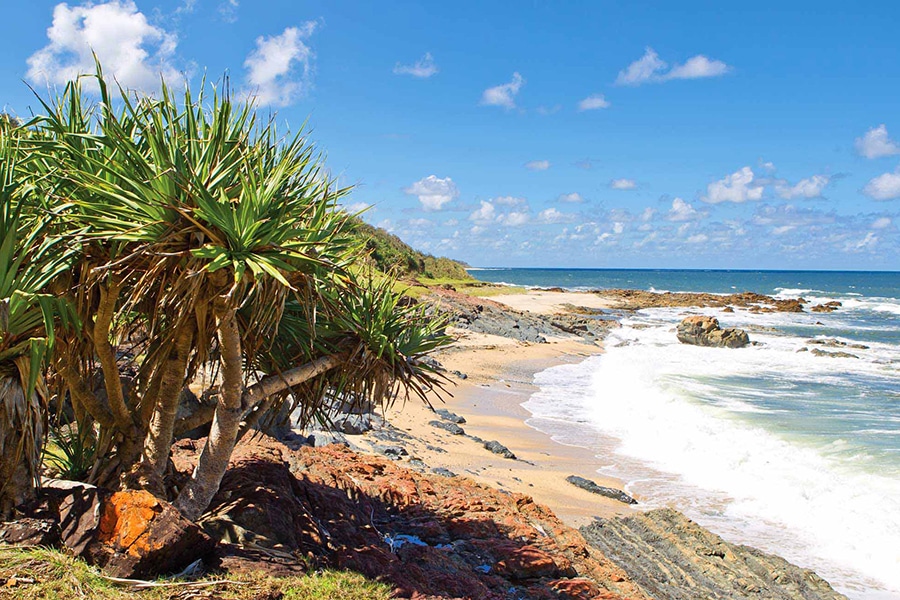 3. Yuraygir National Park, Wooli
Address: Diggers Camp Rd, Diggers Camp NSW 2462
Phone: 1300 361 967
Distance from Sydney: 625km (6 hrs 30 mins)
Located between Yamba and Coffs Harbour, Yuraygir National Park offers campers a stunning beach camping location to set up camp and relax under the stars. It's a bit of a drive, but once you arrive, you can get out and about with a range of activities from snorkelling to fishing and swimming. The site offers all the regular conveniences like picnic tables, toilets and barbeques. Arrive early to grab a spot with a scenic view of the Pacific Ocean.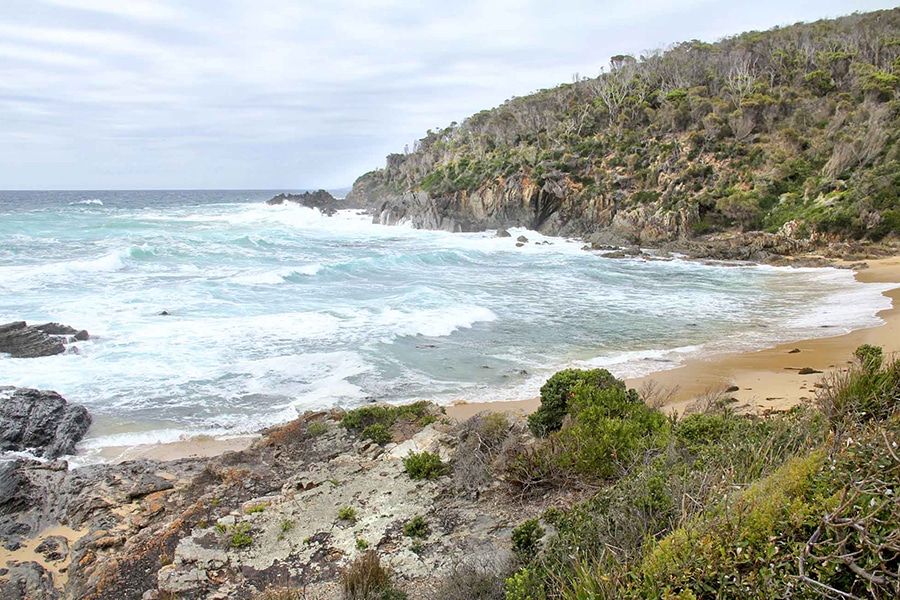 4. Picnic Point Campground, Mimosa Rocks National Park
Address: Corner Graham and Burrawang Streets, Narooma NSW
Phone: 1300 072 757
Distance from Sydney: 414km (5 hrs 30 mins)
This beach camping site is ideally located for anglers and beach lovers alike. Take your pick of two sandy beaches and grab your rod or bathers. Picnic Point is guaranteed to give you a beach camping experience you won't forget. And like the name suggests, bring your catch and cook it up on the provided barbeque facilities and have a picnic.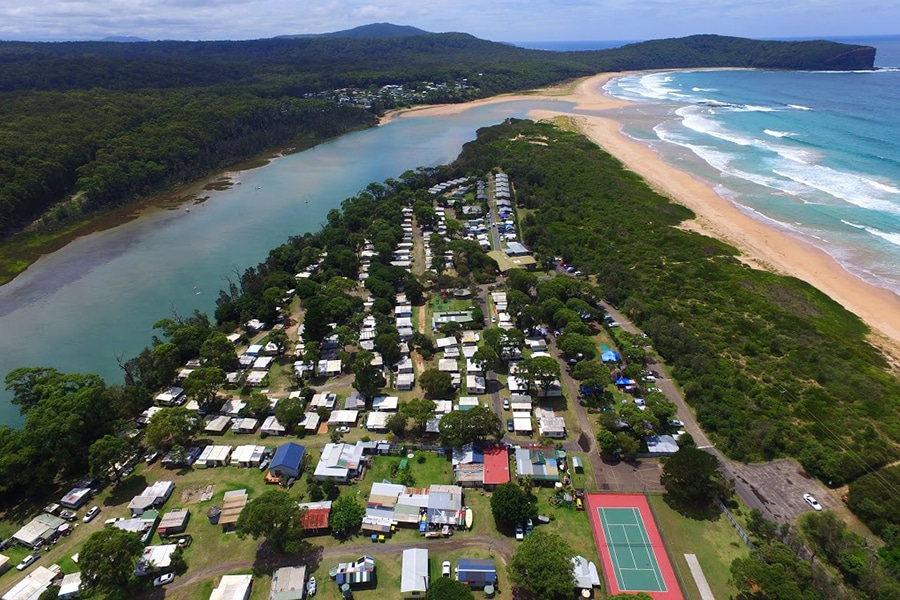 5. Lakesea Caravan Park Durras, Batemans Bay
Address: 1 Durras Lake Rd, South Durras NSW 2536
Phone: (02) 4478 6122
Distance from Sydney: 287km (3hrs and 45 mins)
Lakesea Caravan Park located in the Batemans Bay region offers one of the best beach camping spots in NSW. Just a stone's throw from Durras Beach, you are guaranteed to unwind and relax next to the crystal clear waters and scenic beauty. Swim, fish and play with all Lakesea has to offer. Explore the beach and wake up among the natural wildlife that inhabits this beautiful bay.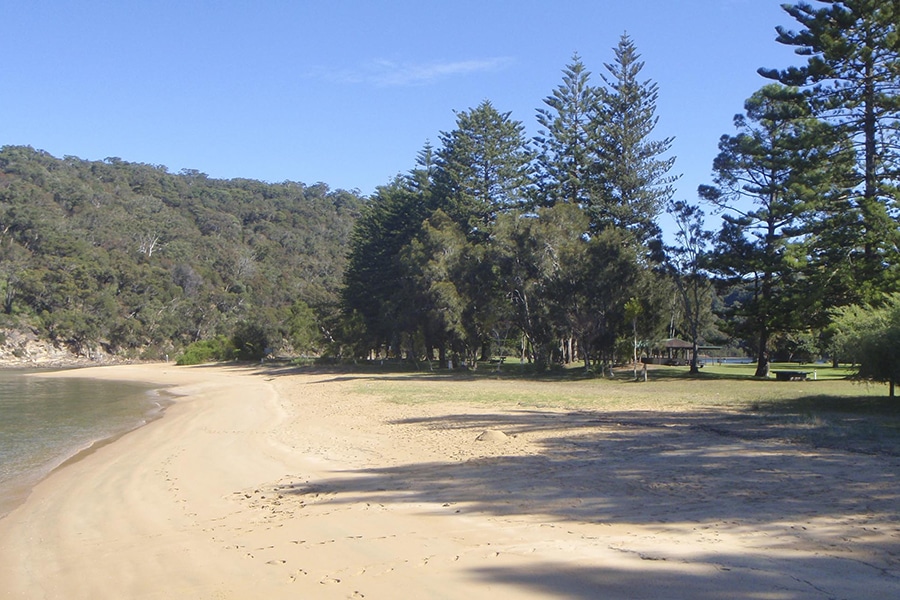 6. The Basin, Ku-Ring-Gai
Address: Basin Trail, Ku-Ring-Gai Chase NSW 2084
Phone: 1300 072 757
Distance from Sydney: 40km (1 hr)
The Basin can be found on the western shore of Pittwater at Ku-ring-gai National Park. Being so close to the city, the best way to access this beach camping spot is by ferry via Palm Beach. Offering all the amenities you could possibly need including showers, toilets, barbeques, drinking water and more. Fees apply but you can book online to secure yourself a spot.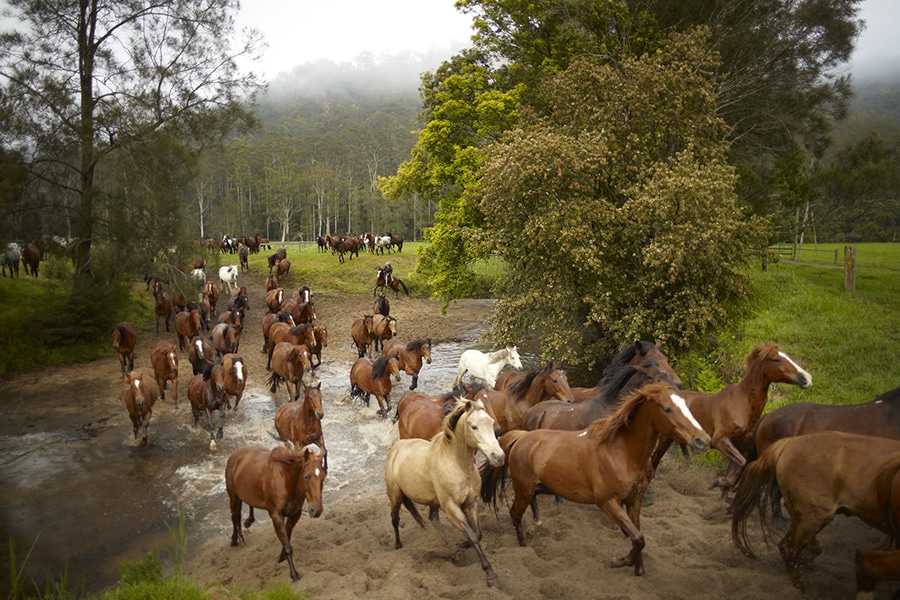 7. Glenworth Valley, Central Coast
Address: 69 Cooks Road, Peats Ridge NSW 2250
Phone: 02 4375 1222
Distance from Sydney: 75km (1 hr)
Sprawled over 200 acres, Glenworth Valley offers unspoiled surroundings and camping grounds. Relax on the riverfront, build a campfire and take in the stars. This beach camping spot is for the adventurers out there. Glenworth includes loads of activities like horseback riding, quad biking, abseiling, and kayaking just to name a few.
---
Featured Video from Man of Many
---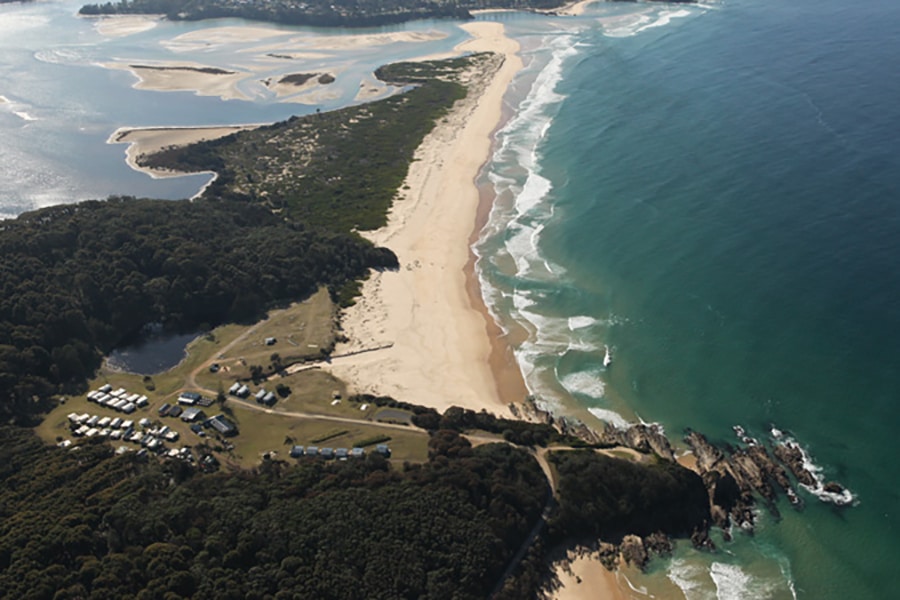 8. Beachcomber Holiday Park, Eurobodalla
Address: Blackfellows Point Rd, Potato Point NSW 2545
Phone: 02 4473 5312
Distance from Sydney: 350km (4 hrs 30 mins)
Stay directly on the beach at the Beachcomber Holiday Park, and chose from one of the beautiful beachfront cabins or pitch a tent. There's loads to do including, fishing, surfing, mountain biking and more. You can book powered sites if needed but the campsite mostly relies on solar power.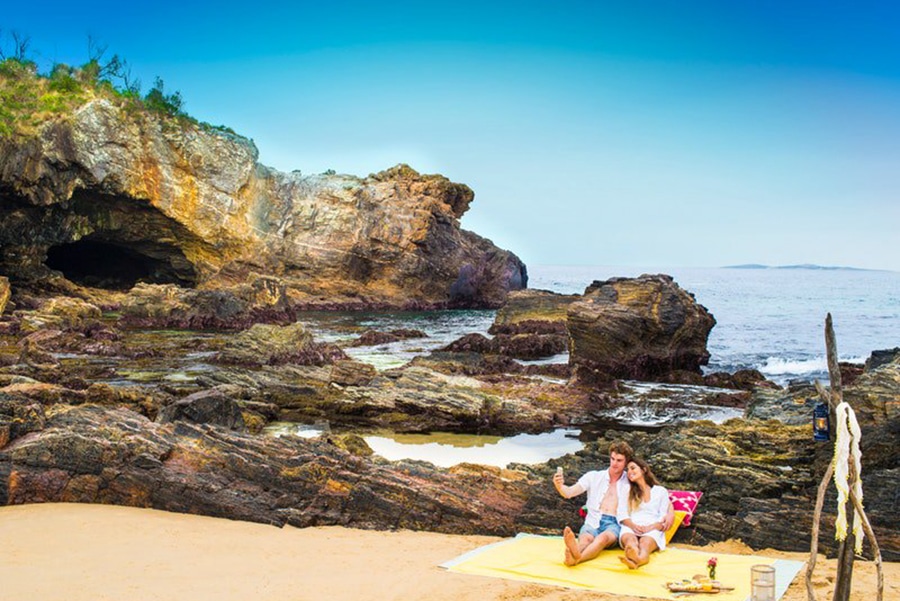 9. Mystery Bay Camping Area, Tilba
Address: 190 Mystery Bay Rd, Mystery Bay NSW 2546
Phone: 0428 622 357
Distance from Sydney: 370km (4hrs 45 mins)
This natural camping area is one of the last of its kind. Sleep among the spotted gums and acacias right next to the beach. Explore the beach or neighbouring Eurobodalla National Park for some picturesque lookouts and walking tracks. And good news for man's best friend, it's pet friendly!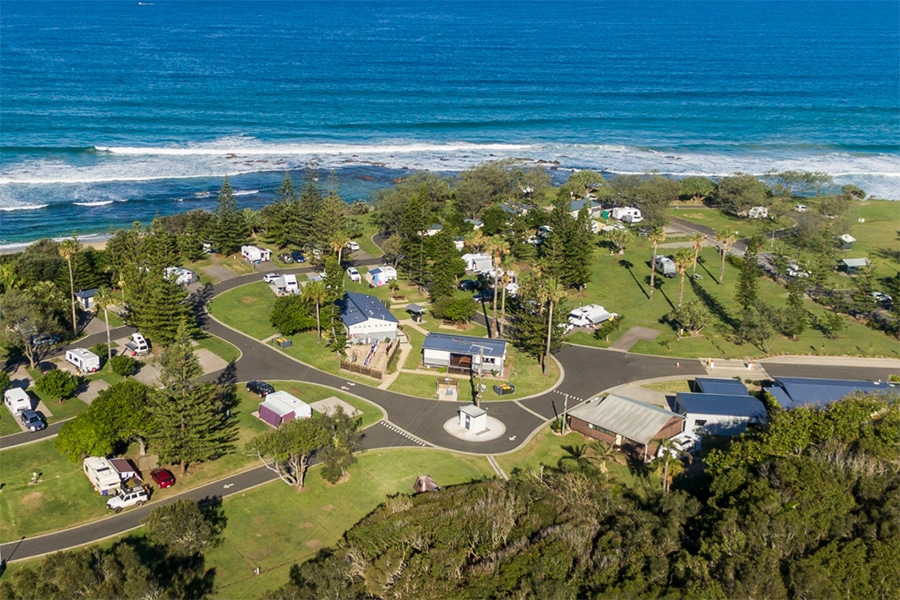 10. North Coast Holiday Park, Corindi Beach
Address: 93 Pacific St, Corindi Beach NSW 2456
Phone: 02 6649 2803
Distance from Sydney: 569km (5 hrs 45 mins)
Just 30 minutes outside of Coffs Harbour, North Coast Holiday Park (part of Reflections Holiday Parks) offers the perfect beach camping experience. Take a splash in the crystal blue waters of Corindi Beach and take in the stunning natural beauty. This coastal getaway offers large and easy to access sites with stunning ocean views. It's also pet friendly, so bring along your furry travel companions.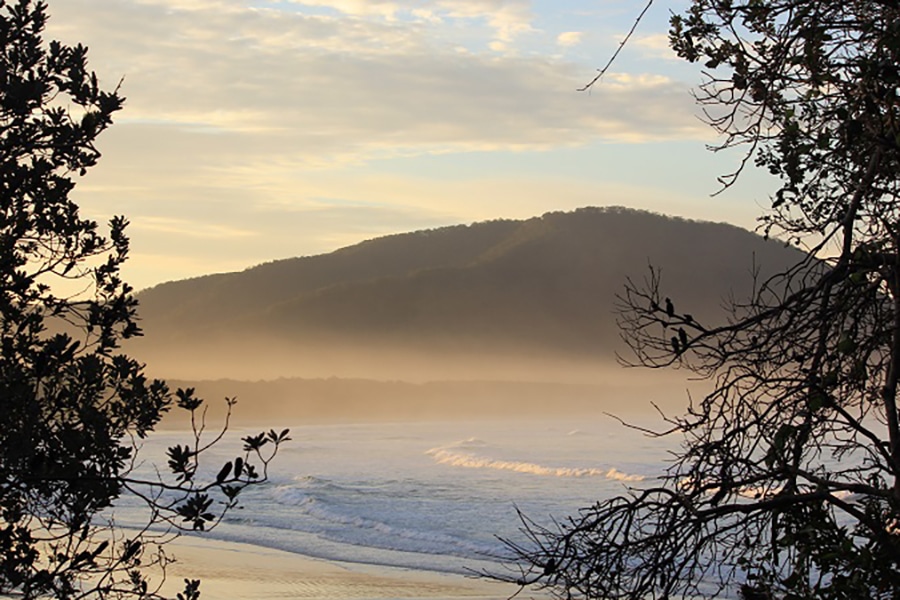 11. Diamond Head, Crowdy Bay National Park
Address: Crowdy Bay National Park, Diamond Head Rd, Laurieton NSW 2443
Phone: 1300 072 757
Distance from Sydney: 356km (4 hrs)
Diamond Head campgrounds sit right on the oceanfront with enticing views of the surrounding greenery and ocean. You can't get closer to the beach than this without being actually in it.  Swim, fish or take a hike with one of the many hiking tracks, including the famous loop walk featuring panoramic views of the coast.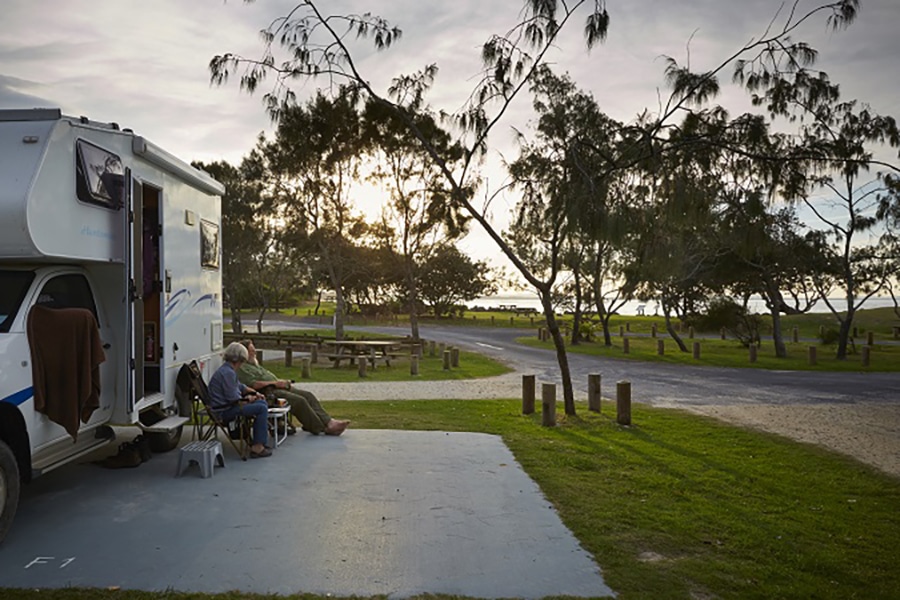 12. Woody Head, Bundjalung National Park
Address: Woody Head Road, Woody Head NSW 2466
Phone: 1300 072 757
Distance from Sydney: 675km (7hrs)
This popular beach camping spot is perfect for a weekend getaway (if you like a long drive!) Pitch a tent and relax on the beach, take a dip in the ocean or grab your fishing rod at Woody Head in Bundjalung National Park. Explore nearby rainforests and reefs, take a walk up to the rock platform, or if you're lucky enough to have a boat, there's also a convenient boat ramp.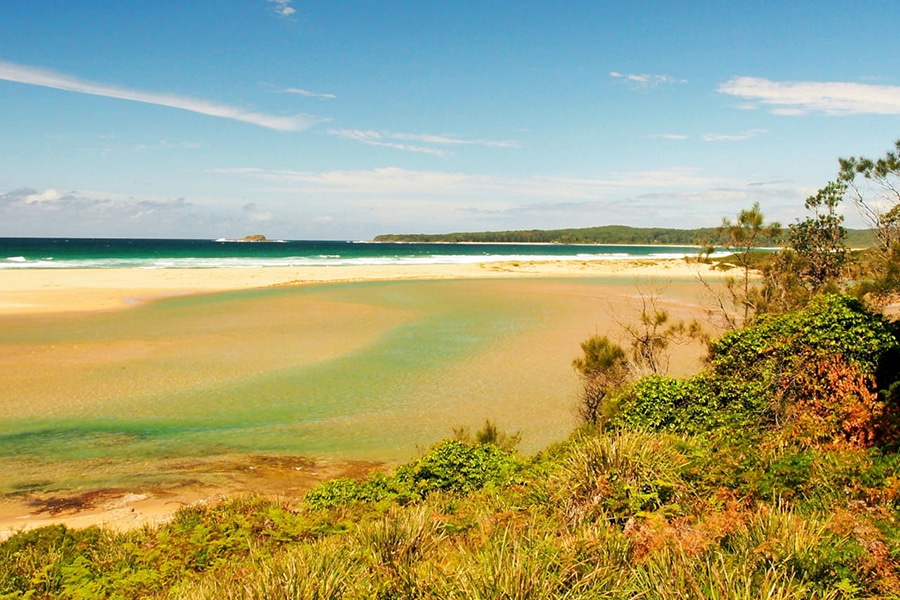 13. Durras Beach, Murramarang National Park
Address: 57 Durras Rd, Durras North NSW 2536
Phone: 02 4478 6072
Distance from Sydney: 285km (3hrs 45 mins)
You'll be camping with nature at Durras Beach in Murramarang National Park, with a huge variety of kangaroos, possums and birds. And with loads to do like surfing, canoeing, hiking and swimming you're sure to never get bored. This site has the added bonus of having hot showers too and all the facilities you'll need for the perfect beach camping experience.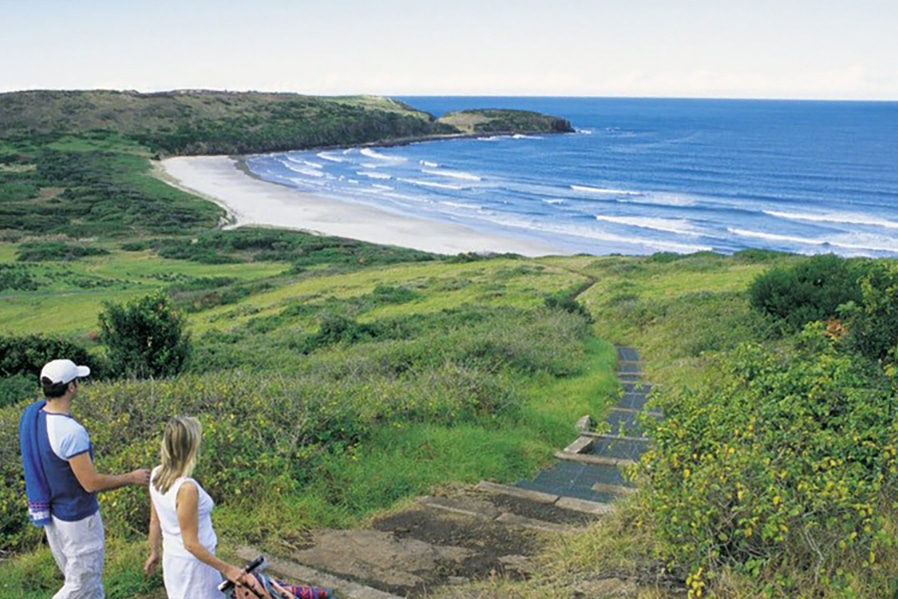 14. The Farm, Killalea
Address: Killalea Drive, Shell Cove, NSW, 2529
Phone: 02 4237 8589
Distance from Sydney: 123km (1 hr 45 mins)
Known locally as The Farm, this place is a surfer's heaven and a beach camping haven for those who love a good swell. With a lush green camping area and only 1.5 hours away from Sydney, it's not hard to see why this is one of the most popular spots for beach camping NSW has on offer.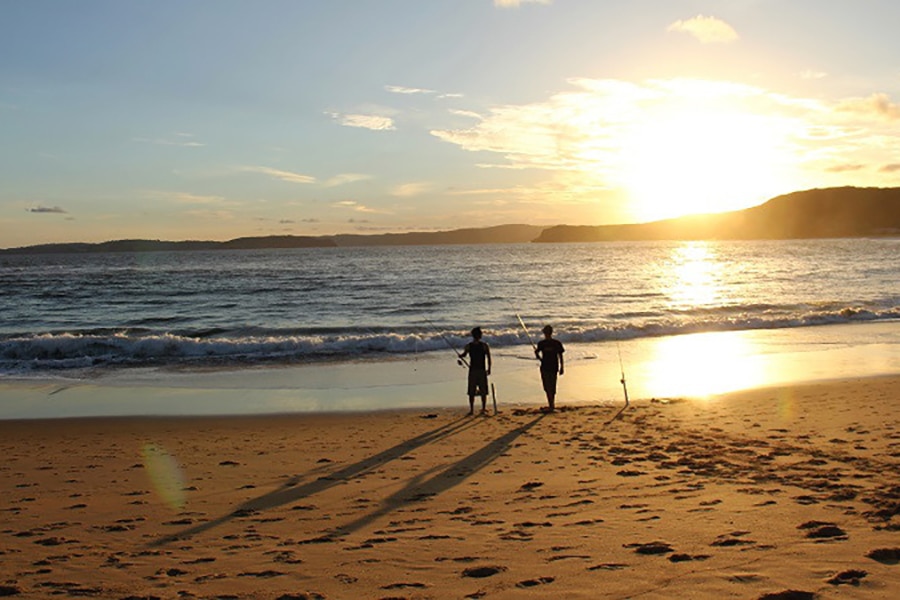 15. Putty Beach, Bouddi National Park
Address: Maitland Bay Track, Bouddi NSW 2251
Phone: 1300 072 757 
Distance from Sydney: 100km (1 hr 30 mins)
Putty Beach is one of the biggest campgrounds in Bouddi National Park and offers a whole range of facilities and activities to take part in. Bush-walking, fishing and swimming are just some of the activities you can partake in at this beautiful beach camping spot, and it includes all the amenities you'll ever need.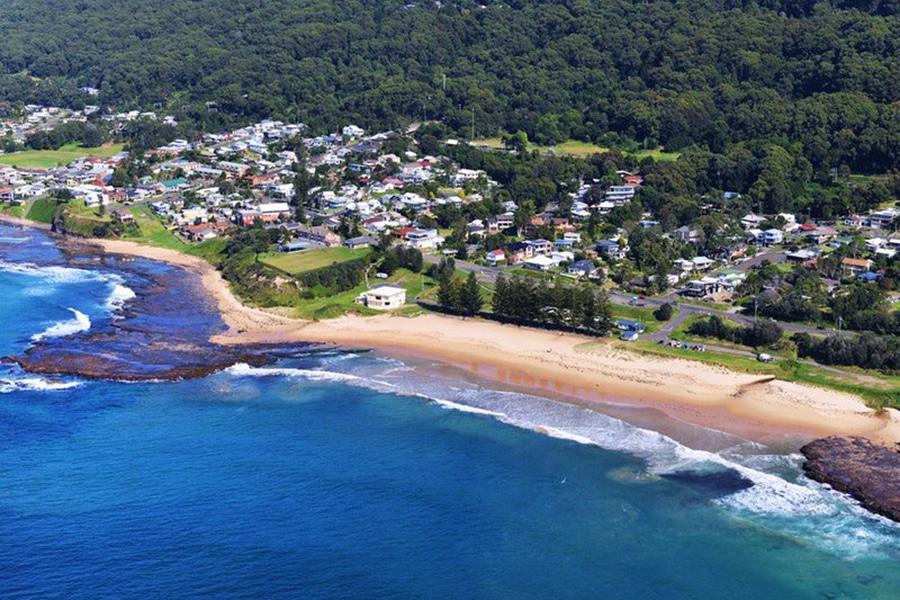 16. Coledale Beach, Wollongong
Address: 686 Lawrence Hargrave Dr, Coledale NSW 2515
Phone: 1800 240 737
Distance from Sydney: 77km (1 hr 30 mins)
Being just one hour from Sydney, it's easy to escape the city and take in all nature has to offer at Coledale Beach. With stunning sea cliffs and rocky pools, whether you're swimming, surfing, fishing or hiking, this is the beach camping spot for you. Dolphins are regular visitors and depending on the time of the year you might even catch a glimpse of migrating whales.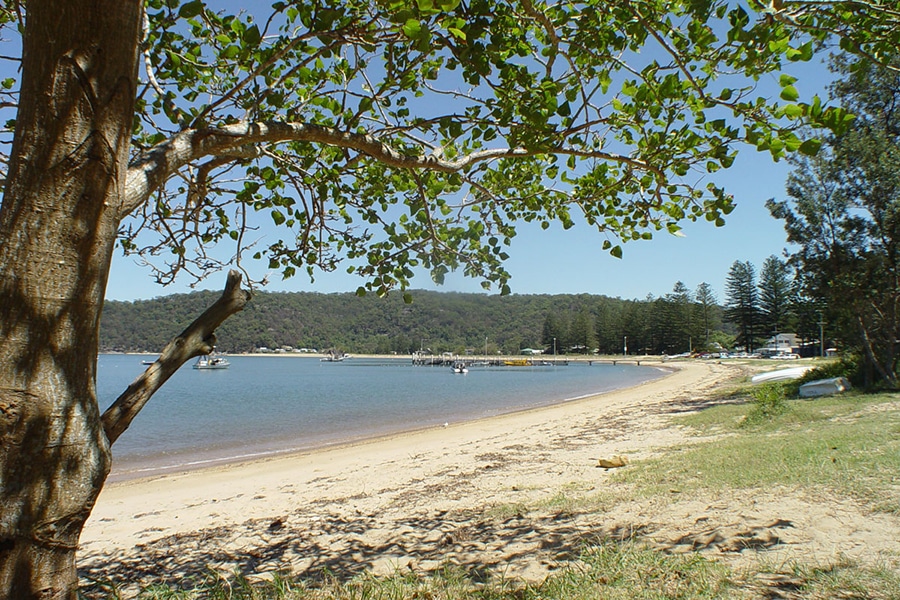 17. Patonga, Hawkesbury River
Address: Bay Street, Patonga NSW 2256
Phone: (02) 4379 1287
Distance from Sydney: 101km (1 hr 30 mins)
Located at the mouth of the Hawkesbury River, Patonga is one of the best spots for beach camping NSW has to offer. With the benefit of having a creek and the beach forking either side of the campsite, you can take your pick with activities like fishing, kayaking and swimming.
18. Depot Beach Campground
Address: 2B Depot Beach Road, Depot Beach NSW 2536
Phone: 1300 072 757 
Distance from Sydney: 283km (3hrs 45 mins)
nestled among local spotted gums, this idyllic spot is ideal for a weekend escape. Set up your tent or caravan, and you'll be hooked. The beach is a short walk away—great for swimming, snorkelling, or just lounging. Try your luck at fishing and keep an eye out for dolphins. Nearby walks offer a break from the beach. End the day at your campsite, watching kangaroos and stargazing. It'll feel like a world away.
19. Little Beach Campground
Address: Little Beach Trail, Bouddi NSW 2257
Phone: 1300 072 757 
Distance from Sydney: 101km (1 hr 30 mins)
Little Beach Campground is a surfer's and nature lover's haven with prime beachfront tent spots. Huddled in a scenic cove and ringed by rainforest, it has sheltered BBQs and toilets. Catch the morning swell with your surfboard, fish, or explore local walks like the Bouddi coastal trail. Cap off your day with a sunset BBQ feast at this stunning beachside campground.
Additional Beach Campgrounds in NSW
NSW is spoilt for choice when it comes to amazing camping spots! We've listed some of our faves above, but here are some honourable mentions and spots worth checking out!
Pebbly Beach Campground
Trial Bay Gaol Campground
Pretty Beach Campground
Myall Lakes National Park
Beowa National Park (formerly known as Ben Boyd National Park)
How MoM Chose This List of Beachside Campgrounds
We've curated this list of top NSW beachside campgrounds based on our own adventures, insights from NSW camping Facebook groups, and thorough online research to deliver you the best beach camping NSW has to offer.
Alternatives to Popular Beach Camping Spots
NSW Beach Campsites FAQs
Can you camp on the beach in NSW?
While the idea of beach camping in New South Wales might sound like an absolute dream, you can't just pitch a tent anywhere you fancy. In most cases, camping directly on the beach is prohibited to protect the local environment and for safety reasons. However, there are designated campgrounds close to the beach where you can enjoy a similar experience. Always check local council rules or National Park regulations for the specifics of where you can and can't camp.
Which NSW beach campgrounds are dog-friendly?
Love to bring your four-legged mate along for the adventure? Sadly, most beachside campgrounds aren't dog-friendly. However, Mystery Bay and North Coast Holiday Park are pet-friendly! Always ring ahead to confirm the pet policy, and remember to keep your dog on a leash where required, for the sake of wildlife and other campers.

Where's the best beach camping on the far south coast NSW?
Depot Beach, Pretty Beach, and Pebbly Beach are all top picks that deserve a spot on your must-visit list. Each of these locations offers something a little bit special on the beautiful south coast.
---
Featured Video from Man of Many