18 Best Glamping Spots Near Sydney
It is well known that Australia is the land of year-round camping, which paves the way perfectly for glamping Sydney. Get the best of both worlds by immersing yourself in nature, all the while in total comfort and style. Glamping near Sydney is the perfect in-between wherein you and your lady or your mates can enjoy a proper bed and idyllic views at the same time. Whether for an anniversary, a birthday or just because you want to make the most of the stunning part of the world you live in check out the top 5 star camping NSW.
There is no shortage of picturesque glamping spots around Sydney, from beach to bush and everything in between. The myriad of options means you could go luxe camping almost every weekend of the year and never get sick of it. Here are our top picks for the 19 best glamping spots near Sydney.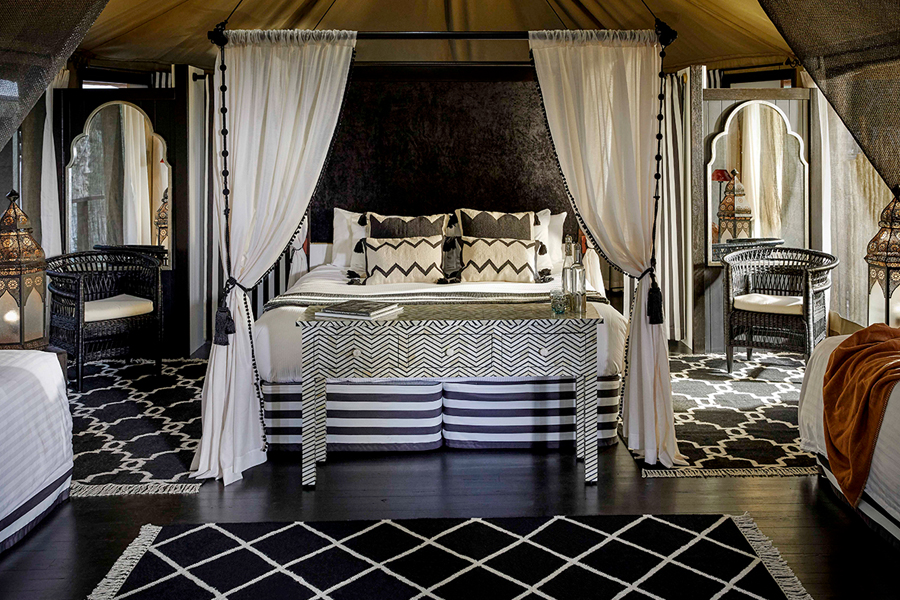 1. Paperbark Camp, Jervis Bay
A peaceful retreat just 2.5 hours' drive from Sydney, Paperbark Camp Jervis Bay is the ideal intersection of beach, bush and laid-back beauty. 13 canvas-style tents are set amongst the Eucalyptus and Paperbark trees, each in their own private setting capturing the sea breeze. You can choose from the Original to the King Deluxe glamping tent and take advantage of the full continental buffet breakfast or the 4-course set dinner menu at the Gunyah (Aboriginal for meeting place). Paperbark Camp is your one-way ticket to whale watching, the Shoalhaven River and the many wineries of the Nowra Region.
Address: 571 Woollamia Rd, Woollamia NSW 2540
Phone: +61(0)244416066, 1300668167
Trading hours: Mon-Sun 8am-8:30pm
Price: from $523 AUD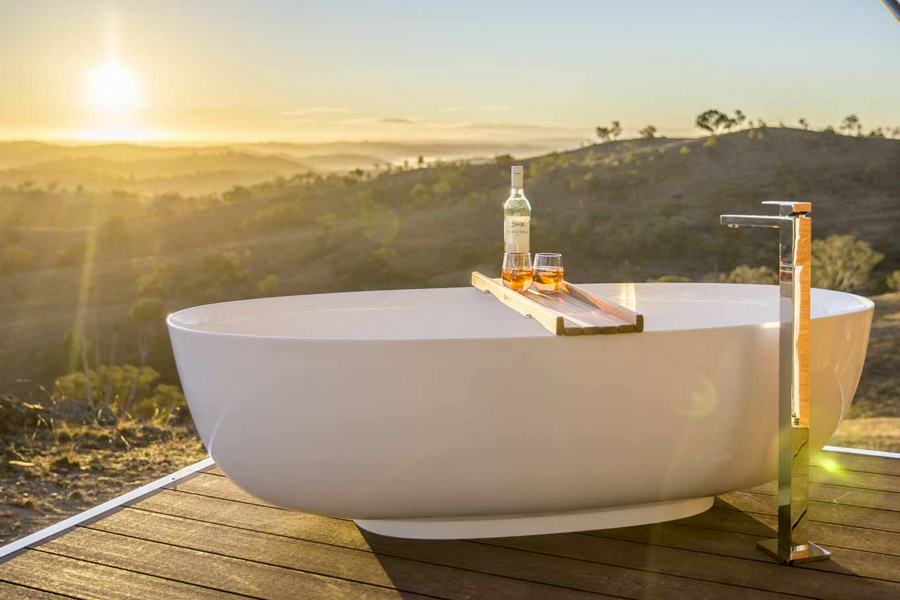 2. Sierra Escape, Mudgee
The award-winning, adults-only glamping near Sydney, Sierra Escape, offers 5 star features in the middle of 280 acres of stunning natural landscape. The well-insulated tents at the escape Sydney are made from high-quality material, which means they are comfortable in any season. Heat up in the luxurious bath, roast marshmallows by the open fireplace and watch the sun set from your private deck. Spot native animals such as kangaroos or native birds, go wine-tasting in the famous Mudgee region or visit the nearby Sierra Lookout for unparalleled views. Take your pick from the range of glamping options and start planning your ideal getaway.
Address: 1345 Lower Piambong Road, Piambong, NSW 2850
Phone: +61 438 945 197 or +61 403 923 063
Price: from $470 AUD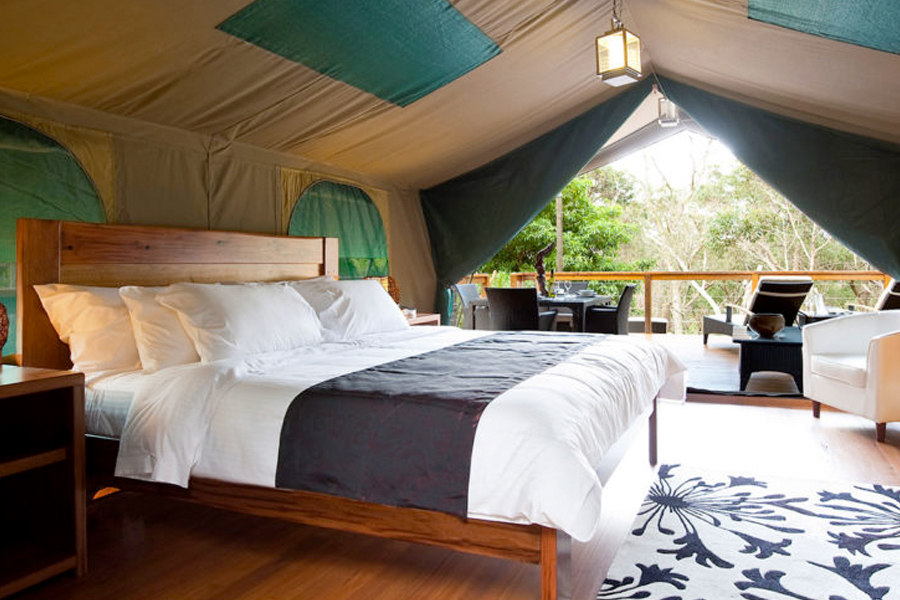 3. Tandara, Lane Cove National Park
Craving a getaway from the city but don't want to deal with the stressful organisation? Tandara in Lane Cove National Park is the perfect middle ground. Feel totally removed from the hustle and bustle while staying just 10km north of the CBD. Tandara 5 star camping NSW combines award-winning sustainability initiatives, complete seclusion and serenity and a lush, private garden with views overlooking the national park. There is only one safari-style bush glamping tent here so you'll need to book well in advance – future you will thank you for it.
Address: Lane Cove Holiday Park, 13 Plassey Road, North Ryde NSW 2113
Phone: (02) 9888 9133
Price: from $250 AUD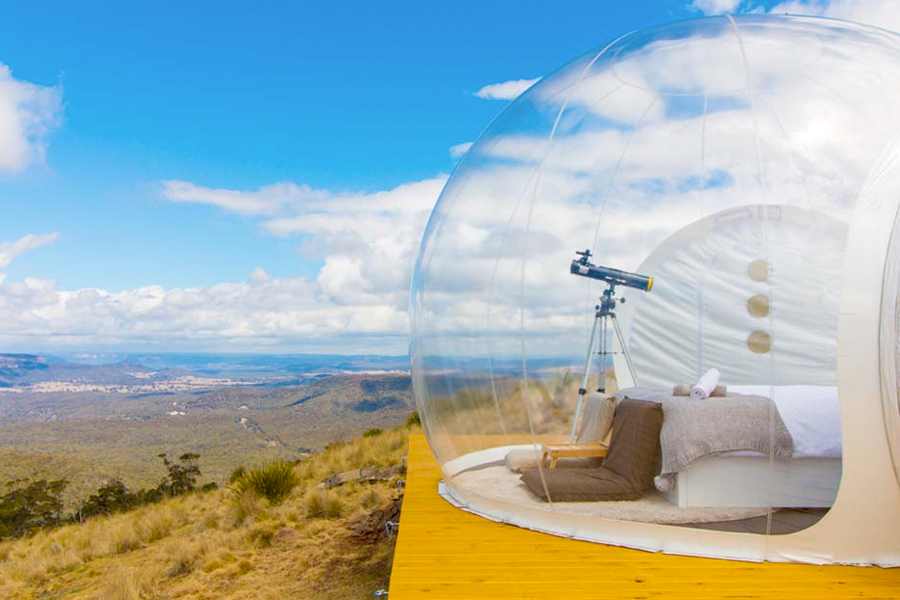 4. Bubbletent Australia
See unobstructed views of the stars, marvel at the sunrises and sunsets and enjoy an unparalleled vantage point for animal spotting, all from the comfort of your private bubble sanctuary. The tents at Bubbletent Australia feature a warm wood-fired hot tub, views over towering cliffs, telescopes, a fireplace and/or luxurious hammocks. The precise location will be sent to you two weeks before your stay, but we can tell you that it's 200 kilometres North of Sydney overlooking the Capertree Valley, halfway between the wine region of Mudgee and Lithgow. And we can also tell you its easily some of the best glamping near Sydney. Whether you stay in your bubble stargazing through the Luminous app on the iPad or enjoy the hiking, watersports, fishing or helicopter tour within an hour's drive, is completely up to you.
Address: Somewhere near the Capertree Valley
Phone: +61 412 133 052
Price: from $370 AUD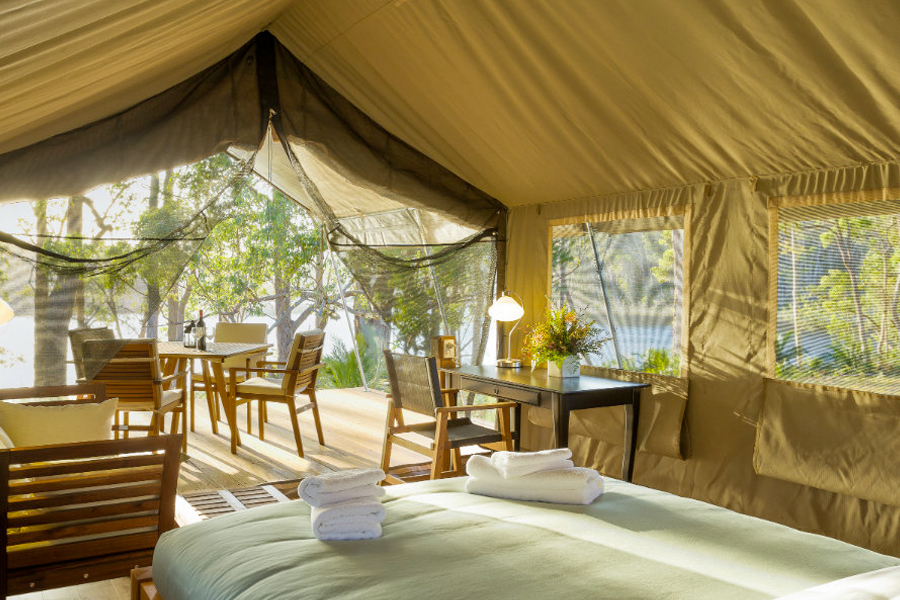 5. Tanja Lagoon Camp
Nestle in amongst Mimosa National Park and enjoy bedroom views overlooking the coastal lagoon and non-stop wildlife spotting. These fully self-contained tents at Tanja Lagoon Camp feature a spacious deck, private bathroom and kitchen facilities as well as your own fire drum with chairs and firewood, gas barbecue, queen bed, sofa and writing desk. The extra luxurious rooms at glamping Sydney also include a bathtub big enough for 2 and another allows you to set your kids up in luxury swags. Use of canoes and a delicious local breakfast is also included in the price. Surfing on the Sapphire Coast, mountain biking on Tathra mountain and swimming in Birthry Inlet are extra activities easily available but totally optional.
Address: 142 Haigh's Road, Tanja NSW 2550
Phone: +61 477 614 275
Price: from $275 AUD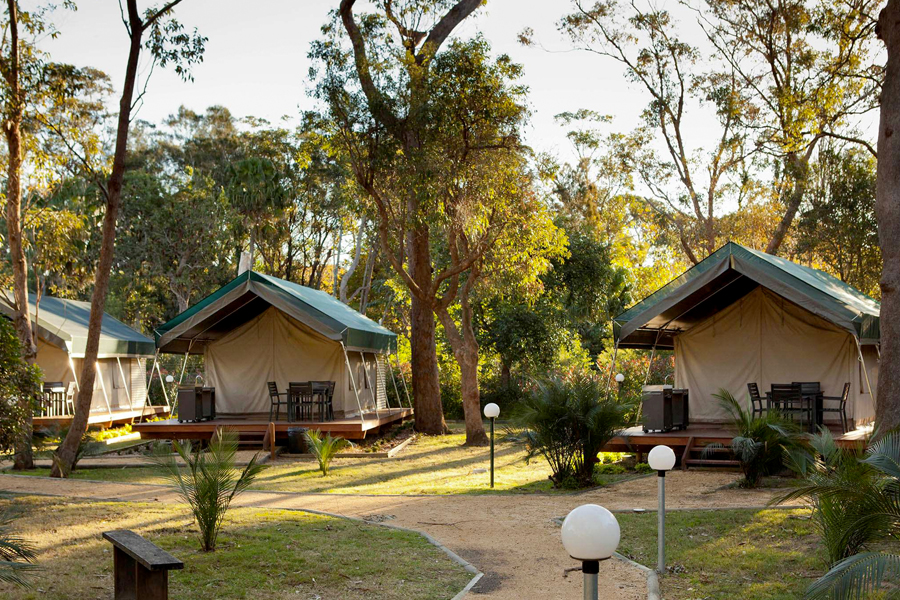 6. Safari Palm Tents, Central Coast
During the school holidays, Umina Beach plays host to a glamping NSW hotspot, Safari Palm Tents. Bell tents are set up on the beach 1.5 hours north of Sydney and sleep up to 4 people. The ideal family getaway, complete with bedding, deck chairs and the added touches of eye masks and ear plugs, not to mention calm surf and the stunning Brisbane Water National Park within sight. You will also gain exclusive access to the glamping communal lounge, which features pallet style tables, plush cushions and vintage lighting.
Address: NRMA Ocean Beach Holiday Resort, Sydney Avenue, Umina Beach NSW 2257
Phone: 03 9811 9300
Price: from $116 AUD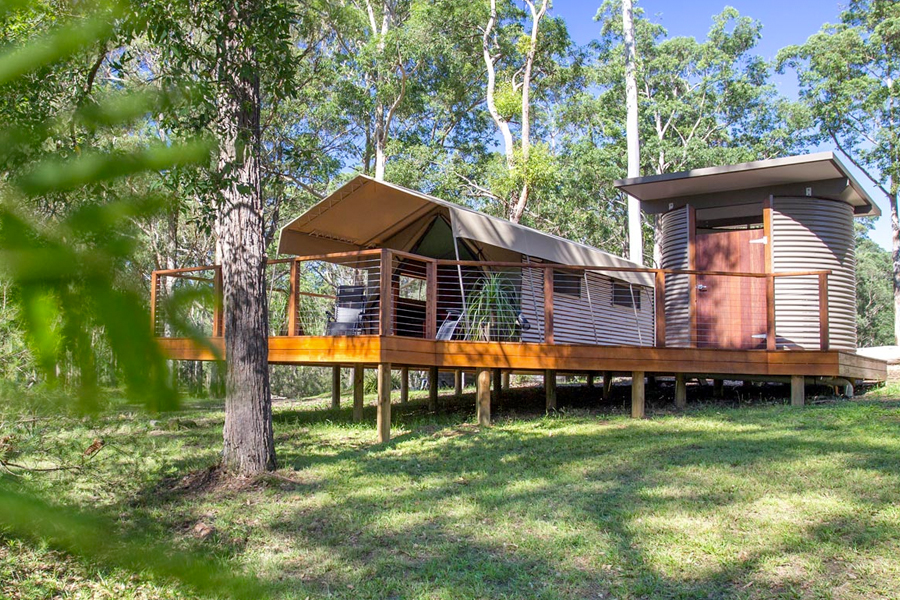 7. The Escape, Clyde River
Just over three hours' drive away from Sydney lies a natural oasis that provides the perfect balance between farm experience and forest retreat. Whether bocce, bushwalking or mountain biking is your jam or you're more of a kayaking, swimming or fishing fan, The Escape Sydney has it all. Within a small drive from your glamping spot near Sydney you can reach Clyde River Berry Farm, Bawley Point and Pebbly Beach. And without moving at all you'll be able to spot kangaroos, wallabies and wombats. The tents can cater up to 12 people and feature queen beds, day beds, contemporary outdoor seating as well as the finer touches such as Sukin beauty products. For that extra dash of luxury, upgrade to the river-front tent complete with bio-fuel heater.
Address: The Escape, The River Road, Shallow Crossing, South Coast NSW 2538
Phone: +61 2 4478 1212
Price: from $1,975 AUD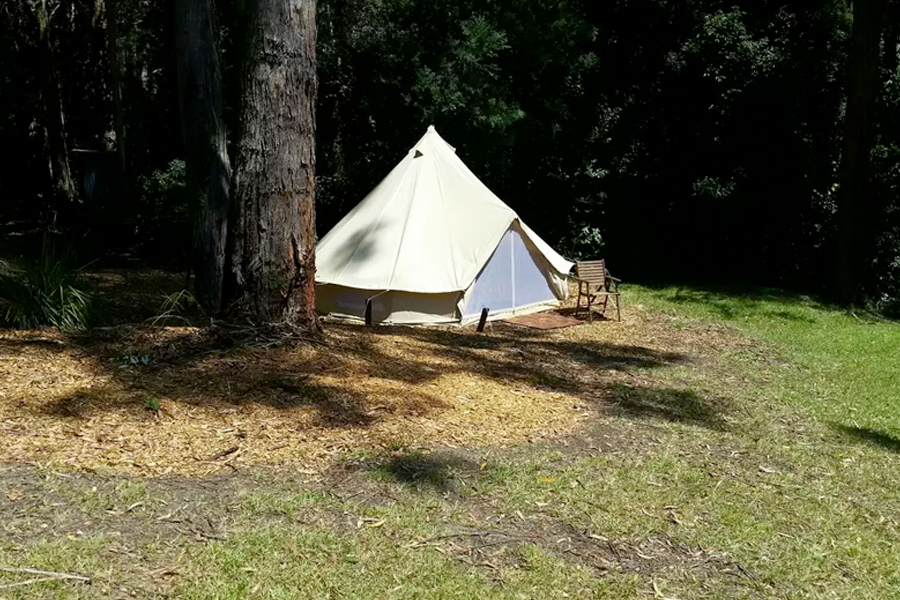 8. Elabanah Luxury Camping, Avoca Beach
Enjoy some of the best glamping in NSW with a more rustic flair with the bohemian style 'glents' at Elabanah Luxury Camping at Avoca Beach. Immersed in the eucalyptus and fern forest, wake up in your king size bed to the sound of the bellbirds, and then read a book on the deck chair before eating some free-range eggs on the BBQ. This eco-friendly glamping in Sydney features an eco toilet and shower and a bush kitchen, while the many restaurants of Avoca Beach lie just a short walk away. You can also choose to arrange a fire circle or book a remedial massage, shamanic healing session or coastal walk.
Address: 300 Hillside Rd, Avoca Beach NSW 2251
Price: from $179 AUD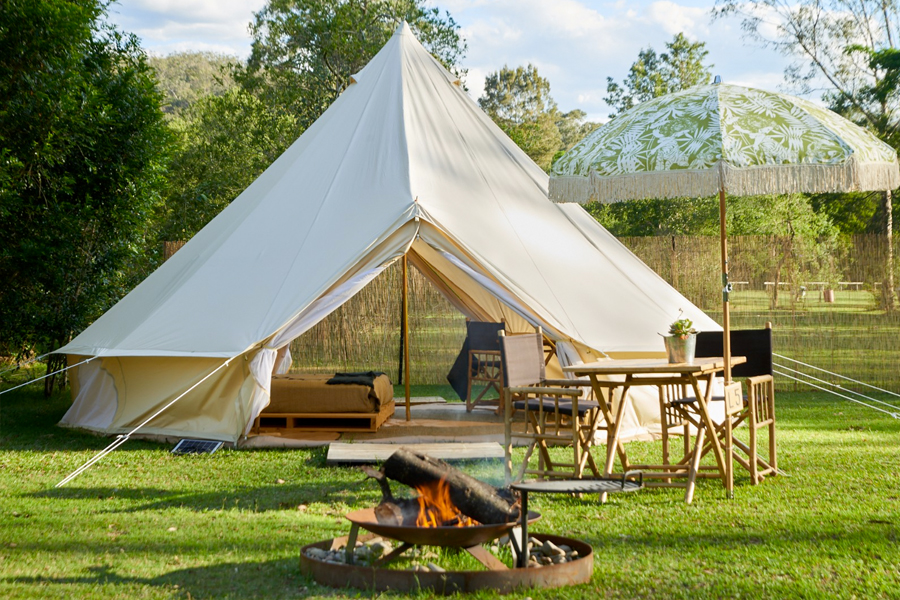 9. Flash Camp, Coolendel
Venture into the South Coast Hinterland for a true natural getaway with un-hosted glamping tents at Flash Camp Coolendel. Located in the Upper Shoalhaven River, three hours from Sydney, this remote location will only be reached after 12km of driving on unsealed roads. There are two camps: the first one with six spacious 6 metre bell tents catering for individual bookings; and the second with six 5 metre tents ideal for a group takeover. Flash Camp provides communal facilities such as a campfire with plate grill and they also provide solar lights, bedding, shampoo, conditioner and body wash, games, toilets and showers. But other than that you are left totally to your own devices…
Address: Grassy Gully Road, Burrier NSW 2450
Phone: +61 1300 045 267
Price: from $1,620 AUD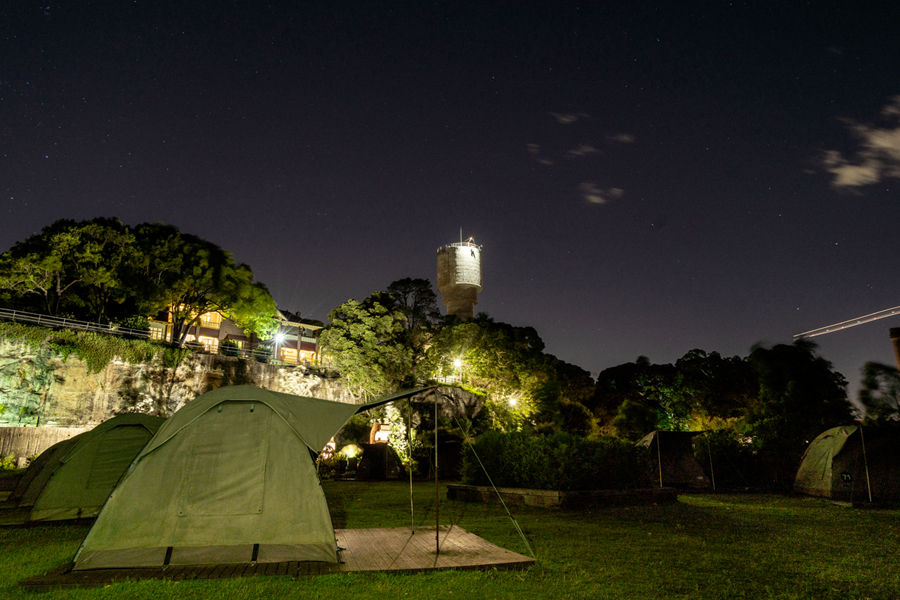 10. Cockatoo Island, Sydney
It doesn't get any more inner-city glamping Sydney than this – camping on Cockatoo Island in the middle of Sydney Harbour. The waterfront campground has tents that sleep 2-4 people as well as toilets, hot showers, BBQ facilities, and did we mention unbeatable views of Sydney Harbour? There is also a range of meal options for campers if you don't want the hassle of bringing your own. The stunning view of the stars is free of charge.
Address: Cockatoo Island NSW
Phone: +61 2 8969 2111
Price: from $130 AUD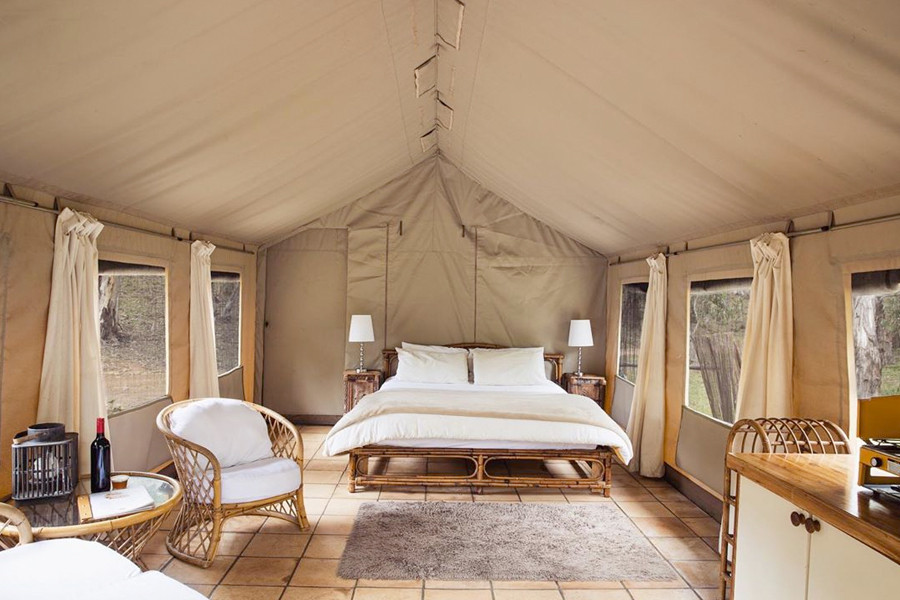 11. Turon Gates Country Resort, Capertee
Can't decide between Katoomba, Mudgee and Lithgow for your next getaway? Stay smack bang in the middle of all three on 6000 acres at Turon Gates Country Resort. Marvel at the open-plan living, self-contained kitchen, hammocks, cosy fireplace, magazines and games, private outdoor BBQ, and serene location directly next to the crystal trout stream – actually don't just marvel at them, make the most of every personal touch! And ready for the part that makes it the best glamping NSW? You can even bring your fur baby or human baby along as well.
Address: 942 Upper Turon Road, Capertee NSW 2846
Phone: +61 2 9969 3818
Price: from $177 AUD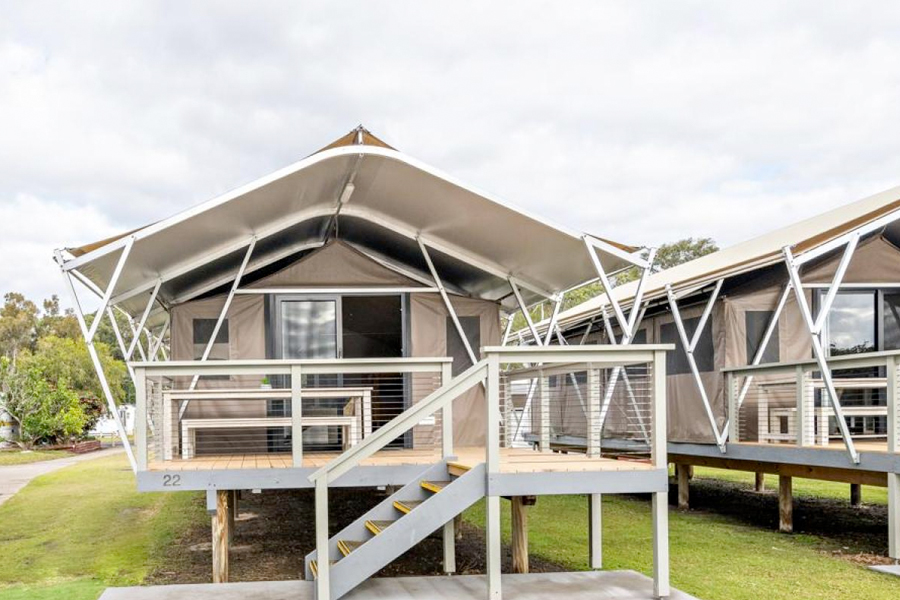 12. Safari Tents, Lake Conjola
Get the perfect mix of river, beach and bush with Safari Tents at Lake Conjola. True serenity prevails at this quiet holiday destination 3 ½ hours from Sydney. Each safari tent overlooks the pristine waters of Lake Conjola and features a queen bed, bunk beds, kitchenette and bathroom facilities. Take advantage of the boat hire, canoe, kayak and SUP hire, tennis court, jumping pillow and outdoor cinema area. We challenge you to find a more family-friendly glamping spot near Sydney.
Address: 1A Lake Conjola Entrance Road, Lake Conjola NSW 2539
Phone: +61 2 4444 8830
Trading hours: Mon-Sun 8am-6pm
Price: from $42 AUD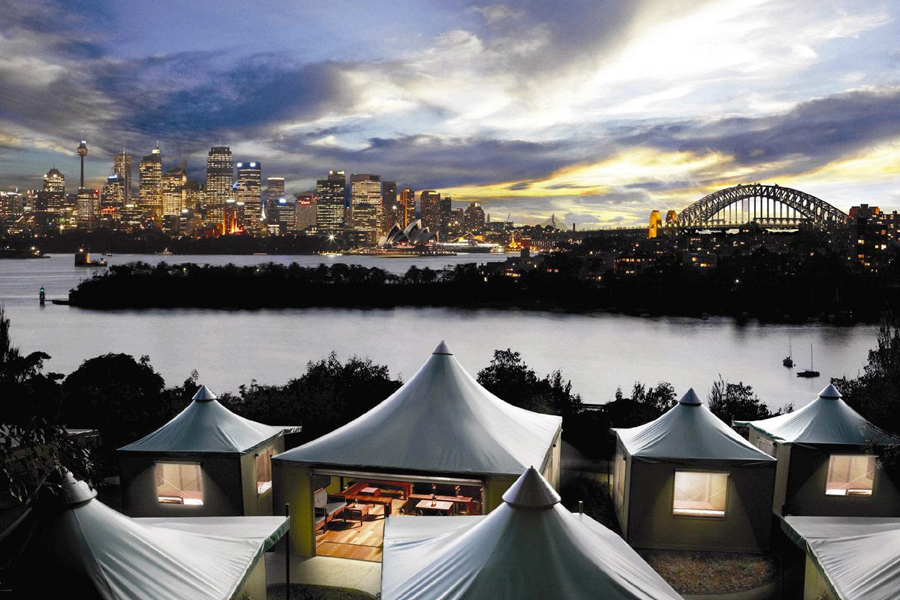 13. Roar and Shore, Taronga Zoo
Ever been to the zoo and wondered what it would be like if you could just stay the night with the animals? Well wonder no more thanks to Roar and Snore at Taronga Zoo. With intimate animal experiences talks from animal keepers, scrumptious food, stunning Sydney Harbour views plus safari-style tents – what more could you ask for in a Sydney glamping experience?
Address: Bradleys Head Road, Mosman NSW 2088
Phone: +61 2 9969 2777
Price: from $373 AUD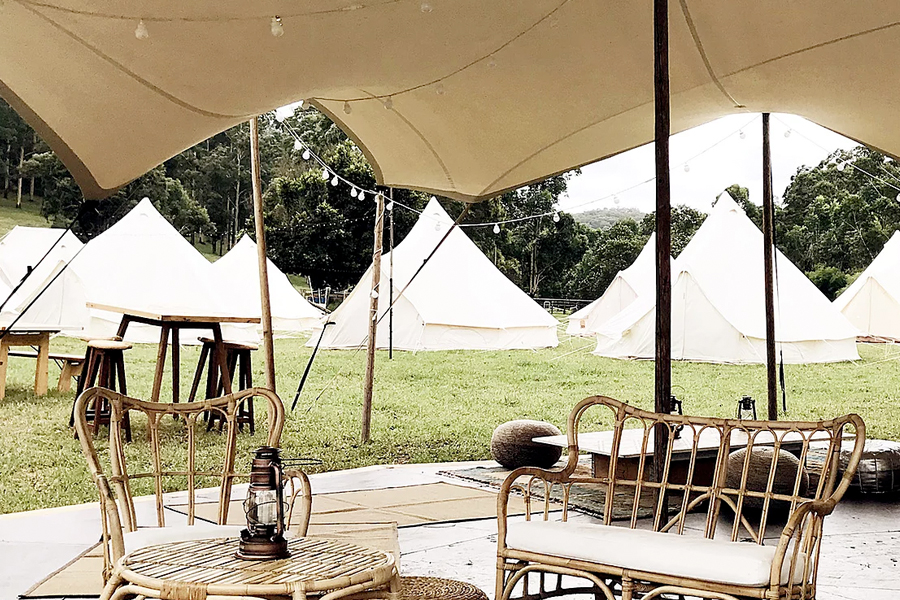 14. The Avant-Garde Camping Company
The Avant-Garde Camping Company aims for you to immerse yourself in life's celebrations through the art of glamping NSW. Where? Wherever you want. Their hiring services enable you to choose a spot for anything from a romantic weekend for 2 to a festival, corporate retreat or wedding with hundreds of guests. If you can't choose yourself, simply opt for one of their locations in Glenworth Valley or Cattai Campground.
Address: 41 Bowman Street, Richmond NSW 2753
Phone: 13000 GLAMP, 0419 480 410
Price: from $339 AUD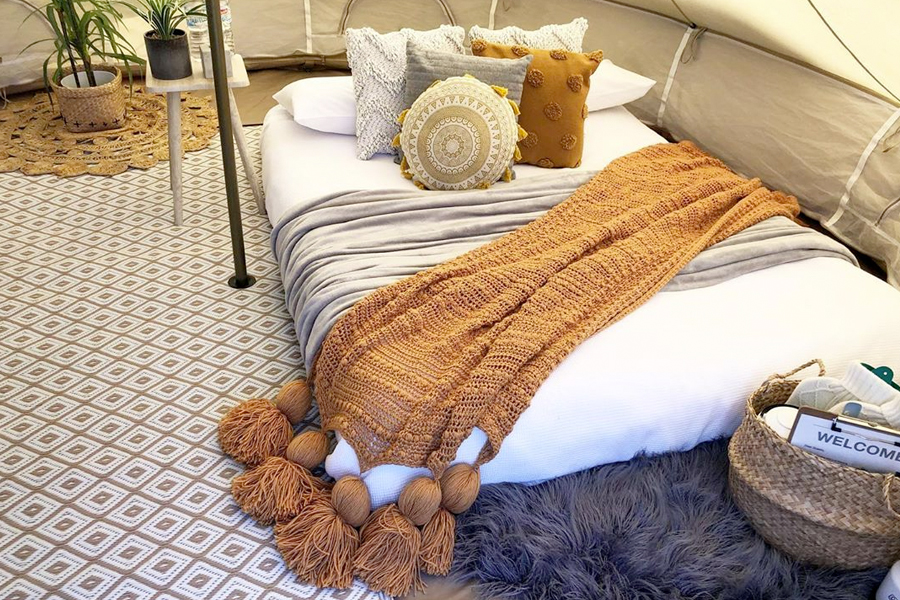 15. Glamping Out, South Nowra
If you're feeling the need for a weekend glamp out, simply choose your own location within 25km of Nowra, and Glamping Out will set up one of best glamping Sydney bell-style tents or vintage caravans before you arrive. And they'll pack it up after you leave, feeling much more refreshed and in touch with nature than two days prior. Get your gram ready for a frenzy of activity post-glamp in these quaint, retro accommodations.
Address: Greenwell Point, South Nowra NSW 2540
Phone: 0499 528 045
Price: from $190 AUD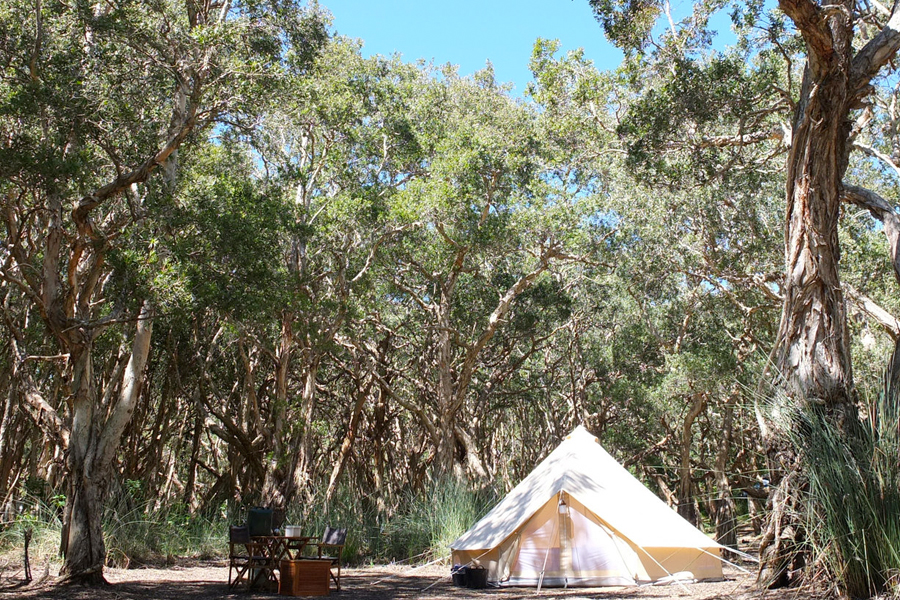 16. Simple Pleasures Camping Co, Manly
Simple Pleasures Camping Co has a range of luxury camping options to suit every group of people. Their location range from Seal Rocks to Wallingat River to Forster and Glenworth Valley. They cover every bit of practicality and luxury you need to make your glamping experience as easy and enjoyable as possible – 5 metre bell tent, Persian rug, fresh cotton sheets and gas cooker is just the beginning.
Address: Yass River Road, Yass NSW 2582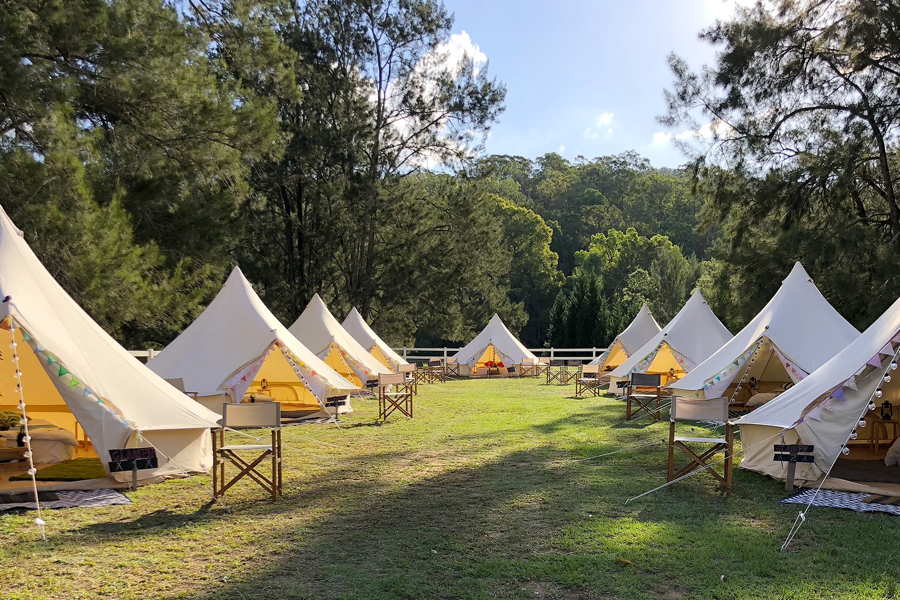 17. Glampr Luxury Camping
Glampr Luxury Camping has a whole suite of options of 5 star camping NSW for every budget and occasion. The deluxe queen mattresses, 1000 thread count Egyptian cotton linens, custom-colour mood lighting, USB charging facilities, tables and chairs come as standard – the comprehensive kitchen package is an extra. Book your own camping ground anywhere in the Sydney region and they'll fully set up your glent before your arrival, plus they'll even throw in a free Sunday night for every Friday and Saturday night you book.
Address: Anywhere in Sydney (or the rest of NSW)
Phone: 0424 150 277
Price: from $200 AUD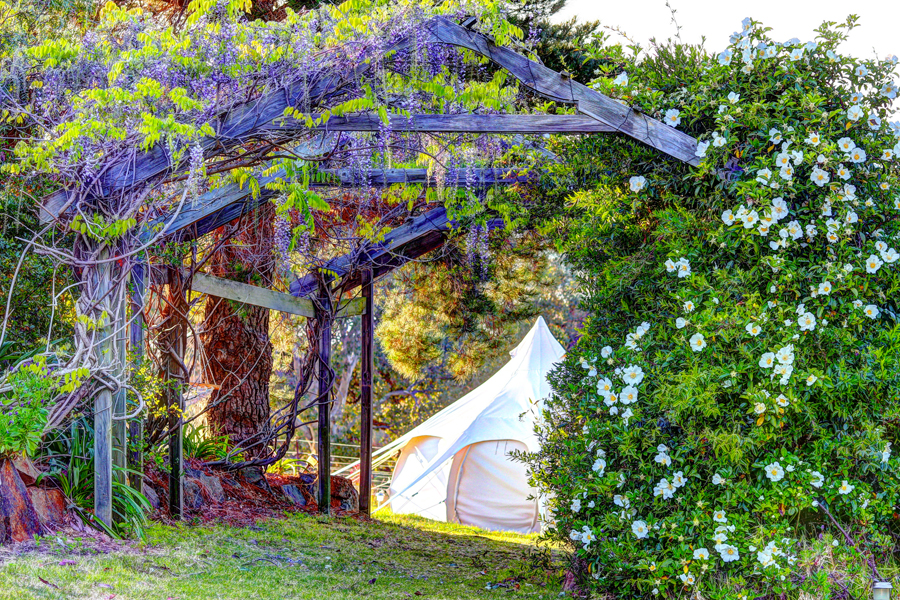 18. Tilba Lake Camp, Tilba
No moment of your weekend away at Tilba Lake Camp goes unthought of. Nestled between the mountains, lake and sea, this exclusive setting is the perfect place for your next glamping near Sydney escapade. You can choose between a bell tent on the water or a pod on the paddock with mountain views – or cut to the chase and book yourself in twice for two different but equally as rejuvenating experiences. Whichever way you go, your body will be warmed be the fire, and your soul will be warmed by the close connection to nature.
Address: 64 Sunnyside Road, Central Tilba, NSW 2546
Phone: +61 2 4473 7777
Price: from $195 AUD

General FAQ
Where can I go Glamping in Sydney?
Within Sydney, there are places such as Cockatoo Island and Lane Cove National Park that offer glamping accommodation. There are also plenty of glamping locations a short drive out of the city that also offer a luxury wilderness escape.
What is Glamping?
Glamping, meaning glamorous camping, is a form of camping with more facilities than traditional camping, such as bathrooms, electricity, and ready made tents.
Where is the best place for Glamping in Sydney?
Turon Gates Country Resort, Elabanah Luxury Camping and Glamping Out are some of the best Glamping facilities in Sydney.