The Alfa Romeo Giulia Quadrifoglio – A Romantic Renaissance
They say you're not a true car enthusiast until you've owned an Alfa Romeo. Since it's inception as Anonima Lombarda Fabbrica Automobili (A.L.F.A.) in 1910, the Italian marque has produced some of the most beautiful sports cars ever seen. And while few have questioned the passion and aesthetics of Alfa Romeo, the last two decades have seen some dubious power plants and disappointing reliability. People still seemed to have a soft spot for Alfa, but they needed something special to keep that romance burning. Something that looked beautiful, sounded mighty and made you feel rather than think. Enter the Giulia Quadrifoglio.
---
You'll also like:
The 1990 Ferrari F40 Was Commissioned to Be the Best
Jaguar's sweetest sounding SVR: The F-Type with Clef Pipes
The Mercedes-AMG Marauder Boat Unveiled, and It's Epic
---
'Quadrifoglio '(four-leaf clover in Italian) is Alfa Romeo's performance sub-brand. The name came about when in 1923, notoriously unlucky race driver, Ugo Sivocci won the Targa Florio in a car painted with his lucky charm, a green four-leaf clover. Alfa Romeo's race and sports cars have been donning the Quadrifoglio Verde (QV) ever since. And when you look at the current crop of performance sports saloons available, the Giulia will need every leaf from the paddock.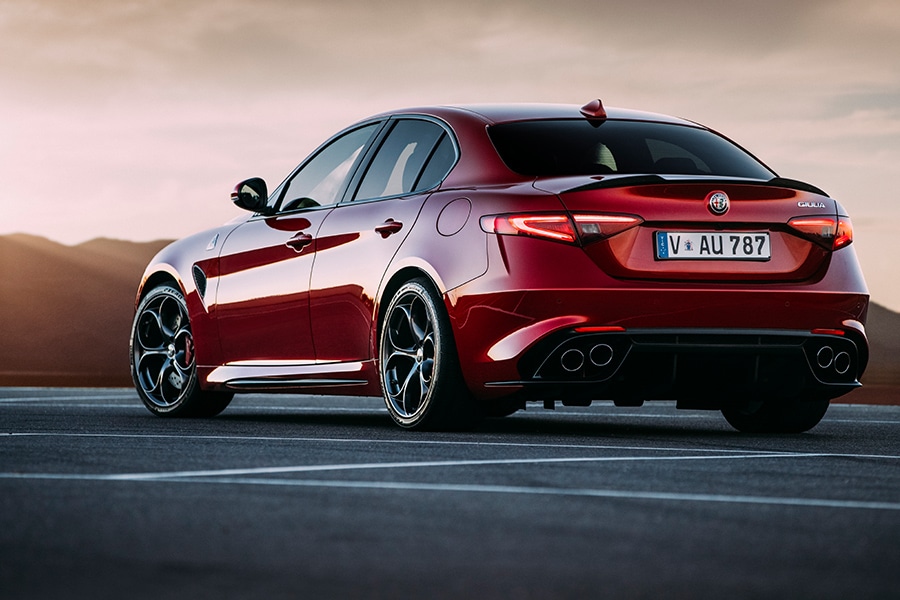 Even in its basic form, the Giulia is a pretty car. The front and rear overhangs are minimal, accents are proportionally sculpted, and that text book trilobe grill has never looked more at home. But while the Giulia is something to admired and appreciated, the exterior of the Quadrifoglio pulls you in with its sex appeal. Larger cooling ducts, bumper slits and heat extractors are just a few of the clues scattered around the performance landscape. A proper carbon fibre active aero splitter lines the chassis with beautiful detail and the side skirts taper the carbon seamlessly to the body. Around back you get even more carbon in the form of a spoiler and an aggressive rear diffuser that cloaks the delicious quad tipped monza exhaust system. Lightweight 19-inch forged alloys are packaged in specially developed Pirelli P Zero Corsa tyres making sure even your contact patch speaks Italian. But, of course, it wouldn't be a Quadrifoglio without the lucky charm which is discretely positioned behind the front wheel arch.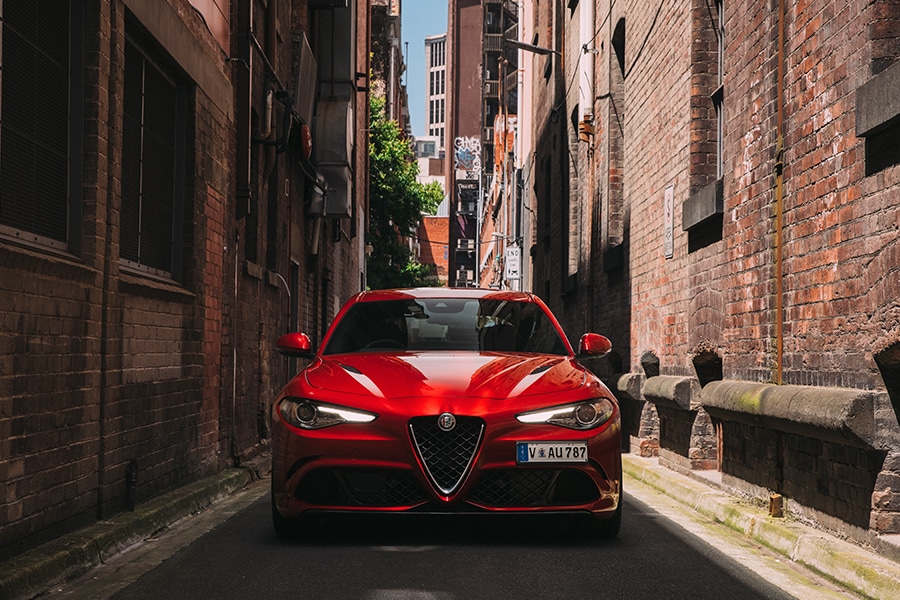 While we all know most Alfa's are dripping in passion and beauty, driving them has been somewhat less emotional. That is, until now… and it starts with the engine. All 375 kW's and 600Nm's of 2.9L Bi-Turbo goodness comes in the form of a Ferrari 'inspired 'V6 that will launch the lightweight chassis from 0-100km/h in 3.9 seconds. Driving around Sydney in natural mode, you hardly notice the diavolo lurking under the bonnet. Select dynamic and take it above 3,000rpm, and the demons are awakened, spitting fire all the way to redline. It's an engine that takes a little getting used to. It can be extremely polite and quiet, but if you're willing to dance in the higher revs, it will reward you and then some. Of course, it would be naive to think that all of this performance is purely down to powertrain, as the Giulia QV has gone through an extensive weight loss program. With the use of light materials as far as the eye can see (and sometimes where you can't), the QV saves a total of 34.3kg from an already svelt package. All this cutting produces a class leading power to weight ratio of 4.2kg/kW. And if you're the sort of guy who counts calories, weight can be reduced further with the optional Brembo carbon ceramic package, saving 16.9kg in the process and adding some flex to your track day experience.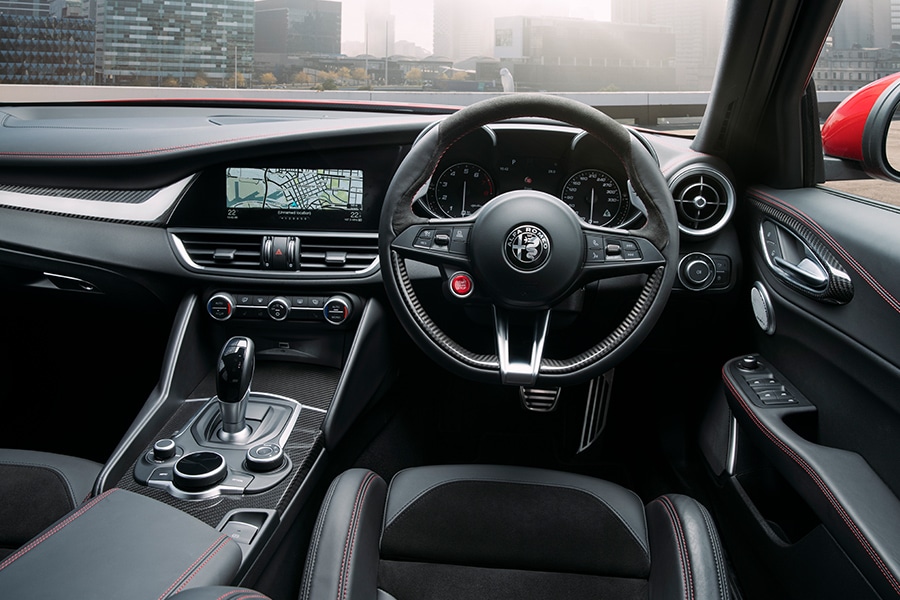 But the performance of the Giulia QV Isn't limited to the drivetrain. With near perfect weight distribution and a well sorted chassis, the QV inspires confidence from apex to apex.
Steering feel is impressive for a modern sedan and the active aero splitter is surprisingly effective at higher speed. But don't just take my word for it, the QV has lapped the Nurburgring in 7 minutes and 32 seconds making it one of the fastest production cars to ever grace the legendary circuit. Suspension is sorted via active dampers which can be adjusted easily and independently of the drivetrain. And when things start to get a tail happy, the torque vectoring rear diff allows for a bit of fun without it snapping you in to a ditch.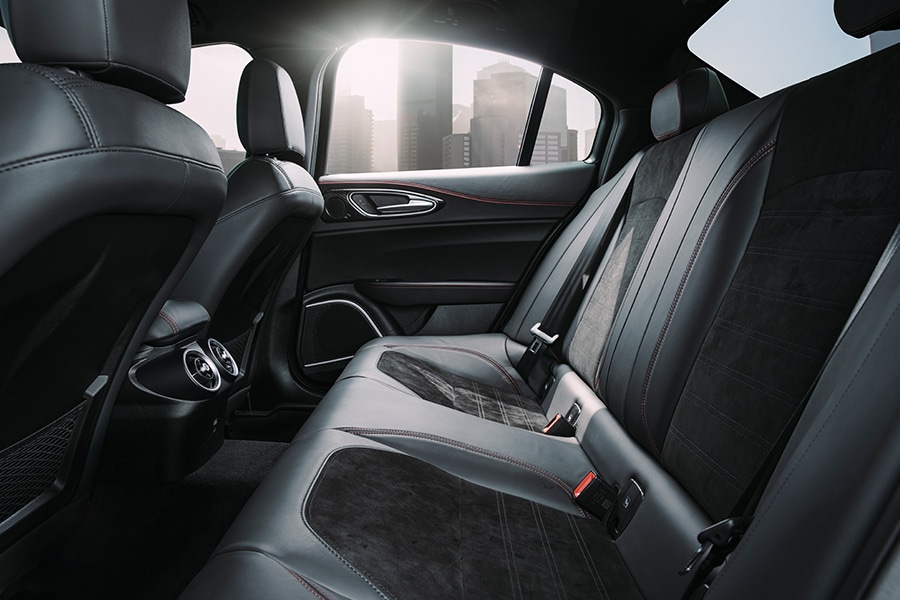 Stepping inside the cockpit and the QV delivers even more textural treats. From the focused driving position, you start to notice a subtle blend of Italian luxury and performance.
The red starter button, massive machined paddles, precise stitching, alcantara touches, carbon fibre… all the finishes are tastefully integrated and used sparingly. If you care to turn around, you'll see two rear passenger seats with ample leg room, doing away with the middle rear to make it a proper 4 seat sedan. And just to prove the QV's versatility, Alfa made sure the 480-litre boot space would be sufficient to carry your fresh fruit and race suit.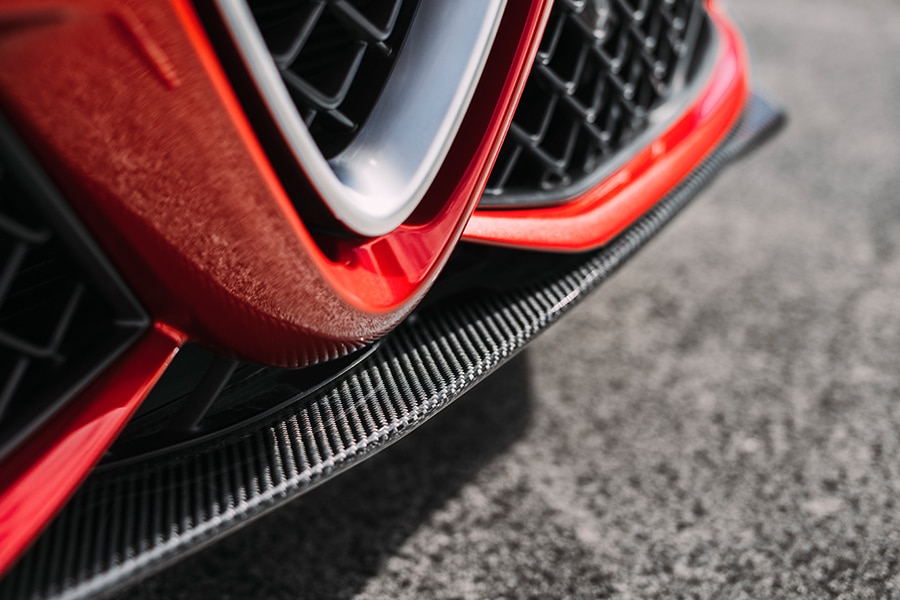 This is the Alfa Romeo that the people needed. It's as beautiful as it is pragmatic… as fast as it is intelligent… as focused as it is comfortable… the Alfa Romeo Giulia Qudrifoglio does it all. It's still feral in all the right ways, but when you learn it's behaviours, you can tame the animal. It's the sort of car you build a relationship with over time, rewarding each other along the way. The sort of car you enjoy with friends on road trips, and by yourself on track days. It's the sort of car you grow old with. Romance isn't dead, just buy them a four-leaf clover.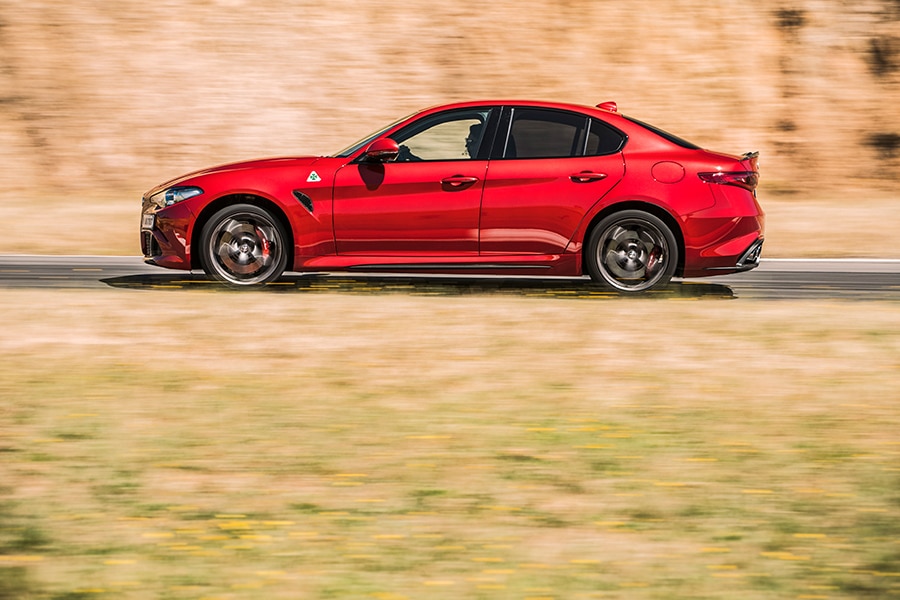 ---
You'll also like:
The 1990 Ferrari F40 Was Commissioned to Be the Best
Jaguar's sweetest sounding SVR: The F-Type with Clef Pipes
The Mercedes-AMG Marauder Boat Unveiled, and It's Epic
---