Gulf Liveried Ducati 750SS Cafe Racer Lives Up to Its Colours
Armano Filipovic, a motorcycle racer, photographer, and custom motorcycle builder, went with a special name for his most recent build. Named for the local circuit where Armano often races, the "Spirit of Preluk" is steeped in racing history, starting with the Gulf Oil orange and blue livery that adorns the Ducati 750SS café racer.
You'll also like:
Zero Anniversary DSR is an Electric Motorcycle with a Conscience
The BMW R 100 Cafe Racer That's Born to be WYLD
Triumph Brings Back Steve McQueen Cool for Scrambler 1200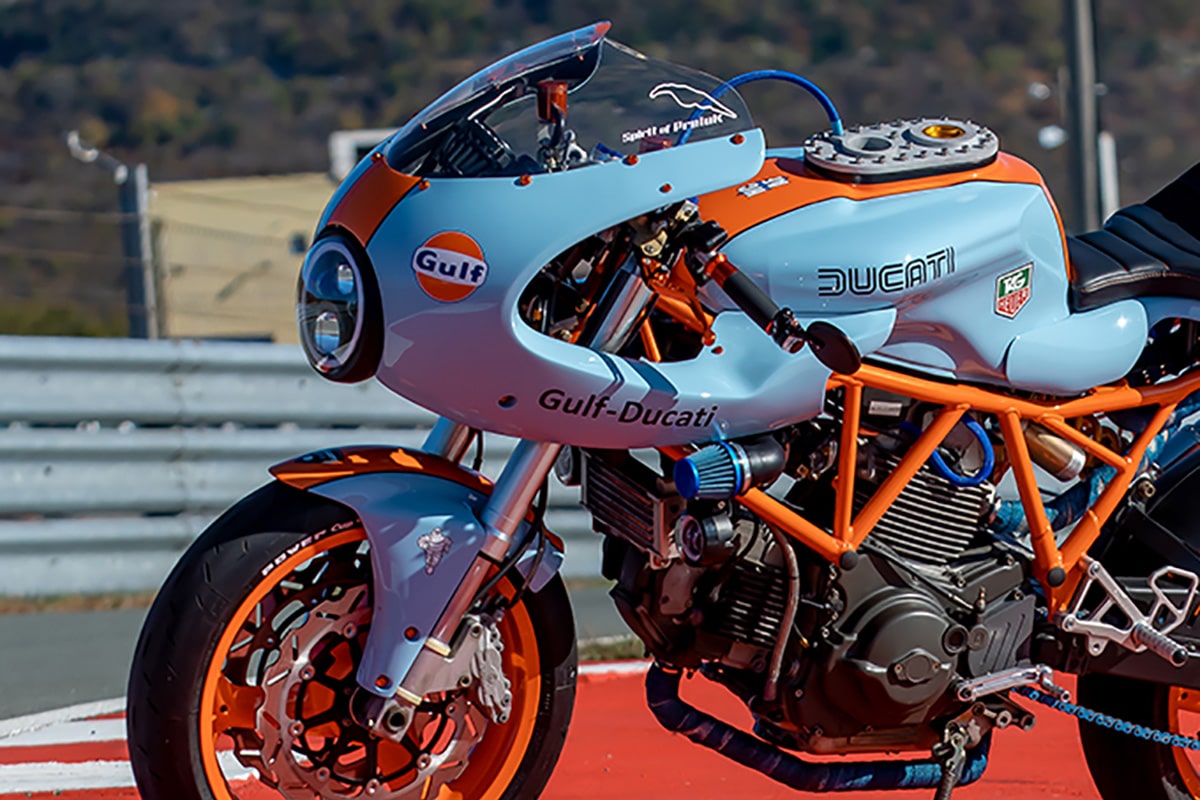 Transforming the 750SS into a racing legend started with the purchase of an ST Full Fairing Café Racer body kit from Ducati Tifoso in Greece. But Armano didn't just slap the kit onto a bike and call it good. He performed plenty of modifications as well. "The rear of the frame was modified and cut where needed to make the bike lighter and to look lighter as well," explains Armano.
"The front fairing has been trimmed near the tank to adjust the angle forward for an aggressive look." Additional mods made for a better fit between the original fuel tank and the aftermarket tail unit. In the centre of the tail, Armano drilled out a hole to accommodate the muffler. The lighting was integrated into the frame loop.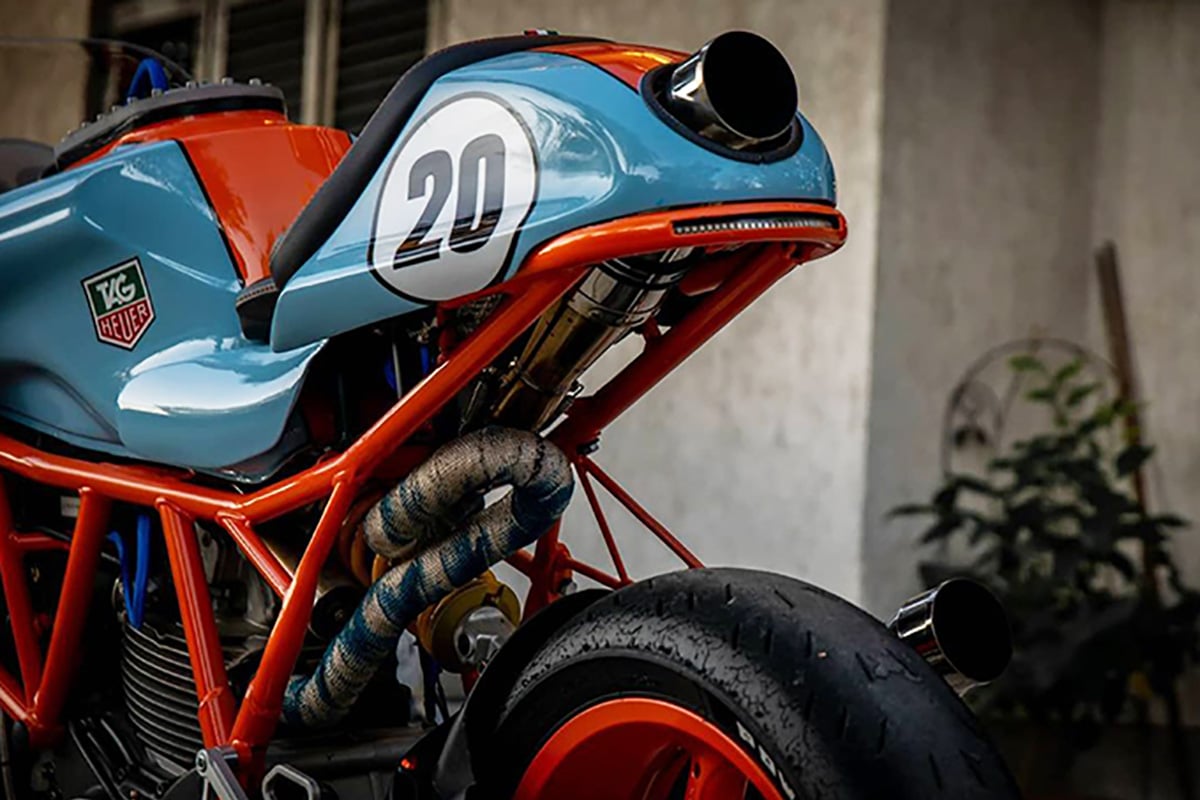 But what's a racing bike if it doesn't have the performance to live up to its looks? Armano installed a custom 2 into 2 setup—similar to what you would see on Moto GP bikes—to improve the engine's performance. Armano also created a custom intake that goes beyond the frame and is outfitted with a single hi-flow pod filter. The rear foot pegs are race-spec to allow for better cornering clearance and the seat position has been raised with a custom foam pad.
The more you look at the bike, the more aftermarket parts you'll begin to see, from the levers and grips to the custom lines and hoses. To finish off the bike, Armano turned to the Porsche 917 Le Man's race car. This is a build that goes beyond just the paint, though, creating a racer that lives up to its colors.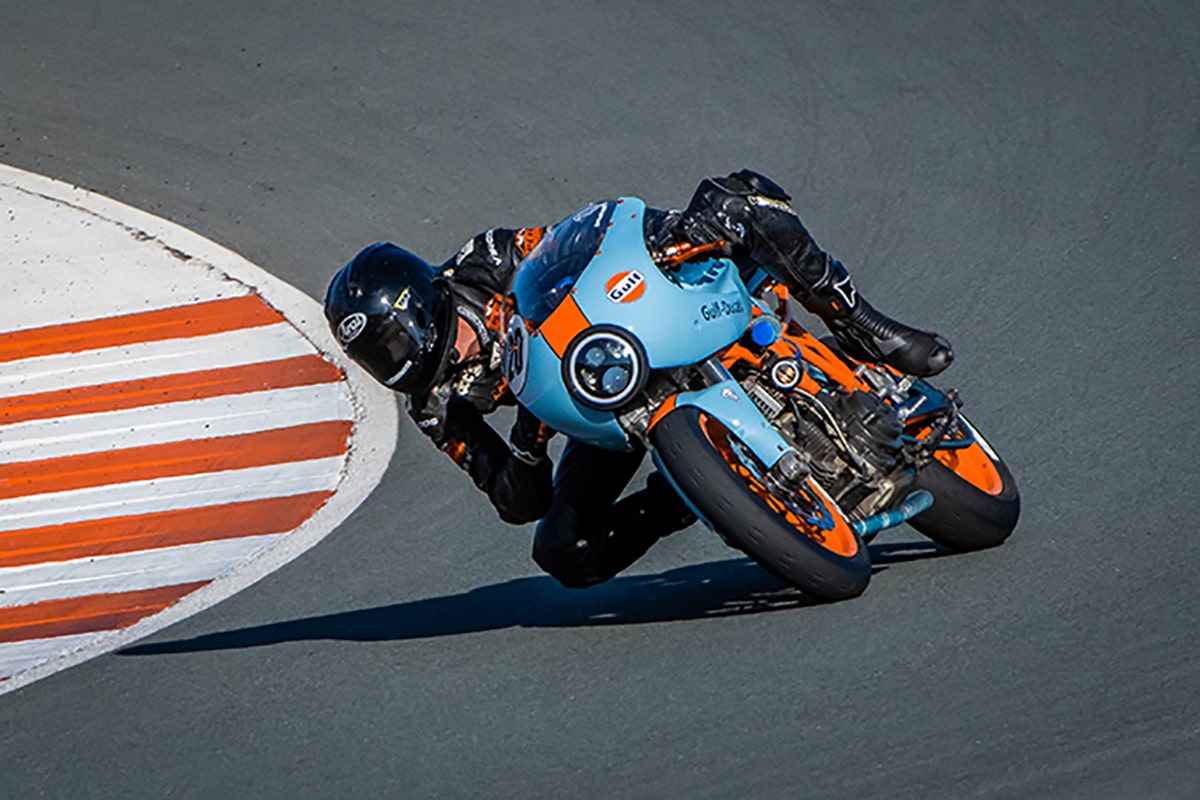 You'll also like:
Zero Anniversary DSR is an Electric Motorcycle with a Conscience
The BMW R 100 Cafe Racer That's Born to be WYLD
Triumph Brings Back Steve McQueen Cool for Scrambler 1200