Has Houseparty Been Hacked? Video Chat App Offers $1 Million Bounty For Proof
Almost everyone on earth is smashing viral video chat app Houseparty at the moment. With so many people under self-isolation, unable to visit friends or family, Houseparty has emerged as the go-to app for connecting. The app boasts over 10 million downloads from Google Play, but in the time since COVID-19 restrictions first hit, that number has exploded. According to VentureBeat, Houseparty daily downloads have increased from 24,795 per day on February 15 to an astonishing 651,694 on March 25, with the chat app showing no sign of slowing down. But it may all be about to come crashing down.
Social media users across the globe have reported that their PayPal, Netflix and Spotify accounts have been hacked, with many pointing the finger at Houseparty. But despite the overwhelming number of Houseparty hacking allegations coming out, few have been able to provide any real evidence to support the claims. In fact, PayPal has confirmed to Man of Many that no accounts globally were compromised as a result of the Houseparty app. The app's parent company Epic Games, better known for developing the hit Fortnite series agrees. Epic Games is now fighting back against the Houseparty hacking allegations, claiming it is the victim of a harmful smear campaign. What's more, Epic isn't afraid to put its money where its mouth is. The company is offering a US$1 million ($AUD$1.6 million) reward for the first person who can provide proof of a "paid commercial smear campaign" to harm Houseparty.
You'll also like:
Soapboxes Delivers Soap to Your Door for Hygiene's Sake
What are Google 3D Animals? The AR Tech Putting Lions in Your Living Room
10 Best 8D Audio Songs to Blow Your Mind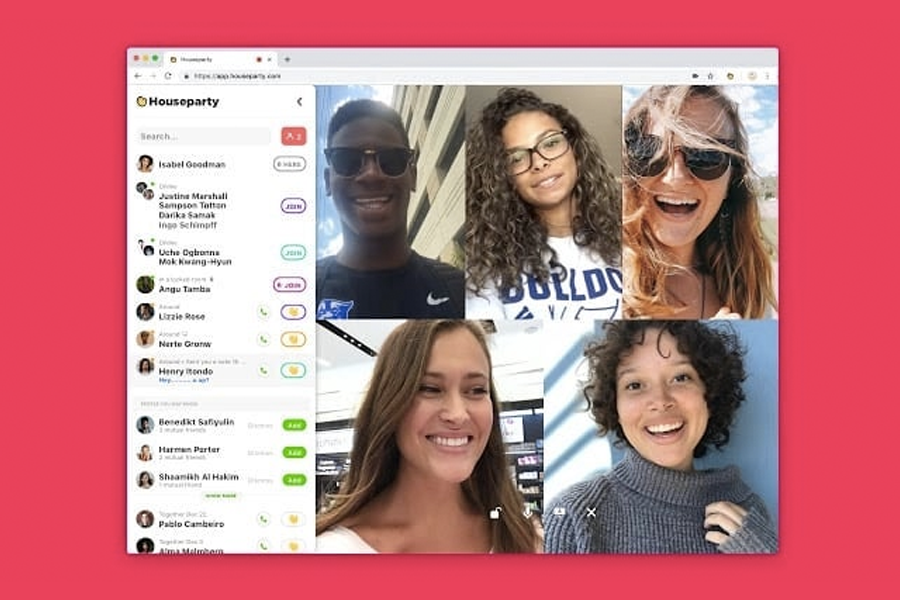 Has Houseparty Been Hacked?
The volume of these complaints against Houseparty alleging misconduct has become somewhat viral itself, but as mentioned above, there is little to suggest that Houseparty is linked to any hacking incidents. In response, Houseparty issued a statement on Twitter confirming that the service was secure and had never been compromised. Houseparty also suggested that the app "doesn't collect passwords for other sites," and would therefore be unable to allow anyone to extract this data and pivot to other online services. But that hasn't stopped further Houseparty hacking reports from flooding in. Thousands of users have jumped on the bandwagon, urging others to delete and uninstall the app. The increase in reports prompted Houseparty to make a second statement on Twitter, revealing it believes it is being defamed unjustly in a game of dirty politics.
"We are investigating indications that the recent hacking rumours were spread by a paid commercial smear campaign to harm Houseparty," the app maker said in a tweet. "We have spent the past few weeks feeling humbled and grateful that we can be such a large part of bringing people together during such a hard time. We are offering a $1,000,000 bounty for the first individual to provide proof of such a campaign to [email protected]"
"We've found no evidence to suggest a link between Houseparty and the compromises of other unrelated accounts and we don't know where/how it originated. As a general rule, we suggest all users choose strong passwords when creating online accounts on any platform. Use a unique password for each account, and use a password generator or password manager to keep track of passwords, rather than using passwords that are short and simple."
We are investigating indications that the recent hacking rumors were spread by a paid commercial smear campaign to harm Houseparty. We are offering a $1,000,000 bounty for the first individual to provide proof of such a campaign to [email protected]

— Houseparty (@houseparty) March 31, 2020
Is Houseparty Safe to Use?
While no app can be guaranteed 100% secure, cybersecurity experts have reportedly already analysed the Houseparty app. The experts found that the app permissions and usage were logical, necessary and had no evidence of any malicious misuse. The Houseparty safety assessment deemed that the few in-app options and settings meant it created fewer "scenarios for exploiting security issues."
"I analysed the app's permissions usage and since the app provides video chats with your friends it is logical that requested permissions are necessary. I haven't found any shady misusing of them by the app," Lukas Stefanko, a researcher with cybersecurity firm ESET told Forbes. "The app doesn't provide a lot of in-app options and settings, which creates less scenarios for exploiting security issues." The only privacy issue that may have been of concern was that games like Heads Up are open to any of your friends or friends of friends, but it's easily fixed. You simply lock the 'room' where you're playing by hitting the padlock button at the bottom of the screen.
Where are the Houseparty Hacking Rumours Coming From?
While the Houseparty app has copped much of the flack for the hacking issues users are experiencing, the reality of the situation is likely far more generic. Reports suggest that the hacking is the result of credential stuffing attacks; a highly common practice where cyber-criminals use lists of login credentials from successful hack attacks to try and gain access to other sites and services. On the dark web, stolen password databases regularly get sold, or given away for free, meaning if you've been compromised, your data might be up for grabs. Once login credentials have been identified and filtered into one of these databases, hackers can use these to gain access to alternative services, similar to the issues users are complaining of on Twitter.
Whether Houseparty is to blame for the number of hacking issues social media users are experiencing is impossible to know, but it seems highly unlikely. Whether this Houseparty hacking news is all a pre-eminent April Fools joke is also up in the air. The one thing we do know is that protecting your privacy online is critical.
I'd urge EVERYONE to delete #houseparty. My car was stolen this afternoon and I was then robbed at gunpoint by a man in a balaclava, I've absolutely no doubt that houseparty is responsible for this. DELETE IT NOW

— Andy (@andyraepal) March 30, 2020
Still have questions? We've got you covered.
General FAQ
Can you get Houseparty on a computer?
In addition to the smartphone capabilities, the Houseparty App is also available on PC, Windows 10 And Mac.
What is private mode on Houseparty?
Private mode is when you lock a certain 'room' that you are currently involved in. You cn do this by tapping the padlock icon on the screen.
Can I change my username on Houseparty?
Yes. Just sign in to your Houseparty account and go to 'My Home'. In the "Parties I'm hosting" section, find the party you need to edit and click the link to your "party page." On the right side, you'll see a box called "Host tools." Here, you can edit the details you need.
You'll also like:
Soapboxes Delivers Soap to Your Door for Hygiene's Sake
What are Google 3D Animals? The AR Tech Putting Lions in Your Living Room
10 Best 8D Audio Songs to Blow Your Mind