Top 16 Daring Digital Watches
"Forget those pesky, faceless hands that people always misread", declared the first digital watch over four decades ago, "from this point forward no one will ever be late for a meeting again!" Okay, so that notion didn't exactly play out as expected but the digital watch was definitely a big step up in the convenience department, not to mention a point of no return. Here we are forty years later and the best digital watches are still going strong as statements of both style and convenience. We scoped out some of the latest and greatest in digital timepieces and we're listing them out for your consideration. In addition to helping you look sharp, maybe, just maybe, a few of you can actually use one to be on time for once!
You might also like:
50 Best Watches Under $500
40 Best Minimalist Watches for Men
18 Best Headphone Stands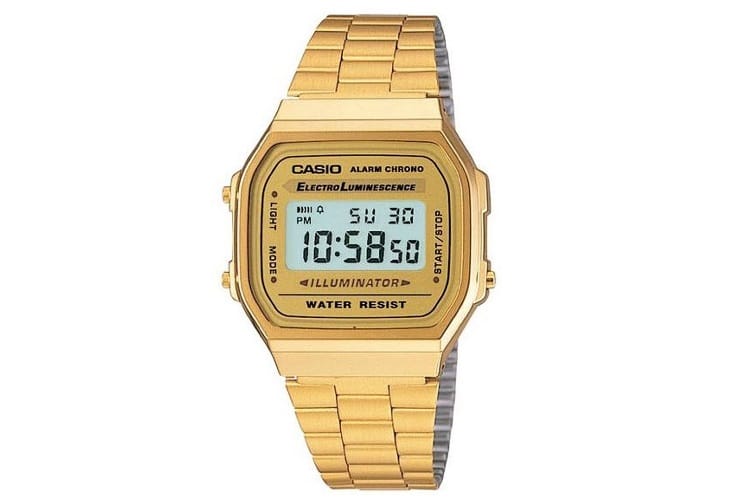 1. Casio Classic Digital Watch – Gold
For the man who doesn't always wear a digital watch, but wants to make a statement every time he does wear one, consider the Casio Classic. With a gold-tone stainless steel profile, this is the kind of gear that will attract eyeballs from across the room. An electro-luminescent panel allows for an easy read, but let's be honest you're getting this for the gold aura and telling time is practically an afterthought. This might be one of the best digital watches if only because of how many eyes it will magnetise in your direction.
Features: EL Backlight, Daily Alarm
Price: $45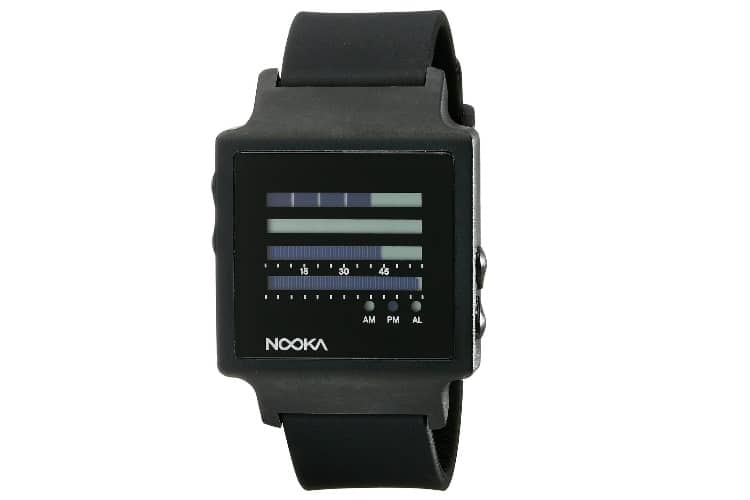 2. Nooka Unisex ZENHKBK Digital Display Quartz Black Watch
The Nooka is another surefire conversation starter thanks to a face that's somehow both advanced and retro looking at the same time. The brainchild of artist/designer Matthew Waldman, who aspires to create "technoprogressive" products, the Nooka is exceptionally light and completely unmistakable thanks again to a face that shows the time in digital bars and kind of resembles the lap pool at your local gym, but you know, in a good way.
Features: alarm feature, Quartz movement, date-month calendar
Case diameter: 37mm
Water resistance: 99 feet
Price: $79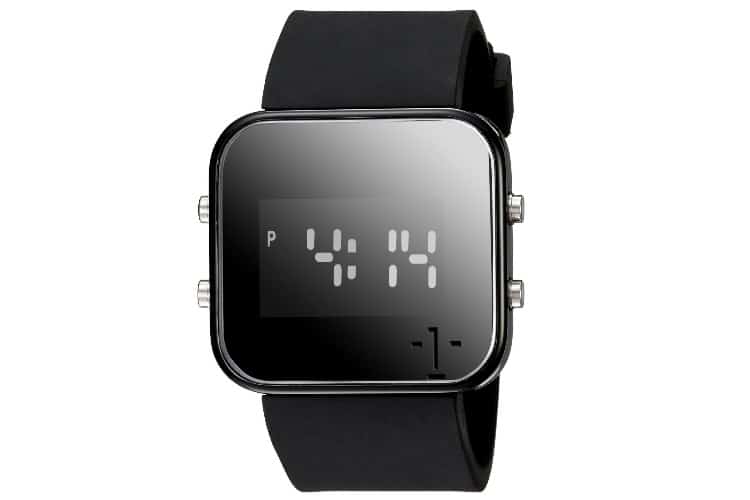 3. 1Face Unisex C1105 Black Square Stainless Steel Watch with Silicone Band
The 1Face has both its heart and design in the right place. The digital display is effortless and elegant behind a durable plastic window. The case is sturdy 43mm stainless steel. And every purchase sends money to one of nine charities that has partnered with 1Face. This is a perfect no-frills purchase that you can feel great about making.
Features: day-date-month calendar
Case diameter: 43mm
Water resistance: 32 feet
Price: $40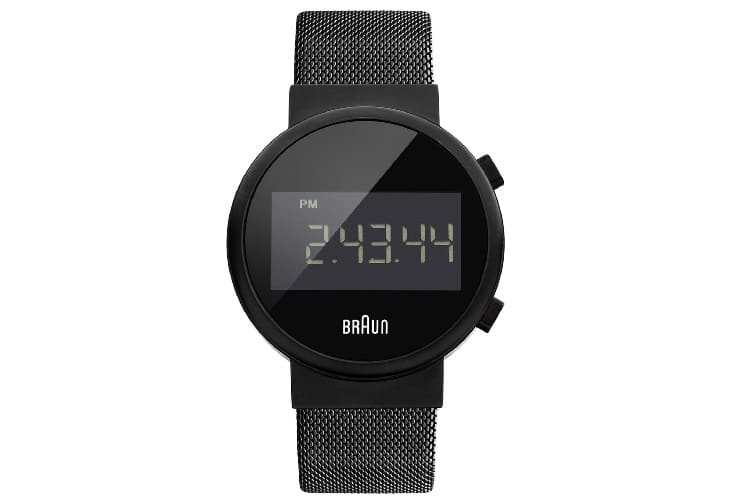 4. Braun Men's BN0036BKBKMHG Classic Stainless Steel Watch with Mesh Bracelet
The Braun Classic is another entry on our list of best digital watches that keeps things sophisticated and simple with a modest, rectangular display and two pushers that allow seamless control over all the functions. The mesh bracelet adds a nice touch of personality on an otherwise straightforward timepiece.
Features: 2013 Model, German Made, Quartz movememnt, date
Case diameter: 40mm
Water resistance: 50 metes
Price: $300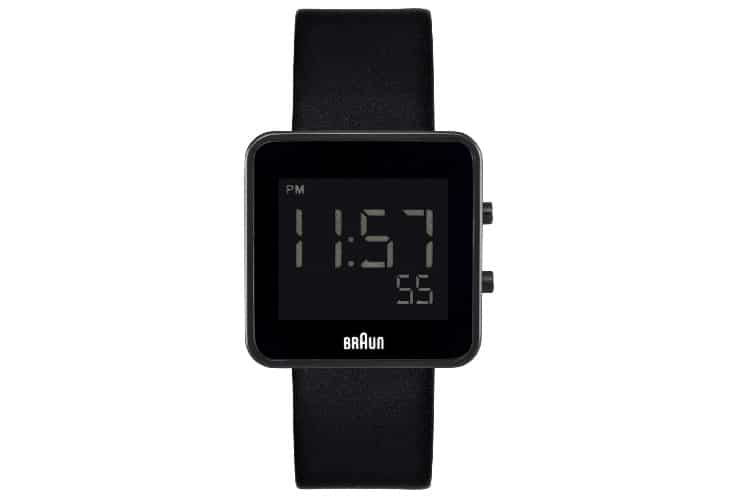 5. Braun Men's BN0046BKBKG Digital Display Quartz Black Watch
Braun has been keeping things straightforward, stylish and dependable for decades so it's no surprise that this one is…well…straightforward, stylish and dependable. In an addition to the trademark minimalist design, the watch has a leather calfskin band and scratch resistant window. Sometimes the best digital watches are the ones that master the basics.
Features: durable mineral crystal, genuine leather strap, suitable for swimming and showering
Case diameter: 36mm
Water resistance: 50 m
Price: $110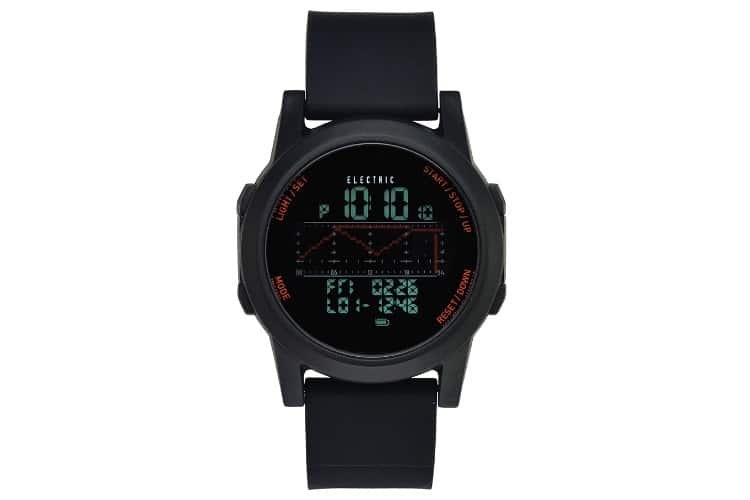 6. Electric Prime Tide Silicone Watch – All Black
With a name like Electric Prime, one can only expect an ample dose of signature appeal and this timepiece certainly delivers. The molded silicone watch is light, smooth and beautiful, but what really separates it from the herd is its painstakingly accurate tide data feature. The Electric Prime is one of the best digital watches for those who flow with the water.
Features: Diver's, LED Lights, Tide Graph, Moon Phase, Alarm
Case diameter: 45mm
Water resistance: 100 meters
Price: $103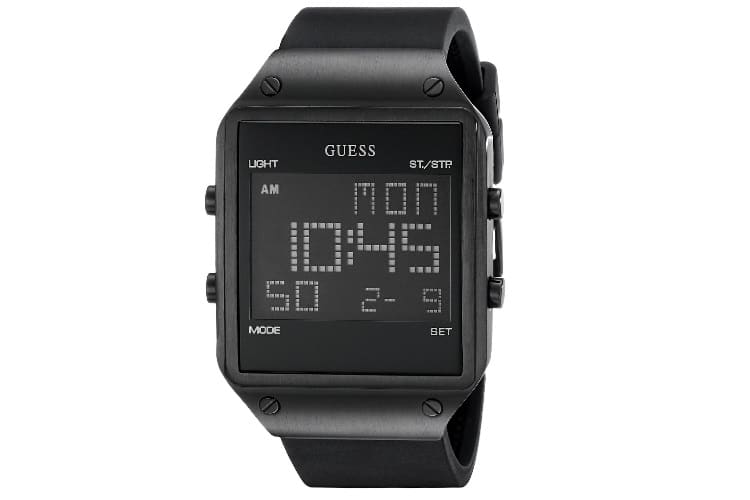 7. GUESS Men's U0595G1 Square Digital Watch with Black Silicone Band
The GUESS Square Digital uses small details to make big gestures. The ionic-plated metal case is accentuated by screws and flaunts a sturdy, distinguished polish. The silicone band is sleek and smooth. Even the digital display has a singular quality to it. This timepiece adapts to virtually any environment and leaves essentially nothing to be desired.
Features: Japanese Quartz Movement, Chronograph Stopwatch, Day, Date, 24 Hour Miitary/Int'l Time, Dual Time Zone + Alarm Functions
Case diameter: 5.5 cm
Water resistance: 10 meters
Price: $72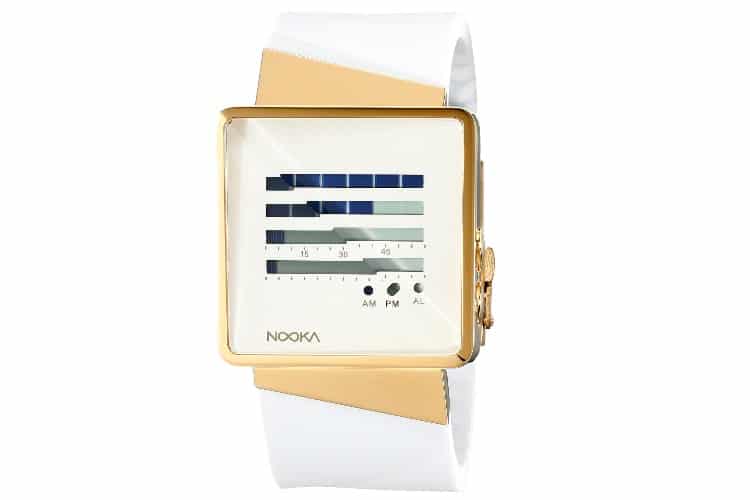 8. Nooka Unisex ZIZMZENHGW Digital Display Quartz White Watch
Another brilliant entry from Nooka, the Quartz White has similar features to the aforementioned Quartz Black but with a refined white and gold profile that replaces black sleekness with an aura of cleanliness, purity and elegance.
Features: alarm feature, quartz movement, date-month calendar
Case diameter: 38 mm
Water resistance: 165 feet
Price: $195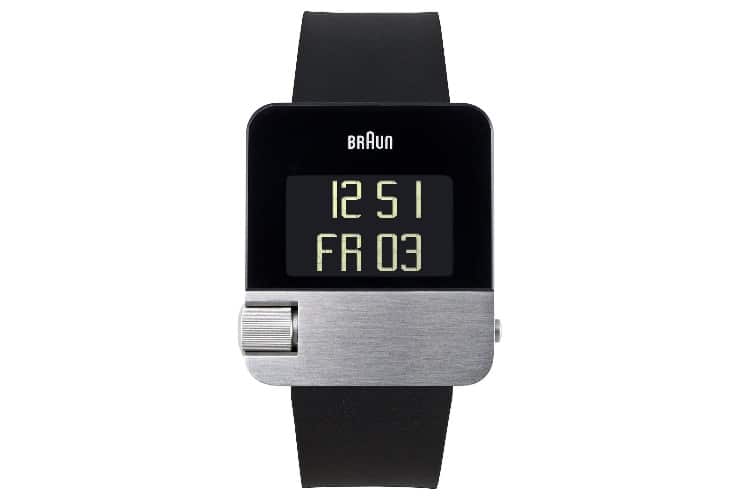 9. Braun Men's BN0106SLBKG Prestige Digital Display Swiss Quartz Black Watch
The Prestige is the kind of watch that can only be delivered by a company with years of engineering and expertise under its belt. There's an underlying confidence to the minimalist display and technical prowess. Among other features, the award-winning timepiece is equipped with Swiss quartz digital movement, chronograph stopwatch, and a liquid crystal display backed by LED lighting. This is easily one of the best digital watches you'll find.
Features: Swiss quartz movement, 100 year perpetual calendar with day, 5 languages
Case diameter: 42 mm
Water resistance: 30 meters
Price: $314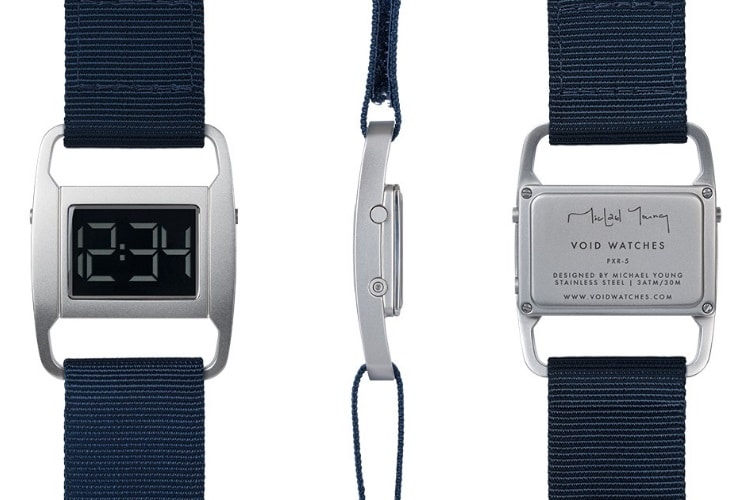 10. Void Watch PXR5-SI/NY
Designed by Michael Young, the Void Watch features a brilliant matte silver, stainless steel case that almost floats between the clutches of a signature navy nylon Velcro strap. The LCD display flaunts an eye-catching backlight of blue-green. The Void is not only one of the best digital watches, but truly a timepiece like no other.
Features: Digital LCD; Time, Date and Backlight
Case diameter: W36 x H45.6 x T8mm (casing)
Water resistance: 3 atm
Price: $155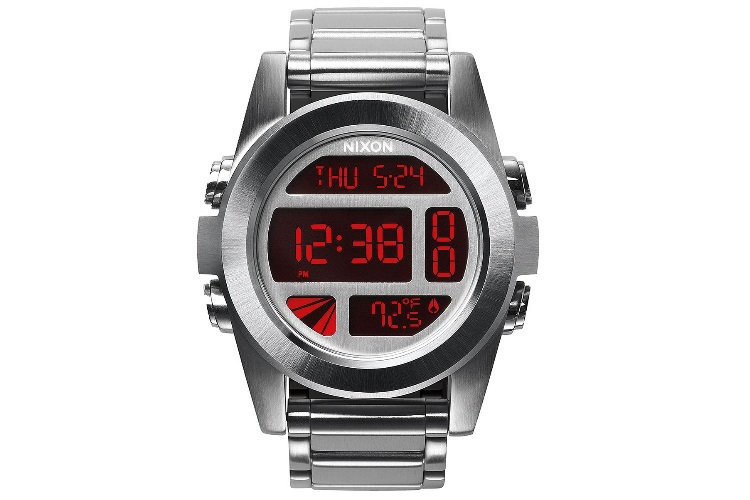 11. Nixon Men's A3601263-00 Unit SS Digital Display Japanese Automatic Silver Watch
Thanks to a surgical-grade stainless steel case, band, bezel and dial ring, the Nixon Automatic Silver Watch is a force to be reckoned with. It almost looks like you've strapped a tiny transformer to your wrist that could at any moment grow steel wings and fly away. This might be the last watch you ever buy.
Features: time, day, date, alarm, chronograph, countdown timer and thermometer; Quarts movement
Case diameter: 44.5 mm
Water resistance: 100 meters
Price: $130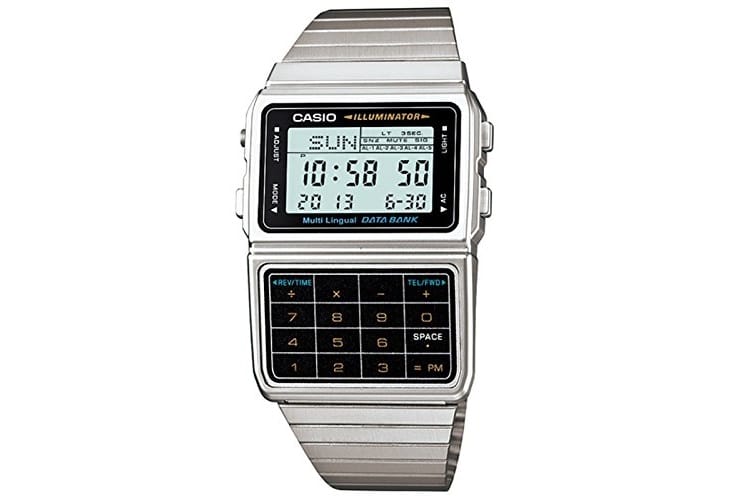 12. Casio Men's Silver Tone 25 Memory Calculator 25 Memory Databank Watch
Casio kicks it old school with this entry, which combines efficiency and style by featuring a small calculator below the display window. If familiar, professional and reliable is your thing then Casio has your back (or your wrist, rather).
Features: 25 pages of Telememo, 1/100-second stopwatch, dual time, 5 alarms, auto LED light
Case diameter: 33 mm
Price: $43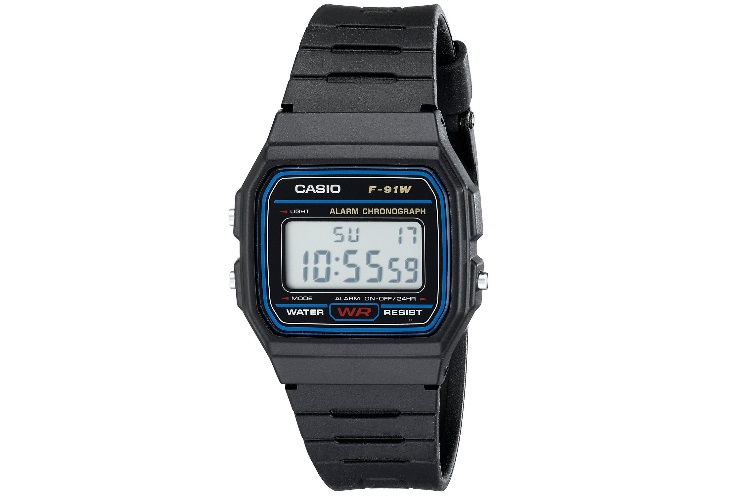 13. Casio F91W Digital Sports Watch
Sometimes you want a watch that's big on utility and light on the wallet. Keep it simple, useful and affordable with the Casio Sports Watch.
Features: alarm, chronograph functions, night light, resin case
Case diameter: 33 mm
Price: $14.59
14. Electric Unisex ED01 T Nato Fashion Watch
The Electric Nato Fashion Watch is all about choice, flexibility and function. Pick the color that speaks to you, strap on the Velcro band and use the watch to do everything from measuring your laps to following the phases of the moon.
Features: Japanese Quartz, countdown/heat timer
Case diameter: 40.1 mm
Water resistance: 330 meters
Price: $65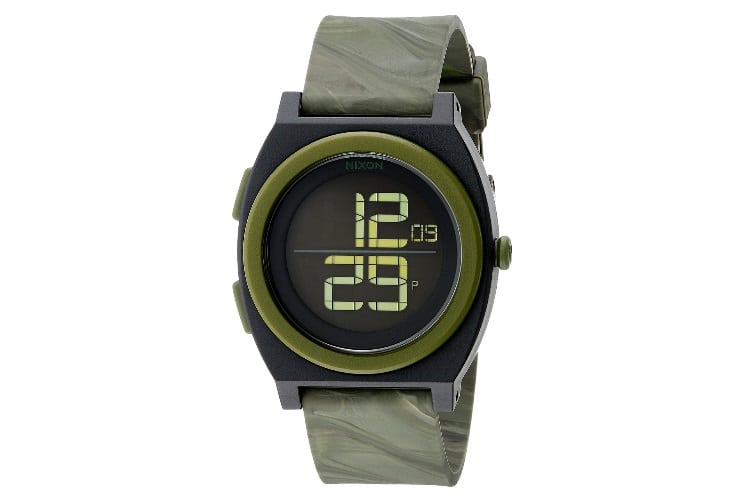 15. Nixon The Time Teller Digi
Nixon definitely approaches horology with an innovative sensibility. The company went the playful route on the Time Teller Digi, which can tell the time in a variety of different formats and flaunts a somewhat kitschy vibe. The Time Teller reminds us that not every fashion statement has to be dead serious in order to work.
Features: Quartz movement
Case diameter: 39 mm
Water resistance: 100 meters
Price: $80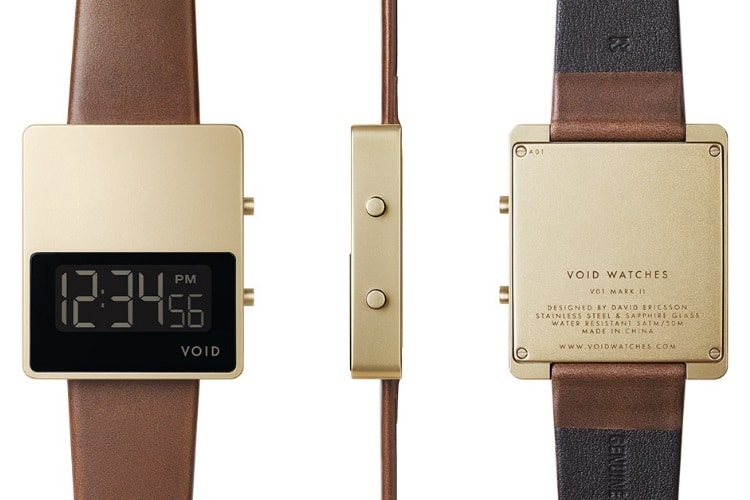 16. Void Watch V01MKII-GO/LB
In contrast to the Nixon Time Teller, the Void V01MKII-GO/LB exudes elegance and says that sometimes "dead serious" is the only way to approach design. By way of a drool inducing light brown leather strap and gold case, the Void V01MKII-GO/LB is the kind of watch you wear to tell others you're a man of excellent taste without having to open your mouth.
Features: LCD with backlight, 12-hour time display, time / date / backlight
Case diameter: 36x42mm, thickness – 8.4mm
Water resistance: 50 meters
Price: $295
You might also like:
50 Best Watches Under $500
40 Best Minimalist Watches for Men
18 Best Headphone Stands