Style Guide: How to Dress Like Travis Scott
Travis Scott is one of the most influential talents in music. The hip-hop artist has transcended music and fashion through his uncanny ability to market literally everything. His music is multiplatinum and his concerts are lit, but it's what he achieves outside of the recording studio that elevates him to new heights. Scott has lit up the business world unlike any rapper before him. He's not the first rapper to translate their music success into a remunerative gig, but he's one of the only ones to work hand-in-hand with a brand. You would struggle to find an artist who has the business acumen of a Travis Scott. His contemporary and mentor Kanye West would be the only one who comes close, and that's testament to La Flame who is just 28-years-old.
The superstar's wardrobe, watches and sneaker collection are equally as impressive as his endorsement roster and we've got the breakdown. If Travis can make the likes of General Mills, McDonald's, and Byredo candles cool then we're sure he can do the same for you. Explore the cultural icons outfits and style in our Style Guide: How to Dress Like Travis Scott, and catch some of his best outfits with a detailed breakdown of each.
You'll also like:
7 Best Sneaker Stores in Brisbane
60+ Best Fashion Quotes For Men to Live By
Style Guide: How to Dress Like Jonah Hill
Tips on How to Dress Like Travis Scott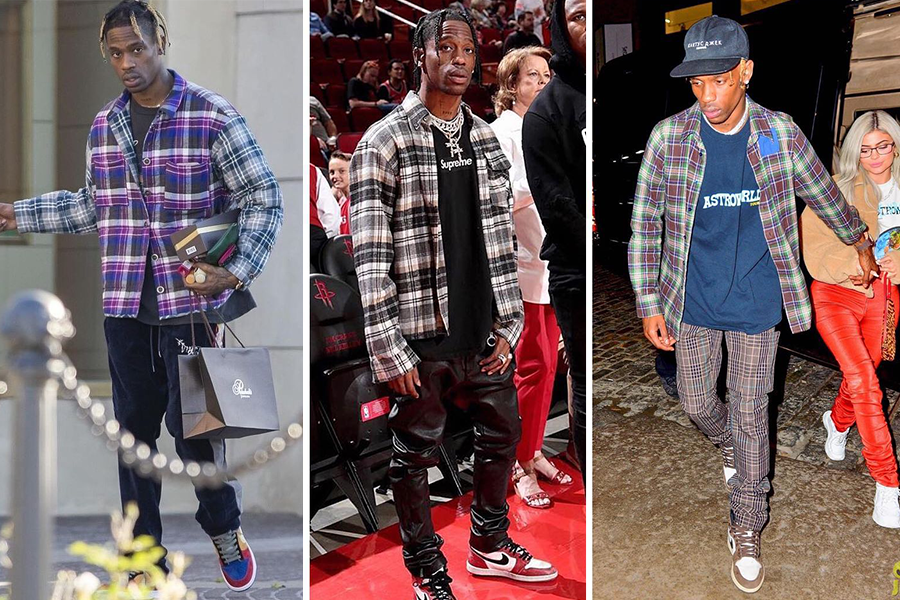 La Flamin' Flannels
Over the years La Flame has single handily made the flannel t-shirt a style staple. While his vintage aesthetic is certainly cemented at by now, it's his ability to rock contemporary numbers from the likes of Needles, Gosha, and Natasha Zinko. If you're looking to turn up with the Travis Scott flannel look locked, do your due diligence and layer a graphic tee underneath. For trousers, it's completely up to you, but Travis would certainly recommend a pair with ump-teen pockets. Mr Lit loves to rock flannels from the likes of Raf Simons, Needles, Gosha Rubchinsky, Undercover, Natasha Zinko.
Co-Ordinate Earth Tones
Trav takes a page out of his contemporary, Mr West's, book when it comes to earth tones. Kayne has made a living off selling shades of brown, green and black and the 90210 rapper looks to do the same. For the average styler, earth tones can be easily achieved with some simple oversized tees. Alternatively, you can turn things all the way to the max with Stone Island cargos, a white Visvim shirt, and some 'Stussy' Nike Dunks. Ultimately, to get to Mr Lit's level, you'll need to dress your Lamborghini Aventador SV and Range Rover Sport in similar garms.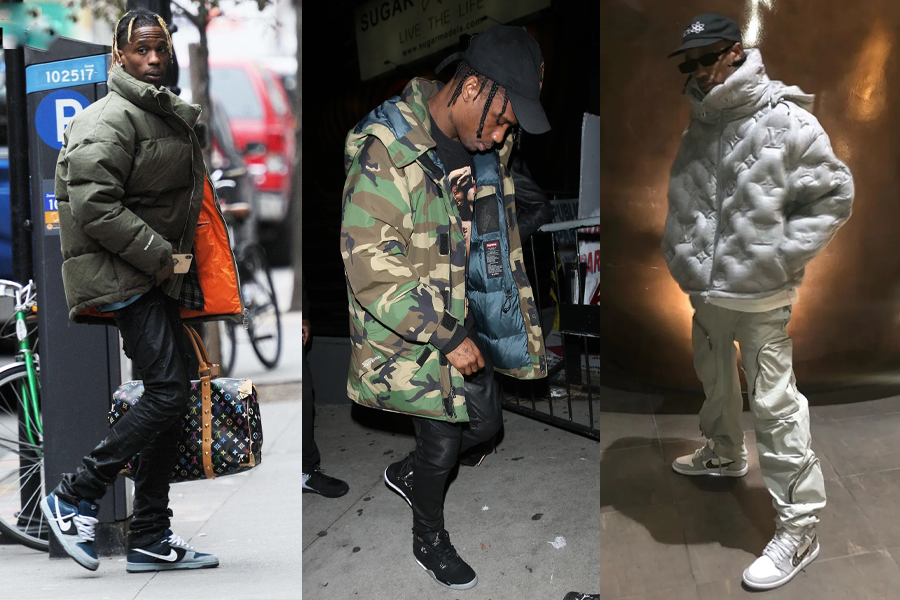 Oversized Coats and Jackets
In the eyes of Travis Scott, the best type of outerwear is a jacket that simply doesn't fit. Which is lit, if you've got the budget to flex a $40k down Louis Vuitton puffer. If you want a word of advice from us, we recommend rocking one size up at most. That is unless of course, you've got the big kahunas for a Dior or LV silhouette. For a good well and truly over-fitted fit we recommend looking at logo based designer outwear from the likes of Louis Vuitton, Burberry, Dior, and Undercover.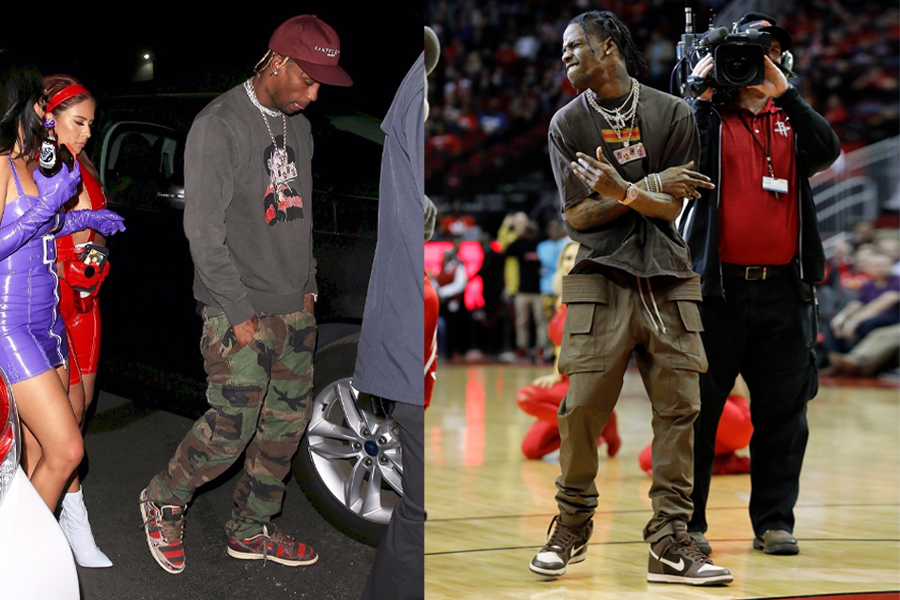 Pull out ALL the sneakers
La Flame has pulled out some of the rarest and absurdly expensive sneakers in the game. Unfortunately, we've never had the chance to see inside the collection, but thankfully, he's got no issue putting the rarest sneakers in the world on foot. While his sneakerhead legitimacy is regularly questioned, one could easily argue Trav might have the most influence in the sneaker game. "For the next generation of consumer, he has a tremendous influence," StockX CEO Scott Cutler told Forbes.
The 'Pick Up the Phone' rapper has an addiction to rare Nike Dunks. In fact, he might've started the Dunk train that we're riding today. While there's little to no chance you'll ever even find a pair of these shoes for sale, we can at least marvel in the rarity and price. In 2020 Trav collaborated with Nike on a pair of 4 Elevated Outfits to Nail Warm Weather Transitional Dressing, but if you're looking to get your hands on a pair you'll have to fork up over $2k. That's still a fraction of the cost of the $30k 'Freddy Kruger's' in the image above.
---
Featured Video from Man of Many
---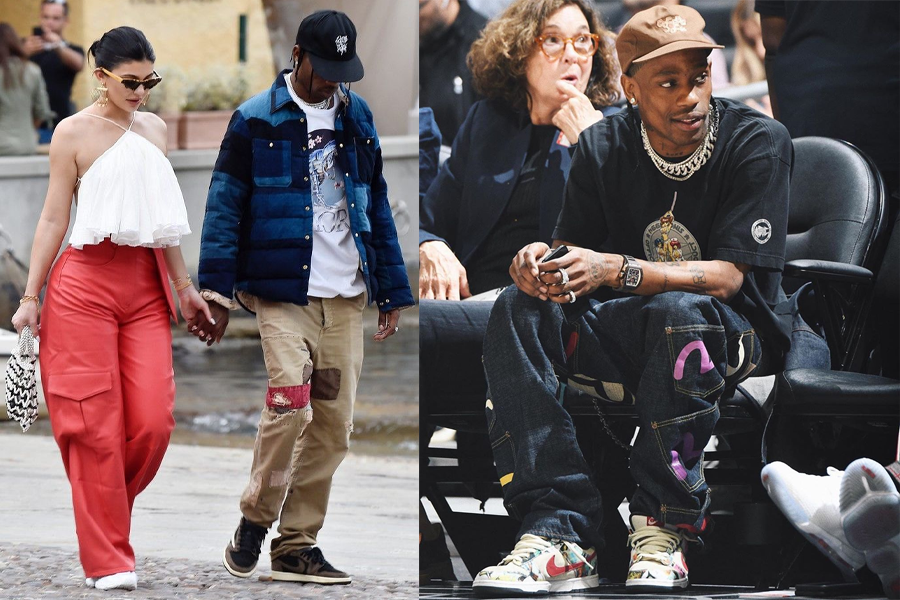 Japanese Over Everything
Trav loves pulling out the lesser-known brands from Japan. Well, they were lesser-known before he put them on. He's found "swag in Tokyo" from some of the most influential artists and designers, including Nigo and Takashi Murakami. As such, his style has shifted to incorporate patchwork and cut and sew pieces. The move presents a blessing and a curse for the fashion savvy. Whenever Travis puts together an outfit, literally everything he wears sells out. If you're looking to get these Japanese garms most brands can be found online through the likes of Farfetch. Do you want some rarer pieces? Well, you'll have to travel to Japan for that. Unless of course, you're best friends with Nigo. Looks for brands such as Visvim, Kapital, Needles, Junya Watanabe, and Engineered Garments for a start.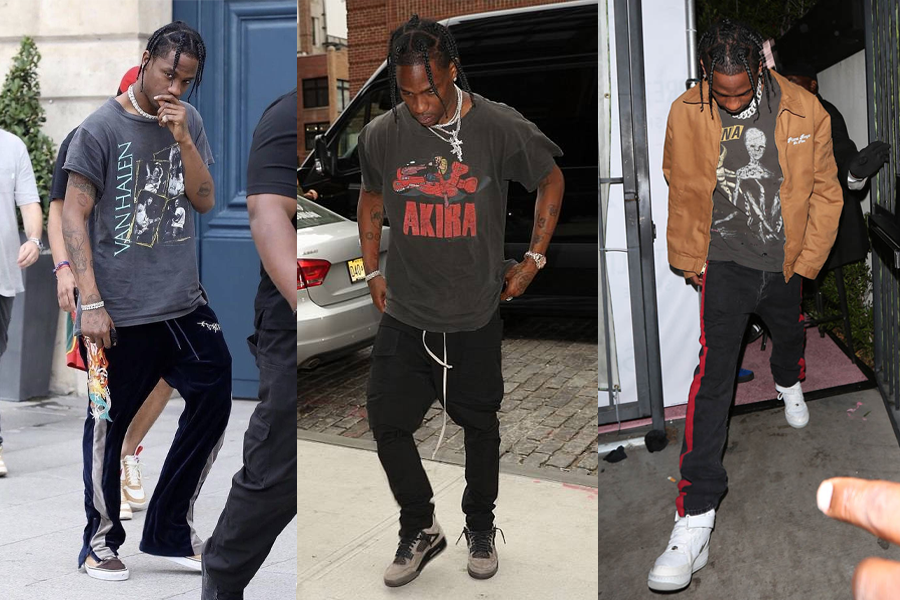 Vogue Vintage Flair
The rapper loves super-rare vintage tees, and if we've learnt one thing, you simply don't go and buy these pieces. To understand how rare these pieces are, take one look at the price. A 1980s Akira t-shirt printed on a 'Fashion Victim' blank will likely set you back upwards of AU$1000. Flame has an entire wardrobe of vintage t-shirts, and he loves to pair them with skinny jeans, fitted tracksuit pants and Rick Owens sweats. To finish off the Travis Scott vintage outfit, you can rock a pair of Style Guide: How to Dress Like Donald Glover or something a little more pricey such as the rappers own Jordan 1.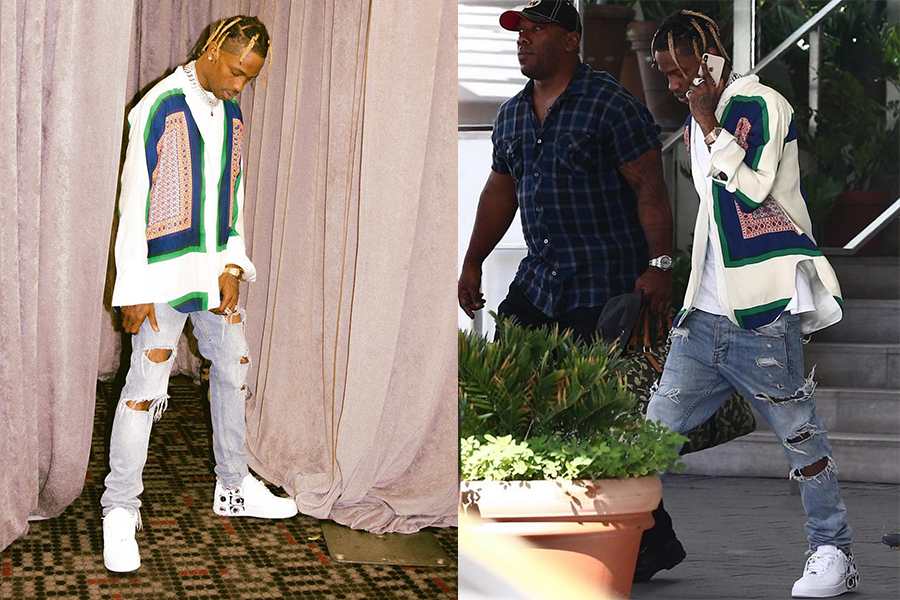 Finesse High Fashion
Mr Maison Margiela blunts, Louboutin double cups are always going to be wearing the "highest in the room". Trav doesn't just wear high fashion he lives it. The "high fashion" rapper will occasionally pull out some of the rarest and most expensive garments in existence. He finesses high fashion, he's able to expertly pair rare pieces that cease to flaunt logos and tags. This form of curation is at the upper echelons of style, you show those who know, and interest those who don't. Take this Celine Silk Shirt from S/S 2011, this runway shirt is so rare it lacks a care tag.
If you're looking to rock this Travis Scott look on a budget, just remember that logos aren't everything. You must be selective with prints and patterns. Look for more affordable garments from the likes of Universal Works, Our Legacy and Dries van Noten.
5 Best Travis Scott Outfits of All Time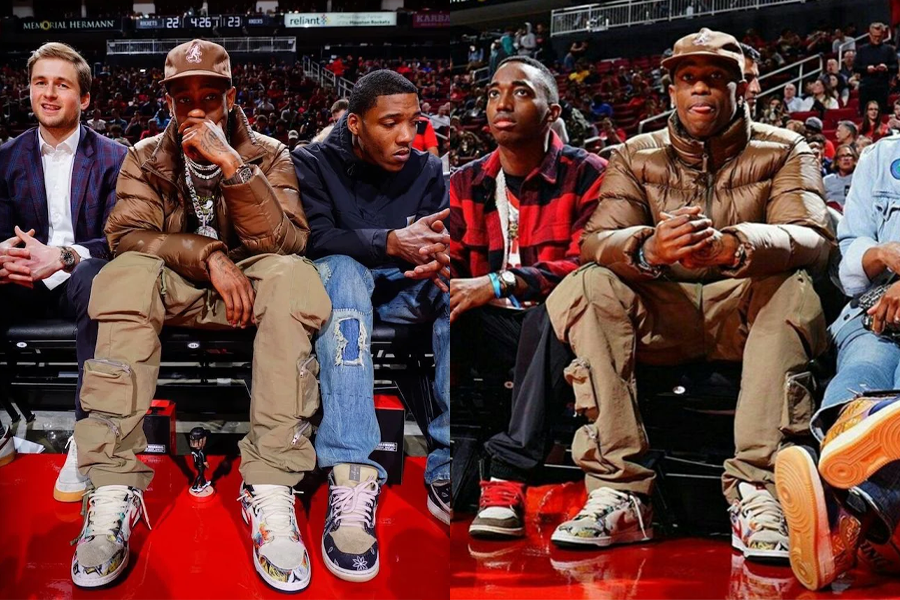 1. Courtside Wearing a House
Without a doubt the most iconic outfit we've ever seen Travis wear. It also happens to be the most expensive. Here he sits courtside at a Houston Rockets game wearing his ultra-rare Richard Mille RM 011 Felipe Massa Flyback Chronograph. How much you ask? Try $340k+, and that's not all. La Flame connects the dots and pairs the Richey with the most expensive pair of Nike's money can buy, the Paris Dunk SB.
Headwear: Travis Scott Skate Cap – Buy it here
Jacket: Dior Brown Puffer Down Jacket – Buy it here
Trousers: 1 of 1 Exclusive Whoisjacov Cargo Pants – Buy it here
Sneakers: Nike Dunk SB Low Paris – Buy it here
Watch: Richard Mille RM 011 Felipe Massa Flyback Chronograph Asia Boutique Exclusive in Brown – Buy it here
Total Cost: $400k USD, excluding jewellery.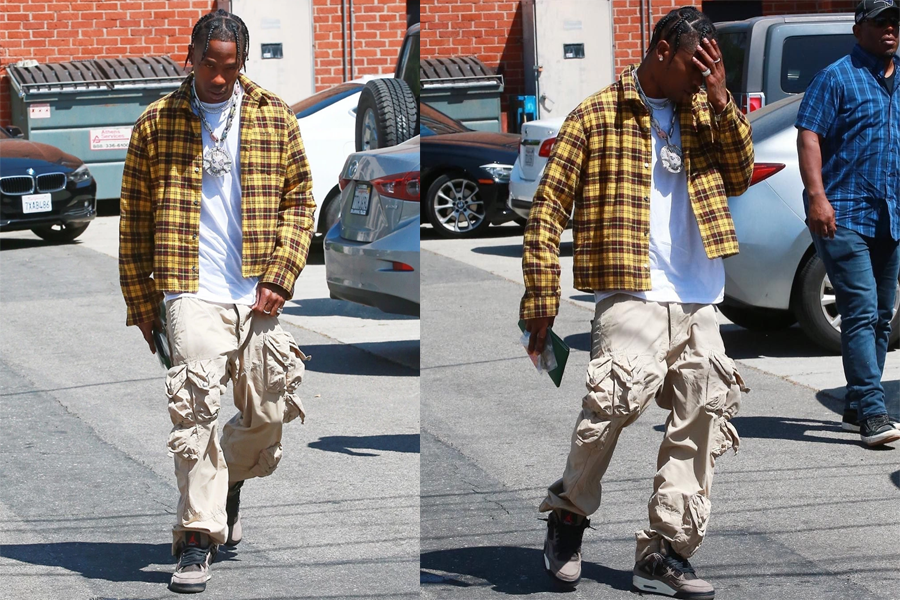 2. Foreman of Flannel
A great example of Travis' Japanese influence. The Undercover flannel sits perfectly on top of the vintage Ralph cargos. A relatively normal outfit until you consider the Friends and Family Jordan 4 'Mocha'.
Shirt: Hanes 3-Pack White – Buy it here
Flannel: Undercover Checked Cotton Flannel Shirt – Check it out
Trousers: Polo Ralph Lauren Cargo Pants – Buy it here
Sneakers: Travis Scott x Jordan 4 "Mocha" – Buy it here
Total Cost: $28k USD, excluding jewellery.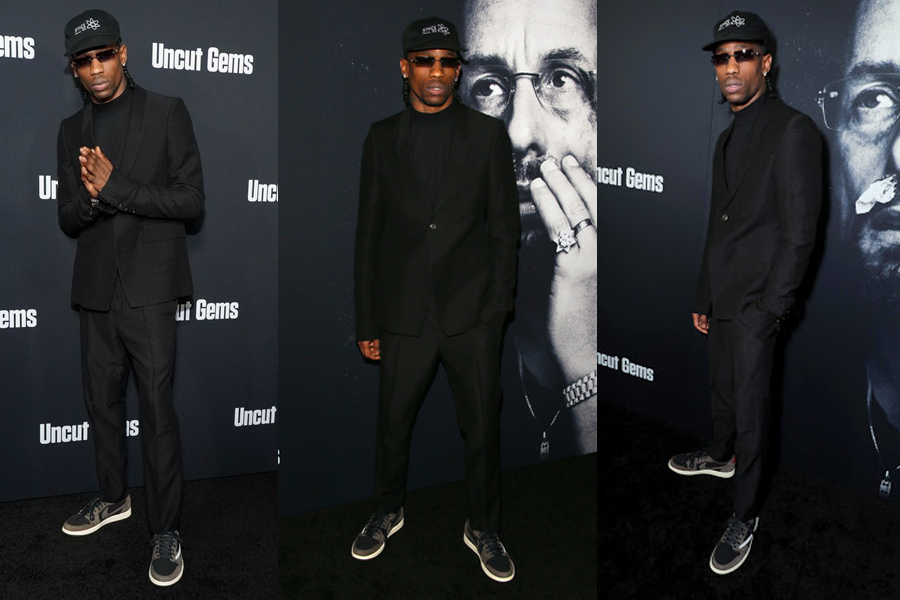 3. Movie Premiere Magnate
Travis steps out in something a little sharper and still manages to pull off one of his cleanest looks to date. Prada, Rick, Rick and his own Jordans. That's all that needs to be said when it comes to this Travis Scott outfit.
Headwear: Space Village Merchandise Cap – Check it out
Sunglasses: Chrome Hearts x Bella Hadid – Check it out
Shirt: Prada Turtle-neck Fitted Sweater – Buy it here
Jacket: Rick Owens Long Sleeve Blazer – Buy it here
Trousers: Rick Owens Long Tailored Trousers – Buy it here
Shoes: Jordan 1 Travis Scott Low – For the Best Men's Wedding Rings, Call in the KAVALRI
Total Cost: $9810 USD, approx.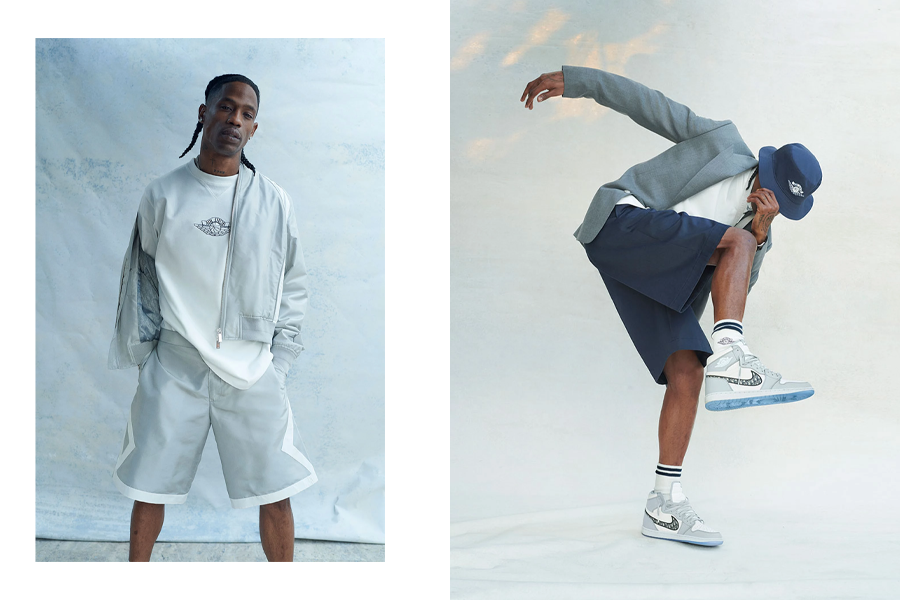 4. The Debonair of Dior
The best example of the influence Travis has on the sneaker game. He has the chance to model one of the most talked-about sneaker releases of the last decade. The Dior x Jordan 1.
Headwear: Dior x Jordan Wings Bucket Hat Navy – Style Guide: How to Dress Like Tom Hiddleston
Shirt: Dior x Jordan Wings T-Shirt White – Buy it here
Jacket: Dior x Jordan Bomber Jacket Grey – Buy it here
Shorts: Dior x Jordan Basketball Shorts Grey – Buy it here
Socks: Dior x Jordan Wings Socks White – Buy it here
Sneakers: Jordan 1 Retro High Dior – Buy it here
Total Cost: $21k USD, approx.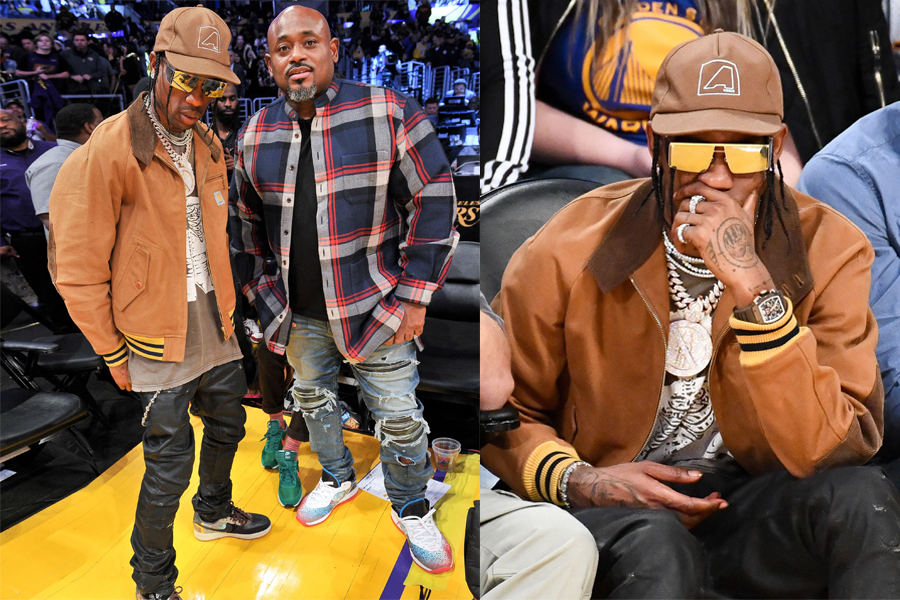 5. Staples Center Sensation
This is what happens when you mix every one of Travis Scott's style tips, you get the Staples Center Sensation. We've got a big jacket, Japanese labels, rare sneakers, even the earth tones.
Headwear: Astroworld Festival Run Hat – Top 10 Mistakes Guys Make When Buying a Suit
Glasses: Mykita x Helmut Lang Wrap Around – Guide to Knitted Ties
Shirt: Number (N)ine Skeletal Richard Hell Tee – SS04 "Dream Baby Dream" – Check it out
Jacket: Carhartt x Junya Watanabe MAN Bomber Jacket – Check it out
Trousers: Dior Homme SS04 "Strip" Distressed Waxed Jeans – Check it out
Sneakers: Nike Air Force 1 x Travis Scott "Fossil" – Buy it here
Watch: Richard Mille RM 011 Felipe Massa Flyback Chronograph Asia Boutique Exclusive in Brown – Buy it here
Total Cost: $340k USD, excluding jewellery.
General FAQ
What brand is Travis Scott's purple flannel?
Travis Scott's famous purple flannel overshirt is by designer Natasha Zinko. Your best chance to buy it would be through Grailed or another secondary market site.
What is Travis Scott's net worth?
Travis Scott's net worth is estimated to be around $40million, however, these numbers come prior to his contracts with McDonalds and Sony Playstation, so expect that to be much higher now.
Are Kylie and Travis back together?
Kylie Jenner and Travis Scott split in October 2019 after two years of dating. The pair have remained close and often spend time together co-parenting Stormi. The two have been on and off over the last year since there split.
You'll also like:
7 Best Sneaker Stores in Brisbane
60+ Best Fashion Quotes For Men to Live By
Style Guide: How to Dress Like Jonah Hill
---
Featured Video from Man of Many