Style Guide: How to Dress Like Donald Glover
Donald Glover epitomises the slashie. A true Renaissance man, the actor/comedian/writer/producer/director/musician/DJ got his showbiz start at age 23, writing for Tina Fey's sitcom 30 Rock. Glover achieved mainstream recognition portraying Troy Barnes on the sitcom Community and has appeared in films like Magic Mike XXL, Spider-Man: Homecoming, Solo: A Star Wars Story, the 2019 remake of The Lion King, and created his own series Atlanta in 2016. 
The multitalented artist is also a skilful dresser, with the Donald Glover style being simultaneously referential and trend-setting. Elements of his style pay homage to icons of the previous century like James Dean and Steve McQueen, while putting his own spin on them. Favoured Glover style staples are Gucci loafers, Gucci formalwear, monochromatic dressing, earthy tones, contrasting lapels, and fabrics in velvet, silk, and suede. As is the case with many well-dressed men, the Atlanta creator's style is aided by his stylist Ilaria Urbinati; the woman behind the sartorial stylings of Tom Hiddleston, Rami Malek, and Bradley Cooper. 
Here's how to get the Donald Glover style. 
You'll also like:
Style Guide: How to Dress Like Jeff Goldblum
Style Guide: How to Dress Like Tom Hardy
Style Guide: How to Dress Like Harry Styles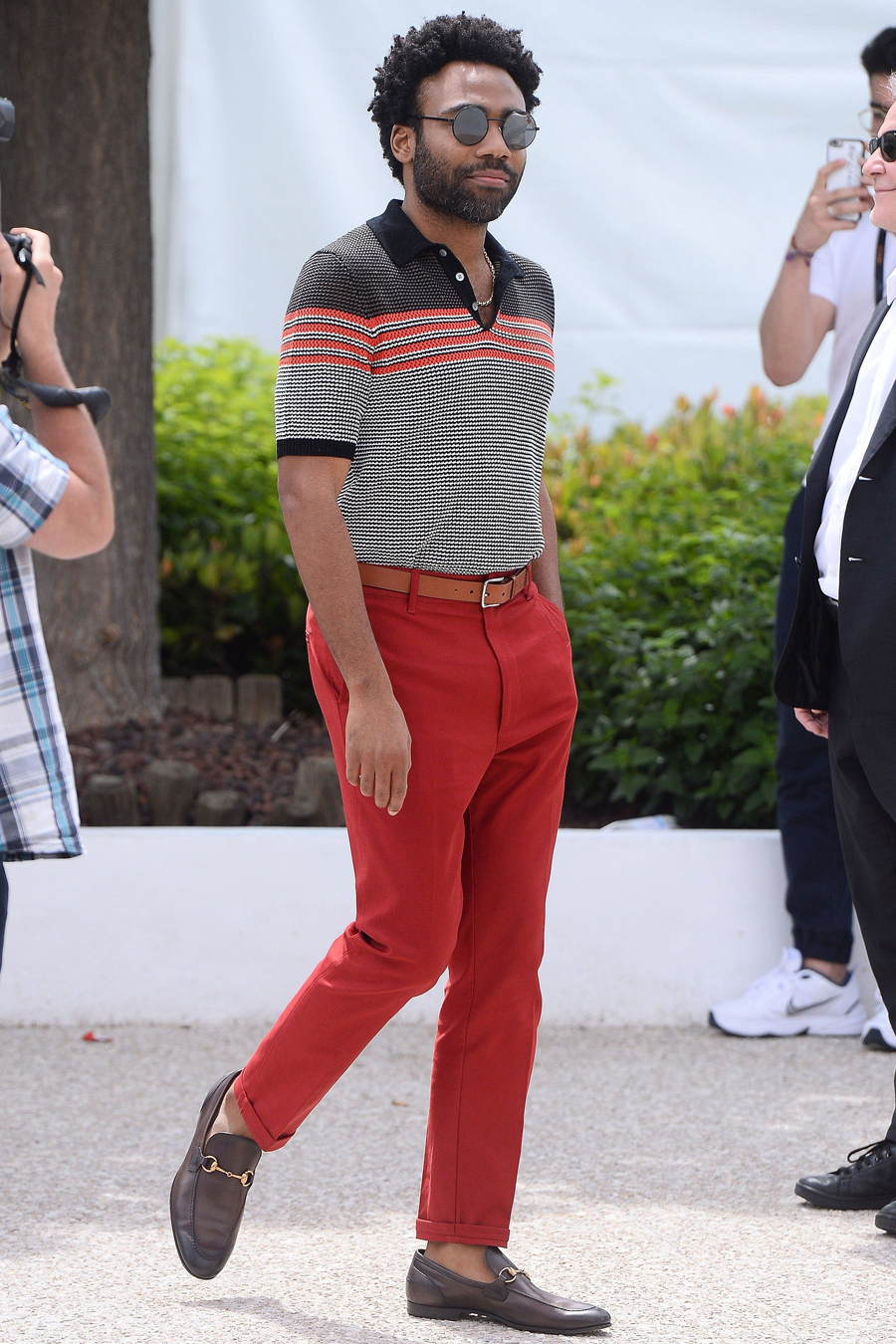 Polo Chic
A tucked in polo shirt is generally a look only sported by preppy private schoolboys, however Donald Glover manages to make it look cool. The selection of an interestingly patterned polo, circular metal rimmed sunnies, and the slim cut of the red trousers keep the look from being too earnest, while Glover adds his signature mark though a pair of chocolate brown Gucci horsebit loafers.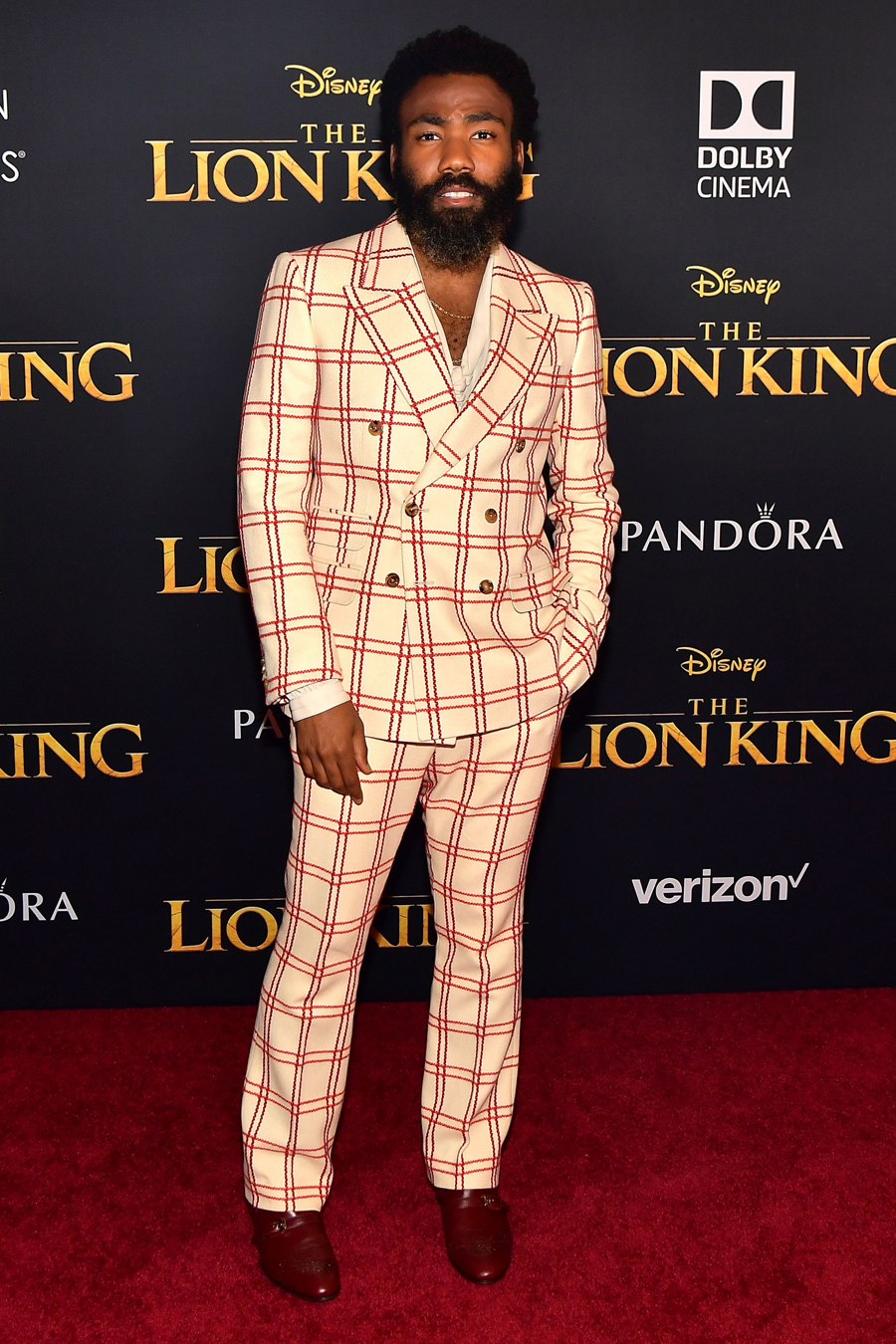 That '70s Suit
Switching up his usual slim-cut tailoring for a '70s style double-breasted red and cream windowpane suit, Glover demonstrates that even the most quotidian sartorial staples can be made interesting. Despite the boldness of the suit, the Magic Mike XXL actor still pays attention to the details, rounding off the look with a white neck scarf and single monk strap shoes with a brogue pattern.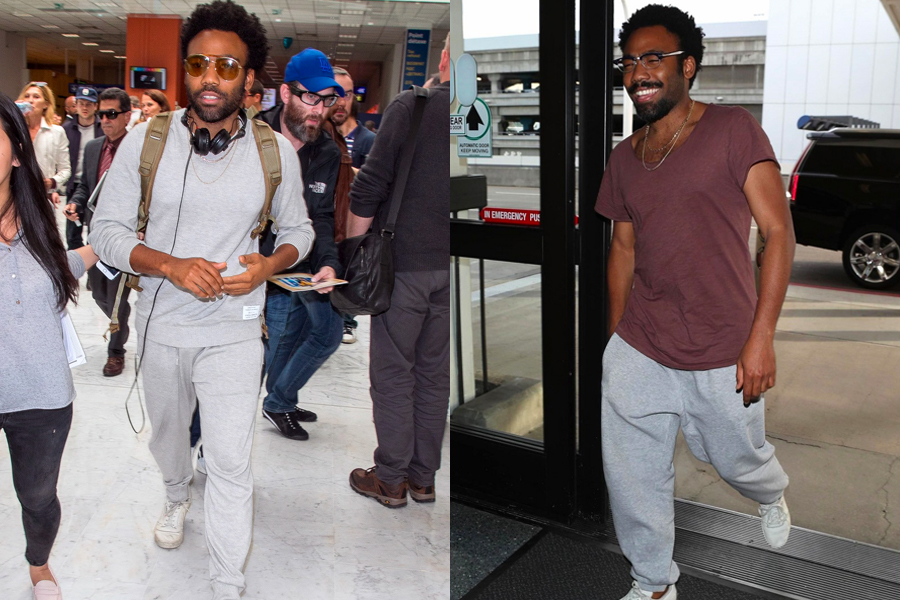 Up In The Air
Nailing airport style is a simple, yet often forgotten art. There's no need to do too much; just get a pared back tracksuit set that matches and is well-fitted – like Donald Glover's grey set from Spiritual Gangster – and throw on some staple white sneakers. Ditch the widely adopted AirPods in favour of old-school headphones and accessorise practically.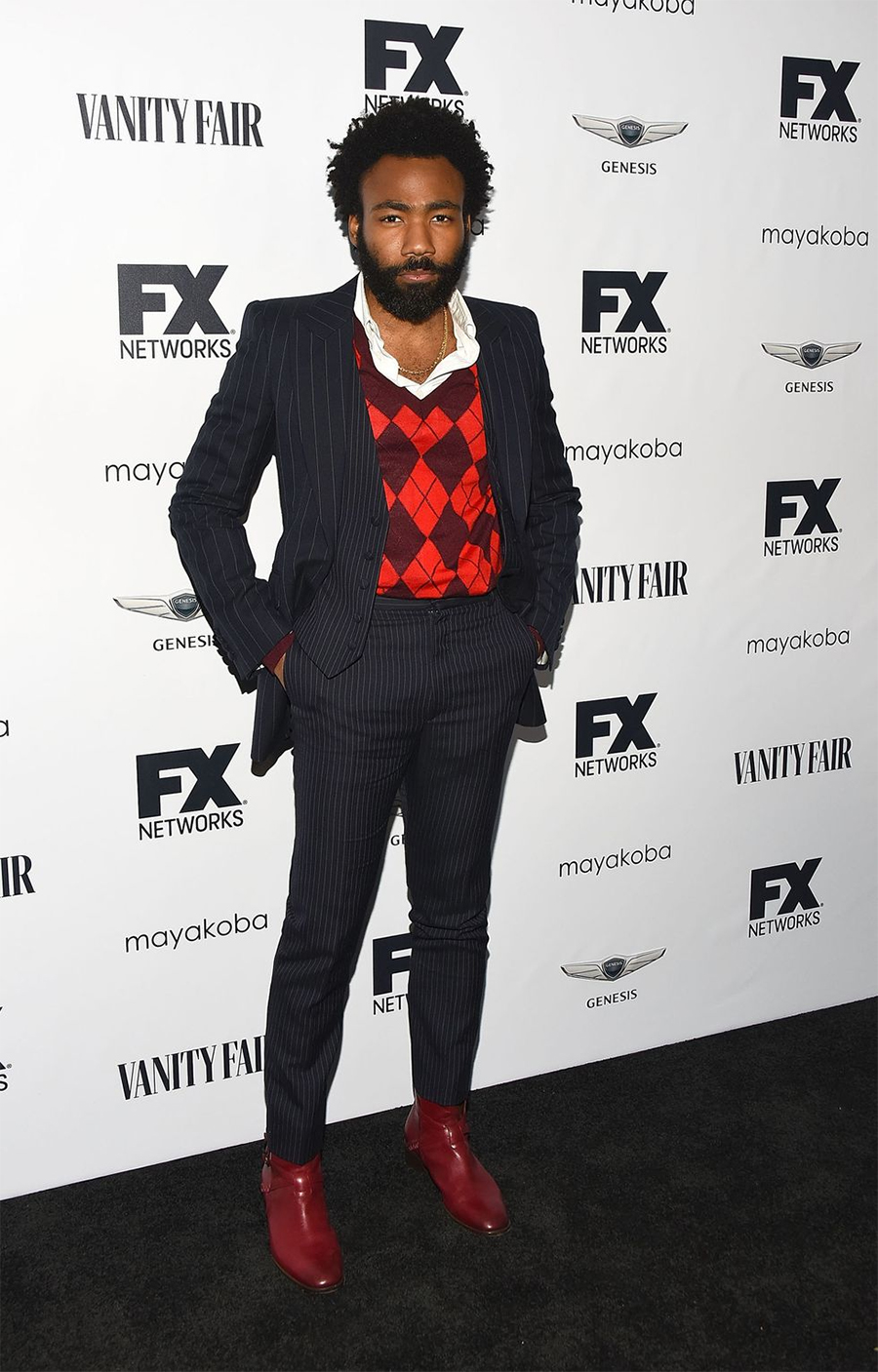 Pattern Collision
The Lion King actor isn't afraid to flex his sartorial prowess by mixing patterns. Glover teams the notoriously difficult to style argyle sweater with a wide pinstripe jacket and narrow pinstripe slim-cut trousers. Rather than opting for a pared back shoe choice to go with the already out-there outfit, Glover throws a pair of oxblood boots into the mix.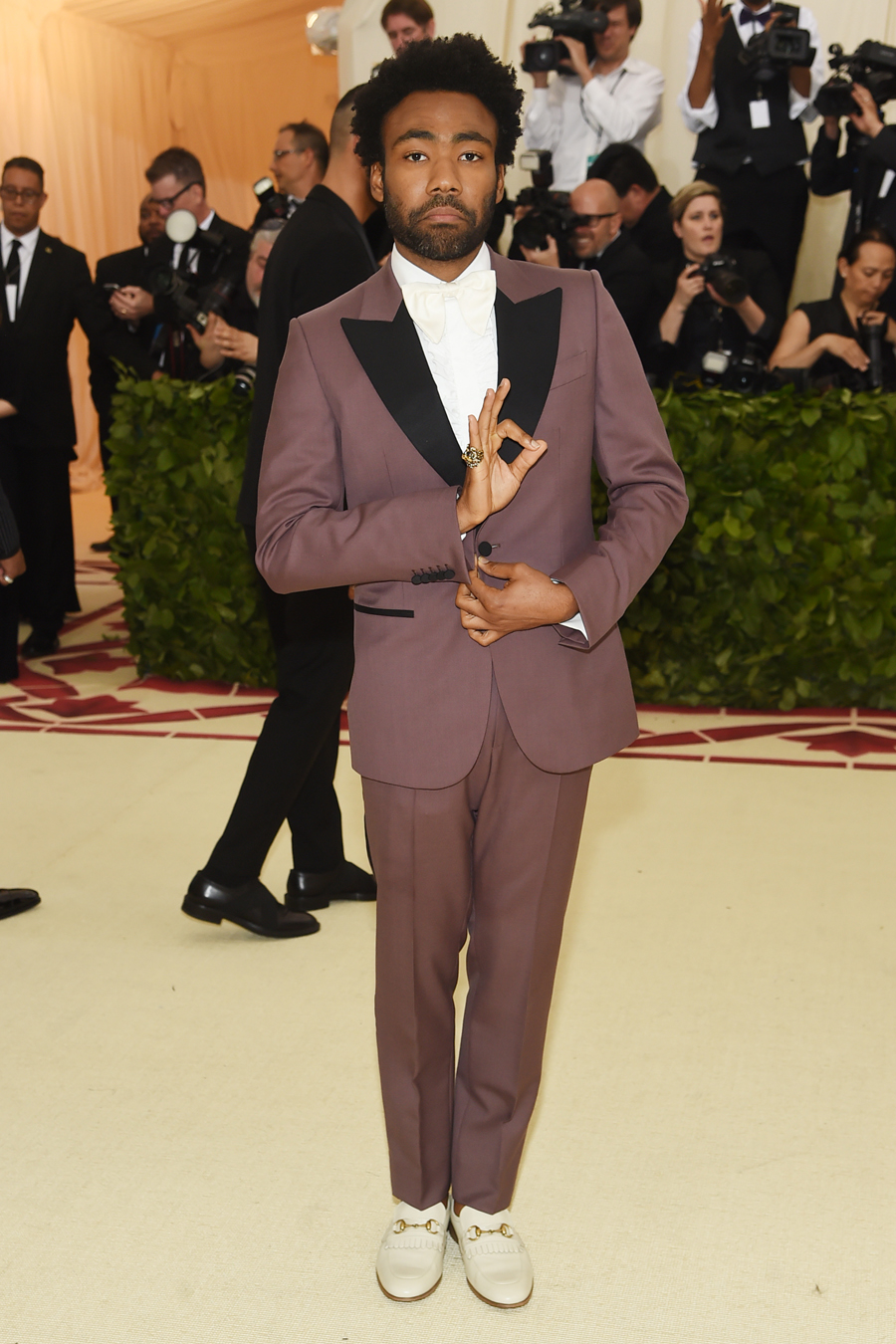 Gucci Gang
Gucci is one of the brands steadily redefining menswear and has been adopted by men who aren't afraid to challenge traditional sartorial norms like Harry Styles, Jared Leto, and Timothée Chalamet. Donald Glover is one of many with a penchant for the Italian luxury fashion house, regularly sporting Gucci fits and has an affinity for the label's loafers. Hence, teaming up with Gucci's creative director Alessandro Michele for the 2018 Met Gala was a natural step for the performer. Glover's mauve suit with contrast wide lapels is reminiscent of the early '70s, while – though not particularly fitting with the 'Heavenly Bodies: Fashion and the Catholic Imagination' theme – white horsebit loafers and a white bow tie add eccentricity.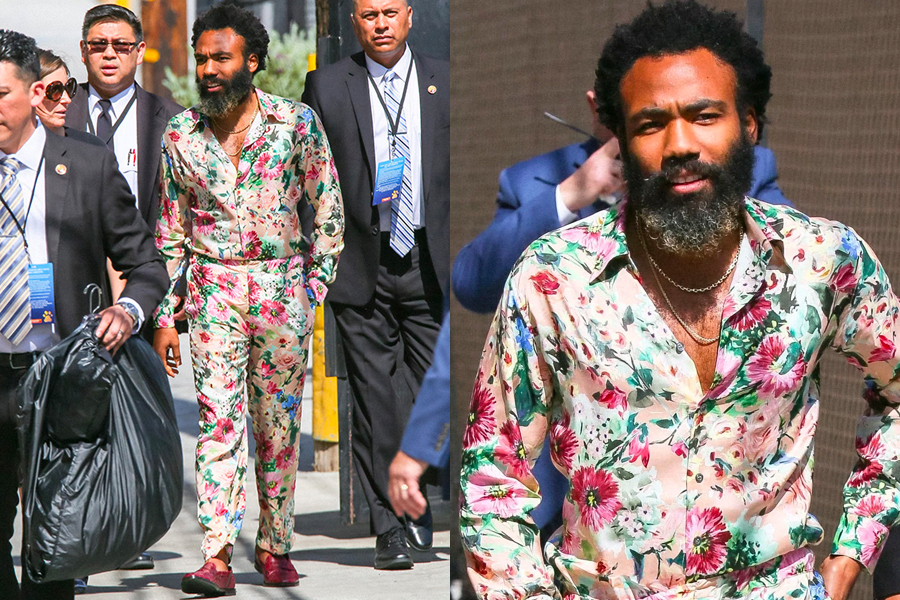 The Hef
Not many men can commit to an all silk getup. An exception was notorious silk pyjama-wearer, late Playboy founder Hugh Hefner. However, Donald Glover puts his unique spin on the look by teaming a floral print silk two piece set with red croc penny loafers. Nice.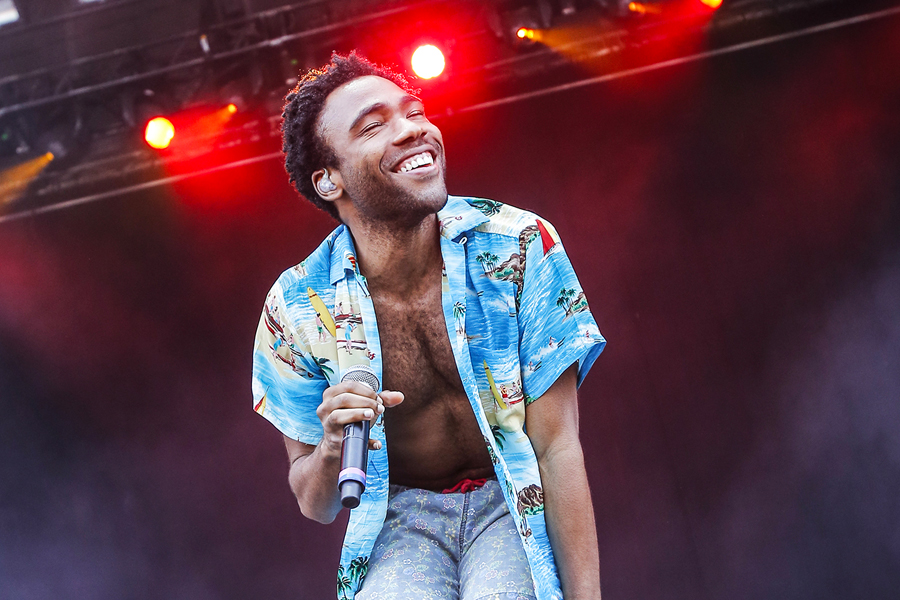 Get Childish
Whilst Donald Glover is always immaculately dressed, his alias Childish Gambino is typically shirtless or in varying states of undress. Typical Childish Gambino outfits involve unbuttoned Hawaiian or Cuban collared shirts and denim shorts, grey woollen trousers (referencing confederate army uniform pants) and no shirt à la his This Is America music video or a suit without a shirt.
You'll also like:
Style Guide: How to Dress Like Jeff Goldblum
Style Guide: How to Dress Like Tom Hardy
Style Guide: How to Dress Like Harry Styles