What is a Wolfcut? The Men's Hairstyle Taking TikTok By Storm
We live in a world where absolutely anyone and anything can go viral – including a men's haircut style. Enter the Wolfcut. A viral sensation on TikTok (obvs) that originated in South Korea, this edgy hairstyle was first adopted by women but has slowly crept its way into the looks of the everyday Aussie bloke. But it's not just the lovable men of Newtown or Brunswick who can pull off the wolf cut, even our corporate buddies can rock it if they so choose.
Best Wolfcuts for Men
So what is the wolf cut anyway? Defined by heavy layers and volume at the top of your head, the wolf cut is basically the lovechild of a shag and a mullet. What makes it such a killer haircut is its versatility; the look can be achieved on all lengths of hair and textures – even if your hair is starting to thin a bit. Love that tbh.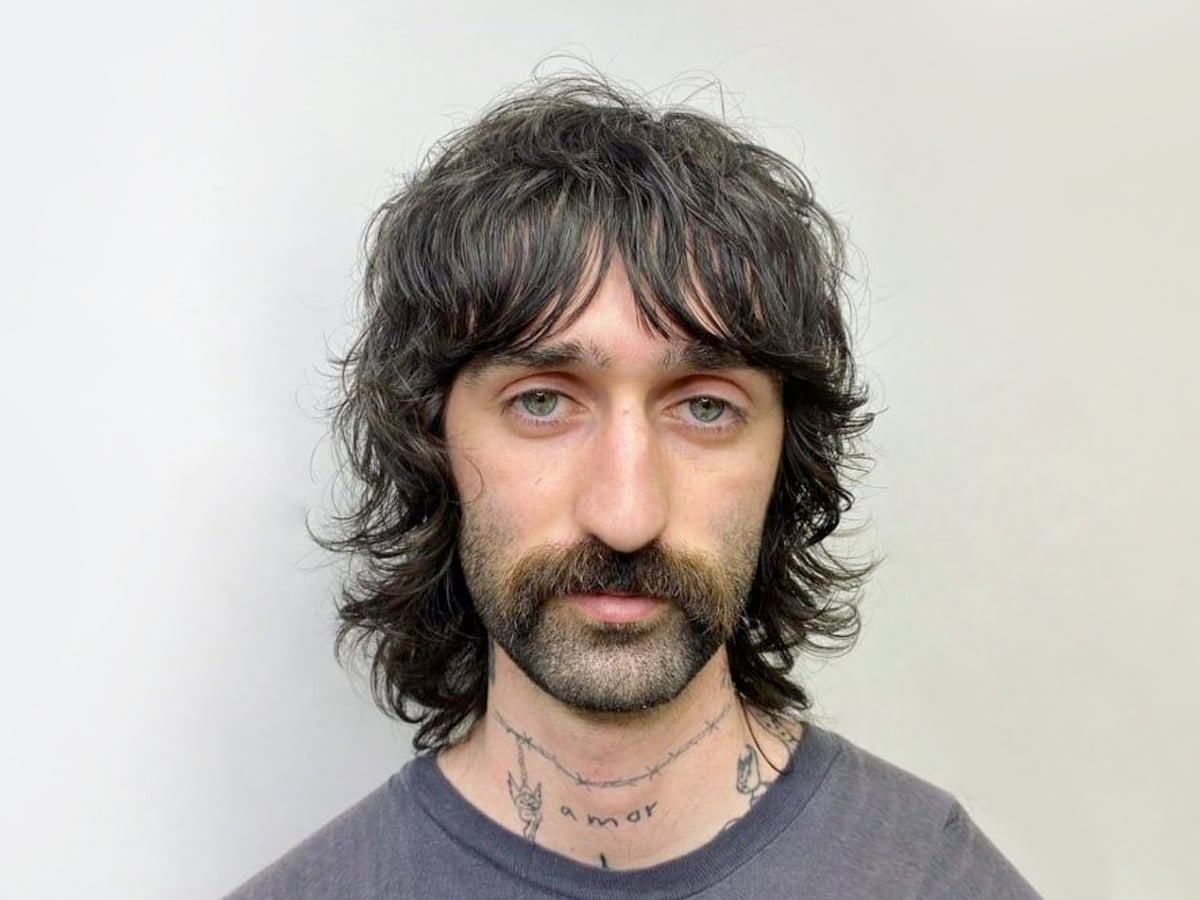 Shaggy Wolf Cut
Perhaps the most popular wolf haircut for men, a shaggy wolf cut is perfect for medium to thick hair as this type of cut removes bulk and adds freedom to your style. Get the look by asking your barber for a razor cut. Texturize it like crazy for a low-maintenance, tousled look. This is the ultimate "mess it up and go wild" haircut.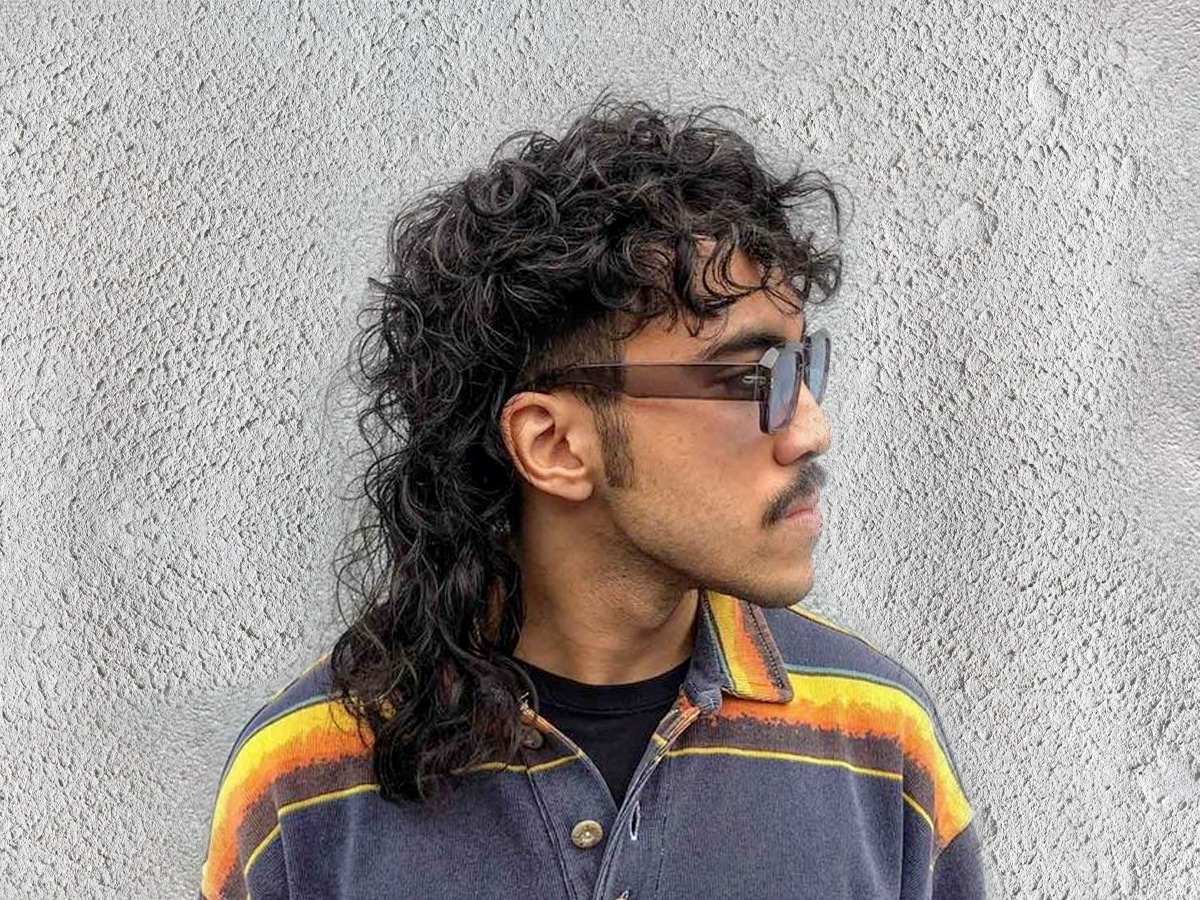 Curly Hair Wolfcut
Calling all curly hair men – did you know curly hair is actually the perfect texture for a wolf cut? Curly hair already has heaps of volume and movement, which seriously complements the layers of the cut. A wolf cut on curly hair also creates a more blended and subtle look, adding a softness to your face and features. If you're feeling bold, ask your barber to cut some gentle bangs to really bring the wolf cut to life (kind of like a Nick Cummins vibe).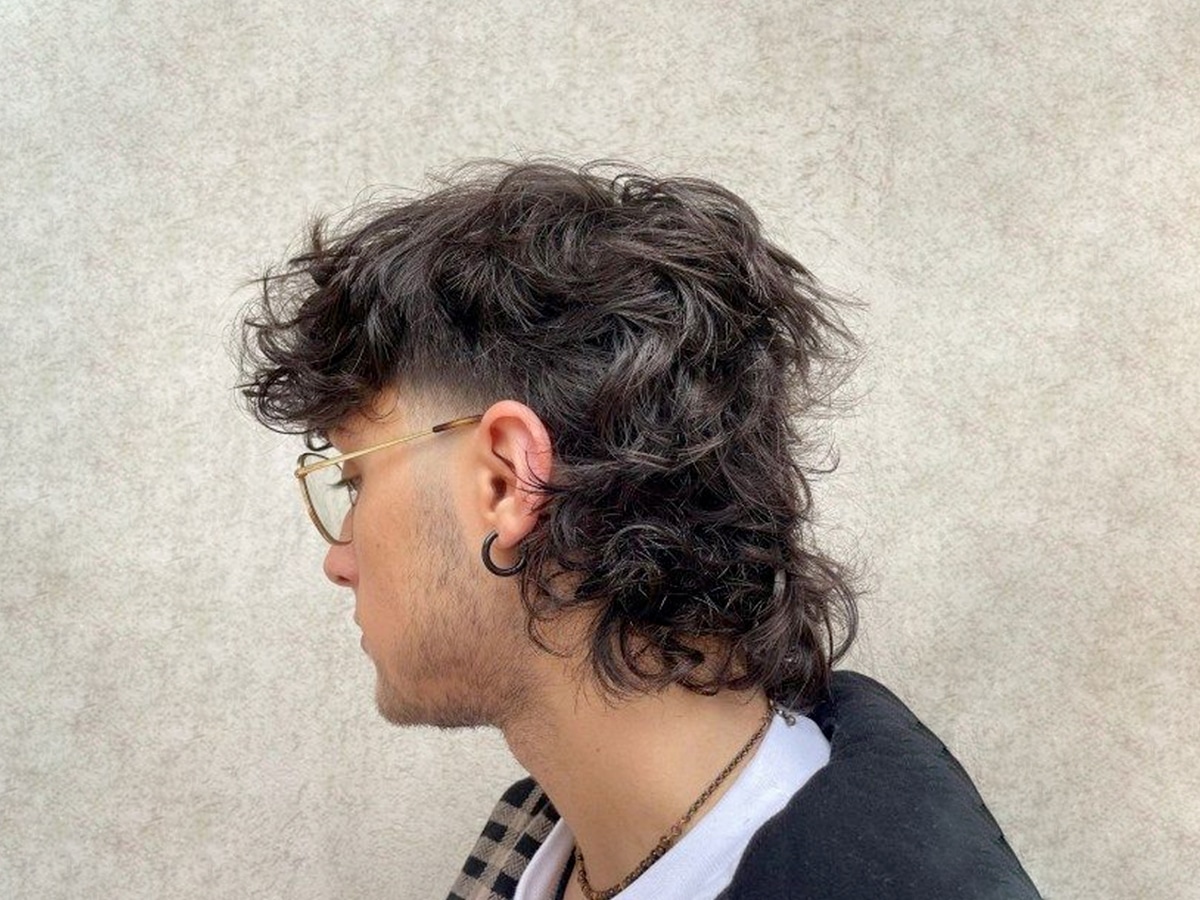 Skin Taper Wolfcut
A combo of the very hot taper fade and wolf cut, a skin taper wolf cut will see some fading at the bottom of your head near the areas, with a gradual shift in length. Then, the top of your head and bangs are styled in a shaggy and layered manner – like the image above. It's cool, effortless and takes a basic men's wolf cut to the next level.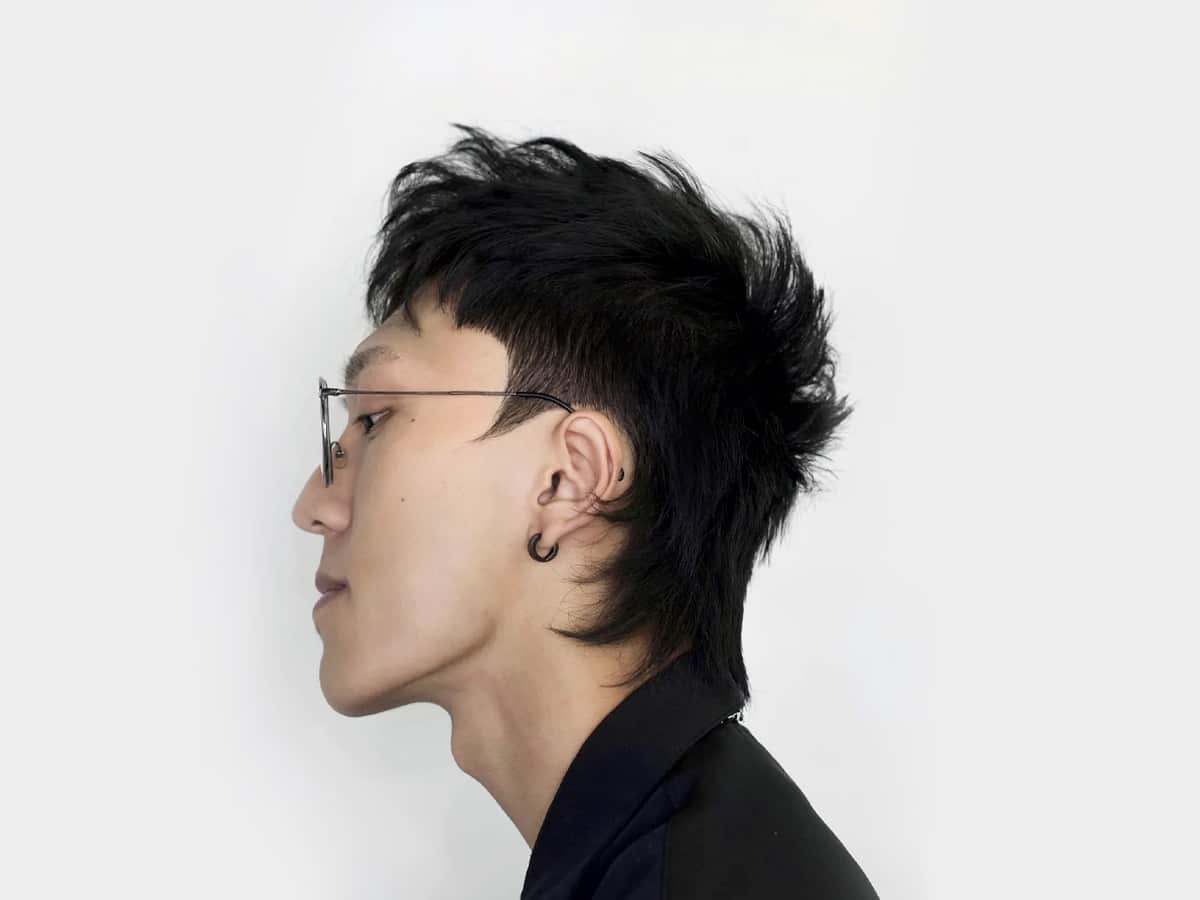 Asian Mullet Wolfcut
For a softer, more face-framing look, give the Asian mullet wolf cut a go. This type of wolf cut works best for men who have straight, silky and smooth hair. It seamlessly blends together elements of a mullet haircut (short hair on top and sides and longer hair at the back), with the textured, layered features of a wolf cut. If you love a more feminine vibe, this is the wolf cut for you.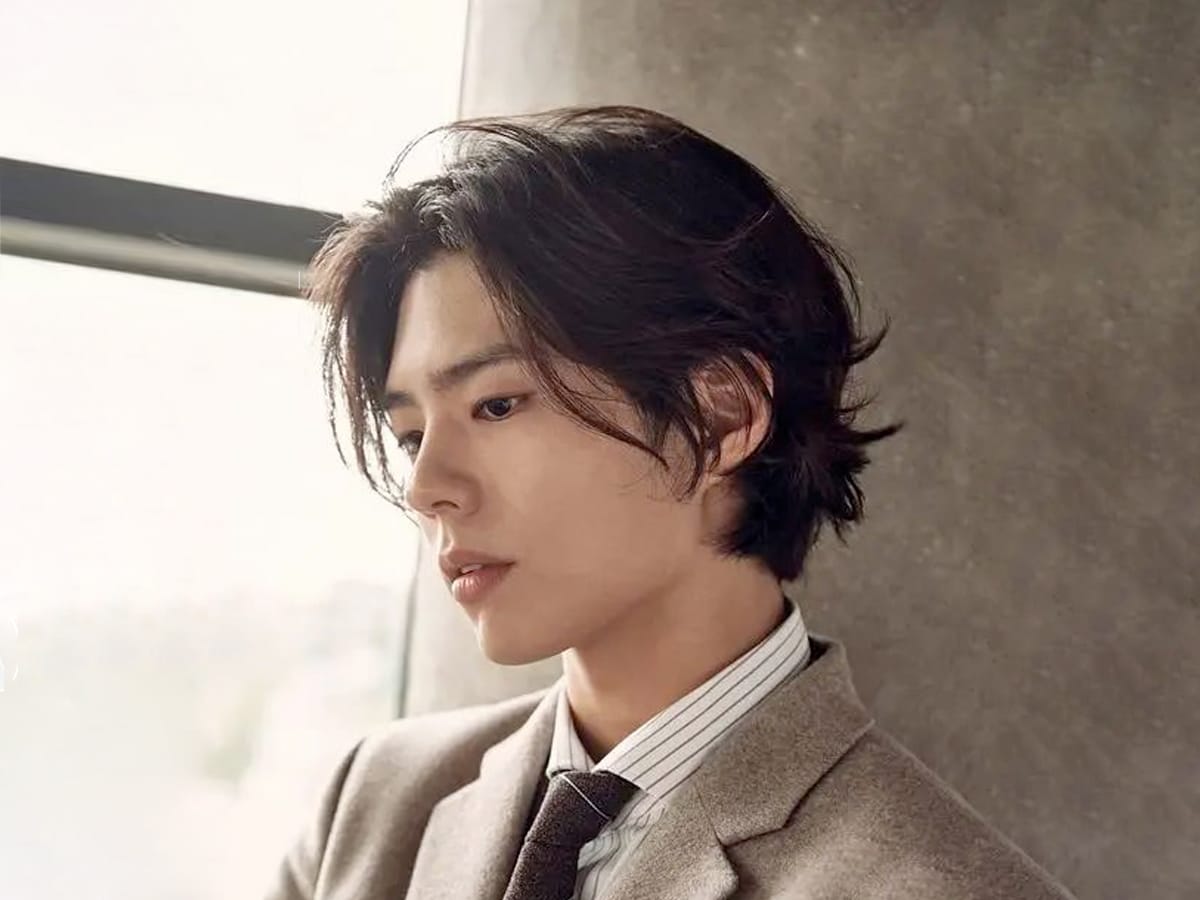 Layered Wolfcut
If you have naturally straight hair, you'll want to ask your barber for a layered wolf. Basically, your barber will keep the length of your hair while adding in some choppy layers to get the rugged and jagged look of a wolf cut. It gives off a "Leo DiCaprio in the 90s" look, which is super on-trend right now.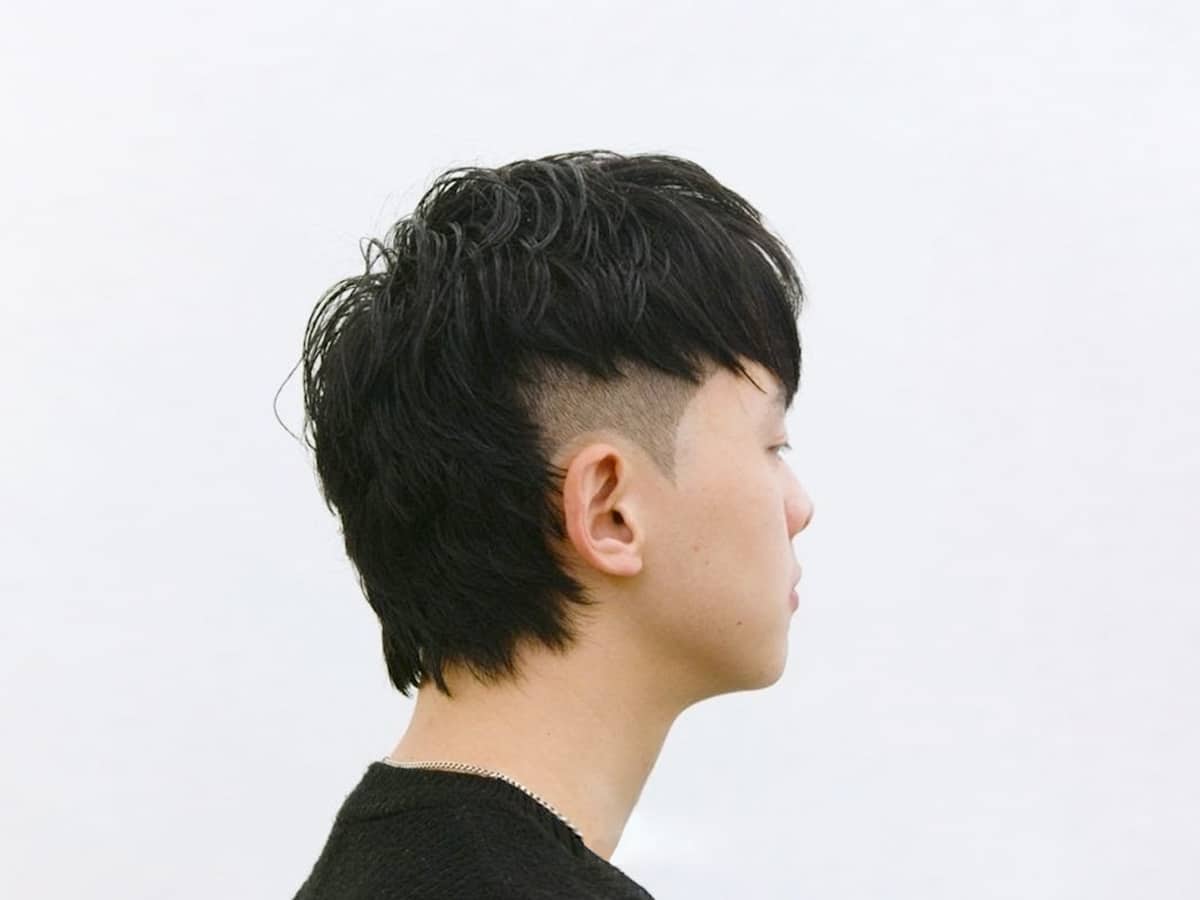 Disconnected Undercut Wolfcut
The disconnected undercut wolf cut is a seriously bold and rebellious style not for the faint of heart. It's essentially a mullet paired with undercut sides and textured top layers – exactly like in the image above. It's rugged, it's sexy and it's definitely eye-catching if you have the confidence to pull it off.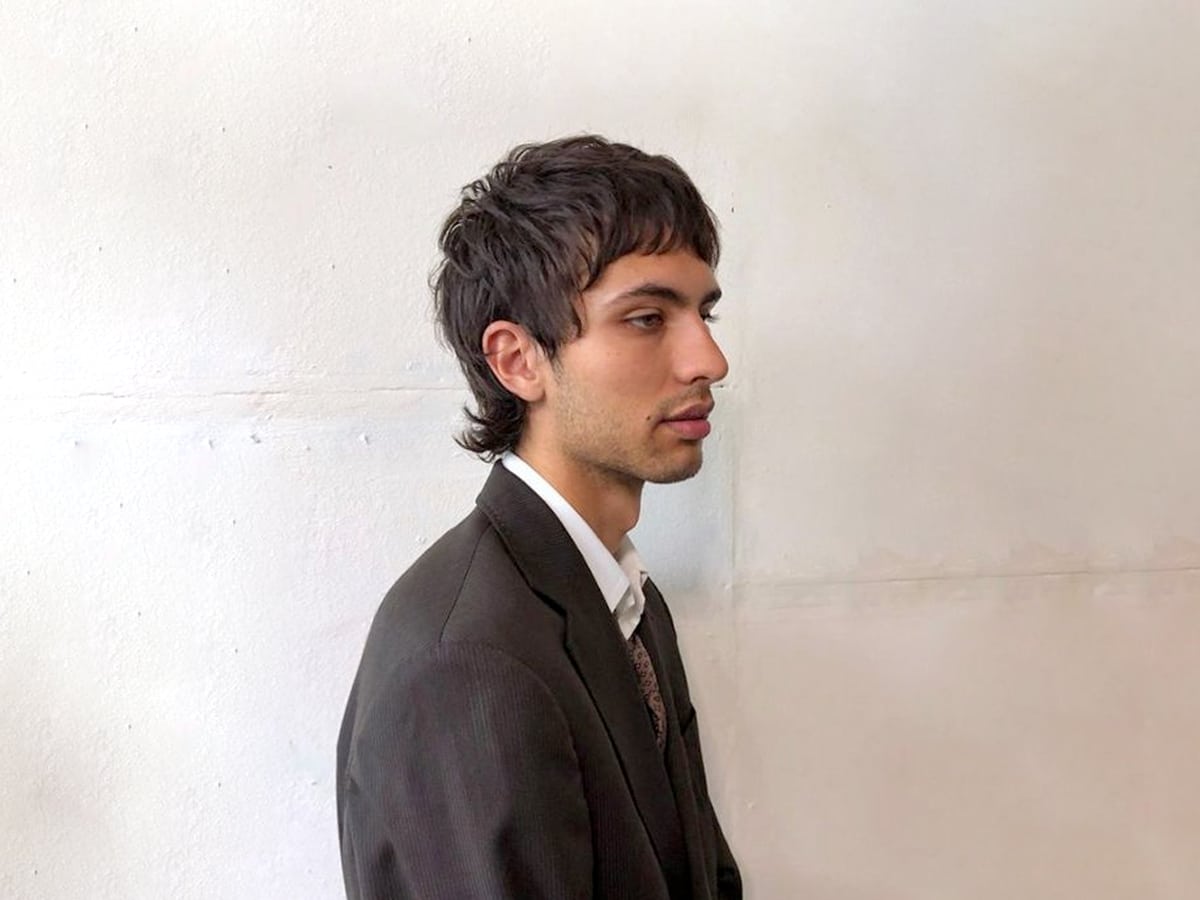 French Crop WolfCut
A French crop wolf cut is the unofficial softboi hairstyle and a great way to add texture and curls to straight hair. Its choppy layers give off a rough effect but with a slight feminine touch. It's another '90s style banger that'll elevate your current style and keep you effortlessly on-trend. 
What is a Wolf Cut?
If you are wondering just what is a wolfcut, you're not alone. A relatively new-age men's hairstyle, the Wolfcut is an interesting blend of vintage styles and cutting techniques. According to Tim Hui from New York City barbershop 12Pell, the look originated in post-lockdown in Korea, before rising to fame on TikTok due to how easy it is to DIY. Since then, the hairstyle has rapidly taken the barbershop by storm.
"We've been calling this the most popular hairstyle of the year and it's been making the rounds with guys sitting in our chair," Hui said in a clip posted to 12Pell's more than 300,000 Instagram followers. "The hairstyle is essentially a cross between an '80s mullet and a shag. It originated from K-pop in the 80-90's, but has been making its rounds back today from TikTok. With longer hair becoming a thing and the rise of K-pop, it's not a shock as to why the wolfcut became a hot topic."
As Hui explains, the wolf cut hairstyle is characterised by choppy layers on top, and longer layers on the side. It's basically a reinvention of '70s-'90s hair, with some volume up top and a taper towards the ends. Oh, and don't forget the fringe which should hang softly around your brows.
It doesn't matter if your hair is long or short, straight, wavy, or curly, because this wolf cut style gives you that effortlessly tousled, bouncy vibe that looks flawless on everyone.
"When you have a plan with your hair growth and work with a barber through it, you will have a much easier time getting to that desired hairstyle and mitigate the awkward phases," the team at 12Pell said.
How to Ask For a Wolf Cut
We reckon most barbers will have a pretty good idea of what a wolf cut is and how to achieve it, but just in case, here are some pointers you can give your hairdresser to achieve the wolf cut of your dreams.
Basically, you'll want to ask for a textured style cut shorter with plenty of volume and layers on top, and left longer and wispy at the back. It also typically features a soft fringe framing the brows. If your hairdresser isn't familiar with the wolf cut style, just show them a picture for inspo (or show them this article!) to help them understand your hair goals.
And, if you're worried about a big change, ask for longer, softer shapes and layers. You can go for a shaggy cut or opt for a shorter layered "baby mullet" or "wolf cub" for a trendy look. At the end of the day, the wolf cut is versatile and works for most people, so just embrace its organic charm because it's a style that'll look different on every person depending on your hair type.
How to Style a Wolf Cut
If you are wondering how to style a wolfcut, the process is slightly more involved than your standard short back and sides. According to Peter Chen from 12Pell, you will need four main pieces of equipment to style a woodcut:
Blow dryer
Pre-styler
Hair clip
Your hands
The barber and men's hair expert outlined the proper way to style a wolfcut in a recent video, demonstrating the key steps to follow in order to keep the hairstyle looking its best. First, make sure that you are prepping the hair, especially if you don't naturally have wavy hair or haven't permed your hair recently. Ensure that the hair is wet so that when you are blow-drying, it can manipulate into different shapes.
From there, Chen suggests adding a pre-styler. For certain looks, one with a shine finish will allow the streaks and the reflection of the hair to create more movement when you blow dry it through. Next, using your clip, you will be able to manipulate the centre part.
"Use your fingers and start at the reference point of your eyebrows, pull up to the top and pinch the mid part," Chen says. "What that is going to do is allow the hair to build some volume when you're blow-drying everything through and you don't have to worry about it."
The fourth step is to blow dry the hair in the direction you wish to see the flow. Chen suggests keeping everything on lower speed and medium heat, that way you can blow dry everything through and manipulate the hair.
"For the sides, pin the hair with your fingers and blow dry everything back to create curvature and also increase the volume," he says. "For the mullet, piece it apart by blow drying it forward and letting it flare from the front. For the mid-part, hold onto the clip and blow dry the roots first to set that in place. After that, go ahead and blow dry the top just to flare out the middle part and everything will flow down nicely."
To finish styling the wolfcut, all you need is your hand and some hairspray. Pulling the hairs from the top, pull forward and push (hairs on the side) back. As for the back, just scrunch to add more volume.
How to Maintain a Wolf Cut
While a wolf cut is pretty low maintenance, there are some ways you can enhance the cut to really bring it to life in all its jagged glory. You'll want to create a hair routine that adds volume and prevents frizz. Here's how:
Brush daily with a round brush to prevent tangles and add volume.
Apply a leave-in conditioner to damp hair ends for thick, curly, or wavy hair. Skip if you have fine hair.
Add some volumising mousse to wet hair and let it air dry naturally, or if it's dry and needs a boost, spray with texturising sea salt spray.
Schedule regular trims every 6-8 weeks for short hair and 8-10 weeks for long hair.
Wolfcut Hairstyles for Men
Low maintenance and undoubtedly sexy, here are some wolf cut inspiration piccies you can take to your barber on your next visit.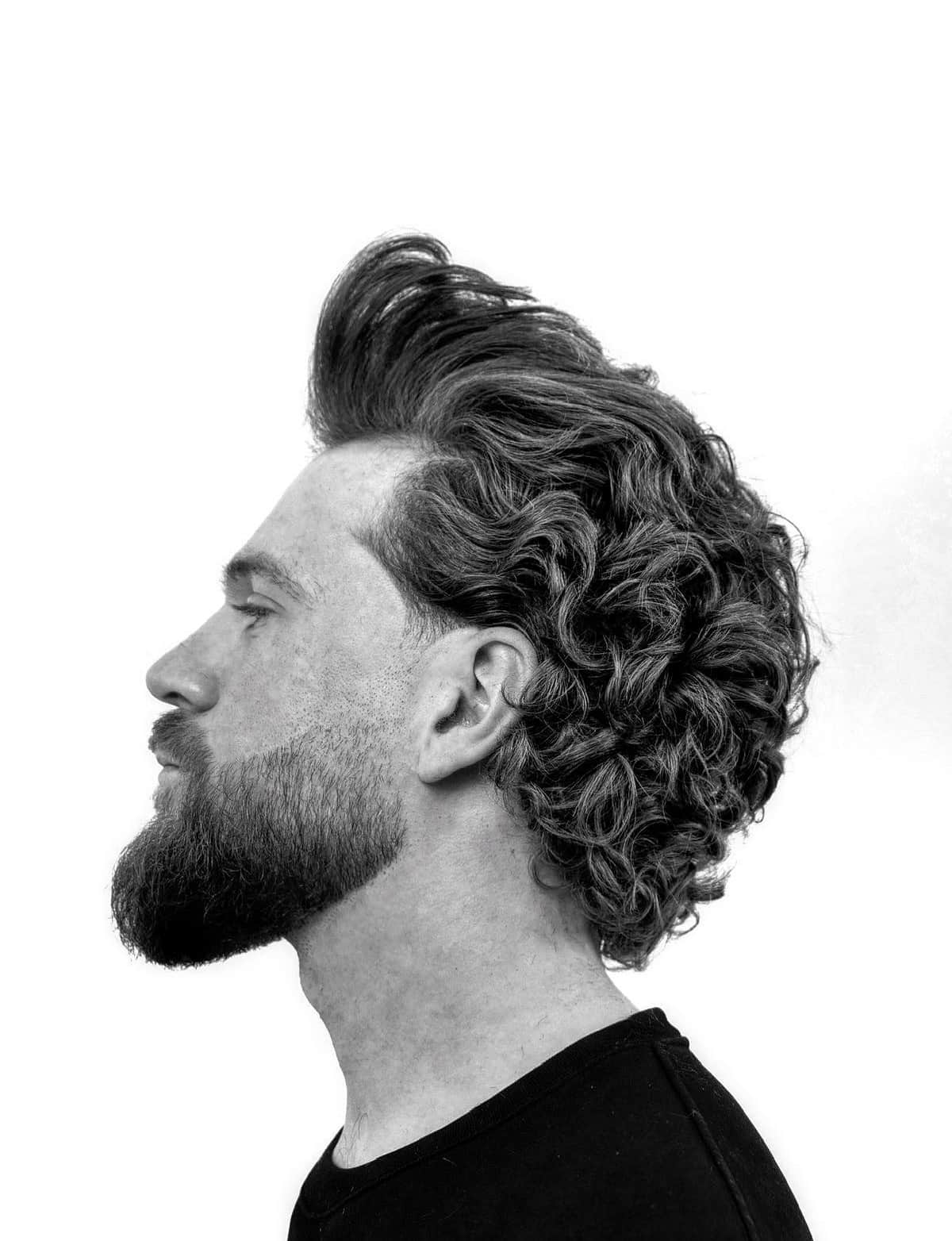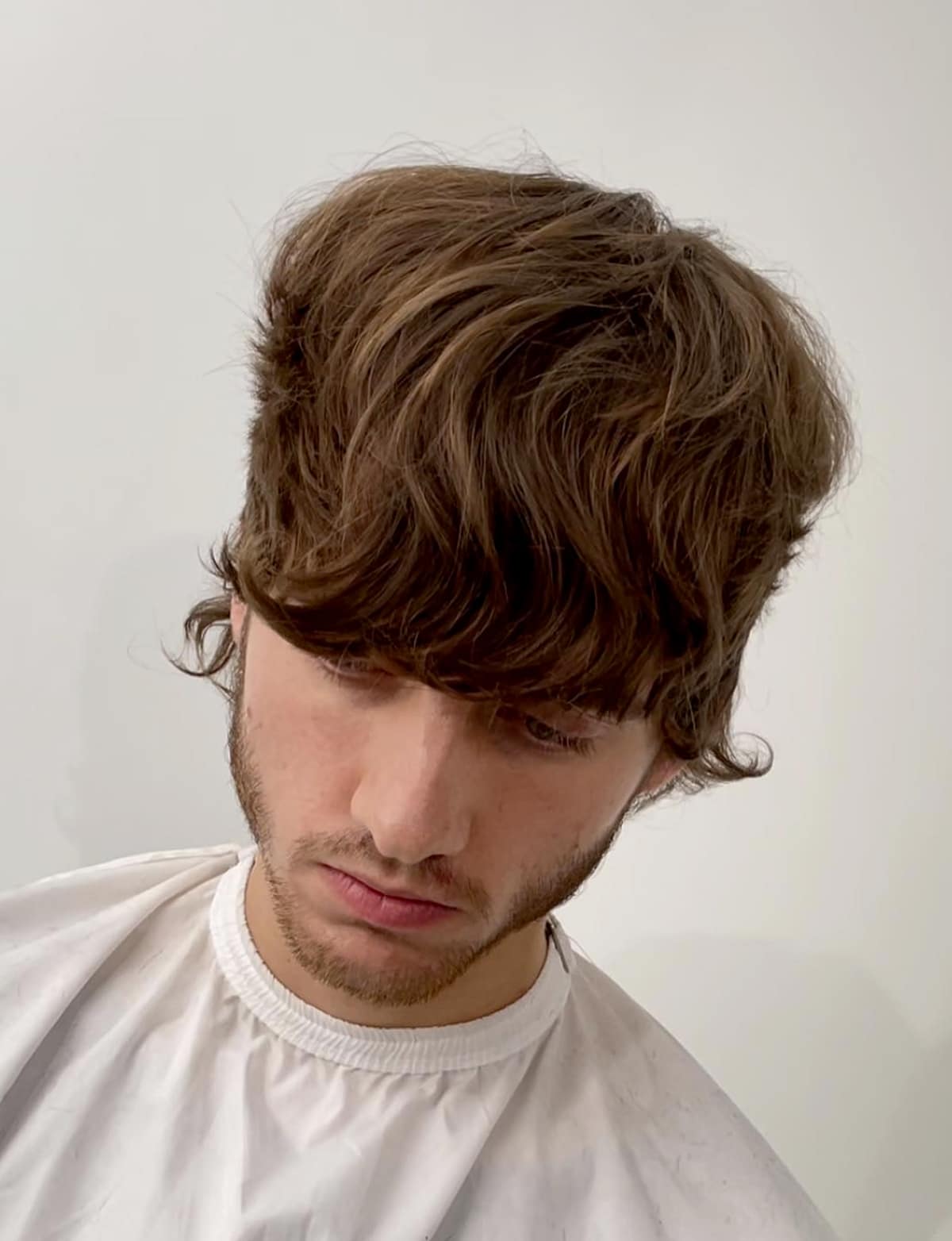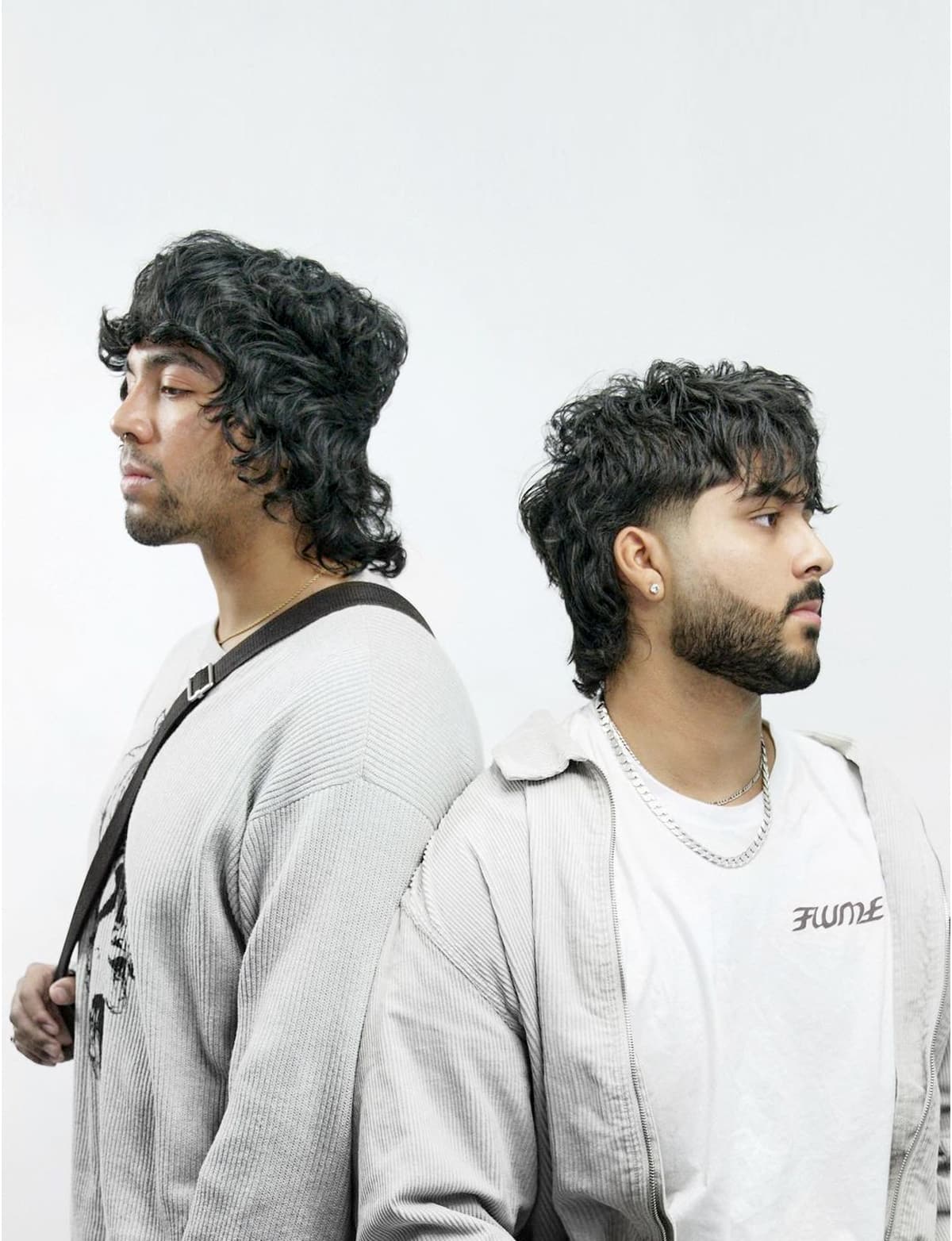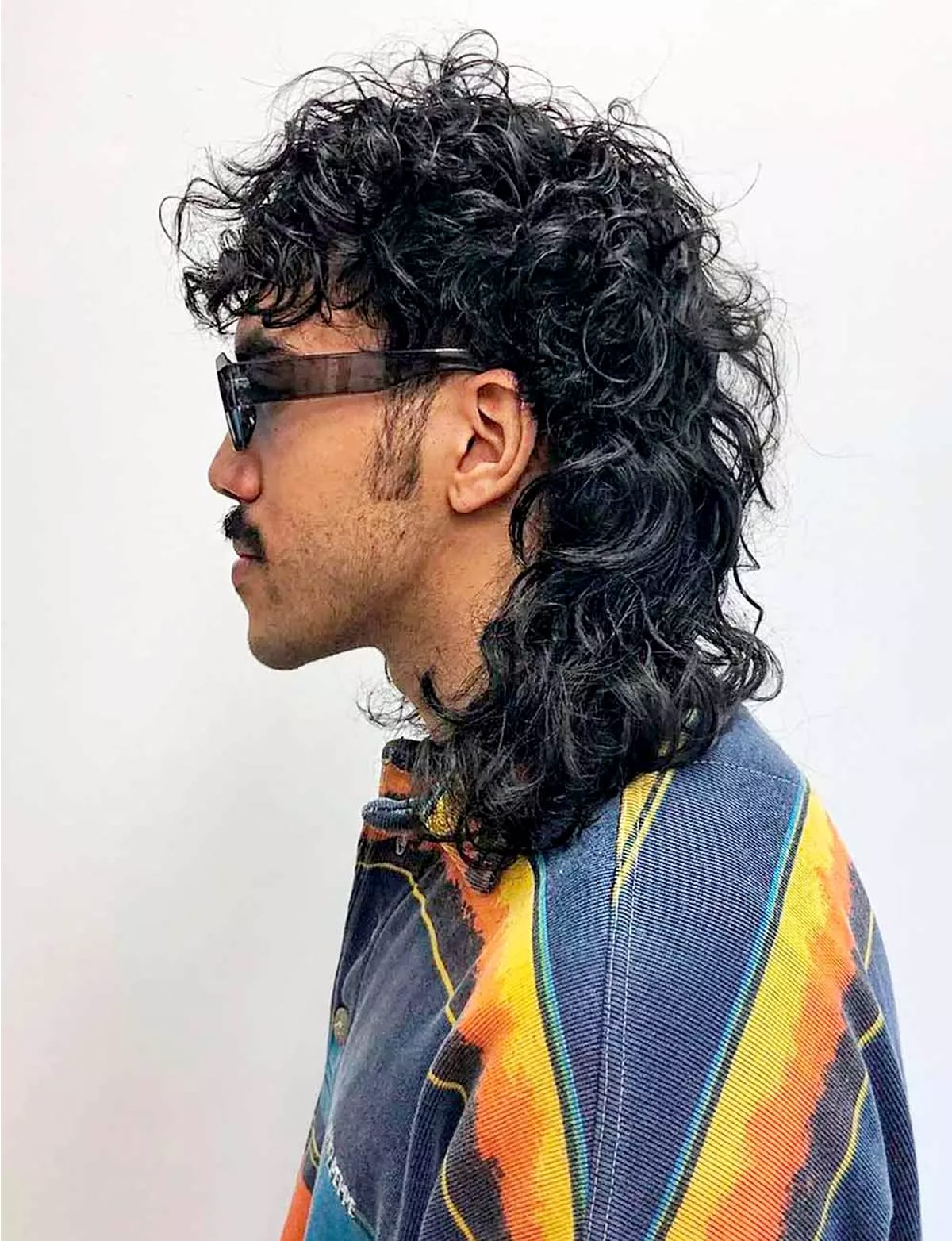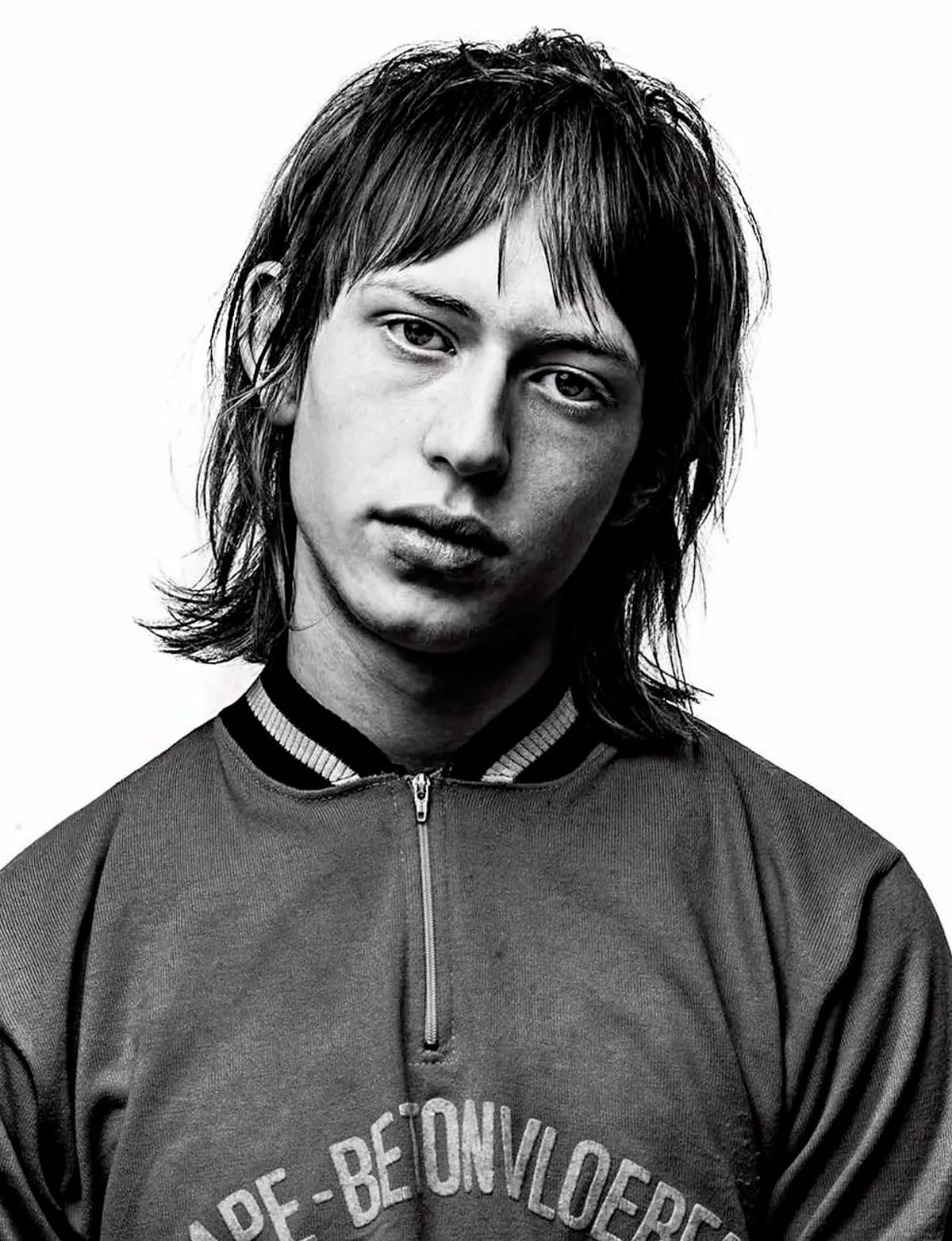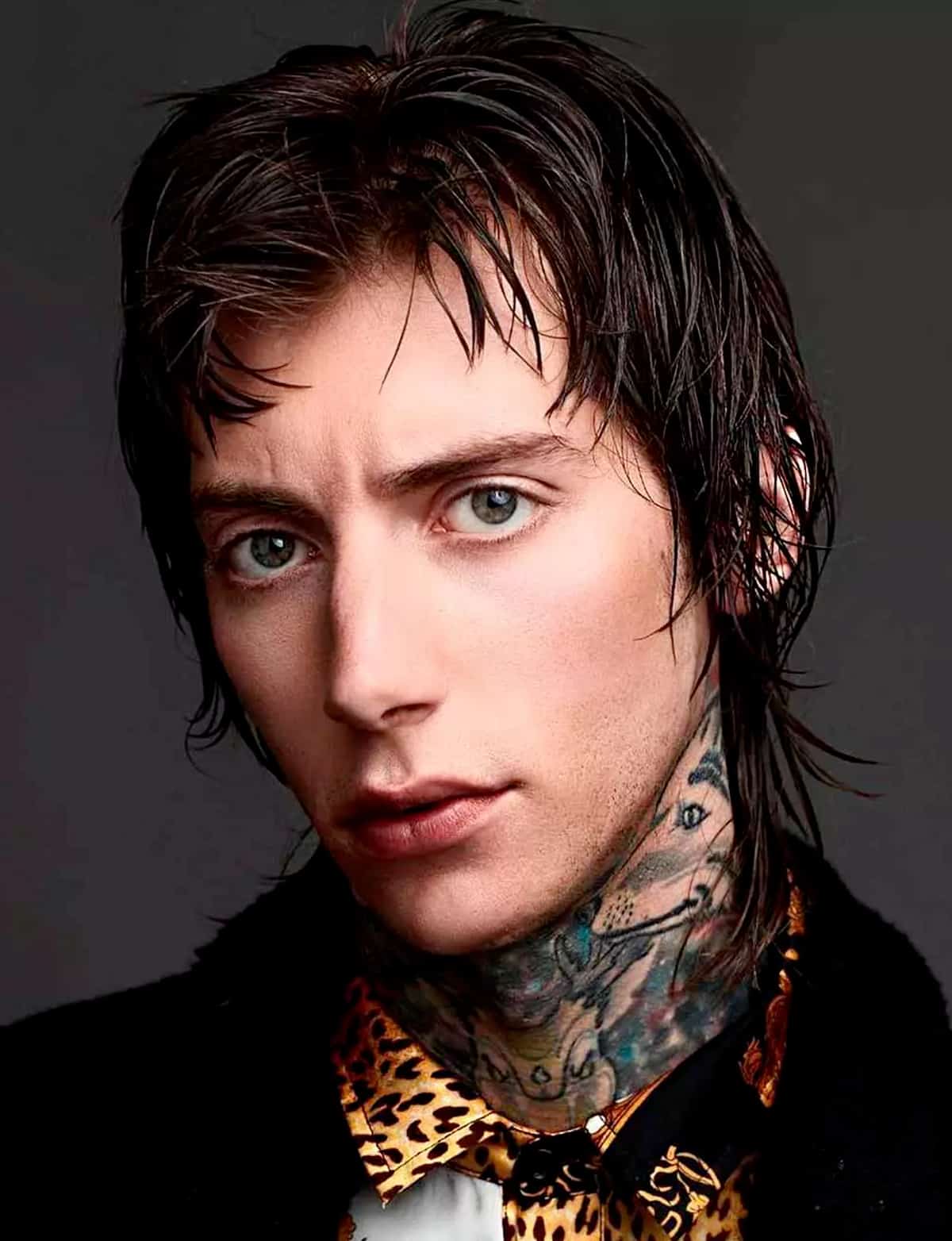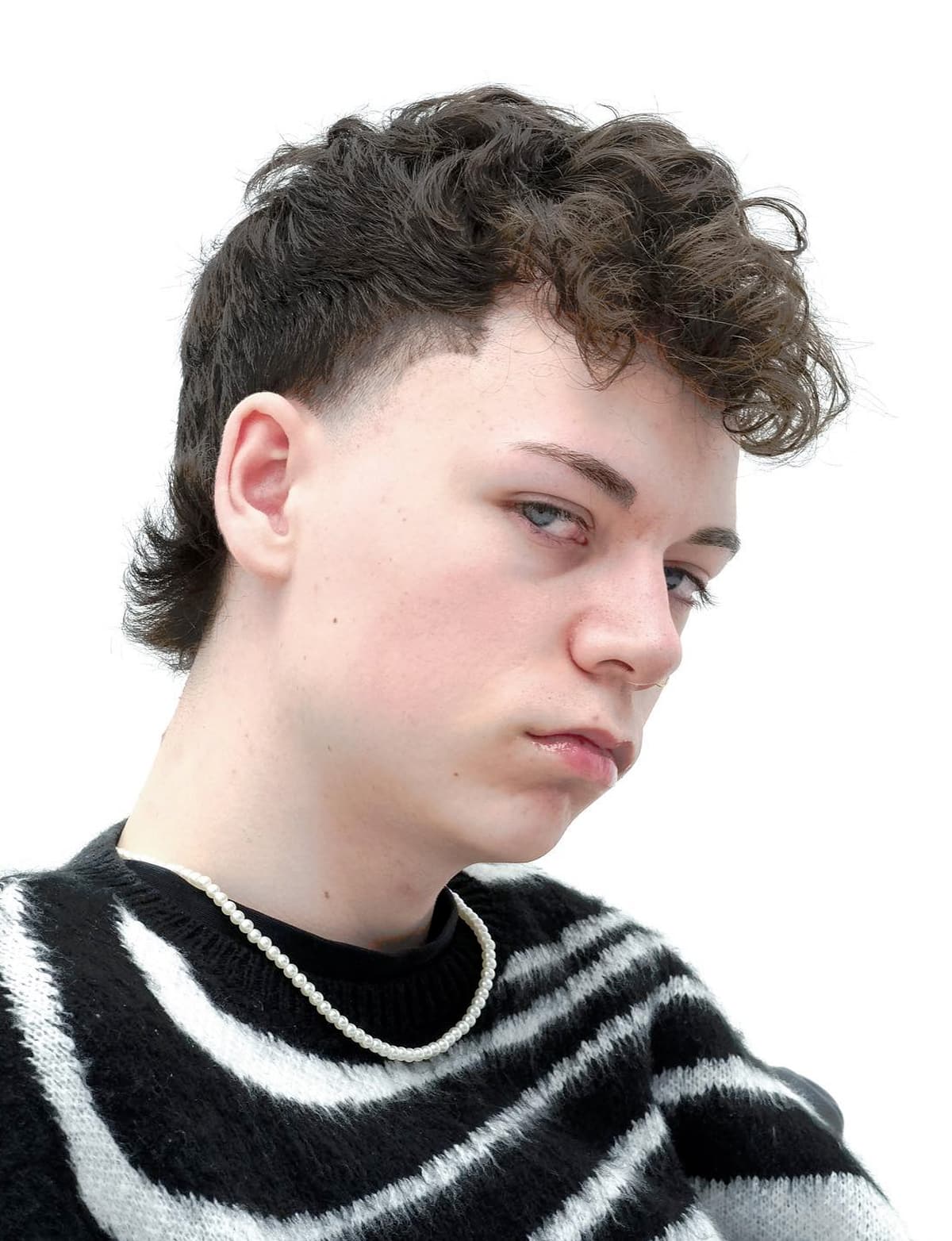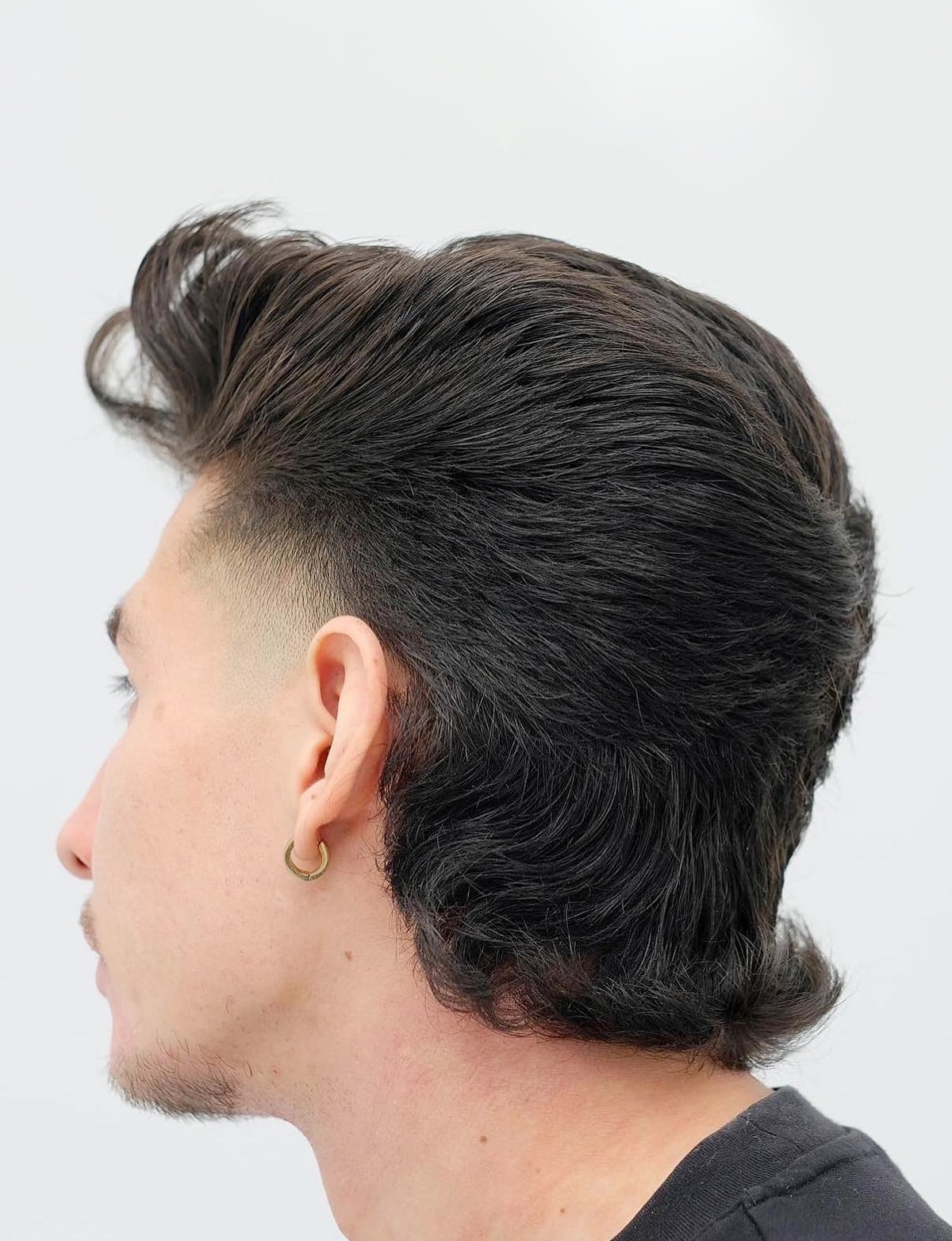 Wolf Haircut FAQs:
What is a wolf cut for guys?
The wolf cut for guys is a popular South Korean-inspired hairstyle characterised by shaggy, textured layers and longer hair on top, shorter on the sides and back, often styled with curtain bangs and natural-looking waves. It offers an effortless, cool, and versatile look that works on almost all hair types. 
How do I ask my barber for a wolf cut?
When asking your barber for a wolf cut, bring reference pictures showing longer hair on top, shorter sides and back, and explain that you're aiming for a shaggy, textured style, possibly with curtain bangs.
Do wolf cuts look good on guys?
The wolf cut is a versatile style anyone can rock regardless of hair texture, length or gender. It's a unisex haircut that looks good on pretty much everyone – so if you're wondering if the wolf cut will look good on you, there's a 99% chance it will.