Sneaker News #39 – Casablanca Takes on New Balance's Freshest Silhouette
Welcome to Sneaker News #39. It's a big week for New Balance fans as the brand delivers two hotly anticipated collaborations with Casablanca and Joe Freshgoods. The boundary-pushing M2002RDA is also set to arrive making the choice of which New Balance shoes to cop even more difficult. Nike fans will also be satisfied with a throwback to 1996 with the Air Max '96 II and a luxe version of the classic Air Force 1. Meanwhile, adidas has teamed up with Bad Bunny once again and Reebok has teamed with Korean designer Juun.J.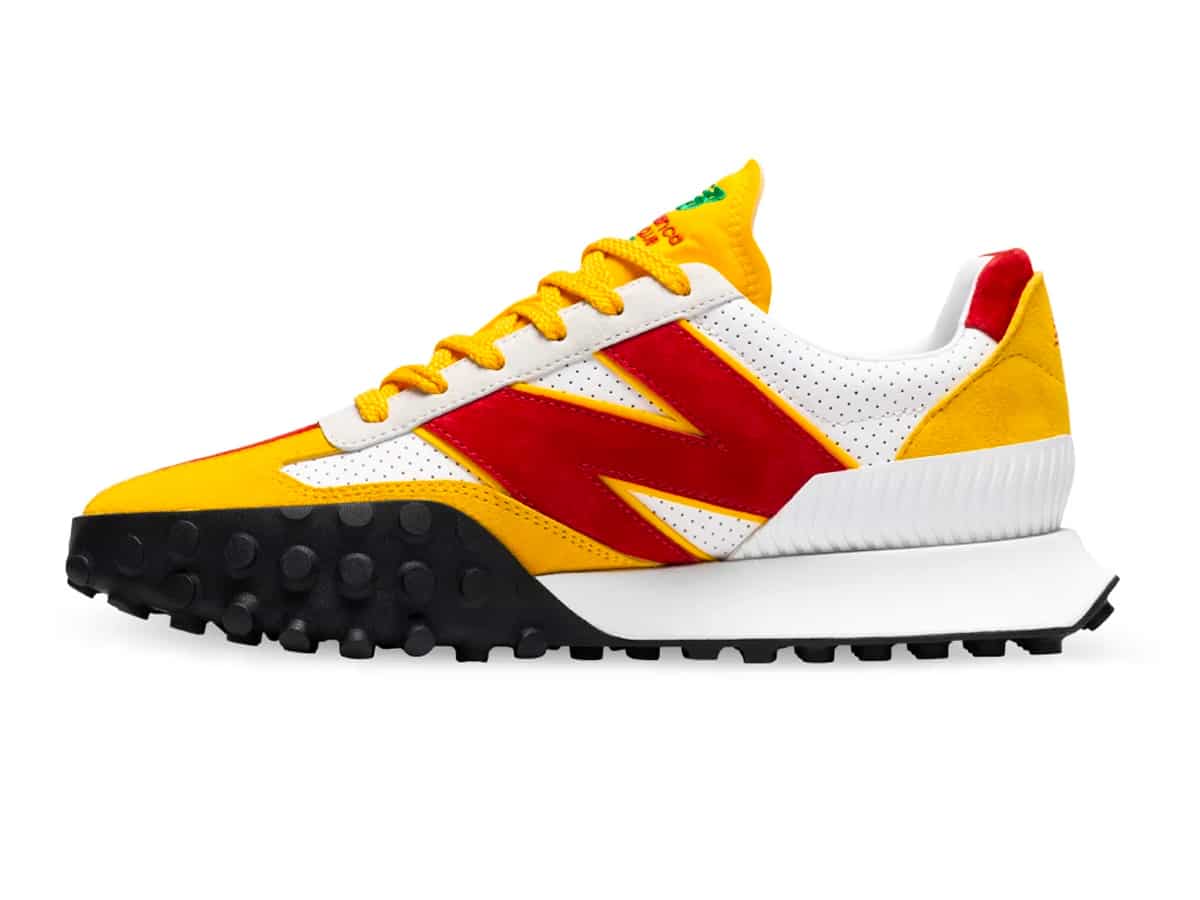 New Balance x Casablanca XC-72
New Balance and Casablanca are two of the most fruitful collaborators in footwear right now and they have delivered once again. This time around, the Parisian brand has taken on one of New Balance's freshest silhouettes XC-72. The XC-72 takes the silhouette of the 327 and morphs it with an outer sole that climbs up the toe of the shoe. This bright, yellow, and red colourway, combines suede and leather on the upper, recalling vintage tennis clubs. It's another slam-dunk from the pair and they are selling quickly right now from Subtype.
Score 20% Off R.M. Williams' Comfort Craftsman Boots for One Day Only

Made in USA 990v3 Joe Freshgoods
Chicago streetwear hero Joe Freshgoods has delivered a number of hype-worthy collaborations with New Balance. The latest collaboration sees him take on the 990v3, accentuating the outside vibes of one of the brand's most trustworthy shoes. Dipping into the nostalgia of summer days spent outside, Joe draws on natural tones of blue, green, and brown. Custom JFG branding across the shoe as well as the reflective details make this an eye-catching shoe. Be prepared to fight hard for these when they drop on 10th September.

ACG Air Mowabb 'Gravity Purple'
If you're planning on spending as much time outside exploring this summer as possible then this may be the shoe for you. The Air Mowabb is a silhouette that's now 30 years old and yet its details are still innovative. The inner bootie and premium upper is tailor-made for outdoor activity and that's joined by a stretchier collar and softer foam mid-sole on this latest iteration. Gravity purple, university gold and blue void colours across the shoe make it look like you could go straight from the hike track to space. Nab these from Nike on 3rd September.

Nike Air Max 96 II 'Mystic Teal'
It's a good week for fans of '90s Nike sneakers. The Air Max 96 was created back in 1996 if you didn't gather that from the name and it has a distinctly nostalgic feel. This shoe impressed at the time because it combined Air Max technology with a honeycomb construction. It's both structured and innovative, even nearly 30 years later. This release comes in an OG colourway of teal, white and black and it's available to cop on 2nd September.
---
Featured Video from Man of Many
---

Reebok x Juun.J Pump Omni Zone II
Juun.J is one of Seoul's most boundary-pushing designers and that comes to light here on his collaboration with Reebok. This one sees him go back to the '90s with the Pump Omni Zone II but he re-imagines it with the minimalism of high fashion. Each of the three colourways deals in natural tones. Subtype currently has the release set as 'Coming Soon'.

adidas Bad Bunny Forum
Bad Bunny has delivered a number of iterations of the Forum dealing with both excessive colour and monotones. For the latest drop, it's an all-black affair. As with every collaboration so far, Bad Bunny has maximised the Forum silhouette with a custom ankle strap and a padded tongue with the Bad Bunny eye logo on the tag. Every release so far has been exceptionally popular, keep your eye on Subtype for release updates.
New Balance Outlines Plans for Green Future

New Balance M2002RDA
New Balance continues to look back to 2002 as one of its most iconic years. This latest release works off the silhouette of the M2002 to deliver the highly-anticipated 'Redefined Future' pack. Arriving in three muted colourways, the shoes look as if they're eroding somewhat thanks to the rough cut suede panelling. It's a unique approach to the shoe but it's made familiar once again by the vintage midsole with ABSORB cushioning. Enter the raffle to cop a pair at Up There.
You'll also like:
Sneaker News #38 – Nike's Timeless New Air Jordan 1
Sneaker News #37 – Nike Air Max 2021 Unveiled
Sneaker News #36 – Off-White's Nike Air Zoom Tempo Next%

Nike Air Force 1 Luxe
Nike's classic Air Force 1 has added a touch of luxury to the original silhouette. The 'Pecan' colourway already looks sleek but it's the little details here that really bring the shoes to the next level. The leather upper features a satin sheen and it's connected to the midsole with a line of stitching. That midsole sticks out a little further than the classic silhouette giving it a sturdier aesthetic. Get ready to grab them at Subtype on 3rd September.
You'll also like:
Sneaker News #38 – Nike's Timeless New Air Jordan 1
Sneaker News #37 – Nike Air Max 2021 Unveiled
Sneaker News #36 – Off-White's Nike Air Zoom Tempo Next%
---
Featured Video from Man of Many