20 Best Tactical Watches: Military Watch EDC
Far more than just functional fashion accessories, the best military tactical watches represent the utmost tier of utility and resilience. It's therefore no wonder that soldiers and survivalists alike make tactical field watches an essential part of their EDC arsenal. Heck, if you ask the nearest survivalist, he might tell you that a good tactical watch will make the difference between who lasts and who doesn't during the apocalypse. Sure, that survivalist might be riding high on conspiracy theories and fake news stories, but when the apocalypse strikes, he'll be the one with all the best gear. Now who's laughing?
Of course, not all tactical watches are created equal, nor are all tactical watch brands. Don't be the guy who got duped by clever marketing and ended up with some lifeless clunker around his wrist. Check out our guide to the best tactical watches instead. The ones that won't save your life will at least step up your game in the EDC watch department. That's called win/win. From army style watches to other high-end military watches, let's present our guide to the best tactical field watches.
This article is part of our Watch Time series.
---
You'll also like:
32 Top Luxury Watch Brands
Rolex 'Hulk' Submariner – A History & Review
40 Best Minimalist Watches for Men
---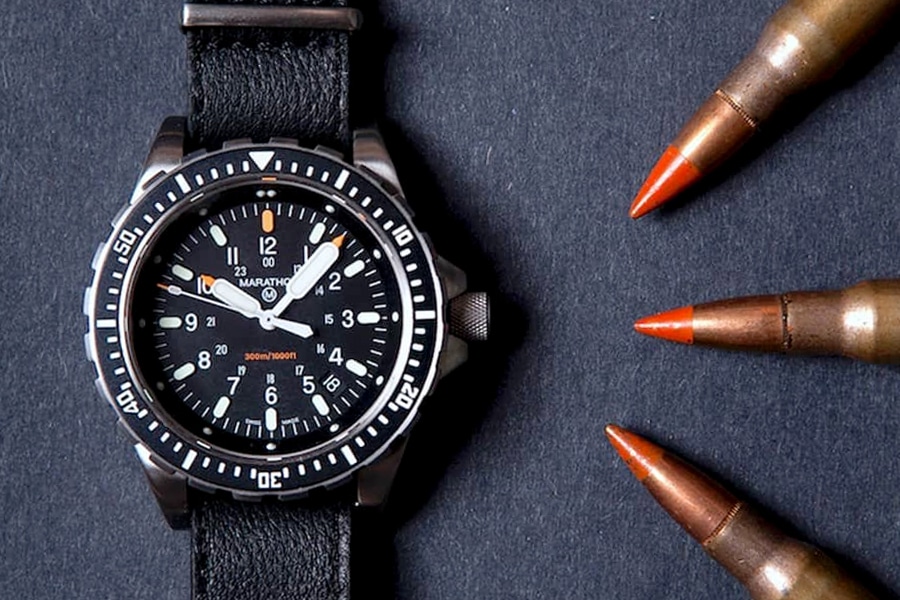 What Makes for the Best Tactical Watch?
At their cores, military tactical watches are geared toward people who live on the edge of survival. We're talking soldiers of fortune, paratroopers, marines, extreme sports junkies and anyone else who might need to hop out of a plane or plunge into the water at a moment's notice. To be clear, that doesn't mean a regular Joe can't reap plenty of enjoyment from a solid tactical watch, it's more to say that tactical watches themselves should be judged according to how well they perform their intended duties. In that regard, the best tactical watches need to be utterly durable, consistently operational and endlessly resourceful. These are not fashion statements–these are tools. Whether you go with a quartz military watch or a different material, these are meant to strengthen your chances of survival.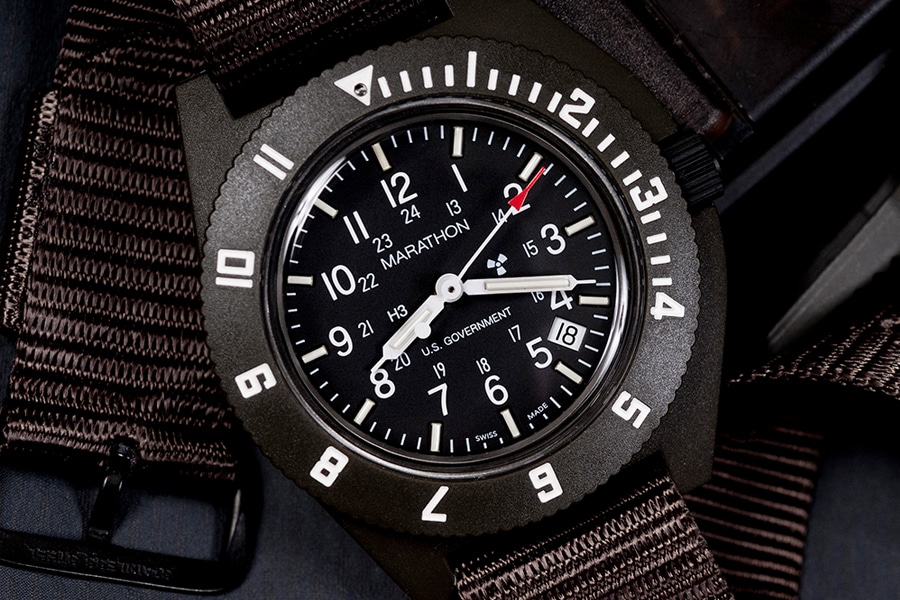 What to Consider When Buying a Tactical Watch
Whether you're G.I. Joe or Average Joe, you basically want the same thing from your tactical watch: supreme functionality and resilience. To heed the call, a number of the best military tactical watches incorporate prime materials and a wide range of built-in tools. When looking for a quality tactical watch, you should consider the following:
Does it come equipped with tools like a barometer, compass, thermometer, tachymeter, alarm, and/or tritium gas?
Is it Bluetooth enabled?
Is it water resistant to at least 100m?
Does it have a high ATM (i.e. can it withstand quick changes in atmospheric pressure)?
Does it employ high grade sapphire crystal or a quartz interior?
Is it scratch proof?
Is it shock resistant?
Do you want analog (which can last longer) or digital (which can be easier to use and provide more functionality).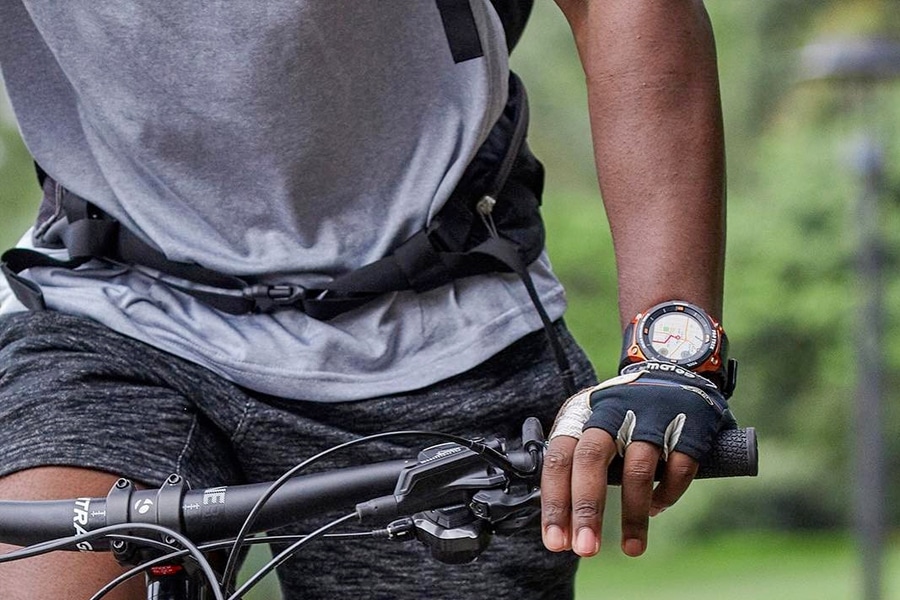 Types of Tactical Watches
As you might expect, there are tons of variety to be found when comparing one tactical men's watch to the next. However, for the sake of simplicity, the tactical watch category is frequently broken down into three types:
Heavy Duty Watches: These are the hefty (commonly digital) behemoths that pack in as much functionality as you can possibly imagine. Think of the Casio G-Shock as a starter point and work out from there.
Tactical Field Watches: Minimalist by design, field watches are typically distinguished by their slim bodies and highly legible dials. What they lack in broad utility, they make up for in durability and accessibility. These are truly some tough watches for men.
Pilot Watches: Modelled after aircraft gauges, pilot watches usually feature large, readable dials and high resistances to atmospheric pressure. Great for jumping out of airplanes, Operation Dumbo Drop style. Definitely an EDC watch if you're a pilot.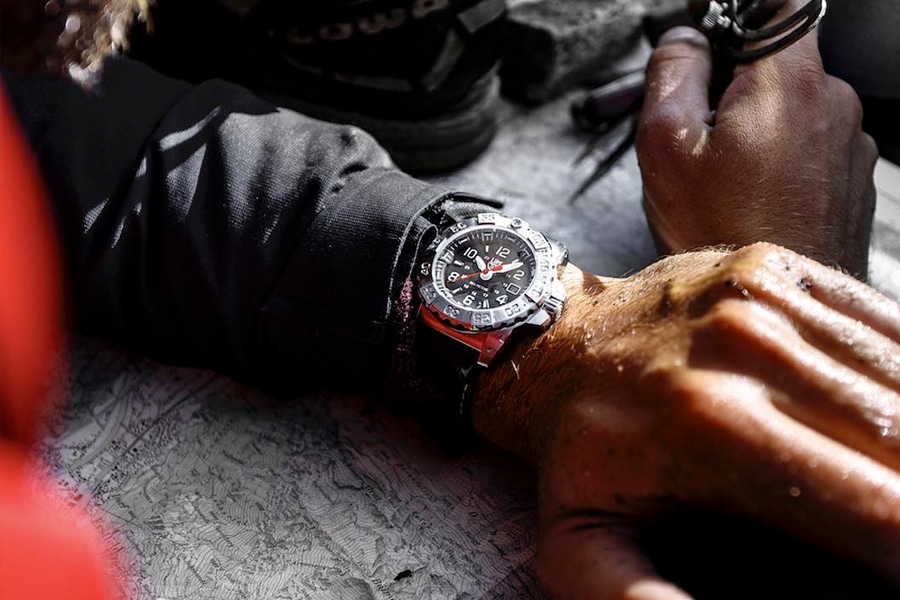 The 20 Best High-End Tactical Watches
Sure, you can use the checklist above to do some research on your own, or you can scope our list below and cut right to the chase. Here are the 20 Best Tactical Watches. May they serve you well when you need them the most.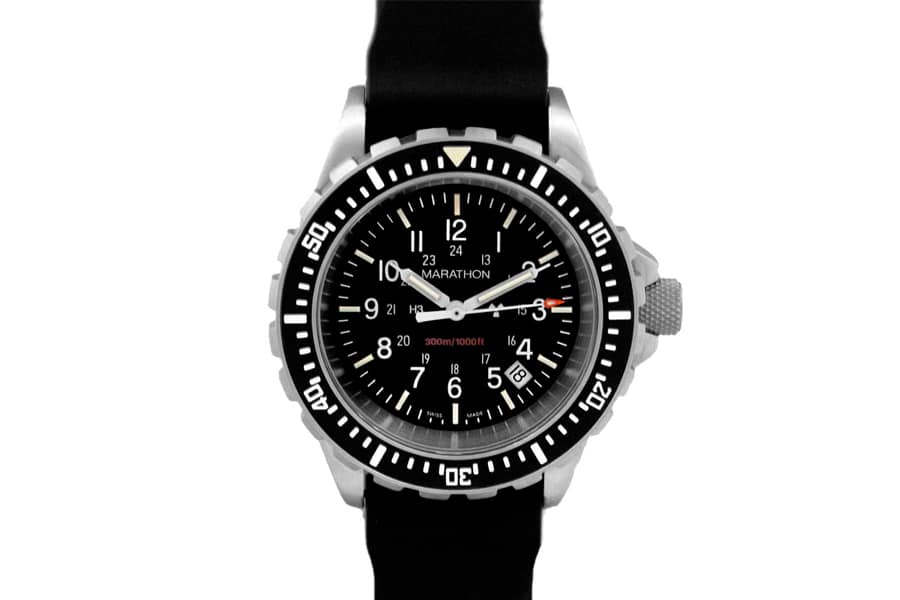 Marathon WW194007 TSAR Military Diver
Built to government specs, the TSAR Military Diver from Marathon is designed to aid with search and rescue missions at sea. To that end, the tactical watch is water-resistant to 300m, powered by quartz movement and equipped with tritium gas tubes for built-in glow. This one's a true life saver. Marathon is a true favorite among military men's watches brands.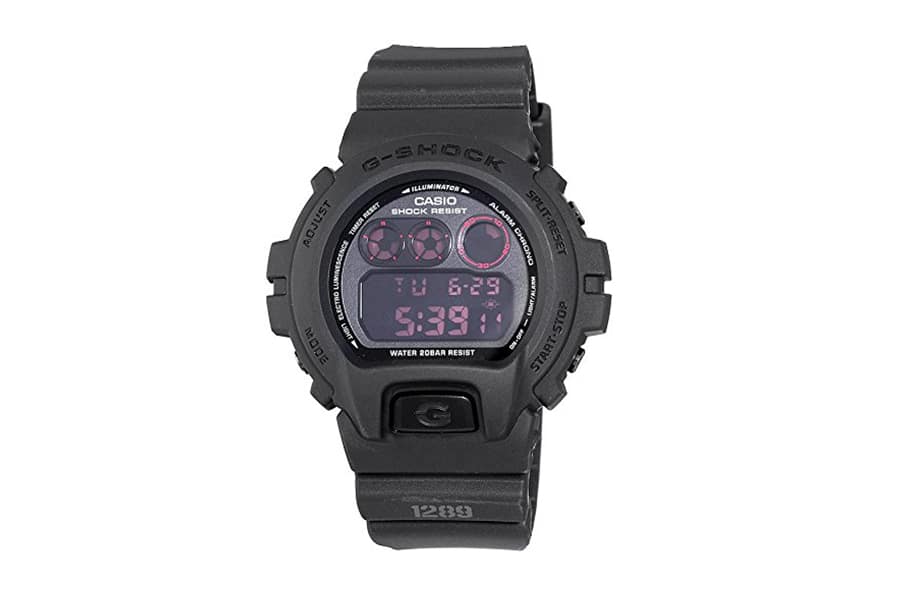 Casio G-Shock The 6900 Military
The standard Casio G-Shock enjoys a massive following thanks to copious functionality and a downright indestructible build, and the 6900 Military variant ups the ante accordingly. Accept no substitutes. This is one elite tact watch worth snatching up.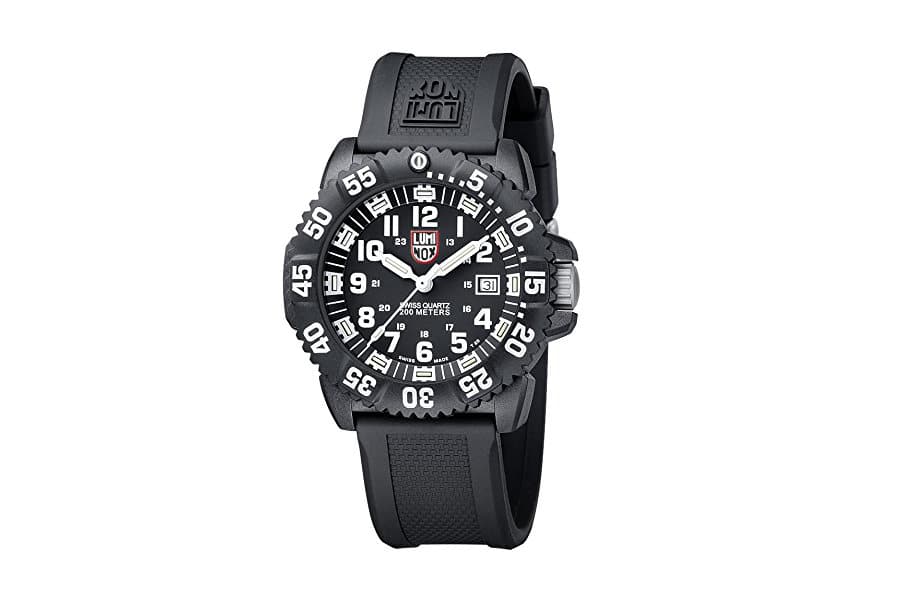 Luminox EVO Navy Seal
A striking piece from one of the best tactical watch brands, the Luminox EVO Navy Seal packs a highly legible luminescent dial and unidirectional bezel inside a hefty 44mm Polyurethane case. Of course it's water-resistant, getting you down to lower than 600ft beneath the surface.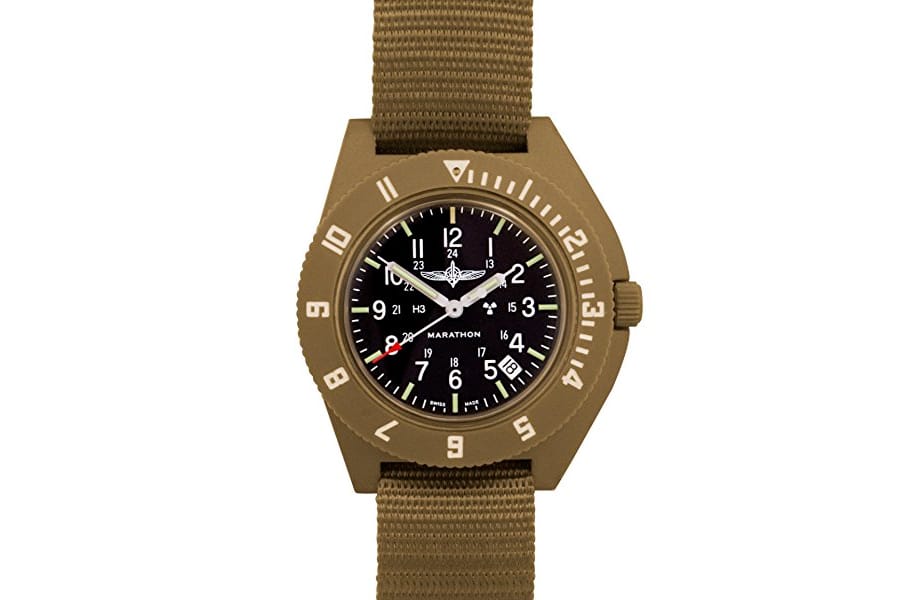 Marathon Military Navigator
The Marathon Military Navigator is designed primarily for pilots and paratroopers, with the exacting government specifications to show for it. Featured on the watch are self illuminating tritium gas tubes, a high impact fibreshell case and Swiss made ETA F06 high torque Quartz movement. Meanwhile, a 6 ATM rating means this quartz military watch stays intact in the face of rapid pressure fluctuations.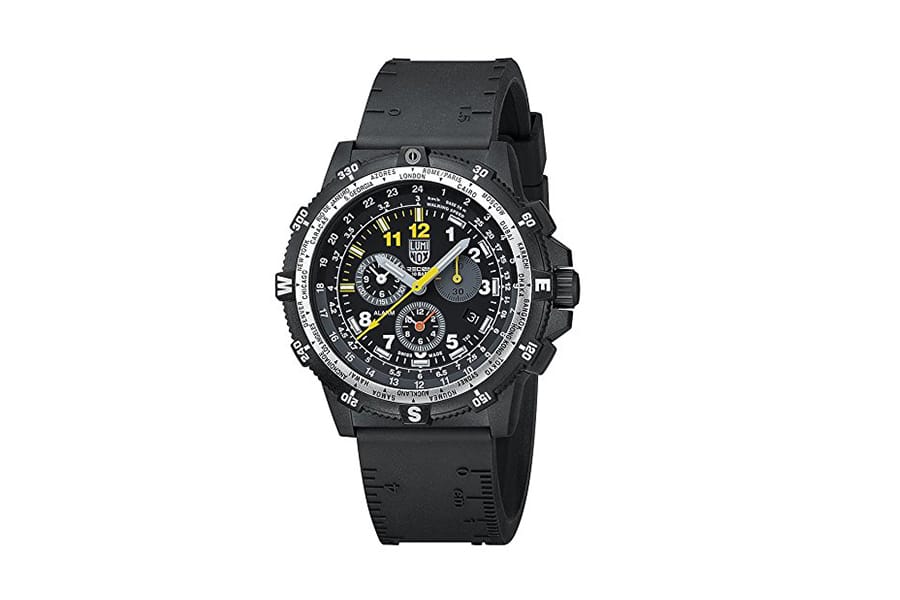 Luminox 8841.KM.SET Recon III Chronograph
Equipped with a range of features, the Luminox 8841.KM.SET Recon III Chronograph sets white and gold markers against a black dial within a substantial 46mm case. That's joined by three chronograph sub-dials and a range of indicators on the bezel. Indeed, this tactical watch is a dizzying myriad of information.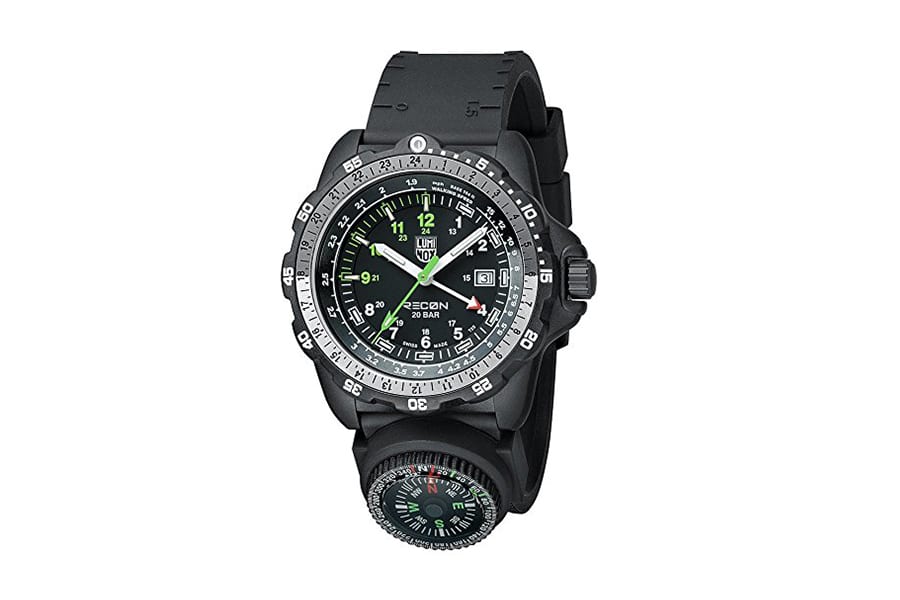 Luminox A.8832.MI Recon Analog
Less intensive than the Recon III–but still plenty intense–is the A.8832.MI Recon Analog from Luminox. The tactical watch hosts a black date dial with walk speed scale on the perimeter, along with sapphire crystal anti-reflective coating and Quartz movement. A military-type watch you can sport any day of the week.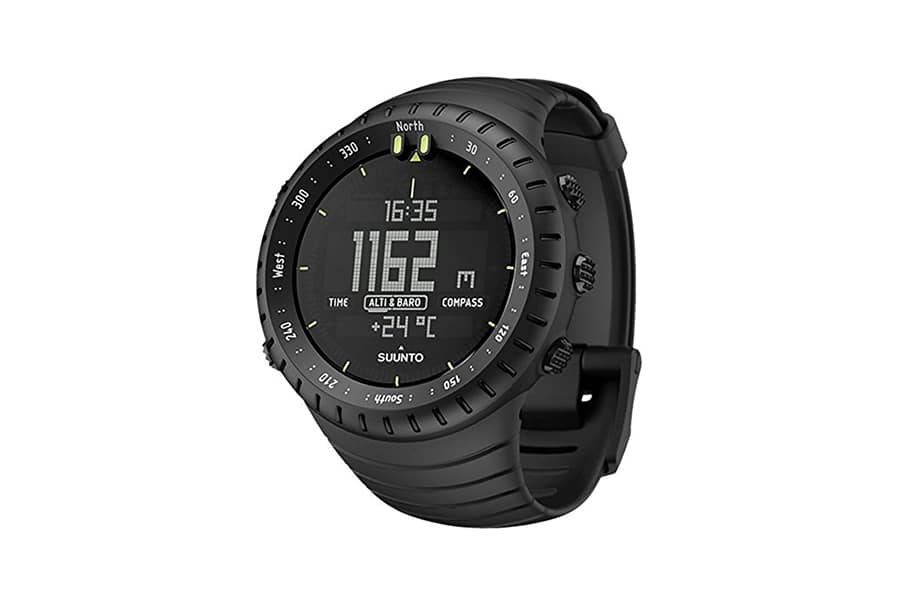 Suunto Core
Designed for hikers and outdoorsman (in addition to military personnel), the Suunto Core includes an altimeter, a compass, a barometer and a weather indicator among other things. Available in the striking shade of Military Black, this handy high-end EDC watch will even notify you when storm clouds are approaching.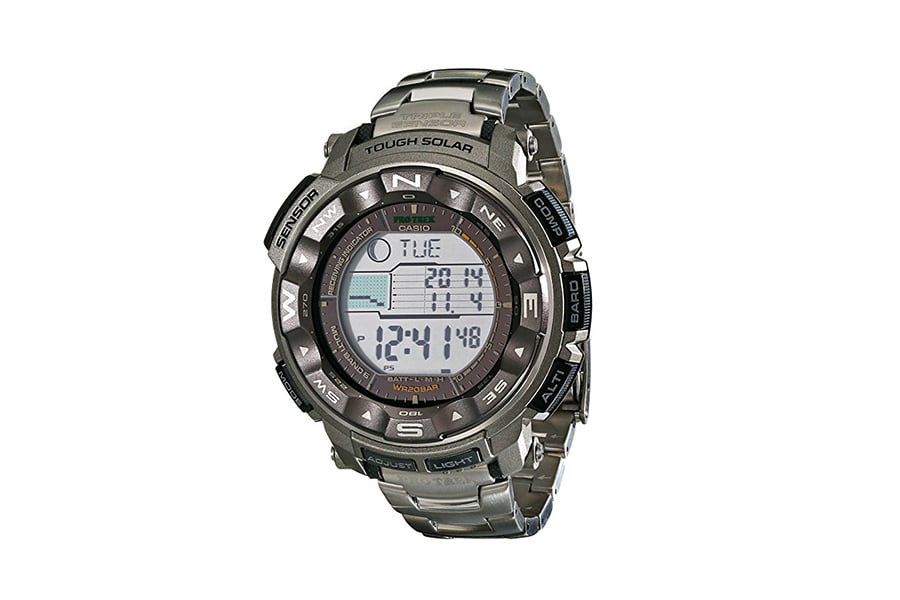 Casio Men's PRW2500T
Powered by solar energy, water-resistant to 200 metres and simply overflowing with functionality, the Casio Men's PRW2500T is a tactical watch built to survive whatever you can throw its way. Included in its tool chest is a compass, an altimeter, a thermometer, a barometer, a tide graph, a moonphase graph, a power-saving function and more.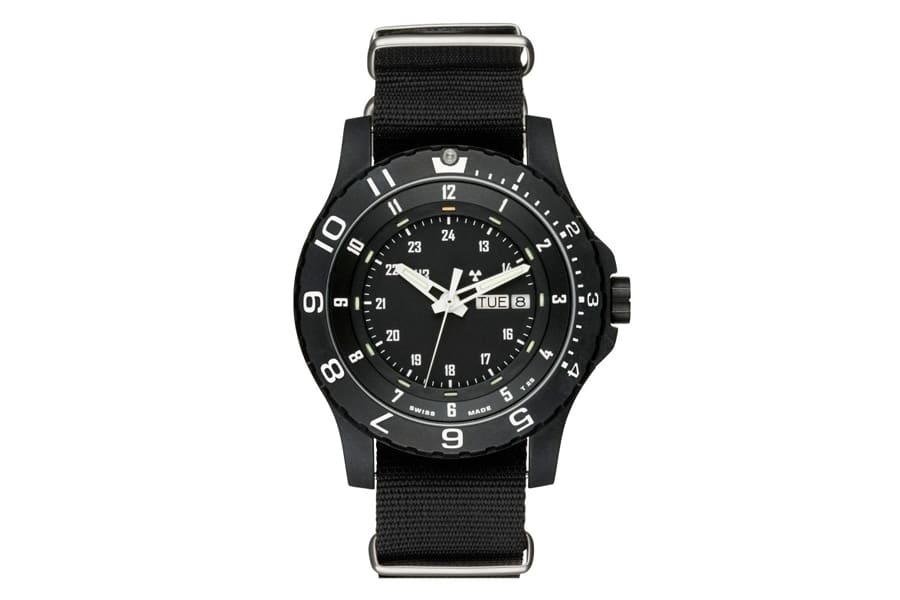 Traser H3 Military P6600 Type 6
From the Traser H3 Military P6600 Type 6, expect Ronda Quartz movement with day-date function, scratch-proof crystal sapphire and a bidirectional, rotating steel bezel with Trigalight insert. Also featured is a steel inner case, carbon fibre outer case and black NATO strap. It's a textbook EDC watch while also being a go-to in the quartz military watch department.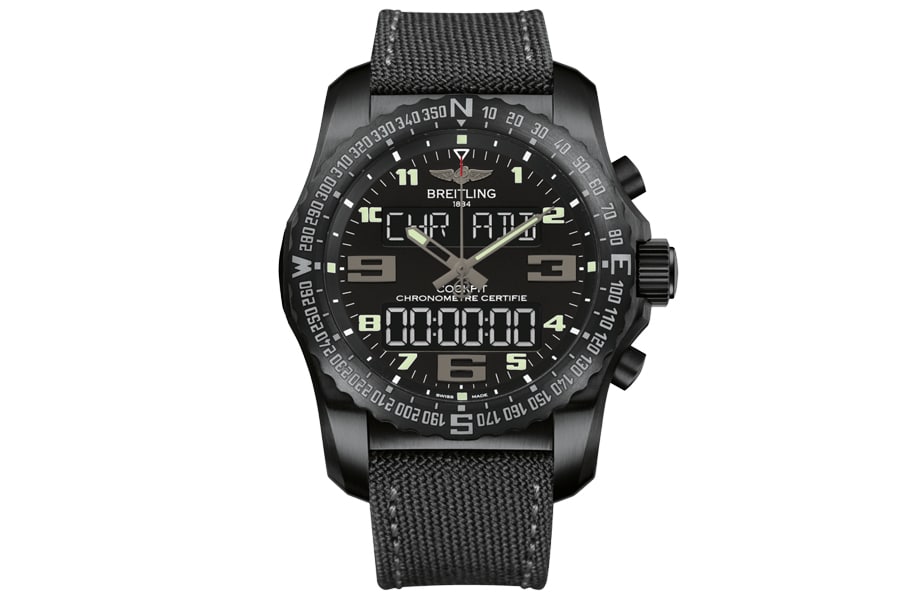 Breitling Cockpit B50
At the higher end of the price spectrum is the Cockpit B50 chronograph from Breitling. The tactical watch pairs analog and digital displays inside a 46mm case of lightweight titanium. Additionally featured are duo time zone and perpetual calendar complications, two alarms, a countdown timer, an electronic tachymeter and so much more. Get on board with this elite tact watch for the toughest of men.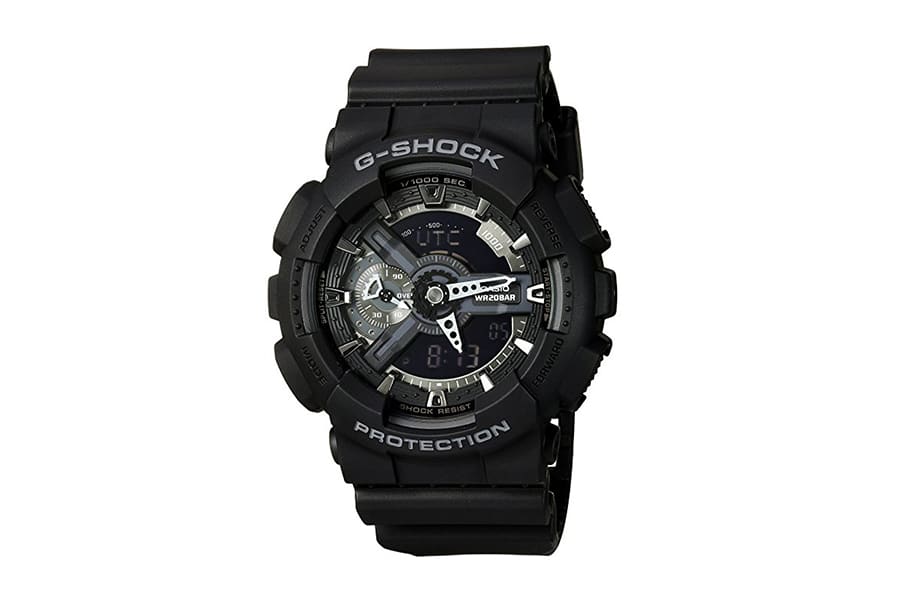 Casio G-Shock Military GA-110
One of the best military tactical watch brands, Casio has no shortage of sturdy stunners at its disposal. Proving as much is the G-Shock Military GA-110, a tactical titan bolstered by an eye-catching, experimental dial. The watch is shock-resistant, magnetic resistant and water-resistant up to 200m. It's also quite affordable.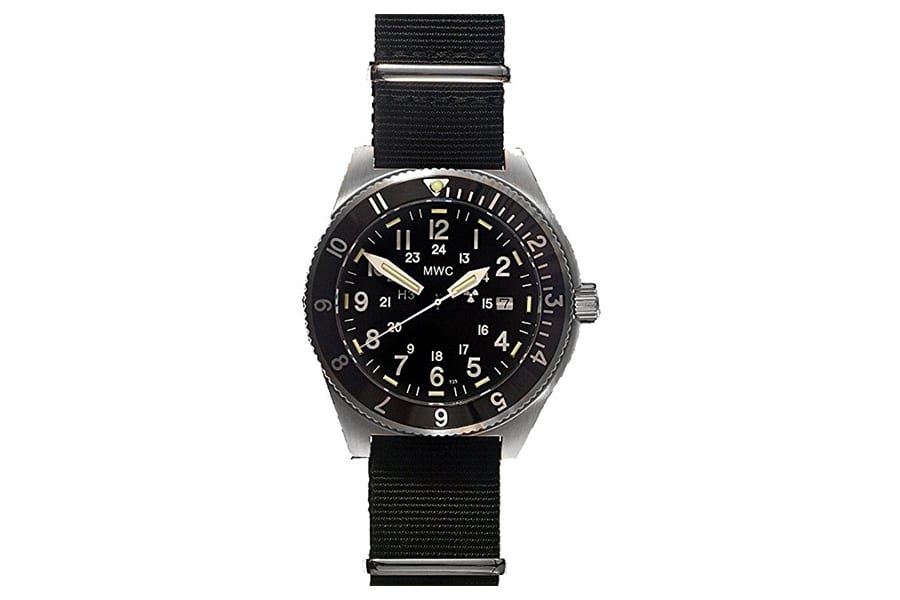 MWC Navigator
True to its name, the MWC Navigator Collection consists of formidable timepieces that are aimed exclusively at adventurers on land, sky or sea. The brand keeps things straightforward and optimal in design, equipping each tactical watch with a highly legible 12 hr bezel, a painstakingly clear dial, and water resistance to 300m. Great as either an EDC watch or just for special survivalist adventures.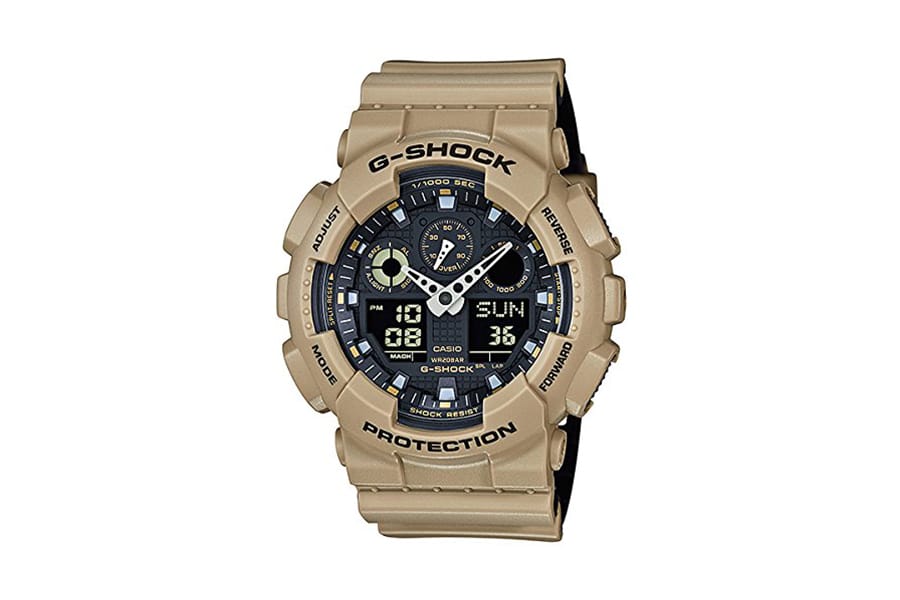 Casio G-Shock GA100SD-8A
What, you thought we were done with Casio? Not without mentioning the G-Shock GA100SD-80, we're not. In addition to its durable construction, these tough watches for men offer access to 29 different time zones, 4 daily alarms and a full auto-calendar via analog-digital dial with LED display. Giving the piece some extra tactical allure is a khaki shade on the case and strap.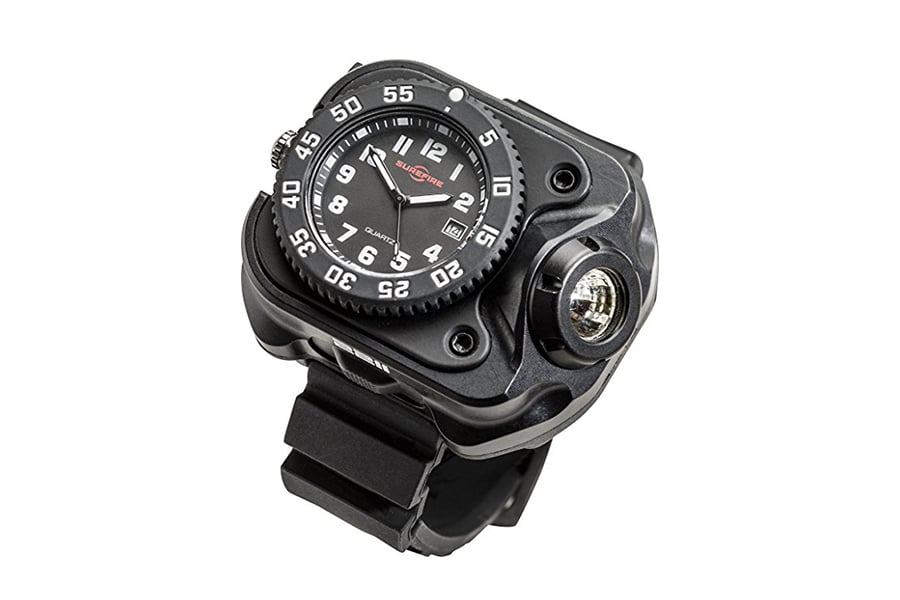 Surefire 2211 Wristlight Series
Kill two EDC birds with one stone by scooping up the Surefire 2211 Wrightlight Series. Affixed to the side (and available for separate purchase) of the legible watch face is a trusty, water-resistant LED light. Try a high-end military watch that will get you out of any conflict.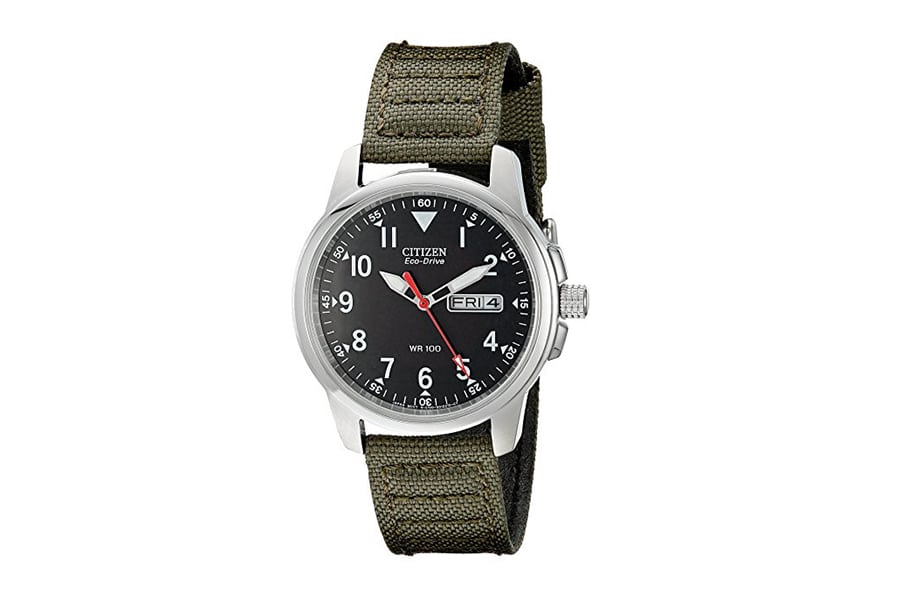 Citizen Eco-Drive BM8180-03E
Between its round, black dial and stainless steel case, the Eco-Drive from Citizen keeps it classic. However, don't take that minimalist aesthetic to mean the high-end watch doesn't perform its durable duties. Specifically, the piece hosts solar powered Japanese-quartz movement, a mineral crystal date window and water resistance to 100 metres.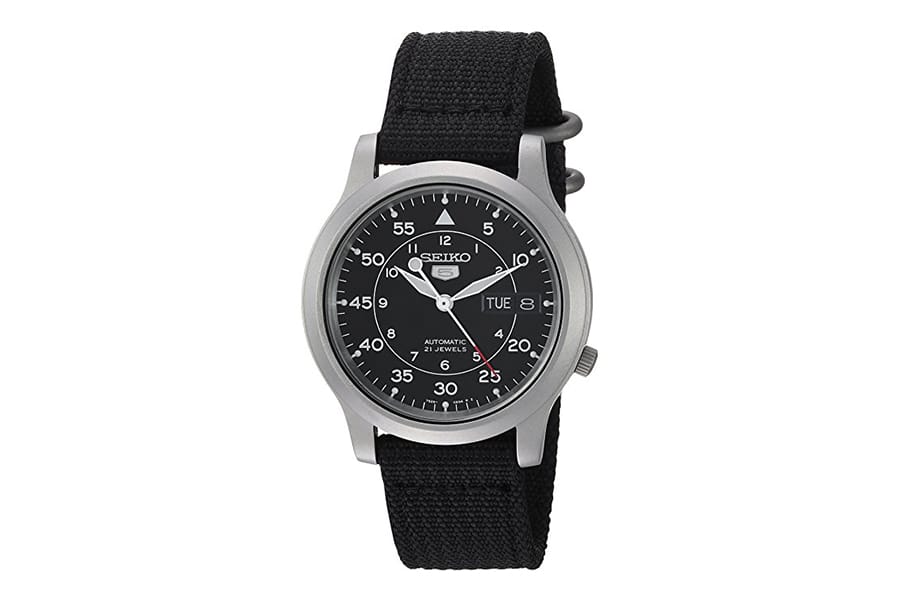 Seiko 5 SNK809
For those seeking simplicity, consider the Seiko 5. Within its 37mm stainless steel case you'll find a black dial, luminous hands and Arabic numerals. Priced to move, the watch is powered by 21-jewel movement and protected by scratch resistant Hardlex crystal.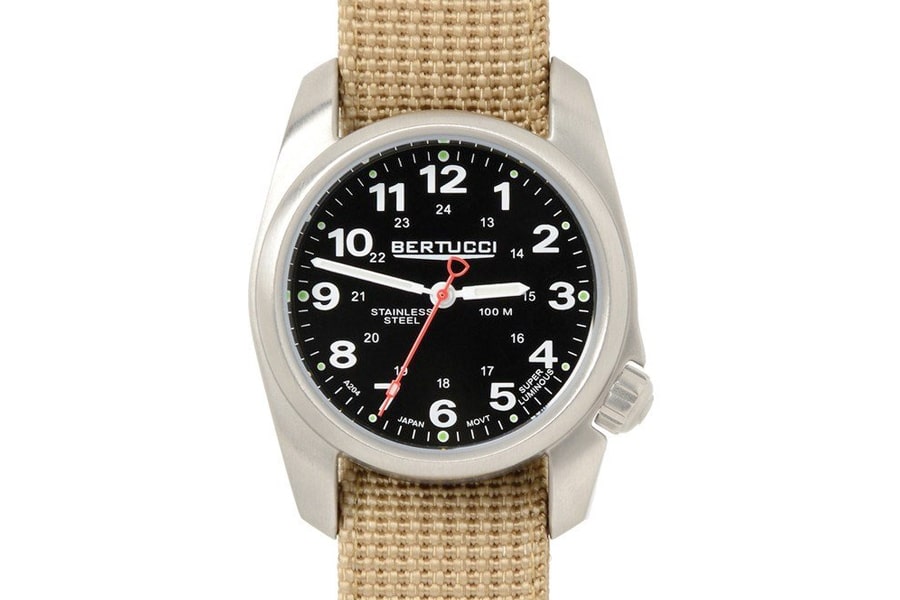 Bertucci A-2S Field Watch
Made of patented stainless steel, the Bertucci A-2S Field Watch features a screw down crown and case back, scratch resistant mineral glass crystal, quartz movement and an ergonomic design.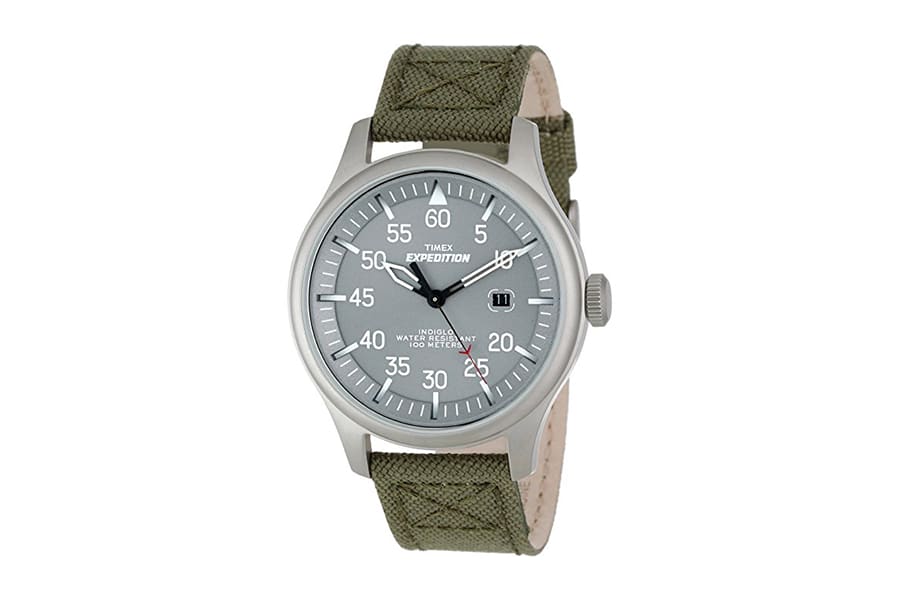 Timex T498759J Expedition Military Field Watch
You'll never get lost in the bush with a Timex T498759J Expedition Military Field Watch strapped to your wrist. Bolstered by its legible watch face and built-in Indiglo Night-Light, this baby literally and figuratively shines.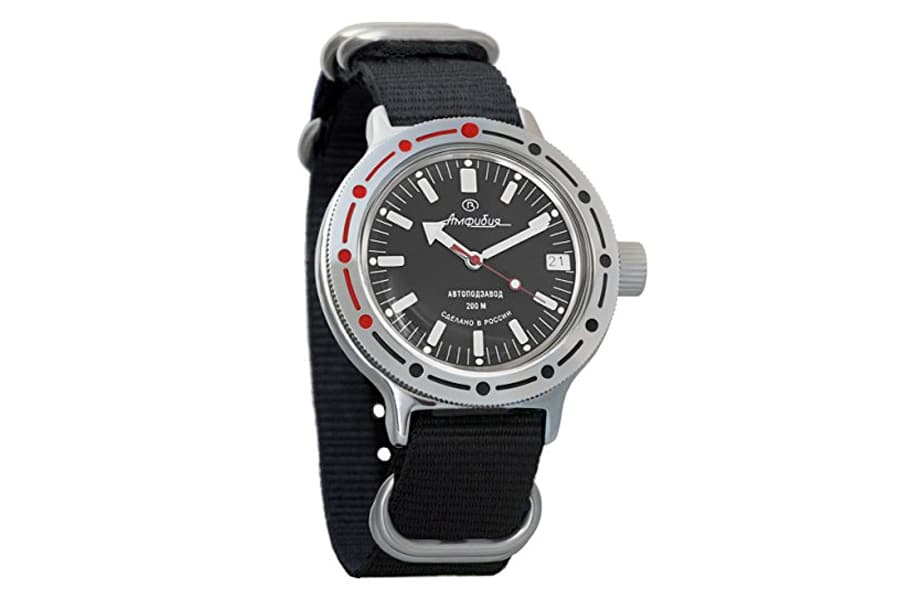 Vostok Amphibian Automatic Military Diver
From Vostok, the former official supplier to the Soviet Union's defense department, comes the Amphibian Automatic Military Diver. Lightweight and luminous, the watch can endure plunges of up to 200 metres.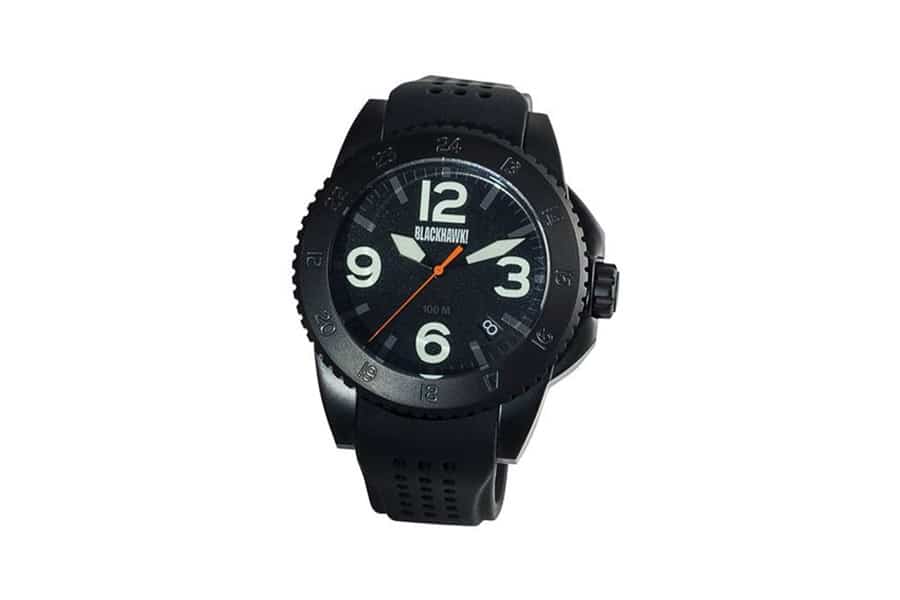 Blackhawk Advanced Field Operator Watch
Powered by unwavering Miyota quartz movement, the Advanced Field Operator Watch from Blackhawk touts a streamlined body of corrosion-resistant 316L stainless steel. As durable as it is eye-pleasing, this tactical watch represents the best of two worlds.
This article is part of our Watch Time series.
---
You'll also like:
32 Top Luxury Watch Brands
Rolex 'Hulk' Submariner – A History & Review
40 Best Minimalist Watches for Men
---
Have you subscribed to Man of Many? You can also follow us on Facebook, Twitter, Instagram, and YouTube.