Jim Murray Names World's Best Whiskies of the Year 2020
Jim Murray is the world's first-ever full-time whisky writer. What does that mean? It means that Murray spends all his time writing about one single subject: whisky. He started his career well before there were such things as whisky shows, tourism, and magazines. He has more experience than any other writer for sure, and even more than some distillers. He visited his first distillery in 1975, but that was after a 17-year education on whisky. Murray wrote his first whisky book, "Jim Murray's Irish Whisky Almanac", in 1994. In 2003, the whisky writer wrote and designed "Jim Murray's Whisky Bible", which has been written every year since, with some 20,000 different whiskies having been written about and nearly 1 million copies being sold. So when Murray hands out awards for the world's best whisky of the year, people tend to take note, but when one distillery takes the top three accolades in that year, it's truly historic.
"There will be eyebrows raised and claims of favouritism, which, of course, is never the case with the Whisky Bible. I call it exactly as I see it. Once I knew the top three were from the same company, I spent two extra days running through my top 10 whiskies once more … and the results came out exactly the same!" says Murray. The awards went to Sazerac, a distillery based out of New Orleans. Claiming World Whisky of the Year was Sazerac's 1792 Full Proof Kentucky Straight Bourbon from the Barton 1792 distillery.
"To not only be named 'World Whisky of the Year' but also to have our whiskeys name second- and third-finest is astonishing," states Mark Brown, President of Sazerac. "We could not be happier nor more motivated to continue to strive for perfection in the American whiskeys we make."
As for sectional winners, Murray named Taiwanese Nantou Distillery Omar Cask Strength Bourbon Cask as the Single Cask of the Year; Glen Grant Aged 18 Years Rare Edition as Scotch of the Year; Johnnie Walker Blue Lable Ghost & Rare as Blended Scotch of the Year; Pendryn Single Cask no.M75-32 as European Whiskey of the Year; and Nikka Taketsuru Pure Malt as Japanese Whisky of the Year. You can get the whole list in Jim Murray's Whisky Bible 2020 from U.S. book retailers or from whiskybible.com.
Here is the full list and details of the winners of Jim Murray World's Best Whiskies of the Year 2020: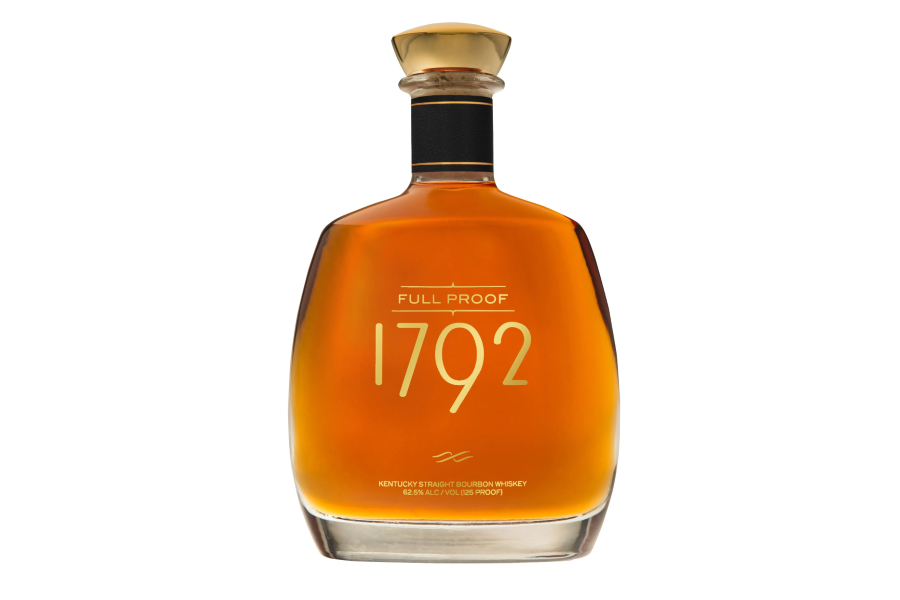 Jim Murray's 2020 World Whisky of the Year
1792 Full Proof Kentucky Straight Bourbon
William Larue Weller 125.7 Proof – 2018 Release
Thomas H Handy Sazerac Rye 128.8 Proof – 2018 Release
Scotch Whisky
Scotch Whisky of the Year – Glen Grant Aged 18 Years Rare Edition
Single Malt of the Year (Multiple Casks) – Glen Grant Aged 18 Years Rare Edition
Single Malt of the Year (Single Cask) – The Macphail 1949 China Special Edition 1
Scotch Blend of the Year – Ballantine's 17 Years Old
Scotch Grain of the Year – The Last Drop Dumbarton 1977
Scotch Vatted Malt of the Year – Glen Castle Blended Malt 1990
Single Malt Scotch Whisky
No Age Statement – Glen Grant Rothes Chronicles Cask Haven
10 Years & Under (Multiple Casks)- Glen Grant Aged 10 Years
10 Years & Under (Single Cask) – Annandale Man O' Sword
11-15 Years (Multiple Casks) – Glen Grant Aged 15 Years Batch Strength
11-15 Years (Single Cask) – Signatory Vintage Edradour Ballechin 12 Year Old
16-21 Years (Multiple Casks) – Glen Grant Aged 18 Years Rare Edition
16-21 Years (Single Cask) – Whisky Castle Glen Spey Aged 21 Years
22-27 Years (Multiple Casks) – Glenmorangie Grand Vintage 1996
22-27 Years (Single Cask) – The Whisky Shop Glendronach Aged 26 Years
28-34 Years (Multiple Casks) – Ben Nevis 32 Years Old 1966
28-34 Years (Single Cask) – Gordon & MacPhail Inverleven 1985
35-40 Years (Multiple Casks) – Port Ellen 39 Years Old
35-40 Years (Single Cask) – Glenfarclas The Family Casks 1978 W18
41 Years & Over (Multiple Casks) – Glen Scotia 45 Year Old
41 Years & Over (Single Cask) – The Macphail 1949 China Special Edition 1
Blended Scotch Whisky
No Age Statement (Standard) – Ballantine's Finest
No Age Statement (Premium) – Johnnie Walker Blue Label Ghost & Rare
5-12 Years – Johnnie Walker Black Label 12 Years Old
13-18 Years – Ballantine's 17 Years Old
19 – 25 Years – Dewar's Aged 25 Years The Signature
26 – 50 Years – The Last Drop 56 Year Old Blend
Irish Whiskey
Irish Whiskey of the Year – Redbreast Aged 12 Years Cask Strength
Irish Pot Still Whiskey of the Year – Redbreast Aged 12 Years Cask Strength
Irish Single Malt of the Year – Bushmills Aged 21 Years
Irish Blend of the Year – Jameson
Irish Single Cask of the Year – Kinahan's Special Release Project 11 Year Old
American Whiskey
Bourbon of the Year – 1792 Full Proof Kentucky Straight Bourbon
Rye of the Year – Thomas H. Handy Sazerac 128.8 Proof
US Micro Whisky of the Year – Garrison Brothers Balmorhea
US Micro Whisky of the Year (Runner Up) – 291 Barrel Proof Colorado Whiskey Aged 2 Years
Bourbon
No Age Statement (Multiple Barrels) – 1792 Full Proof Kentucky Straight Bourbon
No Age Statement (Single Barrel) – Colonel E H Taylor Single Barrel Bottled In Bond
9 Years and Under – Russell's Reserve Single Barrel
10-12 Years – Elijah Craig Barrel Proof Aged 12 Years
11-15 Years – Pappy Van Winkle 15 Years Old
16-20 Years – Michter's 20 Year Old Kentucky Straight Bourbon
21 Years and Over – Pappy Van Winkle 23 Years Old
Rye
No Age Statement – Thomas H. Handy Sazerac 128.8 Proof
Up to 10 Years – Knob Creek Cask Strength
11-15 Years – Van Winkle Family Reserve 13 Years Old
Over 15 Years – Sazerac 18 Years Old
Single Cask – Knob Creek Single Barrel Select
Canadian Whisky
Canadian Whisky of the Year – Crown Royal Northern Harvest Rye
Japanese Whisky
Japanese Whisky of the Year – Nikka Taketsuru Pure Malt
Single Malt of the Year (MB) – The Matsui Mizunara Cask
European Whisky
European Whisky of the Year (Multiple) – Thy Whisky No. 9 Bøg Single Malt (Denmark)
European Whisky of the Year (Single) – Penderyn Single Cask no. M75-32 (Wales)
World Whisky
Asian Whisky of the Year – Nantou Distillery Omar Bourbon Cask #11140804 (Taiwan)
Southern Hemisphere Whisky of the Year – Bakery Hill Peated Malt Cask Strength (Australia)