Daniel Ricciardo's F1 Workout & Diet Plan
Think you've got the nerves (and neck) to become an F1 superstar? From thrashing corners at high speed to hours upon hours locked inside a cockpit in scorching temperatures, the fast-paced world of Formula 1 is undeniably demanding, but for Australian icon Daniel Ricciardo, it's the best fun on earth. Renowned for his goofy tack-side personality and toothy grin, the Honey badger is as laid-back as they come, but behind the scenes, the F1 star puts some serious work in.
Daniel Ricciardo's workout regime is a carefully constructed assortment of physical challenges designed to push his body to the limit, most notably through the core and neck. With the immense strain and pressure placed on the body during races, drivers must be at the absolute peak conditioning, and Ricciardo is a shining example of what happens when you get it right. The McLaren driver recently took out the Italian Grand Prix at Monza, his first top-of-the-podium finish since 2018 and the English marque's first GP in nine years.
So, if you want to train like an F1 star, you need to follow the plan to the nth degree. Turns out if you dream of lifting champagne, you might need to put down the beers.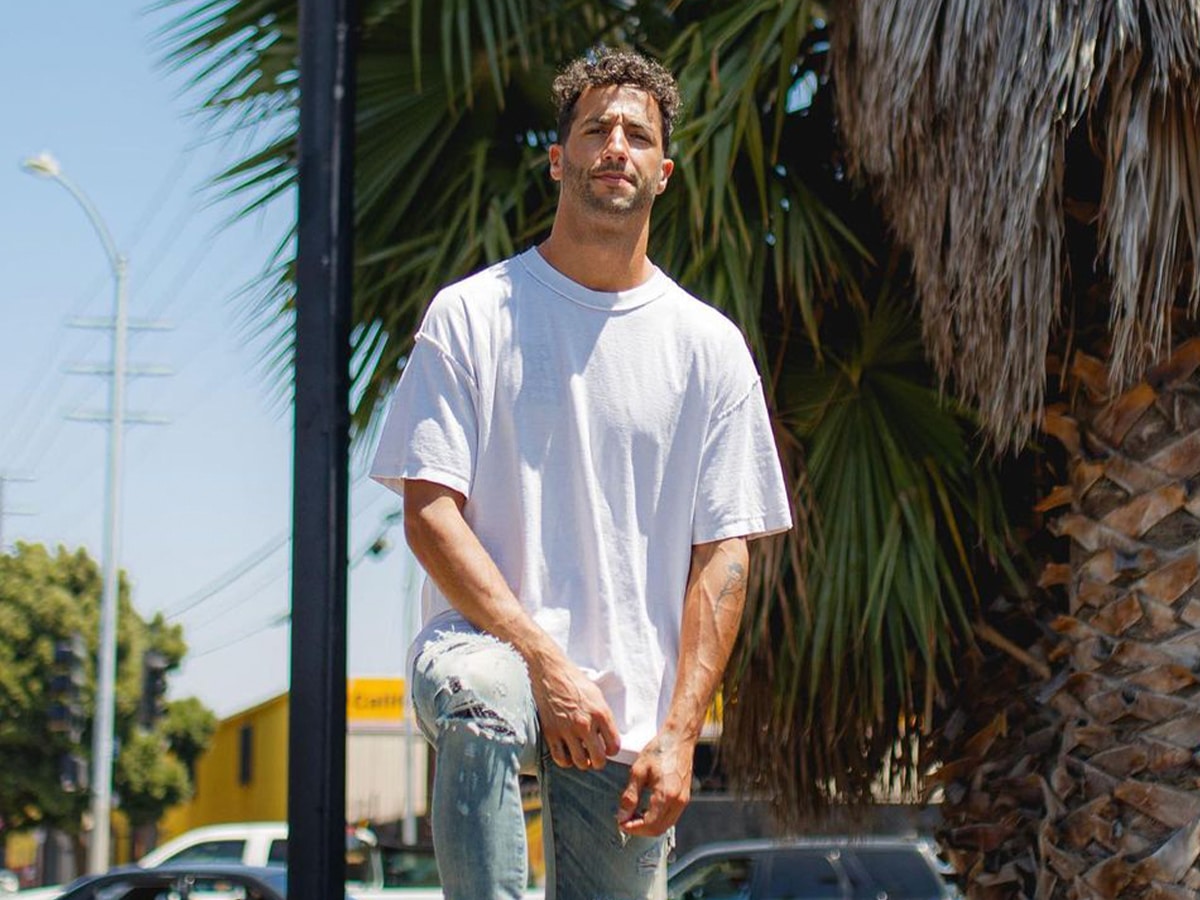 Who is Daniel Ricciardo?
Hailing from Duncraig in Perth's northern suburbs, Daniel Ricciardo is one of Australia's greatest-ever automotive exports. With 32 career podiums and 8 wins to his name, the McLaren driver has carved out an illustrious career on the global stage, but like all great underdogs, his journey to the big time has been fraught with intrigue.
The son of Italian-Australian parents, Ricciardo's love of motor racing was passed on by his father Joe, who competed at the Barbagallo Raceway in Wanneroo when Danny Ric was young. From there, he grew an affinity for Dale Earnhardt, even going so far as to adopt the NASCAR Cup Series driver's number 3 when he first entered the karting scene at the age of nine.
Flash-forward a few years and Ricciardo found himself competing in the Western Australian Formula Ford championship driving a 15-year-old Van Diemen, before making a Formula Three début at the Nürburgring in 2008. A string of successful performances for Tech 1 saw him vying for a spot in F1, a chance that was eventually handed to him by Red Bull Racing. Thus, the legend of Danny Ric was born.
"I think it's been something I've had since I was a kid. I've always been the easy-going kid with a smile, but I've always had the ability to switch attitudes, switch focus very quickly," Ricciardo tells us. "I've grown up with the awareness of the risks and therefore it's not really at the front of your mind, it's somewhere in the back because you've just learned to live with it."
---
Featured Video from Man of Many
---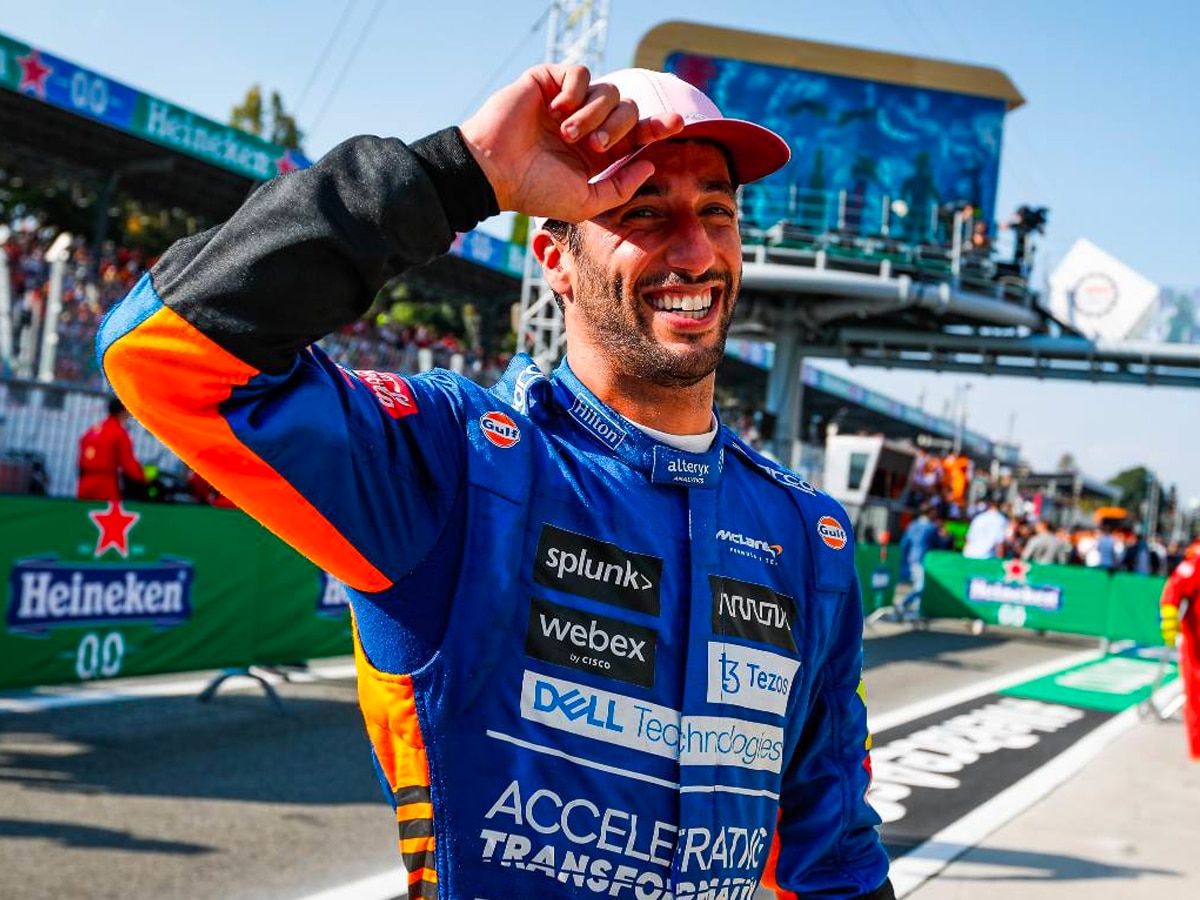 Since then, Ricciardo has cemented himself, not just as a force to be reckoned with on the track, but as one of the most likeable personalities in world sport. A perennial joker with a great sense of humour, Ricciardo has seen his star continue to grow for years, even when things weren't going to plan in the car. After leaving Red Bull for Renault in 2019, a series of engine issues saw him fall out of championship contention. Unable to land a first-place finish at all in his three years behind the wheel of the French marque, he left in search of greener pastures, finding a new home with McLaren. One Italian Gran Prix win later and it's easy to see, Ricciardo made the right move.
"It certainly is a big step, a big step forwards," he says. "I was looking for that this year and that confirmed that I found it. It doesn't guarantee anything moving forward, but it should guarantee less of the bad days. That was important for all of us as a unit."
Age: 32 years
Height: 5 ft 9 inches
Weight: approximately 145 lbs
Acting career: 2005 to present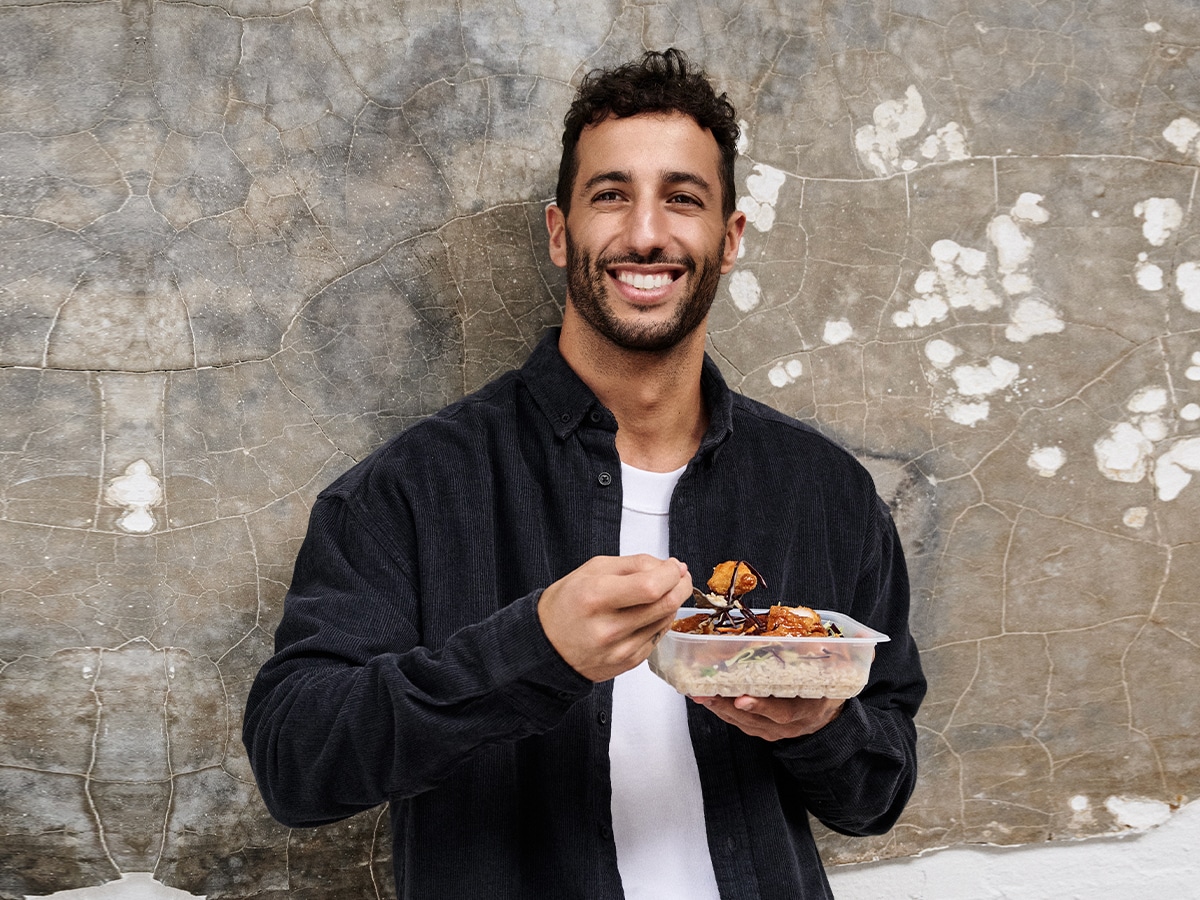 Daniel Ricciardo's F1 Diet Plan
When it comes to physically demanding sports, it's hard to go past F1. Drivers are tasked with tackling some of the most difficult courses on the planet at high speed and with limited moment, all the while, needing to stay laser-focused or run the risk of serious injury. Needless to say, keeping your body running at optimum conditioning is critical and for Daniel Ricciardo, a big part of that was reassessing his diet. The F1 star explains that while he's always eaten well and has a pretty crafty metabolism, he's placed more focus on a balanced, high-protein diet for endurance sake.
"Balance is the first thing that comes to mind. I've certainly experimented over the years, but I function best with balance," he says. "Obviously, with the training we do, protein's important, but I think also we need the carbs for a bit of extra energy and we need fats as well for that more sustained fuel and not to just wither away. So I look for balance and, obviously, I mean, flavour. Flavour is important. I do like to enjoy my stuff. I think fortunately I still have a pretty fast metabolism, so I can get away with a little extra flavour."
Ricciardo is also putting his money where his mouth is. The McLaren driver recently teamed up with home-grown meal kit business Youfoodz to launch the new FUEL'D range, which focuses on increase high-quality protein intake. According to Ricciardo, the change in diet is not only helping his physique, it's playing an important role in keeping his mind sharp.
"It was everything that I look for in a meal, and as I touched on the balance, getting that extra protein in was important. I know it's something a lot of people look for when they're doing exercise and I liked that," he says. "A lot of the time with healthier meal options, it tastes pretty uninspiring. With the FUEL'D range, they didn't cancel that out. It's like, "All right. We want you to eat well, but we're not going to shy away from that." And it's obviously driven then by convenience, which is a big part of at least my lifestyle. You're on the go and sometimes time is against you, so the convenience side of it was a big one."
With that in mind, we've put together an example Daniel Ricciardo's diet plan, complete with macronutrient counts. As you can tell, it's high-protein, high-performance, all the way.
Breakfast
Avocado
Bacon
Eggs
Vegetables
Protein: 20g
Carbs: 7g
Fat: 20g
Calories: 350
Post-Cardio Snack
Protein: 1g
Carbs: 20g
Fat: 3g
Calories: 127
Lunch
Poached Chicken breast
Sweet potato
Lemon garlic sauce
Protein: 50g
Carbs: 47g
Fat: 15.4g
Calories: 549
Post-Workout Snack
Protein: 20g
Carbs: 2g
Fat: 0g
Calories: 110
Dinner
Poached Jerk chicken breast
Rice
Black beans
Corn
Protein: 35.8g
Carbs: 44g
Fat: 25.4g
Calories: 559
Daniel Ricciardo F1 Workout
Aside from curating his diet, Daniel Ricciardo's workout routine is designed to simulate the same pressures he'll encounter on the track. Focusing on stability and core strength, the F1 driver puts a vast amount of time and effort into building a solid foundation for overall fitness. Unsurprisingly, a lot of the heavy lifting comes in the off-season.
"There are certain races we'll target with more emphasis than others. Some of the hot circuits and the faster ones, which are harder on the neck, for example, we might do some more heat training or get more into the neck stuff," he tells us. "But it's pre-season where we do as much as we can to build that base, and then through the year it's just maintaining that."
The F1 driver fitness regime is a strict one. Ricciardo works out most days of the week, with a mixed bag of cardio, high-intensity interval training, traditional strength and core stability work all thrown in. More recently, the Aussie star has even incorporated elements of yoga to mix to improve flexibility and endurance.
"I'll train most days a week, but it's just about being smart as the year goes on. We have to balance our energy as well. You want to rock up on a race weekend feeling fresh, not depleted from over-training," he says. "In the morning it's cardio, going for a run or something like that. Then the afternoon, do a bit more of a strength session."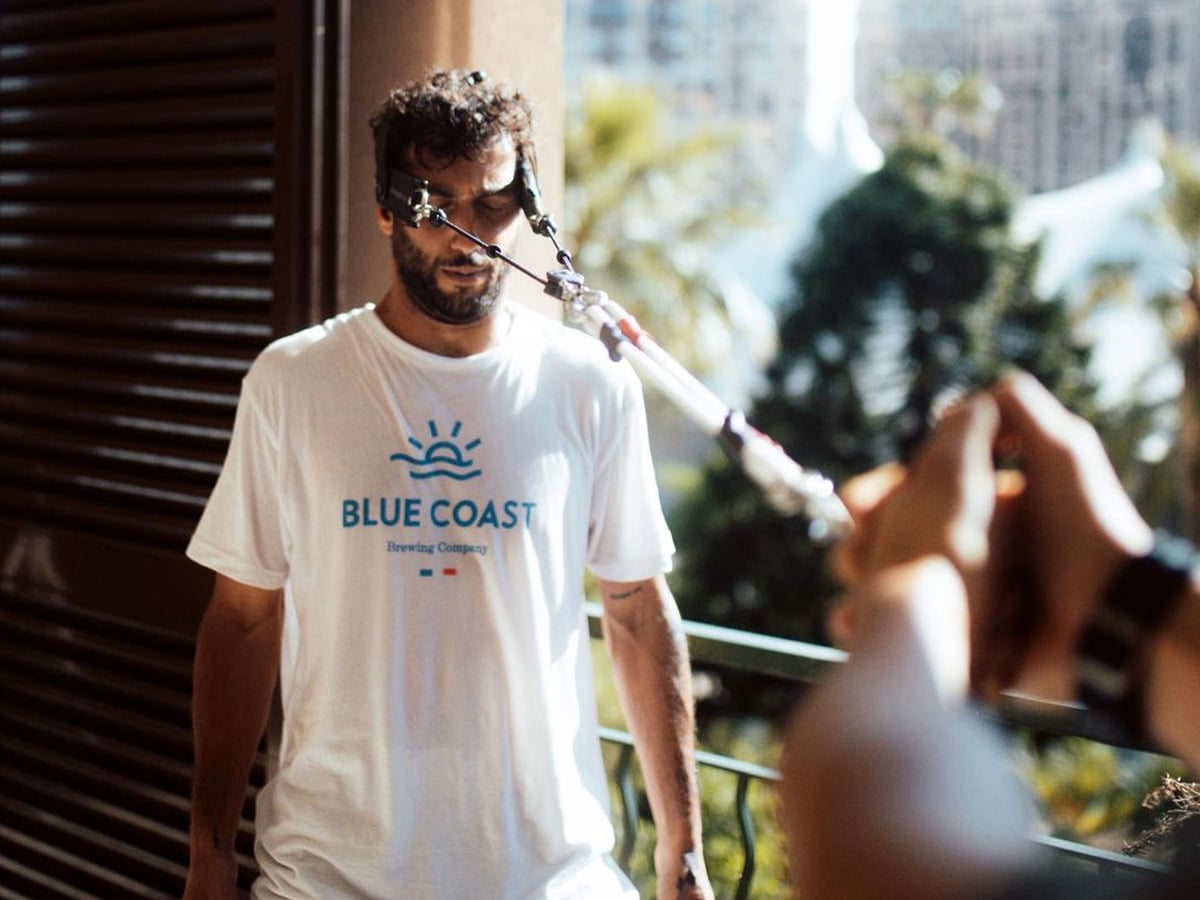 Ricciardo explains that his strength training regime is more tightly focused on combatting the issues related to G-force. Driving a car in excess of 300kmh tends to pull you in a number of different directions, so having the strength to wrangle back control is key.
"My strength training would be full body and mainly focused on core stability strength. That chain helps us through all the G-forces and we need that a lot to hold on through the corners," he says. "Even though we're strapped into the car, our bodies still twist and flex, so we need a lot of core strength and shoulder power to deal with steering and the G-forces that follow through the neck. After that, we'll do some neck training. So the strength of the neck training could be a 20 minute session, but then the more lower, longer stuff, so like an endurance neck training, that could be over an hour."
In a video with Men's Health, Ricciardo outlines his basic core workout with an emphasis on the obliques and abductors for enhanced stability and strength across his midsection.  The workout helps him maintain correct posture and endurance over a significant period. We've put together a full week Daniel Ricciardo workout based on our discussions with the F1 legend and clips of him in action. Check it below.
Monday – Back/Abs
Battle Ropes Short and Quick – 3 Sets of 30 seconds AMRAP
Kettlebell Side Bend – 3 sets of 20 reps
Weighted Roman Chair Twists – 3 sets of 10 reps
Weighted Roman Chair Sit-Ups – 3 sets of 10 reps
Deadlifts – 5 set of 5-12 reps
Battle Ropes Heavy – 3 Sets of 30 seconds AMRAP
Tuesday – Chest
Incline Chest Press – 3 sets of 12-15 reps
Squeeze Press – 3 sets of 12-15 reps
Chest Flys – 3 sets of 12-15 reps
Kettlebell Squats – 5 sets of 20-25 reps
Step Ups – 3 sets of 20-25 reps
Ring Pull-Ups – 3 sets of 12-15 reps
Kneeling Wood Choppers – 3 sets of 12-15 reps
Wednesday – Cardio/Recovery
Cycling or
Boxing or
Running
Reformer Pilates
Thureday – Legs/Neck/Abs
Kettlebell Lunges – 3 sets of 12-15 reps
Banded Neck Pulls – 5 sets of 10 reps
Lying Neck Twists – 5 sets of 10 reps
Weighted Plank – 3 sets of 45 seconds
Bosu Ball Plank – 3 sets of 45 seconds
Standing Barbell Twist – 3 sets of 12-15 reps
Battle Ropes – 60 seconds AMRAP
Friday – Core
Dynamic Stretching – 5 mins warmup
Push-Ups – 5 Sets of 20 reps
Plank Hip Dip – 5 sets of 30 seconds AMRAP
Side Plank Rotations – 3 sets of 30 seconds AMRAP
Bus Drivers with Bosu Ball – 3 Sets of 20 reps
Underhand Pull-Ups – 3 sets of 10 reps
Saturday – Cardio
Cycling or
Boxing or
Running
Sunday – Rest/Recovery
Daniel Ricciardo's Playlist
A larger than life personality, the Honey Badger is known for his expansive music taste. From singing on-stage with metal band Parkway Drive to brandishing an Alexisonfire logo on his helmet, the McLaren star likes to wear his influences on his sleeve. We couldn't talk fitness without asking him what's on his gym playlist.
"I have a race day playlist and I'll always have some of those bangers in there. I'll never neglect the post-hardcore genre, I mean, that stuff was a big part of my life, my childhood and growing up," he says. "Now, I've definitely become much more open-minded or a bit more diverse with my music, and I'll listen to pretty much everything these days. The last 12 months, I got much more into country and really enjoying that, so that's the stuff I'll just play every day. But on the grid before a race, it can be some of the hardcore stuff, it can be some hip-hop, something with a bit of filth, or even just some electro music. So I'm, yeah, open book."
You'll also like:
INTERVIEW: The New Daniel Ricciardo Has Arrived
Top F1 Drivers 2023 Salaries Revealed
Daniel Ricciardo Wins McLaren's First Grand Prix in 9 Years
General FAQs
What is Daniel Ricciardo's net worth?
According to reports, Daniel Ricciardo has a net worth of around USD$50 million. The F1 star's reported salary in 2020 was $29 million, which combined with his various property and endorsement deals has swelled the final figure.
How do F1 drivers train?
The sport of F1 requires some specific fitness levels. Drivers typically perform their endurance training in the morning, before incorporating strength training in the evenings. As Daniel Ricicardo points out, a vast majority of training related to neck strength and posture, as this is the muscle group under the most strain during races.
Where is Daniel Ricciardo from?
Daniel Ricciardo was born in Perth, Western Australia, to Italian-Australian parents. The Aussie F1 star grew up in Duncraig, one of Perth's northern suburbs and attended high school at Newman College.
---
Featured Video from Man of Many