14 Best Ramen Joints in Sydney
Sydney and ramen have an intense, loving relationship resulting in some incredibly authentic Japanese ramen in Sydney. From the cheap hole-in-the-walls to the world-renowned Japanese chains, there is no shortage of ramen noodles in Sydney. And why would there be? Ramen is packed full of flavour, customisable to suit any palate and involves soup, noodles and all your favourite Japanese extras.
The difficulty, however, lies in narrowing down the best ramen in Sydney to find the most unique, flavourful or ambient ramen restaurants that will tickle your tastebuds. We've collated the 14 best ramen restaurants in Sydney to sate that specific craving of salty, soupy, noodly goodness. These Japanese ramen restaurants in Sydney feature the most unique additives, the most novel types of noodles and serving styles and all at the most affordable price. Find your closest one today to understand what the hype is all about.
---
You'll also like:
20 Best Rooftop Bars in Sydney
21 Best Burger Shops in Sydney
15 Best Yum Cha Restaurants in Sydney
---

Ryo's Noodles
Transport yourself to Japan for an evening, without the price tag, by checking out this popular ramen restaurant in Sydney, Ryo's Noodles. Serving traditional Japanese cuisine, Ryo's is known particularly for their flavourful ramen – the ideal meal for lunch or dinner. The friendly staff, warm atmosphere and out-of-this-world ramen makes for a perfect evening with your date or group of mates.
125 Falcon Street, Crows Nest NSW 2065
106 Ebley Street, Bondi Junction NSW 2022
Gumshara
Gumshara is an unassuming ramen joint that easily offers some of the best ramen in Sydney. Its thick noodles and rich, salty soup always leaves customers coming back for more, surprisingly soon after they leave. Their noodles have no MSG and a variety of flavours to suit every palate – you can even make specific requests and customisations to create your dream ramen.
Eating World Food Court, 25-29 Dixon Street, Haymarket NSW 2000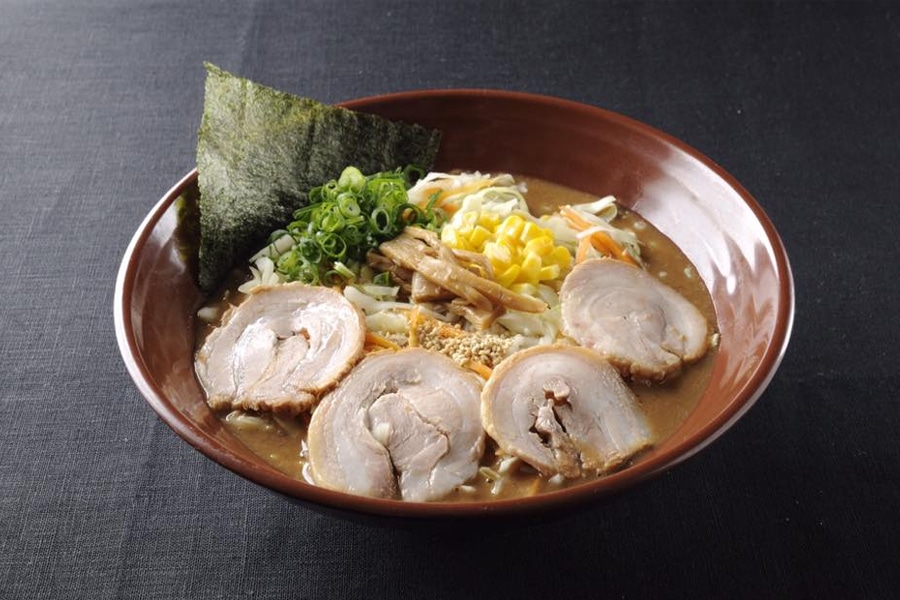 Gogyo
With stores in Kyoto, Tokyo Nagoya, Fukuoka and Sydney, you can be sure that Gogyo brings the taste of Japan to Surry Hills. It is a casual-chic ramen restaurant in Sydney that allows you to "start with drinks, taste a few 'tsumami' and end with ramen." Their Kogashi-style ramen is a must-try as it involves a charring technique to exude fragrant and bittersweet flavours that will revolutionise your expectations of Japanese ramen in Sydney.
52-54 Albion Street, Surry Hills NSW 2010
Menya Noodle Bar
This year, Menya Noodle Bar is celebrating it's 10th anniversary. This means 10 years of the iconic and highly sought after Menya ramen noodles in Sydney CBD. At Menya they believe that only by mastering the 'way of noodles' can you get this amazing flavour.' And if there cult following is anything to go by, boy have they mastered it.
2/1 Market Street, Sydney NSW 2000
Ramen O-San
Ramen O-San have perfected the delicate ramen process by pairing the most carefully prepared ramen sauce with handmade noodles, topped off with fresh ingredients of your choice. Located in the Sussex Centre Food Court, this is some of the best ramen in Sydney that you don't want to miss.
401 Sussex Street, Haymarket NSW 2000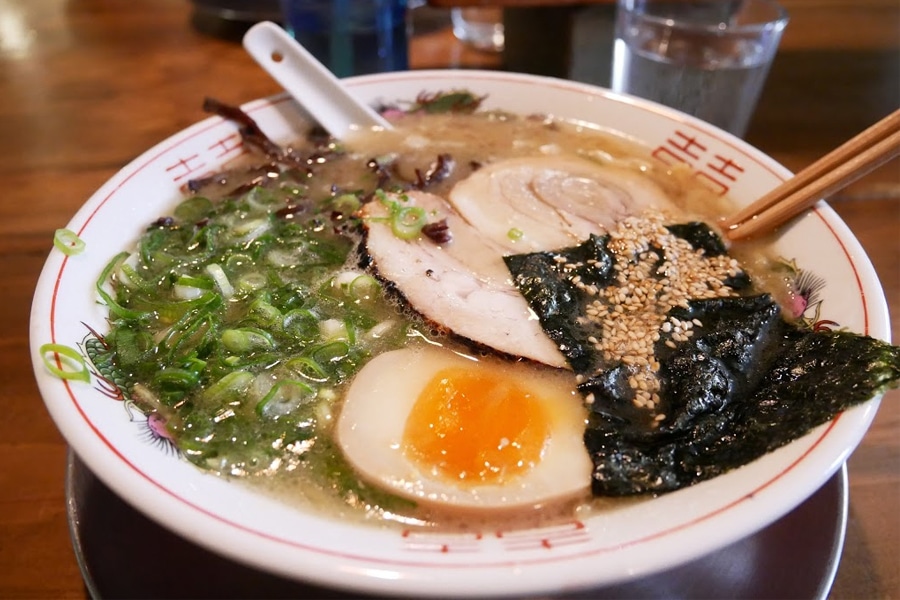 Chaco Bar
If you're after an exquisite ramen meal in a homey atmosphere – complete with Japanese cooks and characters hung on the wall – look no further than Chaco Bar. Their ramen flavours range from chilli coriander to yuzu scallop with all the novel Japanese treats you could dream of as toppings. Combine these ramen noodles in Sydney with some of the best yakitori and sake, and you've got an evening filled with the most arresting aromas and flavours.
238 Crown Street, Darlinghurst NSW 2010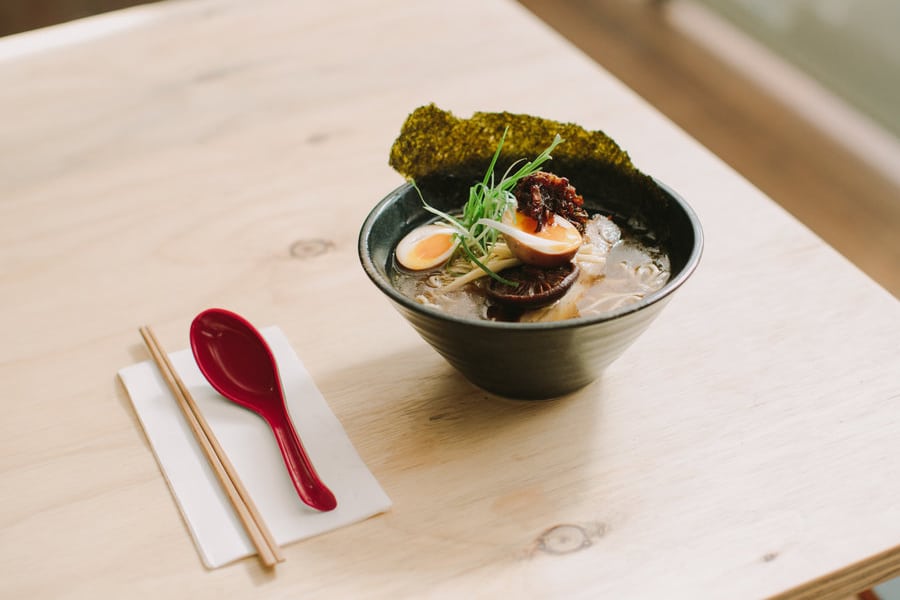 Rising Sun Workshop
This isn't your average ramen restaurant in Sydney. Rising Sun workshop is part cafe, part motorbike workshop, park gourmet ramen restaurant and all social enterprise. It's not your average combination, but trust us when we say it works. RSW buy everything locally and are totally focused on serving their members and the community. The motorbike garage takes nothing away from the incredible taste of their ramen – in fact it might even enhance the flavour as well as the atmosphere.
1C Whateley Street, Newtown NSW 2042
Ramen Zundo
12 hour boiled authentic ramen is a standard at Ramen Zundo. Their more novel dish is their signature tsukeman; a thick, chewy cold noodle served with hot dipping soup. After dipping the noodles into the soup and devouring the resulting concoction of bliss, ask for the 'extra soup' to mix with the dipping soup to enjoy the final soup. Visit Ramen Zundo for an exciting dining experience and the best Japanese ramen in Sydney.
644 George Street, Sydney NSW 2000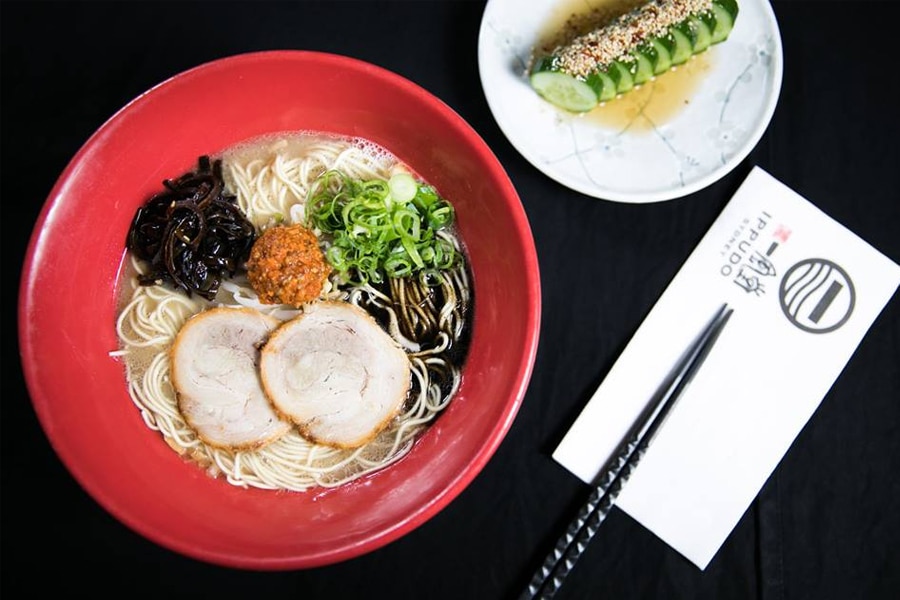 Ippudo
Ippudo is renowned for bringing the wonder of Japan to the world. You'll be thankful that they extended it to Japanese ramen in Sydney. Their catch phrase, 'to constantly change so as to never change,' exemplifies their commitment to adhering to traditional Japanese cooking practices while also constantly experimenting with new methods and flavours. The first Ippudo was established in Fukuoka city in 1985. Since then it has opened multiple award-winning restaurants around the world and lain claim to many coveted titles including the first 'World's Greatest Ramen King.'
Central Park, Macquarie Centre, Chatswood Interchange, Pitt Street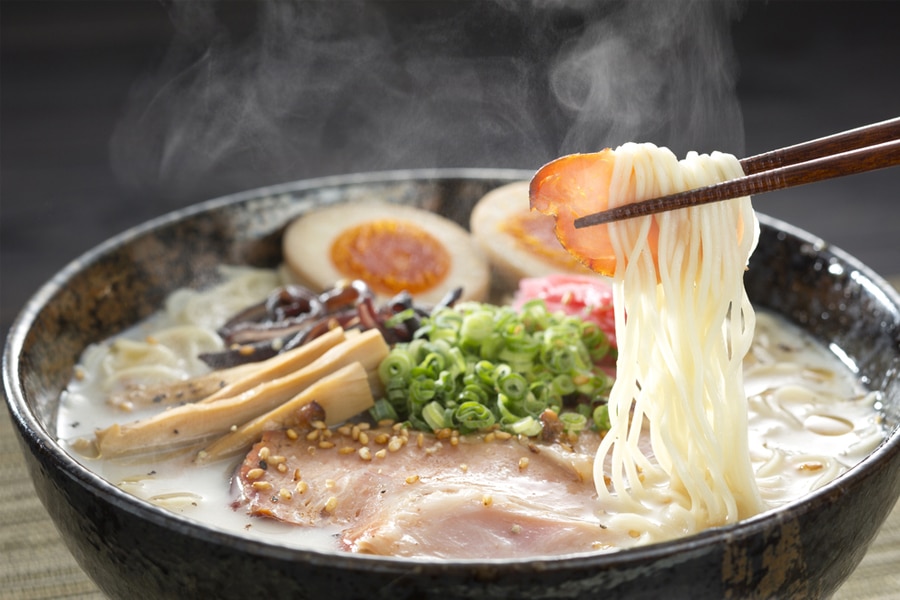 Ramen Bar Goku
Just like the protagonist of the anime series, Dragon Ball Z, from which this ramen joint acquired its name, Ramen Bar Goku is fierce and unbeatable. The lower key sister restaurant to Menya, Goku retains the flavour from this well-known Japanese ramen in Sydney but at a more affordable price. Choose from five different bases – salt, miso, soy, seafood or tonkotsu – and swap out various toppings of your choice.
30 Glebe Point Road, Glebe NSW 2037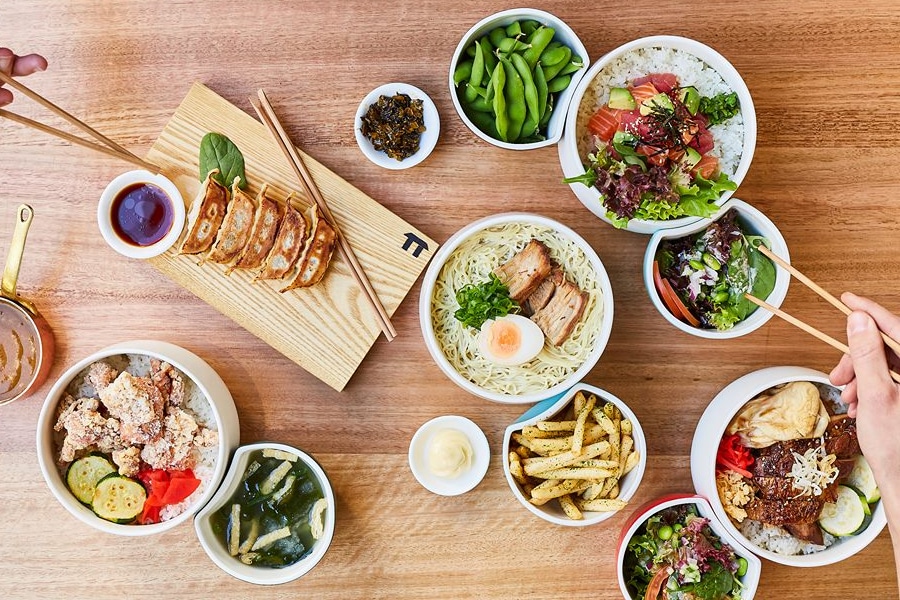 Motto Motto
You'll be wanting Motto Motto (more more) at this ramen restaurant in Sydney as that is what they live by. They bring fine, fresh ingredients to the scene of fast, casual dining in Sydney. With contemporary design, premium ingredients, low prices and a mouthwatering selection of ramen options, what's not to love?
Macquarie Centre, 34444 Herring Road & Waterloo Road, Macquarie Park NSW 2113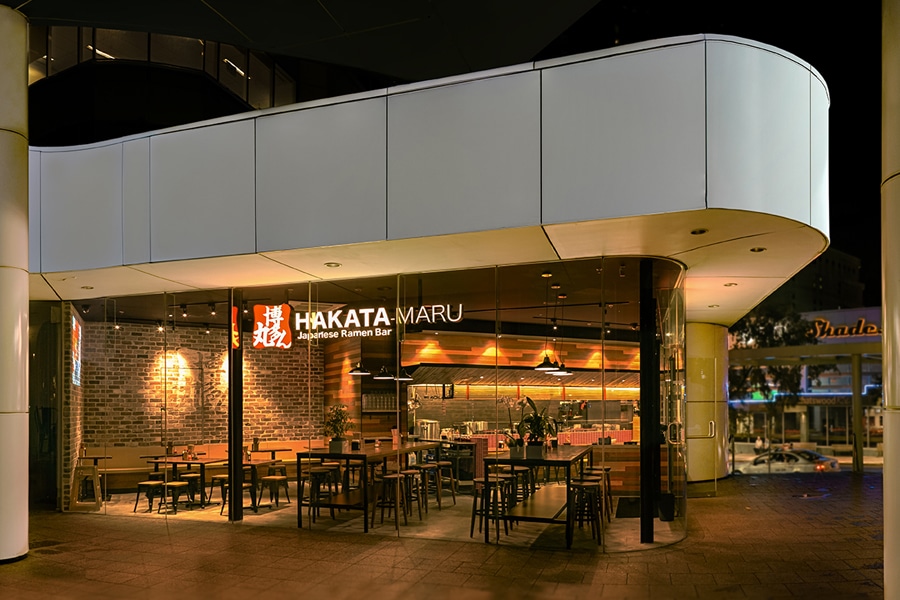 Hakata-Maru Ramen
If your ramen stomach gets a-tingling, get the most satisfying fix of ramen noodles in Sydney at Hakata-Maru Ramen. The photos of their ramen alone will be sure to get your salivary glands working, and the smell will transport you to a Japanese kitchen with a sensei chef at work. We'll leave the taste up to you.
Hawkers Village, 18/100 Miller Street NSW 2060
1/475 Victoria Avenue, Chatswood NSW 2067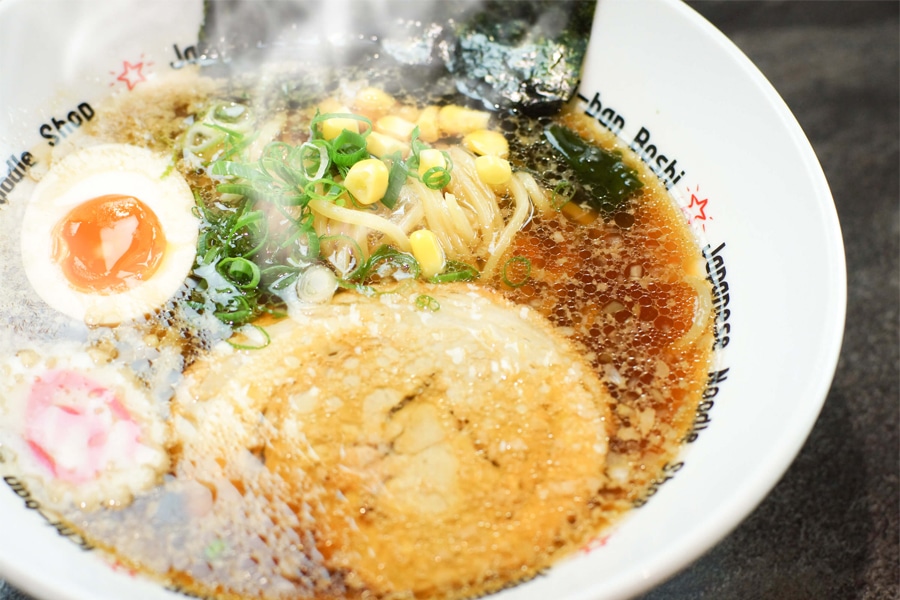 Ichi-Ban Boshi
Everything at Ichi-Ban Boshi is made fresh by hand. Every ingredient in their ramen is carefully picked to complement the flavours of the other ingredients. This is why Sydney-siders have been loving the boldness of flavour at the best ramen in Sydney for over 20 years. They have a variety of noodles, soups and ingredients to suit every palate, so get yours in to one of their stores today to give it a ride of a lifetime.
Level 2, The Galeries, 500 George Street, Sydney NSW 2000
1/171-173 Oxford Street, Bondi Junction NSW 2022
Manpuku
Delicious, friendly and affordable are just three descriptions that come to mind when you talk about Manpuku. They have two locations at Kingsford and Chatswood, meaning you can enjoy these ramen noodles in Sydney, or 'millions of happiness/luck' no matter where you are located. Their seasonal menu uses only the freshest ingredients to create cheap yet authentic ramen. Be sure to try the novel hiyashi chuka (cold noodles), though everything they dish up is about as good as it gets.
482 Anzac Parade, Kingsford NSW 2032
226 Victoria Avenue, Chatswood NSW 2067
Have you subscribed to Man of Many? You can also follow us on Facebook, Twitter, Instagram, and YouTube.
---
You'll also like:
20 Best Rooftop Bars in Sydney
21 Best Burger Shops in Sydney
15 Best Yum Cha Restaurants in Sydney
---