10 Best Vegan Restaurants in Brisbane
Vegan food in Brisbane is getting good, like really good. Great for your body, the planet, and more importantly, your tastebuds, the foodie scene is catching on. With countless vegan and vegetarian restaurants popping up in Brisbane, there is no shortage of options for you to try that surely bypass the token vegetarian salad option. So, if you're hungry and looking for the best vegan restaurants in Brisbane, we have you covered! Here is a list of Brisbane's 10 best vegan restaurants.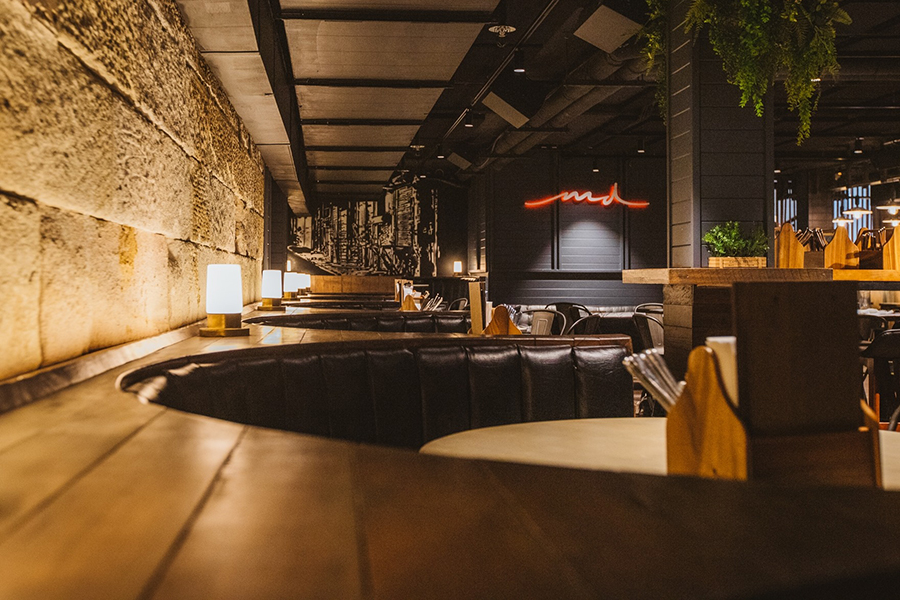 1. Miss Demeanour
Hidden underground on Rowes Lane, this moody spot blends perfectly with its classy, mysterious location. The dim lighting and live music are complemented to perfection with top-quality vegan food. With everything from vegetarian classics like spiced cauliflower, their zesty beetroot salad to a BBQ jackfruit vegan burger, You'd be amazed how your boozy brunch may slowly turn into an afternoon of cocktails, and as for the rest of the night? Depends on how many cocktails you order!
Address: Rowes Lane, Brisbane
Phone: (07) 3221 0032
Trading Hours: Tuesday- Saturday 11 am- Late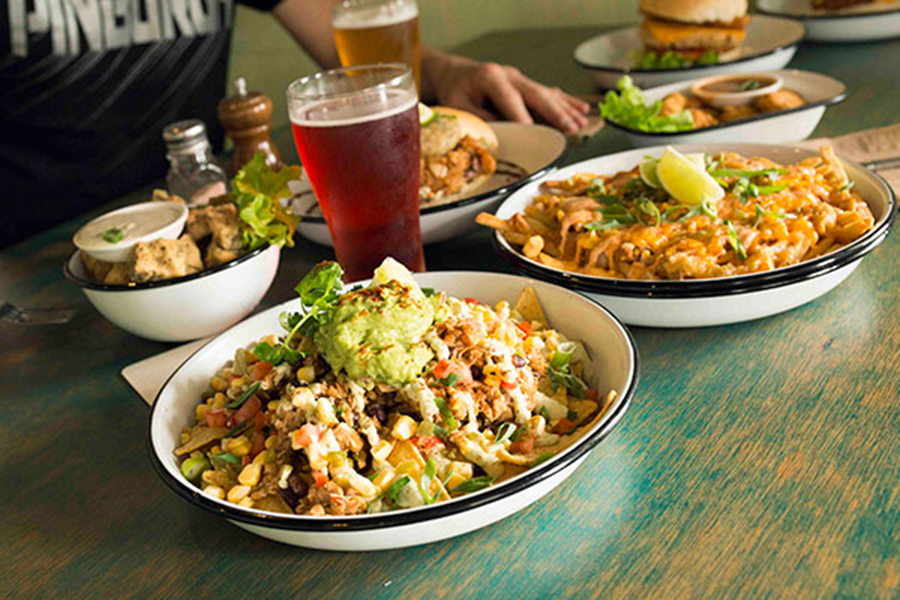 2. Netherworld
If you want to have a good time, converted pub corner Netherworld has it all! From arcade games, pinball machines and beers and ciders. More importantly, the menu is vegan-friendly, giving visitors the choice to add meat if they need it. Good vibes all night in this Fortitude Valley corner are guaranteed.
Address: 186 Brunswick Street, Fortitude Valley
Phone: 0424 156 667
Hours: Tuesday – Sunday 12 pm – 10 pm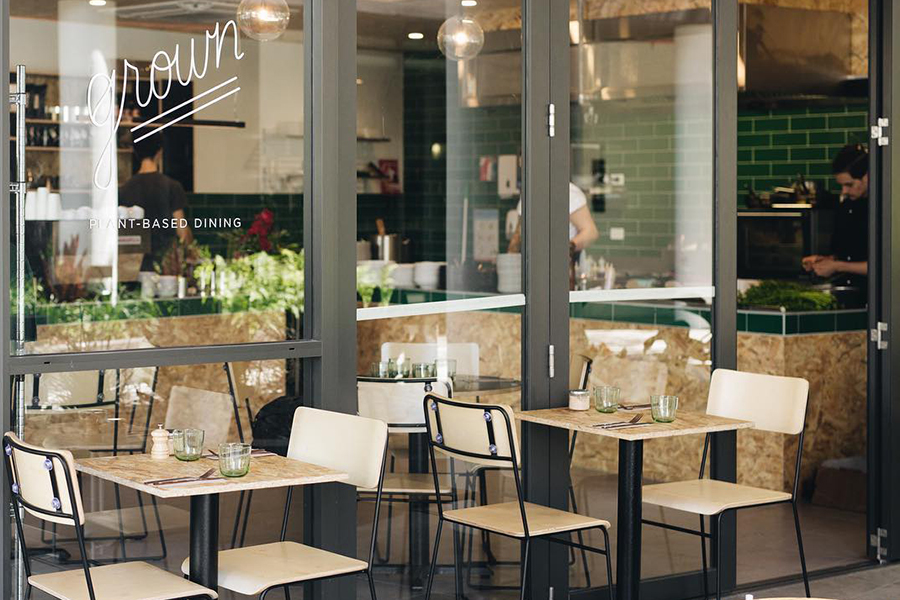 3. Grown
Locally sourced ingredients and delicious meals, Grown are all about doing good for your body, the environment and the community. Completely plant-based, the vegan restaurant sources food from framers located no more than 400 kilometres from Brissy. Perfectly located in foodie central, West End, this is must-do on your Friday night food safari through the vibrant streets.
---
Featured Video from Man of Many
---
Address: Shop G03/21 Buchanan Street, West End
Phone: (07) 3036 7213
Hours: Wednesday- Friday 10 am – 2 pm/ 5.30 pm – 8 pm, Saturday – Sunday 8 am – 2 pm
You'll also like:
23 Best Craft Breweries in Brisbane
11 Best Gin Bars in Brisbane to Join the Gin Revolution
12 Best Japanese Restaurants in Brisbane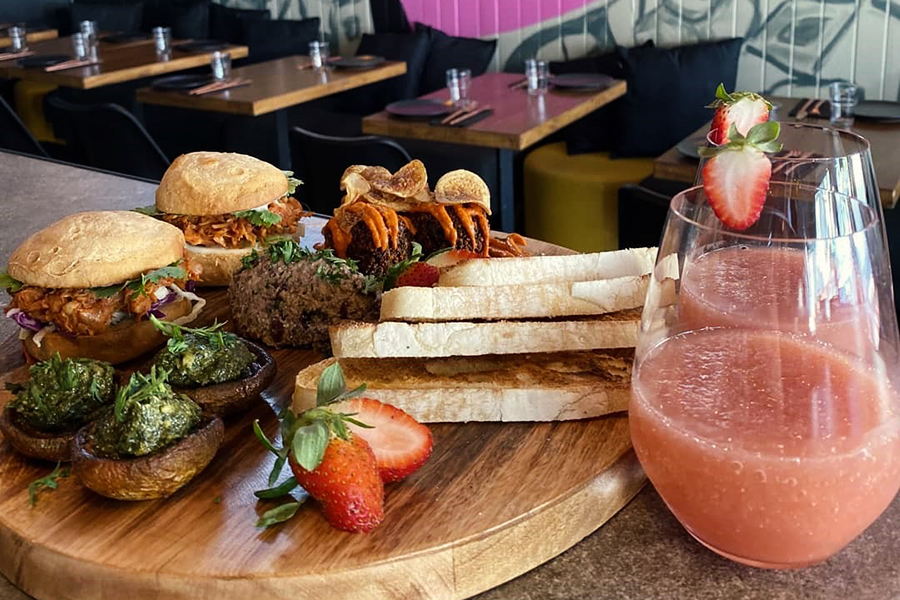 4. You Came Again
Nestled in Brisbane's trendy West End, You Came Again is Brisbane's first vegan tapas bar! Nothing beats tapas and a drink, and this place knows how it's done. Don't miss out on their delicious 'meetballs' or their stuffed pesto mushrooms. Not only is this tapas spot vegan, but "everything is gluten-free and made with sh*t loads of love..", a self-proclaimed prophecy.
Address: 245 Boundary Street, West End
Phone: 0422 281 124
Trading Hours: Weekdays 4 pm- 9 pm and weekends 9 am- 10 pm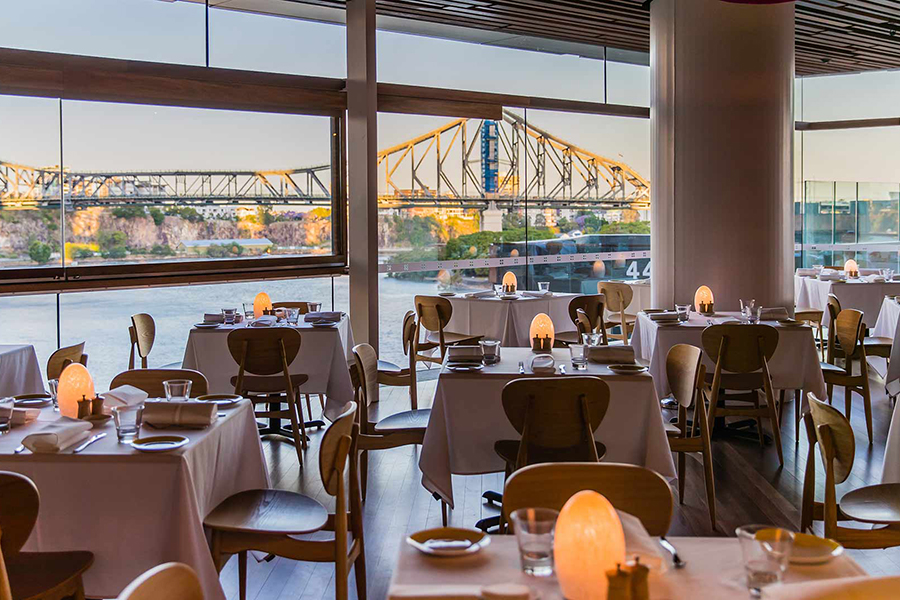 5. Otto Ristorante
Looking for vegan fine dining in Brisbane? Otto Ristorante is an Italian fine dining restaurant with a whole section of their menu dedicated to vegans. This place also does not disappoint in terms of location. Sitting high on Queen Street in Brisbane's CBD, catch the spectacular summer Brisbane sunset, with a glass of rose in one hand and a bowl of vegan pasta on the table- nothing better.
Address: Level 4, 480 Queen Street, Brisbane City
Phone: (07) 3835 2888
Trading Hours: Monday- Saturday 12 pm – 10 pm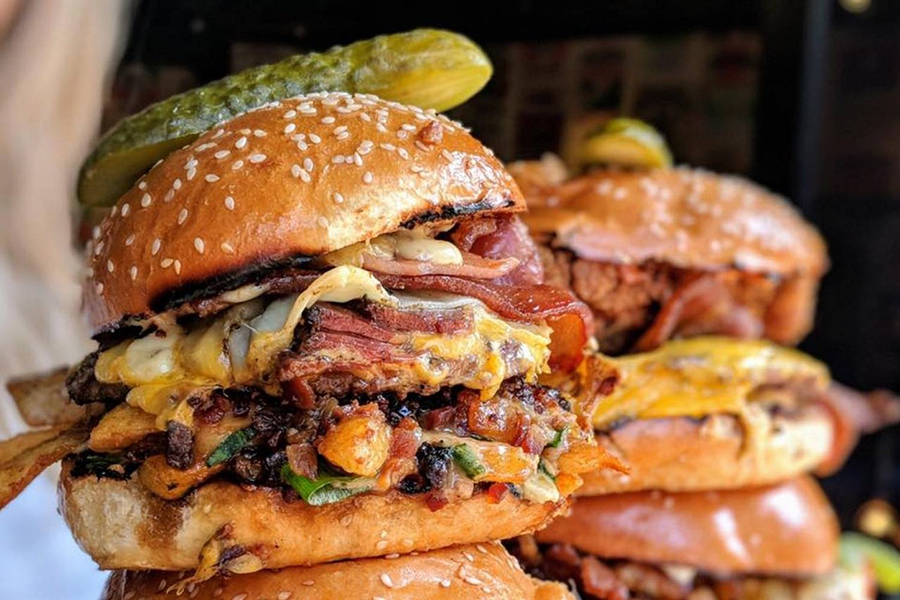 6. Grassfed
A vegan restaurant with a purpose, you'll find Grassfed in emerging Brisbane foodie hot spot, Fish Lane. The vegan burger joint is committed to sourcing sustainable and local ingredients. They don't substitute anything for quality taste, with tasty vegan alternatives like the Hawaiian burger, complete with a 'vEEF' patty, vegan cheese, pepperoni and topped off with pineapple, tomato, lettuce and aioli.
Address: 67 Fish Lane, South Brisbane
Phone: 0423751883
Trading Hours: Saturday and Sunday 11.30 am – 9 pm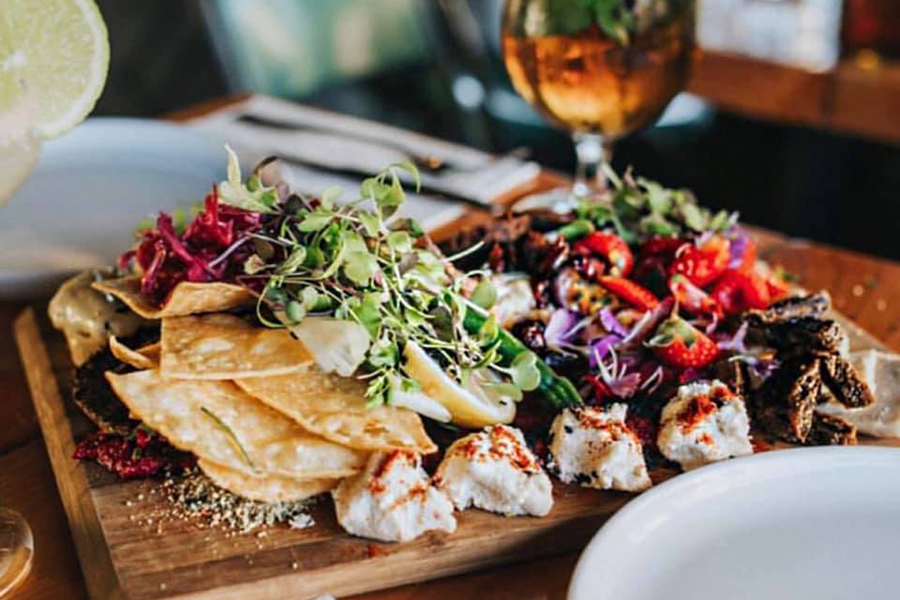 7. Greenhouse Canteen
Every quintessential vegan dish can be found here, its charming interior creating a warm, cosy and delicious food experience. From the classic cauliflower mac and cheese and an eggplant parmi, as well as delicious variations of traditional desserts like the pecan pie, served with cashew cream. If you're feeling fancy, treat yourself to the five-course degustation for $45.
Address: 12/68 Manning Street, South Brisbane
Phone: (07) 3724 2761
Hours: Monday- Saturday 5 pm – 10 pm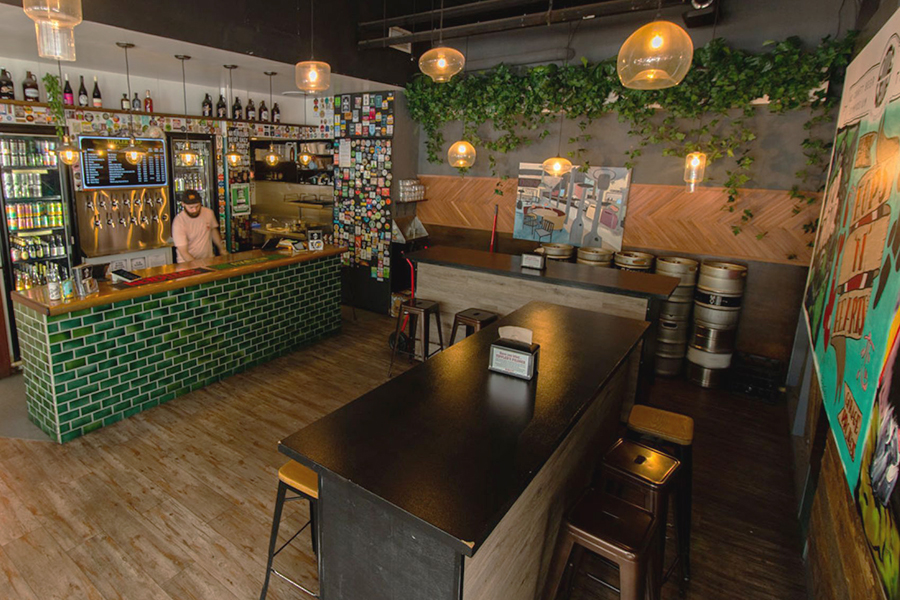 8. Tipplers Tap
Fancy a good beer in South Bank and a quality feed to match? Tipplers Tap provides the goods. Specialising in all-American street food, they have vegan substitutes for all your favourites, like hotdogs, chilli and any burger you like. Better yet, this place is pretty cheap, so you'll be leaving feeling very full without an empty wallet!
Address: Shop 5, 182 Grey Street, South Bank
Phone: (07) 3846 4200
Hours: Tuesday – Sunday 12 pm – 10 pm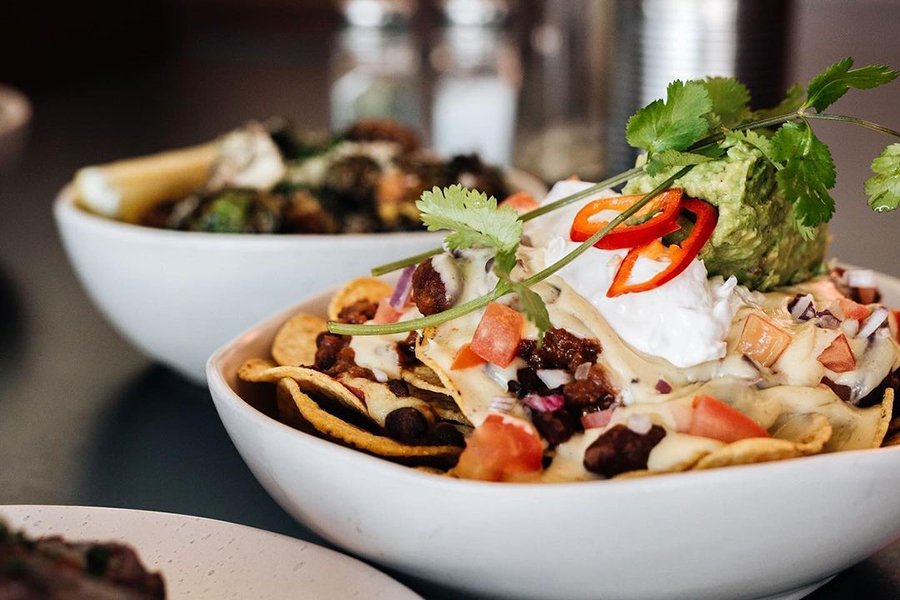 9. Yavanna
Perfect for every occasion, Yavanna is open for breakfast, lunch and dinner, with an extensive food and drinks menu to cater for all your cravings. The vegan restaurant is 100 per cent plant-based and is proud to be a part of Australia's growing vegan revolution. Our favourites are the truffle mac and cheese and the brekky muffin, complete with bacon and egg that makes it feel like you're eating the real deal (if this is what you're up for!)
Address: Shop 9, 2 Latrobe Terrace, Paddington
Phone: (07) 3554 0267
Hours: Tuesday – Friday 12 pm- 3 pm/ 5.30 pm- 8 pm, Saturday- Sunday 10 am – 3 pm/ 5.30 pm- 8 pm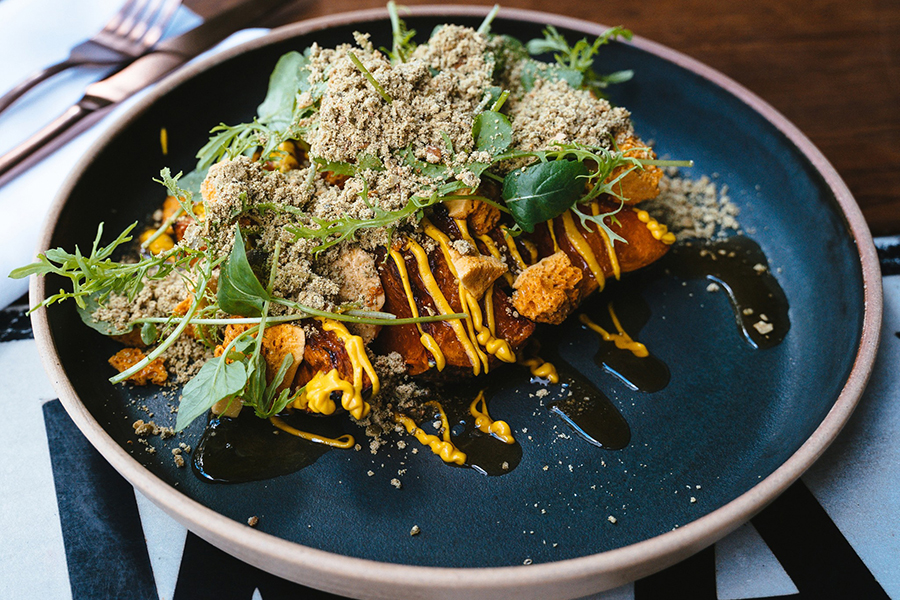 10. Detour
If fine dining is more up your alley, Detour in Woolloongabba is fondly considered one of the best vegan restaurants in Brisbane. Whilst not fully vegan, half of their menu is plant-based. Serving lunch and dinner till late, there are some funky options on the menu like the fossilised veg, making it even more worth the visit!
Address: 11 Logan Road, Woolloongabba
Phone: (07) 3217 4880
Hours: Monday – Wednesday 5 pm -11 pm, Thursday – Sunday 12 pm – 11 pm
You'll also like:
23 Best Craft Breweries in Brisbane
11 Best Gin Bars in Brisbane to Join the Gin Revolution
12 Best Japanese Restaurants in Brisbane
General FAQ
What's the difference between vegetarian and vegan?
A vegetarian is someone who doesn't eat meat, whereas a vegan avoids consuming all animal products, like egg, dairy and honey.
Are there any good vegan restaurants in Brisbane?
Brisbane has some of the best vegan restaurants in Australia, ranging from places serving a fully vegan menu, a mix of vegetarian and vegan, and some with great vegan food options!
Where's good vegan food in Brisbane's CBD?
the best vegan food and vegetarian restaurants in the CBD include Grassfed, Miss Demeanour and Otto Ristorante.
---
Featured Video from Man of Many