12 Best Vegan Restaurants in Melbourne
Vegan restaurants have become increasingly popular across Melbourne in recent years. Vegan food itself has seen a large uptake amongst the Australian population, as many are discovering the rich flavours you can find in well-prepared vegetables and tofu. This, along with the trend of 'meat free meat', has sparked much curiosity, leading more people to experiment with the cuisine. If you're looking to go meat-free for a meal, or if you're committed to the lifestyle, it's worth tracking down the best vegan restaurants Melbourne has to offer. To aid you in your search, we've done the heavy lifting for you.
Here is our list of the 12 best vegan restaurants in Melbourne.
You'll also like:
15 Restaurants for the Best Pho in Melbourne
27 Joints for the Best Burgers in Melbourne
12 Best Ramen Restaurants in Melbourne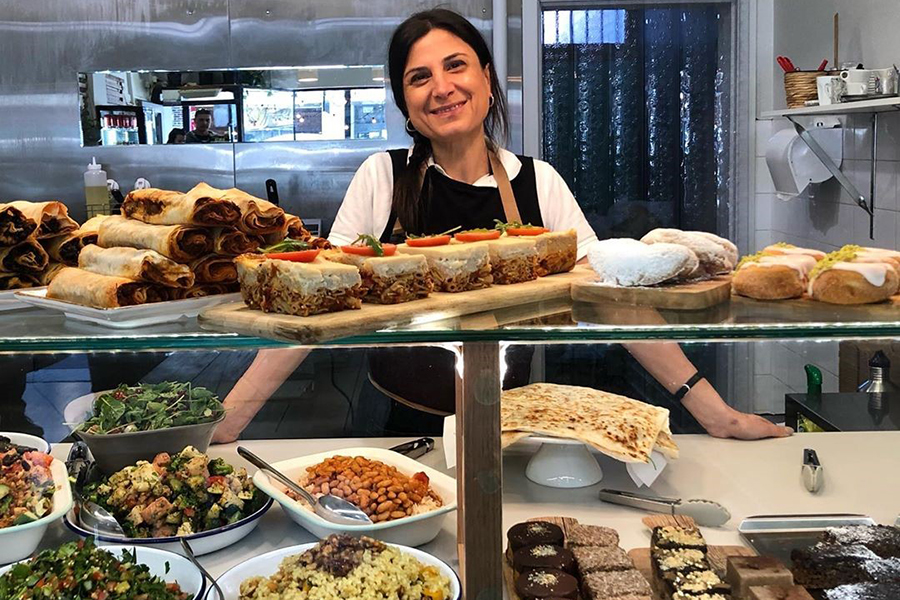 1. Kevabs
Proudly known as the first all-vegan kebab shop of Melbourne, Kevabs is a must-see, must eat at, Turkish vegan restaurant in Melbourne. The 'kevab' in mention is a mixture free of meat, egg, dairy, lactose, soy, gluten, nut, and sugar, creating a pea protein that substitutes the meat of a traditional option. While substituting for the meat component of their fare, this kevab mixture more than doubles the flavour. Forget the oily, greasy mixture of meat and sauce from your old corner kebab shop, and instead dig into a kevab with lettuce, tomato, sumac onion and pickled vegetables that will leave you feeling full and without regret.
And if you're looking for snacks rather than a meal, Kevabs have you covered there too. Its gluten-free chips coated in dukkah-dust taste just as good as dukkah-dust is fun to say.
Address: 89 Sydney Rd, Brunswick VIC 3056
Phone: +61 03 8388 7048
Trading Hours: Tues-Sat 12pm-8pm Sun-Mon Closed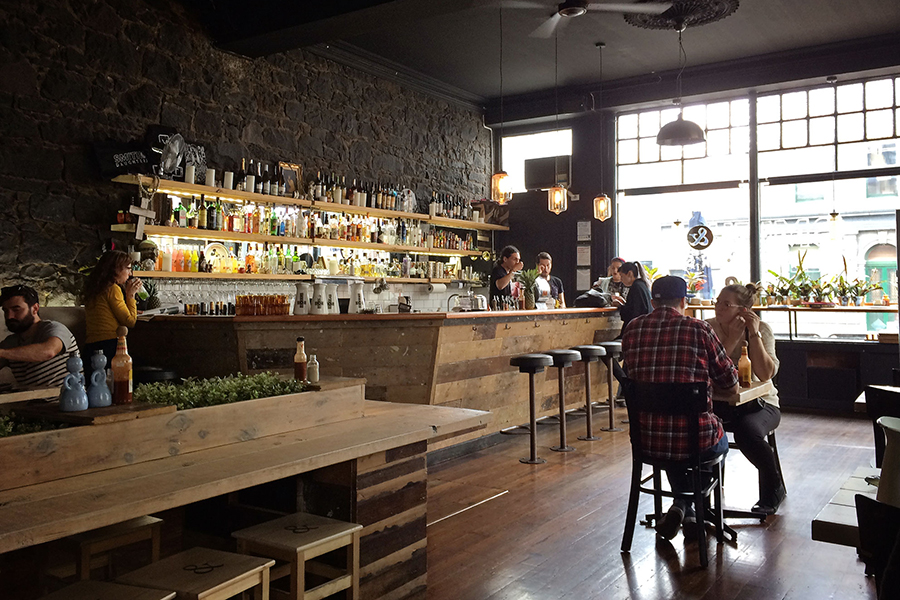 2. Smith & Daughters
At Smith & Daughters, eating vegan food has never looked so cool. As you step inside, you might be taken aback by the beefy (pun very much intended) rock 'n' roll music blasting from speakers above. Inspired by the cuisine of Italy, you can feast on your standard pasta affairs, or branch out with a fried baby eggplant or risotto Verde with broad beans, broccolini, citrus and smoked cheese (yes please). Smith & Daughters is also a great spot for the vegan-curious, with flavoursome substitutions in dishes where meat has been a standard forever. This is a popular spot for vegan food in Melbourne, so it's best to book your table ahead of time.
Address: 175 Brunswick St, Fitzroy VIC 3065
Phone: +61 03 9939 3293
Trading Hours: Tues-Wed 5pm-9:30pm Thurs-Sat 11:30am-3pm, 5pm-9:30pm Sun-Mon Closed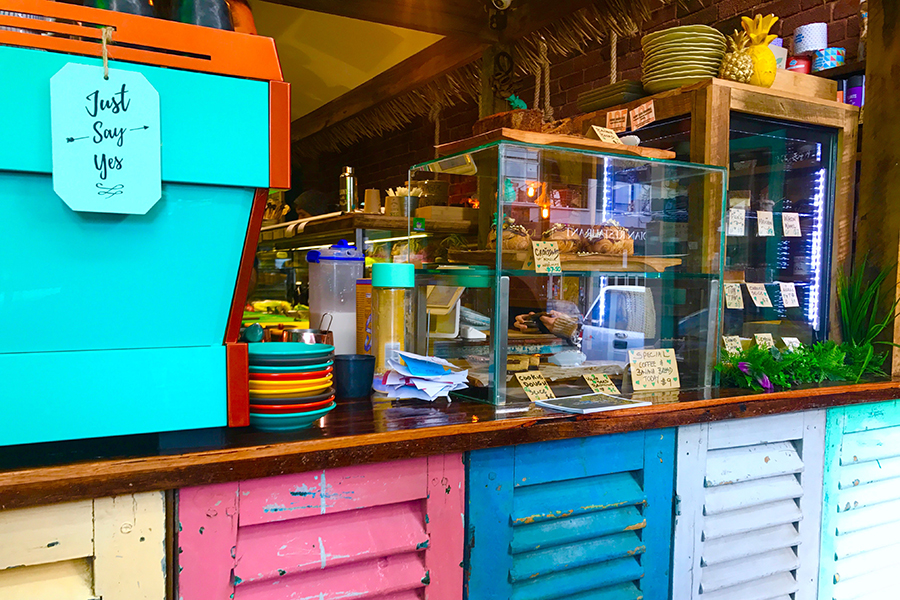 3. The Vegan Shack
If there was one way to describe The Vegan Shack, we would say convenience store combined with a great vegan eatery. With a menu for brunch, lunch and more, dig into the vegan plates for a truly filling and satisfying meal. On top of the great in-store menu, The Vegan Shack also has a range of premade and pre-packaged vegan, vegetarian and gluten-free products for you to take home with you. For the sweet-tooths, you can find gluten-free gummy bears, vegan chocolate buttons and honeycomb, amongst other pre-made and do-it-yourself options. These DIY and takeaway options are a fantastic way to encourage the vegan and vegetarian lifestyles outside of your regular restaurant purchases, and creates an opportunity for you take the taste of The Vegan Shack home with you.
Address: 264 Swan St, Richmond VIC 3121
Phone: +61 4 0131 1268
Trading Hours: Tues-Fri 11:30am-3pm Sat-Sun 10am-3:30pm Mon Closed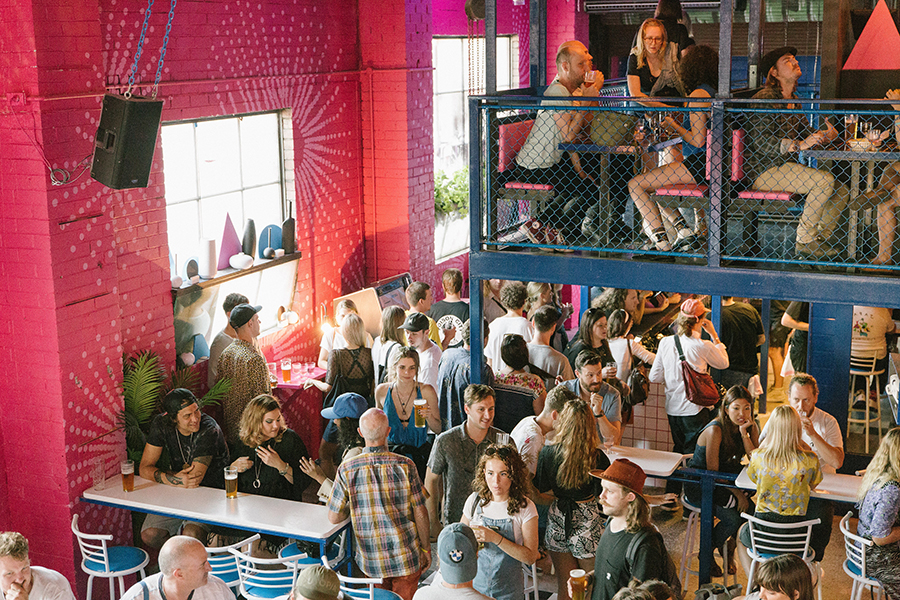 4. Evie's Disco Diner
Evie's Disco Diner is a vegan restaurant in Melbourne that gets cooler and cooler the more you learn about it. Set up in a converted ironworks, Evie's Disco Diner pays homage to 80s New York through their style and menu, whilst catering to the modern tastes and flavours of vegan and vegetarian food. Everything on the menu is or can be made vegan, meaning that there are options for herbivores and carnivores alike. Nuggets, burgers, Mexican, there's nothing Evie's Disco Diner can't do, and then do it again as a vegan meal.
Between your meals, Evie's also has a basement nightclub on Fridays and Saturdays, which turns into a comedy club, a trivia room and more throughout the week. And back to the food, Tuesday night is taco Tuesday, which means cheap tacos and tequila all night. What more could you ask for?
Address: 230-232 Gertrude St, Fitzroy VIC 3002
Phone: +61 03 9419 4192
Trading Hours: Mon-Wed 4pm-11pm Thur 4pm-1am Fri-Sat 11:30am-1am Sun 11:30am-11pm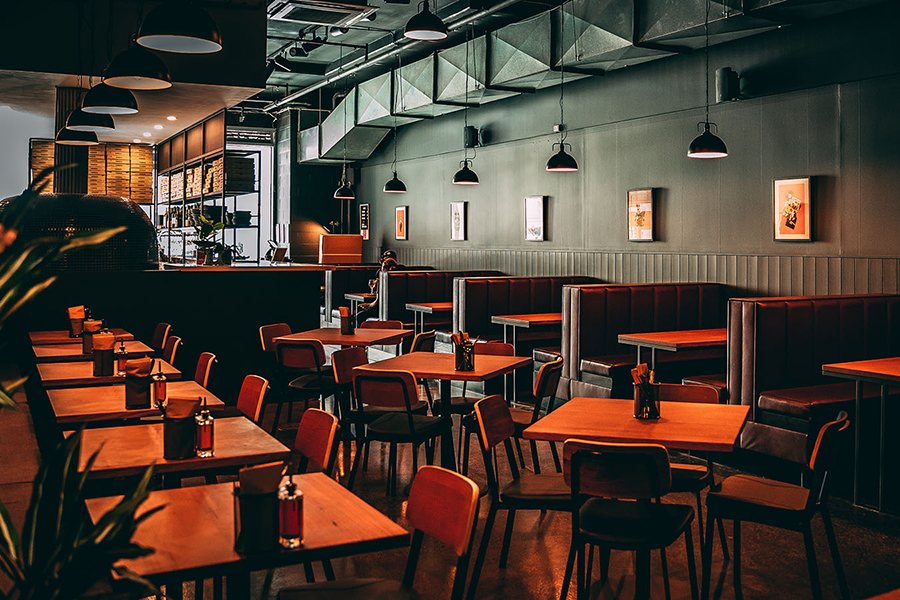 5. Red Sparrow Pizza
Red Sparrow Pizza is a pizzeria in Melbourne that specialises in 100 per cent vegan, wood-fired pizza. The wood fire method of cooking their pizzas dramatically increases the flavours on their vegan based menu, lightly charring and smoking both the toppings and dough/crust for truly incredible results. Rather than the conventional cooking methods you'd find at fast-food pizza restaurants, using a woodfire pizza oven means that your pizza will be out in no time, which helps get through the massive queues Red Sparrow Pizzeria are known to get thanks to its popularity.
If you're struggling to come to terms with a pizza without cheese, fret not, as dairy-free mozzarella can be added to your pizza of choice, along with a range of other toppings. Red Sparrow Pizza also caters to gluten-free options, just be sure to ask when you make your order. Digging into a big, saucy pizza never felt so guilt-free.
Address: 4046 Smith St, Collingwood VIC 3066
Phone: +61 03 9417 1454
Trading Hours: Sun-Thur 5pm-9pm Fri-Sat 5pm-10pm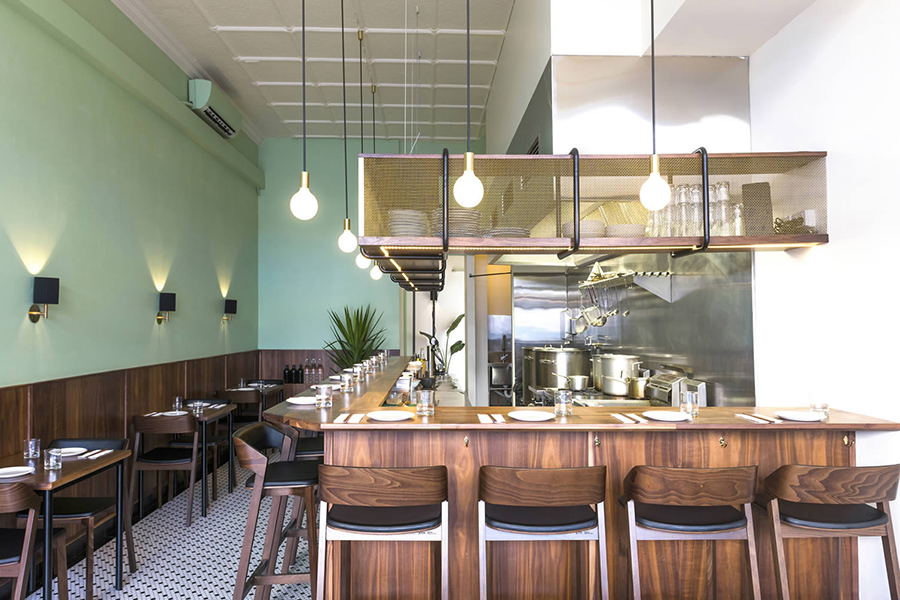 6. GOODDays
From Italian cuisine with a twist to Vietnamese cuisine with a twist, GOODDays is a vegan-friendly restaurant that specialises in non-traditional pho and other Vietnamese foods. Pho (pronounced 'f-ah') is a Vietnamese dish made of broth, rice noodles and traditionally a slice of meat like beef or chicken. GOODDays, however, have chosen to fuse aspects of Vietnamese and western cuisine, welcoming meat-eaters, and vegans alike. GOODDays is particularly well known for its vegan tofu and mushroom spring rolls, as well as its mushroom pho, made of braised Asian mushrooms and aromatic vegetables. For those wanting to stay indoors, GOODDays also has a takeaway option, where your order can be broken down into its precooked ingredients and completed by you from the comfort of your own home.
Address: 165 Sydney Rd, Brunswick VIC 3056
Phone: +61 03 9041 2000
Trading Hours: Mon-Sun 12pm-9pm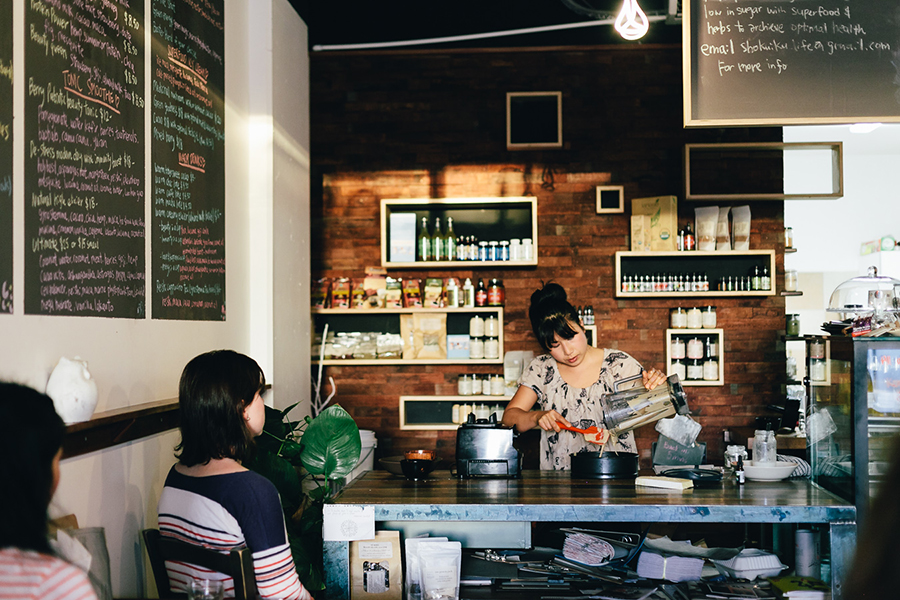 7. Shoku Iku
If you're over processed foods, with all the added preservatives and colourings, look no further than Shoku Iku. Shoku Iku specialises in raw and organic product, with the goal of changing the way people think about and taste their food, focusing on the untapped flavours raw food can create.
For those looking to eat healthier, Shoku Iku also provides workshops and educational services. Through these sessions, you can gain a better understanding of the vegan diet and lifestyle, and plan out what meals can be easily made at home without breaking the bank. These sessions are great for those with a newfound interest in eating healthier, rather than becoming trapped in the myths and misinformation often found online.
Address: 120 High St, Northcote VIC 3070
Trading Hours: Thurs-Sat 9:30am-4pm Sun 9:30am-2pm Mon-Wed Closed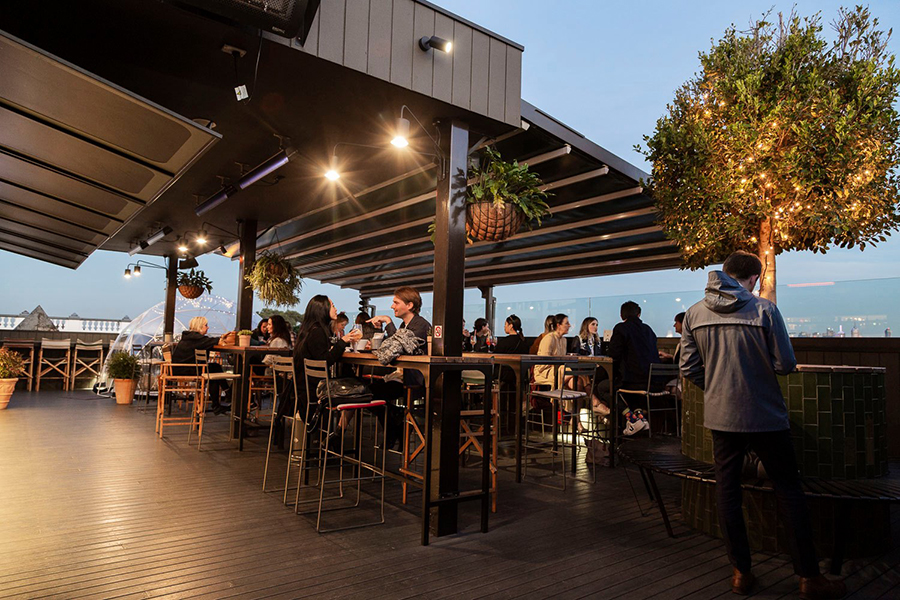 8. The Cornish Arms
The pub used to be a place dominated by beers, beef burgers and chicken schnittys, but no longer is this the case at The Cornish Arms. While they've still got the beers and the great pub atmosphere we all know and love, the menu is lovingly catered towards their vegan customers. No longer will you have to sit alongside your carnivorous friends with only a sad bowl of chips. Now you can dig into a vegan popcorn chicken burrito, a hearty plate of vegan lasagne, or for the adventurous, a vegan McBeast Burger, with "chicken", "beef", double "cheese", pickles and all the sauces.
The Cornish Arms' menu, however, isn't limited to just vegan patrons. All dishes can be transformed back to their protein-based origin upon request. This means all are welcome at The Cornish Arms.
Address: 163A Sydney Rd, Brunswick VIC 3056
Phone: +61 03 9380 8383
Trading Hours: Mon-Fri 12pm-11pm Sat-Sun 12pm-12am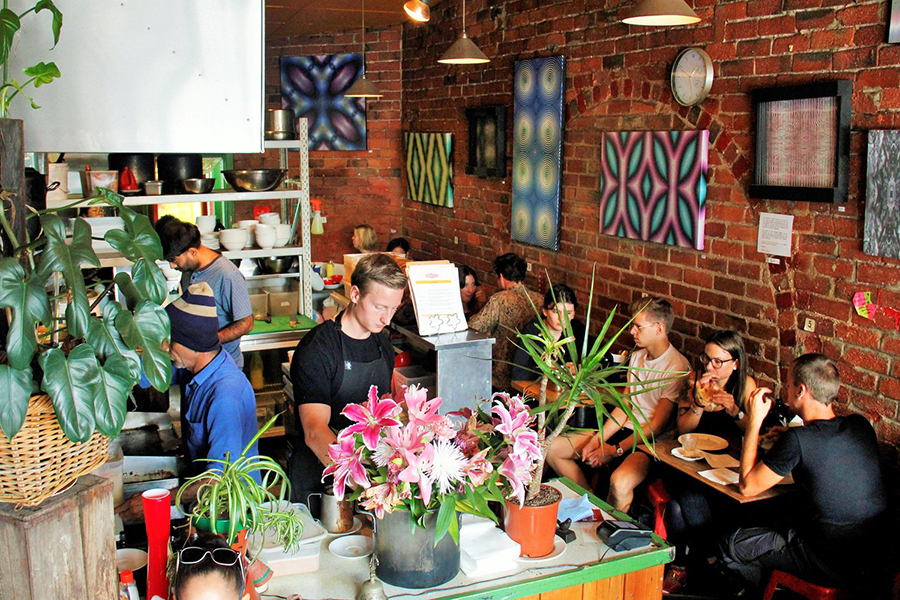 9. Lentil As Anything
Lentil As Anything stands out from this list not just for its pun-tastic name, but for the unique way of payment in store. As a non for profit restaurant, Lentil As Anything welcomes all guests to pay as they feel for their orders, either through financial contribution (your typical payment for a meal) or by volunteering your services. This method of payment and volunteering option has meant that those who could previously not afford to eat out, let alone cook for themselves, have access to a hot meal.
As well as being incredibly charitable, Lentil As Anything is also incredibly delicious, known in particular for their vegan okonomiyaki (a kind of Japanese pancake, with eggs, cabbage beansprouts and more) and the green lentil burger. So next time you're looking for vegan food near you, consider Lentil As Anything, where for a great meal you can also help out those in need.
Address: 41 Blessington St, St Kilda VIC 3182
Phone: +61 4 2434 5368
Trading Hours: Sun-Wed 12pm-4pm Thur-Sat 12pm-4pm, 5pm-8pm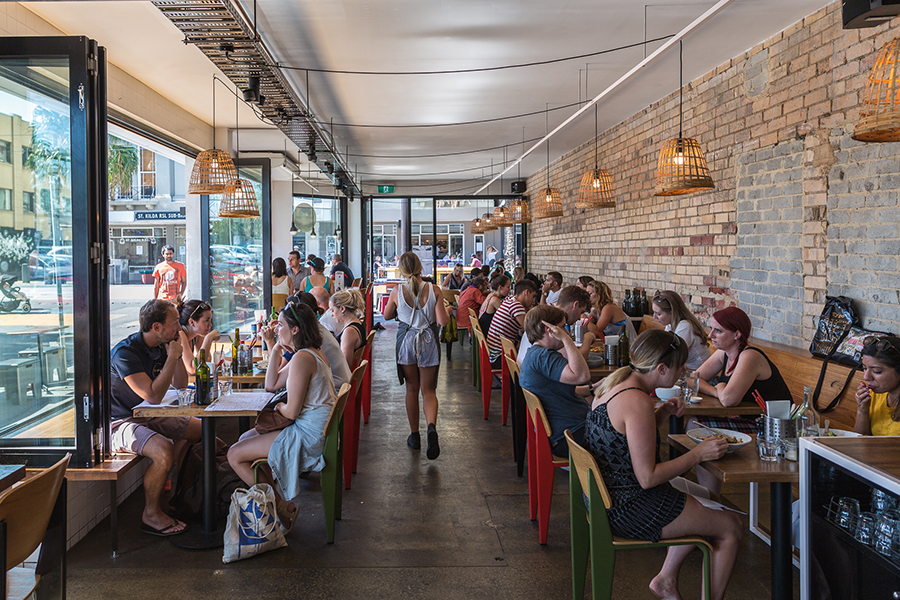 10. Sister of Soul
If you're one of those people who can never decide what cuisine they feel like, Sister of Soul was made for you. The menu covers vegan food from all over the world, with burritos inspired by Mexico, vegan spag bol inspired by the Italians, to a tofu twist on the Indian tikka masala. Feel spoilt for choice, and please your whole crowd as you can eat across the world at one restaurant.
In a similar, charitable vein to the restaurants mentioned earlier on our list, Sister of Soul work with the St Kilda Veg Out Community Gardens, donating food waste and coffee grinds to be used as soil for new fruit, vegetables and herbs. Again, this is food that you can enjoy, whilst also supporting a greater cause and message.
Address: 73 Acland St, St Kilda VIC 3182
Phone: +61 03 9593 8550
Trading Hours: 7:30am-late, daily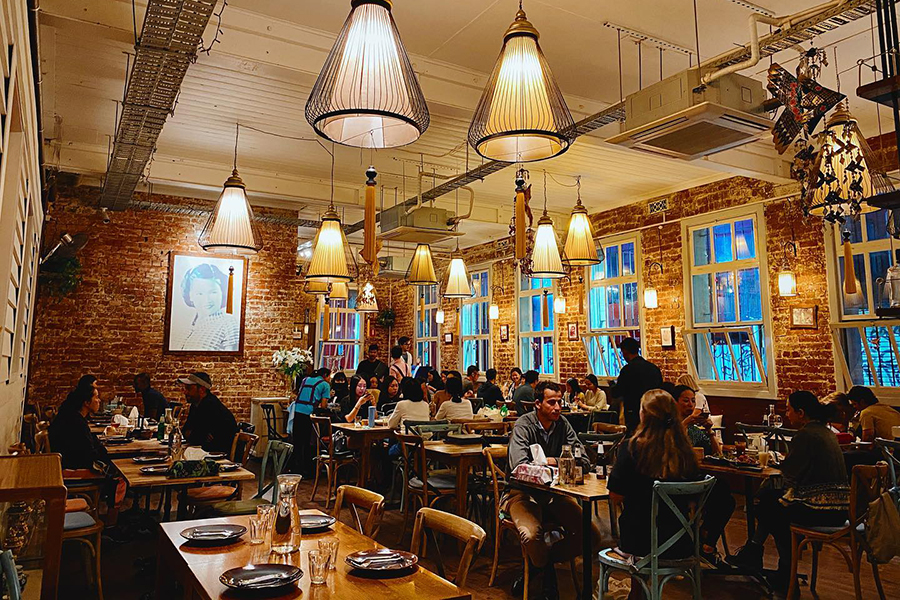 11. Jinda Thai
When it comes to traditional Thai food with a modern twist, you can't look past Jindi Thai. The backbone of the menu is long-secret family recipes, handed down from generation to generation, and now to your table. The modern twist mentioned comes from altering these family recipes to accommodate for the changing diets of our time, specifically vegan and vegetarian options. With no shortage of the traditional meat-based options, Jindi Thai also provides vegetarian, vegan and gluten-free options for a majority of the menu items, meaning that all are welcome to enjoy the family inspired meals. For those who can't get enough of tofu, we recommend trying the Gra Pow Crispy Tofu, as well as the tofu combo, which mixes tofu and tempura vegetables with a sweet chilli sauce.
Address: 1-7 Ferguson St, Abbotsford VIC 3067
Phone: +61 9419 5899
Trading Hours: Thur-Tues 11:30am-3:30pm, 4:30pm-10pm Wed Closed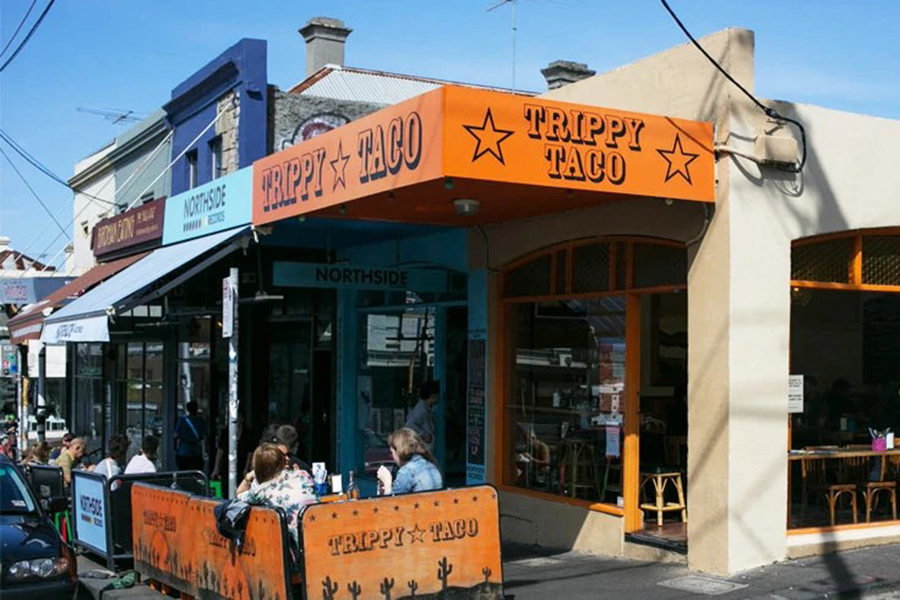 12. Trippy Taco
To round out our list of the best vegan restaurants in Melbourne, we offer to you, Trippy Taco. Specialising in Mexican street food, made by a chef who lived in Southern California, Trippy Taco has a wide range of traditional and vegan options, as well as your usual culprits of corn chips and dips (guac and salsa, of course). Sitting literally right next door to Evie's Disco Diner, you can make your way to Trippy Taco for that after boogie meal you're craving.
Address: 234 Gertrude St, Fitzroy VIC 3065
Phone: +61 03 9415 7711
Trading Hours: Sun-Wed 5pm-8:30pm Thur-Sat 12pm-3pm, 5pm-8:30pm
You'll also like:
15 Restaurants for the Best Pho in Melbourne
27 Joints for the Best Burgers in Melbourne
12 Best Ramen Restaurants in Melbourne
General FAQ
Which fast food is vegan?
Kevabs, Red Sparrow Pizza and Trippy Taco all provide vegan fast food.
What can vegans eat for breakfast at restaurants?
Soku Iku has fantastic Super Berry Bowl, with berries, granola and jam.
Which chain restaurants have vegan options?
Trippy Taco is a chain restaurant in Melbourne with vegan menu options.
What is the most vegan friendly city?
Melbourne is the most vegan friendly city, as shown by their amount of vegan restaurants.