Monday Munchies: June 21 – Plant Based Bonanza
Welcome to our new series Monday Munchies where we round up everything food-related to add some much needed culinary direction to your week. Whether you can't figure out what to cook this week, looking for some inspiration, or maybe you're making plans for Friday night. Look no further than Monday Munchies because we're offering a host of cuisines, restaurants, tips and reviews from some of the best places around Australia. Start your culinary journey right here, with Monday Munchies.
You'll also like:
Maccas is Slinging 50c Big Macs This Week To Celebrate 50 Years Down Under
20 Best BYO Restaurants in Sydney to Bring Your Own Booze
Study Shows Kiwi Fruit Could Help You Sleep
Pilgrims Bronte – Review
All the way from the peaceful shores of the south coast comes this iconic plant-based cafe nestled in the heart of Sydney's Bronte. The menu is fully vegetarian, with plenty of vegan, sugar-free, gluten-free and all the other 'frees' you can think of, on the menu. Don't be fooled into thinking that this comprises the taste, whatsoever. The spacious cafe has an entire section dedicated to burgers for lunch, and you can even turn any of the burgers into burger bowls if that's what you're into. The patties are divine, with an option for a mixed grain pattie made from brown rice, grains, peanuts and egg as well as a curry lentil patty made from lentils, brown rice and curry spice. Our go-to is the bliss burger and we promise it will not disappoint. And, if you find yourself awake in time for the breakfast menu, we suggest the 'full breakfast', topped with every breakfast food you can imagine, all served on Iggy's organic sourdough bread, which comes all the way from the bakery next door so you know it's fresh! To top it off, the light, beachy and airy interior casts a relaxing spell that will make you feel like you're on holiday, and will leave you feeling happy, relaxed and full!
Address: 127 Macpherson Street, Bronte
Hours: Monday – Sunday 7 am – 3 pm
Phone: (02) 8040 9519
Burger Frank Introduces Delicious Plant-Based Burgers
To coincide with National Eat Your Veggies Day (Thursday last week) Burger Franks have launched their brand-new FRANKIE Plant-Based Menu. Take it from us (non-vegan) it's something worth getting excited about. Since opening the restaurant in 2016, owner Michael Sebalj said he's made it his mission to use only the best locally sourced ingredients to develop an enhanced flavour profile, and it shows. Almost everything is locally sourced or handmade, from the sauces to pickles and the plant-based patties served on house-baked plant-based buns, the flavours are unexpected and immense.
Our personal favourites include the FRANKIE X with chickpea + sweet potato pattie, sliced cheeze, housemade FRANKIE sauce, fresh pickles and kaleslaw. And the HANKIE FRANKIE with a meat-bean pattie, sliced cheeze, FRANKIE sauce, beetroot ketchup, fresh pickles and diced onion. But, it's the loaded fries that really take the new menu up a notch with sauces including beetroot relish, chilli jam, Chimichurri mayo and more. There are even vegan milkshakes with flavours including chocolate, berry, and crunchy peanut butter.
Service options: Dine-in · Takeaway · Delivery
Located in: Camden Village Court
Address: 7/180-186 Argyle St, Camden NSW 2570
Hours: Wed 12-3pm, Thur 12-3 & 5-8pm, Fri 12–3pm & 5–8:30pm, Sat 11:30am-3pm & 5-8:30pm, Sun 11:30am–3pm
The Winter Village
The Winter Village will make its debut in Parramatta for its inaugural launch this June, making
way to NSW due to popular demand as Sydney-siders finally get a taste of the alpine-inspired winter
wonderland. This is the City of Parramatta's Winterlight for the 10th year running, transforming Prince Alfred Square in Parramatta into a winter wonderland, complete with an ice skating rink, igloo
village, daily snow showers and food and drink pop-ups serving the ultimate cosy comfort food.
After a blockbuster 2019 debut in Melbourne, The Winter Village will finally bring its greatest hits along with new additions to Parramatta, including a new Brunch and Skate package on weekends, ice skating and daily snow showers. Brought to life by Australian Venue Co, which operate a number of favourite pubs, bars and restaurants across Sydney.
When: June 19 – September 12
Address: Prince Alfred Square – Cnr Church Sreet and Market Street, Parramatta NSW 2150
Hours: Mon-Thur 11am-10pm,  Fri 11am-12am, Sat 10am-12am, Sun 10am-10pm
Melburnians have been granted a taste of their long-awaited European vacation with the highly anticipated launch of modern Mediterranean restaurant Vesper Bistro & Bar. The Aegean-inspired menu has a seafood slant, and has been created by Francesco Castellana, whose resume includes New York's Per Se and Melbourne's Vue de Monde.
Vesper is very 'Melbourne' and boasts a secret hidden bar – The Green Room – that opens onto a charming outdoor courtyard with a fountain and cascading greenery perfect for private events, parties, long lunches, and revealing to out-of-towners. The space also has a running nod to James Bond, which the owners can explain if you ask the right questions. With an extremely luxe fit-out, with marble tabletops, gold-gilt Christian Lacroix wallpaper, plush brown leather banquettes, mirrored finishes, and accents of Aegean blue.
In terms of menu items, Vesper open Spanakopita entrée is set to become a staple for carnivores and vegetarians alike, while the main menu plays host to Red snapper fillet, seven olive ragout and potato crisps and slow-cooked Lamb neck, pistachio-crusted brisket, artichoke skordalia. Those craving a twist on the traditional can go no further than the "Fish and Chips" rockling fillet, prawn, seaweed and saffron bearnaise.
Service options: Dine-in · Takeaway
Address: 23-25 Toorak Rd, South Yarra VIC 3141
Hours: Tues-Wed 5:30-11pm, Thurs-Sat 12-3pm, 5:30-11:30pm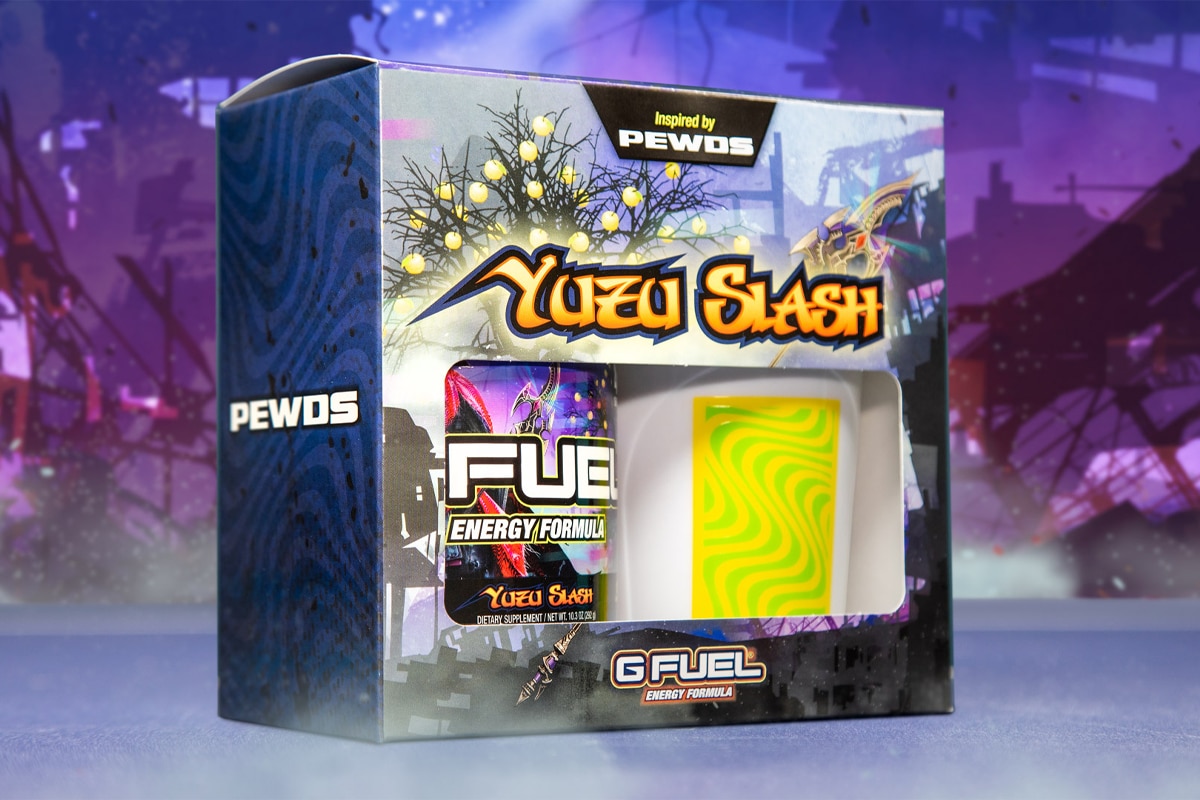 Pewdiepie x G FUEL 'Yuzu Slash'
G FUEL, The Official Energy Drink of Esports, has announced its new "Yuzu Slash" flavour created in partnership with Felix "PewDiePie" Kjellberg  – the worlds most famous Youtuber with over 110 million subscribers and 27 billion views on the platform to date.
31-year-old PewDiePie created his YouTube channel in 2010 and gained fame for his hilarious "Let's Plays" of popular video games such as Minecraft and Amnesia: The Dark Descent. As PewDiePie's channel grew in popularity over the years, he expanded into producing various types of content, including comedy sketches, reaction videos, parody music videos, and news recaps.
"We're very thankful to collaborate with Felix and expand our successful G FUEL PewDiePie product line to include the unique and refreshing Yuzu Slash. It's the perfect sequel," said G FUEL Founder and CEO, Cliff Morgan.
Everything from G FUEL Yuzu Slash's energizing citrus taste to its futuristic packaging is symbolic of PewDiePie's energy, love of Yuzu fruit, and admiration of Japanese culture. The drink is sugar-free and loaded with antioxidants from 18 different fruit extracts. Each serving has only 15 calories and contains 140 mg of caffeine along with proprietary energy and focus-enhancing complexes.
Menulog Brings Two Bondi OGs Together
With the sweet sizzle of summer now but a distant memory, Sydneysiders have been craving the taste of a day at the beach. Thankfully, there's a fresh new food collab coming that brings the best of two Bondi icons together. Bondi Pizza and Oporto have collaborated on the 'Oporto Bondi Pizza', which will be available to deliver fresh to your door only through Menulog.
Available for a limited time, Oporto, Bondi Pizza and Menulog will be delivering from select Sydney locations from Thursday 17 June to Wednesday 30 June. Adding Oporto's signature sauces and famous grilled chicken, the connoisseurs at Bondi Pizza have taken what we love from the cult-famous Bondi Burger and transformed it into eight slices of pure happiness.
The two-piece we've got our eye on have to be the Oporto Bondi Pizza ($20) with Oporto's signature grilled chicken fillets drizzled in legendary Chilli and Prego sauces atop a tomato and cheese pizza base with sesame seeds baked into the dough. We'd be lying if we didn't add on the famous garlic bread with dipping sauces for $6.
Melbourne Good Food Month – Update
Melbourne Good Food Month will safely continue this Winter, celebrating the very best of the capital's dining for the eighth sensational year. Due to recent Covid-19 restrictions, there have been some changes to this year's programme which will no longer see Featured Events taking place. However, Good Food Month is committed to supporting the Melbourne dining scene and has worked with some of Melbourne's best restaurants for Friends of Good Food Month. Follow the link below for a full rundown of what to expect, and for a list of every Good Food Month venue.
You'll also like:
Maccas is Slinging 50c Big Macs This Week To Celebrate 50 Years Down Under
20 Best BYO Restaurants in Sydney to Bring Your Own Booze
Study Shows Kiwi Fruit Could Help You Sleep