How to Visit Vivid Sydney in Style
If there's one festival that Sydneysiders mark on their calendars each year, it's Vivid. The annual festival of light is a great chance to check out Sydney Harbour, look at some next-level light displays, and visit a few restaurants and food venues along the way. This year, we had a chance to visit the festival ourselves, in style.
You've probably Vivid Sydney Guide 2023: Best Things to Do During the Festival of Light, but we're yet to share our personal experience after visiting this year's event. We had the chance to eat and drink at one of the best Vivid venues in all of Sydney, The Crown in Barangaroo, where we sampled the special Vivid cocktail menu at CIRQ before finishing our evening with dinner at a'Mare overlooking the harbour. Here's how everything went down.
RELATED: Take a Sneak Peek Inside Vivid Sydney's 'Dark Spectrum' Experience
CIRQ for Vivid Cocktails
If you're looking for the best Vivid views in all of Sydney, book a table 26 storeys up at CIRQ in The Crown Sydney. This was actually my first time visiting the venue and I was blown away by the scenes that stretch across to the Sydney Harbour Bridge on one side and the Barangaroo foreshore on the other.
The venue has added a few Vivid-themed cocktails to its drinks menu, and of course, I had to try the whisky-based 'Summer Sting' with Suntory Toki, Caol Ila, Fernet Branca, Drambuie, and Aromatic Bitters. Priced at AUD$24 it's fairly reasonable for a bar in one of Sydney's top venues. At the same time, the smokey whisky flavours really shone through while being balanced by the sweeter notes of Fernet Branca, Drambuie, and Aromatic Bitters. If you're looking for something sweeter, I'd recommend the October Bloom with Grey Goose Strawberry and Lemongrass, Dry Cassis, and Aperol. Both look great for the 'gram.
Located in: Crown Sydney
Address: Crown Sydney, Level 26/1 Barangaroo Ave, Barangaroo NSW 2000
Hours: Wed-Fri 4pm-12am, Sat 12pm-12am, Sun 12-10pm
Menu: crownsydney.com.au
Phone: (02) 8871 7171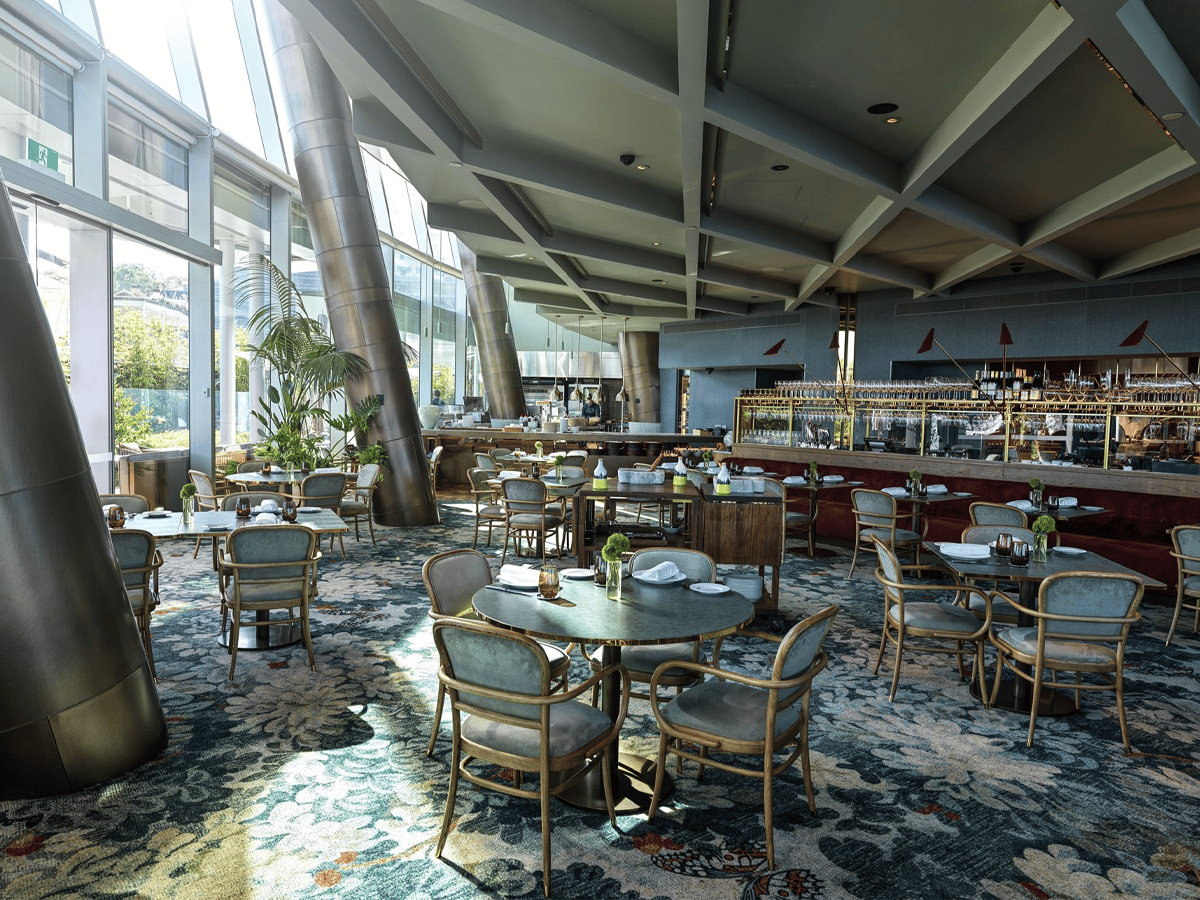 a'Mare for a Vivid Dinner
After a quick tipple at CIRQ, it was time to check out one of Sydney's best Italian restaurants, a'Mare. It's made a bit of a name for itself since opening and I'm probably the only person in our office that was yet to try the food. A modern fine-dining experience, service is next-level, while the food and drinks menus have enough options to make regular visits a real option.
---
Featured Video from Man of Many
---
We started with a Negroni before a few traditional focaccia arrived at the table alongside the Gnocco Fritto (Deep fried pizza filled with taleggio cheese and topped with wagyu bresaola) and Crudo di dentice (Wild caught red snapper crudo, citrus dressing, chilli oil and finger lime). If you're planning a date night, follow my lead, because the entrees were perfectly portioned for two people and set the ideal base for the menu ahead. A special mention goes to the deep-fried pizza ball with Wagyu on top, soft yet crisp, salty yet sweet with the taleggio cheese filling.
As we watched Vivid-lit ships sail past, the Vitello Tonnato con farinata made its way to the table. Hand-mixed and served tableside it took my partner and I straight back to Italy, although, I can confidently say that I've never experienced an antipasto so extravagant, both in flavour and presentation. The creamy, mayonnaise-like sauce, was perfectly balanced by the baby capers and pine nuts, while the veal was tender. If you're at all hesitant about cold meats, please make an exception and try this dish.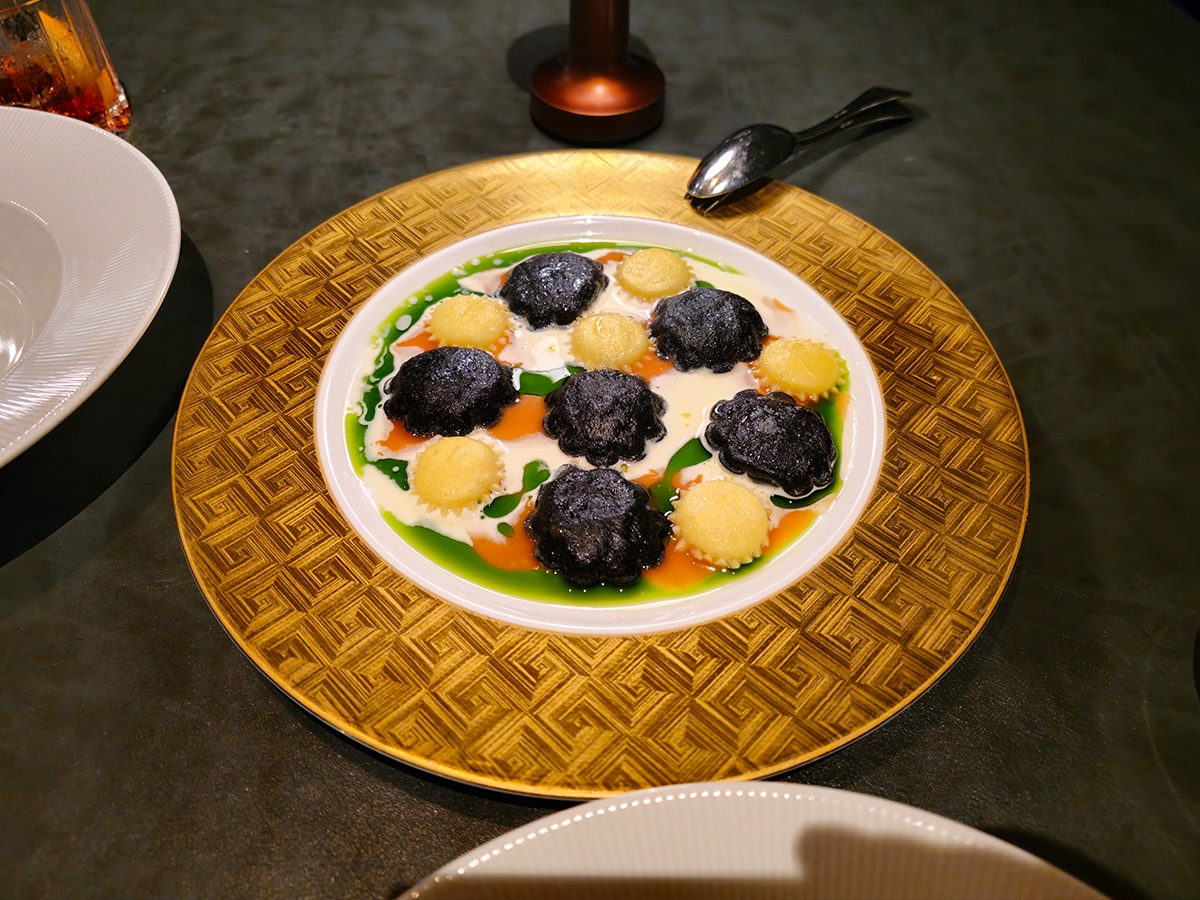 For mains, we went a little overboard as we wanted to sample as much as possible, but you could probably leave one of these. The star of the show has to be the Ravioli all'aragosta e burrata (NSW Eastern rock lobster and burrata ravioli) for sheer presentation, but the Ricciola alla griglia, salsa crudaiola (Grilled Hiramasa kingfish, 'crudaiola' dressing of tomato, green olives & baby capers) takes the cake for flavours. A high-quality sashimi-grade fish paired with a traditional fresh tomato dressing, it doesn't get any better.
Finally, we shared the Anatra arrosto con porro e lamponi (Roasted duck breast cooked on the bone, confit leek, raspberry and balsamic sauce) with some crispy roasted royal blue potatoes and rosemary.
Located in: Crown Sydney
Address: Crown Sydney, Level 1/1 Barangaroo Ave, Barangaroo NSW 2000
Hours: Sun-Thur 12–2:30 pm & 5:30 pm–12 am, Sat 12–2:30 pm, 5:30 pm–1 am
Phone: (02) 8871 7171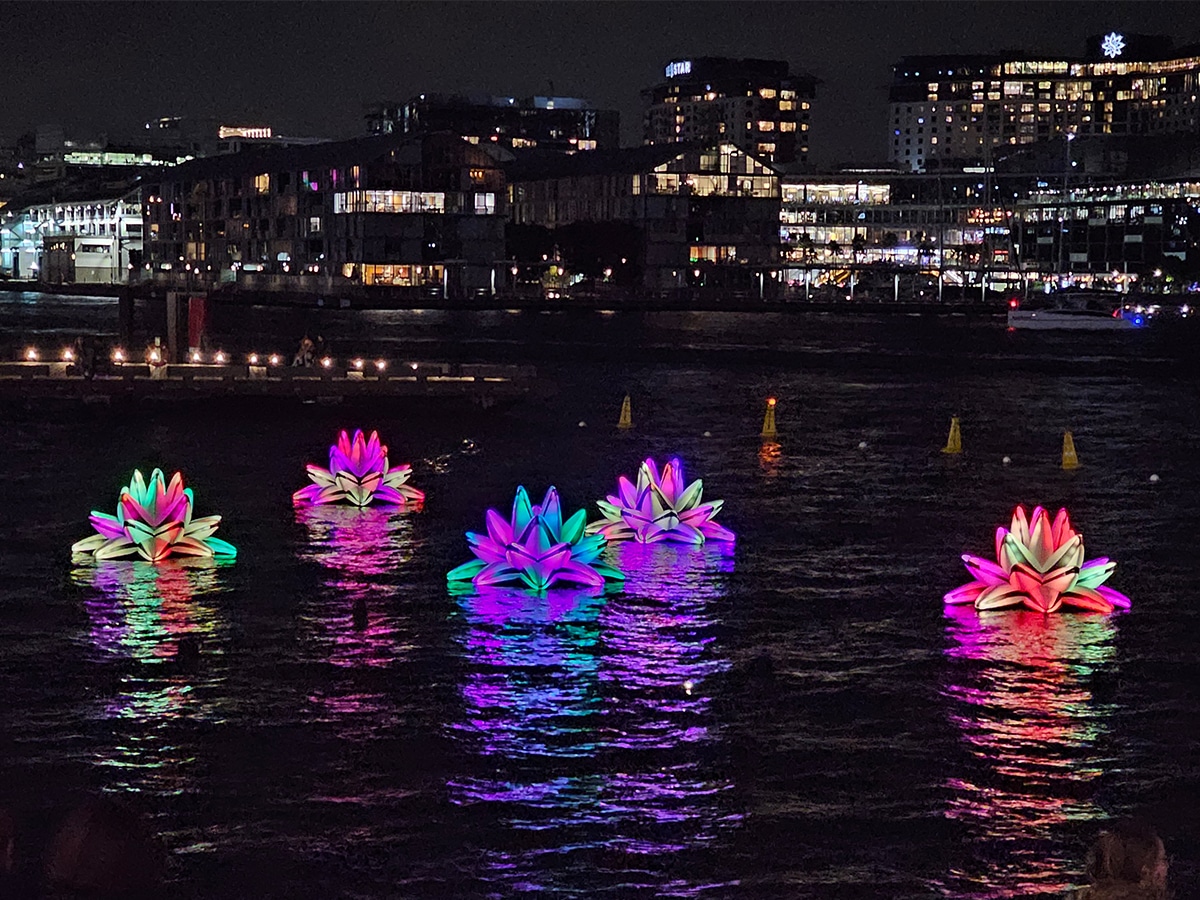 Visiting Vivid in Style
After dinner, it's a great chance to check out the light shows around Barangaroo. It's hard to miss the Light Forest on your way to the sand dunes in Dune. The highlight for us was the oversized lightbulb full of Bogong Moths at Night Whisper. Further around the foreshore, Night Walkers supersize frogs to highlight not just their beauty but also their ecological importance. While the highlight for us was a quick gelato at Rivereno Gelato while watching the fish projections on Barangaroo House. All in all, a fantastic way to spend a Friday night.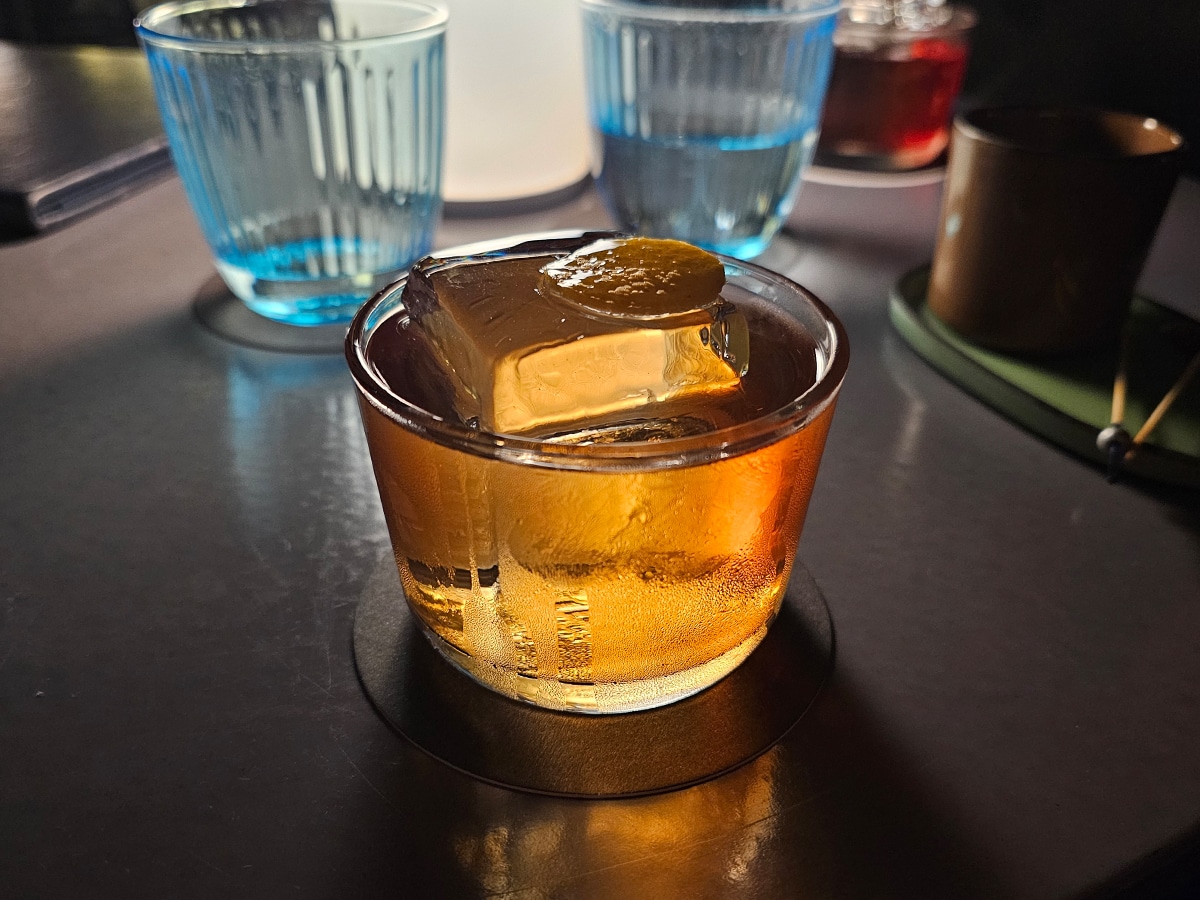 Interested in more places to visit in Sydney? Check out some of our favourite articles below:
Alternatives to the Vivid Sydney Experience
More Fun Experiences in Sydney
Best Restaurants in Sydney
Best Bar Themes in Sydney
Best Places to Stay in Sydney
You'll also like:
---
Featured Video from Man of Many