Man of Many's Staff Favourites – 12 September 2020
We've survived another week and it's got a lot to do with the bevy of sweet kit we scored over the past seven days. We've been lucky enough to test out some killer gear and noodle around on some new technology, all in the name of research. Now, as we always do on the weekend, we're offering up our thoughts, take them or leave them. Here's our top picks from this week collated in our Staff Favourites.
You'll also like:
Man of Many's Staff Favourites – September 5 2020
Man of Many's Staff Favourites – August 29 2020
Man of Many's Staff Favourites – August 22 2020
The Group Wines
Nick Hall – Digital Editor
I am by no means a wine snob, but over the past few months, I've definitely elevated my appreciation for a good vino. Now when I enter the bottle-o, I do find myself strolling past the $5 bottles the old me would have definitely considered. To help me on my wine journey, this week I found myself at the launch of The Group Wines, a new label that represents a collective group of growers, primarily around the McLaren Vale region. Being a South Australian boy, I have fond memories of running through the vineyards in McLaren Vale as a kid, so this definitely hit home for me.
What I really loved about The Group Wines was the decision to celebrate the growers. Rather than keeping the people behind the grapes nameless and faceless, each label provides a detailed story of the growers responsible for the drop. There are husband and wife teams, third and fourth generation growers and true wine lovers pouring their heart and soul into each bottle. The personal approach was nearly as refreshing as the wines themselves.
Like I said, as a South Australian, I'm geographically obligated to love a good pinot and luckily enough, The Shadow is one. The Adelaide Hills bottle was perhaps my favourite on the night, however, The Group also unveiled The Quiver – a McLaren Vale Grenache, The Fever – a McLaren Vale blend, The Murder – a McLaren Vale shiraz and The Siege – the flagship shiraz in the lineup. If you hadn't already picked up on the theme, each bottle makes use of a collective noun (shadow of jaguars, fever of stingrays), another subtle reference to the collective of growers. As a lover of words and wine, I've got to say I was impressed.
---
Featured Video from Man of Many
---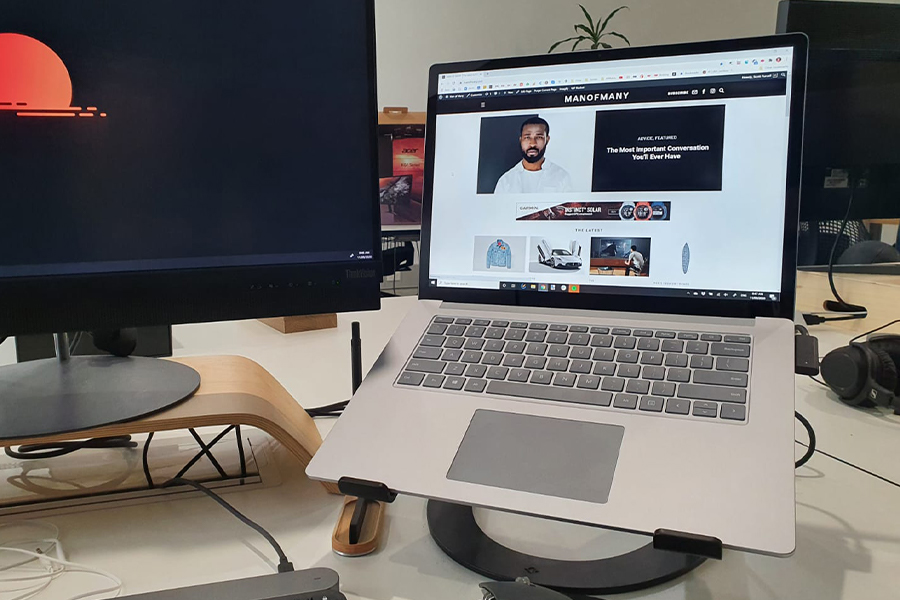 Microsoft Surface Laptop 3 – Update
Scott Purcell – Co-Founder
I've been using this laptop now for around six months and can openly say it's one of the best Windows laptops on the market for use around the office. While the 15-inch version I use might not be suitable for travel (compared with the slightly smaller 13-inch ultrabooks from its peers such as Dell & HP), it's the almost perfect form factor for use around the office. The bright clear 4k high-resolution 15-inch screen is large enough to actually do work on a spreadsheet which is a rarity these days with laptops. Also having the Surface Dock means I can easily snap the single magnetic chord on the side of the laptop to use with my larger monitor or quickly unplug to take it into a meeting room. The speakers are also super loud despite the grills not being visible and hidden behind the hinge of the laptop. Add to this a touchscreen, huge trackpad and matte finish, this is one step above the famous MacBook Pro.
@Namolla_Hotshow
Frank Arthur – Co-Founder
For decades, dancing in the rain has been a staple of pop music videos. It's a technique used for dramatic effect, yet so cliché that Korean social media star @namolla_hotshow has meme-a-fied it through a hilarious series of Instagram posts. Using music videos like Boyz II Men's single "On Bended Knee", Usher's "U Got it Bad" and Mariah Carey's "Through the Rain" as his muse, @namolla_hotshow expresses his emotions through the art of dance using the theatrical backdrop of a good ol' torrential downpour.
Look out Cardi B. @namolla_hotshow is a moist contender for 2020's WAP (wet-ass performer) of the year.
Pro Surfing is Back! Kind Of…
Tim Fernandes – Sales & Partnerships Manager
For fans of professional surfing, the pandemic has been rough. Most sporting codes like footy, soccer or basketball paused then resumed, and even if it's a little odd listening to the roar of a fake crowd, at least it's something. The World Surf League however decided to completely cancel all of their 2020 championship tour events, leaving surfers with nothing but re-runs of past events online since March.
That changes this weekend though, with a novelty event called the Tweed Coast Pro. The first event of an "Aussie Grand Slam Series", there'll be 12 Australian men and women battling it out in pumping four to six foot surf at Cabarita beach. Good swell is guaranteed, the event waiting period is 2 months and this Sunday the forecast is looking solid. Good surfing is also guaranteed, with two-time world champion Tyler Wright and almost-world champ Julian Wilson both attending. Plus the winner will be able to donate $20k to the charity of their choice.
Everyone wins!
You'll also like:
Man of Many's Staff Favourites – September 5 2020
Man of Many's Staff Favourites – August 29 2020
Man of Many's Staff Favourites – August 22 2020
---
Featured Video from Man of Many