The bad news is that you and your loved ones were too naughty to make Santa's list this year. The good news is that Santa isn't real so Merry Freaking Christmas!!! Being far less judgmental, we've put together a Gift Guide for all the taboo-breakers and pleasure-seekers out there, who know that there's nothing wrong with a little sexual exploration. After all, with an open mind and body come potential improvements to physical health, mental well-being, and intimacy between partners. Oh, and did we mention the unforgettable orgasms? You should be properly titillated right now so let's get straight to the gifts!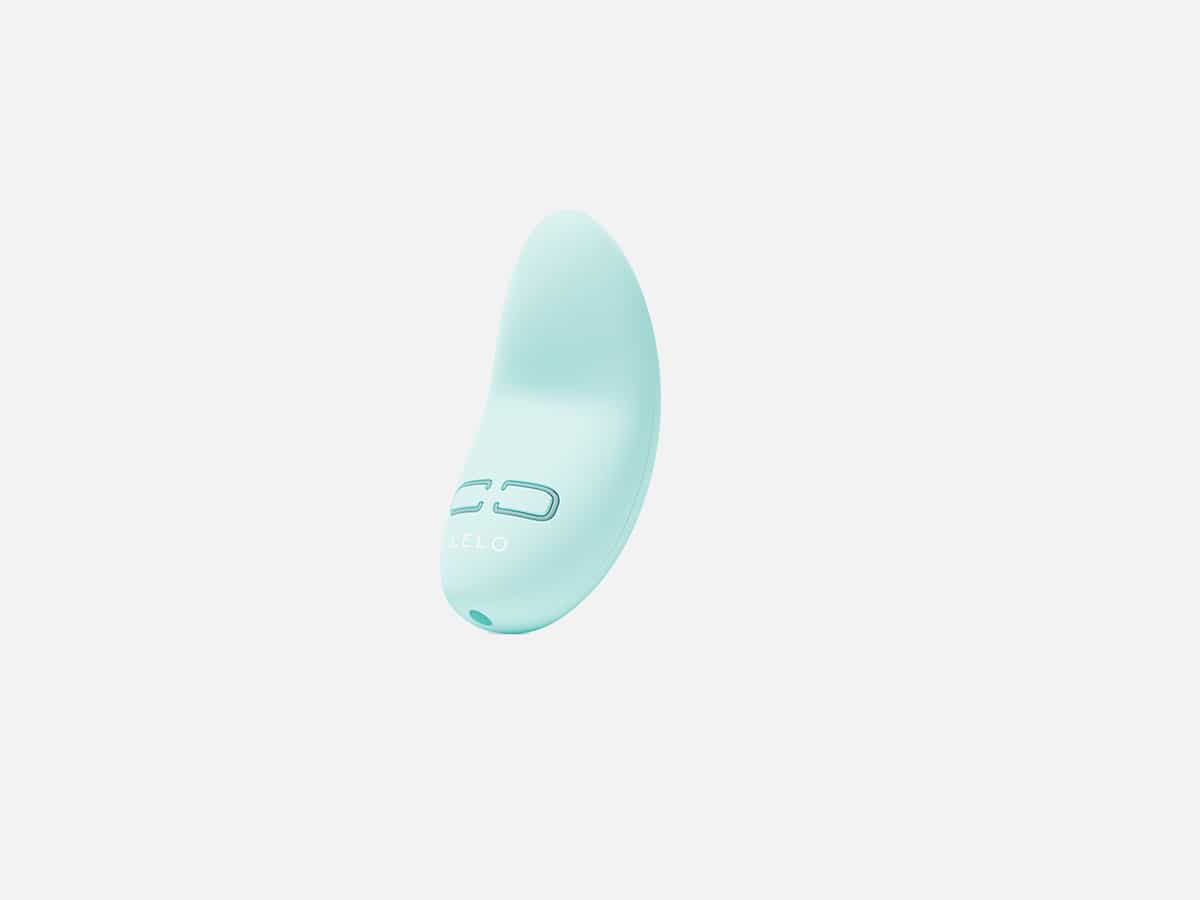 LELO LILY 3 Silent Mini Vibrator
In partnership with LELO
No one does naughty like sexual wellness company LELO, absolute masters of modern pleasure. In celebration of their 20th anniversary, the brand has reintroduced (and reinvented) an original classic. It goes by the name of LILY 3 and takes the form of a sleek and silent mini vibrator, which is dressed to impress and always ready for action. An ideal starter toy to bring into the bedroom, it's also the perfect Valentine's Day gift for her.
Don't be fooled by LILY 3's compact design as this iconic sex toy delivers serious power and performance. USB-rechargeable and fully waterproof (to the IPX7 standard), it offers 10 unique pleasure settings and 8 different vibration. The Versatile Vibrator as Unique as You. Take advantage of its discreet size and enjoy unlimited climaxes anytime and anyplace, including the bath or shower. Here's to a gift that truly keeps on giving. – AU$109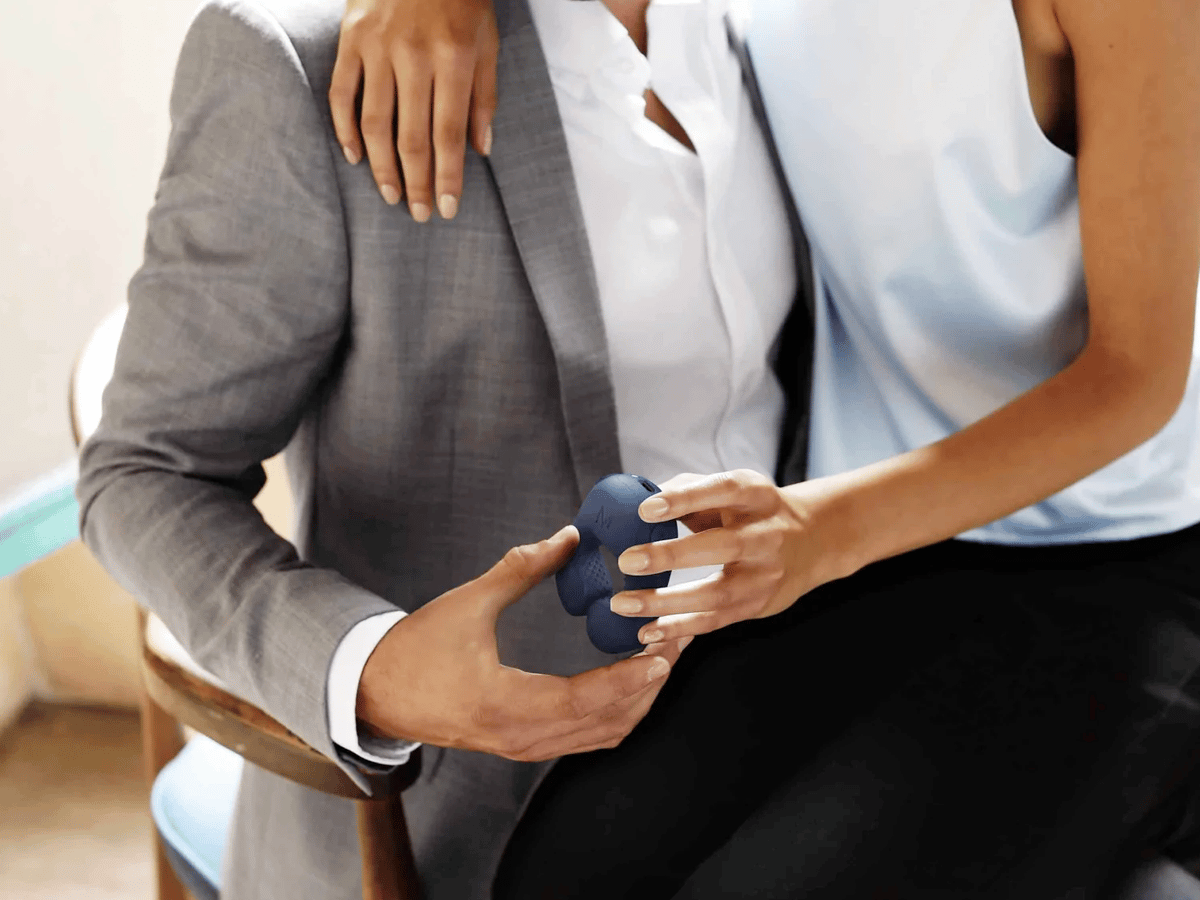 Tenuto Mini
Mind. Blowing. Sex. Every. Time. It isn't like that Sex Panther cologne that "60% of the time, it works every time." This compact and flexible wearable vibrator increases blood flow, helping you maintain your erection, and keeping you rock-hard for longer to stimulate you and your partner to "earth-shattering orgasms". Plus, its flexible design means a comfortable fit regardless of how well-endowed you are. "Designed for him, with her in mind", this is a Valentine's Day two-for-one special. – AUD$284
MysteryVibe Play Cards
Don't skip over the MysteryVibe Play Cards thinking they're just another variation of sex dice. With these playing cards and all your MysteryVibe Vibrators, you can learn intimate positions and stimulating techniques that will take you on a journey to becoming a play expert. Discover naughty tips and sensual tricks and spice up the bedroom with 69 (nice) unique play positions with equally playful names, like the Cunnilingus Connoisseur, the Giddy-Up Buzzin' Stud, and Hit The H-Spot (wherever that is). – AUD$27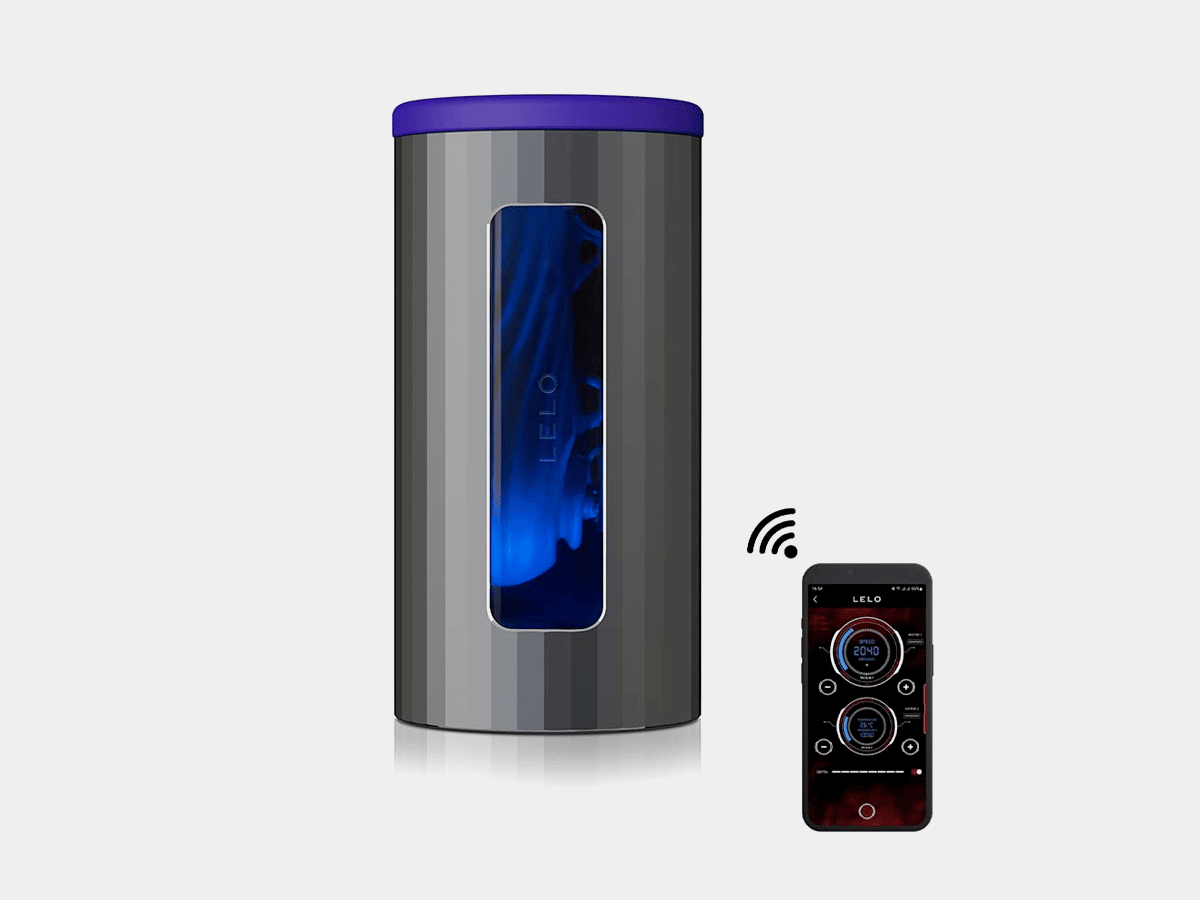 LELO FS V2 Male Pleasure Console
Get ready for deep, penetrating vibrations to cover your entire erogenous area, no matter your size, shape, or familiarity with male pleasure toys. Then, sit back and enjoy the ride. F1S V2 combines the original LELO technology with cutting-edge design to let you personalise the pleasure experiences ensuring your reach that perfect climax every time. – AUD$369
We-Vibe Sync 2
A remote control vibrator. By yourself, it's an easy way to stay in control of your pleasure session. In the hands of a lover, all bets are off with the We-Vibe Sync 2 Remote Control and App Rechargeable Couple's Vibrator. Enjoy dual stimulation and app-controlled features "for hands-free thrills during sex," thanks to a ribbed internal arm that targets the G-spot with textured bliss. With three speeds and seven vibration patterns, you can dial in the ideal settings amongst the smorgasbord of pleasure-inducing combinations. It's hands-free, jaw-dropping simultaneous pleasure for everyone this Valentine's Day. – AUD$219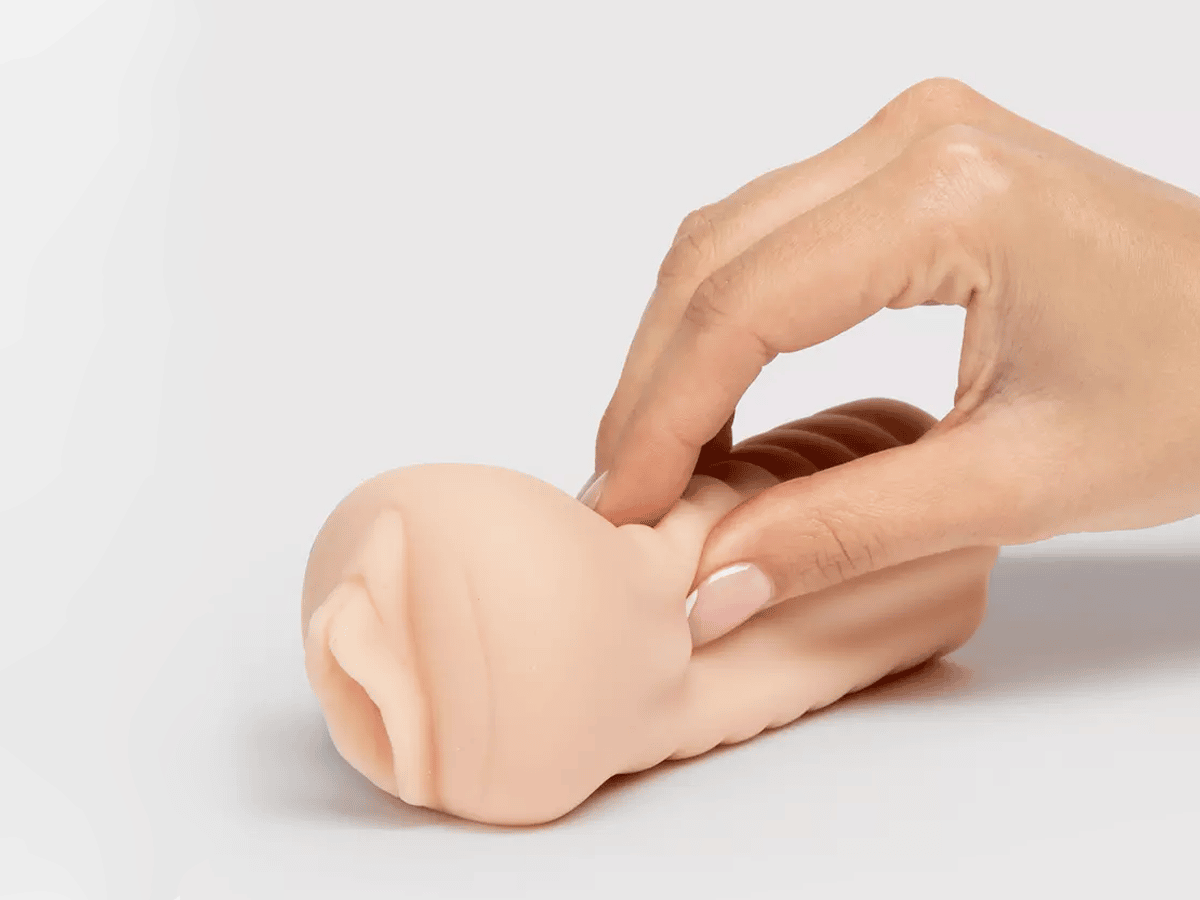 Lovehoney Thrust Pro Ella Pocket Pussy
The literal name choice aside, the THRUST Pro Mini Ella Realistic Pocket Pussy is an affordable entry point into the world of male pleasure toys. Super-tight and as realistic as the smooth and supple TPE material can be, enjoy Ella's thrilling textures as she embraces your entire length within her womanhood as you thrust your ticket between her welcoming lips on your one-way trip to orgasm town. – AUD$19.95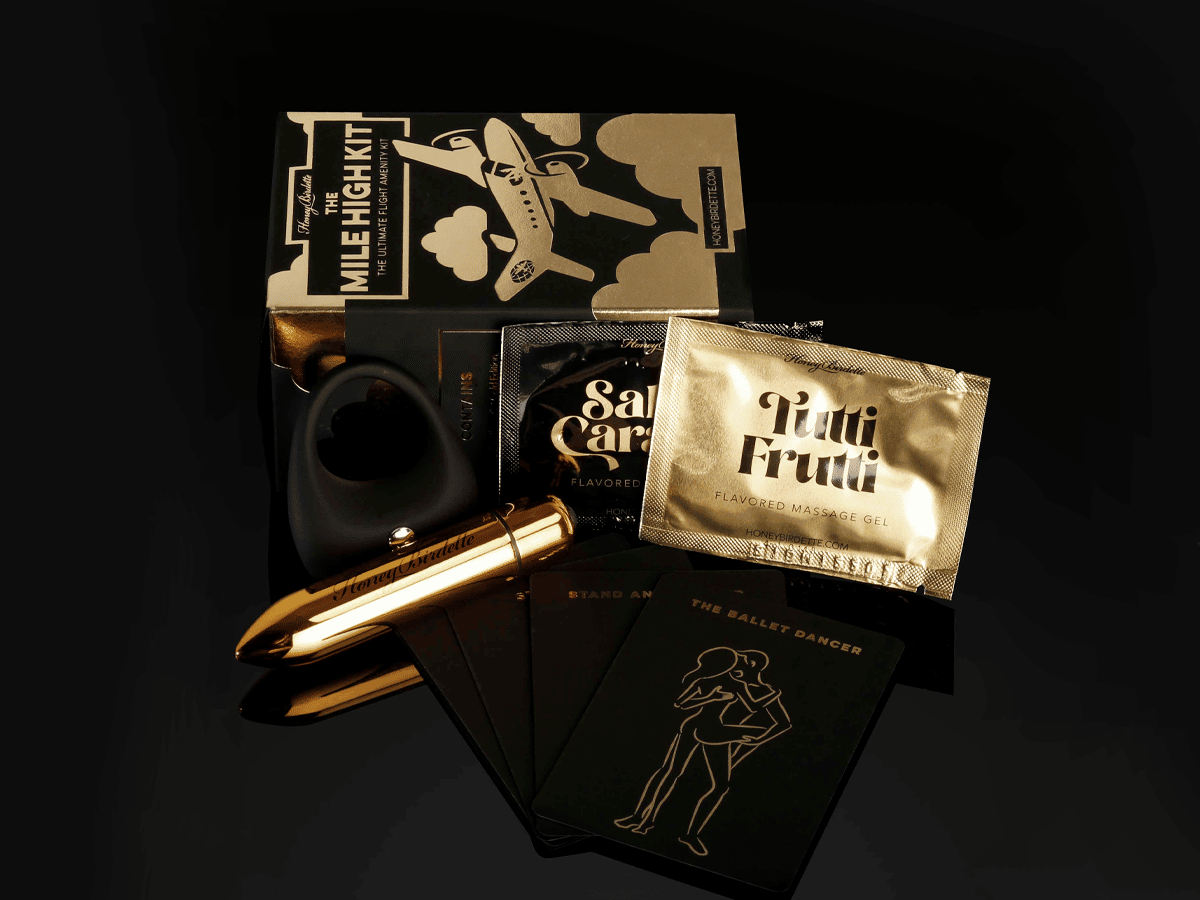 Honey Birdette Mile High Kit
Good afternoon; this is your captain speaking. We're demanding you strap yourself in and prepare for the Mile High Kit because it's time to get an experimental 25,000 feet in the air. Inside Honey Birdette's black box of goodies are two toys, two gels, and some seriously sexy position cards that will have you soaring in no time. Are you and your co-pilot ready for takeoff? Because there could be turbulence if you catch the drift. – AUD$45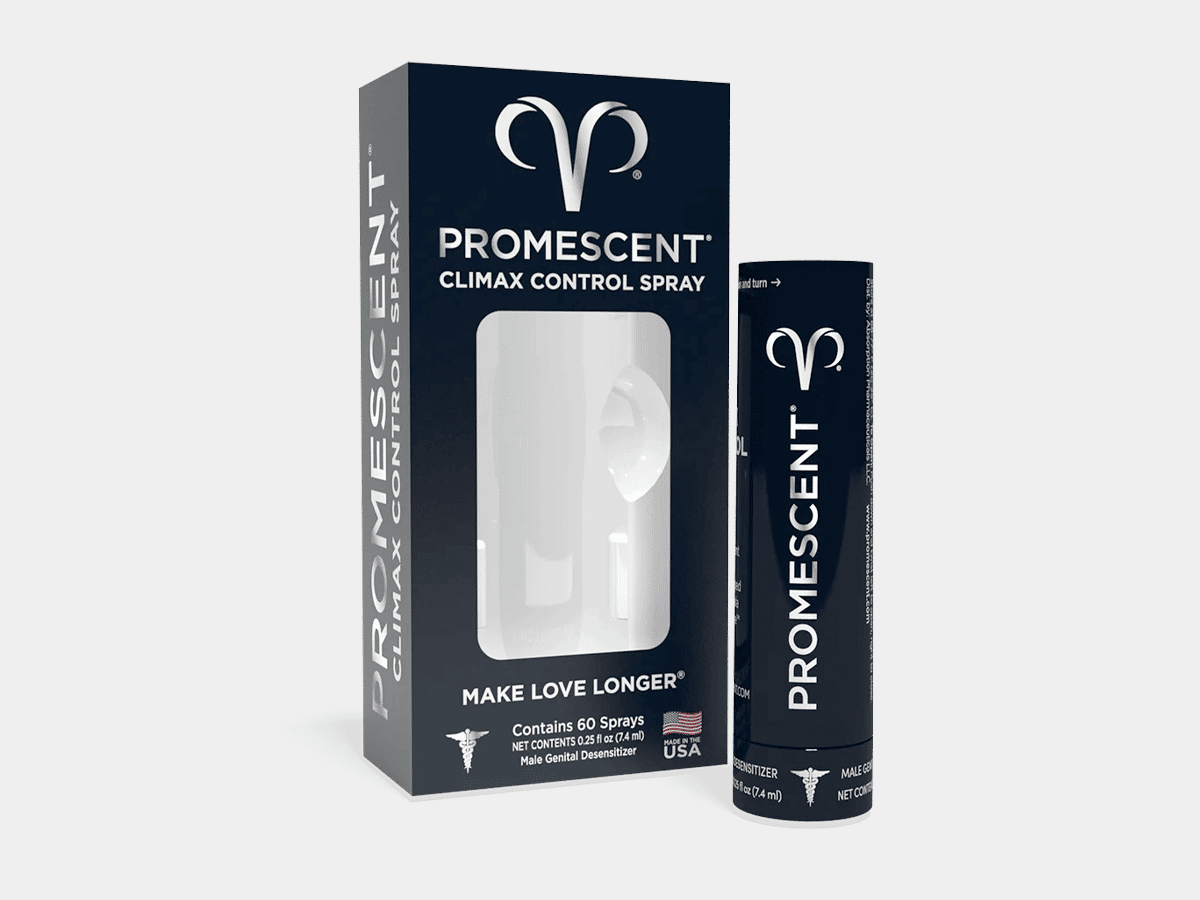 Promescent Delay Spray
Promescent Delay Spray relaxes the nerve cells that trigger orgasms, giving you more control over your manhood and the night ahead. On top of being long-lasting and easy to use – "a couple of sprays with Promescent before they go out, and guaranteed A-game all night long" – the Delay Spray claims to increase partner orgasms by 50%. Making it another two-for-one special on our Valentine's Day Naughty List. – AUD$59.95 (60-spray bottle)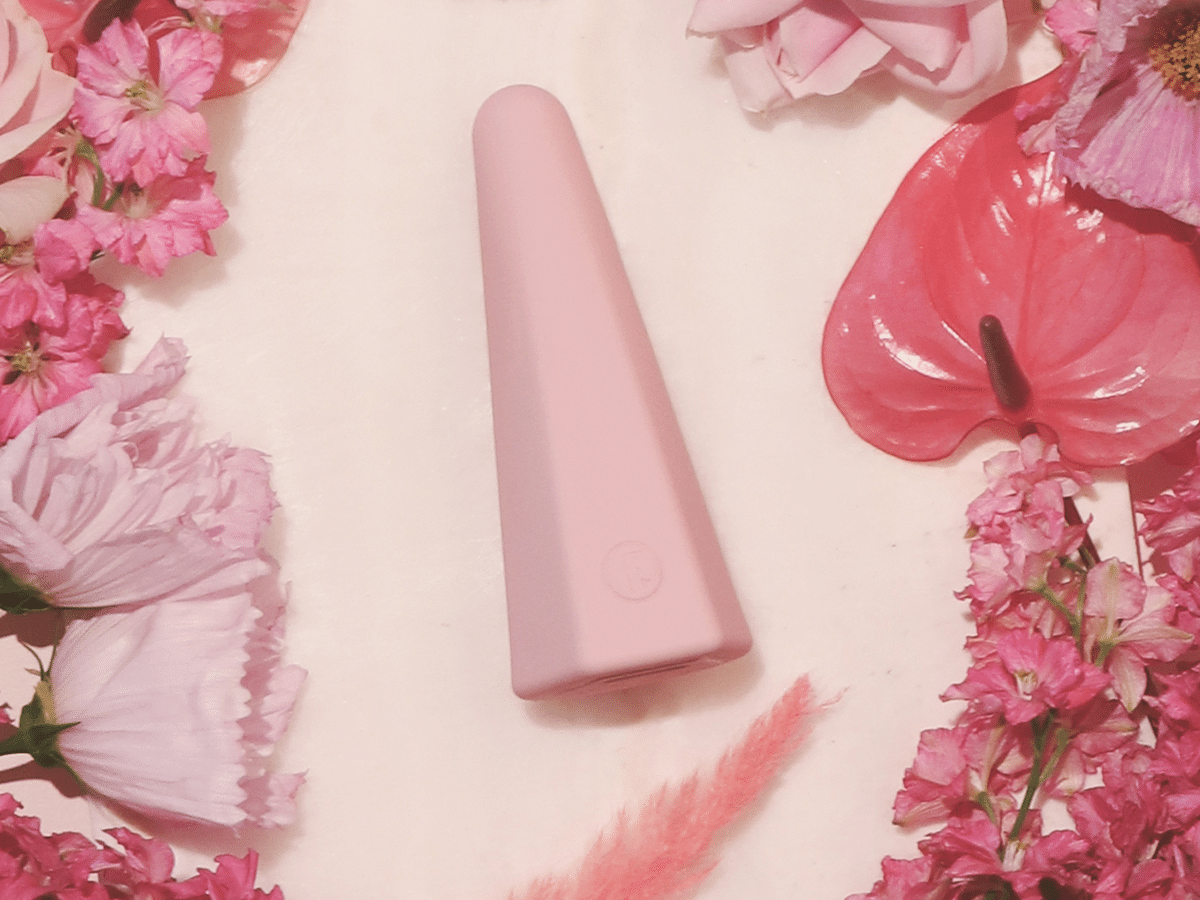 Frenchie The Petit Eiffel
Oh lala, there's nothing sexier than a little tower action and France is home to a big one. For Valentine's Day 2023, sexual wellness brand Frenchie has introduced The Petit Eiffel, a Parisian-inspired toy that will get your baguettes hard and your Moulins suitably Rouged.
The Petit Eiffel is a small but powerful mini vibrator made from super soft medical-grade silicone that features a whopping seven speeds. There is also a pinpoint flutter tip, which the brand says is perfect for targeted clitoral stimulation. It joins Frenchie's original and bestselling The Double Entendre (internal and external vibrator) and recently launched Le Coq (trio of cock rings) in the brand's pleasure product offering. C'est la vie! -AUD$85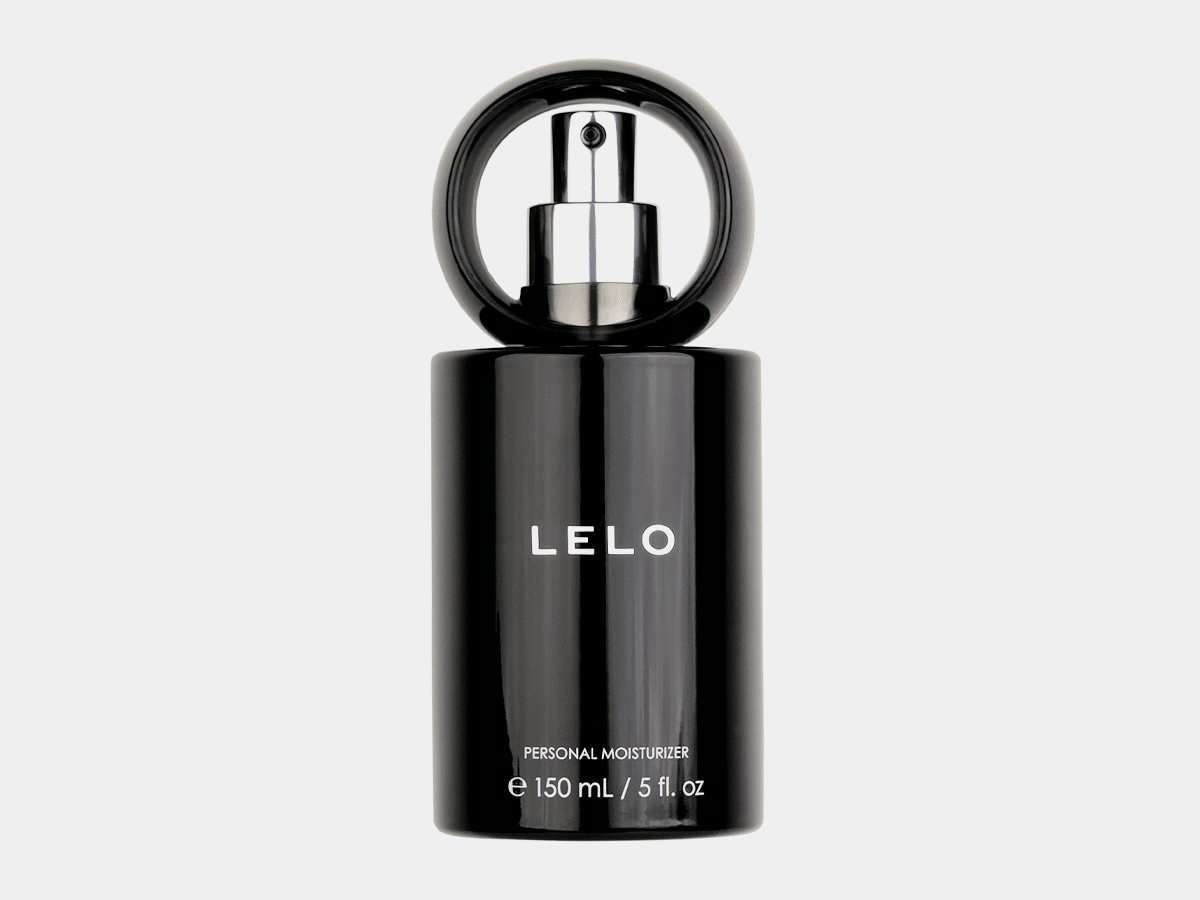 LELO Personal Moisturizer
Move over lube. Use this dual-purpose moisturiser with your pleasure items, your significant other, or for healthier, better-looking skin. Its body-safe ingredients (free of parabens and glycerine) are ideal for sensitive skin, and the water-based formula means it's non-greasy and less likely to stain the bed. Plus, it's condom-safe. What's not to love about the Personal Moisturiser from LELO? – AUD$43.90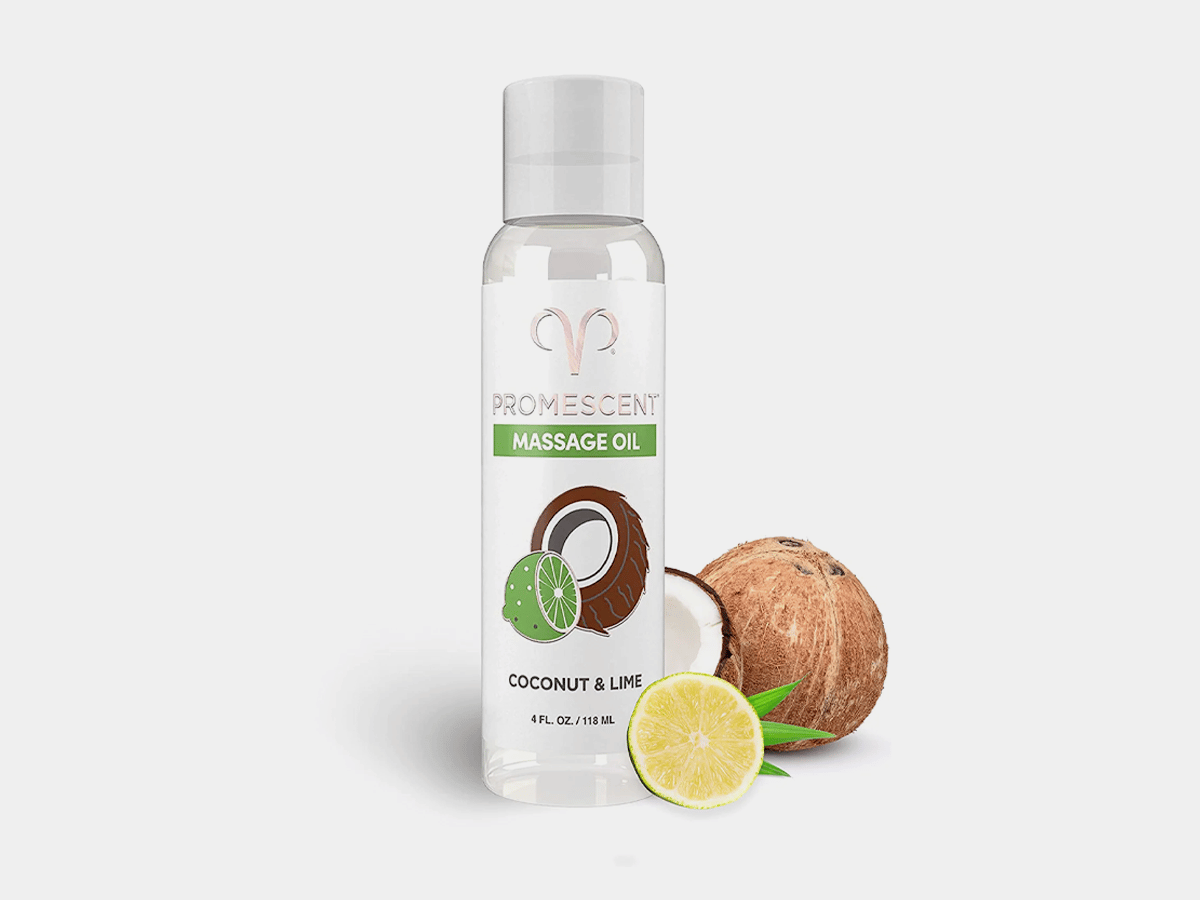 Promescent Massage Oil
Are you in the mood for desire, relaxation, serenity and everything else that comes along with an evening of passion? Ease into your fantasies with a sensual massage using Promescent Massage Oil. Formulated with coconut, lime, jojoba, and passion fruit oils, the combination of aromas will awaken the senses, while the specially crafted, body-safe blend of high-quality ingredients hydrates and refreshes skin. – AUD$14.95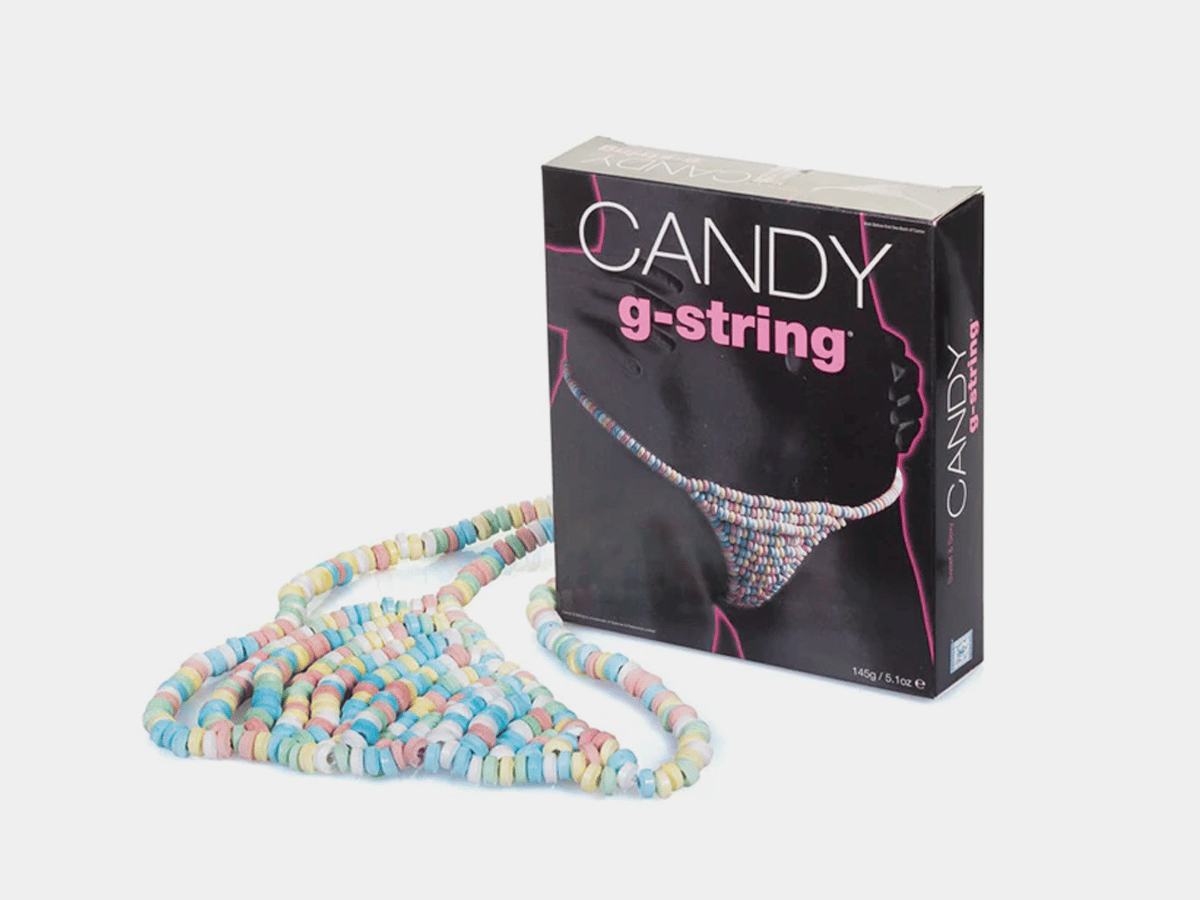 Edible Candy G-String
Is it really Valentine's Day without an edible g-string made out of candy? Beyond the delicious bites of confectionary that await you when you go down to pleasure town, she'll be left with just her birthday suit once you're done eating. That is if you truly plan to stop once the candy is gone. – AUD$19.95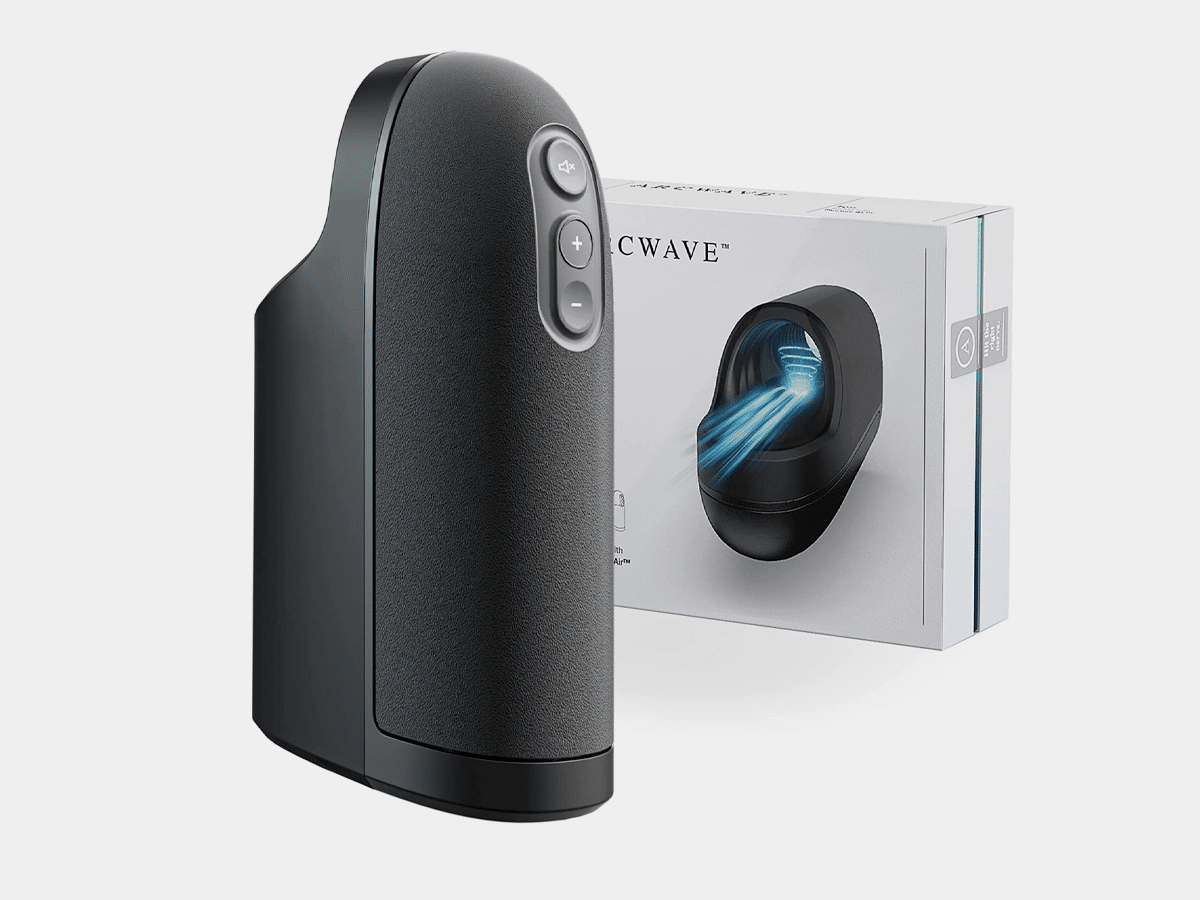 Arcwave Ion
Enjoy the stimulation of air with the Arcwave Ion. This powerful new toy promises contactless stimulation, eight intensity settings and "some of your most intense orgasms yet. as it targets the Pacinian pleasure receptors. This male sex toy works by targeting your Pacinian pleasure receptors in the frenulum, reacting to the contactless airwave stimulation. Hit the right nerve this Valentine's Day. – AUD$299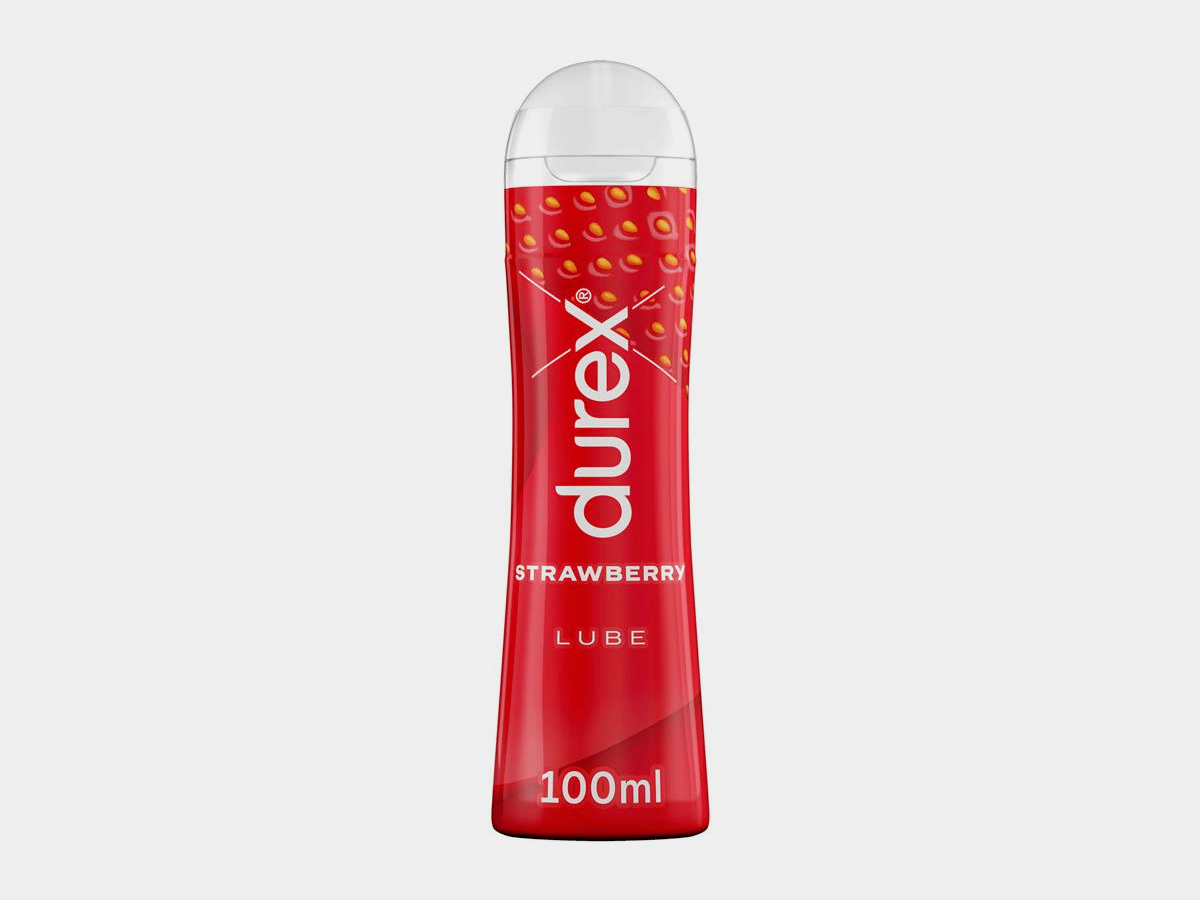 Durex Strawberry Lube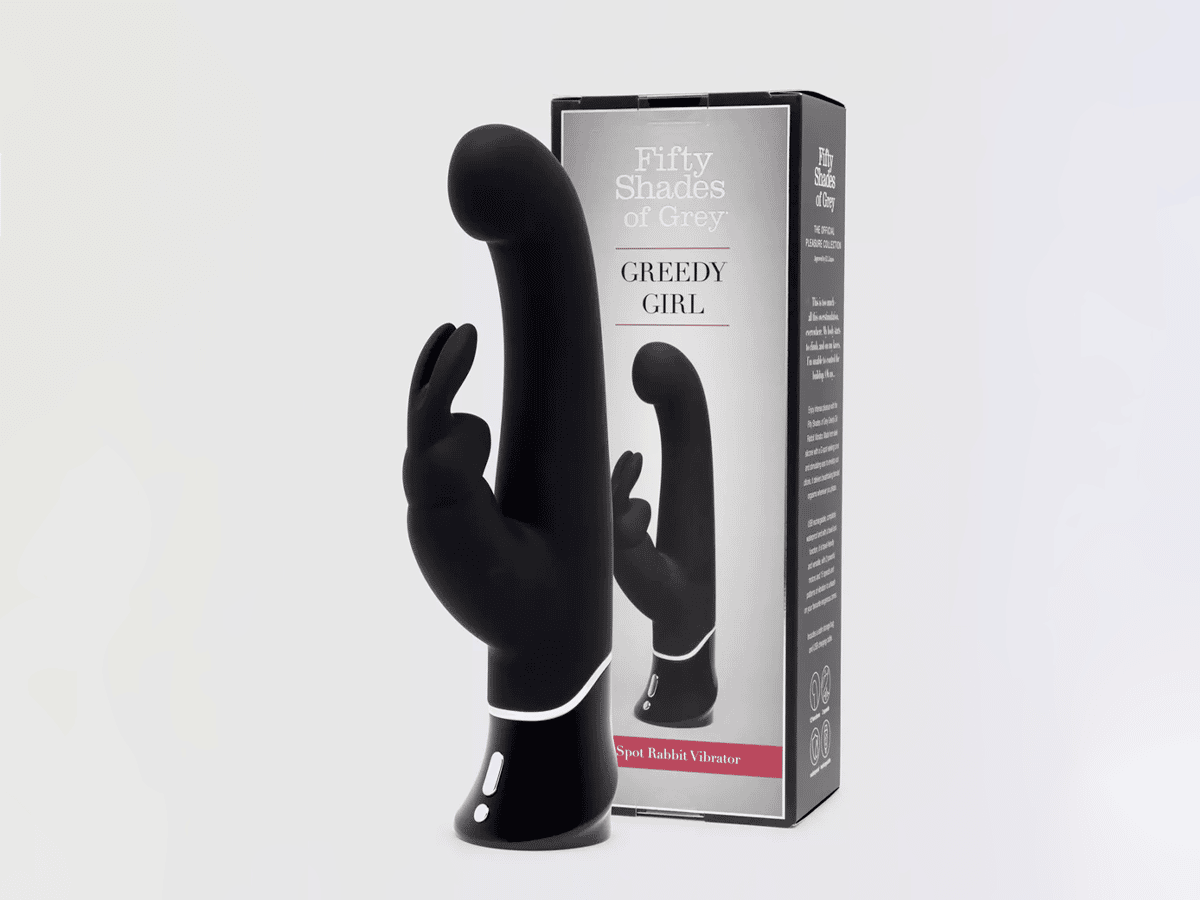 Fifty Shades of Grey Greedy Girl G-Spot Rabbit Vibrator
The Fifty Shades of Grey Greedy Girl G-spot bunny vibrator mingles silky smooth silicone with 36 different vibration mode combinations that deliver "tailor-made orgasms". The Greedy Girl rabbit vibe is powered by two motors for stimulating vibrations along the shaft and a clitoral stimulator with long, thick, flexible ears that always hit the spot. – AUD$139.95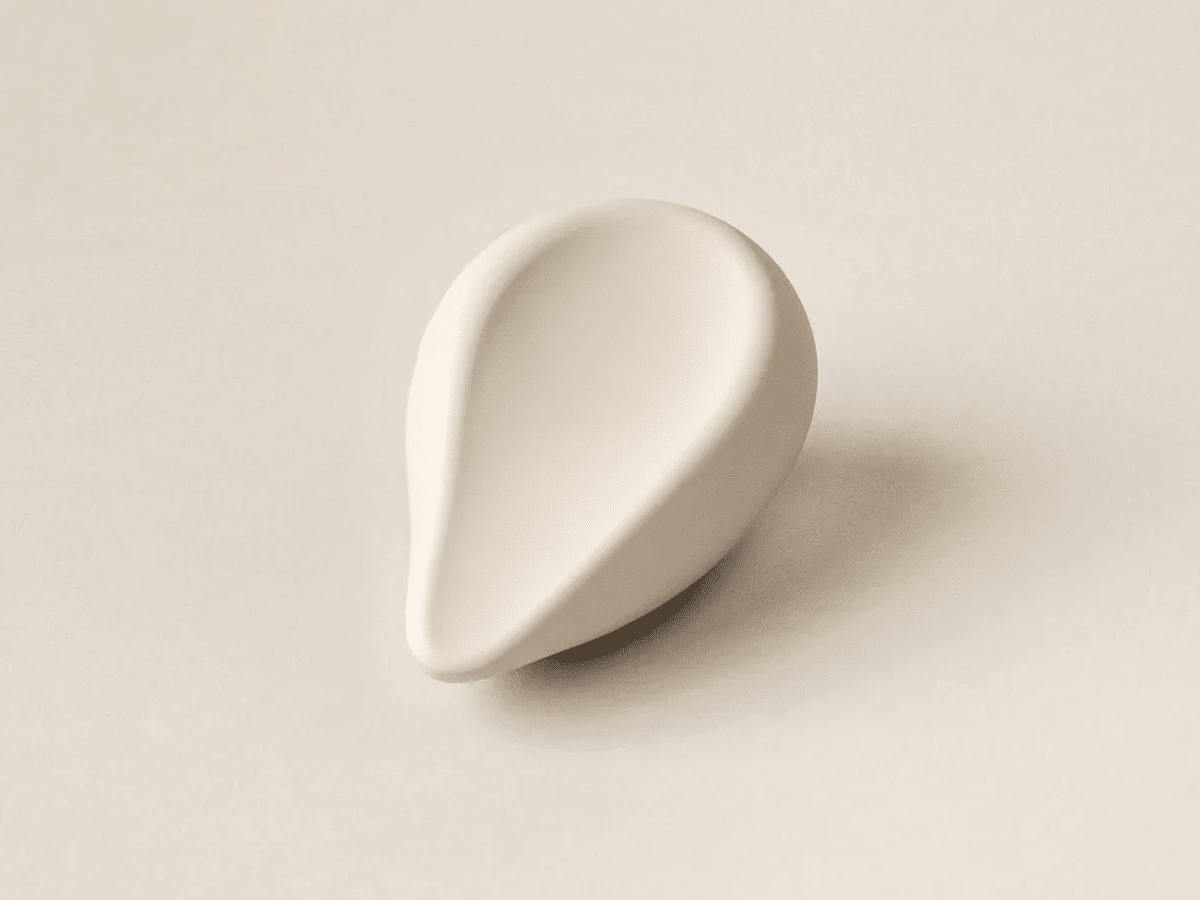 LBDO Essensual Vibe
The LBDO Essensual Vibe is an Australian-made vibrator made for everyone. Created to fit various body types and crafted with soft-touch, medical-grade silicone that will caress you towards pleasure like never before, it's a versatile vibrator suitable for all levels of play, from beginners to sexual pioneers. Used alone or with a partner, enjoy focused or broad stimulation using six vibration settings: low, medium, high, pulse, wave, and tease. Seek pleasure using the LBDO Essensual Viba on all your erogenous zones, and maybe chuck on one of their guided self-pleasure audios to get more in touch with yourself and your partner. – AUD$149.95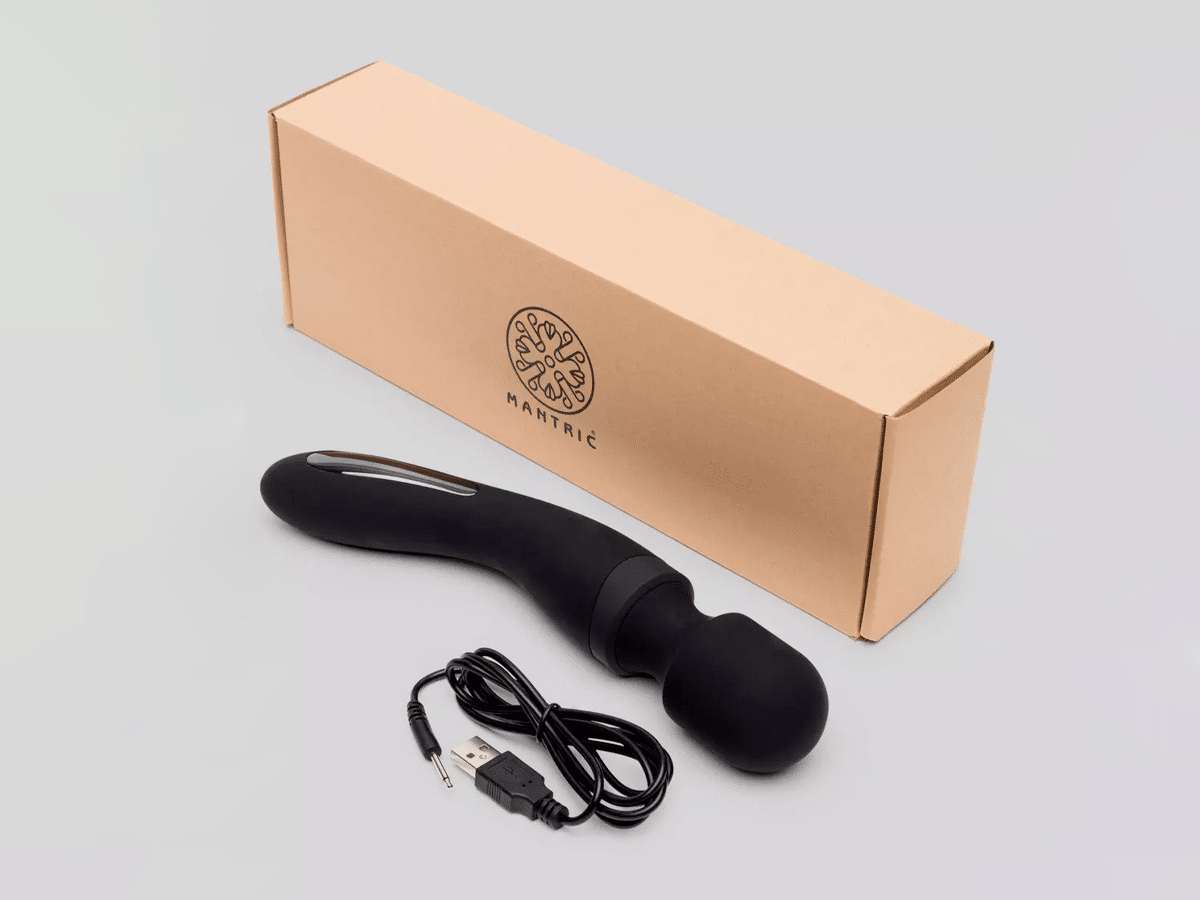 Mantric Rechargeable Wand Vibrator
The rechargeable wand vibrator from Mantric is designed to massage your body and induce orgasmic ecstasy. It has seven powerful vibration settings that you can use anywhere you like. It glides around the curves of your body for exquisite massages thanks to an ergonomic design that flows smoothly around the body and a large, bulbous head that produces a solid wave of vibrations. Its flexible neck and curved handle make it simpler to massage those hard-to-reach places or whatever crazy position you two have planned for tonight's debauchery. – AUD$109.95