10 Best Karaoke Bars in Sydney
Check your pride at the door because tonight is a night for singing like nobody is listening. Tonight's the night you're going to get up on that stage and sing your little heart out and not give two hoots if you sound like a strangled goose. That's what karaoke is, in all its glory, it's about getting rat-faced, letting loose and singing out of tune till your voice gives out and you wake up the next morning with a killer hangover and an inability to speak. But, it's a whole barrel of fun, so don't miss out and take a look at the 10 best karaoke bars Sydney has on offer.
You'll also like:
40+ Best Rooftop Bars in Sydney
Rockpool's Ultimate Guide to Seafood & Wine Pairing
30 Best Pubs in Sydney (Food, Beer, Events…)
Sydney Goes Nude for Dinner at Bottoms Up
1. Ding Dong Dang
Just through the neon-lit door is a Sydney institution that's been entertaining Sydney siders with its karaoke for years. Ding Dang Dong is where you go when you want the ultimate original old school karaoke experience, complete with dusty old remotes and flipbooks. While it keeps its rough aesthetic, the drinks are cheap (woohoo!) and it's got all the songs you'll ever need for a night of fun, drinks and terrible singing. Ding Dong Dang might be the best karaoke Sydney has to offer.
Address: 7 Randle St, Surry Hills NSW 2010
Phone: +61 2 9281 9000
Hours: Thurs and Sun 5-11pm, Fri and Sat 4pm-3am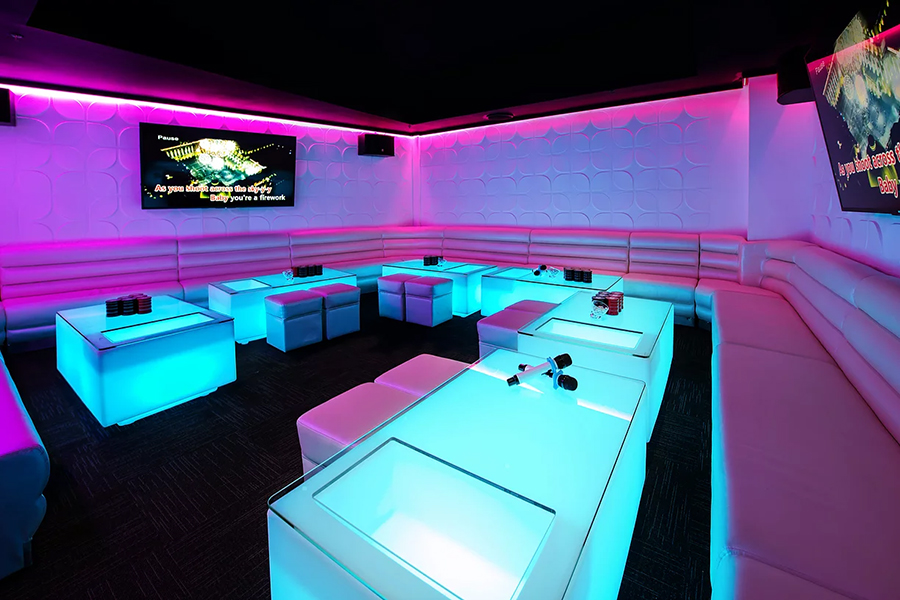 2. K-1 Karaoke Lounge
Open till 4 am, you'll be able to sing till the cows come home. K-1 Karaoke Lounge has had a recent upgrade with some pretty swanky audio and visual equipment to make your karaoke experience even better and some cool LED tables that change colour to suit any mood. And if that's not enough they also have minibars inside.
Address: Level 2, 31-37 Dixon Street, Sydney NSW 2000
Phone: 0415909888 or (02) 92111776
Hours: 12pm-4am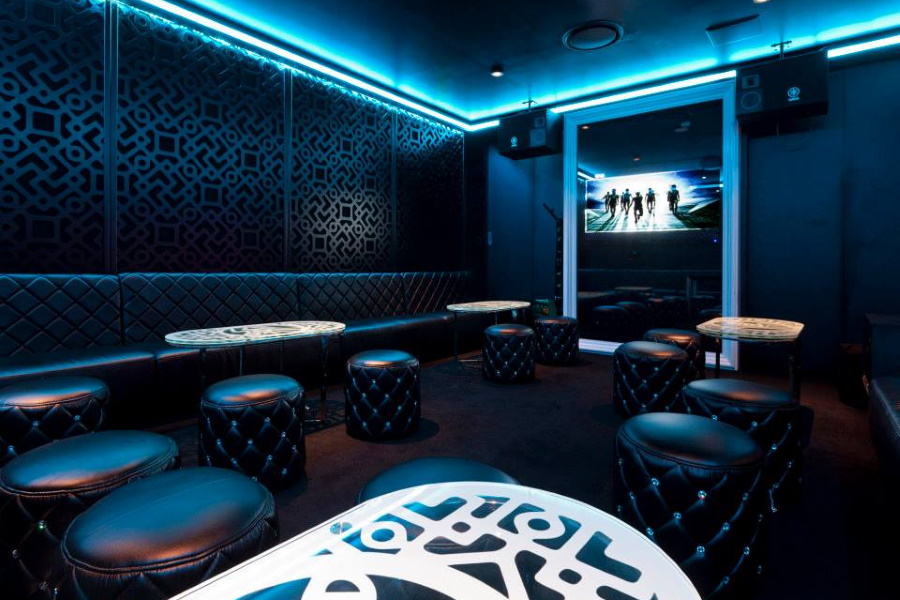 3. Dynasty Karaoke
Located in Dixon Mall, the heart of Chinatown, one of the best karaoke bars in Sydney, Dynasty Karaoke is delivering the goods with their 13 VIP rooms and main lounge area. You can sing in the main area if you're feeling a little daring or get one of the private rooms to limit your embarrassment to just your group. Rooms are equipped with state of the art touchscreen audio and visual systems while the main area features a stage with a huge LED screen.
Address: 1/63 Dixon Street, Haymarket NSW 2000
Phone: 02 9281 9006
Hours: 1pm-4am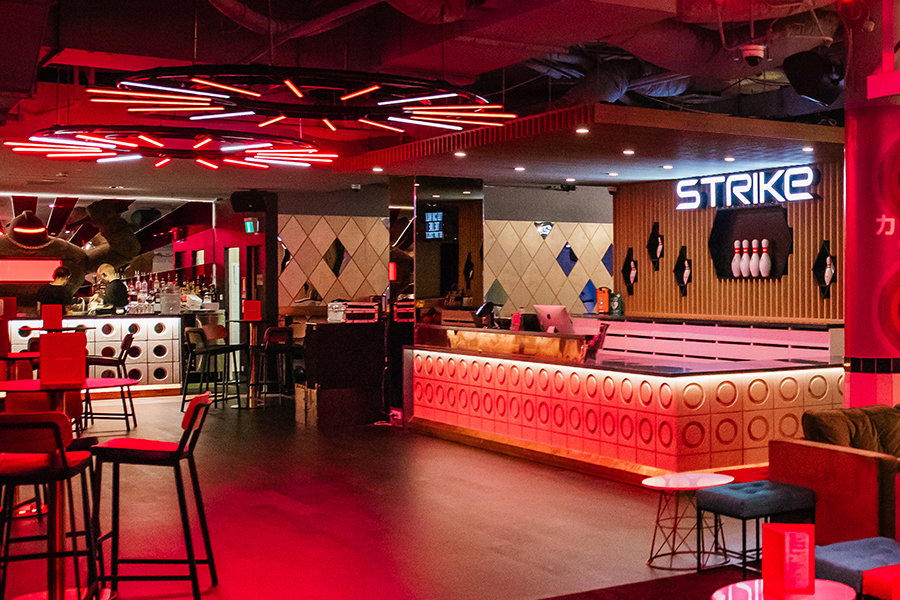 4. Strike Bowling
In Sydney, nothing beats Strike Bowling's Karaoke rooms for a cheap singing fix since they charge per room rather than per person. Also, it's the perfect spot if you want to partake in lots of activities in one night because you've got bowling (obviously), karaoke when you want a sing-song, laser tag if you feel like shooting you friends, and a bar for when you get thirsty from all that singing.
Address: 22 The Promenade, Sydney NSW 2000
Phone: 1300 STRIKE (1300 787 453)
Hours: Mon-Thu 11am-12am, Fri 11am-2am, Sat 10am-2am, Sun 10am-12am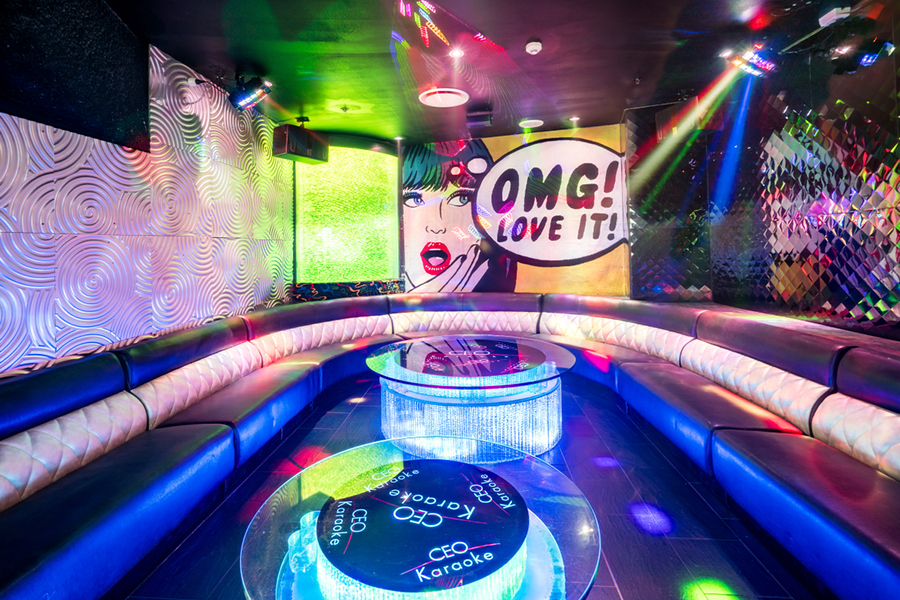 5. CEO Karaoke Sydney
When you're wondering where to go for your next singing session, take a look at CEO Karaoke. With 22 themed private rooms, state of the art studio sound systems, touchscreens and all the privacy you could want, you'll have all the ingredients for an amazing night out at one of the best karaoke bars in Sydney. Each room is decorated with Hollywood stars, TV series and movie themes. The drinks menu is the real winner here with a whole range of mixed spirits, beer, wine and champagne.
Address: 1 Dixon Street, Sydney NSW 2000
Phone: +612 92837883
Hours: Sun-Wed 1pm-2am, Thu-Sat 1pm-4am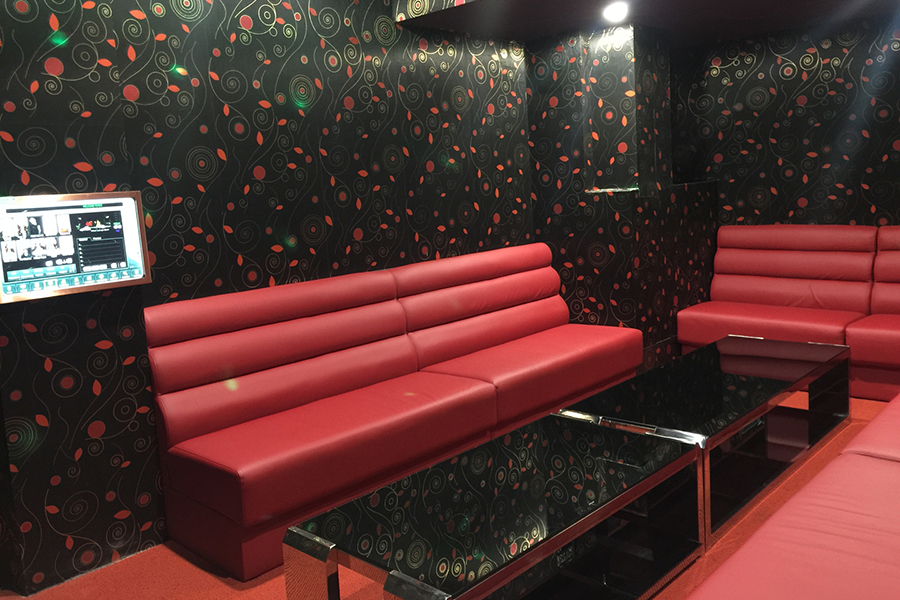 6. Echo Point
With more than 250,000 songs to choose from, you're really spoilt for choice at Echo Point. It's open pretty early if you want to start the party any time after 12 and is open well into the early hours of the morning. If you're feeling hungry they've got a selection of western and Japanese delights from chicken karage and sushi to fish and chips. For 22 years, Echo Point has been giving Sydneysiders cheap and fun entertainment, making it one of the best karaoke bars Sydney has to offer.
Address: 262 Pitt Street, Sydney NSW 2000
Phone: (02) 92831618
Hours: 12pm-3am
7. Karaoke World
Step up your Friday night drinks or celebrate a birthday at Karaoke world. Private rooms are decked out with fancy led light tables and brand new surround sound system with over 120,000 songs to choose from. Since 1994, Karaoke World has been the longest established karaoke room venue making it one of the premium karaoke bars Sydney has to offer. It's even been used on film shoots and video clips for the likes of AC/DC, Human Nature and more.
Address: 185 Elizabeth Street, Sydney NSW 2000
Phone: (02) 9283 8283 / 0426 882 322
Hours: Mon-Sat 3pm-4am, Sun 3pm-1am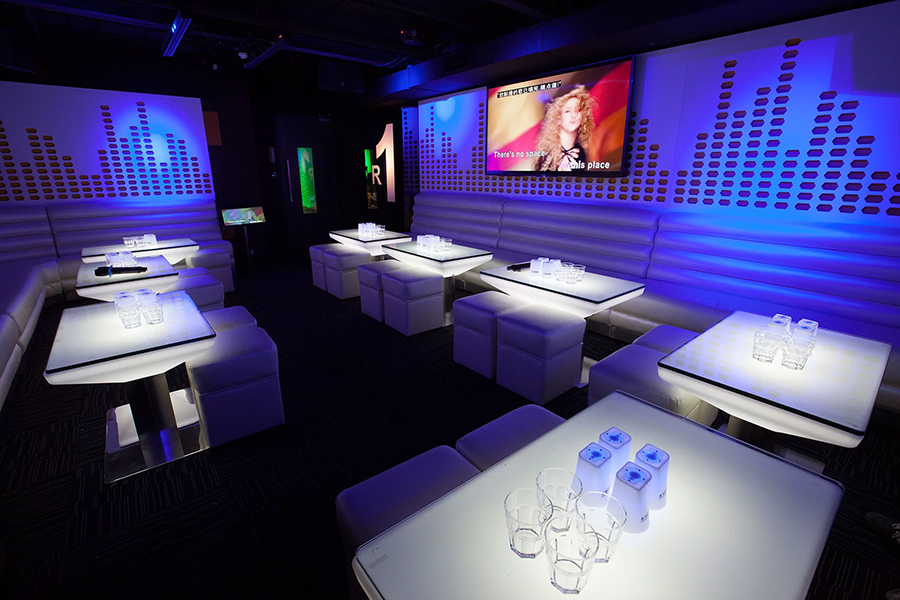 8. K-Square
Since 2005, K Square Karaoke has been one of the premier karaoke bars Sydney has to offer. It's got 17 private karaoke rooms with all the latest music hits along with state of the art audio and visual equipment, you're all set to bust a lung on the mic. Open till 4 am you'll have plenty of time to shine amongst your friends or embarrass yourself completely. Feeling peckish? They've got a whole range of traditional Asian dishes to beat the hunger.
Address: Capitol Square, G4/730-732 George Street, Haymarket NSW 2000
Phone: (02) 92818833
Hours: Mon-Fri 2pm-4am, Sat-Sun 1pm-4am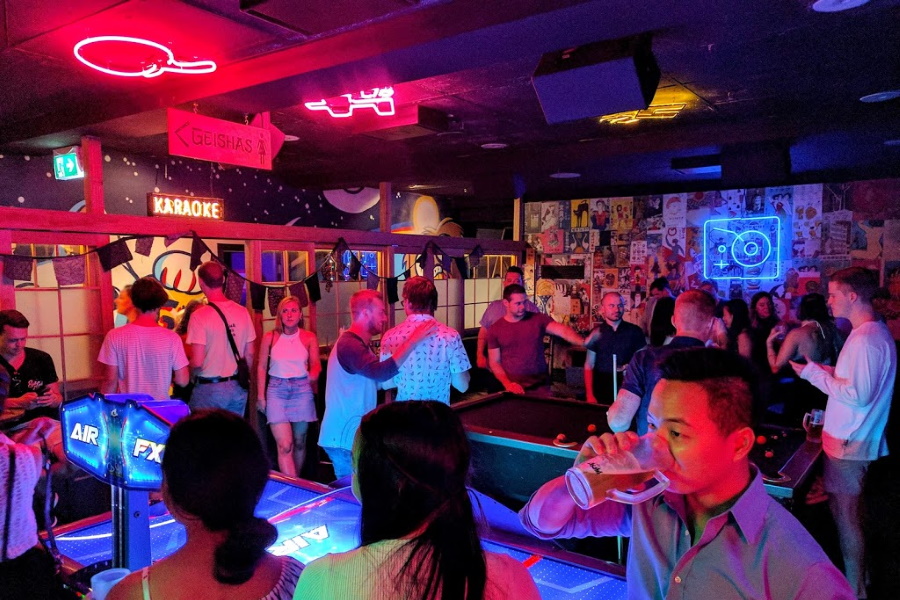 9. Goros
Goros is a late-night Izakaya and a little piece of Japan right here in Surry Hills. Serving up delicious Japanese food, Sake, arcade games and of course, Karaoke. Come for the food and stay for the karaoke at one of the best karaoke bars Sydney has on offer. There's three state of the art karaoke rooms, you can sing your heart out then head to the bar for some delicious cocktails, sake, Japanese beers and more.
Address: 84/86 Mary Street, Surry Hills NSW 2010
Phone: (02) 9212 0214
Hours: Mon-Wed 12pm-12am, Thu 12pm-1am, Fri 12pm-3am, Sat 5pm-3am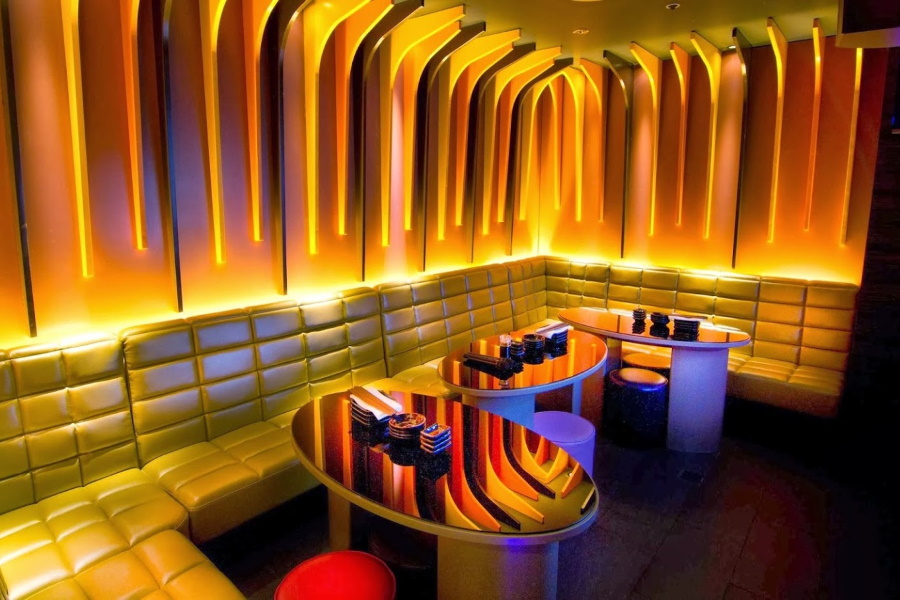 10. Lantern by Wagaya
Lantern by Wagaya is like Wagaya's fun younger sibling and has made a name for itself as one of the premium karaoke bars Sydney has to offer. Grab a few drinks and hit the karaoke rooms for a private sing-song with friends or colleagues. Feeling a bit hungry? You can grab a table and easily order on the touchscreens located at each table. Want to eat and sing at the same time? Grab a Dinner and Karaoke package.
Address: 591 George Street, Sydney NSW 2000
Phone: (02) 9283 8828
Hours: Mon-Sun 12pm-2am
You'll also like:
Why Your Next Date Night in Sydney is at Alibi
Hendrick's Midsummer Solstice Gin Takes Over Iconic Sydney Pub
40+ Best Rooftop Bars in Sydney