The See-Through Sky Pool Suspended Between Two Skyscrapers
You've heard of sky bridges—passageways built between two buildings so that pedestrians can cross back and forth. EcoWorld Ballymore's new Embassy Gardens in London has a new take on that idea. The Sky Pool is an 82-foot transparent swimming pool that spans the open space between two residential skyscrapers in southwest London. The pool is 10 feet deep and resides on the 10th story.
You'll also like:
Inside the $140 Million Penthouse that is Australia's Most Expensive Home
Steve McQueen's $12 Million Malibu Beach House is Up For Sale
Steven Seagal's Insane $3.3 Million Bulletproof Mansion is Up For Sale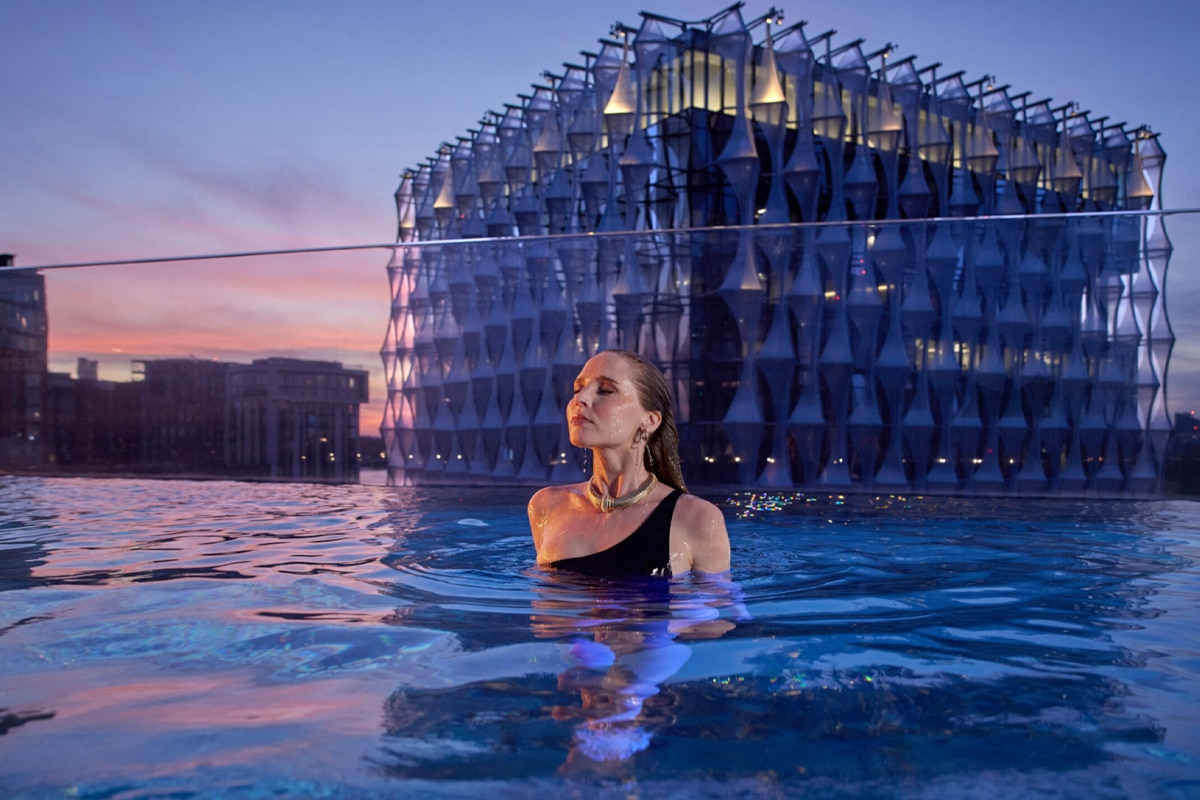 The Embassy Gardens Sky Pool is the largest freestanding acrylic pool in the world. The pool weighs around 375 tons, and it was no simple task for the builders to put the pool in place. "The lifting was a precision process, as there was a tolerance of just 30 centimeters in installing the pool into its steel frame," reports a press release from the Ballymore Group.
"The side walls of the structure form dep beams capable of spanning the 14 metres between the two buildings while carrying the weight of the water. The central acrylic structure is supported by stainless steel 'tubs' at either end that allows for steps into the pool, giving an overall pool length of 25 metres."
The sides of the pool are 200 mm thick while the bottom is 300 mm thick. The pool also features a lighting system. And as the pool is transparent, swimmers are treated to incredible views of London's Nine Elms neighborhood. You can also see the US Embassy, the south bank of the Themes, and the London Skyline, including Westminster and the London Eye.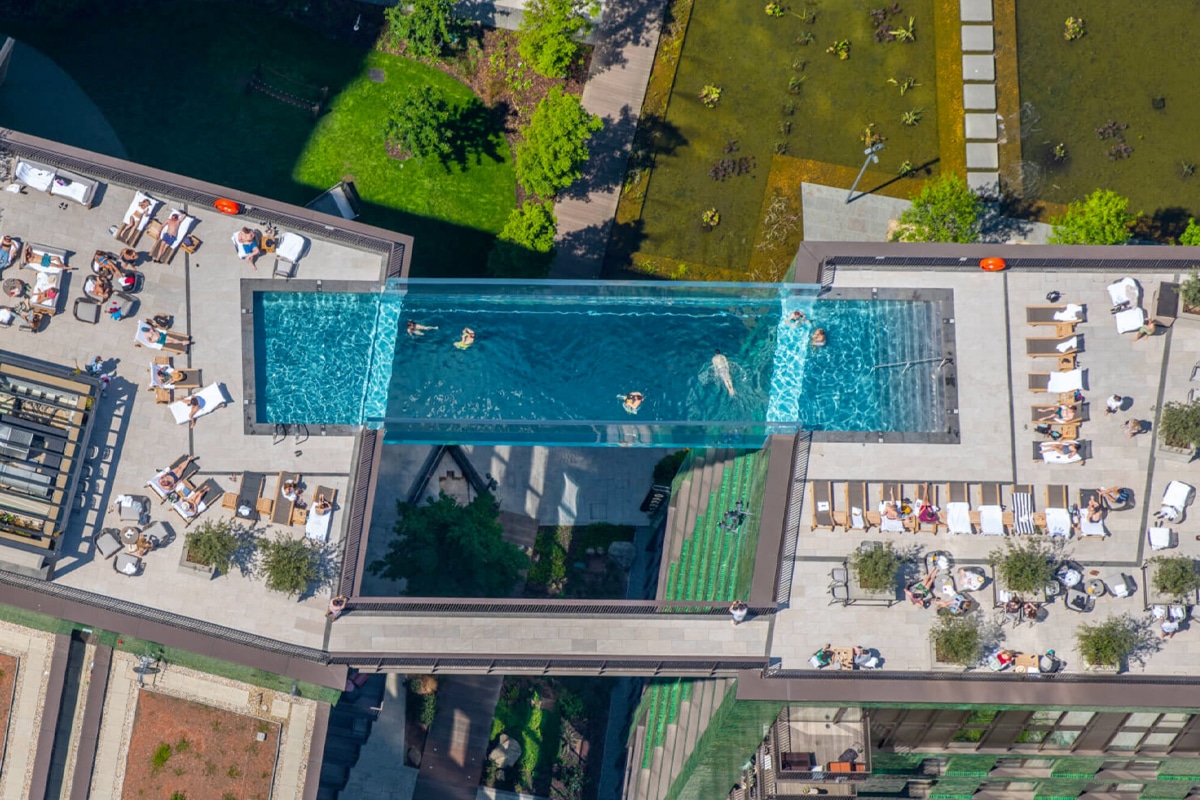 The Embassy Gardens is home to 2,000 homes while the Nine Elms neighborhood has 40 new developments being worked on. To be able to partake of the pool—which is heated so you can enjoy it even in London's cooler temperatures—is only available to residents of the housing complex. There's also a spa, bar, and an orangery attached to the pool. For those that prefer to not see through the floor they're relying on, there's also an aerial walkway between the two buildings that is adjacent to the pool.
---
Featured Video from Man of Many
---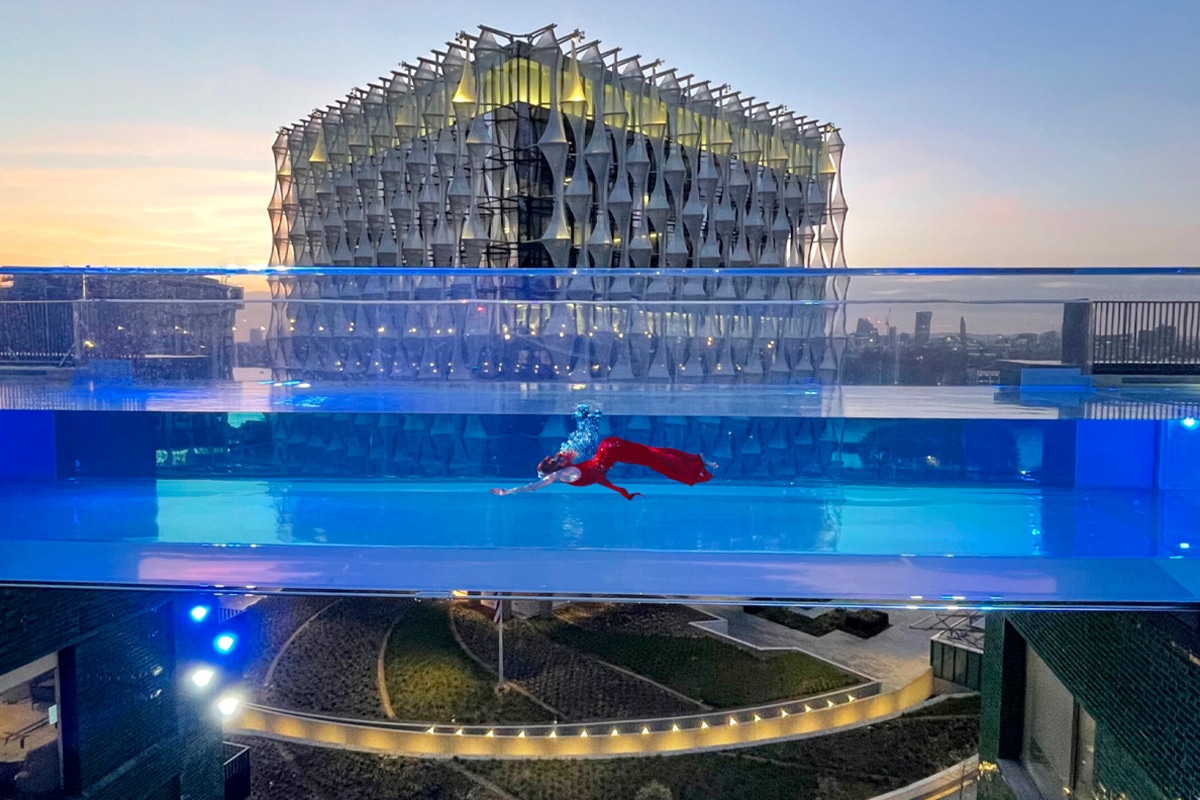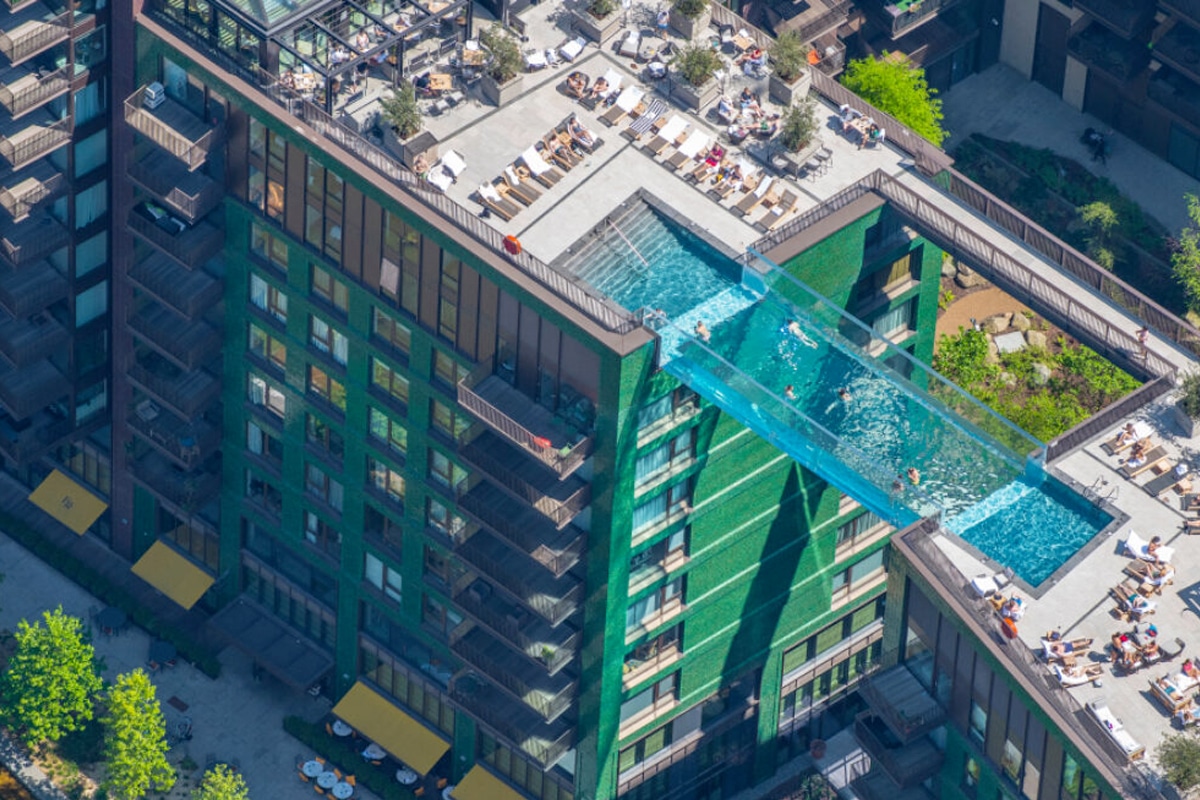 You'll also like:
Inside the $140 Million Penthouse that is Australia's Most Expensive Home
Steve McQueen's $12 Million Malibu Beach House is Up For Sale
Steven Seagal's Insane $3.3 Million Bulletproof Mansion is Up For Sale
---
Featured Video from Man of Many