Life in and around the city can be stressful. That's why you need to take frequent day trips and weekends away to escape the hustle and abundance of minor daily irritants. A car comes in handy for getting away, preferably a four-wheel drive as it's the only vehicle capable of reaching many of Australia's most beautiful destinations.
We've been exploring the stunning, natural landscapes outside of Sydney in the refined, yet capable Jeep Compass Trailhawk. Now, we're championing you to do the same. No matter which city you're escaping from, there's no shortage of things to see and do. Any one of these 35 recommendations will help you unwind and focus on what life in this great southern land is really all about.
Sydney
Blue Mountains National Park 
Travelling west of Sydney, The Blue Mountains National Park is a vast, heritage-listed region brimming with things to do. From hiking, mountain biking and adventure sports to discovering lookouts, waterfalls and signs of Aboriginal culture, there's something for everyone who craves time spent amongst the great outdoors. Be sure to check out the Giant Stairway and take in the Three Sisters via Echo Point lookout.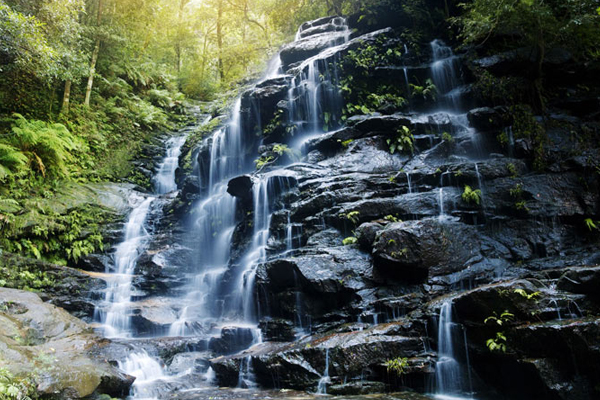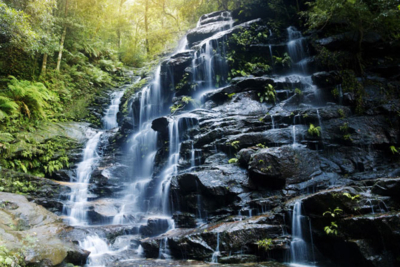 Royal National Park 
Within an hour's drive from Sydney's CBD, the 16,000 hectare Royal National Park is one big beautiful backyard. It's the perfect locale for a spot of bushwalking, then picnicking by the beach, followed by surfing and if you're lucky, whale watching. Bring a tent and camp for the weekend.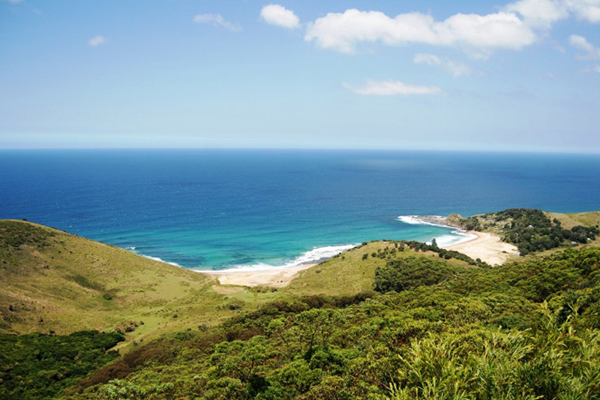 Southern Highlands
A dozen or so small towns and villages form the NSW Southern Highlands. Picturesque rolling hills and charming country towns give way to a plethora of national park, waterfalls and renowned cycling tracks. Be sure to stop by Bowral's Bradman Museum and International Cricket Hall of Fame and finish off with a round of golf and a pub feed. Of course, there's also a great selection of boutique wineries scattered throughout the Highlands.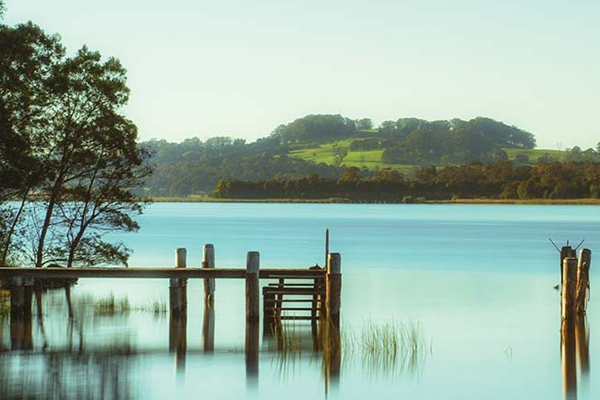 Stockton Beach 
Pack the cooler, tie down the surfboard and cram in a cricket set; Stockton Beach is 32km of dunes and beachfront waiting to be explored. A good stretch of the beach can be accessed via four-wheel drive. Catch a glimpse of the MV Sygna shipwreck, and when the tide is low, you can see the remains of the Uralla.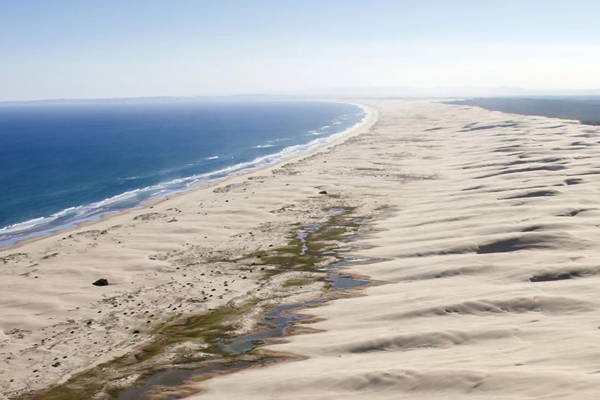 Hunter Valley 
A trip to the Hunter Valley can mean only one thing – it's wine time! Think names like Leogate, Tulloch, Drayton's, De Bortoli and Brokenwood, to name a few. With more than 150 wineries complemented by an abundance of restaurants, golf courses, gardens and even a zoo, you're going to need more than a day to see, do and sip everything on offer.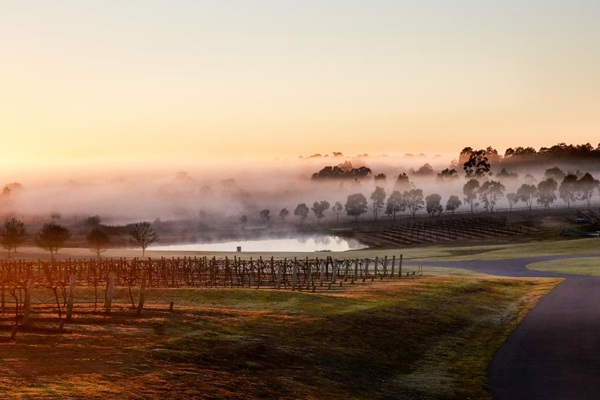 Melbourne
Mornington Peninsula 
Travelling just an hour south-east of Melbourne, the Mornington Peninsula offers hundreds of things for you to see and do. Cruise the coastal roads before taking a bushwalk, get lost in a garden maze and wine and dine on the award-winning local produce. With an abundance of beaches, breweries and boutique accommodation, you may as well indulge and stay for the weekend.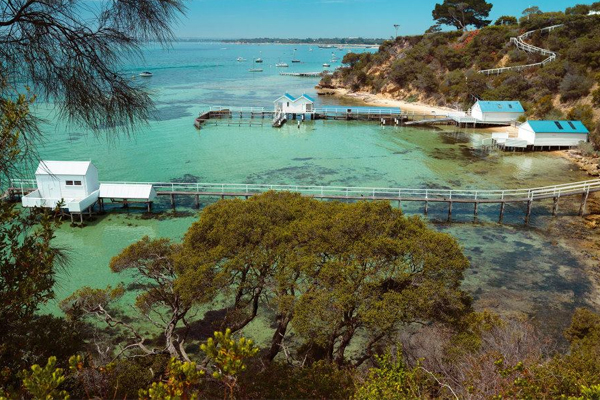 Daylesford
Described as Victoria's 'spa centre,' Daylesford is famous for its natural hot springs, bathhouses and arts scene. It's where you go to relax, unwind and escape the bustle of Melbourne city. For something more lively, go kayaking on Jubilee Lake and hike to the top of Wombat Hill. It's not only possible to drink the crystal clear waters of Jubilee, but the local tourism board recommends it.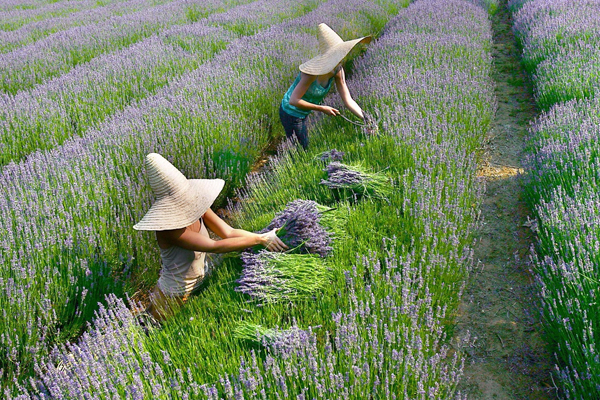 Mt Buller
Travel a few hours northeast of Melbourne to reach the renowned action sports alpine region of Mt Buller. The resort town is the perfect hub for planning your next moves. Whether they are biking, walking and hiking in the summer, or skiing, snowboarding and sledding in the winter, there's fun to be had at Mt Buller all-year-round.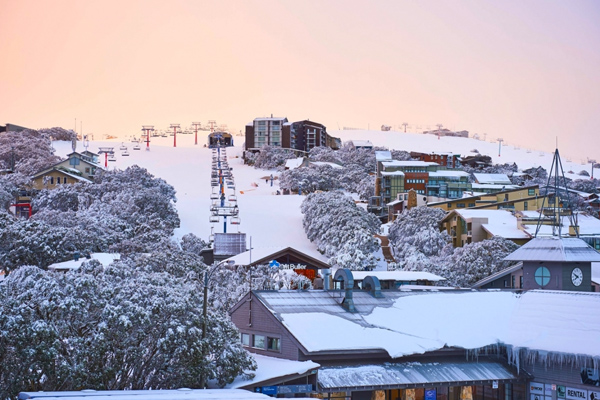 Great Ocean Road
From the cascading waves of the southern ocean, home to the 12 Apostles, to the volcanic plains and greenery of the immense national parks, the 243 kilometre stretch of stunning coast that forms the Great Ocean Road is a series of sights to behold. Hike, surf, wine and dine or cruise on through. Pick your own pace.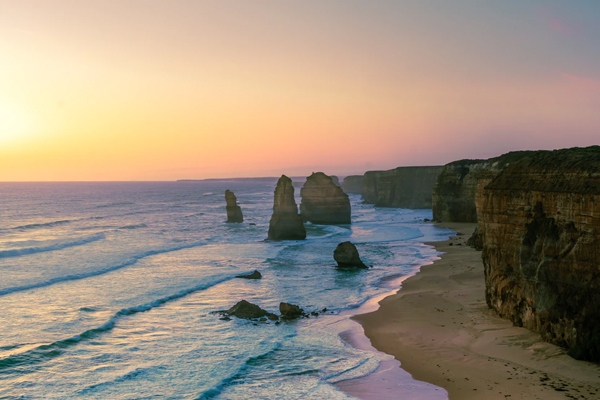 Grampians National Park
Explore the natural beauty of The Grampians which is often described as a hiker's paradise. There are majestic waterfalls, dazzling wildflower displays and awe-inspiring mountain panoramas. Cross paths with kangaroos, emus and native birds. Then, chill out with some fishing or kayaking at Lake Wartook, Lake Bellfield and Moora Moora Reservoir.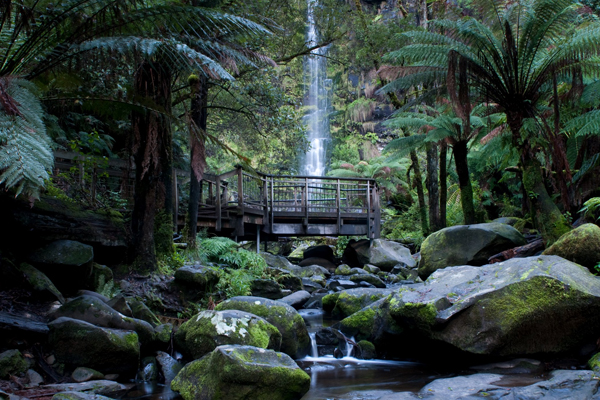 Brisbane
Fraser Island
Fraser Island is the largest sand island in the world. This heritage-listed holiday destination is home to rainforests that thrive on sand, freshwater lakes, shipwrecks and of course, beaches. Head north of Brissie, drive onboard a ferry and explore the 120-plus km of gorgeous natural wonders. Why not book into a resort and stay a night or two?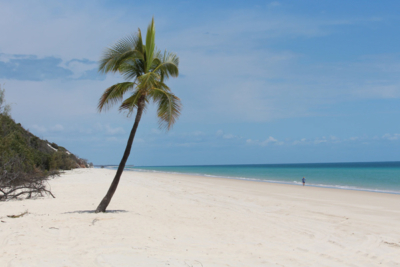 North Stradbroke Island
North Stradbroke Island or Straddie for short is located just 30km south-east of Brisbane. It's an ideal place for summer adventures like camping, surfing and diving. Take on the beaches in a four-wheel drive, sign up for a whale-watching cruise in winter or bring the family for a relaxing break during the silly season. It's an island paradise just a short drive from the city.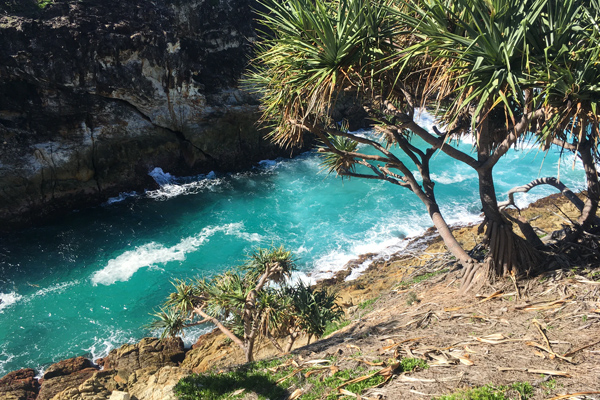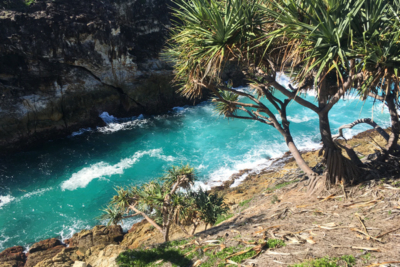 Sunshine Coast Hinterlands
North of Brisbane, the Sunshine Coast's hinterlands is a beautiful region of lakes, waterfalls and rainforests all complementing the Glasshouse Mountains. Take a leisurely four-wheel drive through the national park, reach the lookouts along the way and bask in the natural glory. Adrenaline junkies can switch it up and get the blood pumping with rock climbing and abseiling.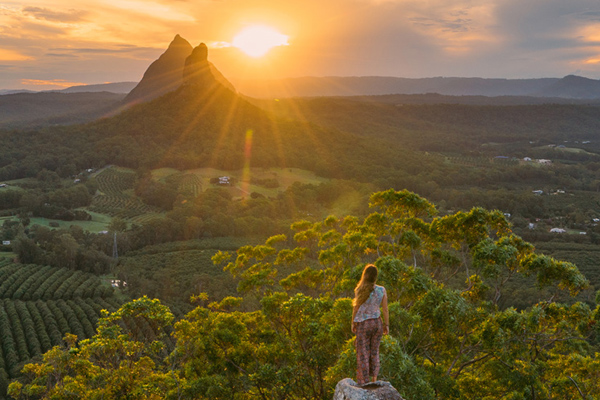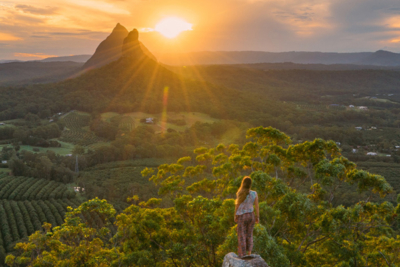 Rainbow Beach
Another Sunshine Coast stunner is Rainbow Beach. The sand and ocean are an idyllic getaway for beach-goers, eco-tourists, fishers, campers and anyone wishing to step back and relax. Drive the beaches in your capable off-road vehicle, find a secluded stretch of sand and make it your own. Then, head back to town and hit the bars, cafes and restaurants for a taste of the good life.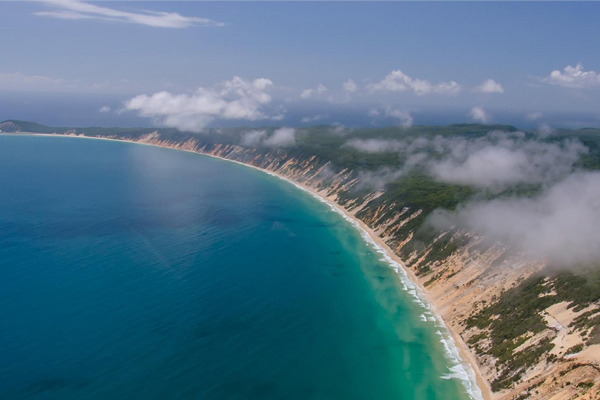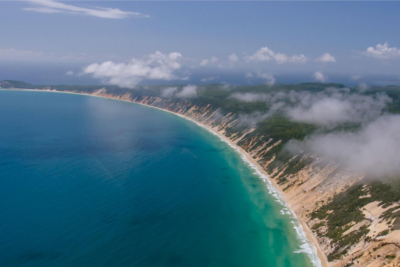 Lamington National Park
Lamington National Park boasts extensive walking tracks along the McPherson Range, which allow visitors to explore the area's forests, creeks and waterfalls. The dramatic lookouts afford views to the Gold Coast, south-east Queensland and even northern New South Wales. The park is currently closed for camping but reopens in early 2020, making it an ideal trip to take in the new year.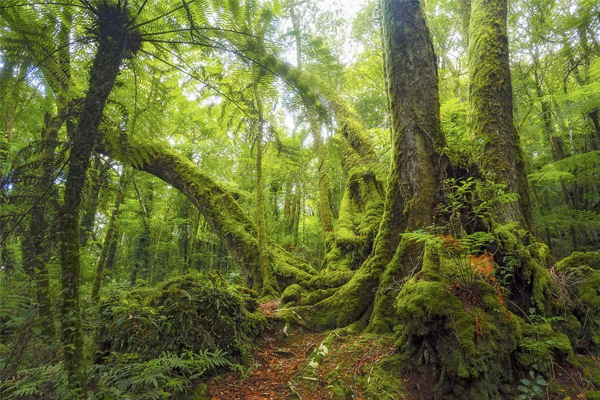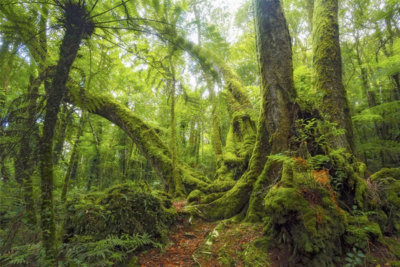 Perth
Margaret River
Take a 270km drive south of Perth, and you will arrive at what's possibly the most Aussie of all wine regions. Where else can you find internationally renowned wine just minutes of pristine beaches? Take a morning surf, indulge at award-winning wineries, savour the local seafood delicacies…Ok. So a day trip won't cut it here, you will need a weekend at least.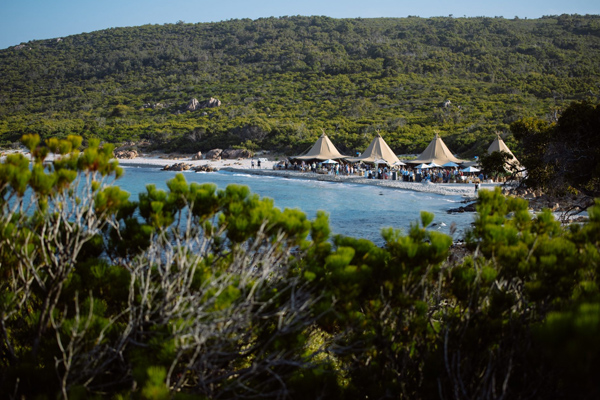 Lancelin
Lancelin is a township known for its sand, surf and sunsets. Load up the 4WD and explore the crisp white dunes and beaches and be sure to pack a sandboard. Take a dolphin-watching cruise, indulge on the sweetness of lobster and line up for a selfie atop the Big Blue Chair. Once WA's best-kept secret, Lancelin is now a staple of the summer road trip.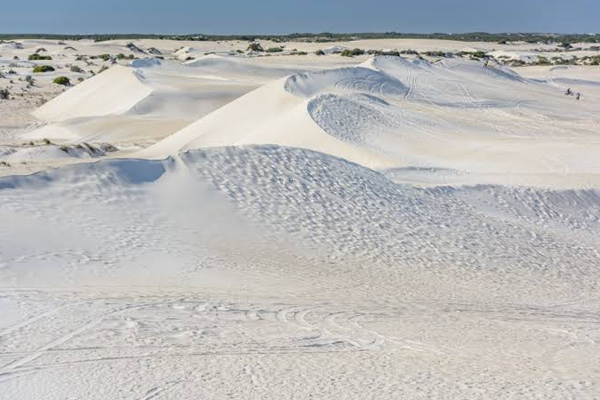 Pinnacles Desert
Don't let the name fool you; we're still on the coast and roughly two hours north of Perth. These amazing natural limestone structures, some standing as high as five metres, were formed approximately 25,000 to 30,000 years ago after the sea receded and left deposits of seashells. Over time, coastal winds removed the surrounding sand, leaving the pillars exposed to the elements. Across the 2017/2018 season, The Pinnacles were WA's most visited attraction, and it's easy to see why.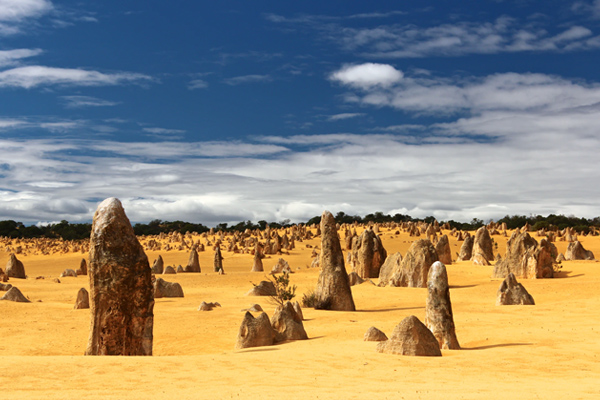 Yanchep National Park
This pristine bush and wetland is home to western grey kangaroos and abundant birdlife. Walking trails include a raised boardwalk among trees inhabited by koalas. One of many caves to explore, Crystal Cave is an underground limestone cavern rich with stalactites and stalagmites. For something unexpected, you can even enjoy a leisurely round on the nine-hole bush golf course.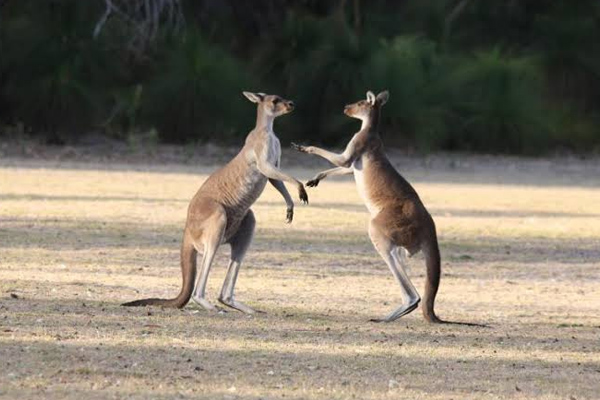 Julimar State Forest
Think you're off-road skills are a cut above? Got a capable vehicle to back up the claims? If so, head for Julimar State Forest, 90km outside Perth. One WA's best 4WD tracks, this lengthy drive is relatively tame in the dry summer, made much more challenging by water crossings and bog holes in the winter. It's an ever-changing 4X4 proving ground for drivers who can do more than talk the talk.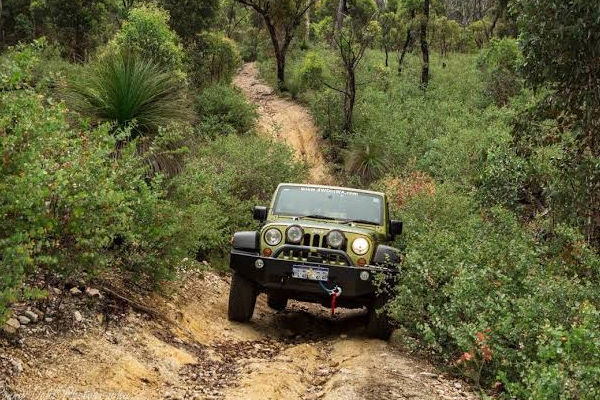 Adelaide
Saunders Gorge Sanctuary
Welcome to Saunders Gorge Sanctuary. Just 75km outside of Adelaide, this former sheep station is now a conservation area and home to an abundance of flora and fauna. Come for a scenic walk amongst nature, have a picnic or take the rugged 4WD track and see the entire region from its peak. A day at Saunders Gorge is a day well sent.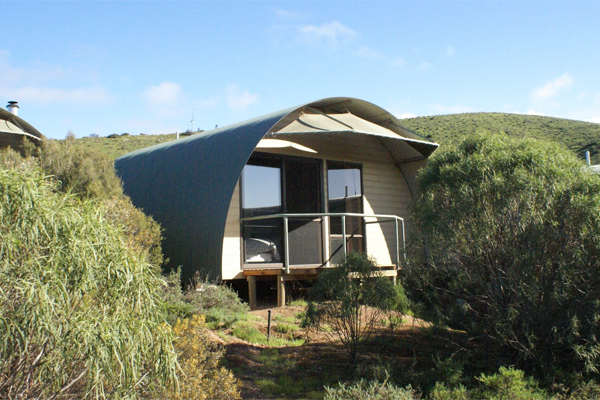 Barossa Valley 
Arguably Australia's most popular and acclaimed wine region, Barossa is home to names like Penfolds, Seppeltsfield, Rockford, Jacob's Creek, D'Arenberg and many, many more. Hit the cellar doors of your favourites or discover some boutique hidden gems. Many of the wineries house acclaimed restaurants perfect for savouring local produce and soaking up the wine. Be sure to lock-in a designated driver for this one.
Kangaroo Island
Sea lions, koalas, penguin colonies and of course, kangaroos are just some of the natural wildlife that calls Kangaroo Island home. A third of the island is protected natural reserve, while the remainder is brimming with beaches bushland, food and wine just waiting to be explored. Take a short cruise across the Great Australian Bight to experience a world away from Adelaide, despite only being around 2.5 hours south of the city.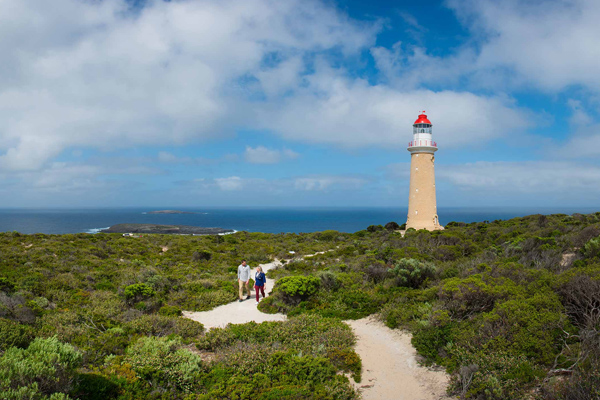 Fleurieu Peninsula
The Fleurieu Peninsula is a diverse landscape that showcases the absolute best of South Australia. Wine lovers and foodies will find plenty to keep them occupied in McLaren Vale. Sun seekers can hit the beaches for a combination of fishing, surfing, snorkelling and dolphin watching. Those wanting to test out their vehicles (and cameras) should take a coastal 4WD tour. All of this and more is waiting just 45 minutes outside of Adelaide.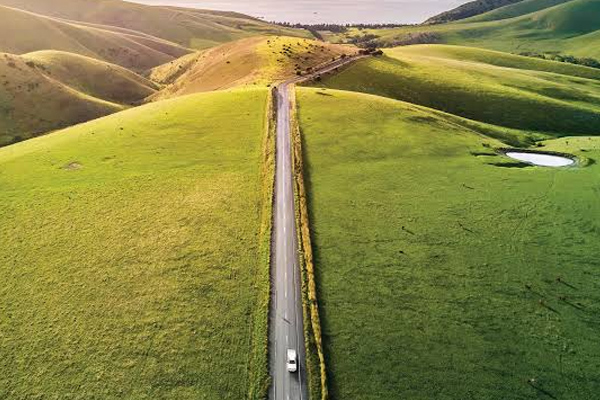 Canberra
Brindabella National Park
Escape the ACT for a day, to breathe in the fresh mountain air, before taking in the spectacular views, 4WD trails, walking tours and fishing, all within Brindabella National Park. On a clear day, the lookout presents views of Canberra in the distance and out across the Australian Alps to the south. Don't forget to pack a picnic lunch for a day in Brindabella.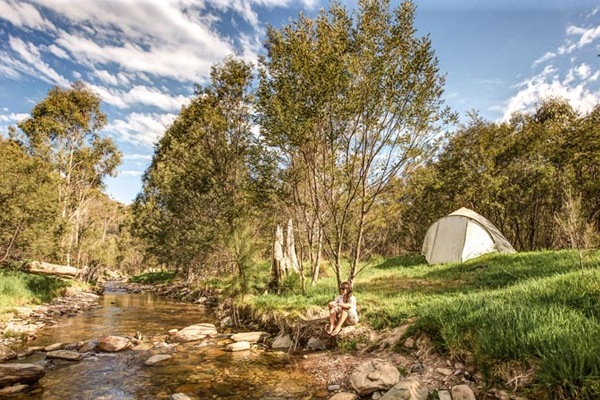 Thredbo 
As Australia's best winter resort that's also surprisingly fun in the summer, Thredbo is the ultimate outdoor playground. Ski, snowboard and party the nights away during snow season. Then, the remainder of the year, mountain bikers, hikers and fishers take over, all making good use of the natural resources surrounding the peak of Mount Kosciuszko. This one's likely to roll on from a day trip to an extended stay.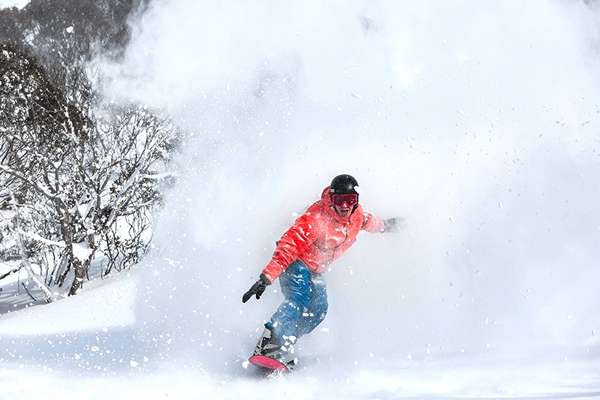 Namadgi National Park
Just 40km south-west of Canberra, the remote wilderness of Namadgi National Park is home to a range of natural environments, an abundance of native wildlife, and Aboriginal and European cultural sites. 160 kilometres of marked walking and riding tracks connect waterfalls, camping sites and the remains of huts and homesteads once occupied by early settlers. Fun fact, Namadgi National Park makes up around 46% of the entire ACT.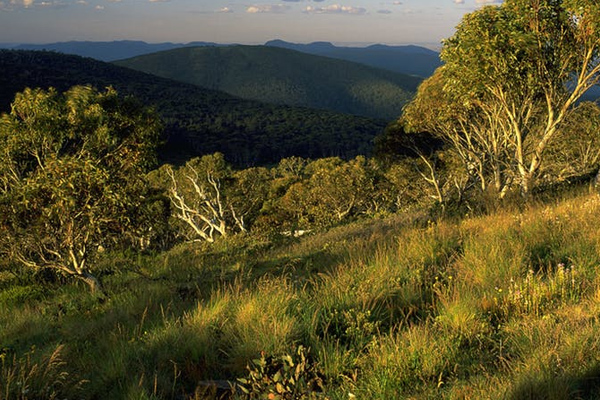 Sapphire Coast
Heading west of Canberra, back into NSW, the Sapphire Coast is a year-round natural playground brimming with deserted beaches, pristine forests and lush lagoons. Between outdoor adventures, taste the fresh local food including the oysters, sip wine, critique the artisan galleries and study Aboriginal history and culture. The Sapphire Coast is an eclectic mix of everything that makes Australia unique.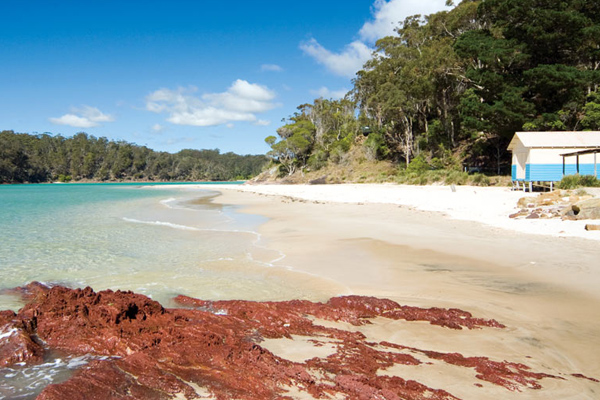 Hobart
Cradle Mountain
One of Australia's most iconic wilderness experiences Cradle Mountain is home to a National park where ancient pines fringe glacial lakes and icy streams cascade down rugged mountains. The deep blue waters of Crater Lake are surrounded by picturesque walking tracks including the world-famous Overland Track that's a must-do for fitness-forward explorers. Cradle Mountain and its surrounds are what people talk about when they say "untouched wilderness."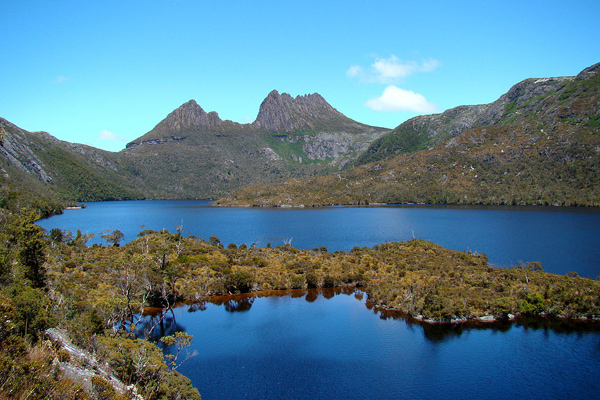 Freycinet National Park
Skirting the east coast of Tasmania, Freycinet National Park is home to dramatic pink granite peaks, secluded bays, white sandy beaches and unique birdlife. There are many short to half-day hiking treks to walk, and snorkelers are awarded abundant marine life. Stay for a night at the campsite or opt for a luxury eco-retreat and keep the adventure going a little longer.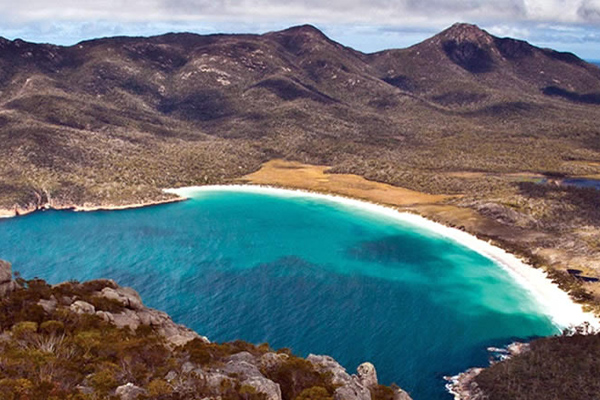 Strahan
Strahan is a harbour-side village with a dark and fascinating convict past set on the edge of the Tasmanian Wilderness World Heritage Area. Boutique cafes display stretches of ocean that is best explored by a boat cruise. Adventurous types can head north to Trial Harbour and Climes Track for one of the toughest off-road experiences this fair country has to offer.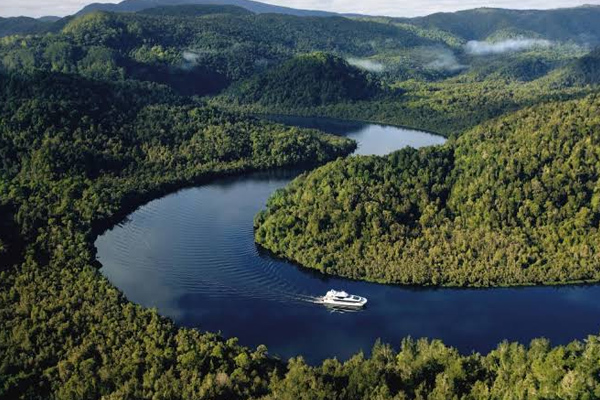 Darwin
Kakadu National Park
The rugged and remote beauty of Australia's largest national park has been home to Aboriginal people for over 50,000 years with extensive rock art sites dating back millennia. It's a stunning region brimming with walks, waterfalls fishing and boating spots. The Kakadu landscape is diverse, alternating between wetlands, woodlands and open lowlands, home to around one-fifth of all of Australia's mammals. It's also home to crocodiles, so check the waters before diving in.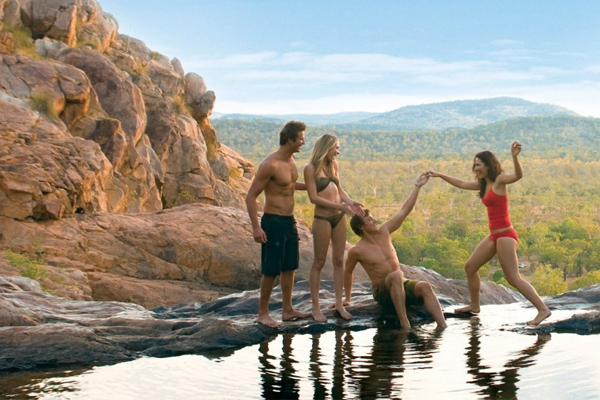 Litchfield National Park
Heading around 100km south-west of Darwin, Litchfield National Park is a must-see if you're in the Top End. It's home to stunning waterfalls that cascade into crystal clear pools, iconic magnetic termite mounds and clusters of weathered sandstone pillars at the Lost City. Swimming under the falls and relaxing in waterholes is a favourite pastime for visitors and locals alike.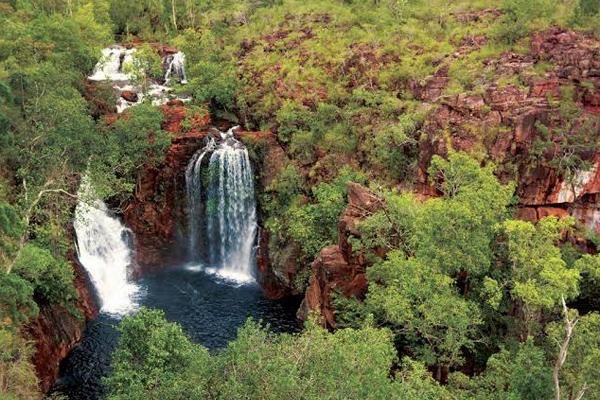 Corroboree Billabong
Home to the largest concentration of saltwater crocodiles in the world, Corroboree Billabong is best enjoyed by boat. Take a cruise and marvel at the crocs in their natural environment. Several companies offer cruises; all are safe. Just keep arms and legs inside the vehicle at all times.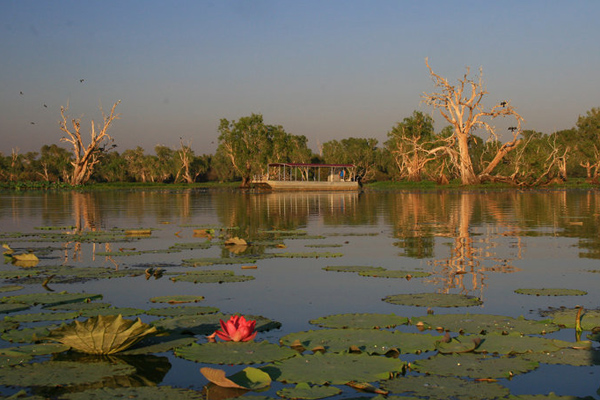 Berry Springs Nature Reserve 
Berry Springs is one of the most beautiful reserves in NT and the perfect place to cool off and relax close to Darwin. It features shaded picnic areas and barbeques close to natural swimming pools surrounded by tall trees and even the remains of WWII huts. It's the best way to beat the heat while staying close to nature.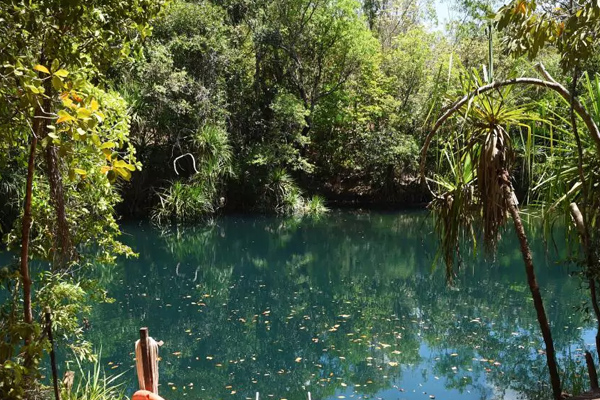 Jeep Compass Trailhawk
Australia is vast, open and rugged. And the best/safest way to explore the sun-scorched countryside is by four-wheel drive. The Jeep Compass Trailhawk is a prime example of a capable off-road vehicle paired with the luxuries of a high-end SUV. The trail-rated badge signifies Trailhawk's ability to perform well under the strains of off-road conditions as it carries the Jeep brand's legacy of acclaimed traction, ground clearance, manoeuvrability and water fording.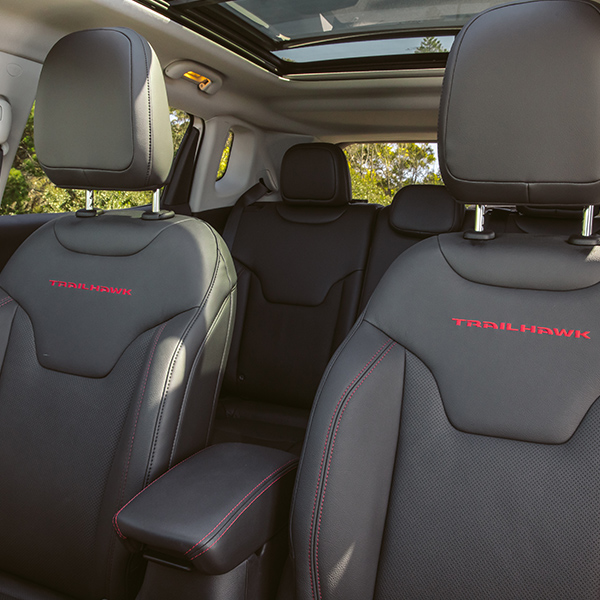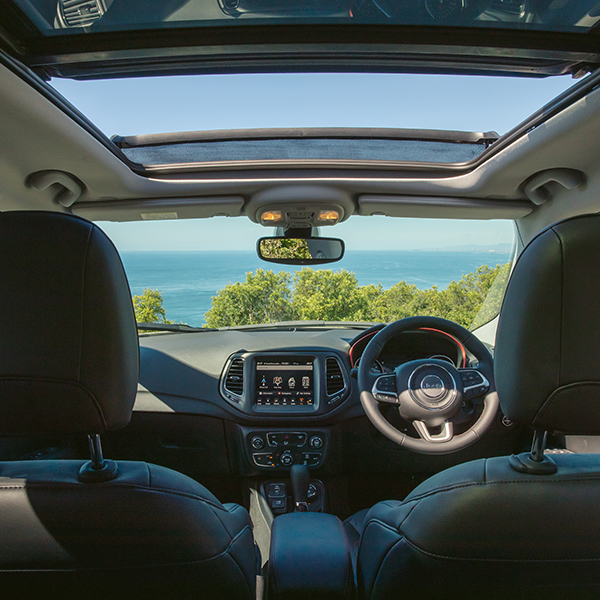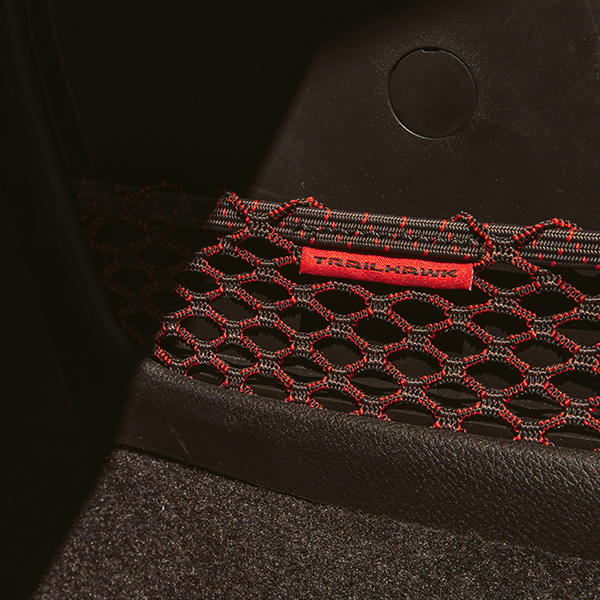 Jeep has also redefined the 4WD interior with quality materials, state-of-the-art technology and incredible space for passengers and gear. The leather trims and an electric sunroof adds an extra touch of class. With over 70 available safety and security features, the Trailhawk earns a 5-Star ANCAP rating keeping you safer both on and off-road.