13 Best Laptop Stands: Portable, Adjustable, Foldable
As working from home becomes the new norm, having the right accessories is a must. Without our usual office setup, lots of us have been left with just our laptops and maybe a mouse, if you're lucky. This means lots of us are spending hours upon hours craning our necks hunched over laptops. One way to avoid this is by investing in a laptop stand.
You'll also like:
10 Best Cheap Smartphones for Any Budget
14 Best Tablets for Work and Play in 2021
11 Best Standing Desks for Your Home Office
Why is a Laptop Stand Important?
If you work from home, you will have already realised that a laptop stand is essential. These stands are designed to raise, angle and support your laptop in whichever home office situation you have created for yourself. They are the tool that helps us from being crunched over our desks and allows us to have a comfortable working station, wherever it may be. There are various stands that suit different working locations, whether it's your bed, the kitchen table or if you want a standing desk. Ultimately, laptop stands are there to help improve your comfort and perform better.
What to Look For When Buying a Laptop Stand
There are so many different types of laptop stands out there, so it's important to know what to look for to ensure you get the one that's right for you. Firstly, you need to decide what kind of working environment you would like to create. Think about whether you want something that offers a more permanent setup, something that supports a stand-up office setup, or something to use on the move.
If you're looking for a stand for your desk, consider a single-height laptop stand. These offer the most basic support and are great if your office moves around from table to table. Consider adjustable or foldable laptop stands if space and size are important factors for you. If you're a photographer or DJ, a tether table laptop stand is perfect for you. So, look for something that is ergonomic and suits your needs.
Best Laptop Stands 2021
Luckily for you, we have tested out a handful of laptop stands on the market right now, and these are the best we found.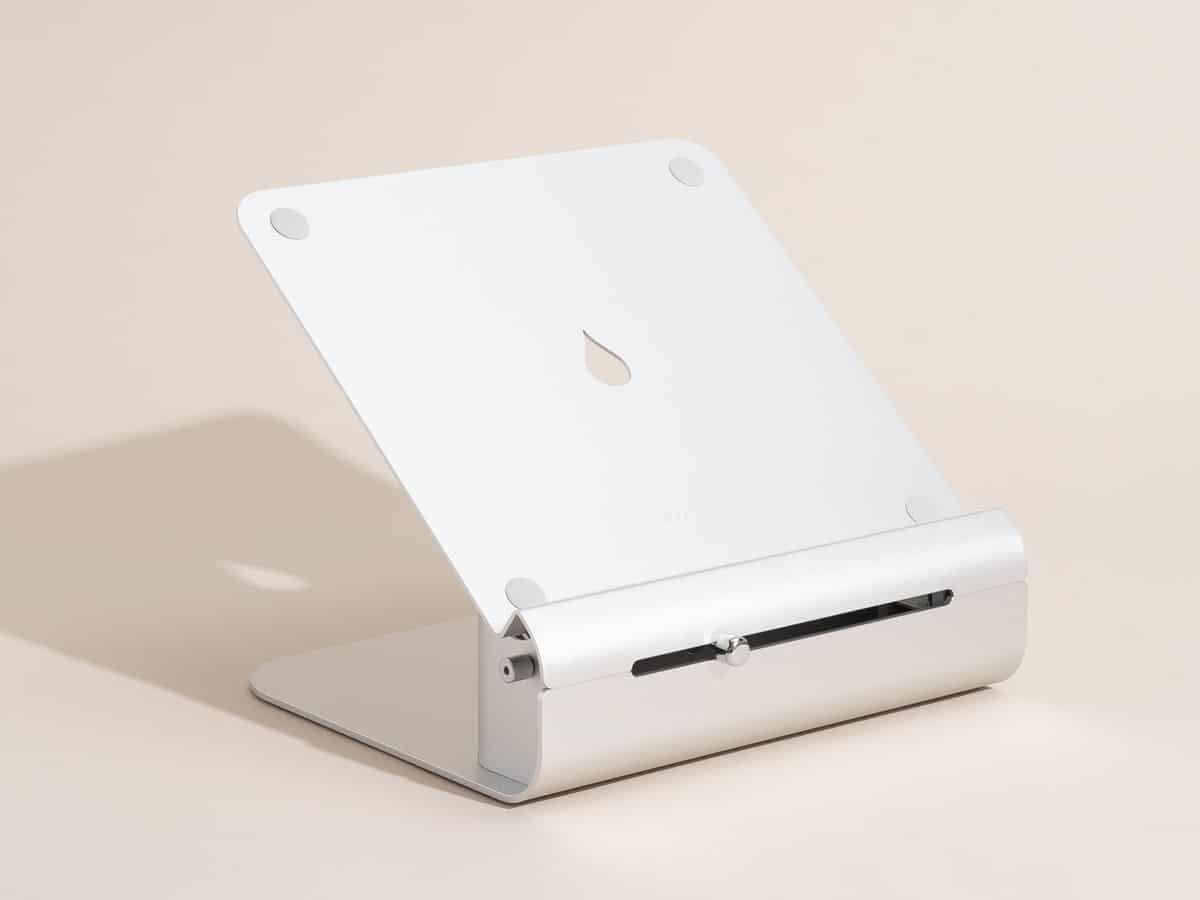 1. Rain Design iLevel 2 – Best All-round
For a simple and elegant design with all the features you need, the Rain Design iLevel2 is an excellent choice. The stand has a unique height adjustment slider on the front panel, which means you can adjust the screen height to your eye level whenever you shift position. The tilt design not only looks good but helps heat escape and brings the screen closer to you. The sleek aluminium design pairs perfectly if you have a MacBook but is compatible with all notebooks and laptops.
Brand: Rain Design
Compatible devices: Laptop PC, Macbook Air, Macbook Pro, Macbook
Product Dimensions: 22.35 x 25.65 x 20.07 cm; 1.6 Kilograms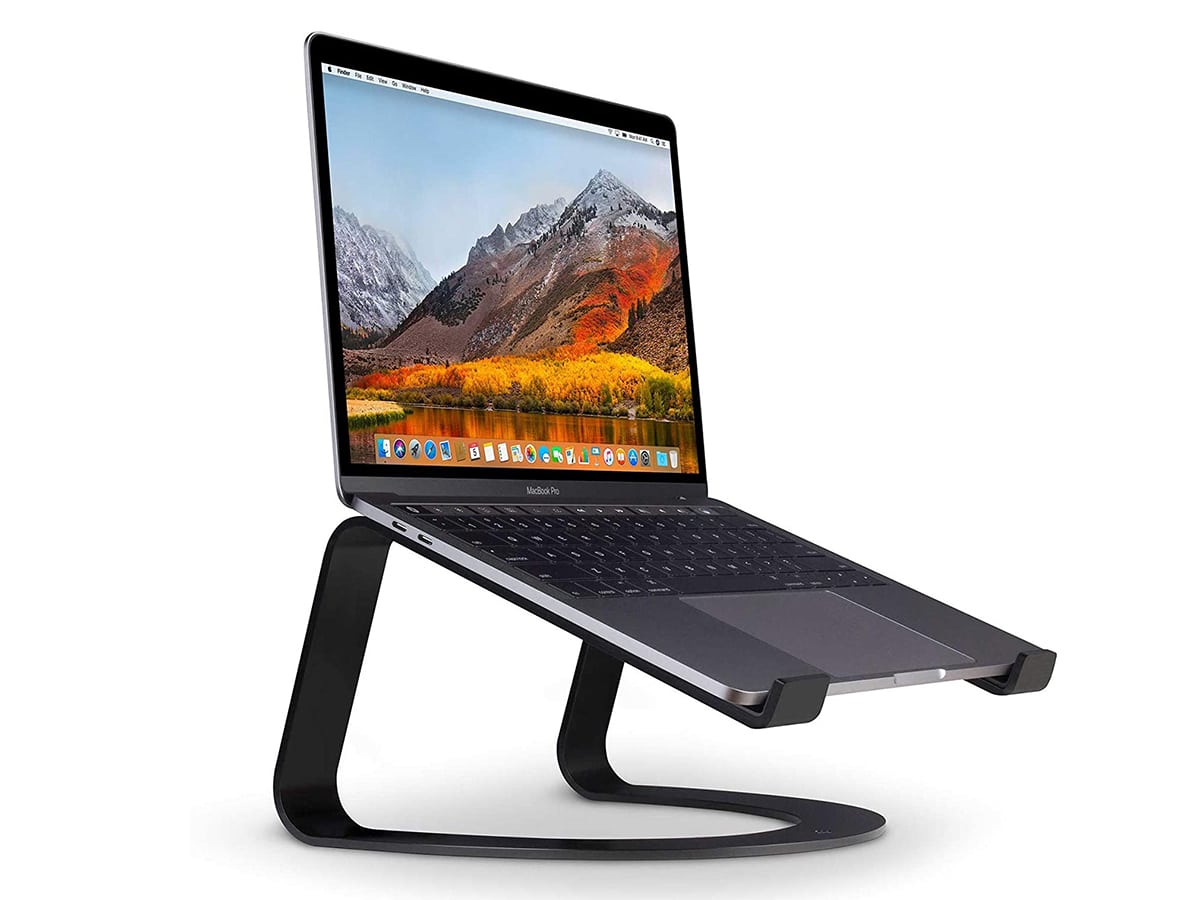 2. Twelve South Curve – Best Value for Money
If money is on your mind, the Twelve South Curve will provide the best value for limited spending. At Under $100, you will be met with this sleek, functional stand. Ergonomically speaking, this stand is a great choice, raising your laptop 6 inches to avoid you having to crane your neck while working and keeping most of the base exposed for optimal cooling. At the same time, Curve's sleek and minimal design will beautifully complement your workspace, wherever it may be.
Brand: Twelve South
Compatible models: Most laptops 11″ to 17″
Colour: Matte Black
Product Dimensions: 25.4 x 26.67 x 15.24 cm; 680.39 Grams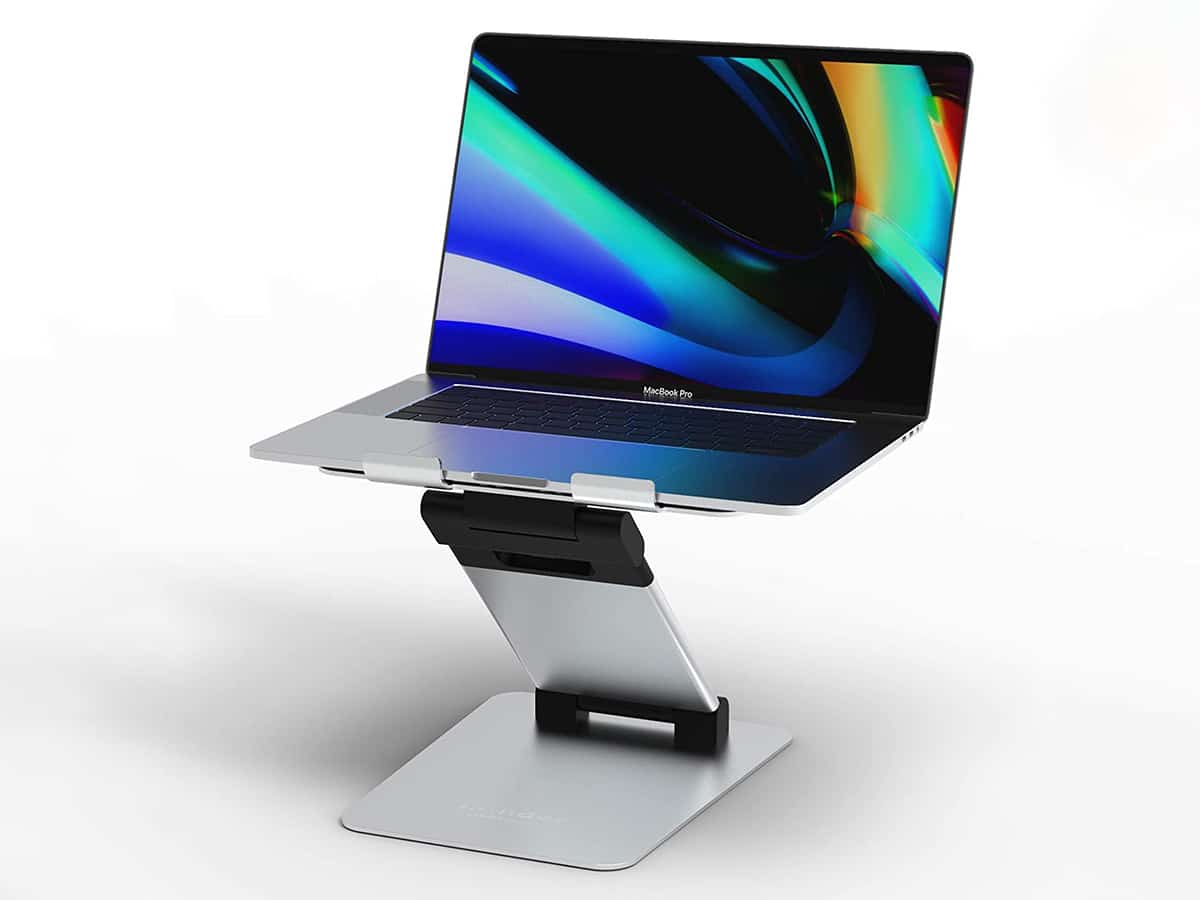 3. ObVus Solutions Tower Stand – Best Foldable Laptop Stand
The ObVus Solutions Tower Stand is the ideal choice if you're looking for something foldable and versatile. If you like to mix up your work setting, it is extremely versatile as you can raise it to various heights and positions and angles. The stand also manages to exude a sleek elegance whilst remaining extremely sturdy, which is a good thing- it means your laptop won't be crashing to the floor!
Brand: ObVus Solutions
Colour: Silver
Material: Aluminium
Package Dimensions: 31.8 x 30.51 x 7.01 cm; 1.81 Kilograms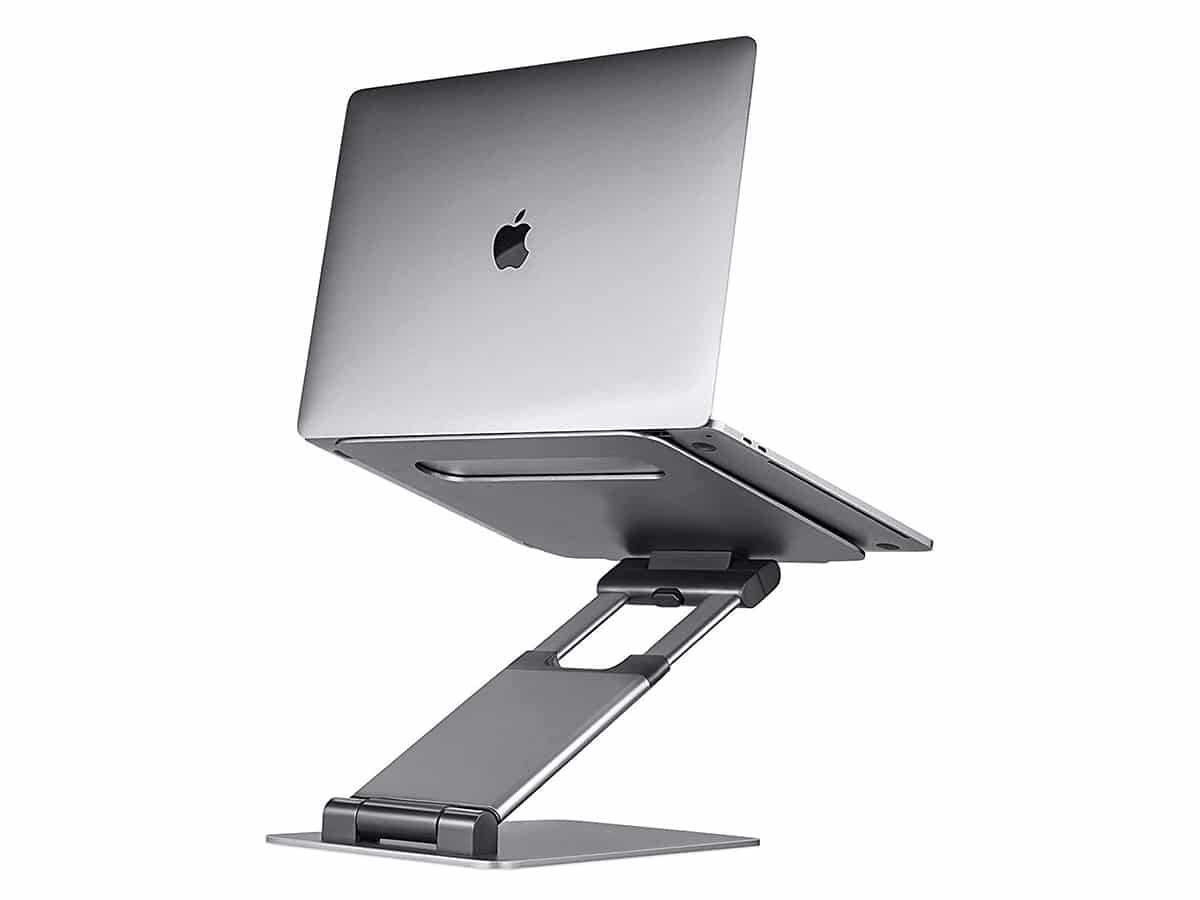 4. Lifelong Upryze Ergonomic – Best Adjustable Laptop Stand
Can't decide whether you want to stand up or sit down while you work? If this sounds like you, the Lifelong Upryze is worth considering. You can use this stand while sitting or standing, depending on your mood. It can be used as a stand-up desk, podium stand, vertical laptop stand and plenty more. As it can be used as a portable standing desk, you can take it with you whenever you wish to go, and you can easily pack it away when you're finished using it, perfect for sliding under the bed once the weekend rolls around!
Brand: LIFELONG
Form Factor: Sturdy Sleek Aluminum
Special Feature: Adjustable
Mounting Type: Tabletop
Theme: Home and Office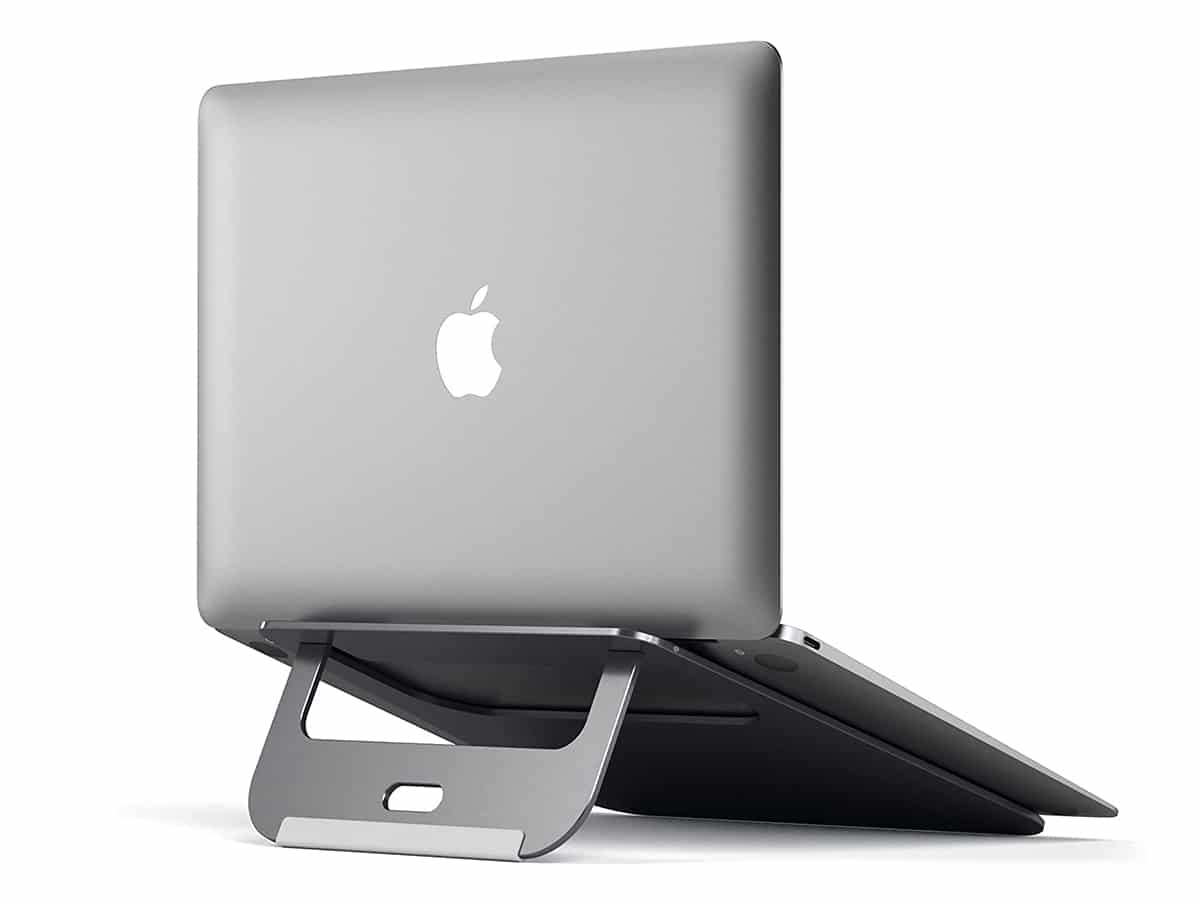 5. Satechi Aluminium – Best Portable Laptop Stand
For those who are always on the move between the office and home, the Satechi Aluminium laptop stand may be your new best friend. The style is clean, minimalist but also functional. The stand is collapsible, which means it can easily fit into your backpack. It also has a non-slip rubber grip- ready to be taken anywhere! The hardest decision you will have to make is which colour to get- the design comes in silver, gold, rose gold and space grey, each perfectly complementing your laptop.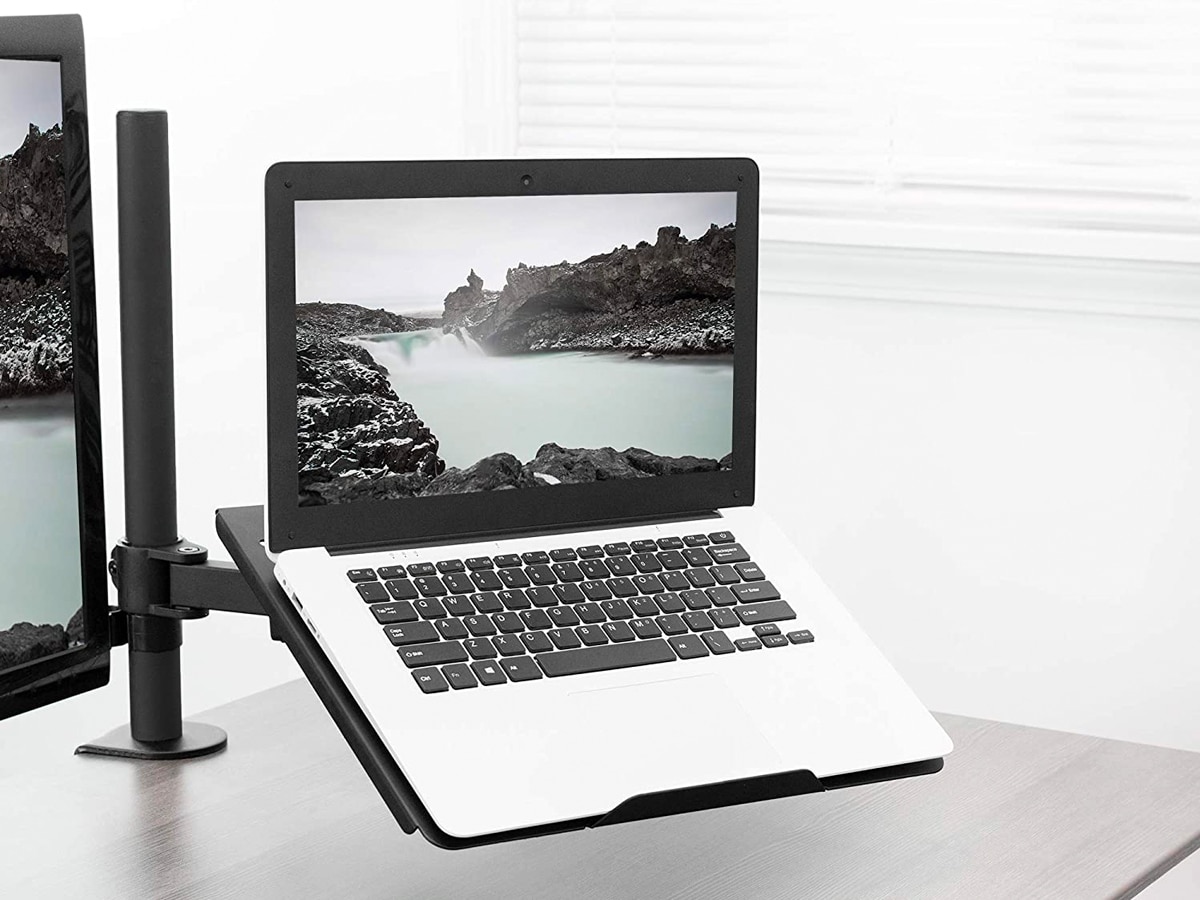 6. VIVO Single – Best Desk Mounted Laptop Stand
Taking functional design to a whole new level, VIVO Single helps you keep your workspace looking de-cluttered and ready for action. With this stand, you can mount your laptop on a pole-and-clamp that hangs at the corner of your desk- perfect for when you need to access your laptop, but don't have space on your desk. Even better- the arm is adjustable and can be swung around. The laptop tray will definitely be large enough to accommodate your laptop, and it even has cooling holes to keep your laptop ventilated.
Brand: SATECHI
Colour: Space Gray
Material: Metal
Product Dimensions: 22.86 x 22.61 x 0.4 cm; 484.7 Grams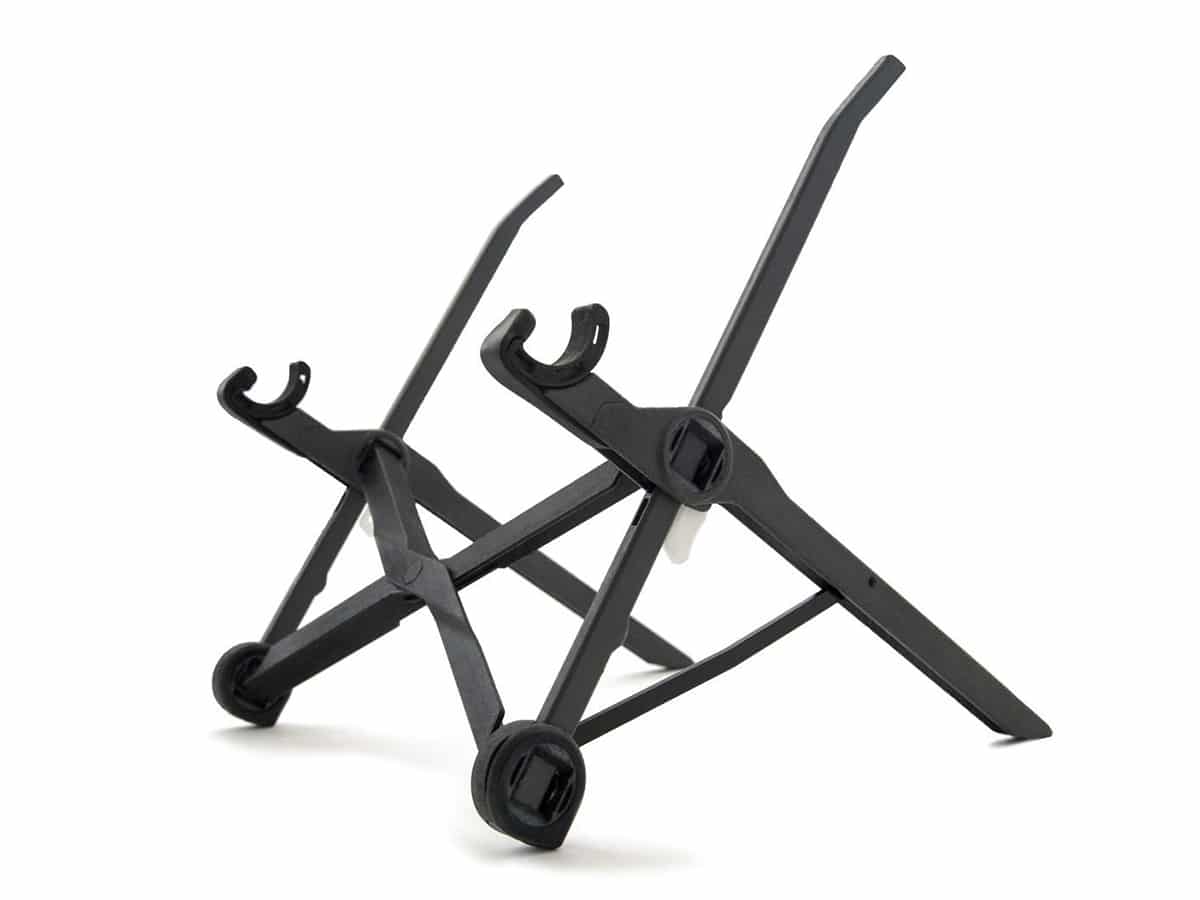 7. Roost Laptop Stand
The Roost doesn't look like most other laptop stands on the market, and this is why we love it. It is super lightweight and designed to be portable, so you can fold it up and take it with you wherever you please. The design also pays close attention to ergonomics, offering height-adjustable features to look out for your posture. Simple but perfectly functional, Roost knows how to please.
Weight: 5.8 oz (164 g) Size (folded): 1″ x 1.5″ x 13″
Includes: Ripstop Nylon Carrying Sleeve
Laptop Compatibility: Laptops with "front edge" less than 0.75″ (1.9cm) thick.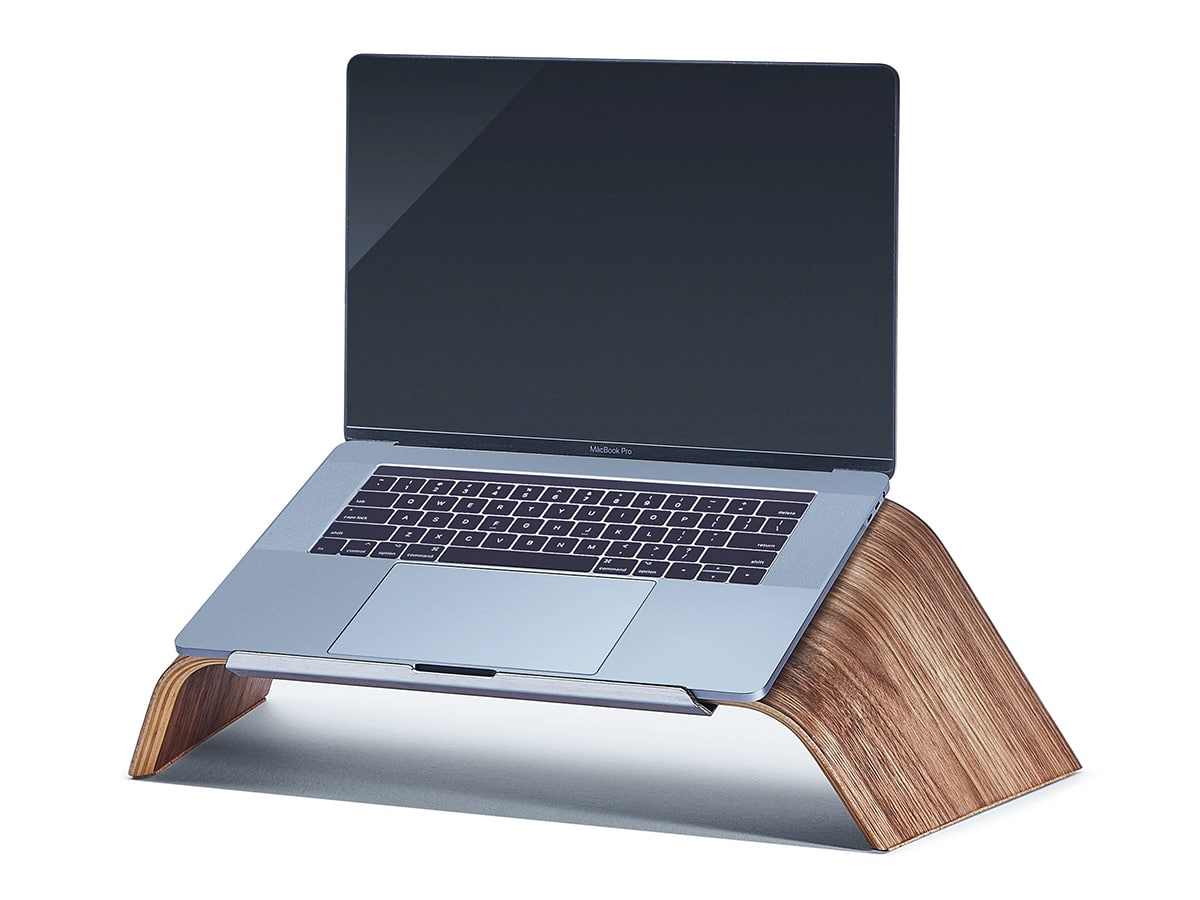 8. Grovemade Walnut
The Grovemade Walnut was designed with those of us in mind that value aesthetics in the workspace. The design is simple and incredibly sleek, featuring an angled wooden platform with a stainless steel stop lined with vegetable-tanned leather. There is even room below the stand to stow your other accessories. Whilst it prioritises sustainability and design over adjustable features, the stand still improves ergonomics.
Material: American Black Walnut / Eastern Hardrock Maple Plywood
Laptop Compatibility: Various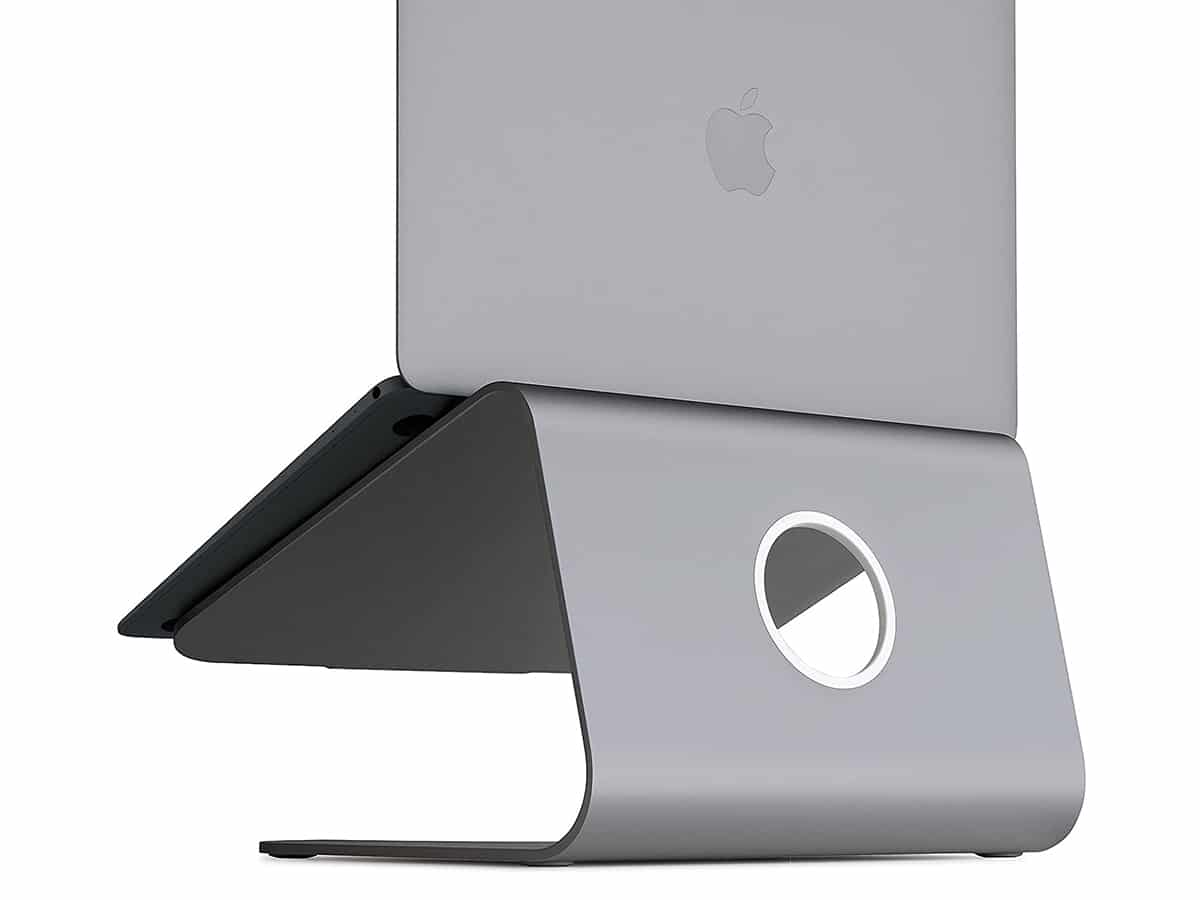 9. Rain Design mStand
A stylish single stand designed to lift your laptop to eye level, the Rain Design mStand is one of our top go-to's. The stand is made from a single, sturdy piece of aluminium and holds your laptop securely in place while also keeping it cool. Paired with an external keyboard and mouse, you're looking at a de-cluttered, ergonomic workspace that will enhance your productivity. While you can't adjust the tilt of height, it has been thoughtfully designed to ensure eye-level viewing and comfort.
Brand: Rain Design
Colour: Space Gray
Material: Aluminium
Product Dimensions: 22.4 x 15.2 x 25.2 cm; 1.36 Kilograms
Style: MStand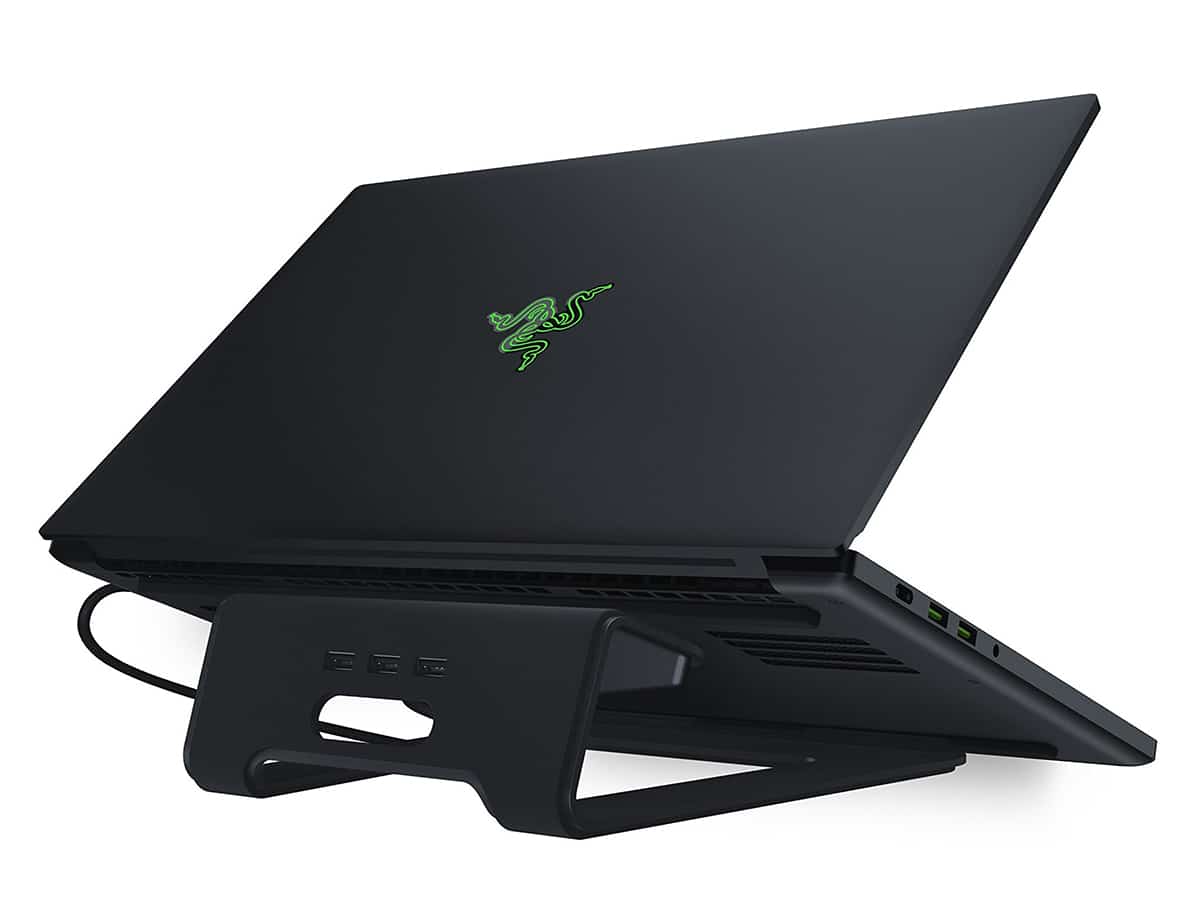 10. Razer Chroma V2
Razer Chroma V2 is not just a laptop stand, with several other accessories and add-ons that take it a step beyond your traditional laptop stands. The stand comes with flashy RGB lights and can serve as a hub for your laptop. The Razer also sits at a perfect angle and delvers airflow to the bottom of your laptop. If you want a stand with technological capabilities, then this is the one for you.
Incline: 18 degree incline
Ports: USB 3.0 Hub – 3x
Material: Aluminium
Laptop compatibility: Fits Most 15″ Laptops
RGB Lighting: RC21-01110200-R3M1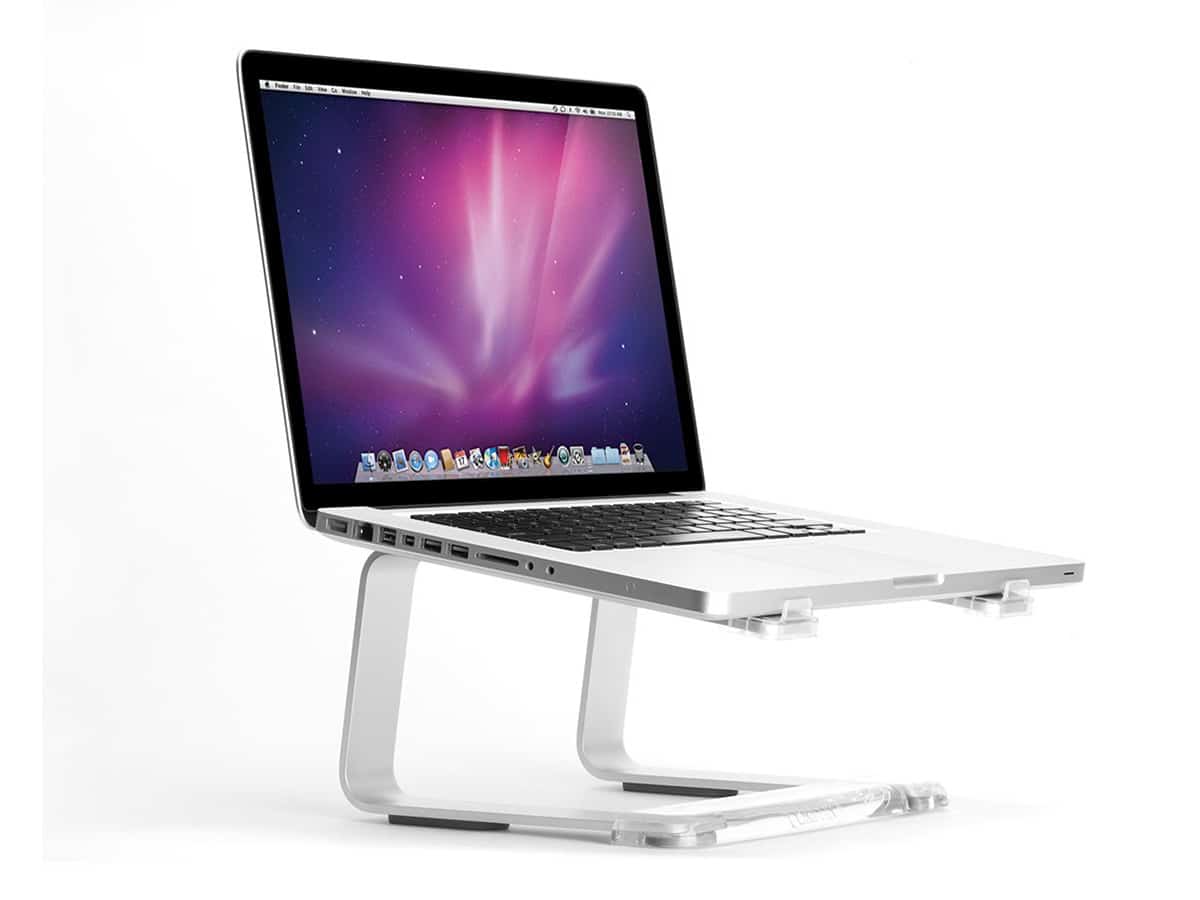 11. Griffin Elevator
A simple but functional laptop stand, the Griffin Elevator is affordable even for those on a budget. The stand comes at a fixed height and fixed angle and is made from a mix of aluminium and plastic. It isn't exactly portable, but you can disassemble it back to its flat-pack origins if you could be bothered. Despite the simple design, it is sturdy and does the job.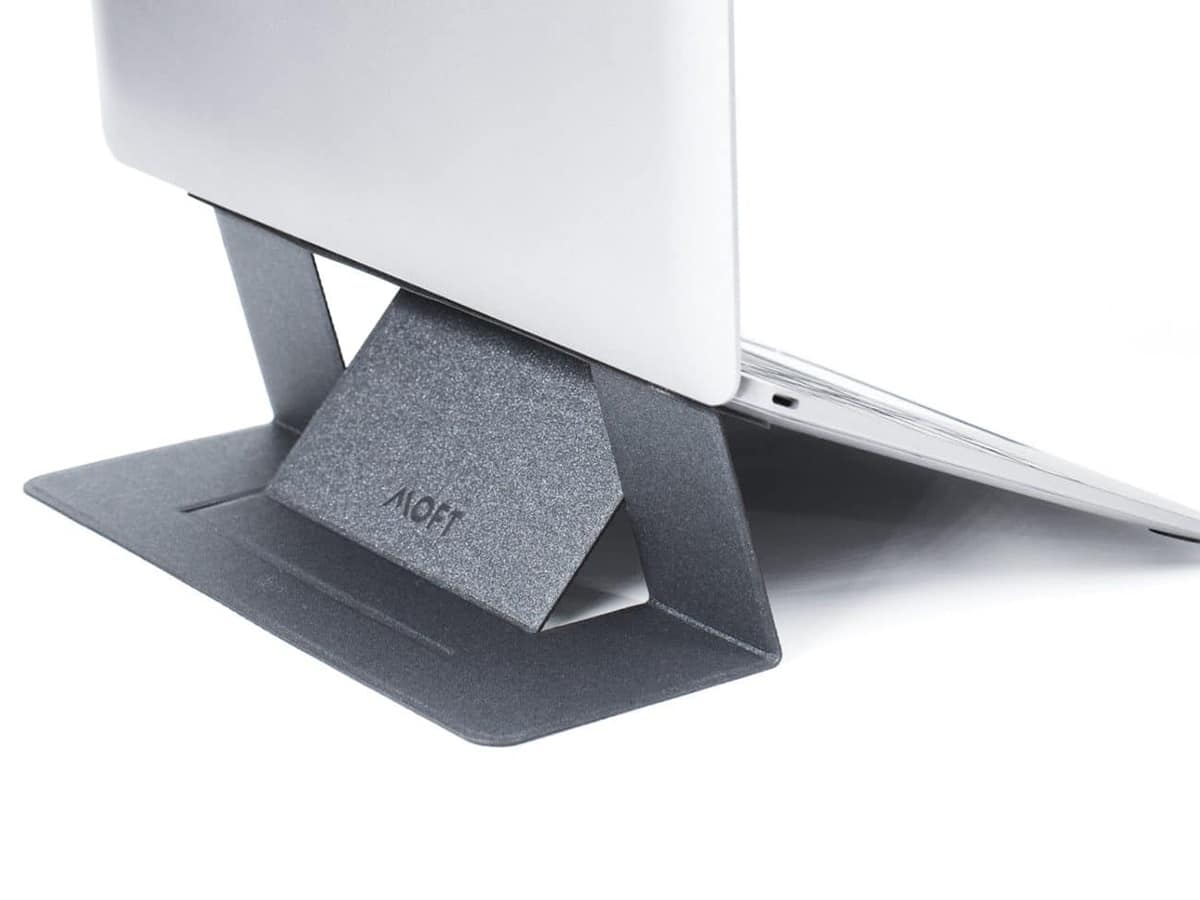 12. MOFT Invisible Laptop Stand
The perfect travel companion for your laptop, MOFT offers a small, compact and easily adaptable design that you can take out anywhere. The stand can even sit nicely on your lap due to its ultra-thin and ultra-lightweight design. The stand is different to most on this list as instead of being part of the working surface, it sticks onto the base of your laptop. Because of this, however, it can't hold that much weight, but it does mean it wins out in the non-bulky category.
Brand: Griffin
Compatible Devices: Universal
Colour: Silver
Material: Metal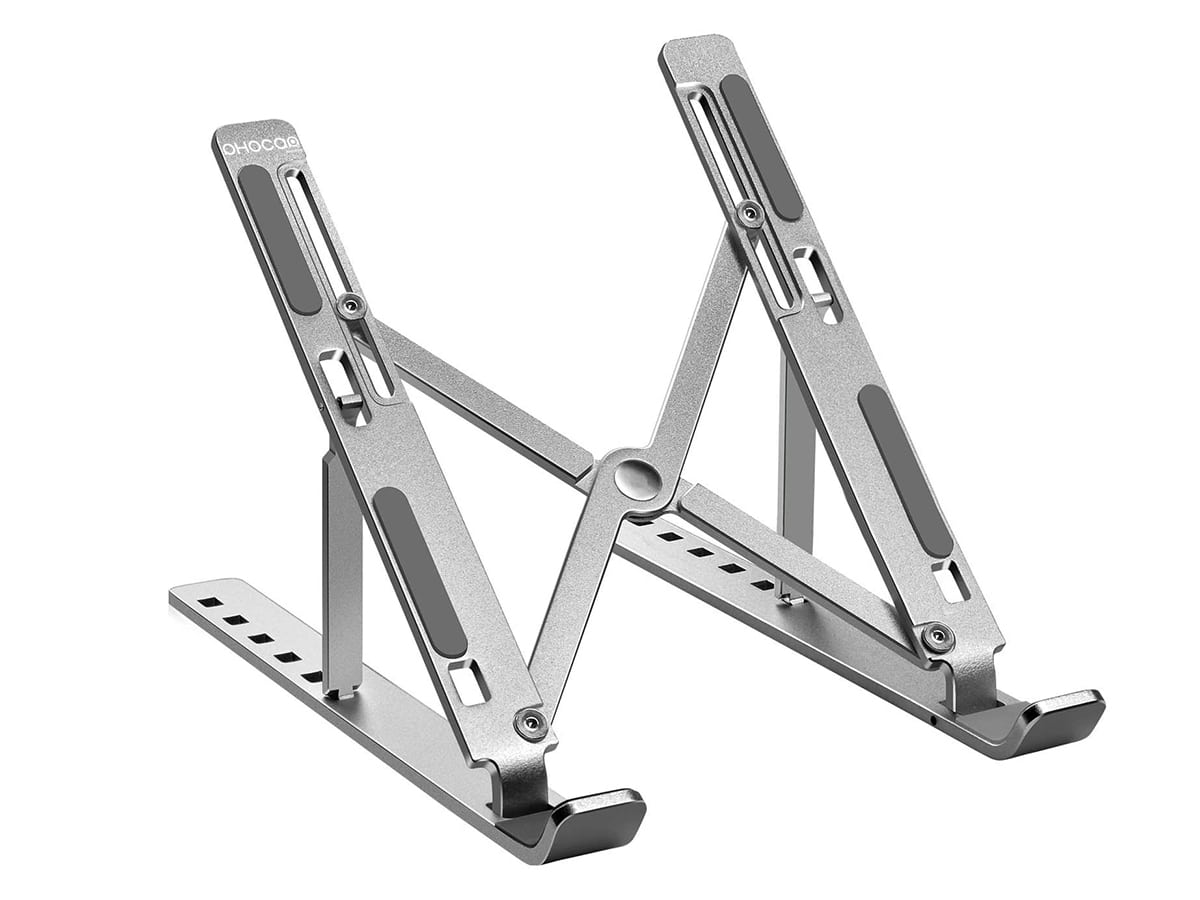 13. PHOCAR Laptop Stand
The PHOCAR almost looks like something out of a sci-fi movie, with its robotic aluminium features. The ergonomic design is simultaneously compact but solid and is height adjustable. There are six angle options, freeing you from any back or neck stiffness while you work. The stand is also foldable and portable, so you can guarantee a sturdy work surface wherever you go.
Brand: PHOCAR
Colour: Grey
Product Dimensions: 25 x 6 x 2 cm; 210.01 Grams
You'll also like:
10 Best Cheap Smartphones for Any Budget
14 Best Tablets for Work and Play in 2021
11 Best Standing Desks for Your Home Office
General FAQs
What is the best portable laptop stand?
The best portable laptop stand is the Satechi Aluminium laptop stand.
What is the best foldable laptop stand?
The ObVus Solutions Tower Stand is the best foldable laptop stand.
What is the best adjustable laptop stand?
If you're looking for something adjustable, the best laptop stand is the Lifelong Upryze Ergonomic laptop stand.
Why should you use a computer stand?
You should use a computer stand to improve your workspace and your productivity, as they help improve comfort and functionality.