INTERVIEW: The Man Who Shot 007 & Mad Max's 5 Most Iconic Images
While you may not know his name, you definitely would have seen Jasin Boland's work. The global motion picture still photographer has captured some of the most recognisable shots in film history, from The Matrix's iconic subway battle to the overhead shot of James Bond's DB5 that headlined the trailer for No Time to Die. In fact, Boland's resume reads like a cinephile's hit-list. The Nikon ambassador has worked on major shoots for The Bourne franchise, Mad Max: Fury Road, The Mummy, Mission Impossible and Safe House, among countless others.
You'll also like:
MasterChef Australia Recap – S12E01 – A Pin Drops
Mad Max Prequel 'Furiosa' Confirmed – What We Know So Far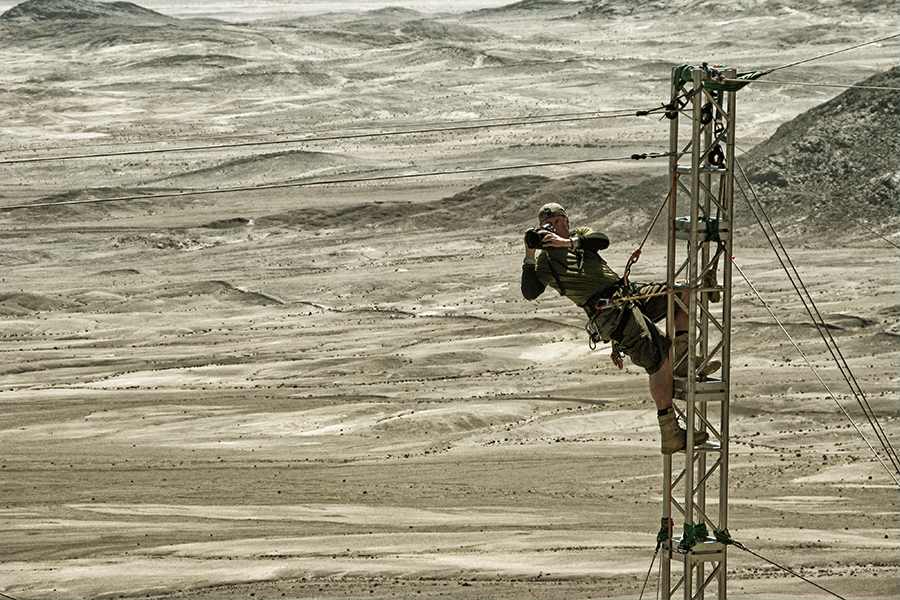 "My job is to tell the story, not to make it, so I really love things to flow organically in front of me," Boland tells Man of Many. "The moment before action is called, the actor is deep inside their character. For me, my golden moments start from that point. If I don't need to, I don't shoot rehearsals, I'm pretty much only interested in the performance an actor gives their director."
For Boland, there's no meticulous set-up or double-takes, every shot he captures is an organic moment caught in time. It has to be real. "If I want the raw emotion from an actor or scene, I need the image from the middle of a take," he says. "You can clearly see that once cut has been called, the shoulders come down and the energy expires out with their breath. To build that back up in seconds after in a setup is just not possible."
Capturing images mid-action has become a trademark for Boland, with his work making its way onto film posters across the globe. As the world gears up for the eventual release of Daniel Craig's final performance as 007, we caught up with motion picture still photographer to talk Bond, Keanu and the five images he is most proud of.
Jasin Boland's Top 5 Film Photographs
A little like choosing your favourite child, selecting the five best images from your career isn't exactly easy. "Honestly, what I say today will be completely different tomorrow," Boland jokes. "Sometimes I get caught up in a new release so all I can think about are the images from that film, then I will see something from my back catalogue and get all nostalgic. What I like about my style of photography has changed over the past 20 years too, so an image that didn't interest me from The Matrix, for example, interests me now. So here' my favourite five for today."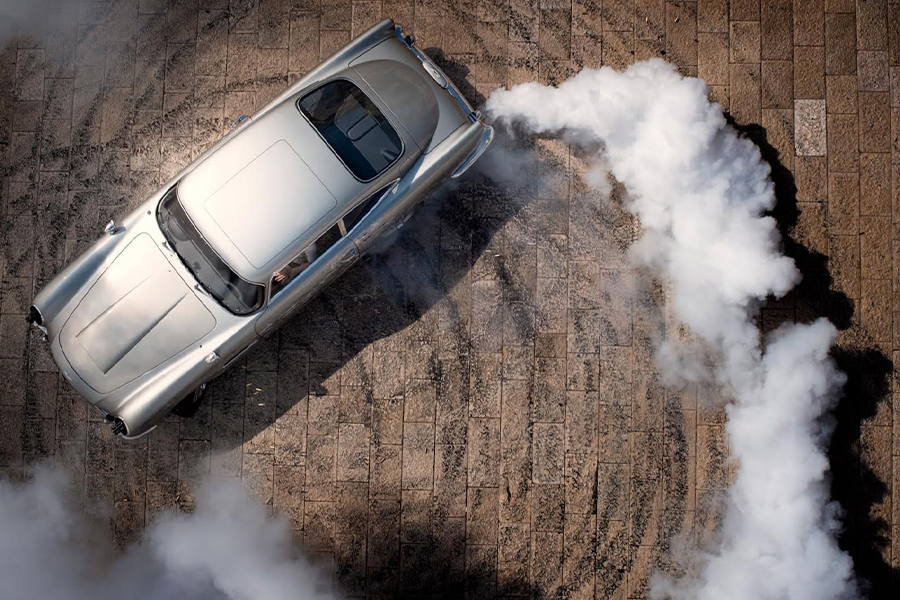 1. DB5 from No Time to Die
"This shot of the DB5 from overhead on my Nikon D750 will be one of my favourite shots for many years to come," Boland says. "On this sequence, I would frequently have four or five cameras, a practical handheld camera and my remote rigs with a pre-set focus for where I thought the action might happen."
To achieve the shot, Boland mounted his camera on an overhead crane, swinging it upside down underneath a Libra head. "It's always busy doing shots like these – I will have my camera's set up in cages with various attachments for all sorts of mounting scenarios," he says. "Some work, some don't, but when they do, they are rad!"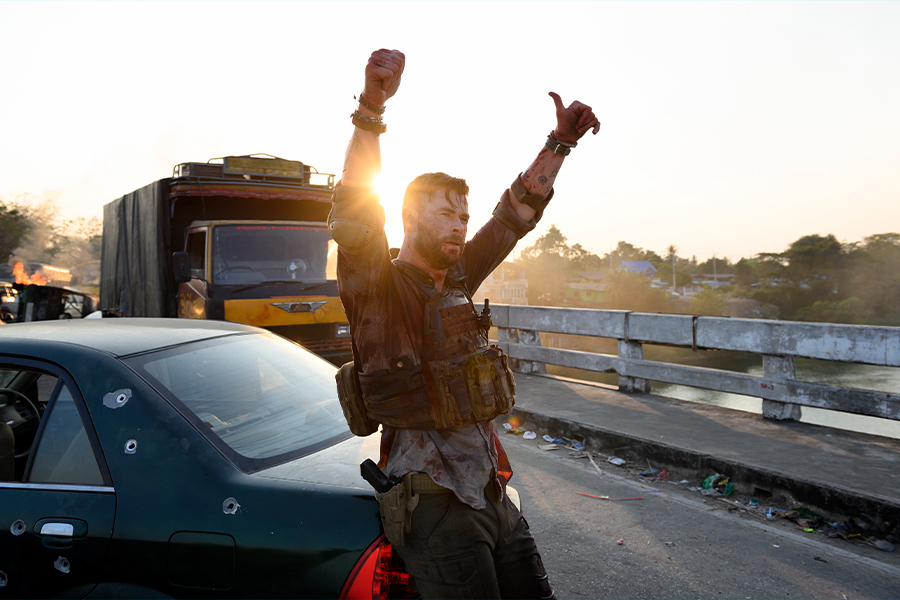 2. Chris Hemsworth from Extraction
When the Chris Hemsworth action flick Extraction hit Netflix, it was a monster release. The brutal and bloody tale captured the imagination of fans across the globe and Boland was able to snag this incredible shot of the star actor in motion. "I shot this on my Nikon Z 6 as the sun was just about to hit the deck," Boland explains. "Chris had just finished his last shot of the film and he had been going hard all day. You can see how exhausted he is and how grateful he was to all the crew for the hard work everyone put in."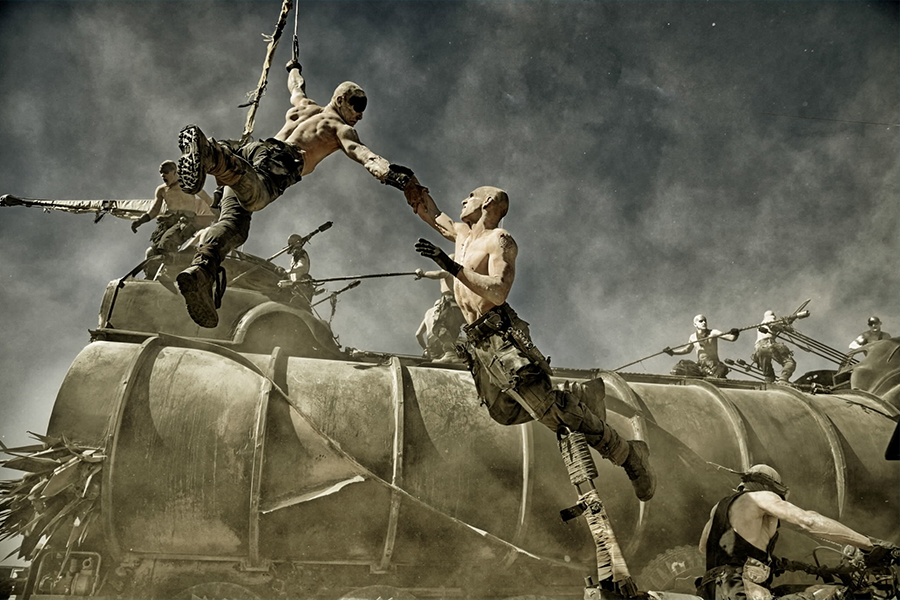 3. Mad Max: Fury Road
Working on the Aussie-led action smash Mad Max: Fury Road was an ideal situation for Boland; one that helped him to further his skills in the film arena. "Being able to shoot Mad Max: Fury Road for me, as an action guy, was a gift from the photo gods! Nearly everything we shot was taken from practical stunts, so it was a lot of fun," he says. "For this film, I was able to totally refine my action photography and it's really helped with how I tackle the Bond films. As a result of all the dust and sand on set, I had to come up with some recipes to help the subject be seen better. So, I started making my own post-apocalyptic world that I called the 'layer cake' They used much of what I had done in my edits to influence the film and I ended up with a one-line credit as a thank you from the filmmakers."
This iconic shot from Mad Max: Fury Road is one of Boland's crowning achievements, and it's not hard to see why. Surrounded by flames, cars, trucks and bodies, the image was an exercise in precision. "Timing and patience are two of the most important things for all photographers," Boland says. "Some days, many days actually, I would have to stand around in my harness waiting for a chance for a shot. Mostly I would get a crack, but it might only be five minutes at the very end of the day for just one run."
But the effort was worth it. The breath-taking image perfectly captures a sense of danger and action, while also offering some artistic references. "Our amazing director, Dr Miller always called this my Michelangelo," Boland laughs. "I've never seen myself as an artist, I can't draw or sculpt, but I see things clearly and I can lay what I see into an image. I always refer to myself as a storyteller, it's all about blending and layering what you see in a frame, encouraging the audience's eyes and mind to wander around an image. Mad Max was a physical and mental challenge but if you push those elements back out through the lens and into your photography I think it can be a source of great creativity."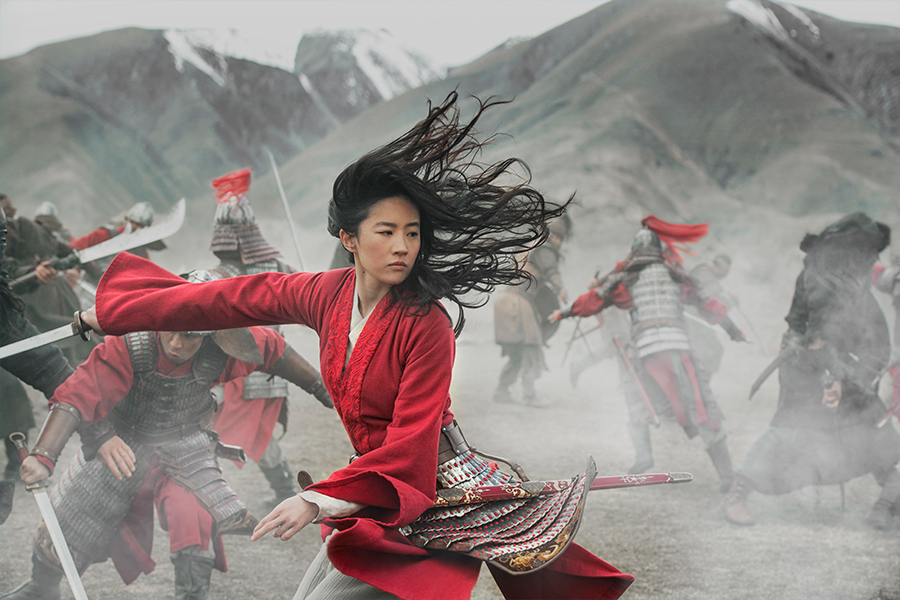 4. Mulan
Sometimes it's not just what's in front of the camera that provides intrigue, but who. "Our actress Liu Yifei gave me beautiful images every day shooting this film," Boland says. "Combine the light from Director of Photography Mandy Walker and action from Director Niki Caro, it was an absolute dream project. Every day was fun and beautiful, filled with extraordinary imagery. With all the hair and costume flying everywhere, it's not easy to pull off a shot like this. For me, it's really poetry in motion. Yifei turned the action into a dance and it was a great privilege to shoot the stills on this one for her."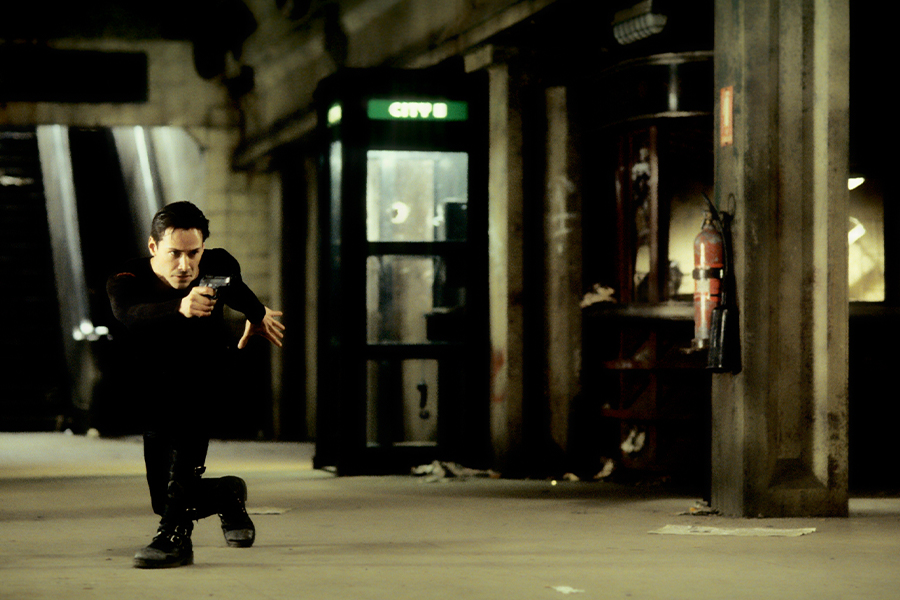 5. The Matrix
Way back in 1998, Sydney was abuzz with interest. A Hollywood film crew had arrived to shoot a new sci-fi flick, one that would redefine the genre for decades to come. "We all knew it was something pretty special from day one and it 100 per cent launched my career, along with many other international careers," Boland says. "The public were questioning a digital world and it was shot at a time when the digital AI world was becoming limitless, so they really resonated with it. The Wachowskis are wonderful filmmakers and I'm sure the film barely deviated from their original vision."
But despite all the success The Matrix brought him, Boland admits, he only grew to appreciate his work on the film later in life. "For many years, this image did not resonate with me. At the time, I think I focused on tighter frames, but as my work has matured and I've become more comfortable enough with my skills I can concentrate on refining my photography," he says. "But I look at this image now and it's really good storytelling. There's Neo doing his thing super stylish in The Matrix, he has his exit with the phone booth, all the elements are there. Although I made this image in the late 90s, it's probably more indicative of my style now, I just didn't know at the time this was the photographer I would end up being."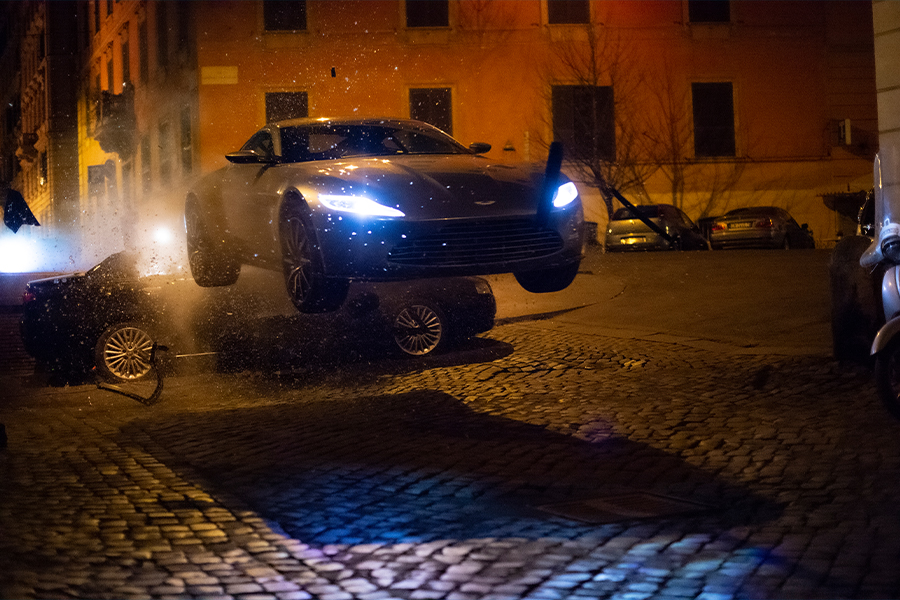 Honourable Mention – James Bond Spectre
Getting into the thick of the action isn't always easy. As a photographer, you want to be as close as you can without influencing the scene, a prospect which can put you in harm's way.
"We have so many departments involved with big stunts, so by the time we are ready to shoot, every possible scenario has been crawled over and nothing is left to chance," Boland says. "Due to safety, I can't always have a manned camera in the thick of the action but the stunt department will put me as close as they can. If it's a position where something can go sideways then I'll have a spotter with me where they will hold onto my harness and black rapid sling strap ready to pull me out of the way. For major stunts, I will often shoot with a physical camera in my hand while simultaneously shooting with mounted remote rigs."
When we asked him about which shot demanded the most extreme of circumstances, the answer was obvious. An incredibly daring photograph, captured at the height of danger whilst film Spectre is one of his most memorable pieces. While it's not one of his favourite shots, the image does bring a wry smile to the photographer's face.
"For a stunt, I shot on Spectre Bond, we had the DB 10 jumping into an alley in Rome. I couldn't be super close as the car was hitting well over 100 kph, so I had to set a rigged camera close to the jump," he says. "I was positioned further down the alley shooting with my Nikon D4s and a 200mm f2. (The image below is with the remote rig so it was D750 and 50 mm 1.4) I was set up in a doorway to an apartment, so if it all came apart, I was able to be safely pulled deep into the room and any parts flying off would go straight past."
"I had my buddy Frosty from the stunt department holding me by the harness and sling strap while I shot handheld with a physical camera, simultaneously setting off my rigs with my remote. I remember just hosing the action down and Frosty gave me as long as he could before pulling me to safety as the DB went flying past less than a meter in front of me."
The resulting shot shows the luxury car flying through the air with debris rapidly littering the Roman cobblestones beneath.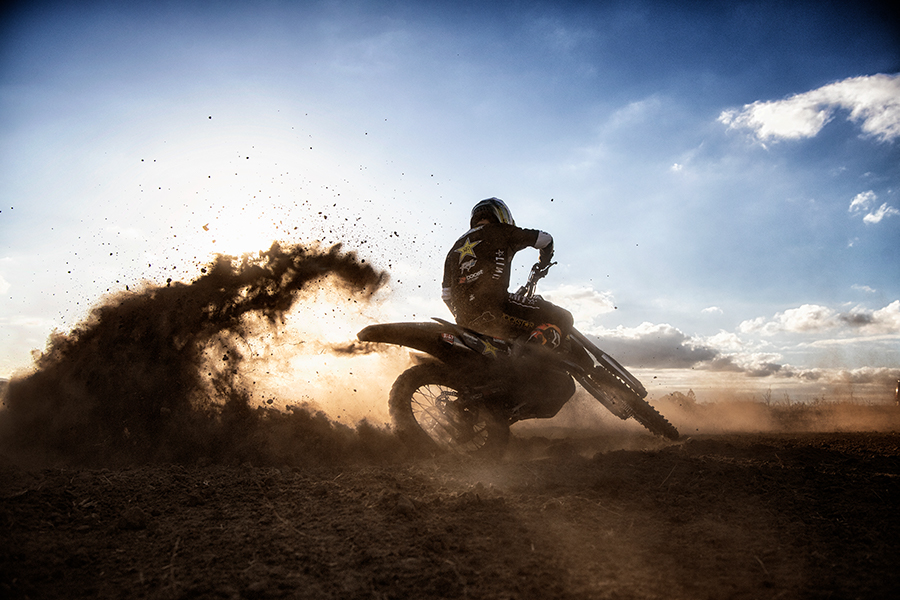 The Next Chapter
With most film production currently under wraps and international travel presumably off the table, Boland is taking the time to go back to his roots. Working with Australia X-Games and Nitro Gold Medallist Corey Creed, the photographer is shooting a new underground action feature. "Cory has amazing talent, holding the world record for the highest jump off a quarter pipe. He has been pulling off the most insane stunts on a motocross bike," He says. "I've been testing my Nikon D6 on specific stunts on set. It's just been fun channelling a little California cool into my action shots, getting covered in dirt and just being a big kid with a beautiful camera."
Behind-the-scenes shots, breath-taking images and flying Aston Martins are all in a day's work for Jasin Boland. You can check out more from the Nikon ambassador via his official Instagram.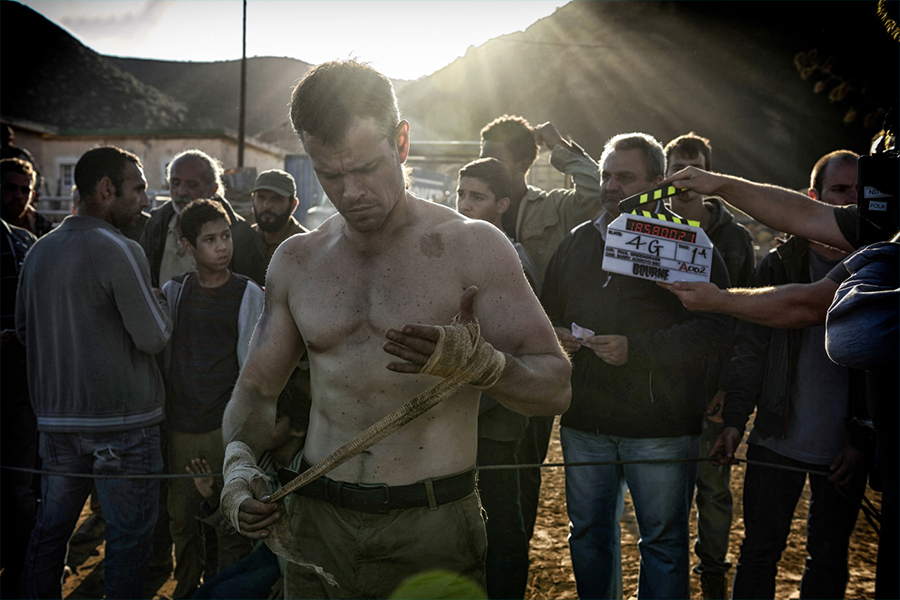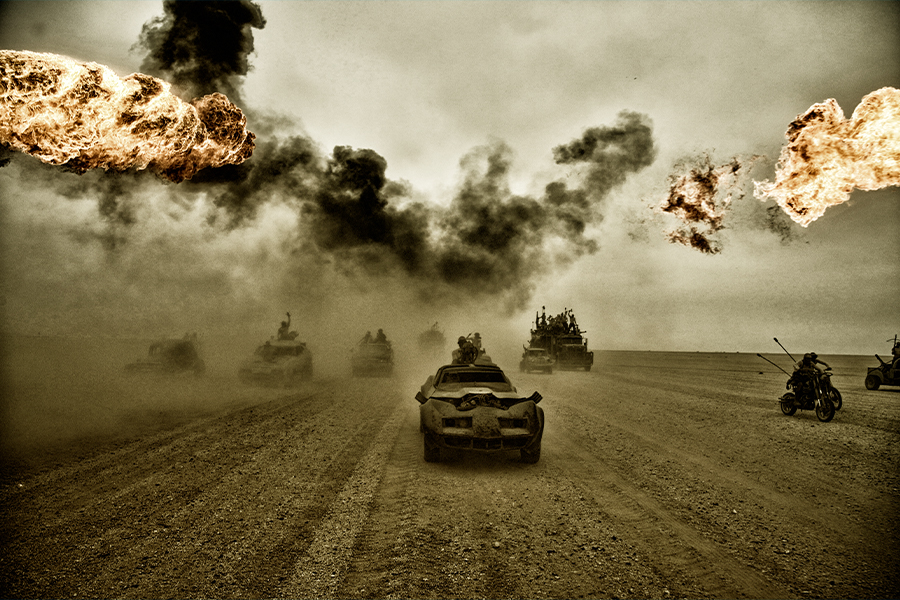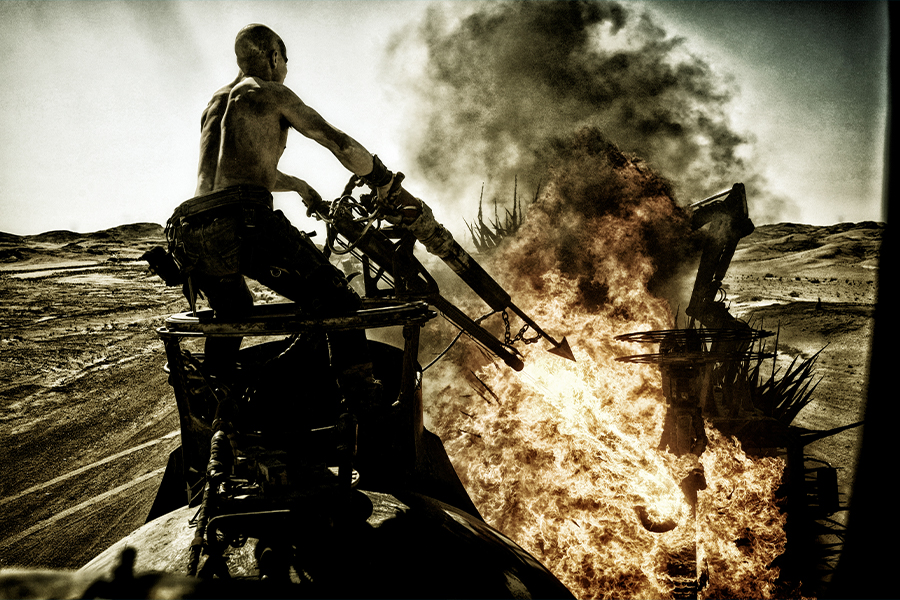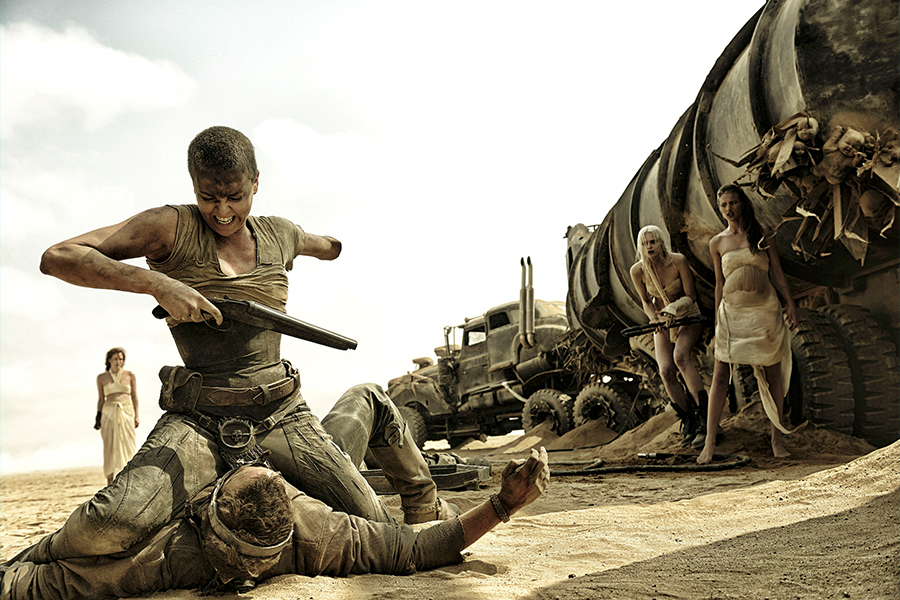 You'll also like:
25 Best Thrillers on Netflix Right Now
Mad Max Prequel 'Furiosa' Confirmed – What We Know So Far