14 Best Men's Bucket Hats for Summer
The humble Bucket Hat. Is there a more divisive accessory? We feel like you never truly 'Get' it till you've tried being 'that guy' in the best bucket hat you can find. If you don't get it, it's probably because you've never had the joy of letting go and accepting this accessory's perfect position in the Venn diagram of comfort, fashion and the question 'Why'?
If you're yet to experience the good times and committed to wearing a bucket hat and a bum bag for a dang good day out, we're committed to dragging you across to the dark side by showing you the full spectrum of options for this summer. Of the hundreds of types of hats for men, the bucket hat stands alone.
We've dived deep and looked at designer bucket hats, cheap bucket hats, cool bucket hats, cute bucket hats and everything else in between. Ever wondered how to make a bucket hat work? Then let us help you navigate the fine line between looking like drunk uncle dancing like a grandaddy, and looking cool as Ice Cube.
You'll also like:
13 Types of Men's Hats for Any Occasion
Will & Bear's Upcycled Hats are Good for the Environment
21 Best Black Sneakers For Every Man's Rotation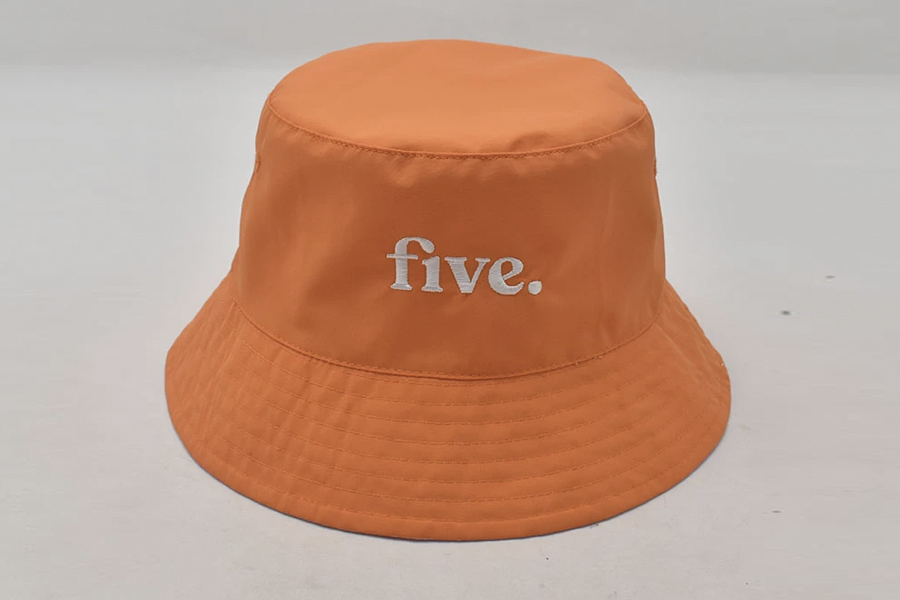 1. Five by Flynn Bucket Hat
The Five by Flynn is an absolute staple of the bucket hat scene. A classic look; when someone says Bucket Hat, this is what 90 per cent of you are thinking of. Recognition comes with a time cost though, and these can often be a 3-4 week wait from your order.
Price: $45
Material: Polyester
Colour: Orange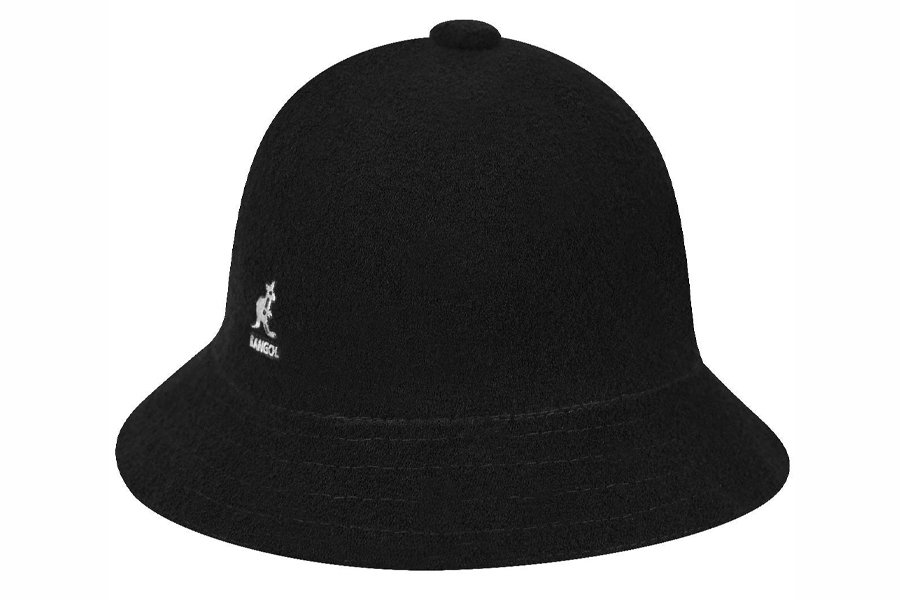 2. Kangol Bermuda
The Kangol, popularised by LL Cool J, is an icon in its own right. A rock, holding the hip hop scene down. Surprisingly un-Australian despite having a Kangaroo for its label (should be illegal!) don't be turned off by semantics. As Mr Cool J said about them, "You may have a item you wear that you just feel good in". This could be that for you.
Price: $75
Material: Polyester
Colour: Various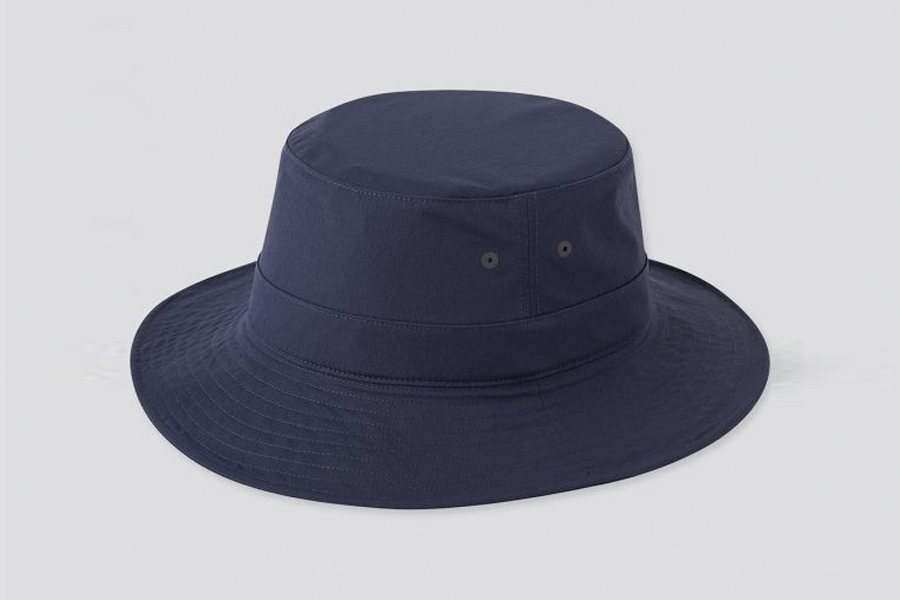 3. Uniqlo UV Protection Sports Hat
Hats have a UPF rating. If you take nothing away from this article, that should be an essential fact. The Uniqlo Protection Sports Hat combines a high hat UPF with a wide brim for the perfect sun protection. Coming only in black for maximum sun absorption this is a great trade off between comfort and sun cover.
Price: $29.90
Material: Nylon, spandex
Colour: Black/Blue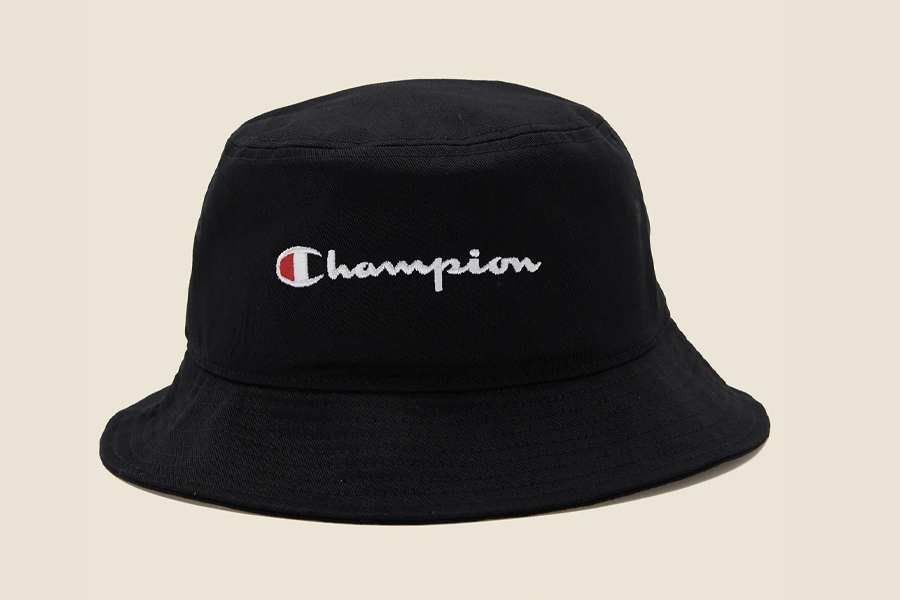 4. Champion Twill Script Bucket Hat
Champion, you know them, we know them, and now they make bucket hats. Coming in black and white, a bold choice, but a potentially gold choice to make. The Champion Twill Script Bucket Hat is a ticket to good times. Have you seen someone wear these late at night, in a smokers, wearing speed dealers? Yes. Can you be that guy now? Hell yes.
Price: $39.95
Material: Twill
Colour: Black
5. Nike Bucket Hat
Air Jordans lifting you off the ground? Grab the matching Nike Sportswear Bucket Hat to keep you rooted to the floor. We were expecting that you'd be paying extra for the tick, but a perfectly reasonable $40 is well within the budget of any hat fiend.
Price: $40
Material: Polyester
Colour: Particle Grey
6. The North Face Class V Brimmer
Coming in hot we have a first, the first bucket hat with string chin strap to crack into the official Man of Many style guide to the summer, the North Face Class V Brimmer is perfect for the fly fishing trip, or the mosh pit. Nothing's sexier than safety right?
Price: $60
Material: Polyester
Colour: Black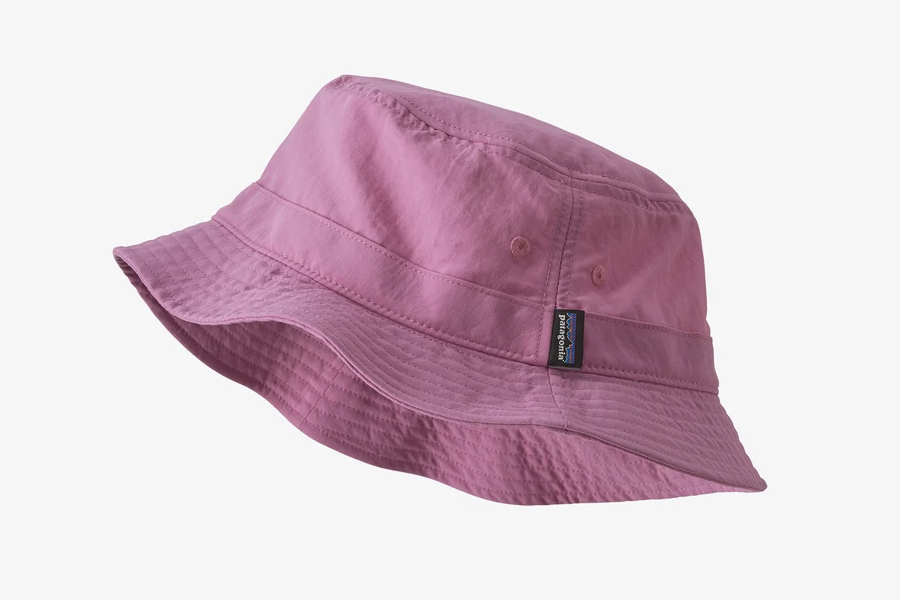 7. Patagonia Wavefarer
The Patagonia Wavefarer has some creme fraiche patterned options to switch up the monochrome bucket hat stylings seen so far. Too loud is literally not an option as they're all subdued enough to play nice with whatever else you choose to wear with it.
Price: $39 USD
Material: Polyester
Colour: Marble pink, Ash tan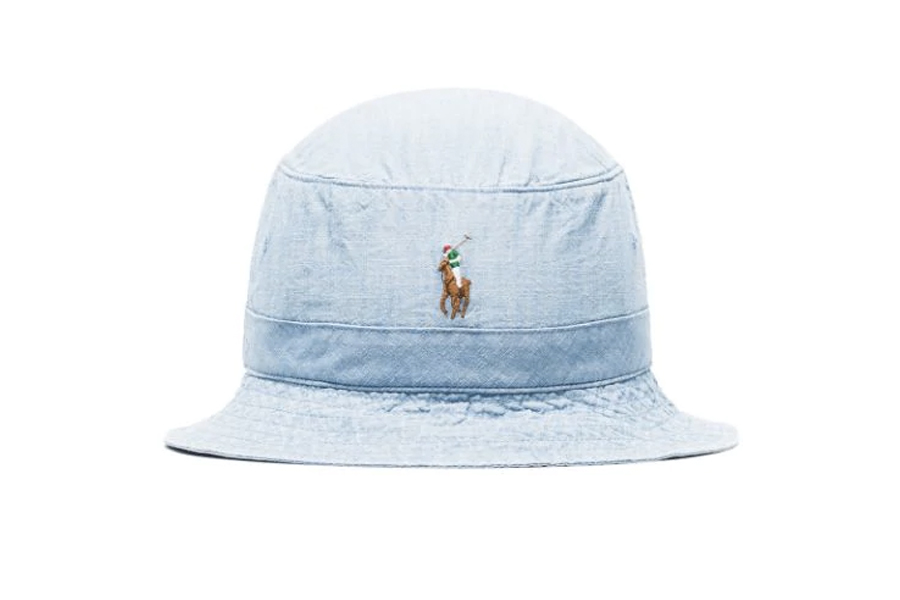 8. Polo Ralph Lauren Loft
Taking our first real step into designer bucket hat territory the Ralph Lauren Polo Loft is all the silky smooth goodness you'd expect with the name. Clean, tight, light blue. The Loft is a lesson in class + simplicity. Pair it with a Ralph Lauren Polo shirt and you'll be set for any sunlit event.
Price: $87
Material: Cotton
Colour: Polo blue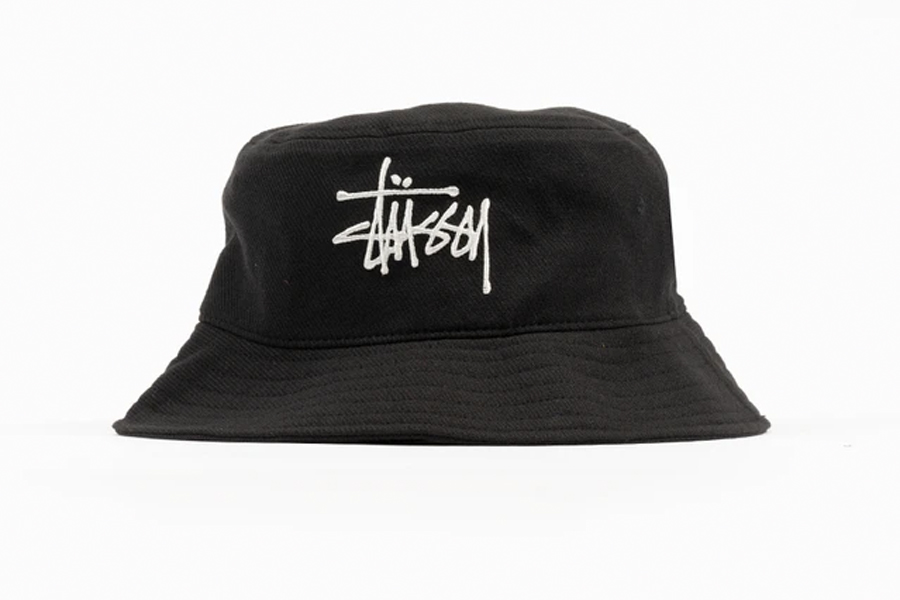 9. Stüssy Big Logo Twill
Stüssy, the unnamed king of streetwear, you know the name, now keep your brain from sky flames with a red, grey or black version of this simple, yet sturdy design. With the Big Logo Twill you can rep yourself in Stüssy from top to toe. It's not broke, why fix it?
Price: $79.95
Material: Polyester
Colour: Black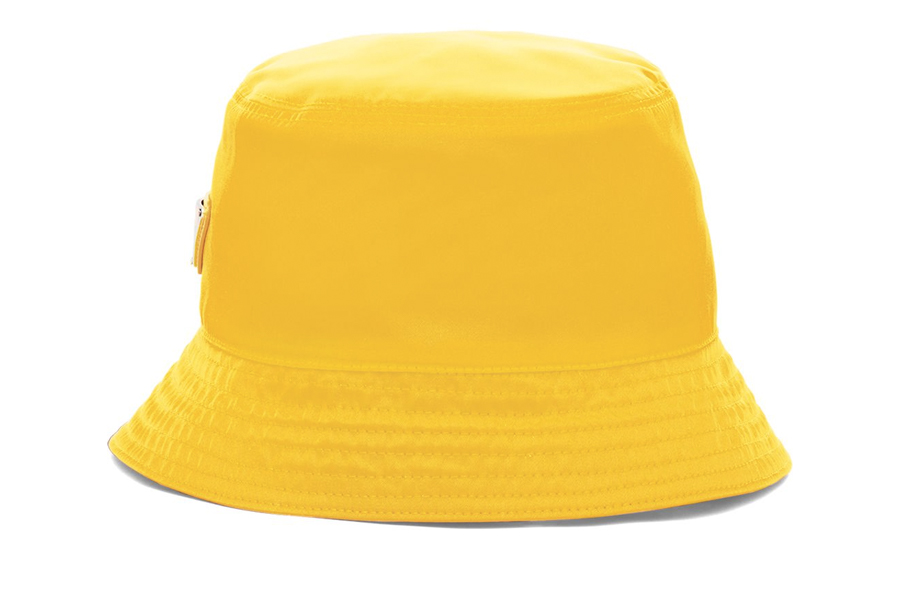 10. Prada Bucket Hat
Prada don't know how to sell their hat. Which makes sense, it's not the world they're used to, but they've been advertising it as a solution to bed head when this bad boy can be so much more. You're paying a premium for the name, but when someone asks you 'whoa, bruh, is that sh*t Prada?'  you can look 'em dead in the eyes, and say 'Yes, yes it is.'
Price: $595
Material: Polyester
Colour: Yellow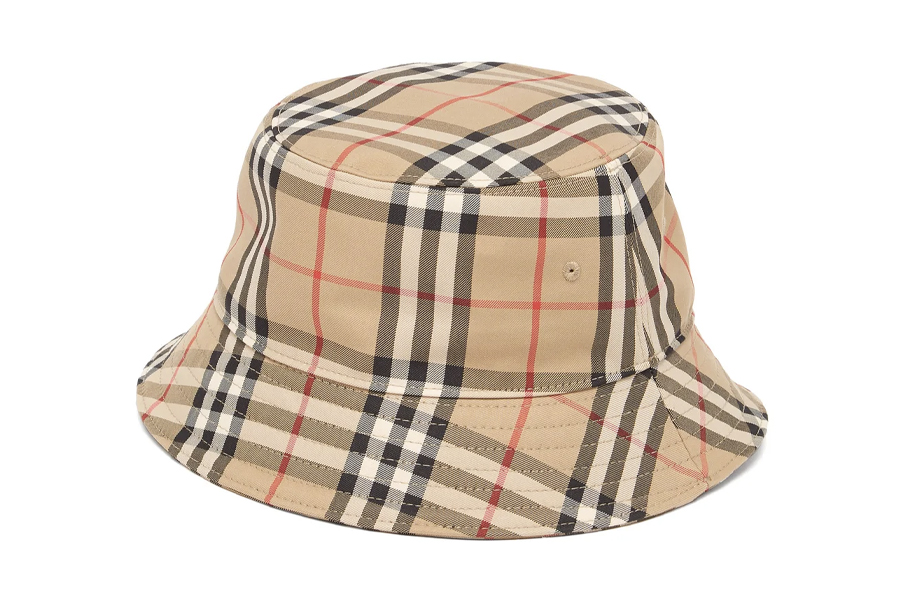 11. Burberry Vintage Check Cotton Bucket Hat
Burberry's iconic Vintage Check Cotton Bucket looks better than any other plaid. I don't know why this is, but we can't deny the facts. The creme, black, white and red is just soothing to the eyes. Stand out everywhere from Manchester to Bondi.
Price: $240
Material: Cotton
Colour: Burberry Check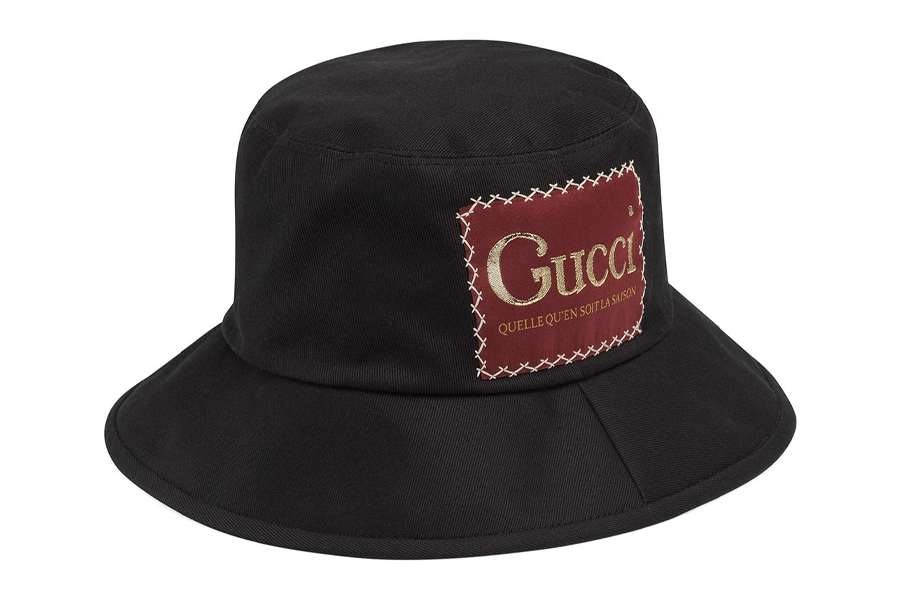 12. Gucci Logo Patch
Gucci make a bucket hat. We feel that should be enough info to make the split decision you need to drop, or not the cash for this icon of an accessory: the Gucci Logo Patch. Is it expensive? Hell yes. Is it incredible in ways you can't describe? Yup. Why? It's all Gucci baby.
Price: $625
Material: Cotton
Colour: Black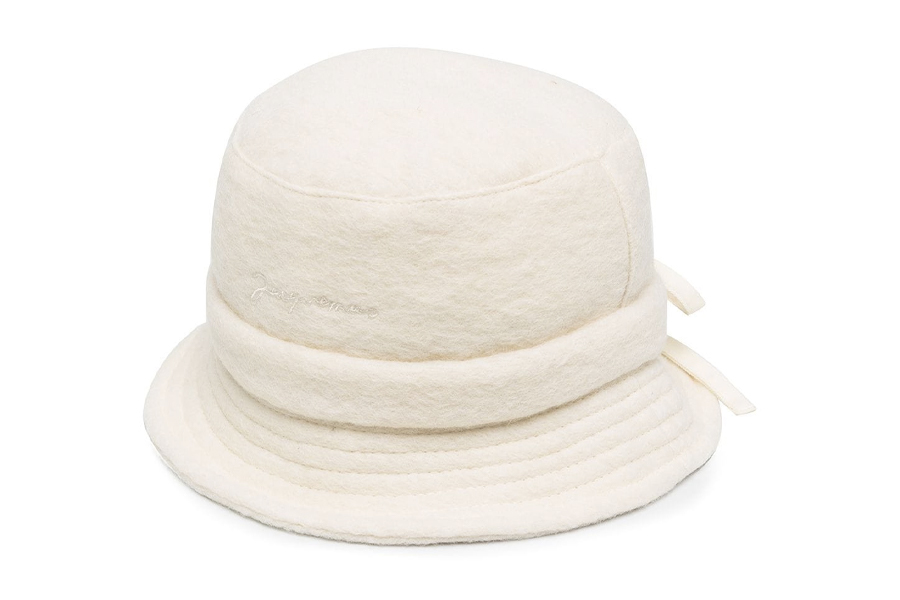 13. Jaquemus Le bob
Jaquemus Le bob is a little french hat for your head. It's by far the cutest bucket hat on this list, and requires that you treat it as such. It needs to be well paired with the right fit-out, but it's high quality, the tiniest bit fluffy, and french enough to roll out of bed in morning wearing nothing but sheets and a cigarette. The best winter option for the bucket hat aficionado.
Price: $300
Material: Wool, polyester, cotton
Colour: Cream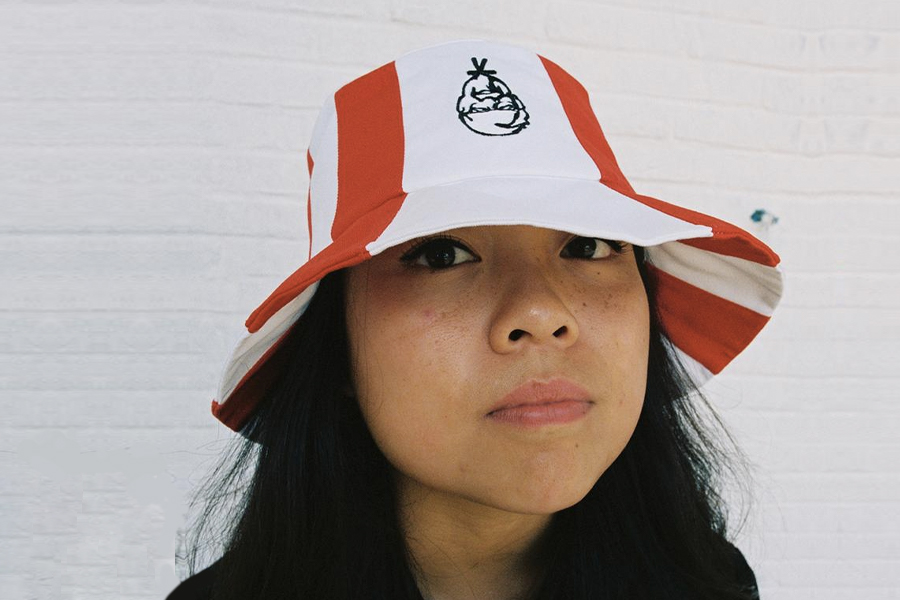 14. KFC Buckethead
A bucket hat through a technicality, the KFC buckethead is the greasy head protection you never knew you needed. Definitely the result of dubious decisions in double time you're more likely to find them in the stands of the big bash then on a Chanel runway. Does block the sun.
Price: Technically free. More accurately $29.95 for the 12 pieces of chicken that come in it.
You'll also like:
13 Types of Men's Hats for Any Occasion
Will & Bear's Upcycled Hats are Good for the Environment
21 Best Black Sneakers For Every Man's Rotation
General FAQ
What is a KFC buckethead?
A kfc bucket, emptied of the delicious goods and shoved onto your unsuspecting head. KFC Bucket = delicious, not on head. KFC Buckethead = Bucket placed on head.
Why is it called a bucket hat?
Because it looks like a bucket, flipped upside down and shoved on your head. Originally called Irish walking hats, or idiotka (Idiot Hat) in Bulgaria, bucket hats have shaken all names trying to name them anything but what they are.
What bucket hat has the best sun protection?
All bucket hats will have a level of protection for the sun. UV specific hats will have a UPF rating between 15 - 50+. Anything 50+ will be the best sun protection for your head.