LeBron James Rocks Underrated $100 Sneakers to Meet Rapper Bad Bunny
After his Los Angeles Lakers were knocked out of the 2021 NBA Playoffs by the current NBA title favourite Phoenix Suns. Lebron James has been on a Space Jam 2 promotional mission, dropping teaser trailers, SLAM Magazine cover issues and even finding time to attend a few Sierra Canyon basketball games with Drake and his new love Johanna Leia. But, it's this pair of sneakers that he wore to a beachside meet up with Puerto Rican rapper Bad Bunny that has hypebeasts begging for more.
You'll also like:
LeBron James' Insane Diet & Workout Plan
From Day to Night In These Everyday White Sneakers
Steph Curry Rookie Card Sells for Record $7.9 Million, Eclipsing LeBron James
If you can't tell already from the awkwardly positioned selfies and pout faces, this is a powerful duo. While we're not quite sure what the pair would've been talking about – we assume marketing for the lastest Space Jame 2 movie – at least they look great. With Lebron rocking what appears to be an orange Space Jam 2 t-shirt, pink 5-inch shorts and a pair of Nike Air Ghost Racer in Orange Peel.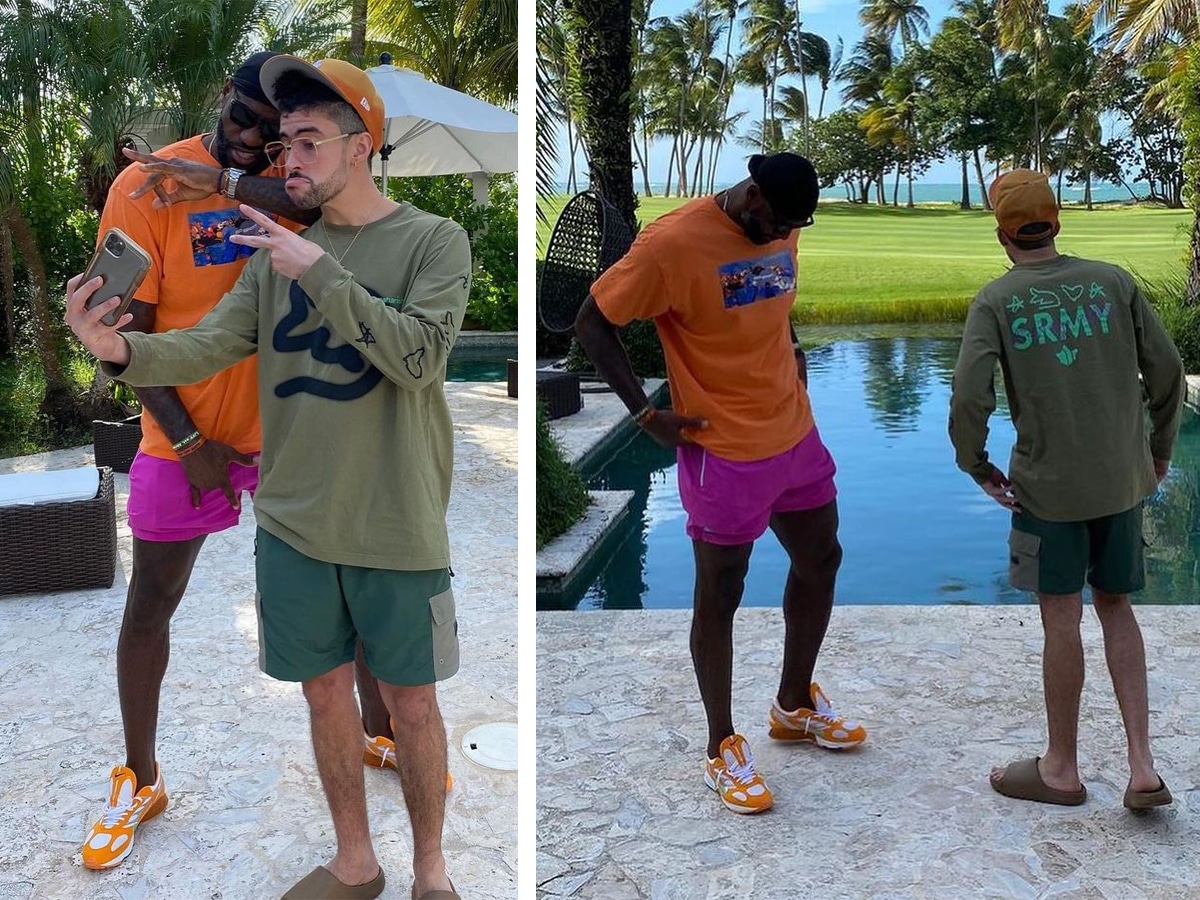 This severely underrated silhouette hit the streets all the way back in 2019 and actually landed at many outlet stores, including END Clothing and SUBTYPE. Fans reported picking up a pair for under AU$100 shipped, but it seems that boat has long sailed and to secure a pair after this Lebron James fitpic expect to pay anywhere from $100-150 according to StockX.
In terms of Bad Bunny's fit, he's rocking a pair of the infamous and oh-so-comfy Yeezy Slides in Core. Up top, Bad Bunny is wearing our favourite piece from the entire ensemble, a Maharishi x Stray Rats Long Sleeve Tee available from END. We have no idea how this is still in-stock so best be quick before his fans find this one out.
Buy it here
What shoes is Lebron wearing with Bad Bunny?
Lebron James is seen wearing a pair of Nike Air Ghost Racer in Orange Peel.
What shirt is Bad Bunny wearing with Lebron?
Bad Bunny is seen wearing a Maharishi x Stray Rats Long Sleeve Tee. He is also wearing a pair of Yeezy Slides in the Core colourway.
You'll also like:
LeBron James' Insane Diet & Workout Plan
11 Best Men's Shirt Jackets & Tips on How to Wear Them
Steph Curry Rookie Card Sells for Record $7.9 Million, Eclipsing LeBron James