15 Dad Shoes That Will Make You King of the Cookout
The Nike Air Jorts,  the New Balance Grill Master, the adidas Strutter – When it comes function over form, dad shoes are in a league of their own. You know the ones. Crispy white on the outside, cross-cross apple-sauce on the laces with a solid heel and enough support for 230lbs of barbeque-grilling, stubbie-cooling, disappointed dad energy. Say what you will about dad sneakers, but the iconic chunky sole stompers are making a serious comeback, whatever your flavour. From the budget-friendly New Balance dad shoes to whatever Balenciaga is doing with its latest collection, the spirit is there.
What are Dad Shoes?
Born in the backyards of the American mid-west, dad shoes were originally designed as an affordable and stylish footwear option. Throughout the 1980s, the heavyweights of the footwear industry, such as Nike and adidas released a series of thick-soled lace-up sneakers that were renowned for being ultra-comfortable. Generally adorned with a double white colourway with navy sole, the iconic sneaker was a staple for most, but as the world neared the changing of the millennium, the chunky design fell out of fashion.
Skating brands dropped their oversized designs in favour of canvas slip-ons and suddenly, the '90s hangover was beginning to take effect. Only dads who fell behind the times were willing to opt for the out of vogue trainers in an effort to cling to their youth and thus, the Dad shoes meme was born. Trivial it may be, but you'd be hard-pressed to find any father in America who doesn't have at least one pair of New Balance dad shoes hiding in the closest. But fashion has a funny way of coming back to get you, and even your dad's old Nikes aren't immune.
Back in 2014, adidas relaunched the Stan Smith sneaker, prompting a new era of all-white court shoes and design. While not dad shoes by design, the Stan Smiths were the gateway to a revolution, one that Balenciaga was more than happy to take up. in 2017, the high-fashion firm released the Triple S sneaker, birthing a craze for oversized, thick-soled, chunky sneakers. Since then Yeezy, Louis Vuitton and the rest of the footwear industry has clambered to create the next big thing in dad shoes (Demna Gvasalia, the legend behind Balenciaga even created the knitted or sock sneaker).
But perhaps the most beautiful aspect of the fashion trend is how utterly oblivious its main constituents are. Suburban dads who purchased 13 pairs of their favourite shoe in the '90s are now finding out the mint-condition fits they planned on doing the gardening in are worth a fortune. Shocker.
The Anatomy of Dad Sneakers
Suffice to say, when it comes to dad shoes, there are some requirements. Here's everything you need to know to uncover a grill-master in the wild.
Fit – Comfort is king. We're talking thick sole, extra cushioning on the heel with a flat footbed for work on and off the grass
Colour – All-white is best. As most dads will tell you, it goes with everything, especially jeans for that full 'sneans' look.
Function – The babies need to be able to handle anything – 18 holes on the golf course, eight straight hours of standing on your driveway yelling at children, the whole shebang. Best to get something with a rugged outer and durable sole, that way you can handle some off-road action.
Brand – Not to be elitist, but not all dad shoes were created equal. if you want to get your money's worth, invest in the classics – Nike, adidias, New Balance, Skechers, Puma.
Best Dad Shoes
From the icons to the new school, there's a great number of dad sneakers on offer right now. If you want to join the herd, the time is nigh to slip your feet into a pair of Nike old man shoes. Here is a list of the best dad shoes you can buy.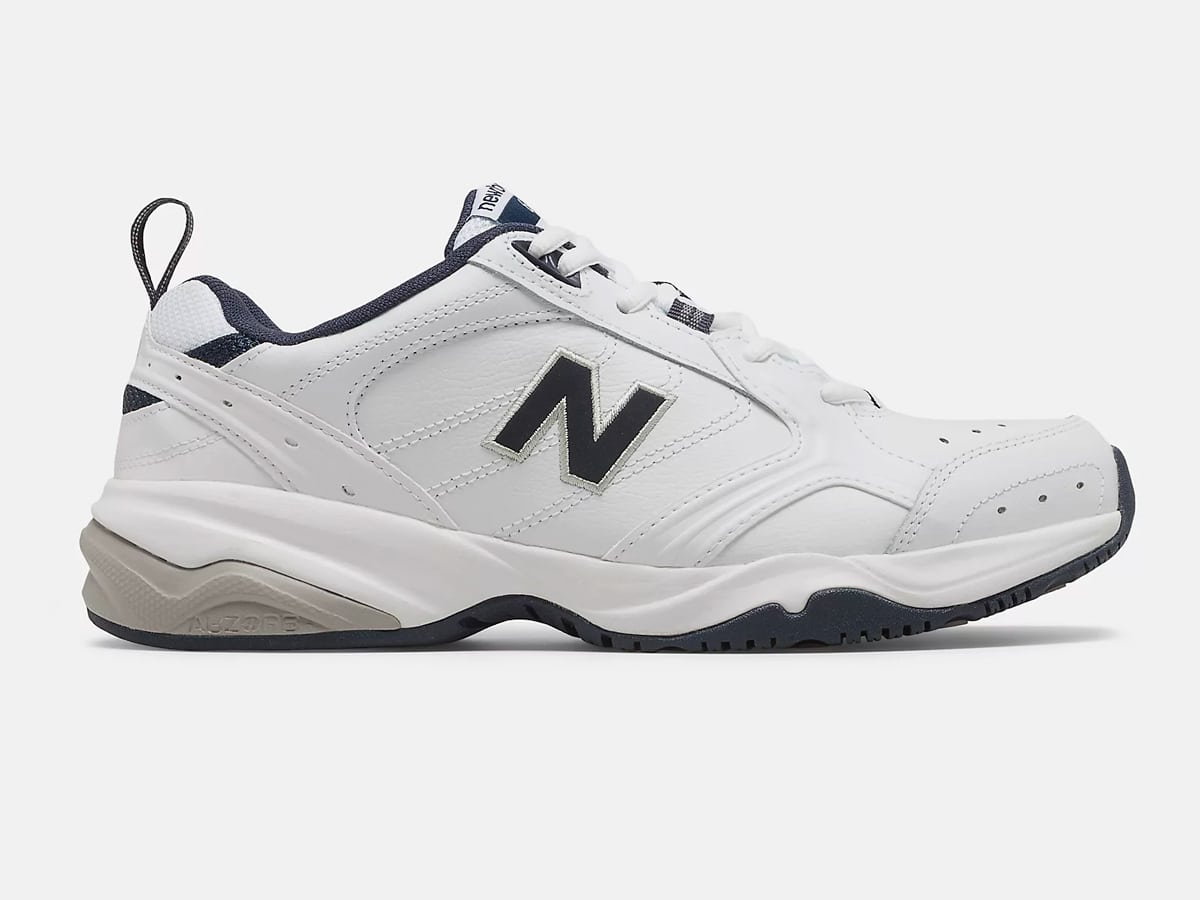 1. New Balance 624 Sneaker – Best Value
The king of the cookout, the New Balance 624 is the ultimate dad-wear. Emblazoned with the famous N, these puppies are ready for anything. Vintage throwback style meets modern technology, with these New Balance dad shoes making the most of IMEVA (injection-molded EVA foam) midsole for firm yet flexible cushioning, meaning the possibilities — and comfort — are endless. Grill on, brother.
Dad Profile: Doug, 53, cooks a mean burger, famous for his annual Hawaiian Luau party
Drop: 10 mm drop
Footbed: EVA (Ethyl Vinyl Acetate)
Upper: Leather
Midsole: 52 durometer insert
Price: USD$74.99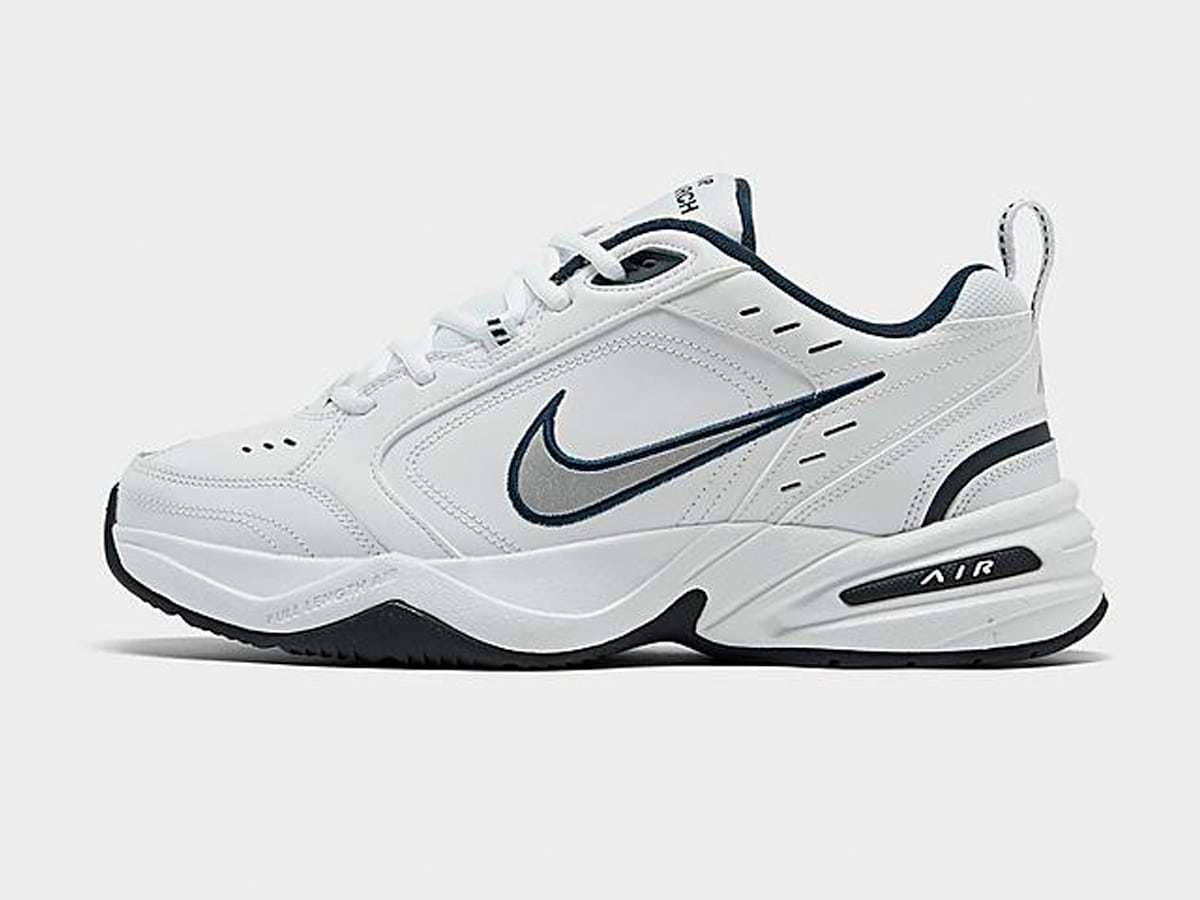 2. Nike Air Monarch IV – Best Overall
With the Men's Nike Air Monarch IV Cross Training Shoes, your grill game just got better. Strap on these bad boys with some ankle-high socks and a freshly steamed pair of jorts and you've got full mobility. Blending the best of streetwear and cross-training functionality, the Air Monarch IV's feature lightweight cushioning from the full-length Nike Air unit, making them easy on the calves. Best worn by men named Don.
Dad Profile: Bob, 55, 'almost' made it to the NFL
Sole: Synthetic
Upper: Leather
Midsole: Foam Phylon with full-length encapsulated Air-Sole unit cushions
Outsole: Solid rubber
Price: USD$75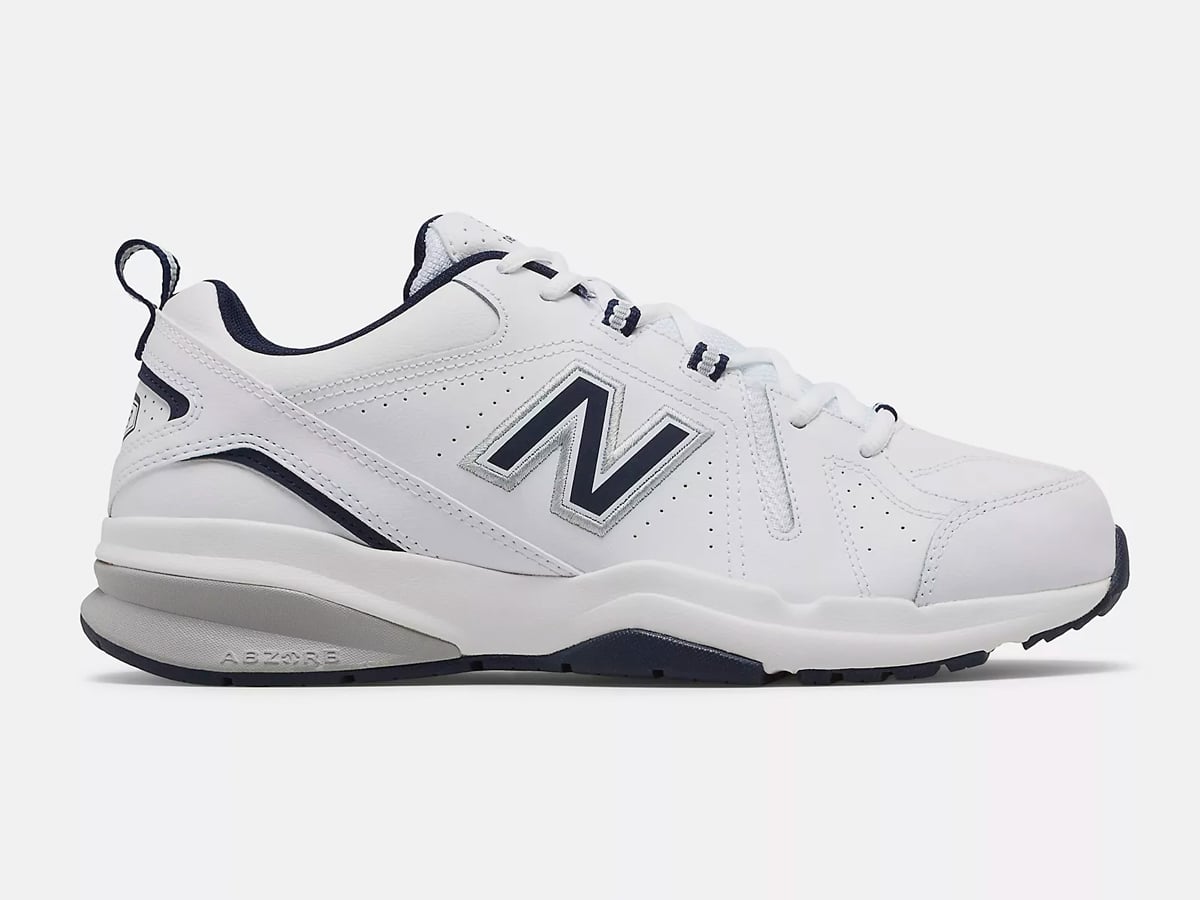 3. New Balance 608v4 – Most Versatile
If the 624s just don't cut in in the world of New Balance dad shoes, the 608v4 double white makes a strong case for sneaker supremacy.  This new generation of the classic trainer features an enhanced ABZORB heel pad for premium cushioning and abundant outsole flex grooves for superior flexibility. It also comes in three widths for dads with a girthy foot.
Dad Profile: Pete, 62, calls his son 'Big Guy'
Cushioning: ABZORB midfoot
Upper: Leather
Midsole: IMEVA (injection-molded EVA foam), Dual Density Collar Foam
Outsole: Slip-resistant according to ASTM F2913-11 standards
Price: USD$69.99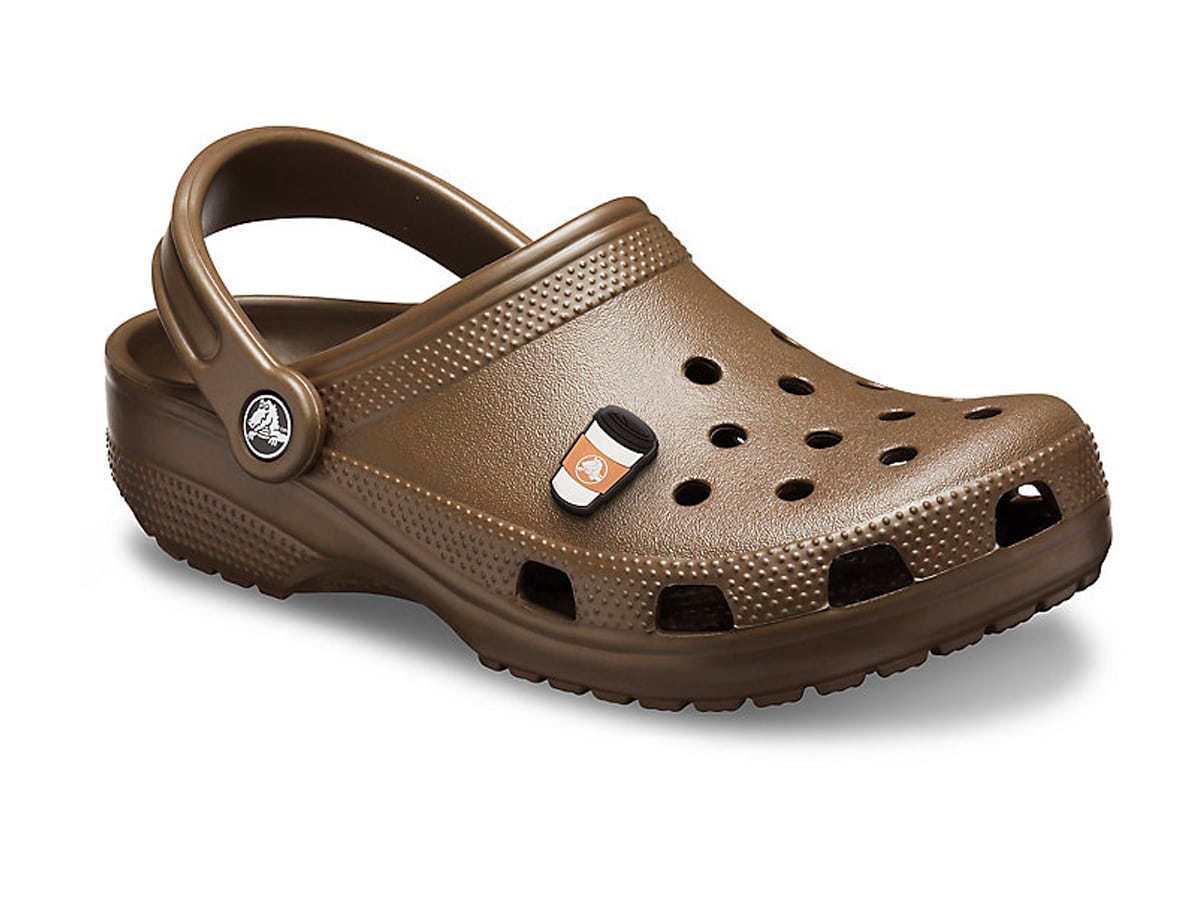 4. Crocs Classic Clogs – Best Casual
The Classic Croc dad is an interesting beast – By day, he's an accountant, but by night, he's also an accountant. This hard-working white-collar guy likes to let his hair down and toes free in the evenings, and the original urban clog delivers the goods. Come Saturday, he's flipping these puppies into turbo mode and going ham at Red Lobster.
Dad Profile: Gary, 51, holds unprompted sermons about the comfort of Crocs
Features: Ventilation ports
Straps: Pivoting heel straps
Customizable with Jibbitz charms
Price: USD$69.99
5. Fila Strada Disruptor – Most Fashionable
They don't do names like The Disruptor anymore. Pulled from the badge of a 1980s muscle car or recently acquired vacuum cleaner, Fila's Strada Disruptor is the dad shoe for men who don't wear dad shoes. Loud, crisp and entirely chunky, these leather-synthetic blend trainers might have been born on driveways of middle America but they wouldn't look out of place on the runways of Milan.
Dad Profile: Harvey, 33, knows a little too much about Dua Lipa
Midsole: Lightweight EVA
Insole: Removable Cushioned
Outsole: Molded Rubber
Material: Leather-Synthetic Blend
Price: USD$70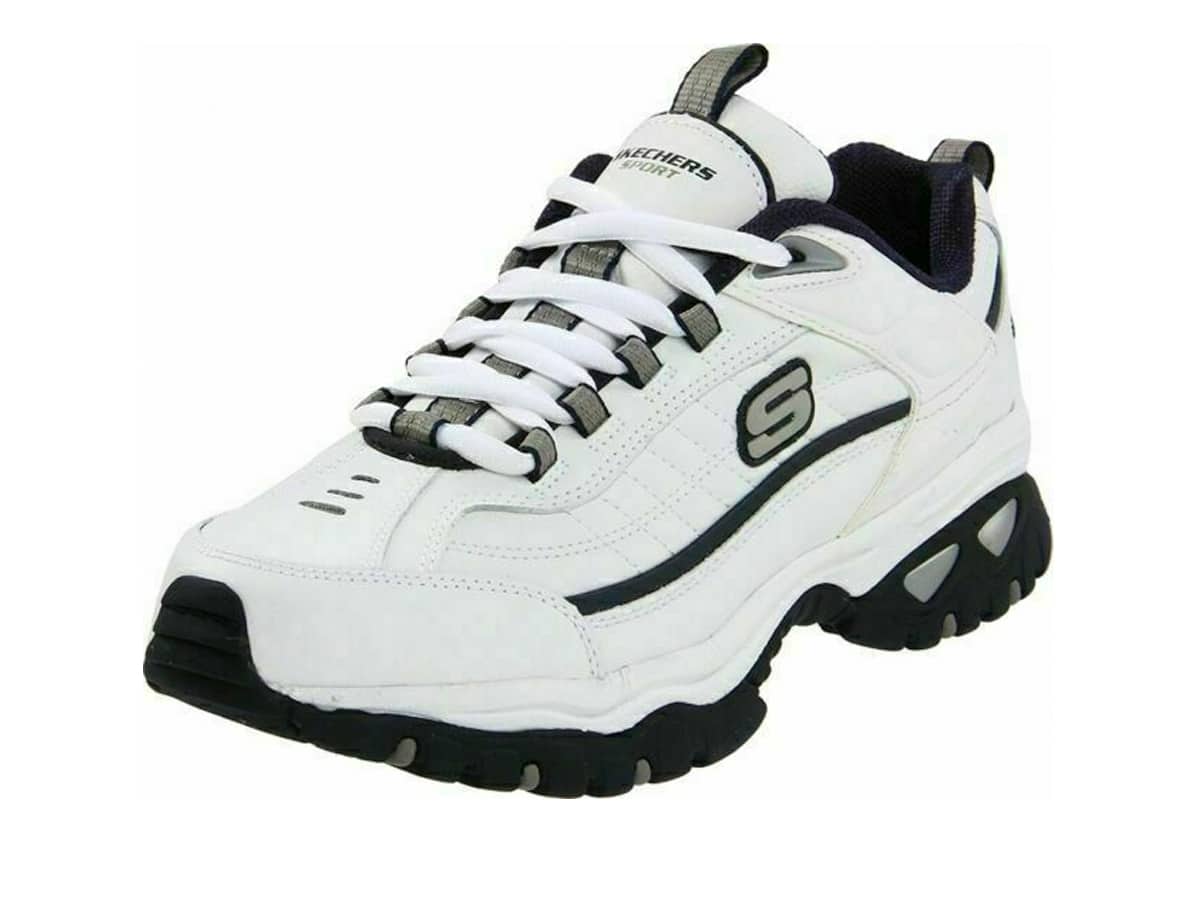 6. Skechers Afterburn – Most Comfortable
People who talk sh*t about Skechers clearly haven't worn Skechers. The ultra-lightweight and ergonomically designed footwear is the height of comfort, which makes perfect sense in the realm of dad sneakers. Copping the iconic white on white silhouette, the Skechers Afterburn is an ode to the great chunky shoes of the '90s. Aptly named after dad's Busch Light and brisket-fulled post-cookout indigestion.
Dad Profile: Bill, 42, tucks his shirt into his shorts no matter the occasion
Features: Memory Foam cushioned comfort insole
Upper: Leather, synthetic and mesh upper
Midsole: Articu-Lyte shock-absorbing supportive flexible
Outsole: Flexible rubber traction
Price: USD$75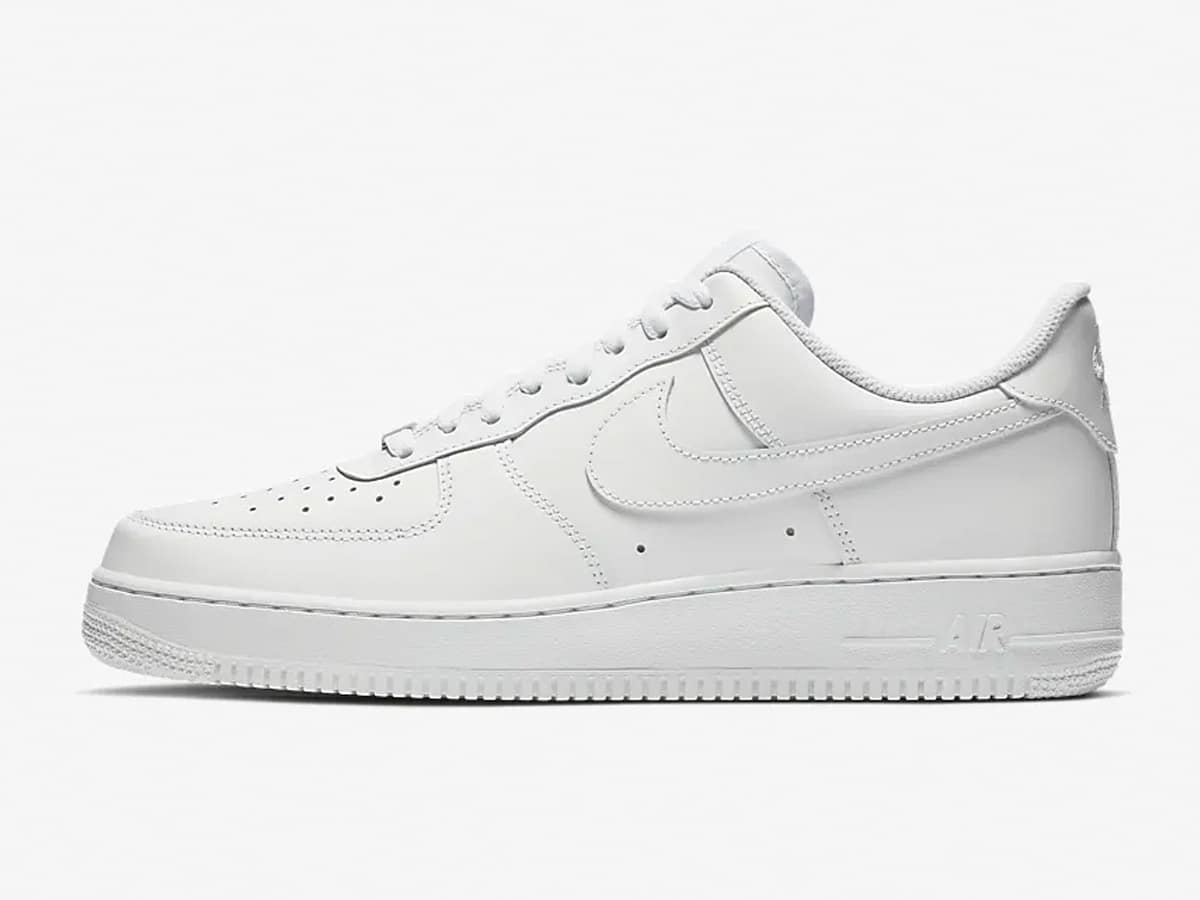 7. Nike Air Force 1 '07 Sneaker
Some dads are definitely cooler than others and if you're rocking Nike Air Force 1 '07s to your son's little league games, you're probably top shit. Classic styling that goes with pretty much anything, every new-school father should have a pair of these chunky Nike shoes in their wardrobe.
Dad Profile: Brad, 36, owns his own moderately successful landscaping business.
Upper: Full-grain leather.
Cushioning: Nike Air
Midsole: Foam
Sole: Rubber
Price: USD$150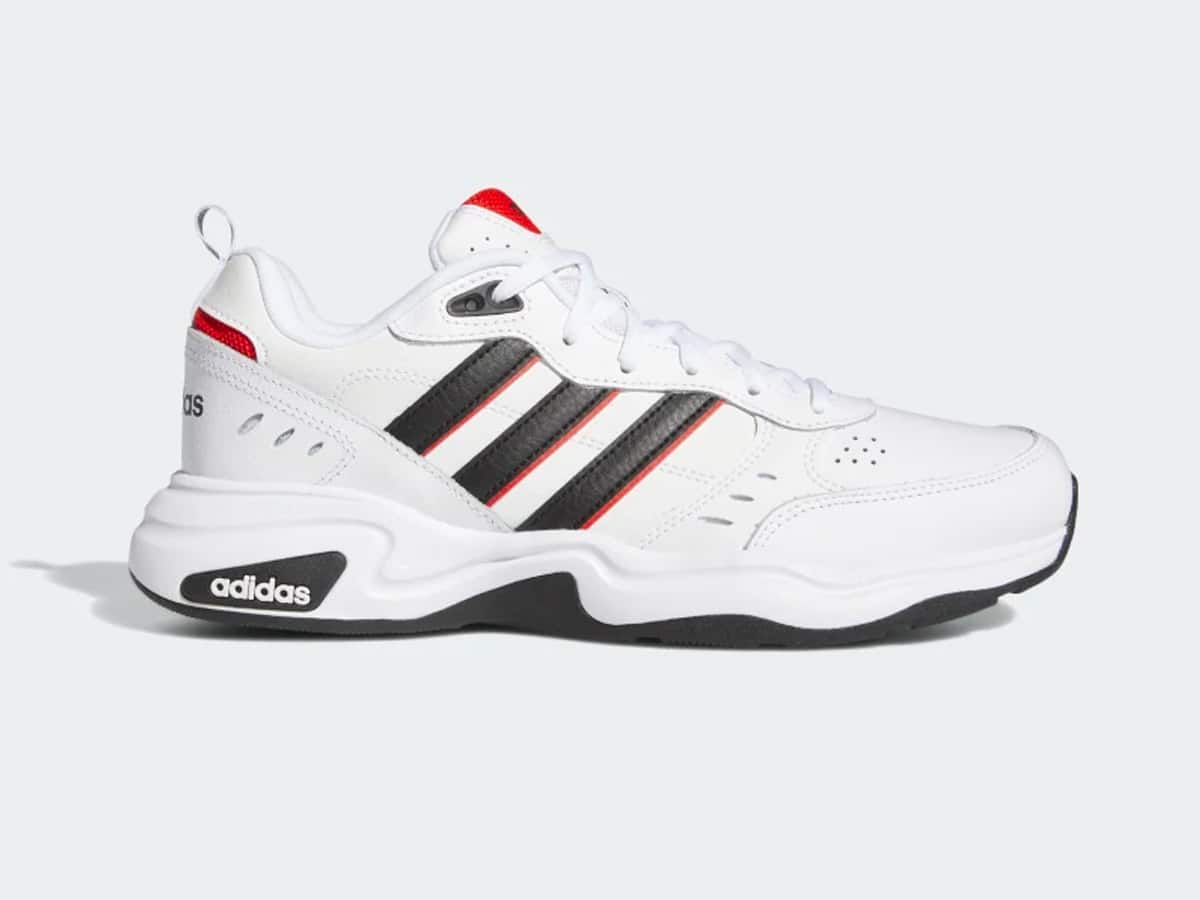 8. adidas Strutter
Buy these for the KISS song alone. The adidas Strutter lands somewhere between NMD and DAD, perfectly walking the line between style-conscious and comfort-cautious. These adidas dad shoes have a chunky design that keeps you comfortable throughout your day, with the smooth leather upper detailed with cutouts, overlays and signature 3-Stripes.
Dad Profile: Marty, 38, dominates his fantasy football league
Upper: Coated leather
Outsole: Rubber, Textile lining
Price: USD$65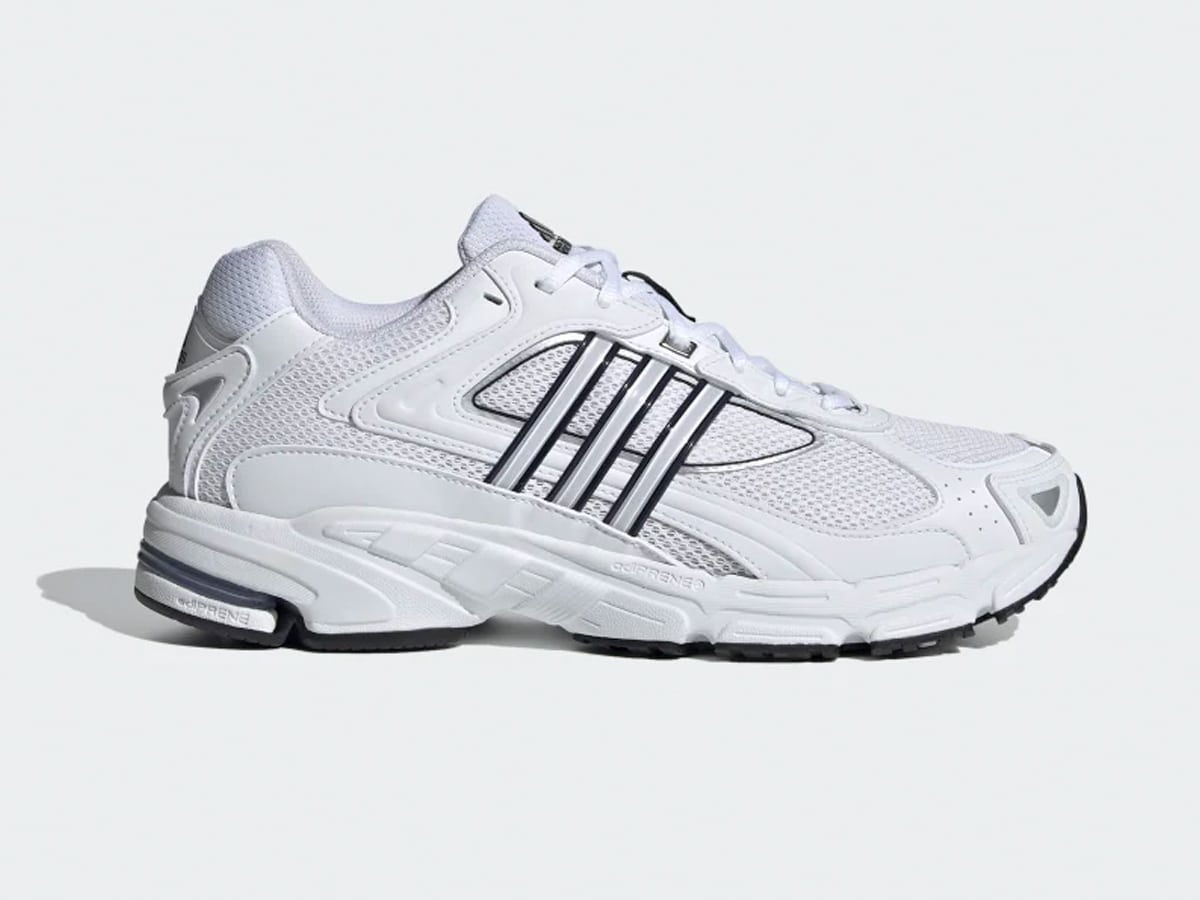 9. adidas Response CL
Even adidas describes the Response CLs as an 'ode to the '00s'. These chunky dad sneakers look back to the decade's big innovations in running technology, from a generous EVA midsole to the Adiprene insert, a mesh upper, suede overlays and Formotion. Get absolutely amongst this.
Dad Profile: Greg, 31, first baby on the way, leaning very hard into the dad-life
Upper: Textile with stitched suede overlays
Midsole: EVA
Outsole: Rubber
Price: USD$220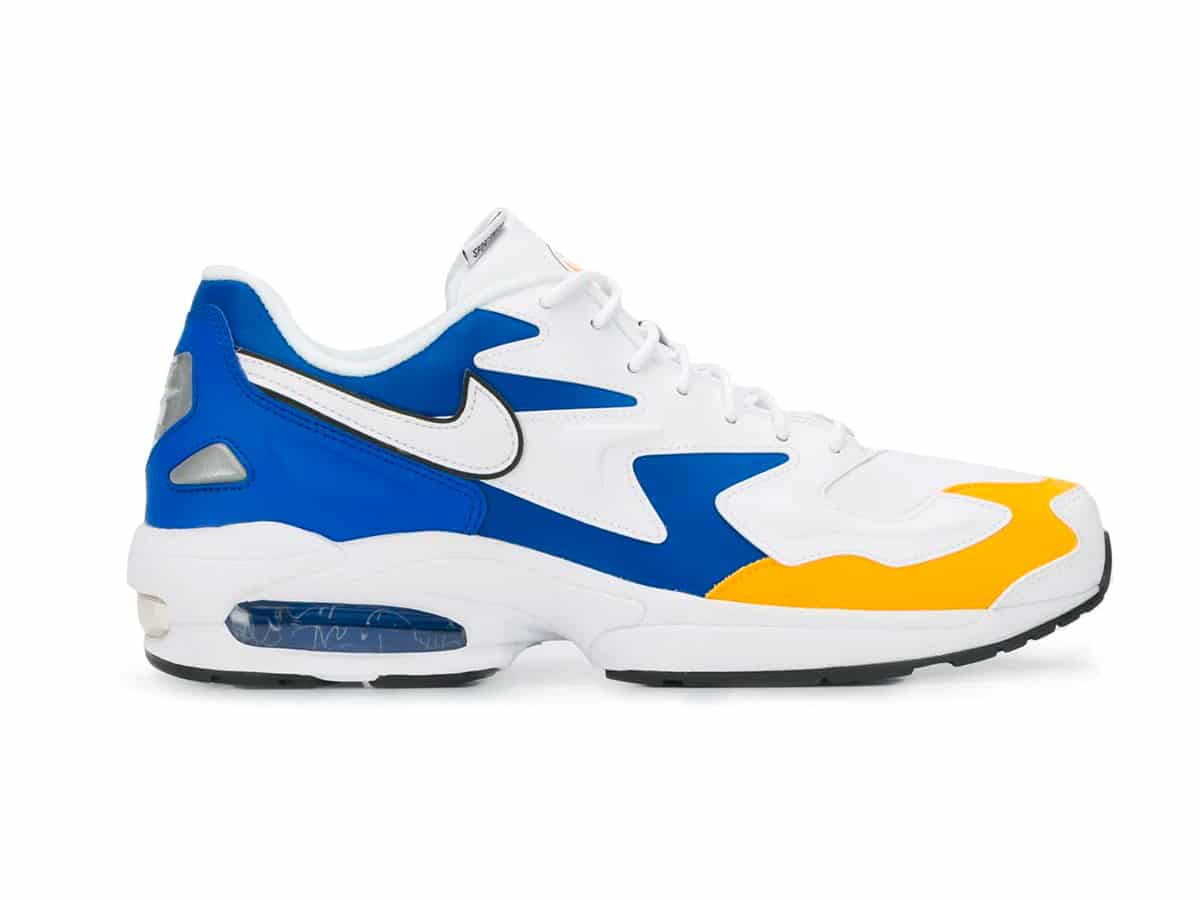 10. NikeAir Max2 Light
One must add a dash of colour, even when talking about white dad shoes. The NikeAir Max2 Light sneakers come in a range of colourways, but for this one, only the white, blue and yellow is worth talking about. The round toe shoe cops a panelled colour block design, a signature Nike Air sole, a signature Nike swoosh, a lace-up front fastening, a logo patch at the tongue and branded heel counter.
Dad Profile: Stephen, 37, calls Drake 'Drizzy'
Outer: Polyurethane
Outsole: Rubber
Price: USD$197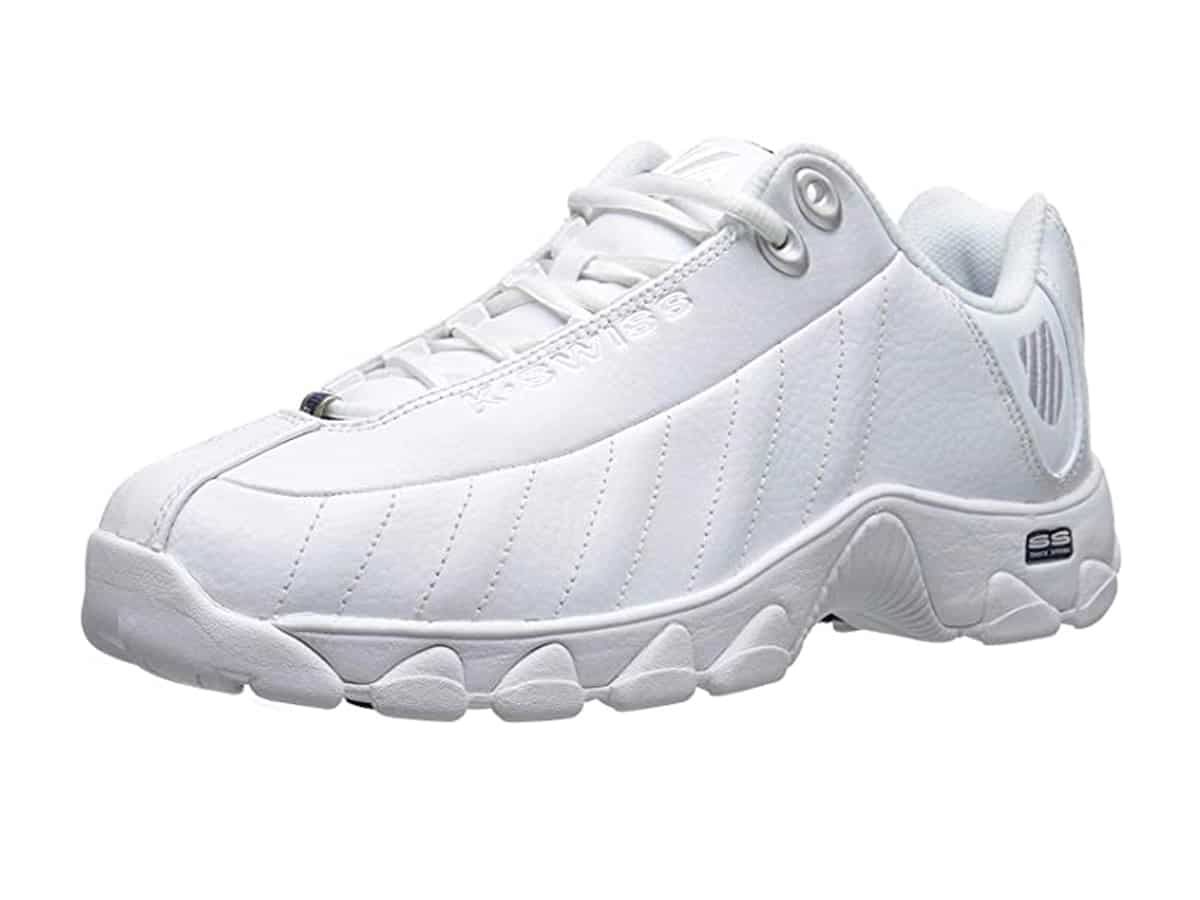 11. K-Swiss Men's ST329 CMF Training Shoe
Originally designed as a tennis training shoe, the ST329 has now become a cult-classic. Like all good dad-essentials, the sneakers were built to last, thanks to the full leather upper, durable gum rubber outsole and sturdy tread for enhanced stability. The ST329's K-EVA cushioned midsole and premium memory footbed ensure maximum comfort in classic style.
Dad Profile: Carl, 45, works in middle-management
Upper: Leather
Footbed: Memory foam
Price: USD$105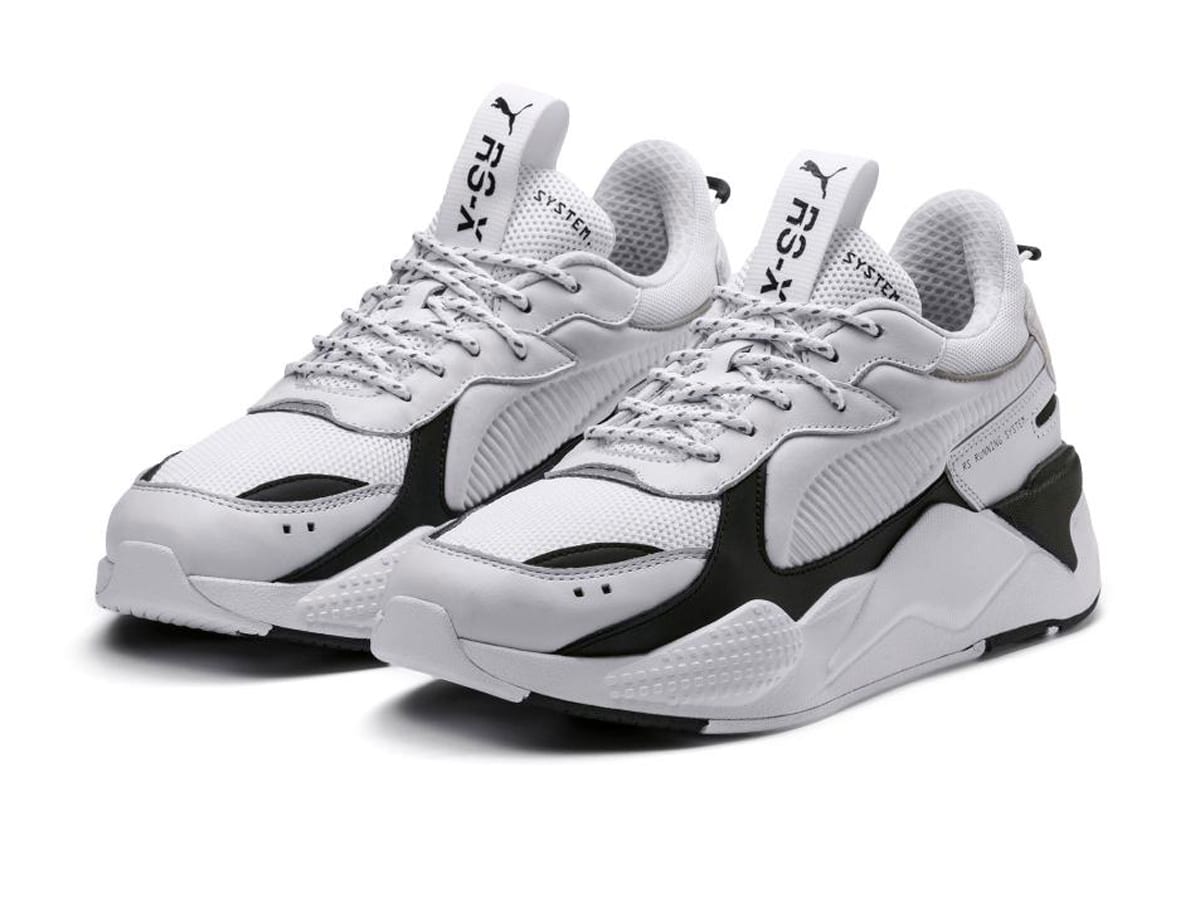 12. PUMA Men's RS-X
A decidedly more new-school take on the classic aesthetic, the PUMA RS-X are effortlessly comfortable and stylishly modern. The 2020 revamp saw the brand reboot the design by stripping the silhouette down to the basics then building it up with stronger material mixes and colours inspired by basketball and outdoor hopping.
Dad Profile: Sam, 29, owns a lot of hats
Upper: Mesh
Overlays: Tumble Leather
Price: USD$110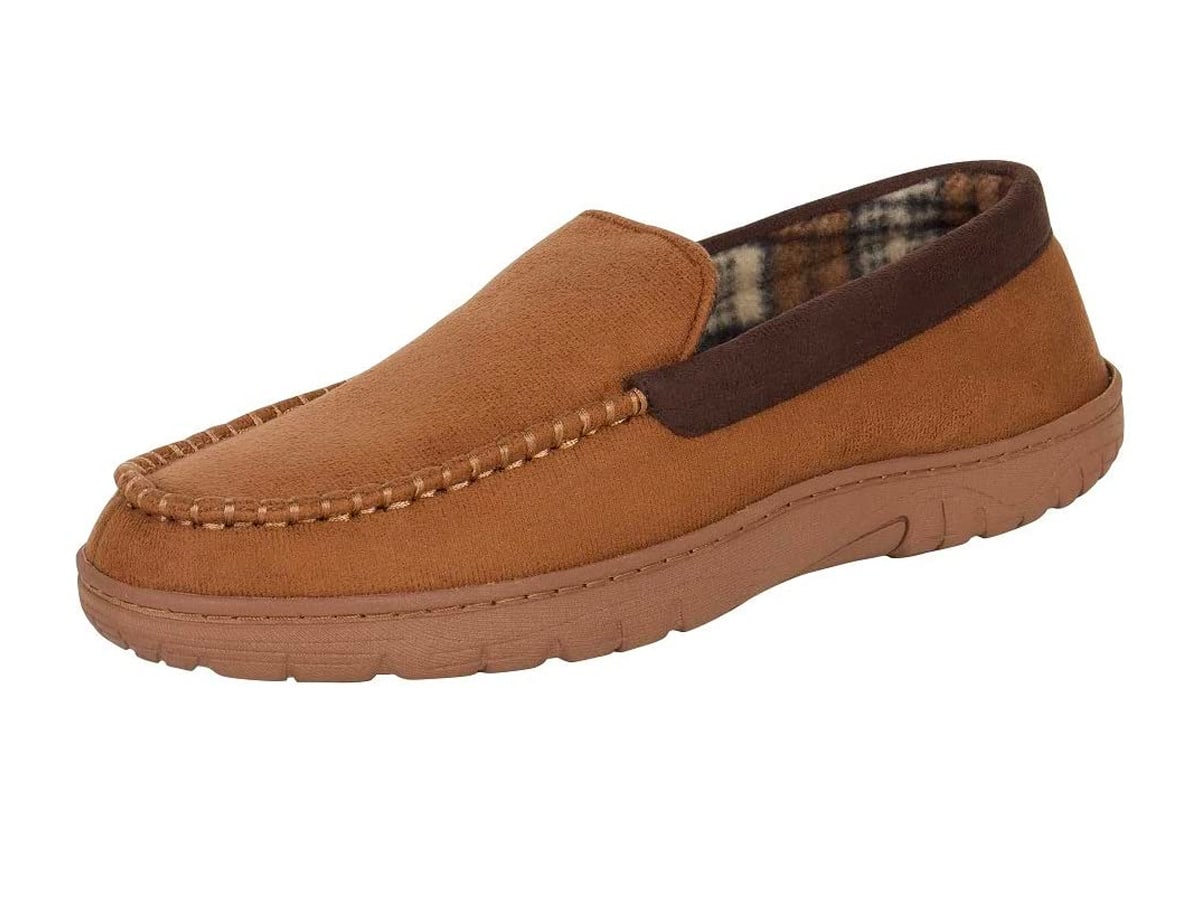 13. Hanes Moccasin Slipper
Ah, the retiree's uniform. When 50 years of work is finally done and you can sit back and read the paper in peace, what better covering to adorn your feet than Hanes' iconic Moccasin Slipper? Thick memory foam on the inside for comfort, with a design that pulls double duty indoors and outdoors. Peep the Hanes Fresh IQ advance odour protection technology as well.
Dad Profile: Ian, 65, recently retired, taking up golf
Construction: Secure, Closed Back Moccasin
Exterior: Durable Microsuede Material
Lining: Plush & Cozy Plaid Fleece
Footbed: ComfortSoft Memory Foam
Price: USD$40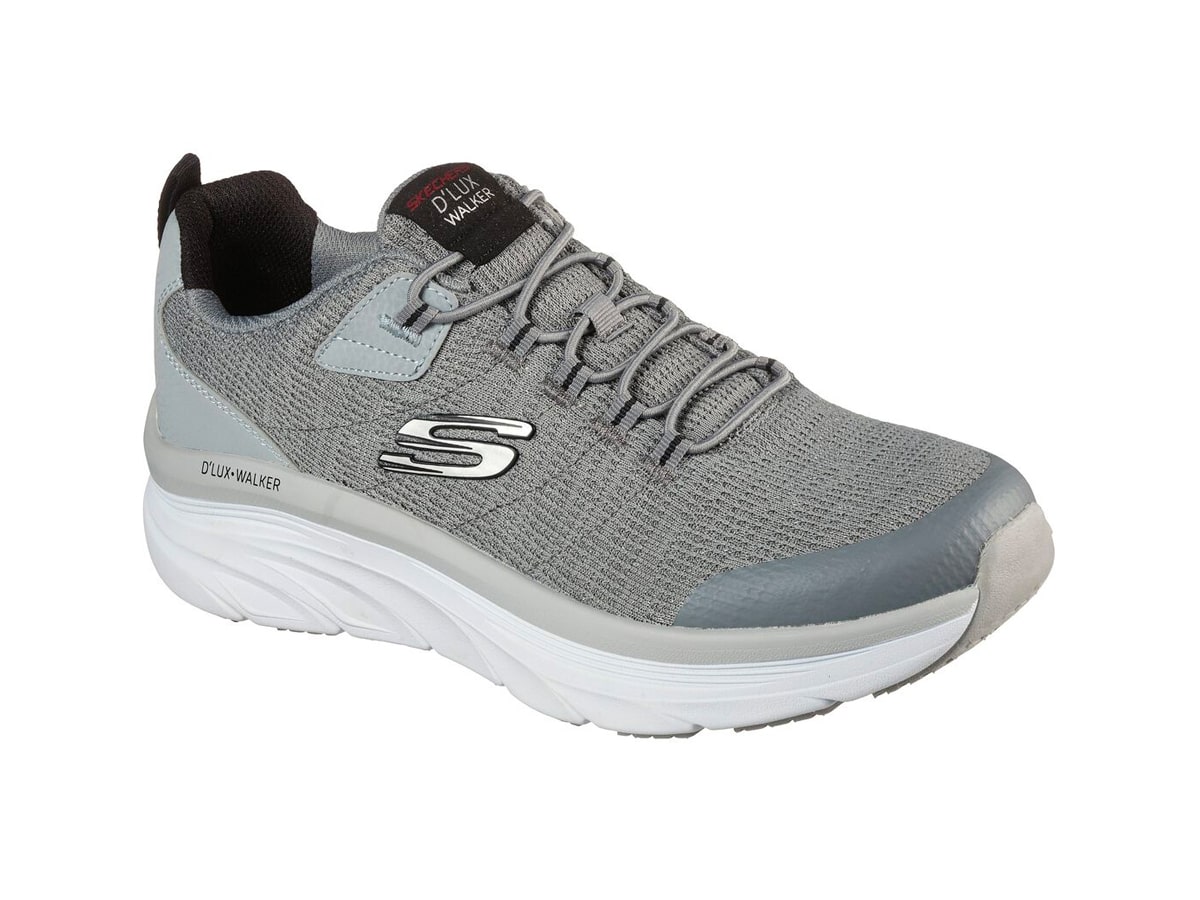 14. Skechers Relaxed Fit: D'Lux Walker Pensive
Nothing fancy, just straight down to business. That describes these shoes and the men who wear them. The Skechers D'Lux Walker Pensive dad sneakers are for the man who needs a little extra support while he's trekking around on a European holiday. Smooth leather, synthetic and mesh fabric upper in a lace-up athletic sporty training sneaker with waterproof design, stitching and overlay accents. On, and some Air Cooled Memory Foam for a little D'luxury.
Dad Profile: Paul, 65, planning his next trip to Paris
Upper: Smooth leather
Overlays: Lightly textured durable synthetic
Insole: Air Cooled Memory Foam cushioned comfort
Midsole: Shock absorbing supportive flexible
Price: USD$99.99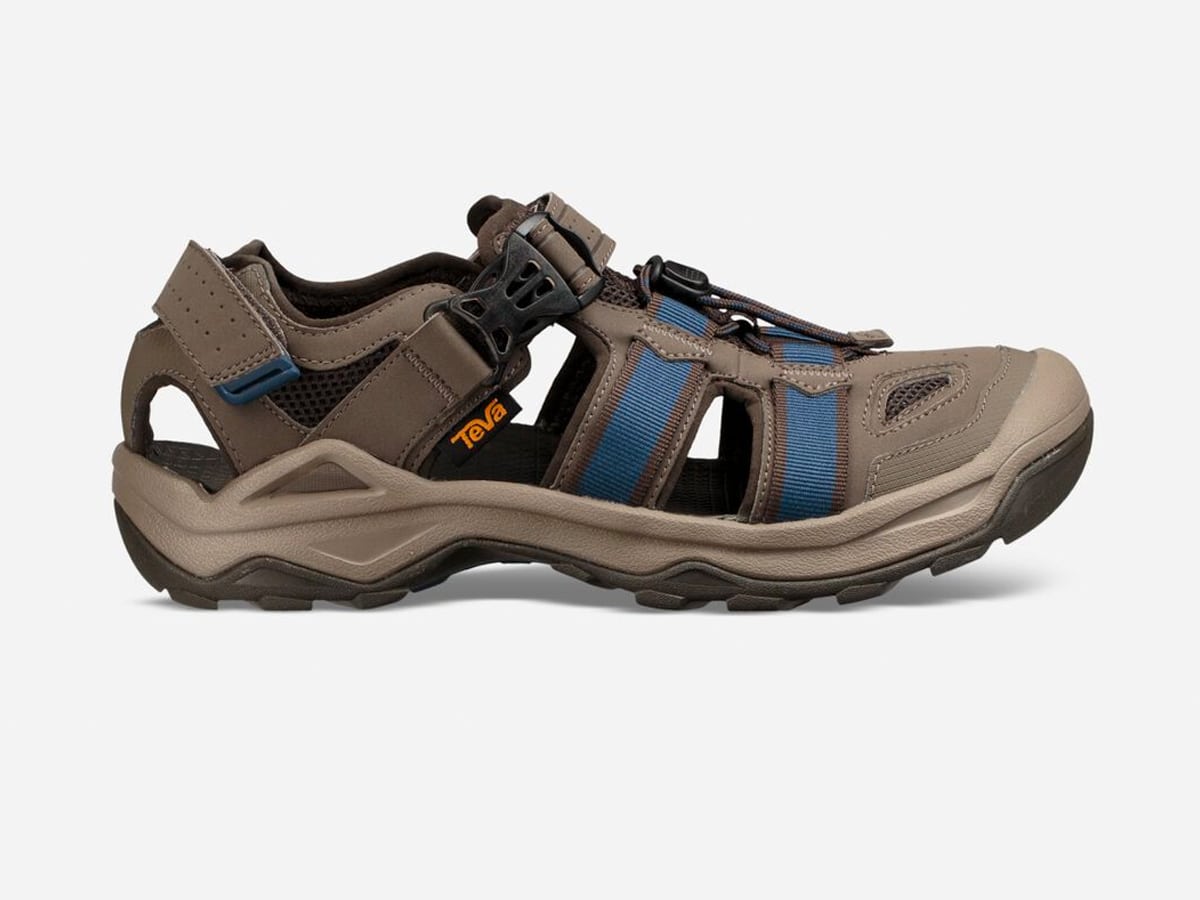 15. Teva Omnium 2 Water Shoe
Everybody knows a dad who wears these things. Designed for day hiking, these adventure-approved hybrid shoes bring the support and protection you need for any kind of wet-dry fun. They even feature a quick-drying upper and amazing traction on super slippery surfaces.
Dad Profile: Murray, 50, wakes up at 5:30am, thinks you should do the same
Upper: Water-ready quick-drying synthetic
Closure: Plastic buckle
Midsole: Lightweight EVA-foa
Outsole: Rugged Spider Rubber
Price: USD$65
You'll also like:
122 Best Dad Jokes, Ranked by Cringe/Pun Level
New Balance & Miller Team Up for the "Shoezie" Dad-Wear for Your Beer
10 Stylish Staples For Dapper Dads This Father's Day
General FAQs
What are the best dad shoes?
When it comes to chunky white sneakers designed for the older gentleman manning the barbeque, there are a few staples that come to mind. The New Balance 624 sneakers are widely regarded as the best dad shoes, with the Nike Air Monarch IV following close behind.
Why are dad shoes popular?
The rise of chunky Nike shoes and New Balance throwbacks has been categoric, leading to a revival of dad shoes in fashion. With celebrities like Kourtney Kardashian and Bella Hadid joining the mix, dad sneakers have gone from deeply unfashionable to the height of style.