10 Best Work Sneakers for the Office
Just because we're in the era of flexible 'business casual' doesn't mean you can put on any sneakers and wear them to work. You need a pair of professional sneakers that are suited to the office environment because wearing the wrong pair of sneakers to work can be a cardinal sin. Whether you're starting a new job or you've been at the same workplace for years, it's important to be well-presented in the office. No one wants to do business with someone who looks like they have no idea what's going on. Luckily for some of us, our work attire doesn't require a suit, tie and a pair of business shoes. If that's where you sit on this great formal-wear timeline, check out our list of the best sneakers for work below.
Best Sneakers for Work at a Glance
Our list of the best sneakers for work goes like this:
Now We've had a look at our favourites, let's check out the complete list.
RELATED: These are the best sneakers you can wear with a suit.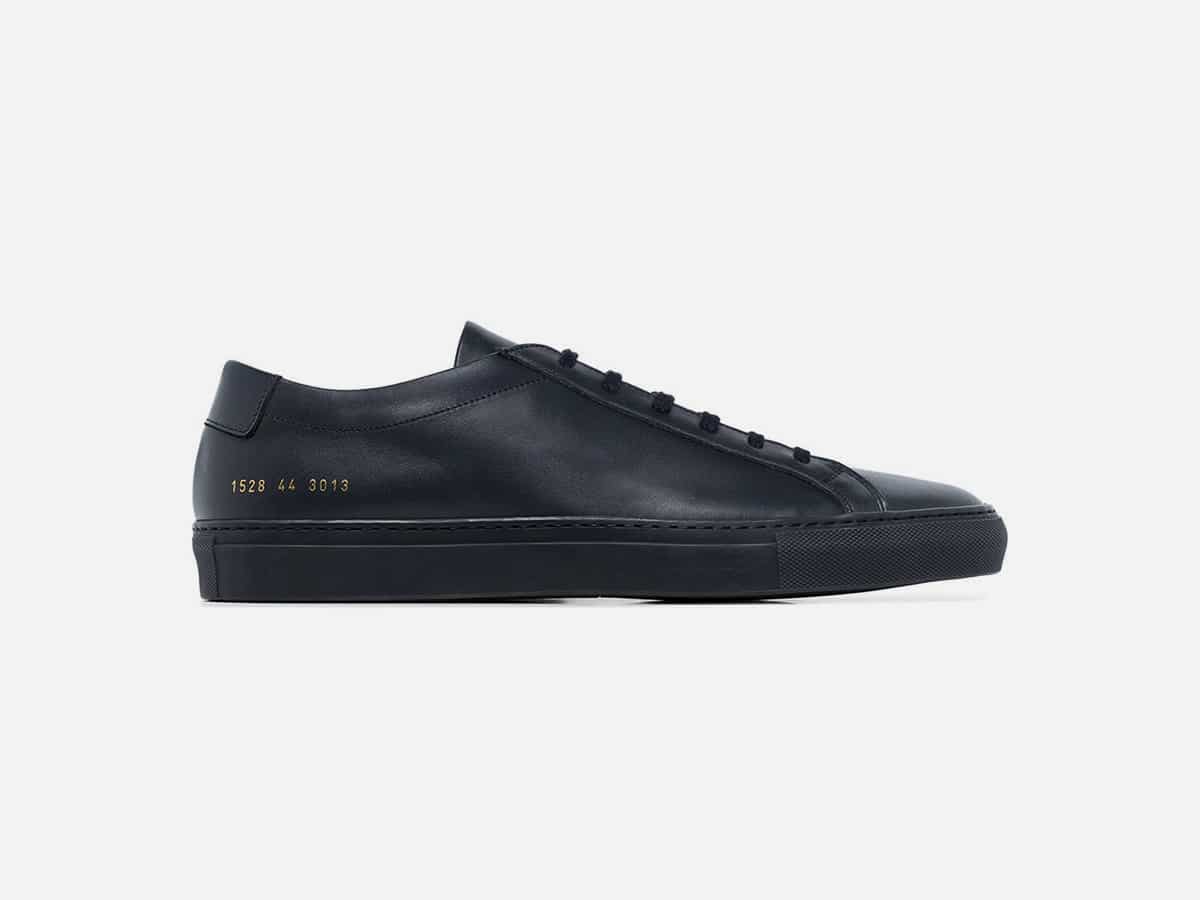 1. Common Projects – Original Achilles
The Common Projects Achilles is the office shoe that took the 'dress sneaker' trend to new heights. This simple shoe stuck out amongst the Jordans of the time and brought minimalism to the footwear market with a clean all-over leather construction that's comfortable after a break-in. This shoe is for the person who wants to fly under the radar and impress those who know with its only stand-out feature being the gold style code on the heel.
CPs can be dressed up as much as they can be dressed down, catering to the individual's own sense of style and they're just as at home under some suit pants and a white button-down as they are with fitted grey sweatpants and a hoodie. You can do what you want stylistically with this sneaker and you'll look professional under any and all circumstances.
Made in: Italy
Sole: Rubber 100%
Lining: Leather 100%
Outer: Leather 100%
Features: matte finish, gold-tone logo, branded insole
Price: from AUD$440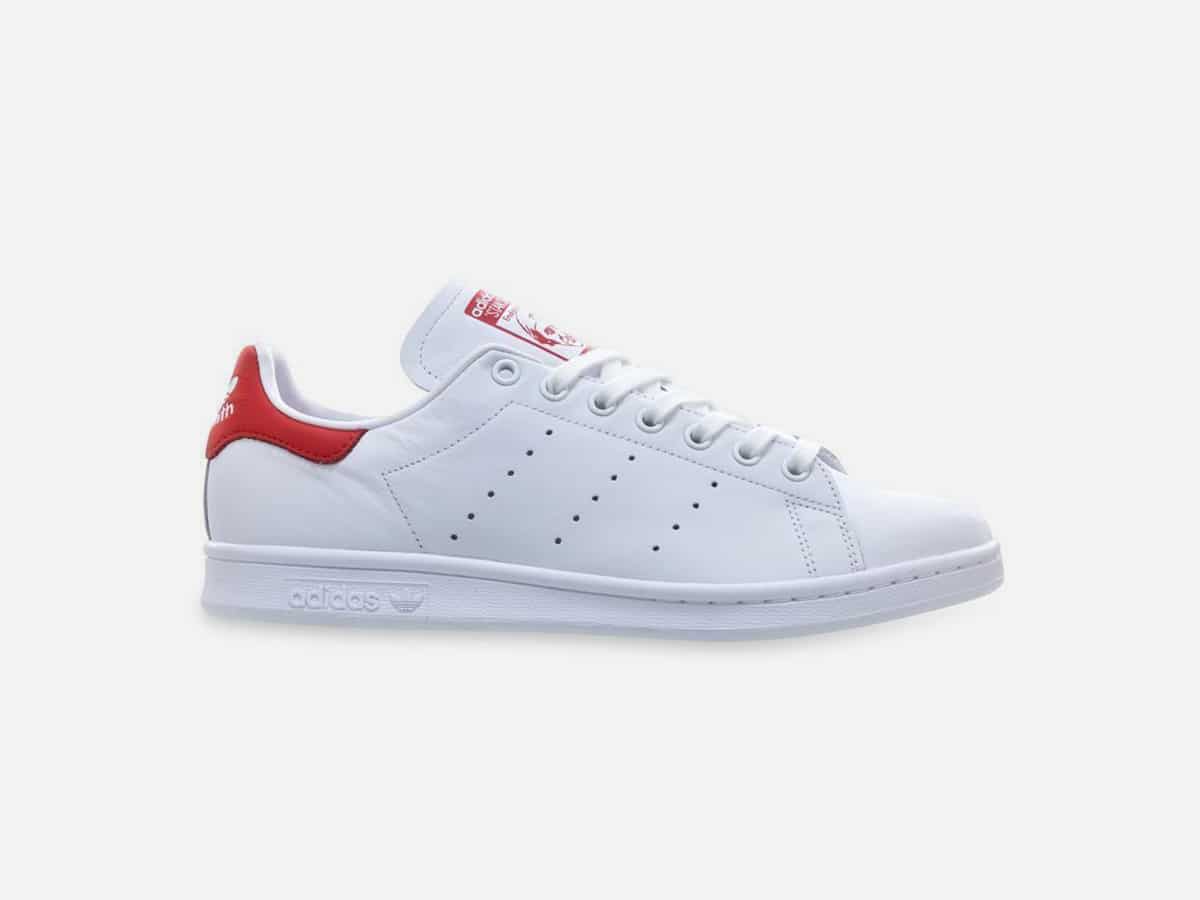 2. adidas – Stan Smith
Since its debut in 1971, the Adidas Stan Smith has been the choice for the style conscience office worker. This sneaker is the tennis shoe that birthed the popular white sneaker trend we see today. Although the Stan Smith doesn't say much with its basic white tennis shoe aesthetic, it's a great day-to-day shoe that you can wear under any circumstance. Like many other white sneakers, the Stan Smith will need to be kept fairly clean if it's going to be a sneaker you wear to the office. The sneaker is available in a wide variety of colour options that change both the colour of the heel, outsole and the upper itself. We recommend choosing a Stan Smith in white with a splash of colour on the heel. The Stan Smith complements almost any outfit, from chino pants to cargos and jeans alike.
---
Featured Video from Man of Many
---
Sole: Rubber 100%
Lining: Polyester 100%
Outer: Leather 100%
Features: round toe, flat rubber sole
Price: AUD$170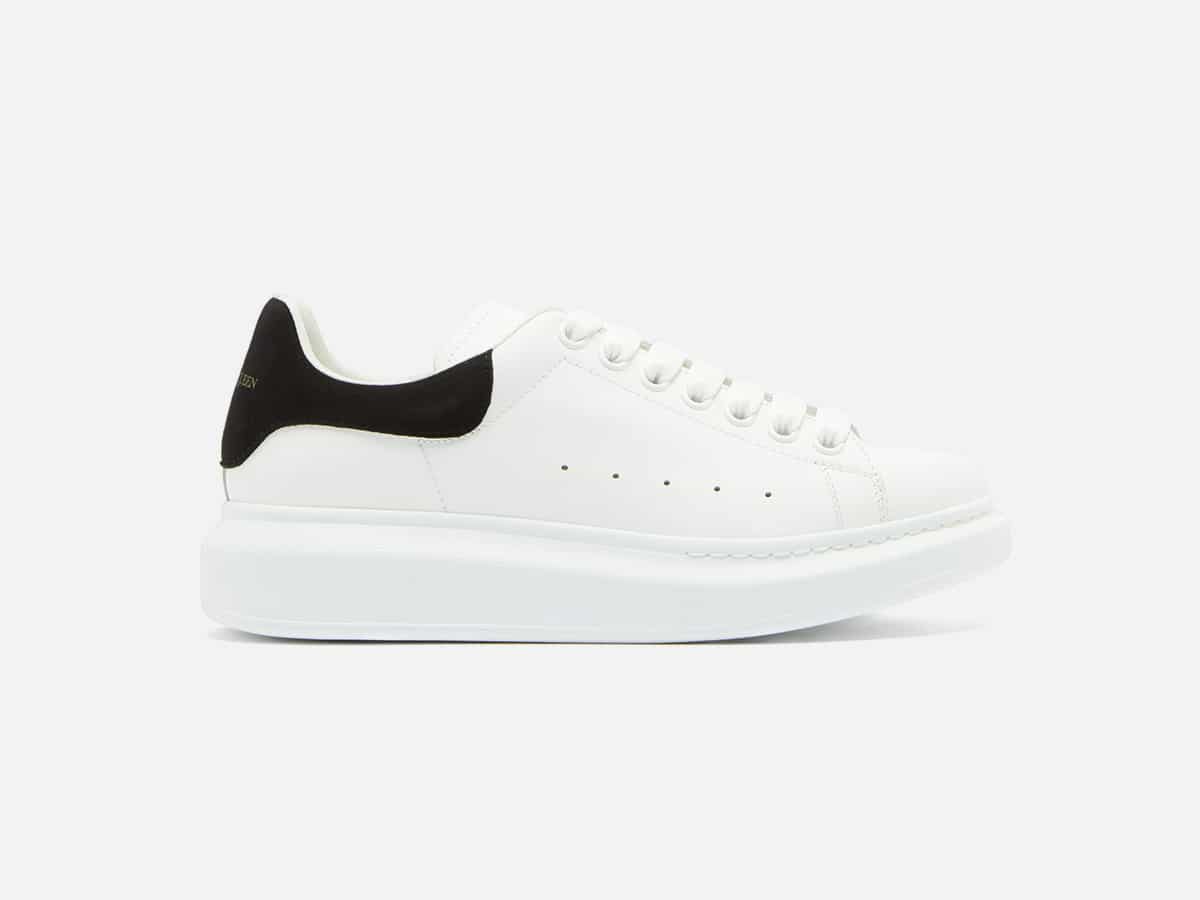 3. Alexander McQueen – Oversized Low-Top
You can probably see a trend forming here with our selection of office sneakers because the Alexander McQueen Oversized definitely looks like the over-zealous younger brother of Stan Smith. It stole all the good bits of the older sibling's work and made them bigger, better, and more luxurious in every way. The size of this shoe instantly gives it distinctive designer vibes, but it's nothing for the faint of heart. While you might've been able to blend in with the adidas Stan Smith, these shoes will make you stand out.
The Alexander McQueen oversized sneaker is best worn with a neutral-coloured button-down shirt, and casual suit pants (preferably cropped). Before you go ahead and cop a pair of these, ensure you have a closet that matches the designer aesthetic these portray. You run the risk of looking just as clunky in these as you would in a pair of Jordans.
Made in: Italy
Sole: Rubber 100%
Lining: Leather 100%, Fabric 100%
Outer: Calf Leather 100%
Features: round toe, chunky rubber sole
Price: AU$900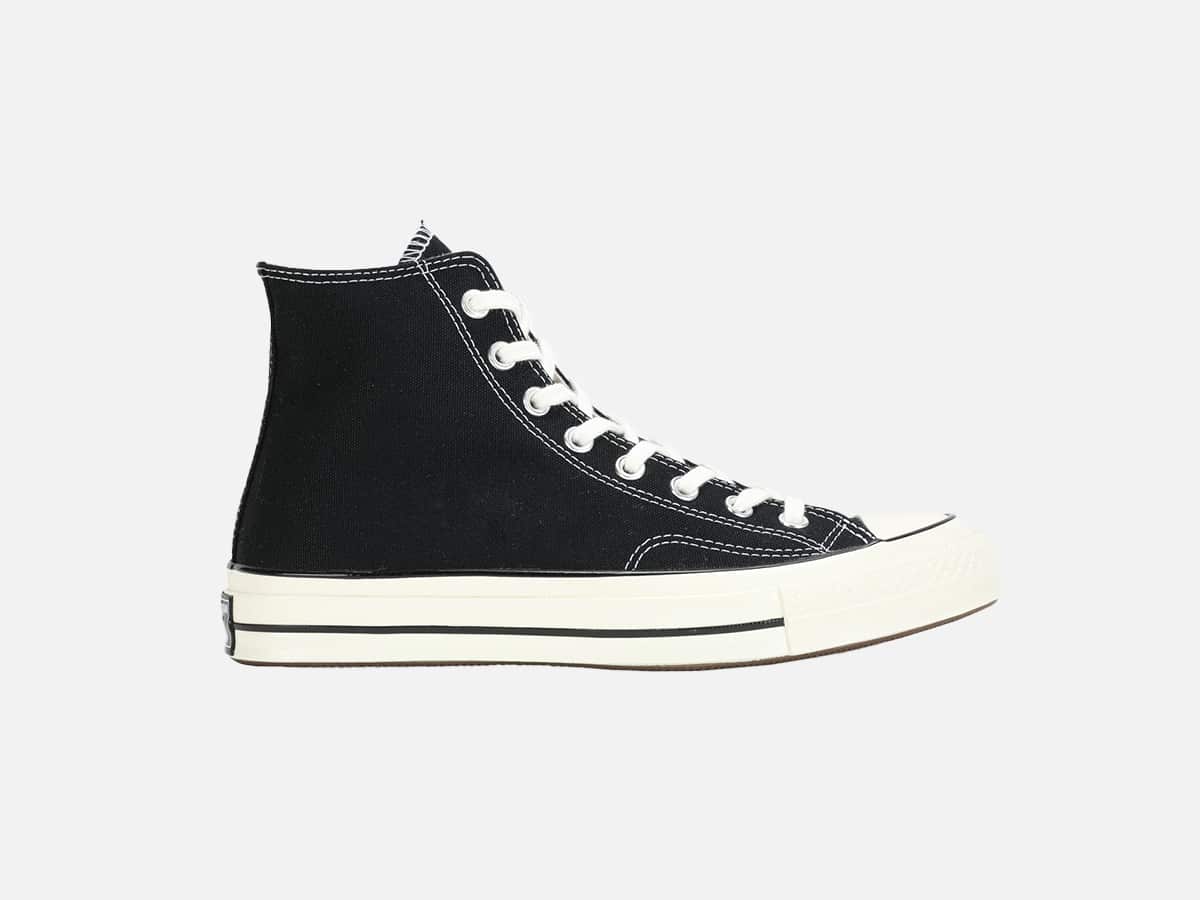 4. Converse Chuck Taylor All Star 70 High Top
The Chuck '70 is the remastered version of the Chuck Taylor from the 1970s and if you're working in a more relaxed office e.g. publishing, marketing, or PR this is the sneaker for you. The classic Chuck utilises vintage details to celebrate the original design by including stitching on the sidewall, heavier grade canvas for the upper, and a slightly higher design. It's these subtle differences that can be the difference between acceptable office attire and an outfit that is best kept for your favourite music festival. This shoe is best paired with selvedge denim jeans, and a nice polo or bowling shirt to reflect the vintage vibes this shoe gives off.
Sole: Rubber 100%
Lining: Canvas 100%
Outer: Canvas 100%
Features: organic cotton canvas, OrthoLite® cushioning
Price: AU$150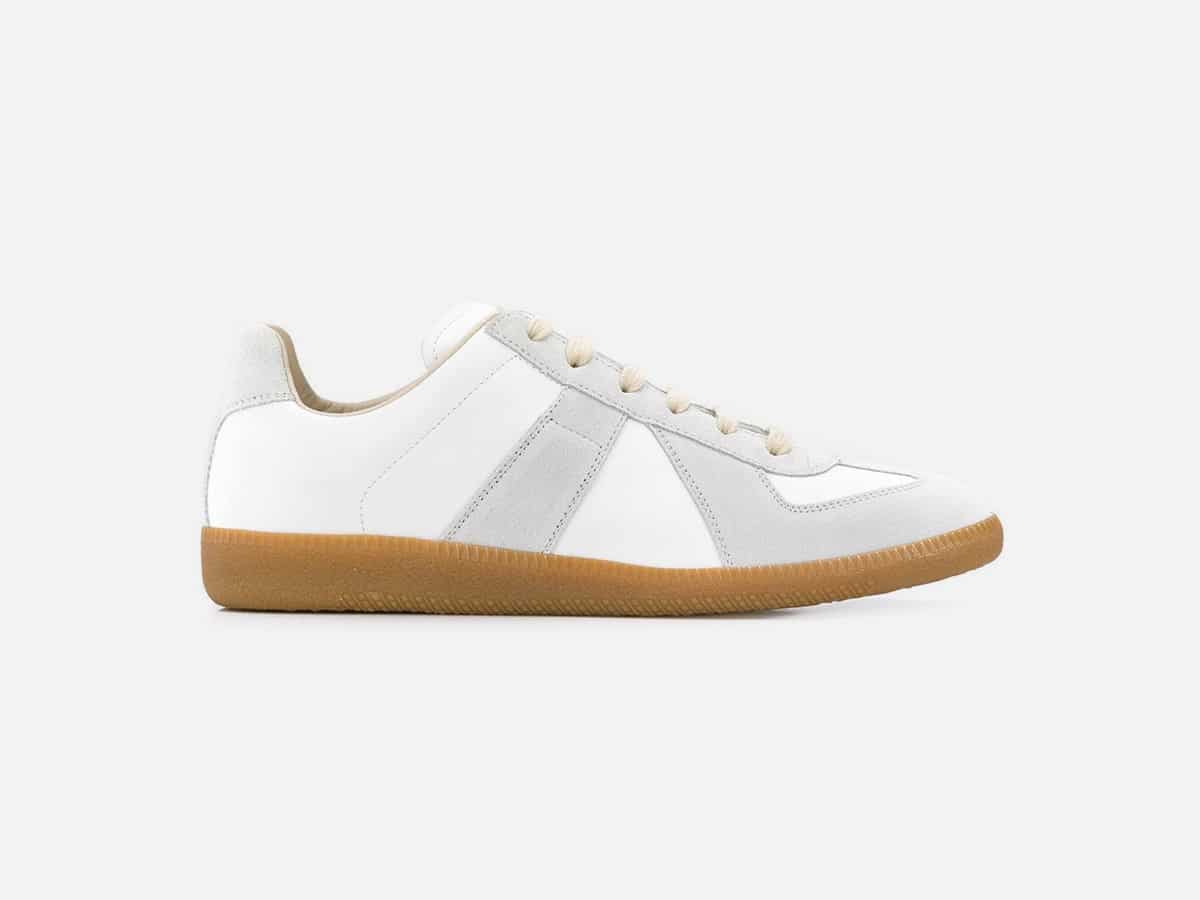 5. Maison Margiela – Replica
First introduced in 1998, the Maison Margiela Replica sneaker found a trend and ran with it. The shoe resembles the German Army Trainer shoes of the 1970s and is even referred to as the Maison Margiela GAT for its resemblance to the army sneakers it gets its name from. The Replica was introduced by Margiela in his fashion shows throughout the 1990s after the popular silhouette made its way into army surplus stores after the fall of the Berlin Wall in 1989. Today the Replica is worn by the most fashionable people in the business and continues to be one of the best sneakers for office wear to this day thanks to its pared-back minimalist design and use of premium materials. We recommend wearing these with a pair of chinos or quality denim jeans in the office, but you can even put them with cargo's on weekends.
Made in: Italy
Sole: Rubber 100%
Lining: Leather 100%
Outer: Leather 100%
Features: round toe, suede panels
Price:AU$835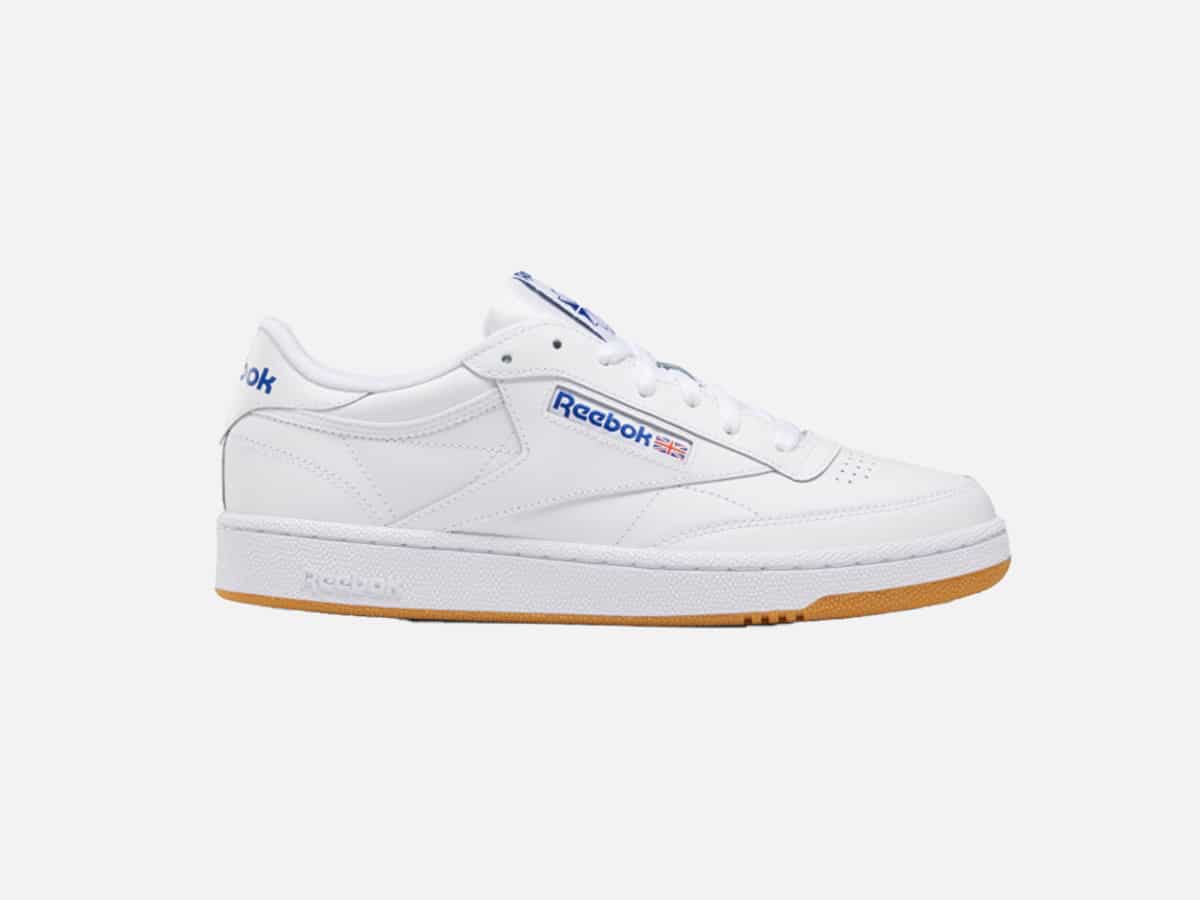 6. Reebok – Club C 85
If the adidas Stan Smith isn't for you, check out the Reebok Club C 85 which is another tennis-inspired shoe from the archives of one of the biggest sneaker brands in the world. This simple white shoe flaunts a gum bottom for a vintage look that's all class. They remain one of the most popular sneakers to wear in the office today, and for good reason, they can be worn with just about anything. The low profile cut and soft leather upper lend themselves to infinite comfort and can be easily worn for long periods in environments that require a good amount of walking.
Sole: Rubber 100%
Lining: Other Fabrics 100%
Outer: Leather 100%, Other Fabrics 100%
Features: low-cut, lightweight EVA midsole cushioning
Price: AU$150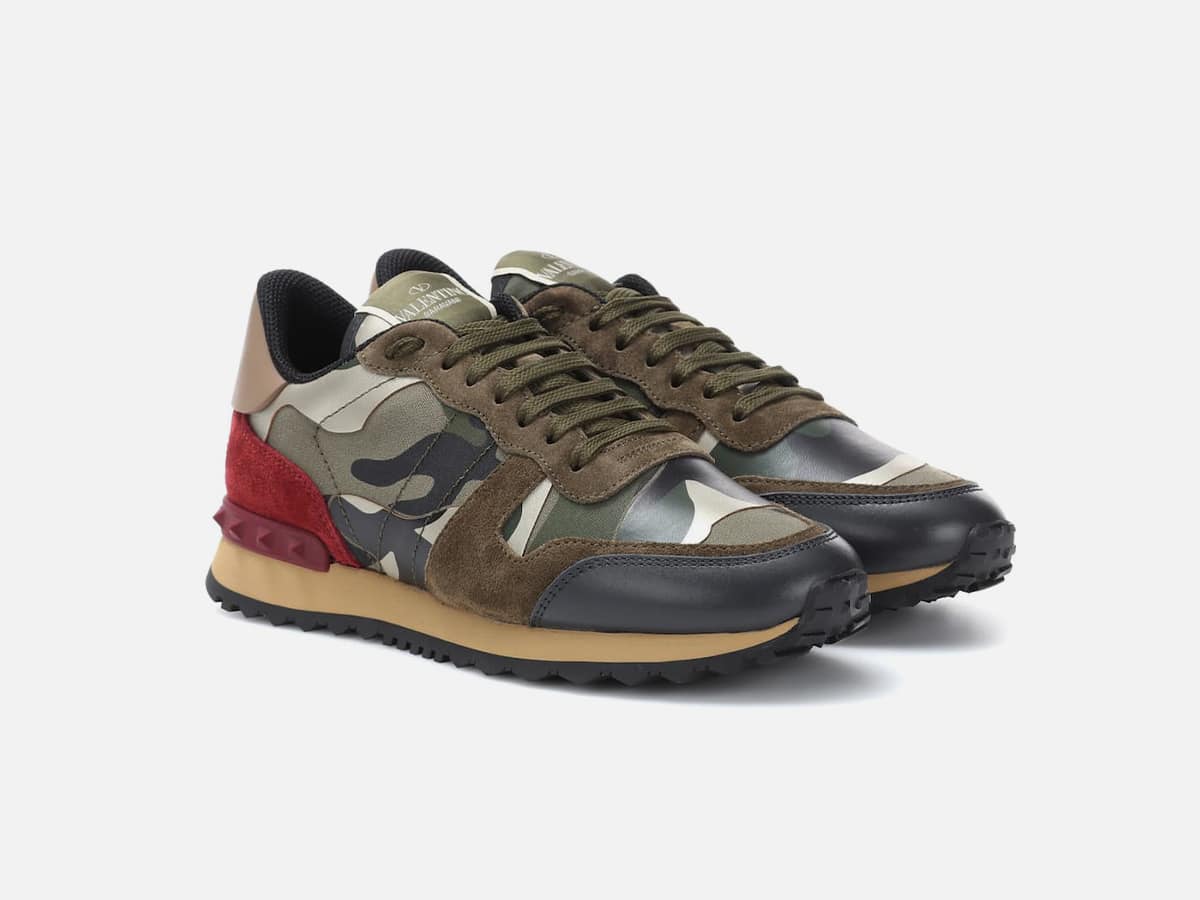 7. Valentino Garavani – Rockrunner
An unofficial signature at Valentino Garavani, the rock runner has changed its camo more than a few times yet remains one of the most recognisable designer sneakers today. The camouflage print and colourful accents of the rock runner are best paired with shades of grey or black that won't clash, allowing the sneaker to do its job of impressing everyone around you. For a shoe that flaunts camouflage and colour, the shoe plays a remarkably understated game when worn with a pair of designer slacks or chinos. If you want to change it up from the white sneakers and rock something that's a little more flashy in the office, check these out.
Made in: Italy
Sole: Rubber 100%
Lining: Polyester 100%
Outer: Leather 100%
Features: Almond toe, flat rubber sole, tonal pyramid stud detail
Price: AU$1,240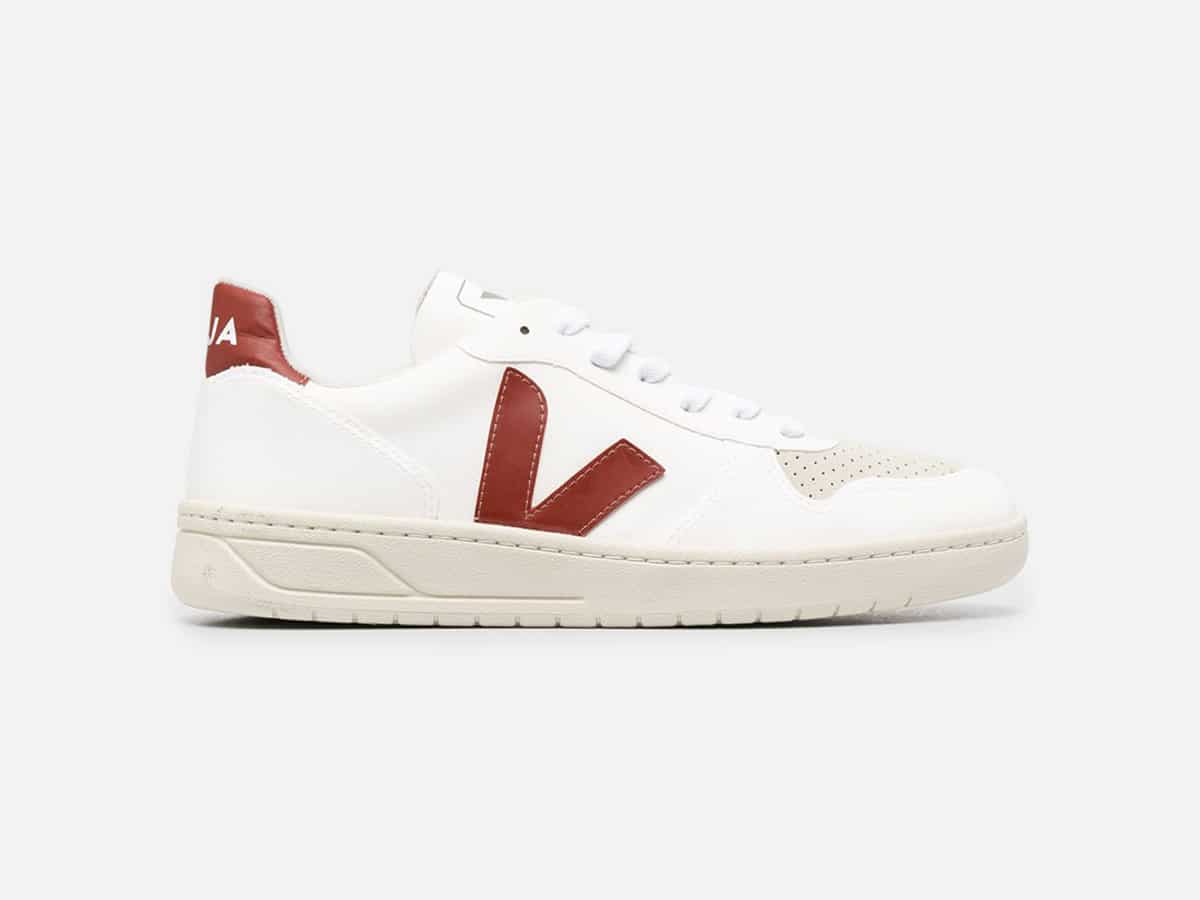 8. Veja – V-10
Veja sneakers are manufactured sustainably and without compromise and they're ready for your office with a minimalist silhouette and hints of colour. The lineup is made out of a variety of materials, from organic cotton, wild rubber from the Amazonian forest and innovative fabrics such as recycled plastic bottles. The shoe demonstrates respect for both the environment, and as such, they've become a demonstration piece of sorts for the environmental conscience. You'd struggle to find someone who doesn't believe recycled sneakers are a good idea, especially if they look this good, and the Veja is flexible when you partner them with light-wash denim jeans on a casual Friday or suit pants during the week for a professional look.
Made in: Brazil
Sole: Rubber 100%
Lining: Fabric 100%
Outer: Vegetable Fibres 100%
Features: Round toe, flat rubber sole
Price: AU$265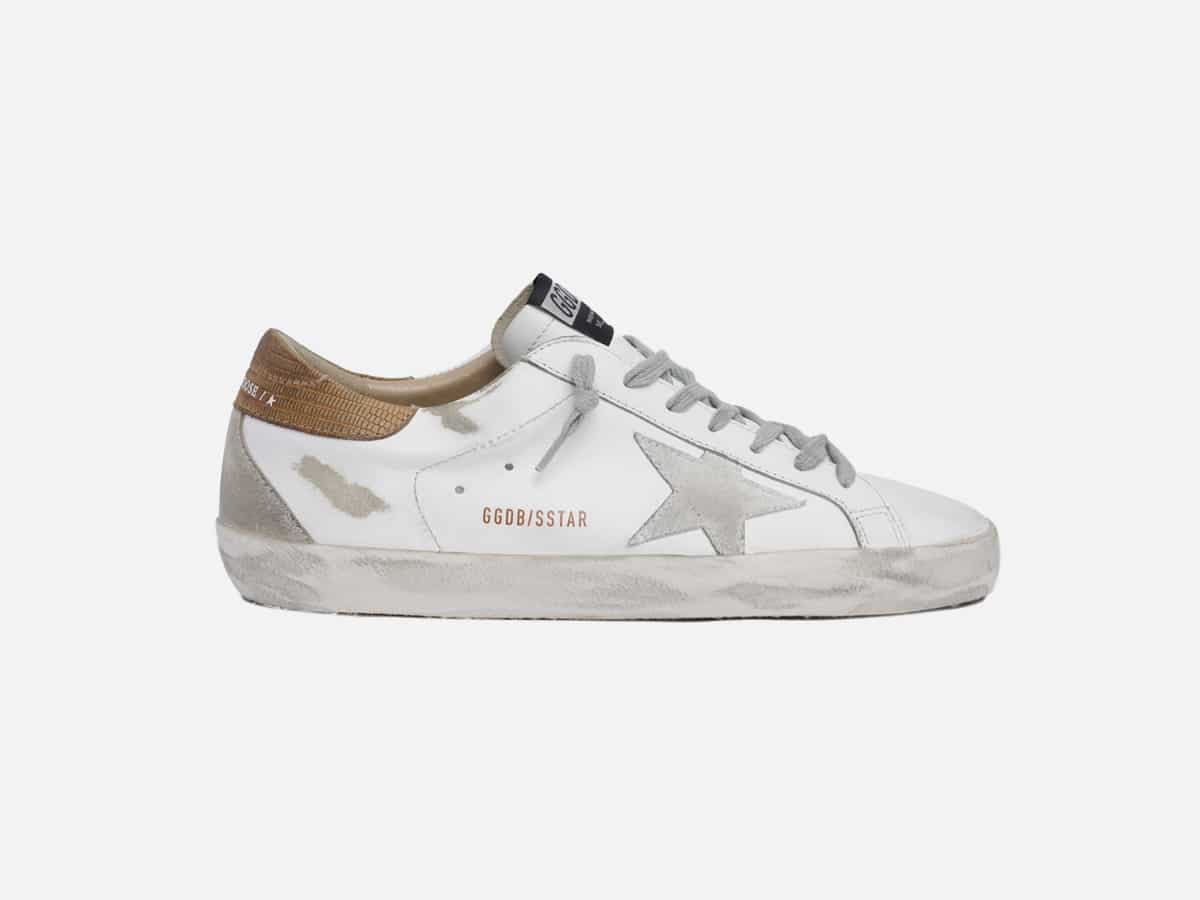 9. Golden Goose – Superstar
The Golden Goose Superstar is synonymous with the fashion-forward. While the sneaker isn't necessarily office-ready by design, it's best paired with a minimal outfit for wearing to work e.g. one that consists mostly of earthy tones, linens, and monochromes. The Superstar has become popular for somewhat controversial reasons, many people can't imagine spending this amount of money on a shoe that's intentionally 'distressed' but it's, for this reason, it's found such a strong following amongst some of the most fashionable people around.
Made in: Italy
Sole: Rubber 100%
Lining: Ovine Leather (Top Grain) 60%, Calf Leather 40%
Outer: Calf Leather 89%, Ovine Leather (Top Grain) 11%
Features: Low-top, round toe, shearling lining
Price: AU$790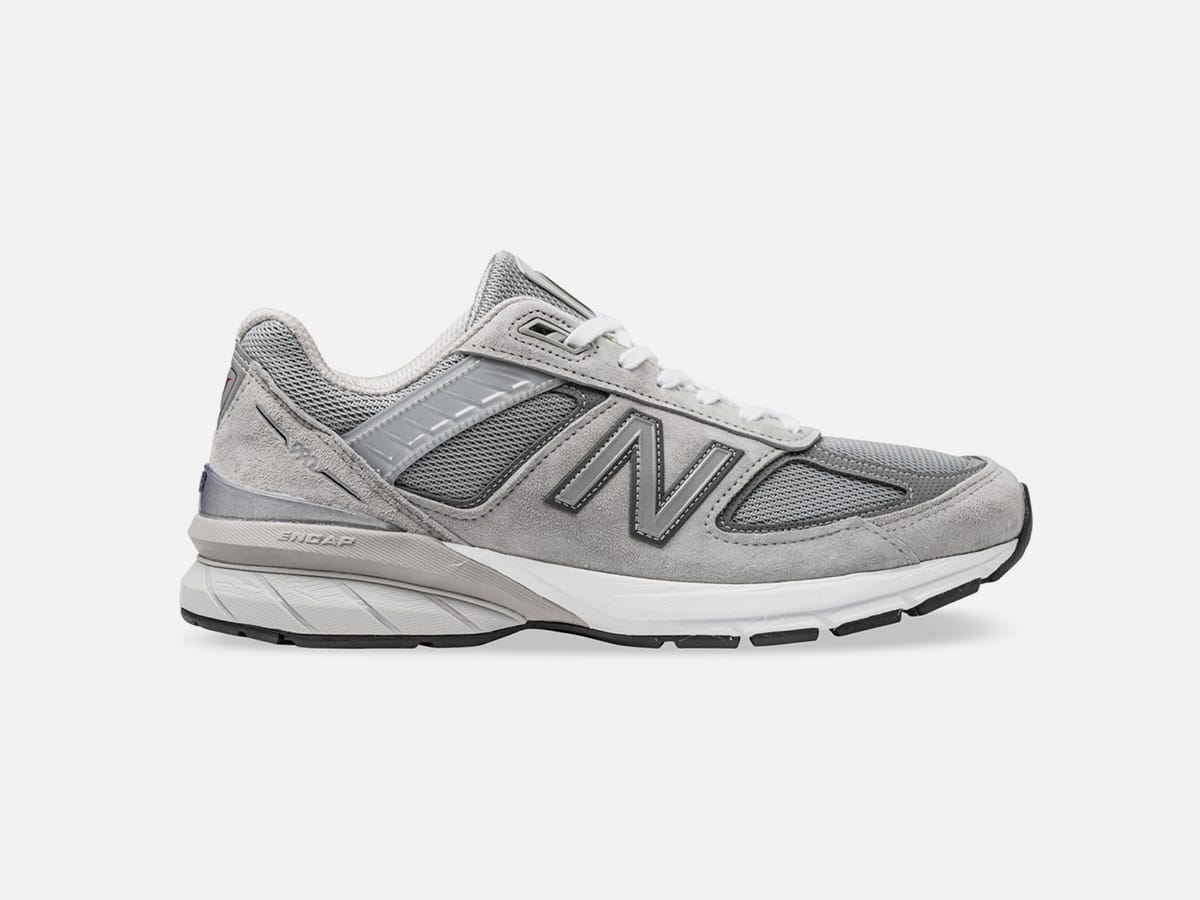 10. New Balance – Made in US 990 v5
Get your norm-core Steve Jobs fit off in the office with the New Balance 990 v5. If you shy away from the thought of getting up in the morning and putting together an outfit, this is the sneaker for you. This is the sneaker you can wear to work and everywhere else. Pair the 990 with a pair of checkered suit pants for a play on tradition or match it with some baggy corduroy pants for a traditional feel, the choice is yours. If you only had one shoe for the rest of your life, the New Balance 990 V5 would be it. It brings a lot to the table, premium construction, comfort, and a vintage dad shoe vibe that works under all circumstances, including the office.
Made in: United States
Sole: Rubber 100%
Lining: Fabric 100%
Outer: Suede 100%, Fabric 100%
Features: Blown rubber outsole, dual-density collar foam, ENCAP midsole cushioning
Price: AU$280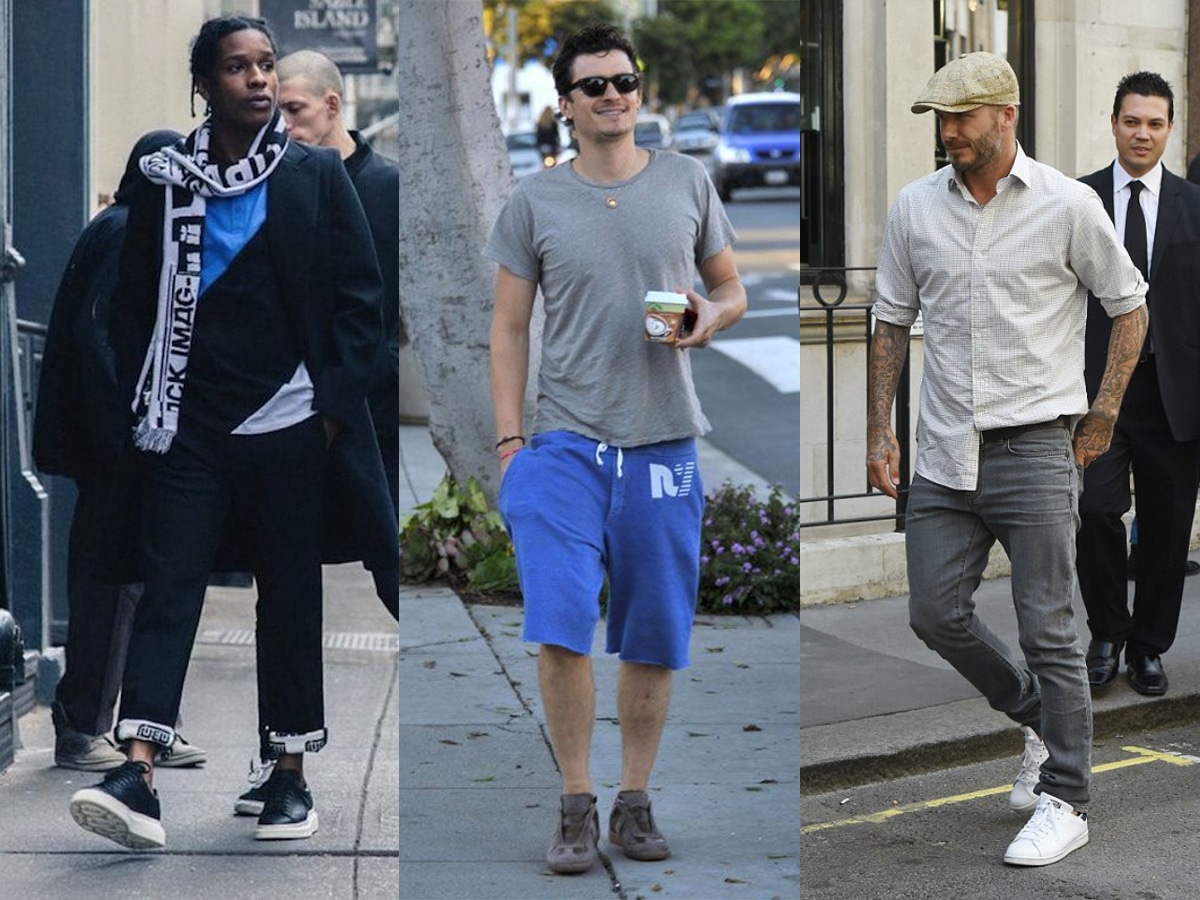 Tips For Wearing Sneakers to Work
Our expert style editors have put together a short list of tips for pulling off sneakers at work:
Keep It Simple – The best sneakers for work are ones that are simple and understated.
Neutral Colours – Stick with neutral colour sneakers such as blacks, whites, greys and navy.
Don't Stand Out – Avoid bright colours, metallics and overpowering patterns.
Keep It On the Court – Remember, these are the best sneakers for work, not on the court.
Clean is Key – Don't rock up in your beaters, make sure they're free from scuffs and dirt.
Pro-tip: It's worth remembering that all jobs are different, so use your discretion to determine which shoes are appropriate for your workplace. If your company has a dress code, stick to it, and more importantly, remember that old-mate in accounts will never take you seriously wearing a pair of Carolina Blue Air Jordan XI's. If you're ever in doubt, put on a pair of the best loafers money can buy instead.
Alternatives to Sneakers You Can Wear to Work
If you can't find what you're looking for above, our list of the best minimalist sneakers will give you a few more options to play with when it comes to shoes you can wear to work. We've also put together a trusty guide on the best white, black, and brown sneakers to help you choose by colour. Once you've found your favourite pair, you'll want to find out how to store the fresh kicks correctly in these sneaker storage boxes.
Your FAQs Answered
Can you wear sneakers to work?
Sneakers are one of the best ways to express yourself in the office. You can show off a bit of taste and personality in your work outfit and wear a pair of sneakers to work. All jobs are different so use your discretion to determine which shoes are appropriate for your workplace.
What are the best sneakers for work?
Aim for a pair of white or neutral coloured leather sneakers like the Common Projects Achilles if you're going to wear them in a semi-formal workplace. You might be able to experiment with the likes of the New Balance 990v5 at a more casual workplace.
What are GAT sneakers?
GAT Sneakers resemble the 'German Army Trainer' shoes of the 1970s. GAT's became popular after they were found in army surplus stores after the fall of the Berlin wall in 1989. Margiela showcased GAT sneakers on his runway shows throughout the 1990s before bringing them to the public in 1998.
---
Featured Video from Man of Many