The Wind Up – Watch News #20
As Sydney cools down and we bear the brunt of winter, its becoming harder and harder to come to grips with what the next few months will bring us. Weekends will be spent indoors. Trips home from work will be plagued by sniffles and rain. But the remedy prescribed is your dose of our regular Wind Up series. In this series we preview a combined effort between Habring and Benzinger in their incredible Garrett Leight Spring 2021 Lends Focus to 1960s California Pop Art, an entry level Lange and a game-changing piece from TAG.
---
You may also like:
The Wind Up – Watch News #19
---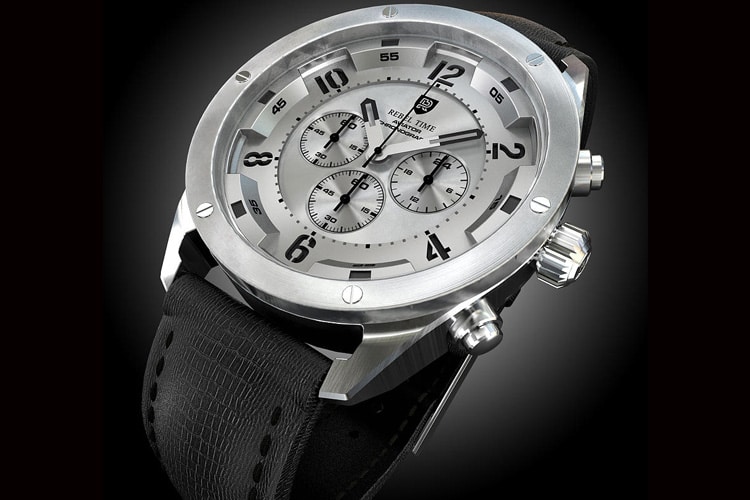 Rebel White Aviator Chronograph
The overriding aspect of an appealing watch for me, is the phenomena of eye-catching aesthetics. It's the thing that keeps me entertained and interested in what's in front of me. The Aviator Chronograph from Rebel, a small watchmaking firm located in Brooklyn (that'd be in the US guys), is that kind of watch. And lucky for me its guaranteed to be accessible from a pricing point of view. The watch is a play on the visual senses. Its got great legibility, a handy chronograph function and a clear distinction between its complications. A date-window would've added to the piece's functionality in my books, and wouldn't have looked out of place at all. The watch is a hefty 44mm in diameter and close to 13mm thick, so you know its going to sit nice and large, which suits my wrist just fine. Running the Miyota 0S20 chronograph movement (yes it is Quartz) obviously keeps costs down, and like I said before its been priced accordingly. A surprising piece from a brand I haven't heard much about, I have to say I am truly impressed.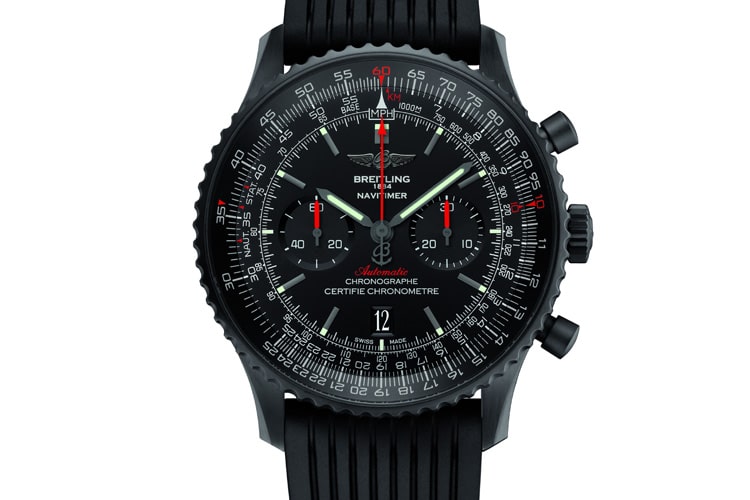 Breitling Navitimer 46 Blacksteel
Dark, bold and big. The definition of the Navitimer 46. Add to that the badass look of a Blacksteel case and what you get is a watch that will fly under the radar and have a dominant presence on your wrist (contradiction, yep, do I care, nope!). A cult model in the eyes of the Breitling loyalists, the Navitimer is one of the most hardcore aviation-based chronographs ever made. Now combine that with the killer looks of a Blacksteel case and you honestly have the kind of watch that'll make watch enthusiasts stop and look twice. The darkness of the watch as a whole is broken up pleasantly with the added hints of red on the dial and the greenish hue of the lume on the hands and hour indices. Mechanism wise, Breitling have chosen the tried and tested, COSC certified Caliber 01 to power the beast. And a beast it is, at 46mm it's a daunting watch that will fit the wrists of the burly and confident. But that niche has been found long before the Blacksteel was introduced, and it will sit nicely within that market space. A really awe inspiring watch. Not something I'd wear, but definitely something that is admirable in concept and in execution.
---
Featured Video from Man of Many
---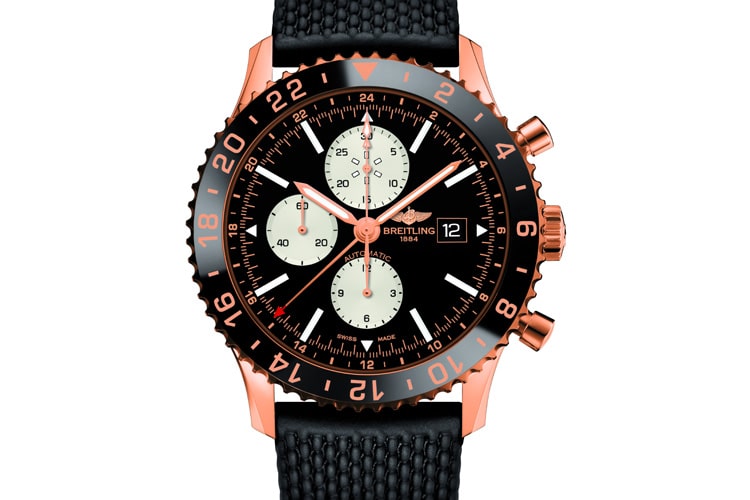 Breitling Chronoliner Limited Series
Another brilliant piece from Breitling, the Chronoliner Limited Series in gold incorporates distinct looks with functionality that, like the Navitimer Blacksteel I just spoke about, will really penetrate that market niche. The combination of a chronograph and a triple timezone display is one of the reasons that the Chronoliner is so successful amongst the travelling watch enthusiasts. Maximum legibility throughout the dial is predominatly the reason why the Chronoliner is such a valued companion. Combine that level of functionality with the beautiful addition of red gold, and you have yourself a modern beauty that screams heritage and. Powered by the COSC certified in-house automatic calibre 24, the Chronoliner talks the talk and walks the walk. A very rare combination in a day and age where its either one or the other. Limited to only 250 pieces worldwide, you'd best be quick if you want to secure your limited edition Chronoliner.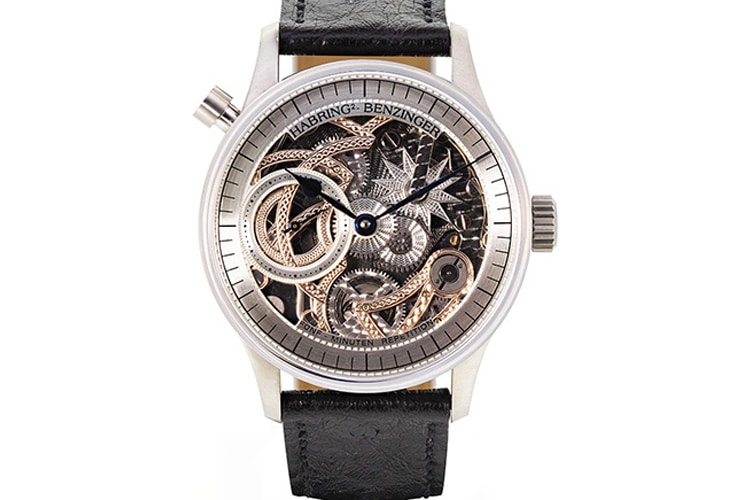 Habring2 by Benzinger 5-Minute Repeater
From one of my most favourite watchmakers, Richard and Maria Habring, in collaboration with world renowned master ennobler, Jochen Benzinger, comes the beautiful and giant-killing Habring2 by Benzinger 5-Minute Repeater. Habring2, as a brand, represent everything that I love in watchmaking. Fantastic movements produced without the façade or hype of a money-pit marketing campaign. Good, honest watches that will guarantee satisfaction. Add to that the expertise of Jochen Benzinger, and what you have is an inevitable collaboration set to astound and impress. Now I'm not going to delve into the mechanics of a 5-Minute Repeater. Just know that its as complicated as it sounds (no pun intended). Created in either an Engine design, which is more contemporary and technical, or a Floral design, which is more classical, the timepiece is as unique as it is complex. Movement wise, they've chosen to use the impressive and highly respectable Habring2 in-house manually wound calibre A11 with a Dubois Depraz Repeater Module, which has helped to keep costs down. It's a superb watch, clearly intended for a very specific customer, but nonetheless highly impressive and deserving of the collective watch community's respect. Check out the link below for a more detailed review of the piece.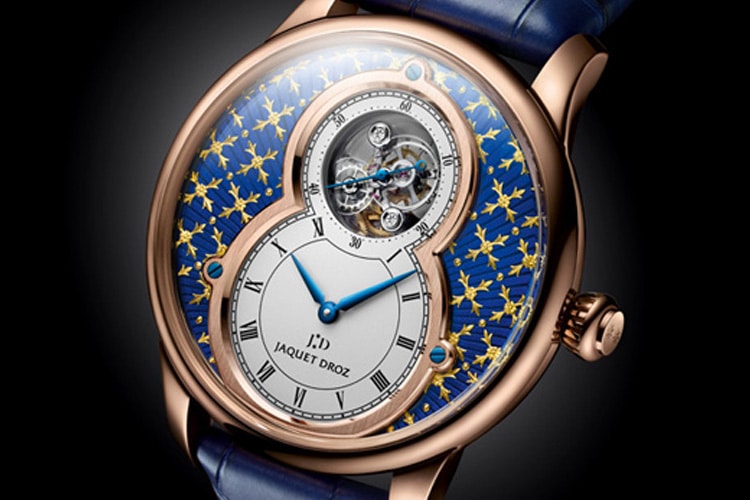 Jaquet Droz Paillonee Tourbillon
Another outstanding piece from such an understated and overlooked watchmaking company, the Paillonee Tourbillon combines extraordinary enamelling artistry with a traditional high complication to create a beautifully refined timepiece. The process of paillonne enamelling is complex and incredibly time consuming. It involves placing many tiny paillons of gold to produce a geometrical pattern which are then placed on coloured enamel. Once completed, a coat of translucent enamel fondant is applied which accentuates the brilliant colour and texture of the pattern. Combine that with one of the most respected and revered mechanisms in the industry, the infamous tourbillon, and what you get is a watch that will satisfy your lust for beautiful aesthetics and impressive complication mechanisms. A feast for your eyes and senses, the Paillonee Tourbillon really brings to light just how much can be achieved on such a small canvas.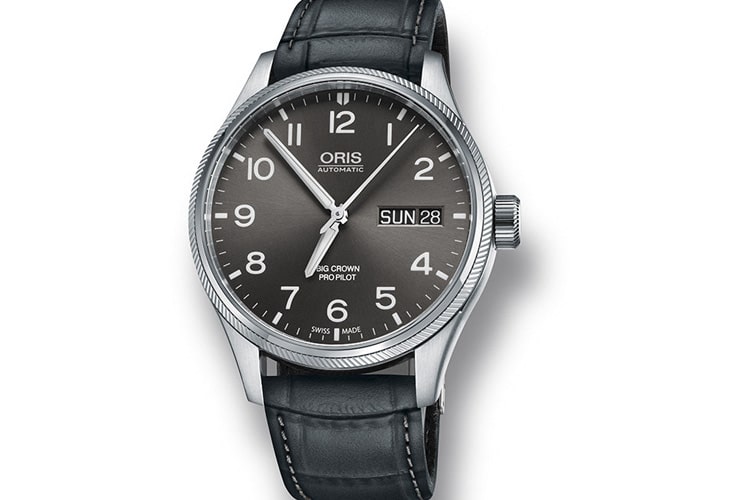 Oris Big Crown ProPilot Day Date
God I love Oris. I feel as though every watch they make is true to their roots. They don't pretend to be something they're not. They own their designs, they stand behind their heritage, and they're proud as f*#k of the watches they produce. The Big Crown ProPilot Day Date is just another reason why they deserve more attention. It's the latest piece in a rich line up dating back to 1938 when the first pilot watch from Oris was released. Traditionally a pilot's watch would only show the time, so as to increase legibility and reduce dial confusion and clutter. But Oris knows that the average pilot-watch wearer isn't, in fact, a pilot (lol..). They're the kind of person who more often than not has their feet placed firmly on the ground. And that person needs to know the date more often than you'd realise (I'm one of them). I love the addition of the day-date complication. It doesn't deter from the dial's readability, nor does it confuse or busy-up the simplicity of its time-telling ability. Aesthetically speaking, the watch is as good as it should ever get for an uncomplicated pilot's watch. Add to that the reliability and efficiency of the Oris calibre 752, and what you have is one of the best pilot's watches on the market for the price-point. And that price-point is a ridiculously low $2,200 on a leather/textile strap, or a measly $2,300 for the metal bracelet. How can you go wrong?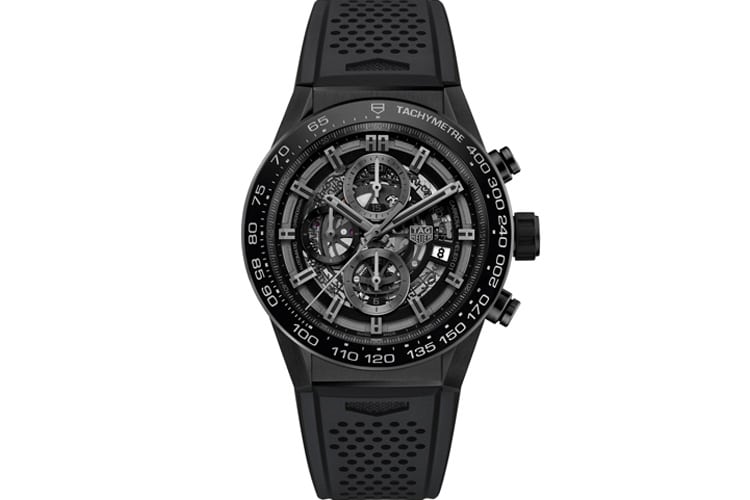 TAG Heuer Carrera Heuer-01
One of the most appealing watches to come out of TAG in recent years, the Heuer-01 in black ceramic may have changed my opinion on the brand overall. Typically, an everyday-type daily-beater watch, the Carrera is an overlooked option for many people, including myself, when it comes to a good first watch. The addition of the Heuer-01 in black ceramic is an improvement in an already deep line-up of unimpressive and lack-lustre watches. It combines black ceramic almost everywhere with a textured rubber strap to create an image of brawn and mass that isn't in your face like a lot of other heavily masculine watches. A fantastic aesthetic that I sincerely enjoy and have come to grips with as being a fine timepiece worthy of consideration. Beyond the impressive visual aspects of the piece, TAG have opted to use their reliable in-house calibre based on the 1887 movement with a new modular case design. Oh, and the addition of the date window between 3 and 4 o'clock: genius. It took me several times of looking back and forth at the watch to realise it was there, which is downright awesome. The case is well designed, the oversized crown and exposed pushers make the watch look bigger than what it is, and the darkness of the package as a whole appeal to me greatly. In the market for a blacked out piece of hardware to strap onto your wrist? Give this a shot, you won't be disappointed.
Breguet Classique Hora Mundi 5727
From the masters of high horology, Breguet have released the impeccable Classique Hora Munda 5727, available n either rose gold or white gold (featured here in white gold). Dial detailing truly exemplifies Breguet's ability to create a timepiece that appeals to the mechanical and visual purist in all of us. The textured Clous De Paris finishing is expressive and symbolic to Breguet's true roots of producing outstanding watches that are both timeless and relative. The blued steel hands, typical of Breguet and, look fantastic and provide a great contrast of simplicity between the complicated textured dial and the slender look of the hands. Everything about this watch is simply perfect. There is absolutely nothing wrong with it (save its price…). From the asymmetrical crown placement, to the Breguet hands, to the textured dial and inscribed Roman numerals, the watch is picture perfect. Unsurprisingly fantastic from Breguet and yet another triumph from the masters of horology.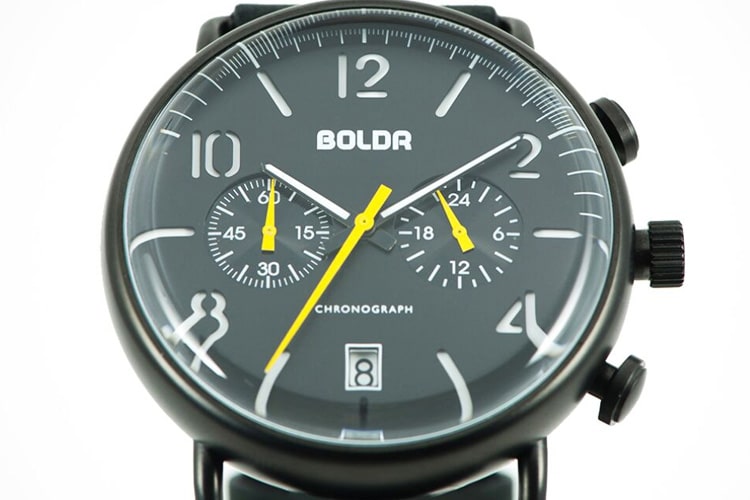 BOLDR Journey Chronograph Wasp
New from BOLDR in their Kickstarter campaign, the Journey Chronograph Wasp is an amalgamation of impressive design architecture and modern mechanism technology. The 43mm case with corresponding lugs allow the watch to sit firm but comfortably on your wrist, while its 14mm height gives it a dominant profile on your wrist. The domed dial does well to expand the already large watch, which is further emphasised by its ultra-thin bezel and domed mineral glass lens. A dark watch by nature, the addition of the yellow and white hints on the hands of the watch are bold and do well to break up an otherwise monotonous colour scheme. The applied hour markers and numerals are large and easy to read, and the addition of the date window at 6 o'clock adds another element of functionality to the watch. Powered by the Seiko VK64 meca-quartz movement, the price reflects its lack of fully mechanical mechanism, but that's fine in my eyes and BOLDR have in no way tried to hide the fact. It's a pretty interesting watch that you'd do well to have a closer look at. I'm thoroughly impressed however. It combines a bit of vintage design with ultra-modern movement technology in a way that either works very well or doesn't at all. Luckily for BOLDR, they pulled it off.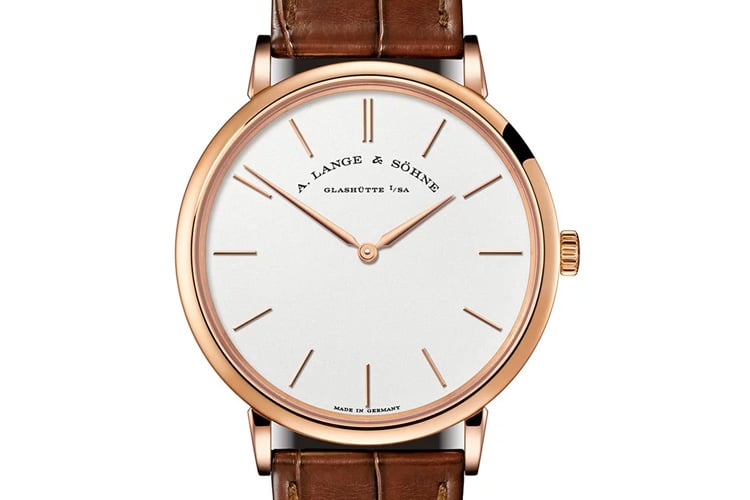 Lange & Söhne Saxonia Thin 37mm
The newest piece from Lange is also its most affordable. The Saxonia Thin, redesigned for its 37mm case (as opposed to its conventional 40mm), is also one of Lange's most beautiful pieces. Impossibly thin, the Saxonia 37mm is a reflection on Lange's prowess in redesigning existing models to penetrate different market segments. Priced at about $20,000, this piece is certainly not cheap, but in the world of horological relativity, it is definitely affordable. It houses the stupidly stunning calibre L093.1 (which in itself is only about 3mm thick), you'd be forgiven for wearing it ass-up. This two-handed masterpiece succumbs itself to the same vigorous amounts of finishing and detailing as Lange's more expensive pieces, and that fact in itself is why they remain a fan-favourite. Symmetrically perfect. Proportionally sublime. There isn't much to complain about. Maybe there isn't anything to complain about. I do however like to see a sweeping-seconds hand doing its thing. Its nice to know the watch is still ticking (#OCD). But apart from that, it truly is one of Lange's greatest watches, from a value point of view.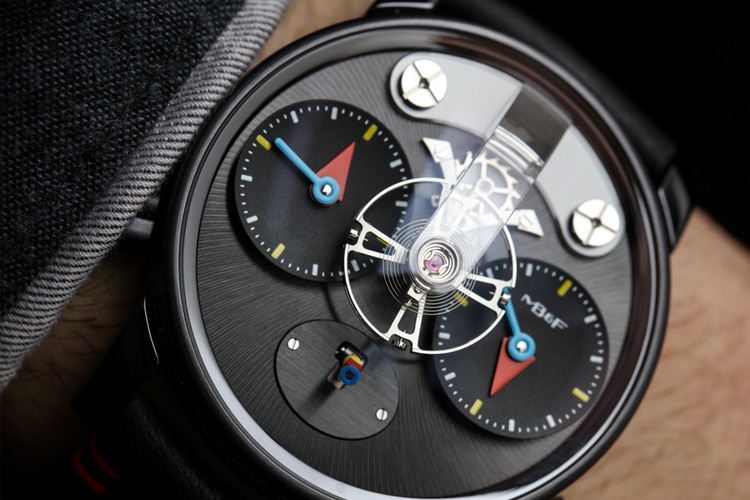 MB&F LM1 Silberstein Limited Edition
The original LM1 was a star. It was ground-breaking, game-changing, and really opened up the way we see watches. They can look futuristic and still serve a definitive purpose. In collaboration with renowned visionary Alain Silberstein, MB&F have created this limited edition playful interpretation of the LM1. And I truly believe playful is the best word to describe this watch. Sure it carries with it the traits most associated with MB&F. Wonderful wrist presence, awesome dial detailing and impeccable movement finishing, but this watch takes it one step further. By blackening out the dial and adding colourful hints, they've ingeniously created a watch that's opened a whole new world for them. This attraction of different is going to appeal to not only typical watch enthusiasts around the world, but also art lovers and collectors who haven't really delved into the world horology. Intentional or not, I think this is a brilliant move and I sincerely hope MB&F will continue their partnership with Alain Silberstein and produce some more playful versions of their expansive collection.
---
You may also like:
The Wind Up – Watch News #19
The Wind Up – Watch News #18
The Wind Up – Watch News #17
---
---
Featured Video from Man of Many