Montblanc Teases New Direction with Noise-Cancelling MB 01 Smart Headphones
We all like the idea of wrapping the latest luxury timepiece from Montblanc around our wrists, but rarely are we afforded the opportunity to do the same above the collar. Until now. The luxury pen and watchmaker has today unveiled its own take on the audio game, dropping the first look at the new MB 01 Smart Headphones.
The noise-cancelling new additions were unveiled at a launch night in New York attended by Montblanc ambassador Hugh Jackman, actors Quincy Brown and Dylan Sprouse, and models Gabriel-Kane Day Lewis and Martha Hunt.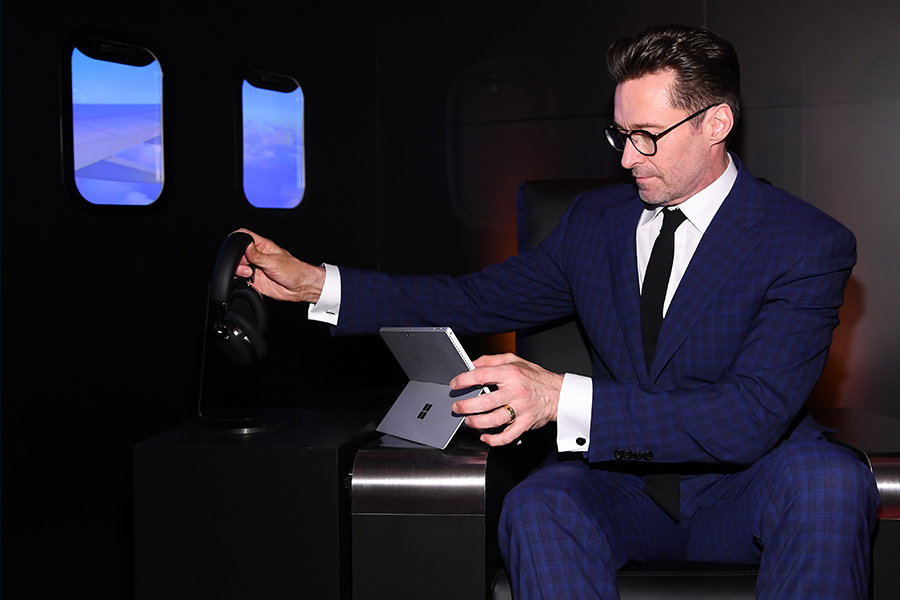 It follows the brand's foray into the world of smart technology, highlighted by 2019's Montblanc Summit 2, however the MB 01 Smart Headphones take things to a whole new level. The Qualcomm-powered Montblanc Smart Headphones are emblazoned with Montblanc's signature style, complete with leather-wrapped headband and ear cups, which fold inward for travel. Chromed metal sits in between, and finishing off the aesthetic is the instantly-recognisable six-pointed Montblanc logo facing outward on the slider. In terms of volume control, the MB 01 Smart Headphones has a line of buttons that also manage noise cancelling capabilities. Montblanc's new headphones also support Google Assistant and connect over Bluetooth to iOS, Android, and other platforms.
"We set out to create headphones that would strike the ideal balance between advanced technology, sophisticated design and comfort, because that's what really matters to Montblanc travellers, whether they are aboard a long-haul flight, on a conference call at the airport or simply trying to recharge while on the road," Nicolas Baretzki, Montblanc CEO said.
The Montblanc Smart Headphones come in black leather and chrome, light grey leather and chrome, and a brown leather with a gold-hued chrome. Each pair of headphones comes in a fine fabric pouch with a USB-C charging cable, Audio Jack cable and an aeroplane adaptor. While the announcement doesn't appear to include any further details, specifically around pricing or battery life, The Verge is reporting that they will start from $595. But it wasn't the only big announcement Montblanc made today.
Montblanc also debuted the Summit 2 Plus at the same event, a piece not cosmetic unlike its predecessor, but with subtle upgrades. According to Engadget, the Summit 2 Plus uses the same Snapdragon 3100 chipset, and lasts up to five days when toggled it to display just the time, a mode that bypasses smartwatch capabilities. It features TE capability out of the box via eSIM, though it only works with Verizon for now. The Verge reported that the Summit 2 Plus will set you back around $1,170 when it launches, almost $200 more than the already released $995 Summit 2, but who cares? This watch is the ultimate pairing of performance and luxury.