The small town of Glashütte in Germany can now authoritatively claim to be the Champagne of watches. In much the same way that the status of bubbly produced within that world-famous French winemaking hub is protected by laws that reduce everything else to mere sparkling wine, watches from Glashütte now receive special legal protection, thanks to a regulation introduced earlier this year that recognises the town's unique pedigree.
While it has held a prestigious position in the watch-making world for well over a century and a half, Glashütte now enjoys a status much like the protection afforded to "Swiss Made" watches, only with even greater exclusivity. While "Swiss Made" refers to the entirety of Switzerland, Glashütte is a town of just 2,000 people – that's a whole lot of watch-making expertise concentrated in the hands of a select few – and its location in a narrow valley will likely keep it that way.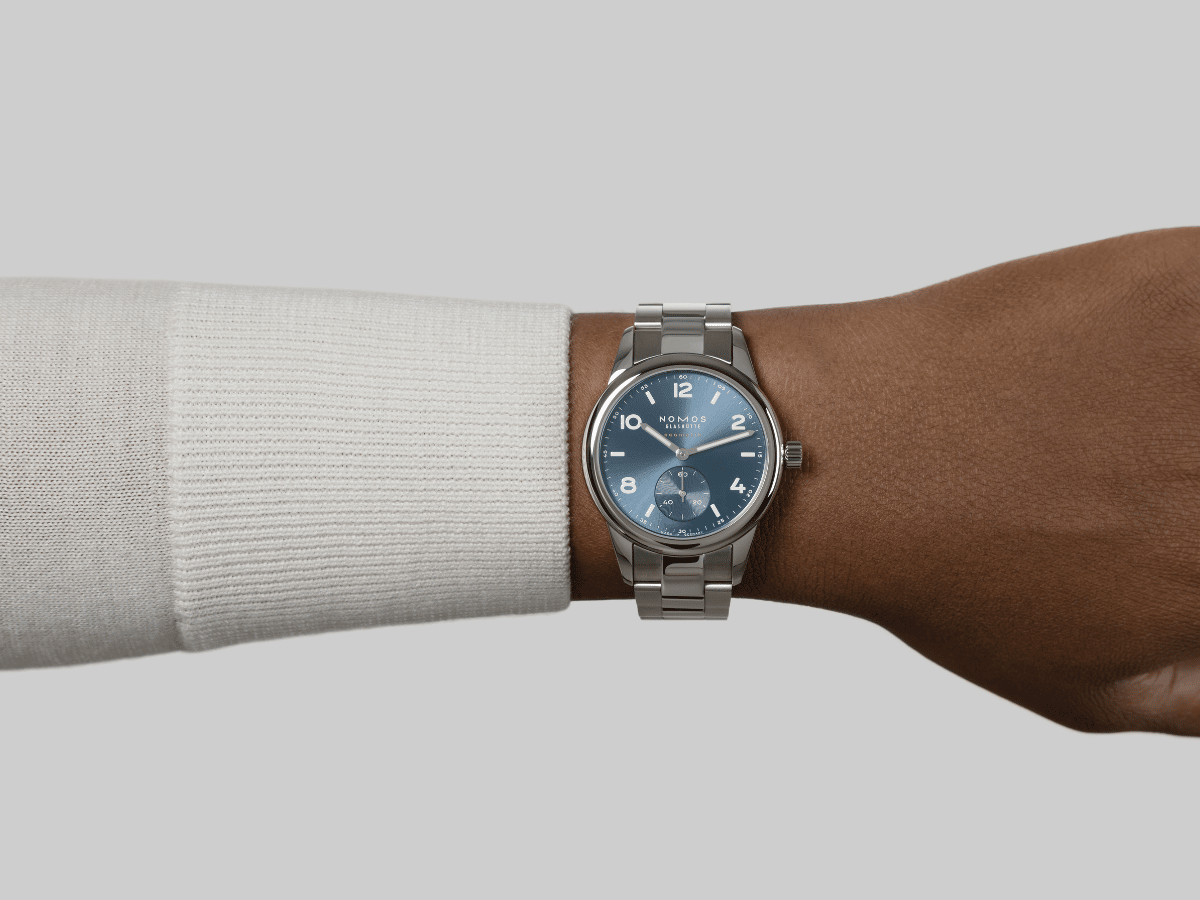 The Greatness of Glashütte
For this reason, strapping a Glashütte timepiece to your wrist means you can feel confident you're wearing the very pinnacle of watch-craft. In fact, Dr. Wolfgang Straub, one of the lawyers involved in the process of establishing these new regulations, is quick to point out that the Glashütte certification is an even greater marker of quality than the globally recognised high standard attributed to German-made goods more broadly: "Glashütte's strict quality criteria once again clearly surpass the value of the famous Made in Germany."
The latest Club Sport neomatik release from NOMOS Glashütte only reinforces this fact. Available in two finishes – the refreshing blue of the polar or the striking green of the petrol – both radiant colourways make the most of the stunning sunburst dial, and with a case diameter of just 37 millimetres, not only is the Club Sport series is the embodiment of elegance, it also looks perfectly at home on any wrist.
Such impressive dimensions are only possible thanks to NOMOS' high-precision, ultra-slim DUW 3001 automatic calibre, which features an ultra-flat design measuring just 3.2 millimetres in height and housing the brand's swing system to set its pace.
Despite this compact build, you never need worry about losing track of the time, even if you're irresistibly drawn to the water as we head into the warmer months; the Club Sport neomatik's stainless steel case, along with its sapphire crystal glass and glass or steel back, is thankfully water resistant up to 20atm. Plus, if you're prone to diving into darker waters, then you'll be grateful for the watch's legibility, with the aforementioned sunburst dial featuring recessed hour numerals and hands that boast Superluminova, giving them additional visibility in low-light conditions.

Easy-Wear Elegance
Finally, NOMOS offers comfort to match the Club Sport neomatik's elegance, thanks to a flexible metal bracelet that features quick-change spring bars and a deployant clasp that secures the watch when fastening and unfastening. The bracelet's rounded ends seamlessly blend into the case, while the link elements' satinated and polished finish tops off an immaculately refined package.
While the regulations that opened our discussion here won't affect the quality of NOMOS' output – the brand's self-imposed standards already go far beyond those now required by law – managing director Uwe Ahrendt believes their contribution to the town's reputation can only bode well for the future of NOMOS Glashütte: "It honours what has been accomplished here since 1845. The NOMOS Glashütte watch manufactory goes far beyond the requirements of the regulation and produces all eleven calibres itself in its workshops on site — with a vertical range of manufacture of up to 95 per cent and in a quality that is second to none."
With that said, if the Club Sport neomatik series is a sign of things to come, the future's certainly looking bright for the Champagne of watches. Cheers to that.
Discover more about the NOMOS Glashütte Club Sport neomatik series via the link below.