Seiko 'Turtle' Prospex Diver's Watch History
It was a good day for watch lovers when Seiko reintroduced the 'Turtle' diver's watch a few years back, injecting four new models directly into their Prospex lineup. The timing couldn't be better, whereas authentic vintage editions of the Seiko 'Turtle' Diver's Watch (originally known as 6309) had become significantly harder to obtain by that point, at least in great condition. Subsequently, to read any given Seiko 'Turtle' Prospex review was to practically see the watch work its charms in real time, seducing the wearer by way of surprising comfort, genuine durability and an unbeatable price. Rather than heap praises upon latter day entries like the Seiko Black and Gold SRP 775, we wanted to focus moreover on the iconic watch's history and perennial appeal. Without further ado, we present the Seiko 'Turtle' Prospex Diver Watch History.
You'll also like:
The Rolex Hulk Submariner – A History & Review
21 Best Watch Blogs
40 Best Minimalist Watches for Men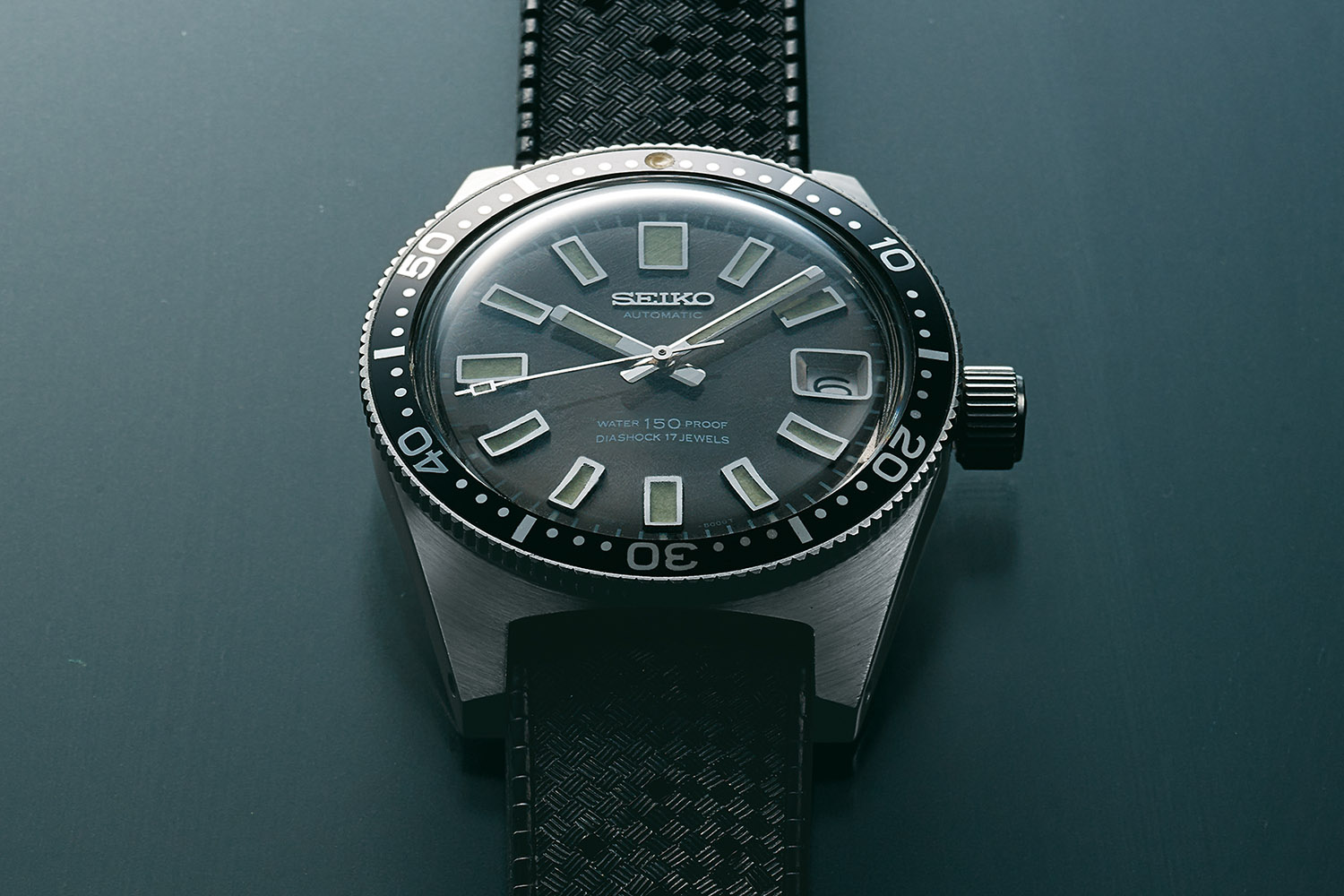 History of the Seiko 'Turtle' Prospex Diver's Watch
It was in the year 1965 that Seiko (and Japan, by extension) first decided to get into the diver's watch game, introducing the 6217, which featured a comparatively large dial, luminous markers and a bi-directional rotating bezel. Released for $150 USD, the watch earned a healthy following and now rakes in thousands of dollars on the second hand market. Suffice to say, Seiko's foray into diver's watches was off to a promising start. Naturally, more models followed.
Jump ahead to 1976, when Seiko unleashed the 6309-704X (for the sake of simplicity, we'll refer to all the original models as 6309 from here on out). In production from 1976 to 1988, the watch was water resistant to 150m. Mainstay features included a stainless steel case that was 45mm wide and 48mm long, and a screw-down crown. Under the skin was trusty caliber 6309 automatic movement with 17 jewels. On the dial were lumed hour marks, geometric shapes indicating the 12, 6 and 9 markers, and a date window at 3 o'clock. The original versions came with a rubber strap, but thanks to the inclusion of 22mm lugs, changing out the strap was a relative breeze. Providing ample protection was Seiko's patented Hardlex glass. Also featured was a bi-directional 60-click bezel with matte finish black aluminium insert, and a conspicuously large crown at the four o'clock position. Due to the crown's unique placement, the 6309 gave off a vague turtle-like appearance, hence the nickname of Seiko 'Turtle'.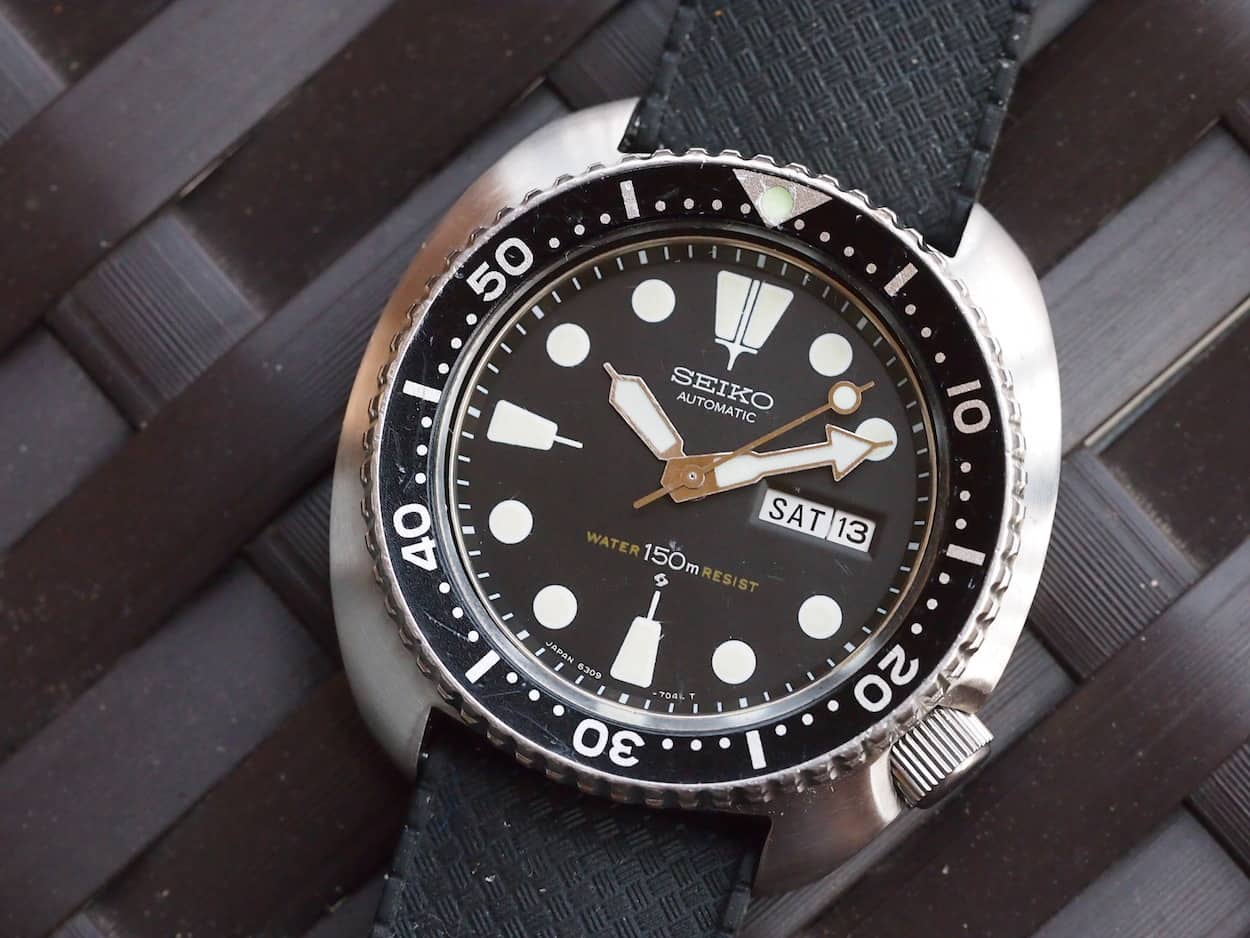 The Seiko 'Turtle' would host two separate dials over the course of its lifetime: a Suwa dial from 1976-1980 and then a non-Suwa dial from 1980-1988. Otherwise, most of the original design features would remain intact. Meanwhile, the caliber 6309 movement is the stuff of legend. In fact, there are collectors who have reportedly purchased Seiko 'Turtles' that are over 30 years old and still functioning impeccably.
Years after production ceased, the Seiko 'Turtle' soared in value on the secondhand market. Then in late 2015 and early 2016, Seiko reissued the iconic diver's watch in four variants, each one retaining most of the original aesthetic while throwing in some modern mechanics. Enthusiasts have been buying it up ever since.
---
Featured Video from Man of Many
---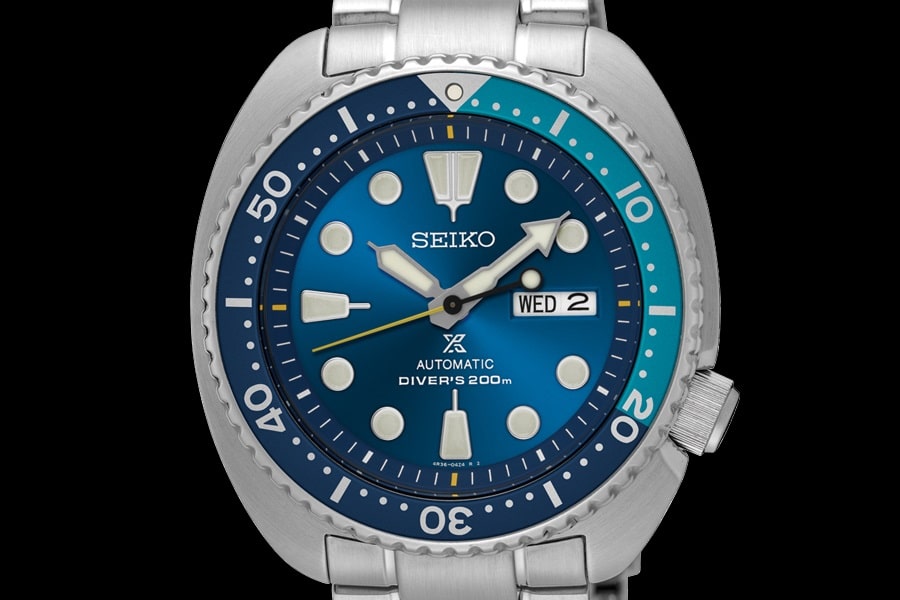 Why People Love the Seiko 'Turtle' Prospex Diver's Watch
While any given Seiko Prospex review is generally favourable, experts and enthusiasts have a special place in their hearts for the Seiko 'Turtle' reissue, and that goes well beyond the watch's heritage appeal. Even the naysayers out there commonly change their tunes once they actually try the timepiece on for size. Namely, people love the Seiko 'Turtle' Prospex for many of the same reasons that people used to love the original 6309–because it's comfortable, functional, versatile, and affordable.
On paper, the Seiko 'Turtle' Prospex and its 45mm case might seem hefty, but as it turns out the watch wears like a dream. Joining that rugged construction is steadfast movement and water resistance up to 200m, resulting in functionality that pretty much speaks for itself. Like the original, the watch works with a range of straps and exudes plenty of style in its own right (we're big fans of the Seiko Black and Gold 'Turtle' Prospex in particular), giving it a versatile edge. Last but not least, the Seiko 'Turtle' Prospex comes in at under $500 USD, making it one of the best diver's watches you can find for its price range. In other words, what's there not to love?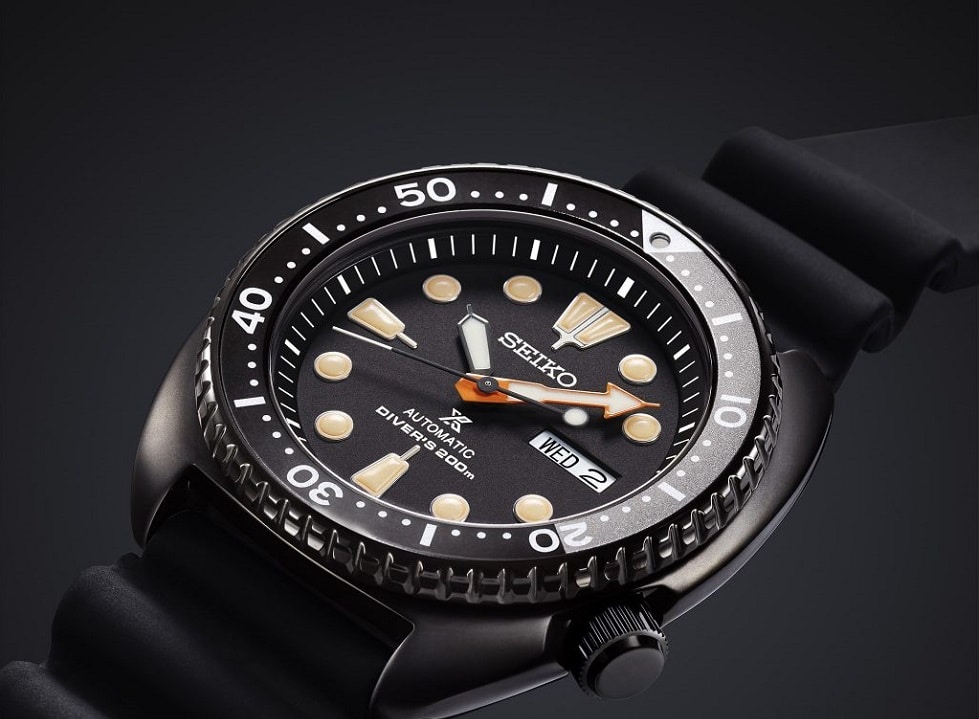 Specs for the Seiko 'Turtle' Prospex Diver's Watch
Nothing cuts straight to the chase like a good ol' spec sheet. Here's one for the Seiko 'Turtle Prospex Diver's Watch. Also, just an FYI, but all the recent Seiko 'Turtle' reissues come with SRP designations (SRP 775, SRP 777, etc).
MODEL CASE
Material: Stainless Steel
Diameter: 45mm
Thickness: 13.42mm
Bezel: One way rotating elapsed timing bezel
Crown: Screwdown crown and caseback
Crystal: Hardlex
Water-Resistance: Waterproof to 200m/656 feet
MOVEMENT
Movement: Automatic with manual winding mechanism
Calibre: Seiko 4R36
Power Reserve: Approximately 41 hours
Jewels: 24
Complications: Day/Date calendar, Stop second hand function
STRAP
Material: Silicone
DIAL
Colour: Matte Black
Lume: Lumibrite
You'll also like:
The Rolex Hulk Submariner – A History & Review
21 Best Watch Blogs
40 Best Minimalist Watches for Men
General FAQ
Where is Seiko turtle made?
The Seiko Turtle watch is made in Japan.
What model is Seiko turtle?
The Seiko Turtle Diver' watch was originally known as the 6309. It comes in 4 different colors: 773 (blue), 775 (black/gold), 777 (black), 779 (pepsi).
---
Featured Video from Man of Many