The Wind Up – Watch News #72
In this week's instalment of our regular series focusing on everything watch-related, The Wind Up, we have some pretty incredible pieces from some equally as incredible manufacturers. We have a super precise piece from TAG Heuer, three very special pieces from Zenith and yet another new release from the Grönefeld brothers. So, as always guys, sit back, relax and enjoy!
You'll also like:
The Wind Up – Watch News #71

Zenith DEFY ZERO G Limited Editions
Zenith recently unveiled three brand new themed pieces based on the very impressive DEFY ZERO G platform. The unveiling occurred at the recent Salón Internacional Alta Relojería (SIAR), and it was met with some very happy watch enthusiasts. The three pieces highlight the idea encompassing "spirit of adventure". The VIRGEN DE GUADELUPE model is inspired by the Minor Basilica of Our Lady of Guadelupe in Mexico City, holding a very special place in the religious lives of Mexico and is a symbol of national pride. The SKULL celebrates Mexico's infamous Dias de los Muetros, or the Mexican Day of the Dead. And the PIRATES model lets its wearer imagine the feeling of freedom, sailing the oceans looking for buried treasure. Each piece comes in either a titanium, a rose gold or a yellow gold theme, and each has been aged to better display its theme.
Spectacular Mountains Tower Over Grand Seiko's HQ and These Watches are the Result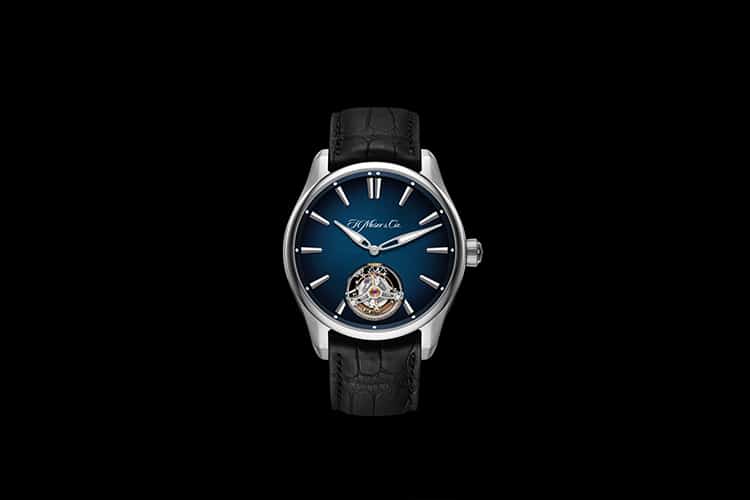 H. Moser & Cie Pioneer Tourbillon
The latest piece from H. Moser & Cie could very well be one of their best. The Pioneer Tourbillon is just one of those kinds of watches that you can't not love. And in all seriousness, what's not to like? You have a stunning tourbillon movement with a double hairspring, encased within one of the most wearable and most comfortable cases produced by Moser. The blue fumè dial is magnificent, and I absolutely love the contrast between the coolness of the case and the deep blue of the dial. The Pioneer Tourbillon is a watch more than capable of holding its own within a star-studded industry. There's an ode to direct and purposeful watchmaking with the Pioneer Tourbillon, and to be quite honest with you I'm finding it hard to find any faults with it.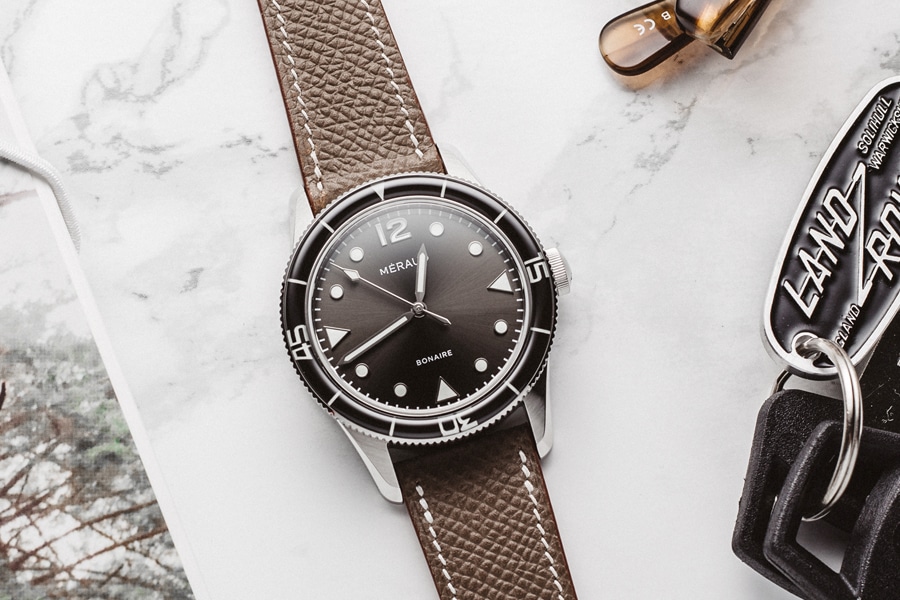 ---
Featured Video from Man of Many
---
Méraud Watch Co. Bonaire
Available now on Kickstarter, the Bonaire is a watch produced by Méraud Watch Co, a Belgium based watchmaker with an eye for combining vintage aesthetics with modern mechanics. This is a very good-looking watch. From its twisted lugs to the slim and curved bezel, you have what I consider to be a very vintage-inspired divers piece. The Bonaire from Méraid Watch Co. is available in a variety of dial and strap colour options, but I feel that the Graphite Grey model has the most charisma, and looks the most appealing. Form meets function with the Bonaire, and I have no doubt that they will reach their crowdfunding stretch-target. Very cool stuff.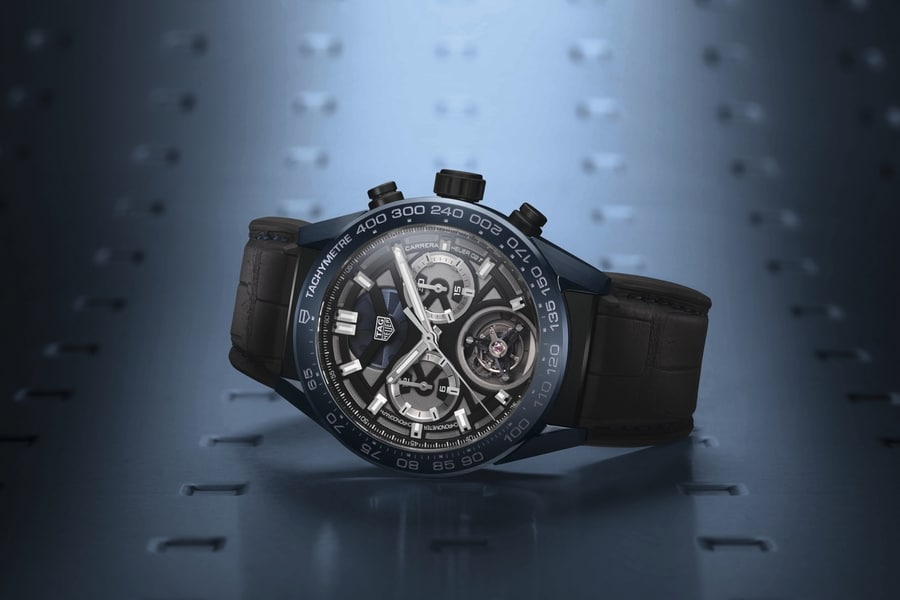 TAG Heuer Carrera Tête de Vipère Chronograph Tourbillon
It's not often a Chronograph Tourbillon exists from one of horology's foundational members comes in under 6-figures, and at the same gets certified by the observatory at Besançon. For those of you who don't know, the Besançon observatory engages in the certification of chronometers, and unlike COSC and similar type organistions, they very rarely bestow their esteemed certification on watches. in fact, since its inception way back in 1897 until now, only 500 watches have ever been certified (there was a 3-and-a-half-decade hiatus, however…). Nevertheless, this prestigious certification, named the Tête de Vipère (or the Viper's Head) enables TAG Heuer to proclaim their Chronograph Tourbillon as being one of the world's finest and most accurate. You still have the trademark sporty-like nature of the Carrera, and while the Carrera Tête de Vipère Chronograph Tourbillon may not be the most proportionally appealing tourbillon, it's still super impressive. And I want one.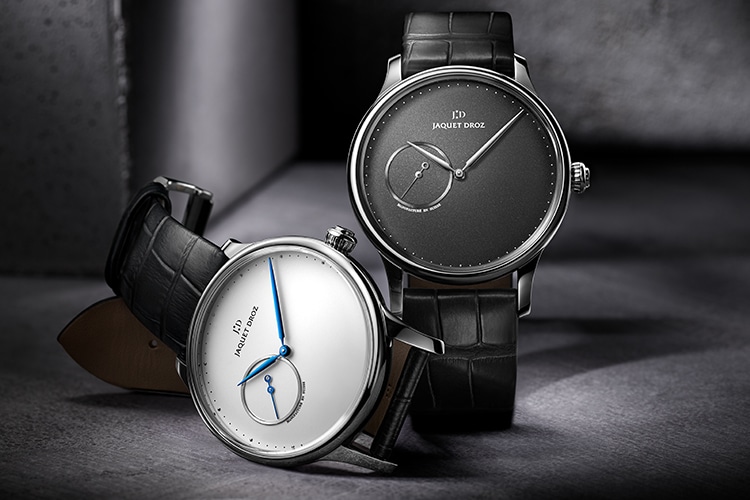 Jaquet Droz Grande Heuer Minute
Jaquet Droz seem to have a knack at producing watches that really catch my attention (and my heart). I love everything that they produce, from the absurdly complex to the ridiculously simple looking, the pieces from the Jaquet Droz atelier are both beautiful and desirable. The Grande Heuer Minute is their latest minimalist's expression, capturing the art of "less is more". This new addition keeps the focus on the essentials of watchmaking: the measuring of time as it passes us by. You have, simply, the passing hours, minutes and seconds, and with that level of simplicity, you may wonder what makes the Grande Heuer Minute any more desirable than, let's say for argument's sake, a Timex. It's Jaquet Droz's inept ability to fine tune even the most minutiae of details, and to make those intricate explode. It's available in either a slate grey dial or a sliver-plated dial, with the darker option being my preference. But let's be real, I'd be happy with both.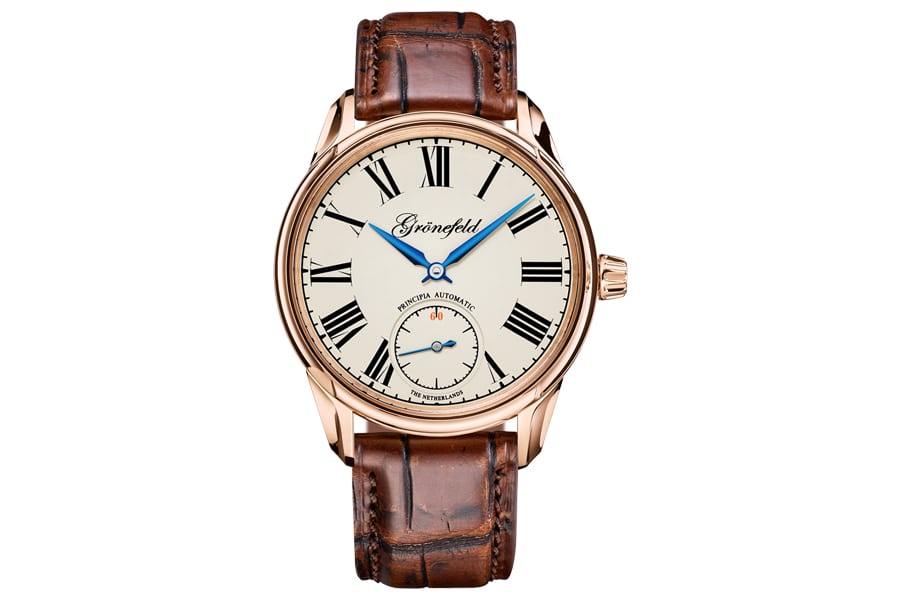 Grönefeld 1941 Principia Automatic
Boy oh boy have the Grönefeld been busy lately. First, they released a collaboration piece with Hodinkee that we featured a few weeks back, and now they've come along and introduced a whole new collection into their ever-expanding portfolio of highly desirable timepieces. The 1941 Principia Automatic is such a welcomed addition to the Grönefeld family. All of their other pieces are super complex. You have the Parallax Tourbillon, the 1941 Remontoire, and of course the One Hertz, each of which involving some pretty technical bits of watchmaking. Now, I'm not saying that the 1941 Principia Automatic is anything lesser than its brothers, but it is a simpler, more basic timepiece. And this means it's also going to be much more affordable (affordable is, of course, used relatively and loosely in the context of luxury watches). The 1941 Principia Automatic shares the same dimensions as the 1941 Remontoire, and it's available in a bunch of dial colours and case materials that you can play around with on their website. This is a great watch, and it has really opened the doors for Grönefeld to start flexing and expanding their horological might. Exciting!
If you enjoyed The Wind Up and would like to continue reading about watches, you can head on over to my blog, Haulogerie, where I delve a bit deeper into the wonderful world of watches.
You'll also like:
The Wind Up – Watch News #71
The Wind Up – Watch News #70
The Wind Up – Watch News #69
---
Featured Video from Man of Many