Hands-on with the Tissot Couturier Automatic Chronograph
First things first, this is not a small watch from the Swiss luxury watchmaker. It is big, bulky and really quite heavy men's watch. Heavy in the sense that when you first hold it in your hand its top-heavy bulkiness makes you think that you probably wouldn't be able to wear it for extensive periods of time. But then you put it on, and all that doubt fades away. Its weight, while extremely top heavy, is distributed surprisingly well once you are wearing it. Sure, I had to adjust it a few times during the day to get it sitting just right (e.g. the Goldilocks' effect that I'm sure many other watch wearers can relate to), but once I found that sweet spot, the Tissot Couturier Automatic Chronograph sat comfortably and didn't inhibit my wrist movement.
You might also like:
The Pioneering 1959 Seiko Alpinist is Coming Back
Interview with Dan Carter
10 Best Android Wear Apps on the TAG Heuer Connected Watch
Pros of the Tissot Couturier Automatic Chronograph
The entirety of the watch is based on functionality and legibility. An automatic chronograph with a day-date function these days resides on its ability to enhance the wearer's capacity to gather information quickly and with minimal effort, otherwise what's the point in buying it? The Tissot Couturier's dial is just that, easy to read and requiring little to no effort in differentiating the functions. You've got the hour and minute hands in stainless steel with enough lume to see at night, a sweeping-seconds hand in a sub-dial at 9 o'clock and a day-date function at 3 o'clock that's easy to set and has a fantastic "clicking" sound when you scroll through the day/date options. The chronograph function is as equally as legible, with the centre sweeping-seconds hand dictating the chronograph seconds passing by (add to that an inscribed "T" filled with lume on the counter-weight part of the hand – just the kind of minute detailing that I love), with the corresponding minutes and hours of the chronograph at 12 and 6 o'clock, respectively.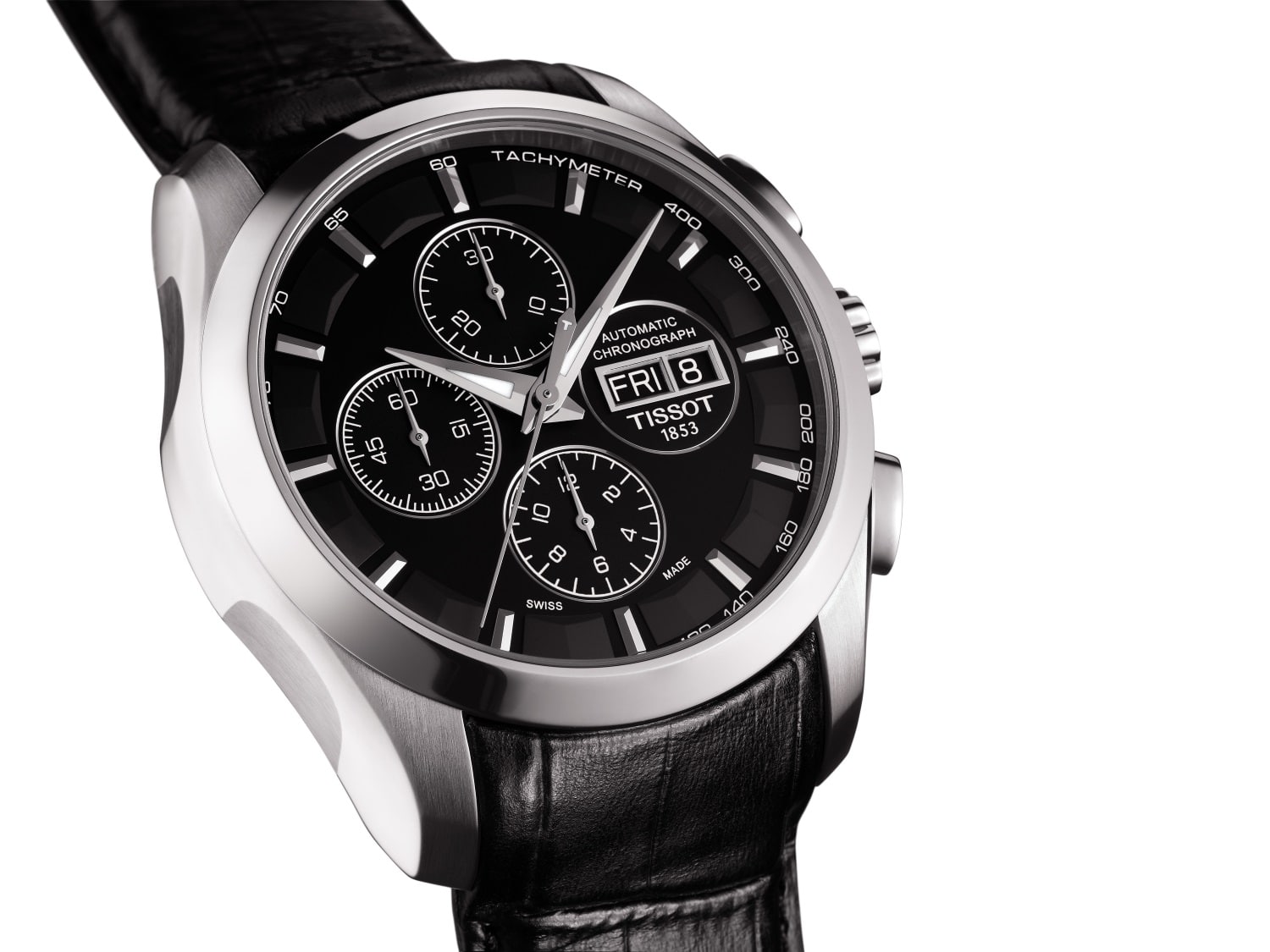 Beyond the functionality of the dial, there is the detailing. Now Tissot are not known for their immensely beautiful or inherently crazily finished dials, but the Couturier's dial isn't an eye-sore, and that's saying something. There are stainless steel applied hour batons that lead to a step down in the dial to the secondary dial partition where the chronograph and time-telling functions live. Between the hour markers are these raises dial partitions that look lovely and do well to break up the dial's monochromatic colour scheme, despite them being the same colour.
The Tissot namesake, as well as their year of inception are shown on the dial, as are the origins of the make and the purpose of the piece (e.g. Swiss Made; and Automatic Chronograph). The 43mm wide and 14.2mm deep stainless steel case feels bulletproof and looks really quite sophisticated. The crown has deep cuts carved into it for easier winding (if that's your preference), as well as Tissot's "T" being applied to the exterior of the crown's face. The pushers suit the case's shape, and while I don't particularly like the width of the stainless steel bracelet, a smaller one would look quite dainty and wouldn't suit the overall aesthetics of the piece. Tissot has also opted to integrated an anti-reflective scratchproof sapphire crystal on the dial side, with a sapphire window on the rear to allow viewing of the movement.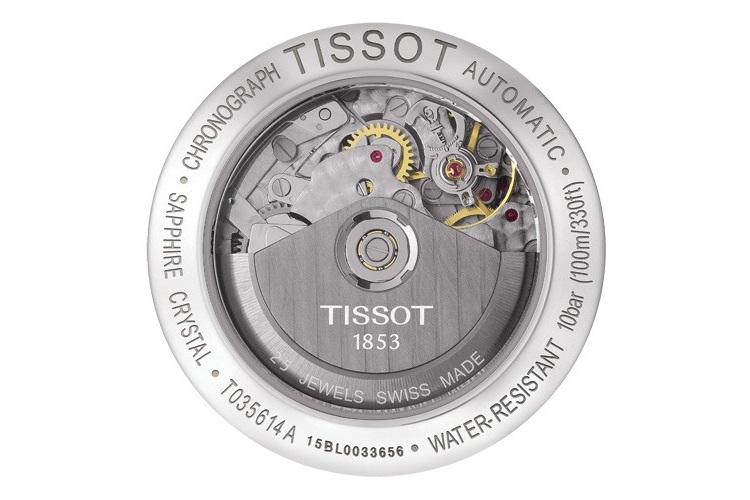 Now onto the movement. Tissot has opted to utilise the reliable automatic caliber A05.H21, giving the wearer about 60 hours of power reserve when fully wound. Now despite the plain rotor blocking the half the movement at any one time, I was able to see some pretty cool finishing techniques applied throughout the movement. There is a sense of obvious maturity in the movement, as the finishing isn't just on the superficial parts of the mechanism. That's to say, the most external parts of the movement have been indeed finished quite well, but Tissot has extended those similar detailing attributes deeper into the movement, where you normally would require a keen eye or a loupe system to observe.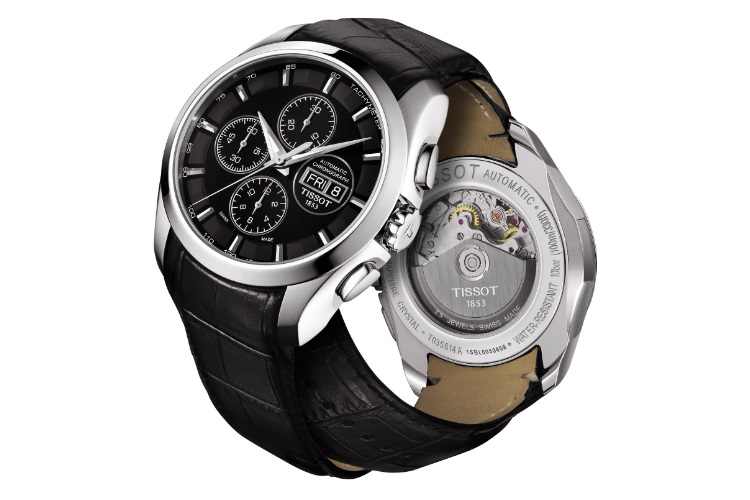 Given my 20/20 vision (please, refrain from any applause), I was able to see right to the bottom of the movement (that's to say, towards the dial side), and even there I could see similar qualities of movement finishing application and detailing. That's really quite impressive, and I'm glad I took the time to look that deep into the movement because it reinforced my already strong opinion of Tissot and their quality pieces.
Cons of the Tissot Automatic Chronograph
But would I change anything? Sure. An unbiased Tissot Couturier review should include negative attributes. Its bulk will mean that, despite it being categorised as a male's watch, a lot of people will look past it due to its sheer density and heft. And while its enormous case is comfortable enough to sit pretty on your wrist, its height will mean that eventually, you're going to be banging it against something, one way or another. That means scratches and dents, which means polishing and servicing, which means dollar signs. The shape of the case, thanks to its integrated lugs (smart from comfort, weird for aesthetics), isn't something I'm too fond of, but again its purposeful and was designed for comfort. The bracelet again isn't something I love, but changing it would mean changing the entire watch and its overall aesthetic.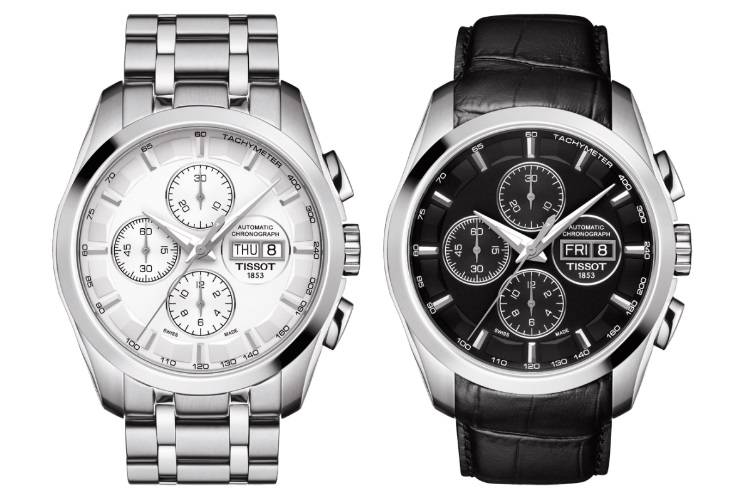 Final Word
Beyond those hindrances, I'm fairly certain I like the watch, and I like its purpose. It's definitive, specific and doesn't beat around the bush. It doesn't hide what it is nor what it represents, and that's something I respect. A brand can release a horrendous-looking piece, but if they own it and stand behind it wholeheartedly, then I can't not respect it (doesn't mean I have to like it!). That's not saying the Tissot Couturier Chronograph is ugly, it isn't. I actually am a fan, and I've thoroughly enjoyed the time I've spent with the piece. It's got charisma and personality. It screams presence, and it's got a mean attitude. And for a piece like this, that's what you want. It is aggressive and it is not at all subtle. Well done Tissot.
You might also like:
100 Best Watches Under $1,000
40 Best Minimalist Watches for Men
21 Best Watch Blogs