12 Best Coworking Spaces in Sydney
Our list of the best coworking spaces in Sydney is one of our most extensive lists detailing the best on offer. If you are looking to expand your start-up, boost your business, and extend your entrepreneurial ethos these are the best shared offices we can find in the harbour city.
Catering to a wide selection of clients from start-ups to single propriety limited success stories, the rise of co-working spaces is not surprising. Partnering a cohesive membrane of collaborating businesses as well as state-of-the-art facilities and amenities many of which offer members exclusive privileges. Without further ado, here's our list of the best places to work in Sydney, from a co-working perspective of course.
RELATED: Fitting out a co-working space? These are our favourite standing desks.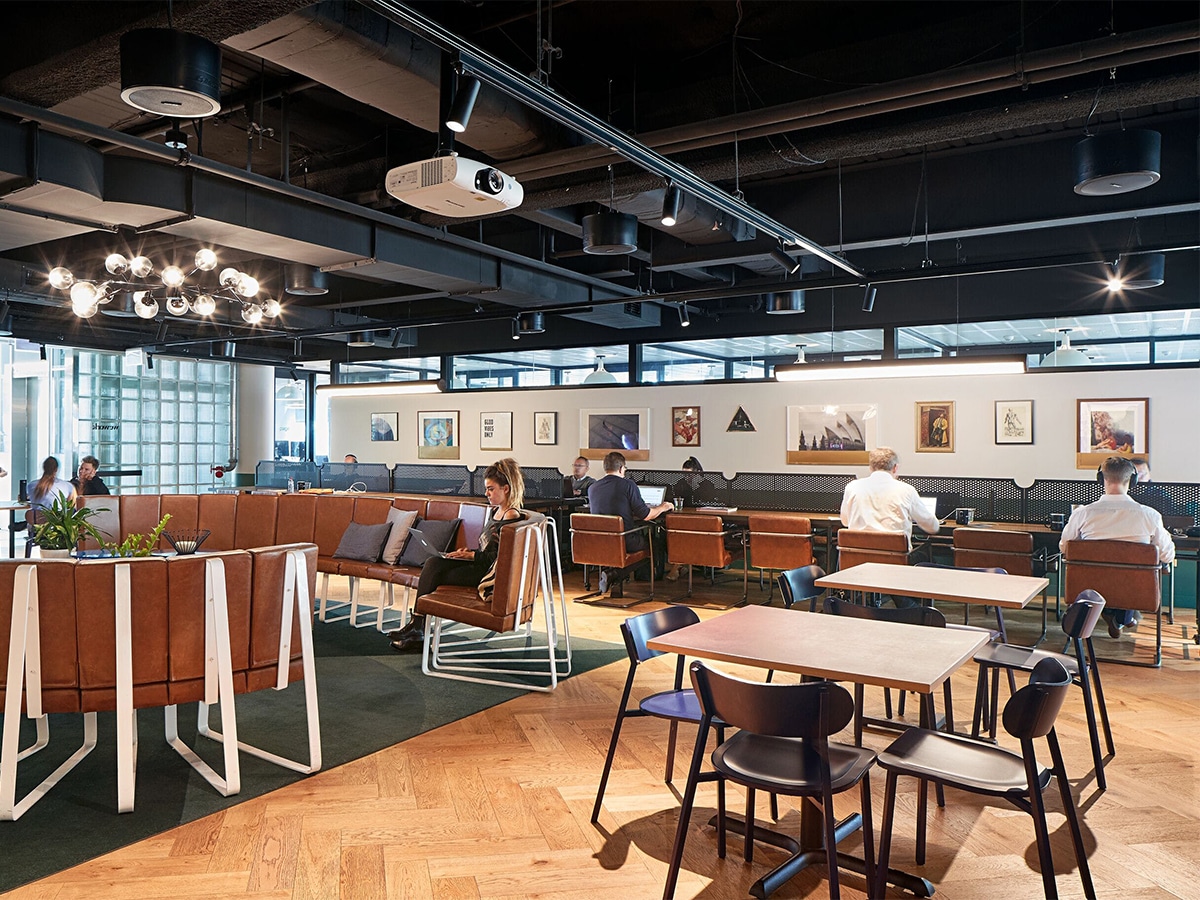 1. WeWork
With WeWork basing its operations on the sole goal of being a platform for creators, this Sydney Co-Working entity provides space and services. With offices from Amsterdam to Washington D.C. and everywhere in between WeWork members get access to 250+ perks and benefits from their partnership program including cut prices on productivity software Slack and web hosting service GoDaddy.
Pricing: Enquire
WeWork Sydney Locations:
5 Martin Place, Sydney
333 George St, Sydney
383 George St, Sydney
320 Pitt St, Sydney
161 Castlereagh St, Sydney
64 York St, Sydney
66 King St, Sydney
1 Sussex St, Barangaroo
50 Miller St, North Sydney
100 Harris St, Pyrmont
2. The Commons
A short walk from public transport, The Commons has locations across major Sydney CBD hubs. It's the perfect coworking space for growing startups, and a number of businesses in this location have multiple staff members and full-time employees. Outside of the office spaces, facilities include an outside basketball court, photography studio, podcast studio, maker space, library, arcade and ping pong, and plenty of private meeting rooms and booths for meetings.
The Commons Pricing:
Private office from $1,900/month
Dedicated desk from $750/month
Open desk from $480/month
Virtual office from $70/month
The Commons Locations:
Central
George Street
Surry Hills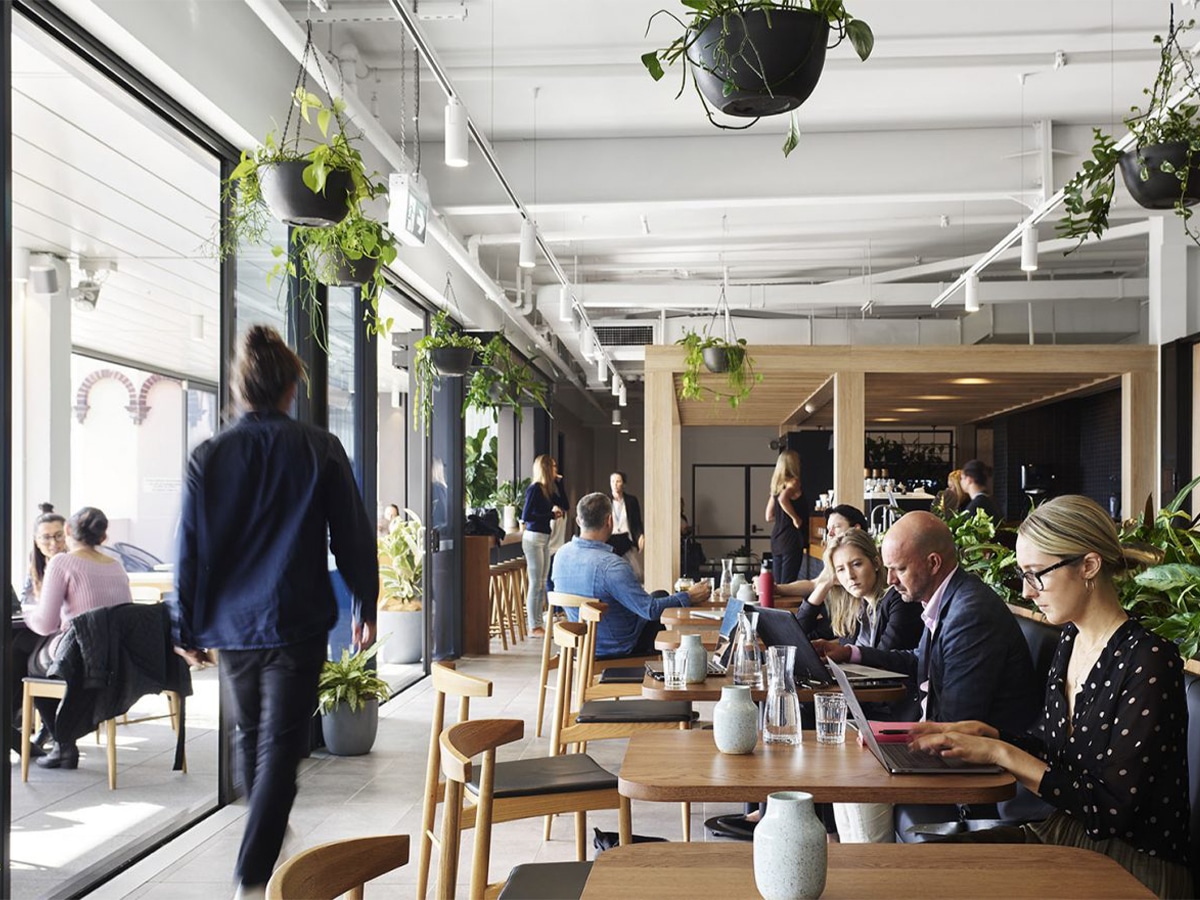 3. Hub Australia
Hub offers its members a number of impressive perks and benefits. Hub has no minimum term and no exit fees. All your equipment, utilities, cleaning and refreshments are included. Over the course of a year, Hub spaces are 30% cheaper than what you'd spend on equivalent leased space. A Hub membership also allows you access to fellow locations across Australia and the world.
Hub Australia Pricing:
Office or suite from $725/month
Dedicated desk from $750/month
Flexible 24/7 from $550/month
Flexible 8-day from $350/month
Virtual office from $100/month
Day passes from $50
Lounge passes from $50
Locations:
223 Liverpool Street, Darlinghurst
44 Martin Place, Sydney
10 Carrington St, Sydney
31 Alfred St, Sydney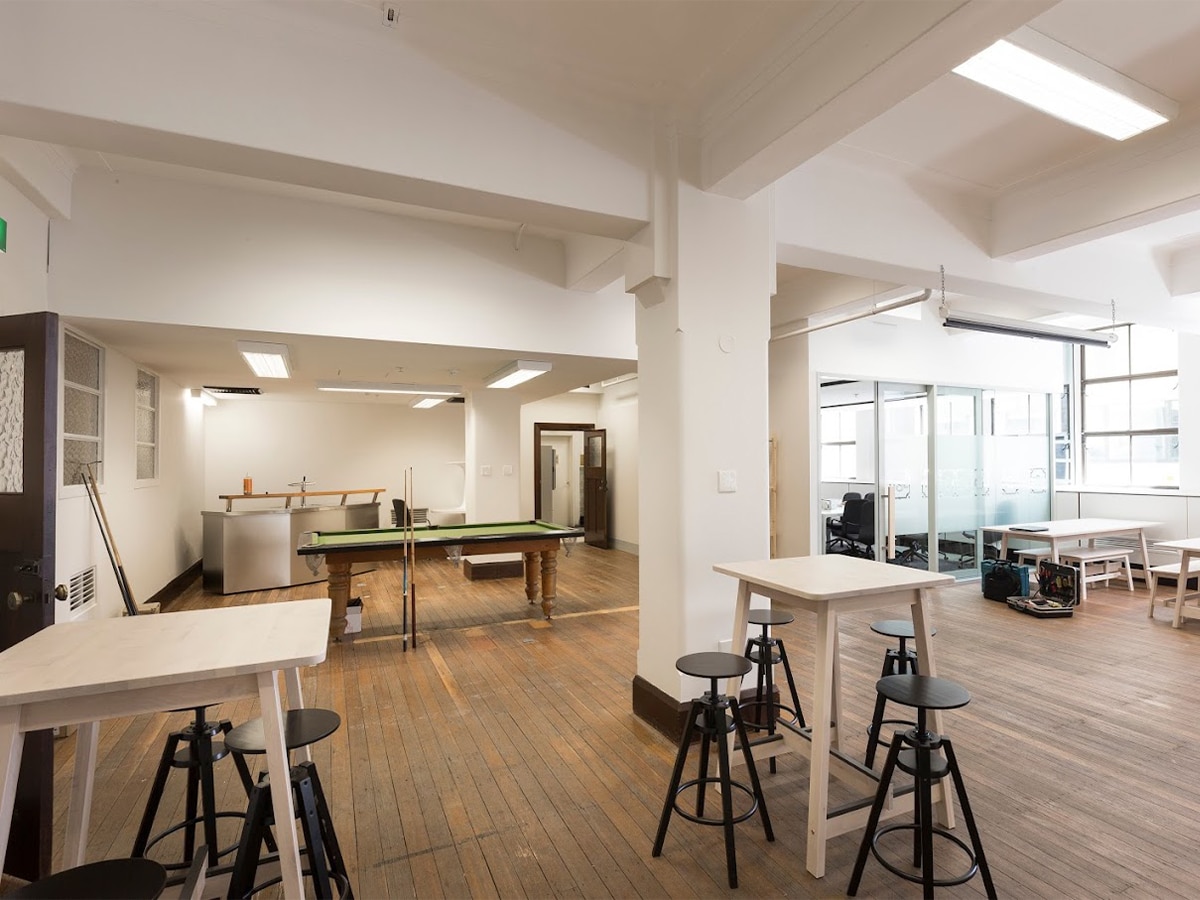 4. Tank Stream Labs
With three locations across major Sydney CBD working hubs, Tank Stream Labs has created a productive and desirable lineup of coworking offices in Sydney. In terms of accolades, they won the 2017 Fin Tech's best co-working space in Australia. If you're looking for a great new coworking office with plenty of room and a location near pubs, bars, and restaurants for team catchups, their new Barangaroo office is located on Level 17 of International Tower 3 and boasts meeting rooms, event venues, and breakout spaces.
Tank Stream Labs Pricing:
Dedicated membership from $500
Flexible membership from $299
Day rate from $75
Digital membership from $75
Tank Stream Labs Sydney Locations:
8 31/11 York St, Sydney NSW 2000
Level 5/24 Campbell St, Haymarket NSW 2000
International Tower 3, Level 17/300 Barangaroo Ave, Barangaroo NSW 2000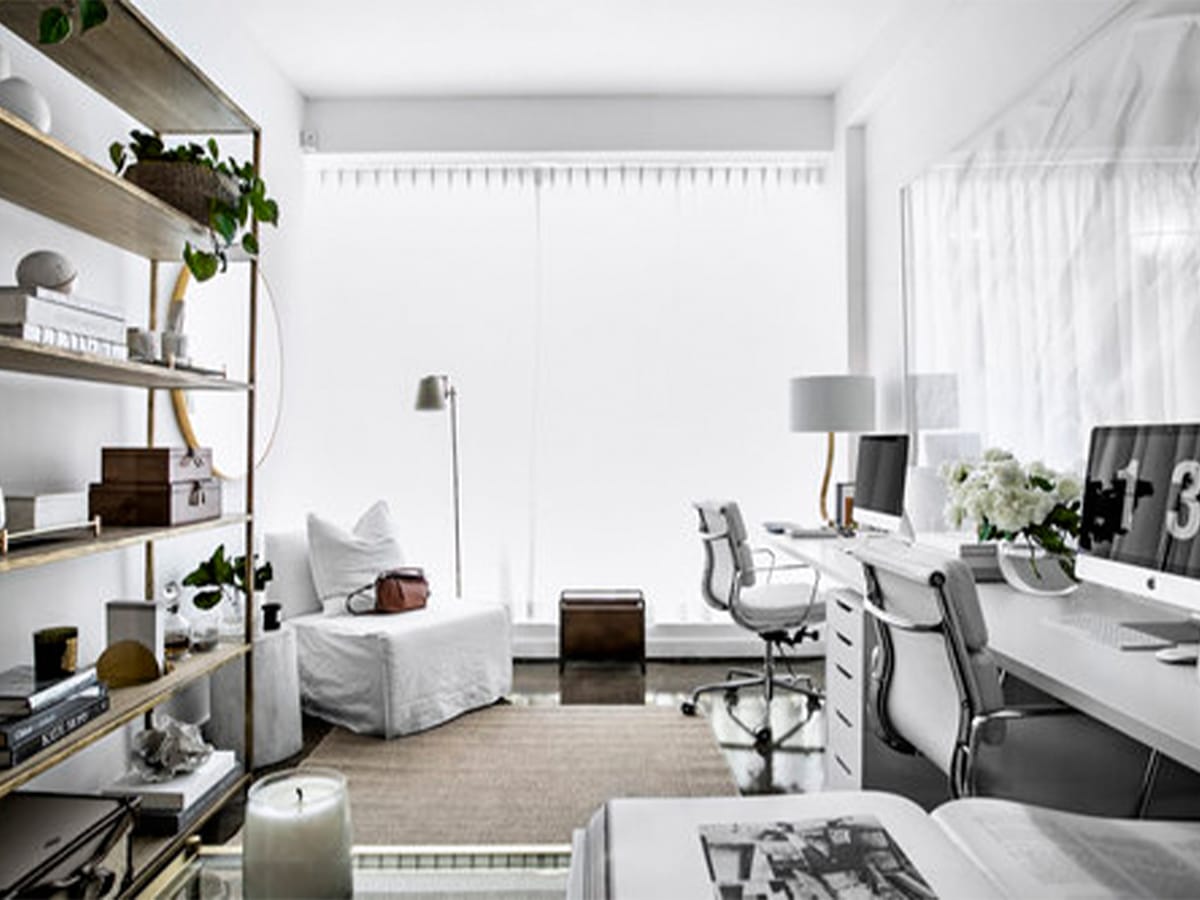 5. La Porte Space
Oozing with Parisian class and elegance La Porte Space continues the theme of luxury and style. La Porte offers a dedicated luxury retail space, café, 3 dedicated event spaces, photographic studios and 30 extravagant serviced offices and lavish co-working facilities.
Pricing: Enquire
Located in: Storage Plus
Address: 87/103 Epsom Rd, Rosebery NSW 2018
Hours: Mon-Fri 9am-5pm
Phone: (02) 8377 0600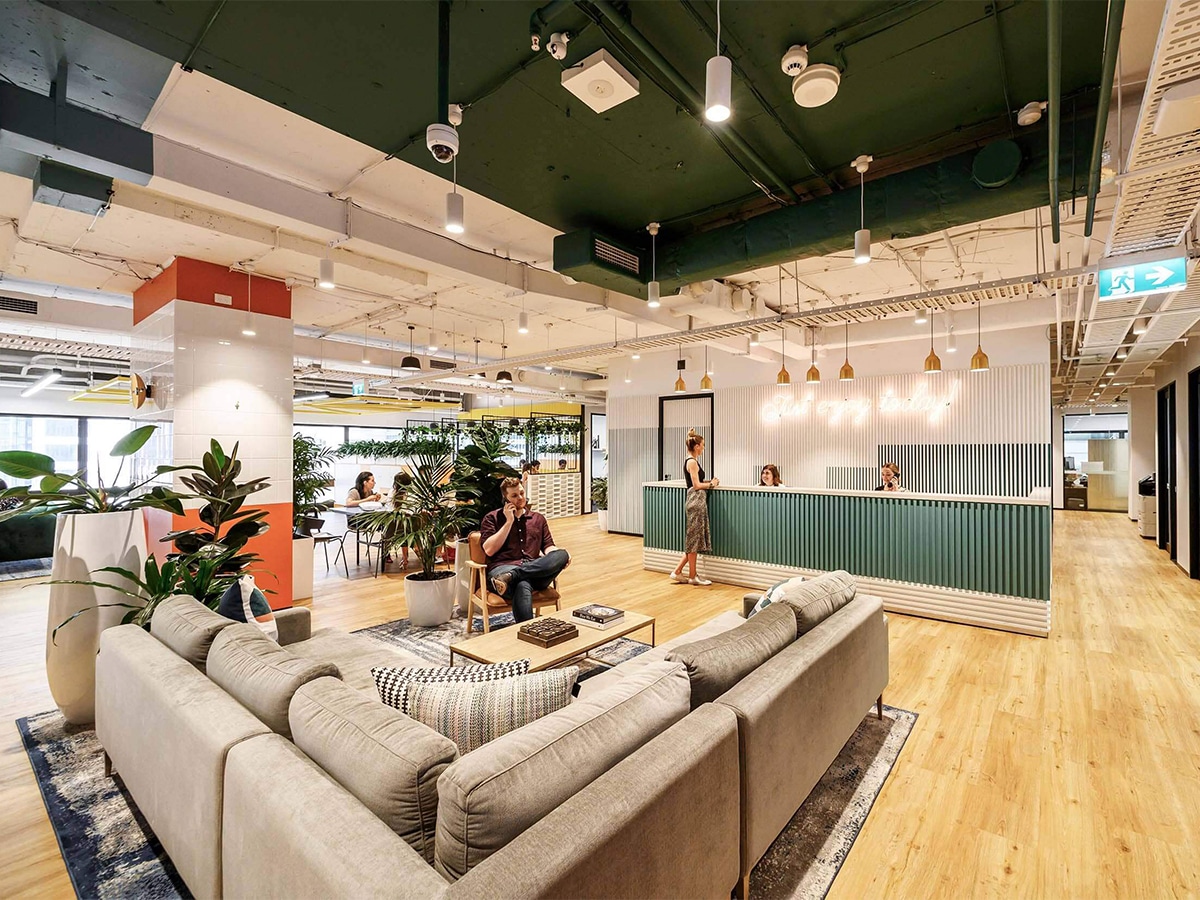 6. JustCo
If you're looking for coworking spaces in Sydney with some of the best architecture, space, and fit-outs we recommend checking out JustCo. These spaces are some of the best we've ever seen visually, with large open-plan hotdesk solutions, private offices, and large enterprise options for growing startups. Pricing is competitive compared to the more expensive options on our list, and the facilities are state-of-the-art, with a squash court and a lobby café in the flagship Pitt Street location.
JustCo Pricing:
Hotdesk from $325/month
Private office from $399/month
Enterprise office suite, enquire here
JustCo Locations:
175 Pitt St, Sydney
60 Margaret St, Sydney
135 King St, Sydney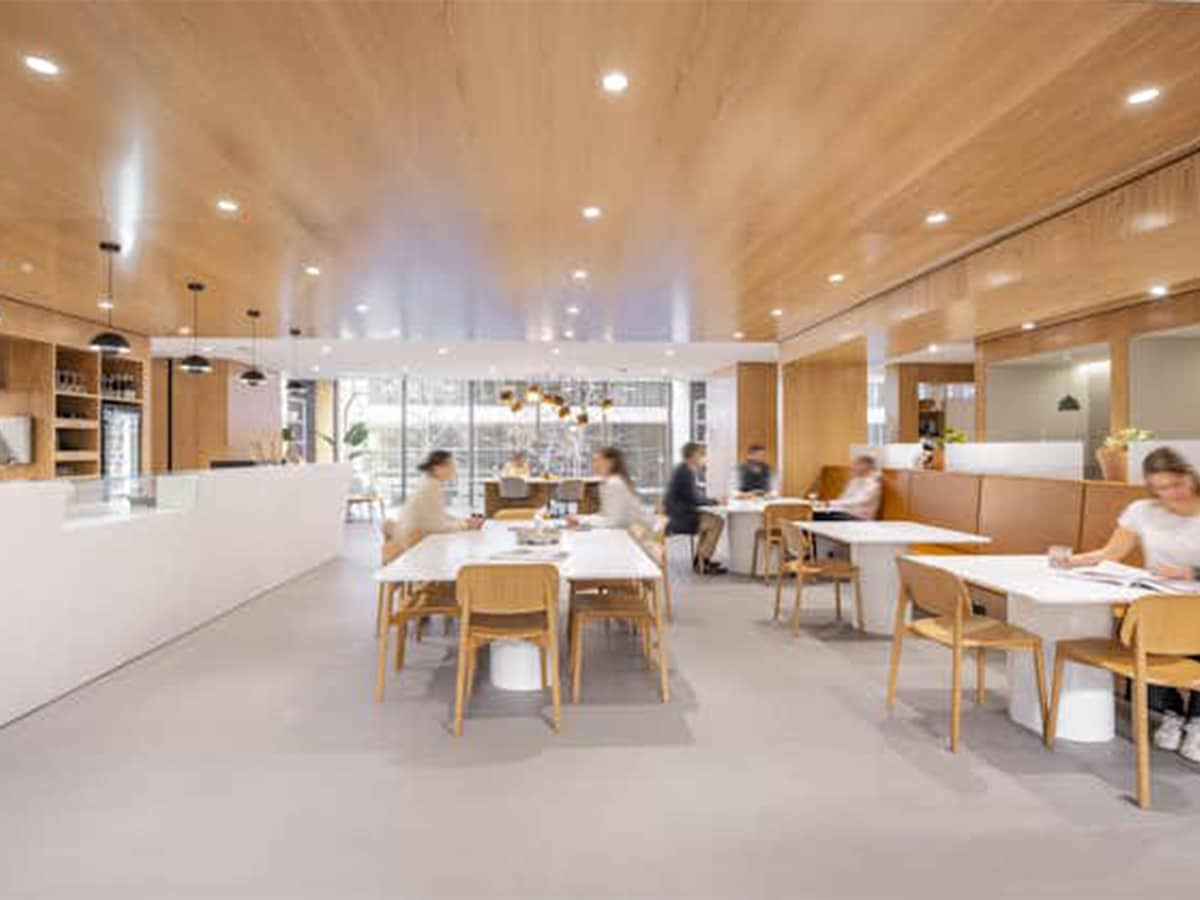 7. Spaces
Originating in Amsterdam, Spaces was built on the idea that success breeds more success. Wanting to redefine the way work is done Spaces cultivated a community of thinkers, achievers and imaginers. The Surry Hills location boasts over 200 Co-working desks and 3 meeting rooms.
Spaces Pricing:
Office space from $389/month
Coworking from $405/month
Virtual office from $145/month
Spaces Locations:
Denison
Martin Place
Paramatta Square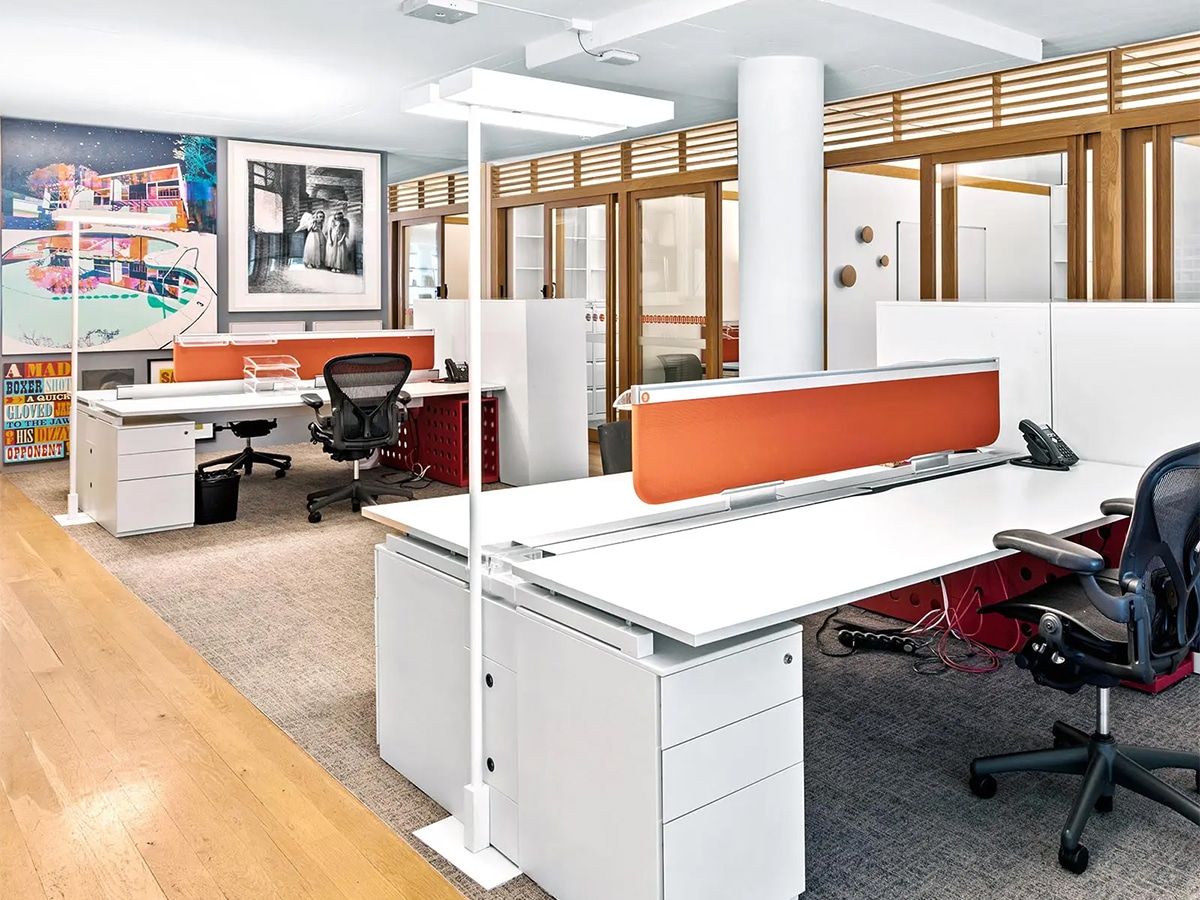 8. The Office Space
The Office Space represents an evolution in shared workplace design where an iconic building, leading architectural input, and a luxury fit-out achieve a highly intuitive working environment. Additionally, the interior encapsulates the design of New York Offices from the 1950s, ensuring that class and elegance are not sacrificed.
Price: Enquire
Address: 6/69 Reservoir Street, Surry Hills NSW 2010
Hours: 8:30am-5:30pm
Phone: (02) 8218 2100
Address: 55 Brisbane Street, Surry Hills NSW 2010
Hours: 8:30am-5:30pm
Phone: (02) 8218 2180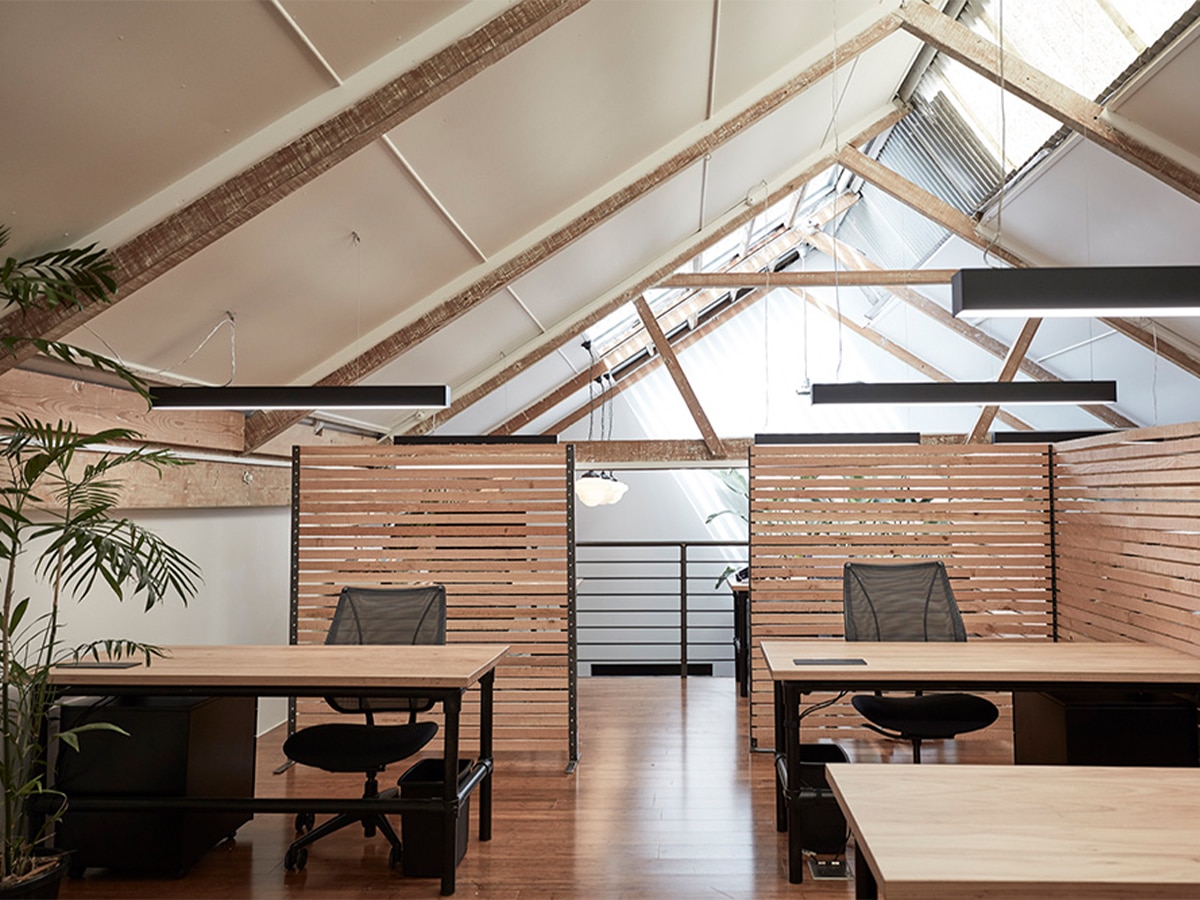 9. SUNSTUDIOS Sydney
Sun Studios Sydney is a busy creative hub for professional photography, television and video production image makers, in a beautiful renovated 1930s woolshed in Alexandria. A dedicated space built for creatives, with the option of daily flexi membership access or longer-term resident memberships.
Pricing: Enquire
Address: 42 Maddox St, Alexandria NSW 2015
Hours: Mon-Tues & Thur 7am-7pm, Wed-Fri 7am-5:30pm, Sat 8am-5pm
Phone: (02) 9641 5555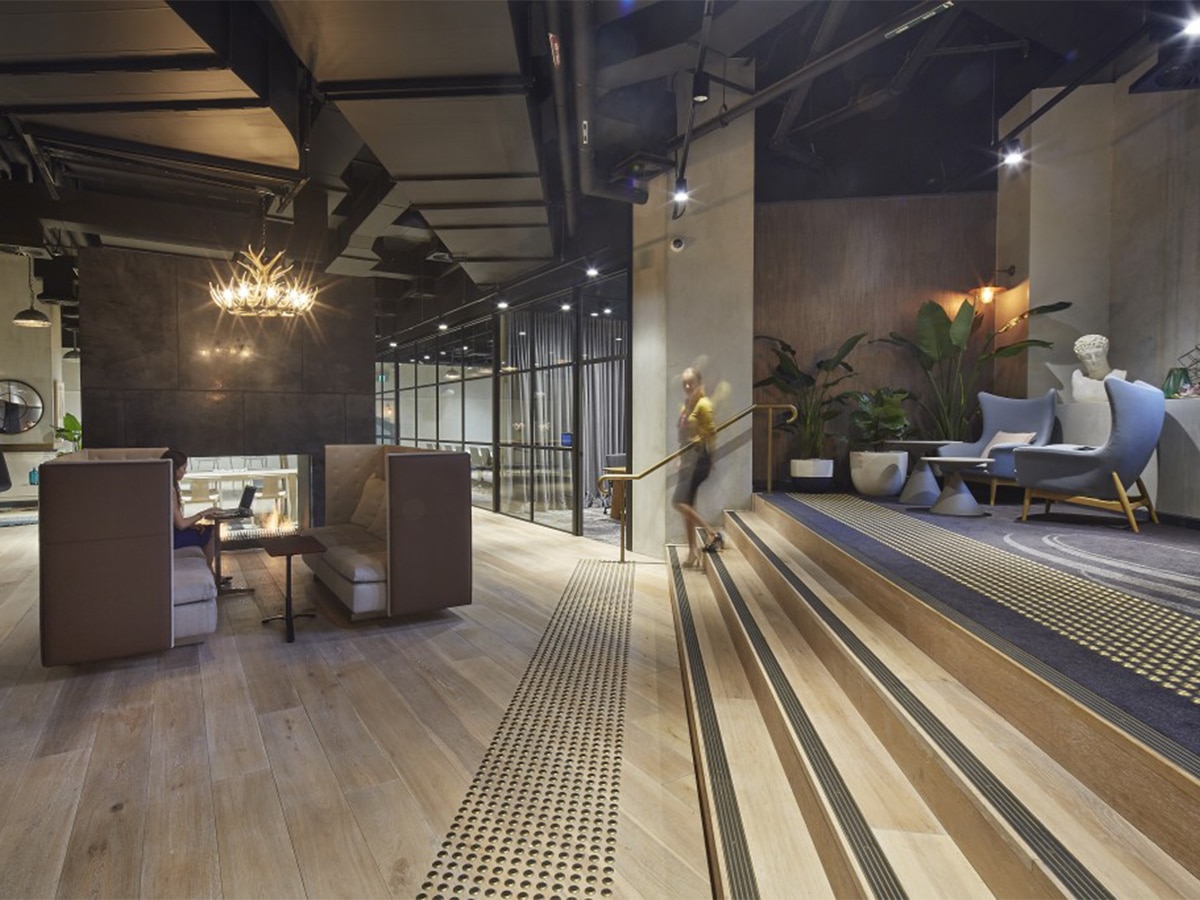 10. The Porter
Housed within the landmark 1 O'Connell building in the heart of the Sydney CBD, the vision of The Porter was to create an organic space that reinvents itself based on how its members and the community engage with the space over time. The Porter is a fully hosted and managed business lounge designed to facilitate quality meetings, collaboration and workshops.
Pricing: Enquire
Address: 1 O'Connell Street, Sydney NSW 2000
Hours: Mon-Fri 8:30 am-5 pm
Phone: (02) 8075 0930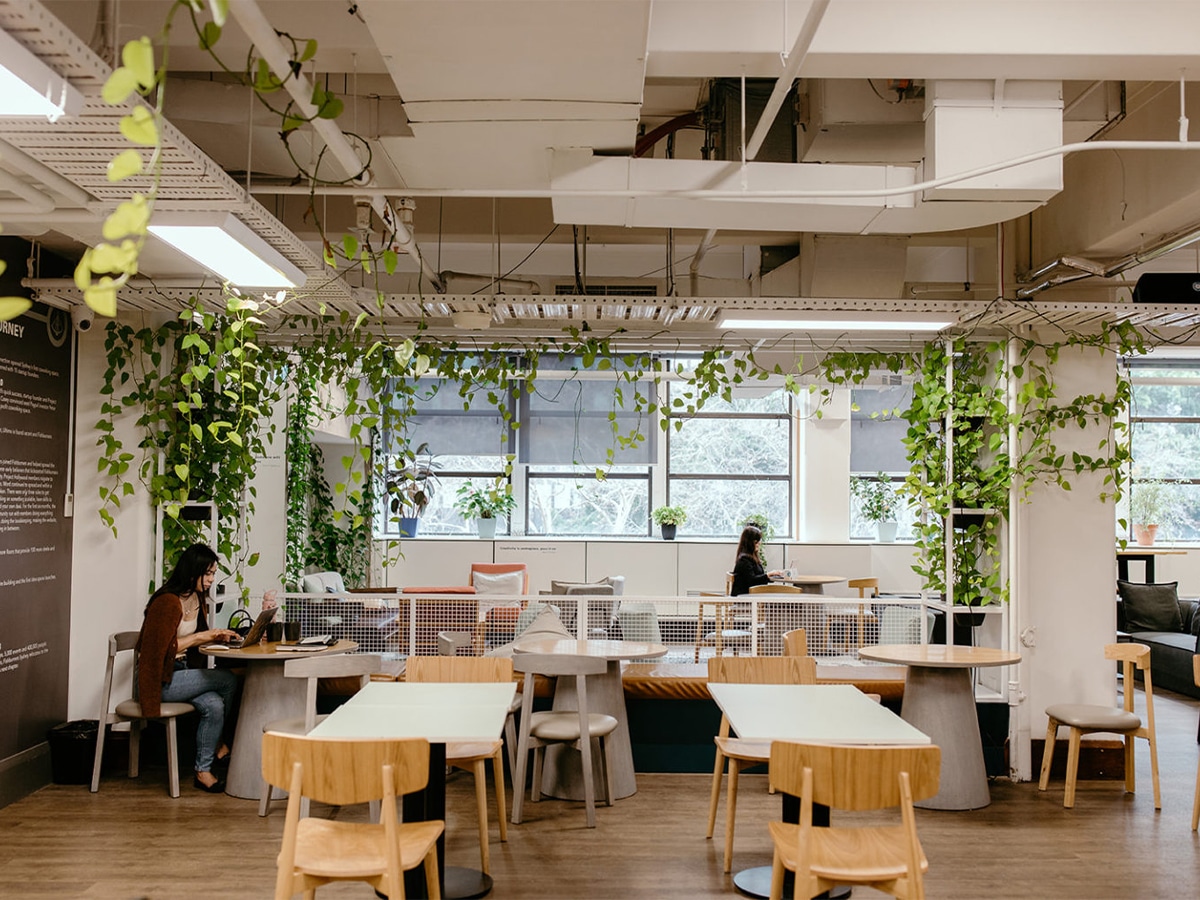 11. Fishburners
This Sydney mainstay has been marketed to start-ups looking to strike it rich within the technology industry. With an impressive Rolodex of successful start-ups, Fishburners is a not-for-profit organisation that provides members with an impressive list of multi-city group partners as well as state-of-the-art facilities and a vibrant community of fellow co-workers.
Fishburner's Pricing:
Day passes from $40
Flexible from $380/month
Community from $495/month
Dedicated from $700/month
Address: level 2/11 York St, Sydney NSW 2000
Hours: Mon-Fri 8:30am-5pm
Phone: 1800 959 351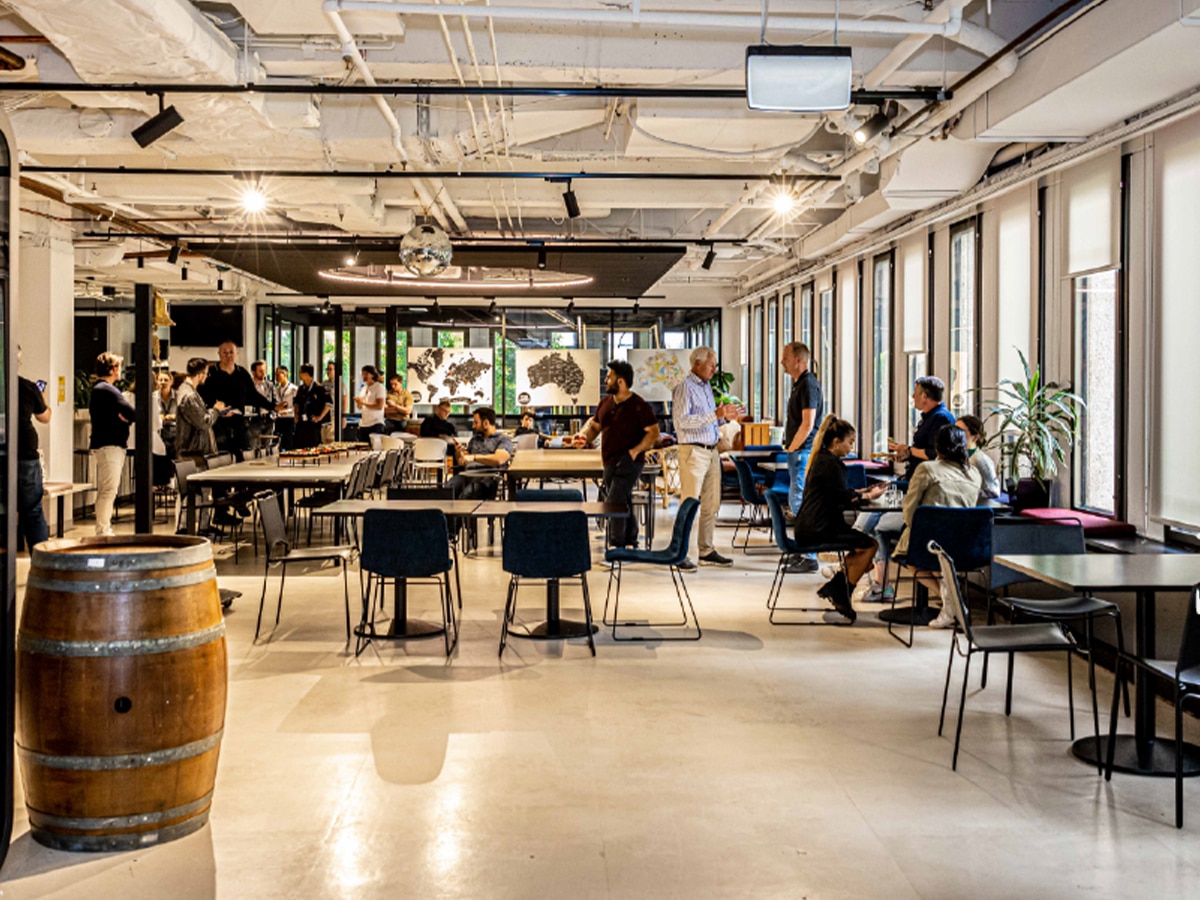 12. Stone & Chalk
With some impressive partners such as American Express, Optus and Westpac, and Located smack bang in the middle of the Sydney CBD, Stone & Chalk is one of the fastest-growing fintech hubs in Sydney. If you're a small business looking to get a kickstart in the industry, this coworking space is designed for you.
Stone & Chalk Pricing:
Resident membership flexible from $645/month
Resident membership from $760/month
Secure offices are available, enquire here
Address: Level 4/11 York St, Sydney NSW 2000
Hours: Mon-Fri 9am-5pm
Coworking in Sydney FAQs
Who uses coworking spaces?
Coworking spaces are typically used by freelance or remote workers, small businesses, and nonprofits.
What are the benefits of coworking?
Coworking spaces provide networking and collaboration opportunities while also being very cost-efficient.
You'll also like: