16 Best Wine Bars in Sydney
Narrowing down the best wine bars in Sydney CBD is no easy feat. From the trendy wine bar in Sydney's Surry Hills to the atmospheric wine bar in North Sydney, this city has them all. These 16 wine bars are where curated wine lists, fresh produce and sophisticated design coalesce. Most importantly, they all offer the smoothest, most tantalising wines from Australia and around the world.
Sydney plays host to those mysterious underground cellars perfect for the alluring first date. Yet you'll also find the the chicer warehouses ideal for rowdier group events. Scour through the 16 best wine bars in Sydney CBD to find the one for your next event or knock-off vino.
---
You'll also like:
10 Best Whisky Bars in Sydney
20 Best Hidden Bars in Sydney
Best Gin Bars in Sydney
---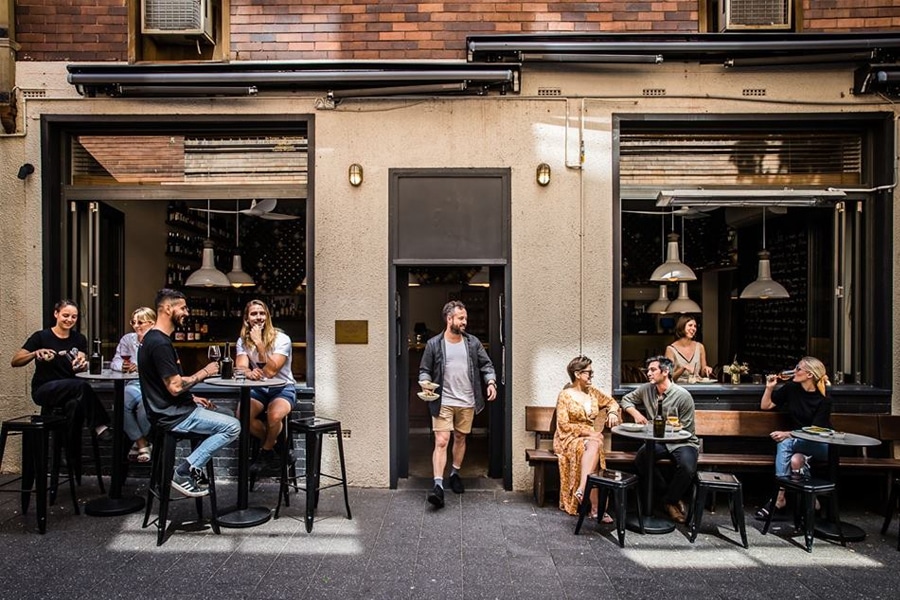 Dear Sainte Eloise
This quaint wine restaurant in Sydney is named after George Orwell's reference in Down and Out in Paris in London to Saint Eloise, wherein he prays for enough francs to buy bread and a bottle of wine. Dear Sainte Eloise certainly delivers these goods, and the very best kind at that. The wine list boasts over 400 varieties, but the intuitive, descriptive layout makes this much easier to navigate than it may sound. The food offerings change every few days based on the seasons and available produce. With only 40 seats, this is an ideal wine bar for a date or small group for a lush post-work wine. 
5/29 Orwell Street, Potts Point NSW 2011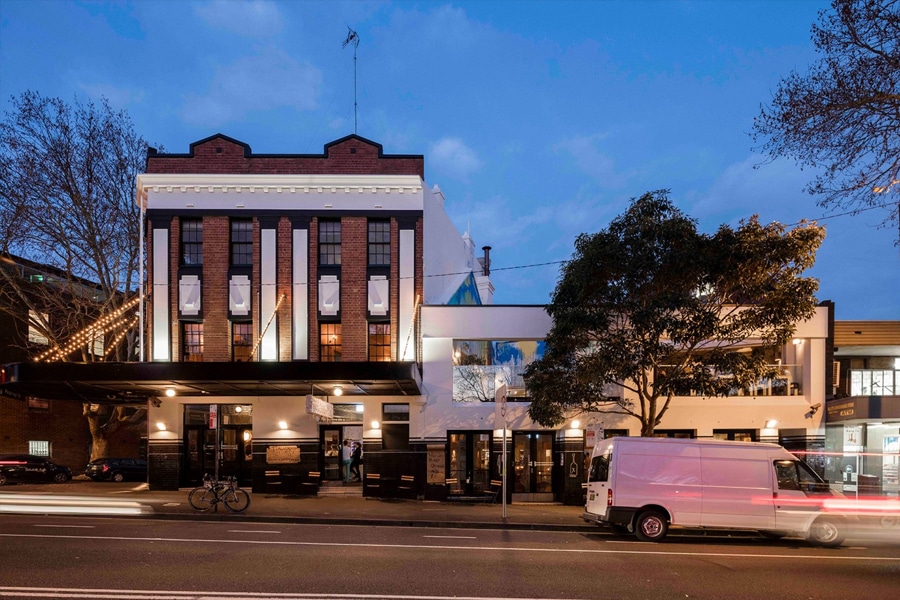 The Dolphin Hotel Wine Room
You may be well acquainted with the Dolphin's downstairs bistro and courtyard. But if you haven't visited The Dolphine Hotel Wine Room you are seriously missing out. This wine bar in Surry Hills Sydney has an extensive list that distinguishes the reds that are bright, light and electric from the velvety, suave and alluring. In other words, they have wines to suit every palate and every occasion. They also have a delectable array of cured meats and cheeses to pair with their wines.
412 Crown Street, Surry Hills NSW 2010
GPO Cheese and Wine Room 
Affectionately known as Sydney's 'Temple of Cheese', GPO Cheese and Wine Room has been Sydney's best cheese and wine restaurant for 20 years. Indulge in over 100 seasonal cheeses, and whet the palate with 250 international and Australian wines. Whether you visit for a 30 person exclusive tasting or a sumptuous date with personalised butler and experience, the GPO Grand is guaranteed not to disappoint.
1, Lower Ground Floor, Sydney GPO Building, Martin Place NSW 2000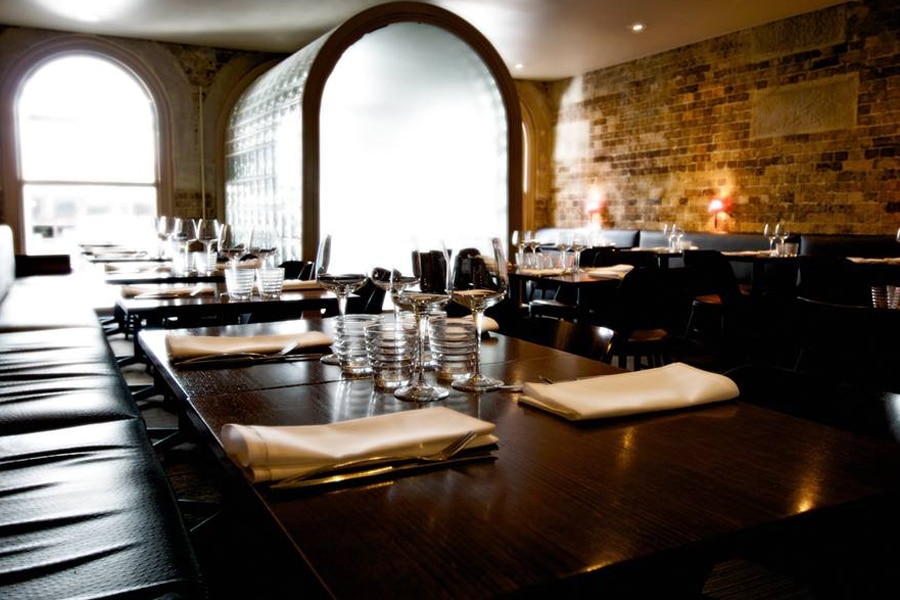 De Vine Food and Wine Restaurant
De Vine Food and Wine Restaurant offers an Italian-inspired culinary experience complemented with an evolving list of 400 Euro-centric wines. With its refined menu, De Vine is easily one of the most memorable and best wine bars in Sydney CBD. Come for the wine, stay for the food and remember for the experience.
 32 Market Street, Sydney NSW 2000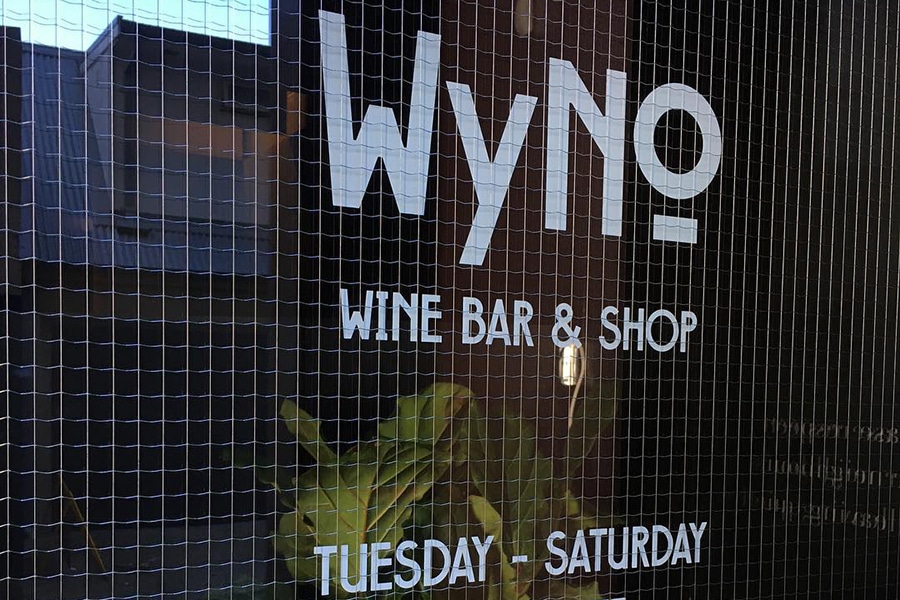 WyNo 
The Porteno group is well known for their acute senses in sniffing out the the most innovative dishes and lapping up the most intoxicating wines. Not to mention their ability to establish wine bars with more ambience than electronic music. WyNo, a wine bar in Sydney Surry Hills, is the perfect continuance of the rule. They have seamlessly executed an alley of dim lighting filled with an evolving food menu and interesting array of international and small, local wines. 
50 Holt Street, Surry Hills NSW 2010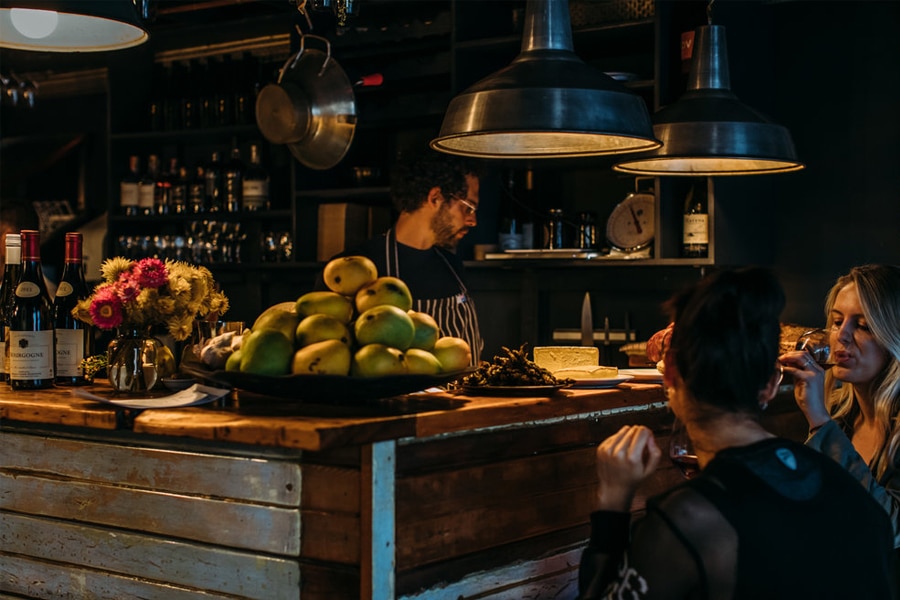 Love, Tilly Devine 
Love, Tilly Devine prides itself on being a wine bar in Surry Hills Sydney full of character. It's a place where you savour the wine, take in the aromas and share the experience with an old friend or a future lover. They have a list of around 300 different wines from around the world. Each of these wines pays homage to the soil in which the grapes were grown and the fruity or herby flavours they exude – not the alcohol content. A nod to former East Sydney brothel owner and badass boss woman, Tilly Devine, we think it's an establishment she'd be honoured to have inspired.
91 Crown Street, Darlinghurst NSW 2010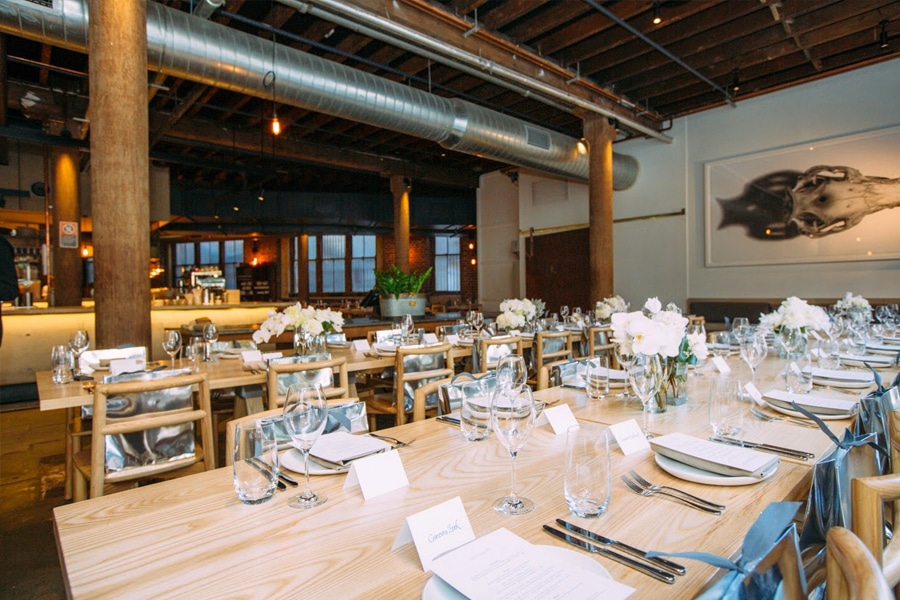 Nomad
Don't click on the website link to Nomad if you're on an empty stomach. The team of chefs here includes a full time baker preparing fresh bread daily, a charcuterie expert and in-house cheesemakers. Of course there is also a team of sommeliers that bring the cellar door atmosphere from around the country to a wine bar in Surry Hills Sydney. The wine list boasts a distance of 4000km from around the country. They allow you to hear stories from the winemakers as you taste the tannins, all from within a turn of the century warehouse seating up to 150 guests. 
16 Foster Street, Surry Hills NSW 2010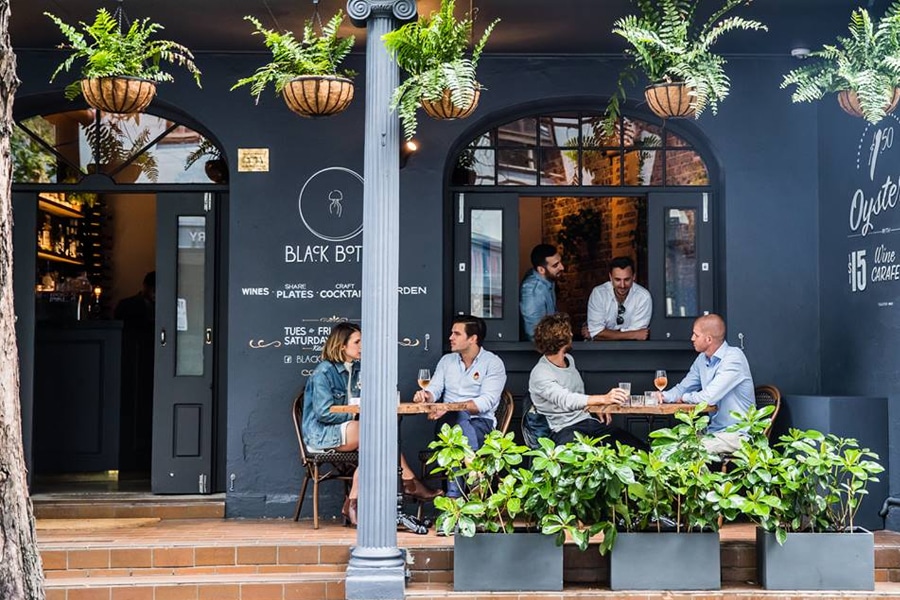 Black Bottle
Darlinghurst's neighbourhood wine bar, Black Bottle serves Mediterranean share plates, oysters, craft cocktails and of course a huge range of top-notch wine. Be sure to visit on a Thursday for their $2 glasses of wine from 5-7pm, or any other time on Tuesday-Sunday. You'll be met with great service, plenty of greenery and mood lighting and affordable drops from around the globe at one of the best wine bars in Sydney CBD.
Shop 2, 116-118 Darlinghurst Road, Darlinghurst NSW 2010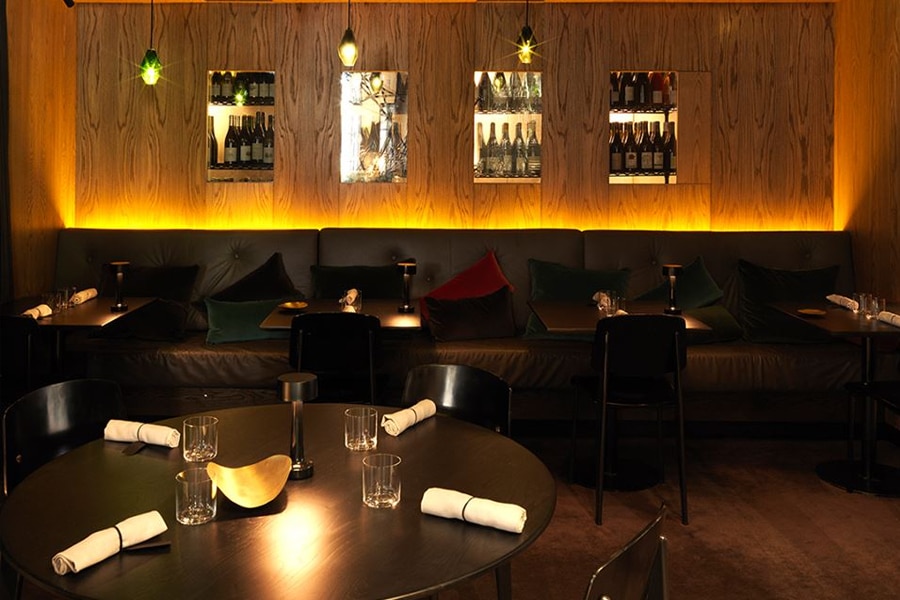 Bentley Restaurant & Bar
Have you ever yearned for an evening of a luscious glass of red by the fire, accompanied by a handpicked, gourmet selection of meats, cheeses and sides, your favourite company and tailored service? It was a trick question, of course you have. Now imagine it with the very top produce selected by Sydney's top chefs and sommeliers in an industrial chic setting and you still probably won't have reached the decadence of Bentley Restaurant and Bar. Visit this wine restaurant in Sydney to bring your imagination (and more) to life.
27 O'Connell Street, Sydney NSW 2000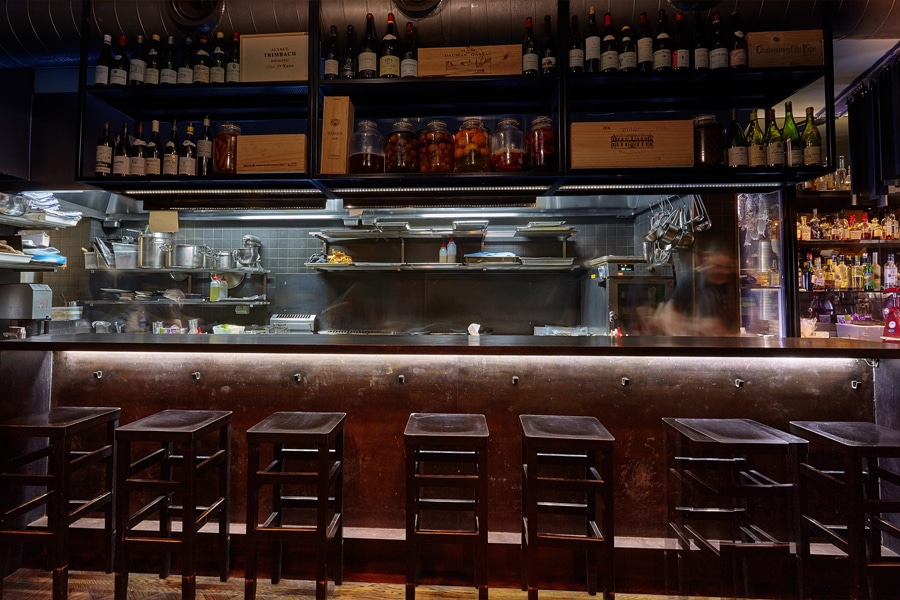 Monopole
Monopole has a wine list of over 500 rare and boutique wines. Coming here is the equivalent of traipsing around the unique wine regions of Europe to sample and compare the particular flavours of each climate and soil; just without the exorbitant long-haul flights costs. This renowned wine bar in Surry Hills Sydney, was awarded 'Wine list of the Year' by SMH Good Food Guide in 2017 and awarded two hats in 2018 and 2019. Complement the sophisticated beverages with an equally impressive list of artisan cheeses and welcoming, suave design.
71A Macleay Street, Potts Point NSW 2011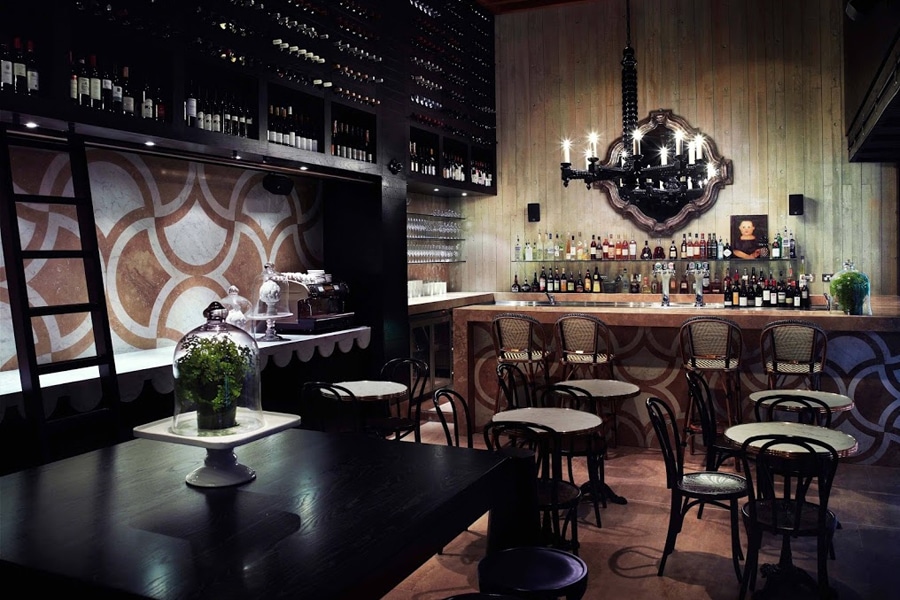 Ash St. Cellar
Combining the hospitality acumen of Merivale, European-inspired tapas and a masterfully curated wine list, Ash St. Cellar is easily one of the best wine bars in Sydney CBD. Merivale's award-winning sommelier, Franck Moreau, personally curated the wine menu, which features everything from Malagoussia from Greece to a Syrah from the Northern Rhone Valley in France. While most of the elements hail from Spain, Italy and France, a lot of Australian specialties also make the cut. The wine varies in price to make this the ideal spot for any budget or occasion.
1 Ash Street, Sydney NSW 2000
Johnny Fishbone
Everything done at this beloved neighbourhood jaunt is done with the utmost passion. From selecting their interesting, gourmet grape juices from around the world to their locally sourced produce. Johnny Fishbone sprang up in 2017 and is a welcome addition to Darlinghurst's inspiring resume of wine restaurants in Sydney. Innovative places such as this help Darlinghurst retain its position as one of Sydney's top watering holes. The evolving wine list is one to take note of, as is the exceptional service and mouth-watering seasonal bites. The only thing left to you is the company you bring.
185 Darlinghurst Road, Darlinghurst NSW 2010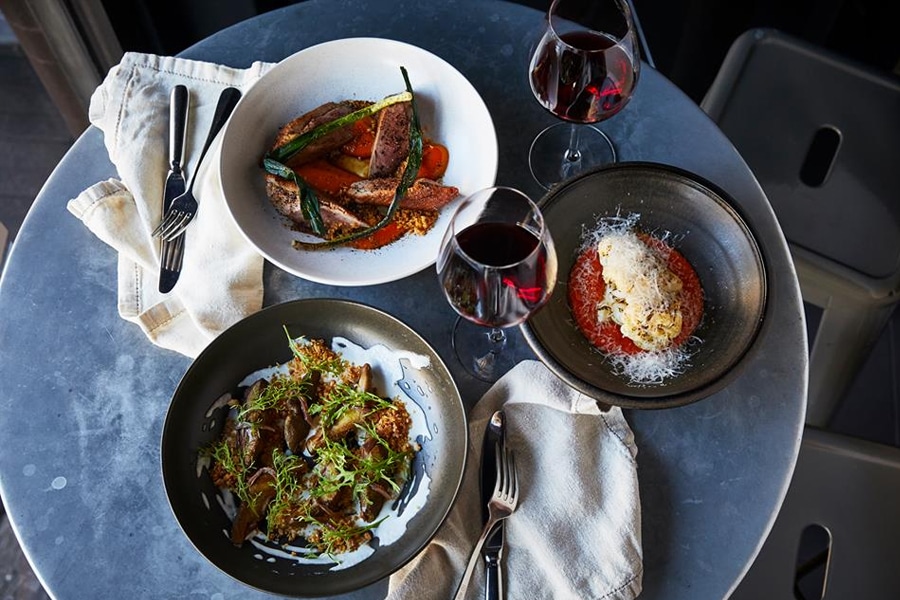 The Wine Library
As its name denotes, Wine Library is the place you go to when you want to learn, experience and experiment – about wine of course. The intricate process of viticulture is not only heralded as an important science at vineyards far out of the city. This wine den appreciates the beauty of a perfectly executed drop and they love sharing their knowledge and passion with everyone who steps inside their doors. Visit one of the best wine bars in Sydney CBD nestled at the top of Oxford Street to experience the handpicked wine and some delectable share plates.
18 Oxford Street, Woollahra NSW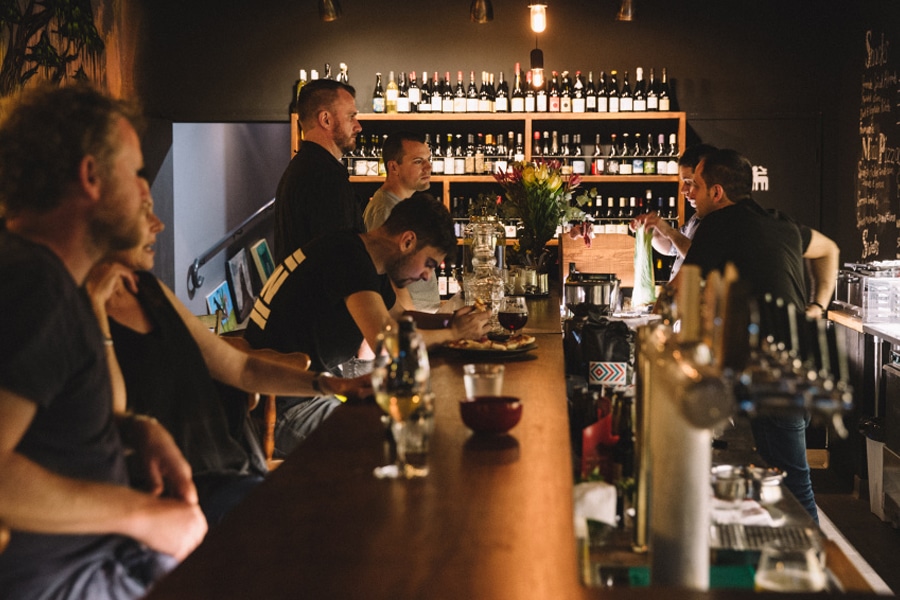 Where's Nick
A less pretentious and naturally funky wine restaurant in Sydney is Marrickville's Where's Nick. The wine list features the best drops from Adelaide, New Zealand, France and Chile (and many place in between) ranging in flavours from spicy orange to fresh cherries. Founder Julian Abouzeid worked as the wine buyer for Oak Barrel for five years before joining forces with his brother Dominic to open this incredibly popular wine bar. Where is third brother Nick in all of this? Take a visit and maybe you'll find out.
236 Marrickville Road, Marrickville 2204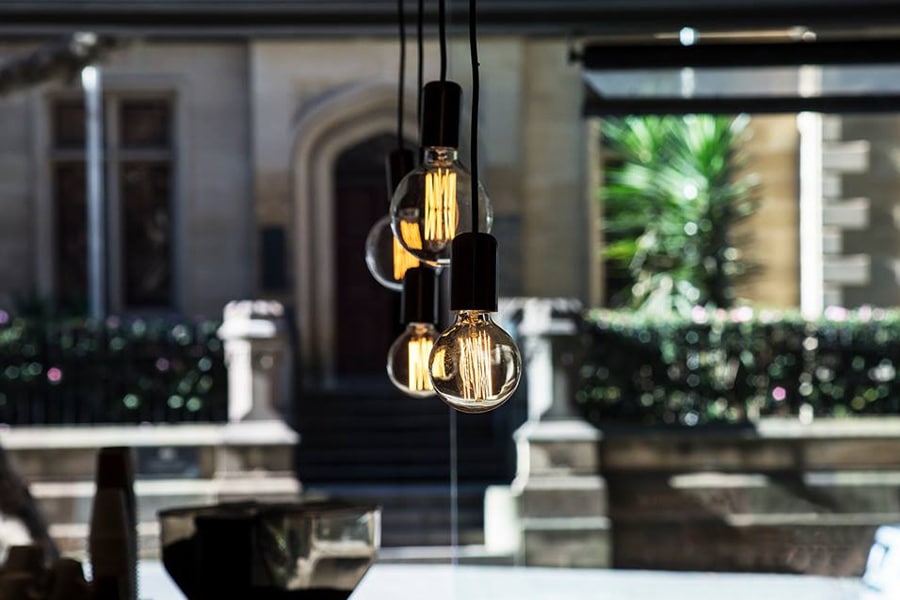 Fix Wine Bar & Restaurant 
The perfect antidote to a long week is a wine and snack at Fix Wine Bar & Restaurant, where there's no such thing as a bad choice. As one of the best wine bars in Sydney CBD, Fix offers over 250 bottles of small handcrafted, often unusual and usually natural wines from around the world. Their award-winning sommelier, Stuart Knox, will take you on a journey through viticultural heaven each time you visit this fine Sydney establishment.
111 Elizabeth Street, Sydney NSW 2000
10 William St 
With a wine list that changes month to month, you can be sure that at 10 William St you'll be drinking the very best drops of the season. From Japanese digestivos to sparkling reds from the Loire Valley, 10 William St will introduce you to your new favourite drink you never knew you loved. They feature the top vino from all corners of the world, and bring it to your corner in one of the best wine bars in Sydney CBD.
10 William Street, Paddington NSW 2021
---
You'll also like:
10 Best Whisky Bars in Sydney
20 Best Hidden Bars in Sydney
Best Gin Bars in Sydney
---
Have you subscribed to Man of Many? You can also follow us on Facebook, Twitter, and Instagram.