10 Best Hobart Pubs For Food and Drinks
Ahhh, unassuming, beautiful Hobart. If someone were to ask you where to find Australia's best pubs, chances are you'd be quick to say Sydney or Melbourne, right? Well, what if we turned that on its head and said Tasmania's nightlife and, more specifically, the pubs in Hobart are actually where it's at? From cosy spots with hearty meals, to trendy venues serving unique cocktails and innovative dishes, we've scoured the city to bring you our top picks for the ultimate gastropub experience. So grab a pint and let's uncover the best Hobart pubs for you to drink your way across on your next day out in Tassie.
Best Hobart Pubs at a Glance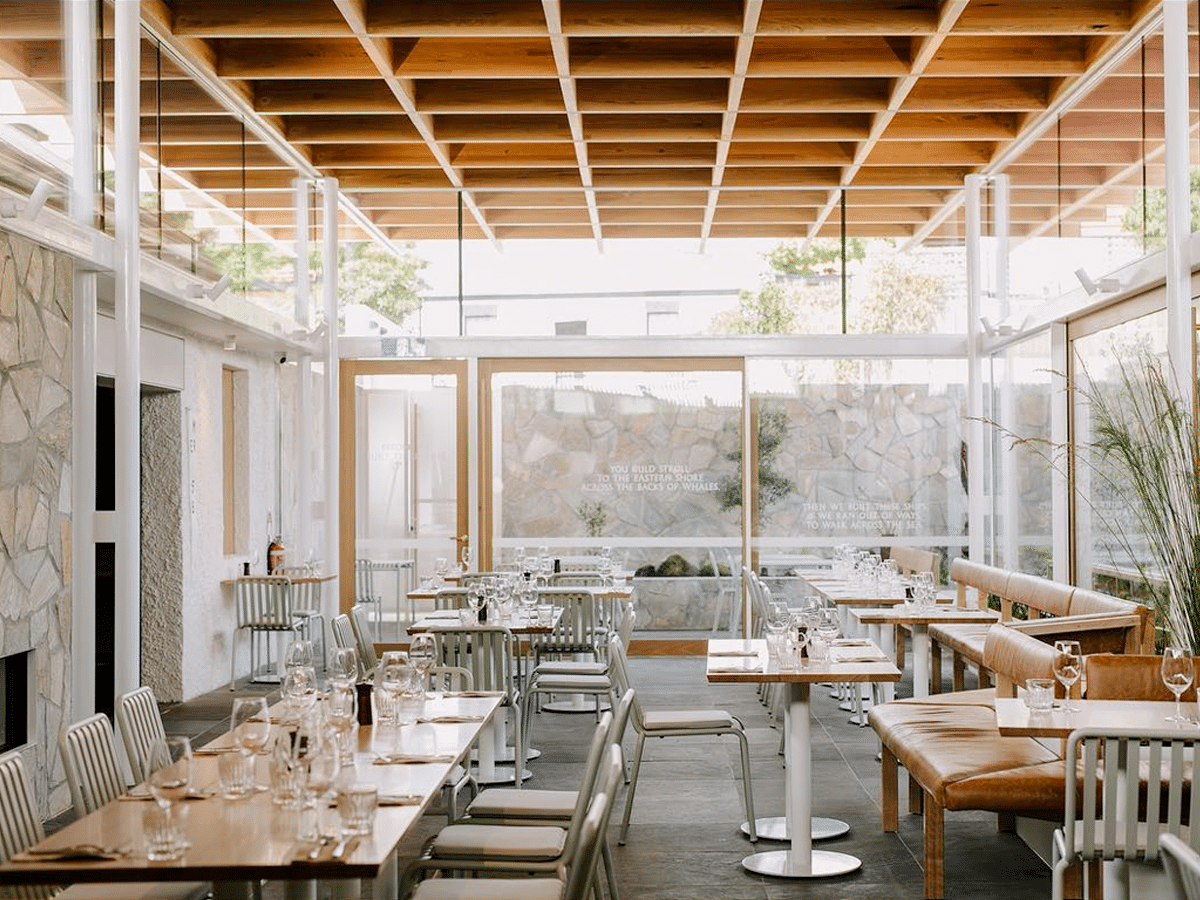 1. Shipwrights Arms Hotel
Looking for a friendly spot to unwind after a long day exploring Hobart? Look no further than the Shipwrights Arms Hotel (AKA Shippies). Shippies has been a beloved community icon for over 177 years, and for good reason. Just a short walk from Salamanca and the city centre, this Hobart pub is a legendary institution, serving up a great range of local beers, wine, ciders, and spirits. Don't forget to try Shippies Signature Chowder with local seafood, bacon and citrus pangrattato.
Address: 29 Trumpeter St, Battery Point TAS 7004
Phone: (03) 6223 1846
Hours: Mon-Sun 12pm-11pm
Visit Shipwrights Arms Hotel Menu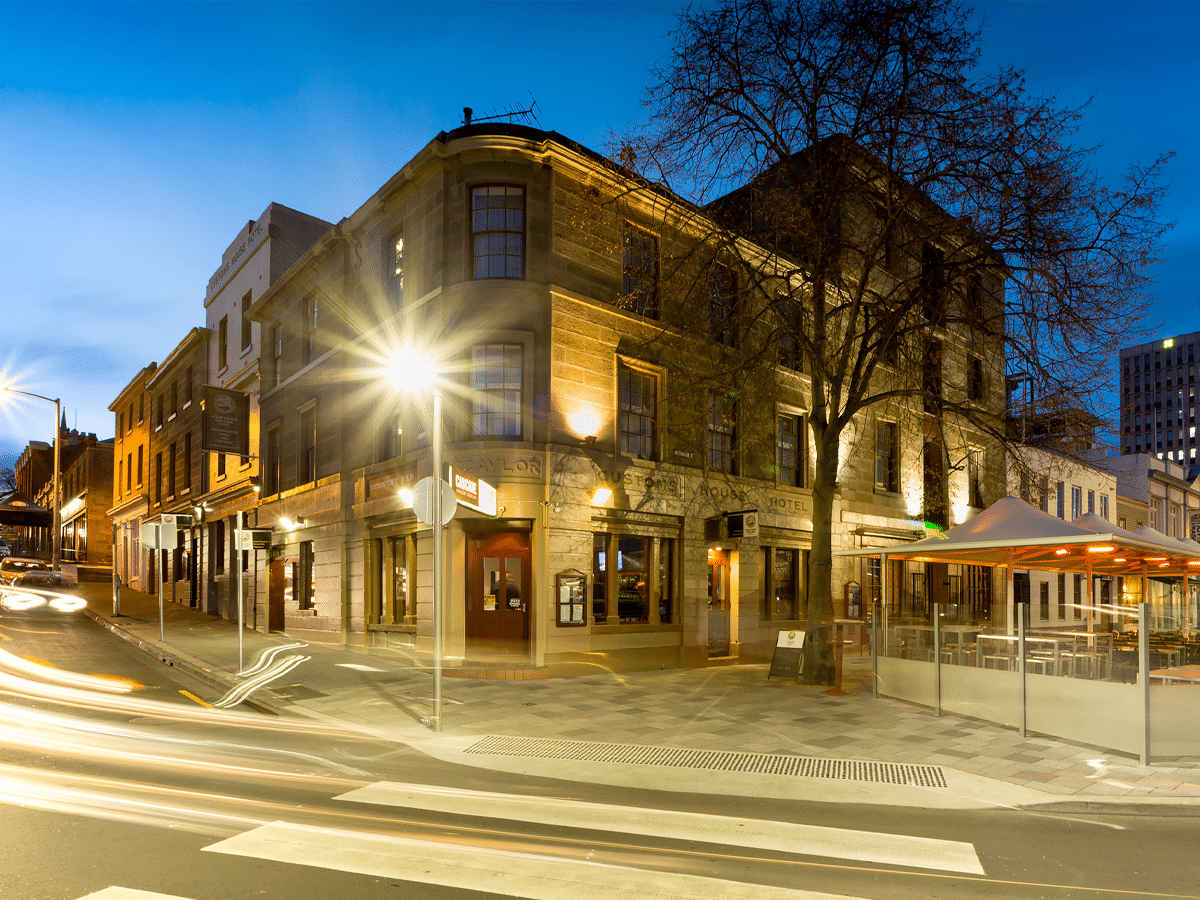 2. Customs House Hotel Restaurant
For the best waterfront Hobart pub, check out the Customs House Hotel Restaurant. Located in the heart of Hobart's Maritime precinct, this beloved pub is just a few steps from the docks, Salamanca and Battery Point. Picture this: sunshine on sandstone, salty sea breezes and the sound of sails flapping in the wind – pure bliss right? There are classics like lamb shank pot pie and pork sirloin on the menu, or if you're feeling game maybe some wallaby schnitty?
Address: 1 Murray St, Hobart TAS 7000
Phone: (03) 6234 6645
Hours: Fri-Sat 7am-9.30pm, Sun-Thurs 7am-9pm
Visit Customs House Hotel Menu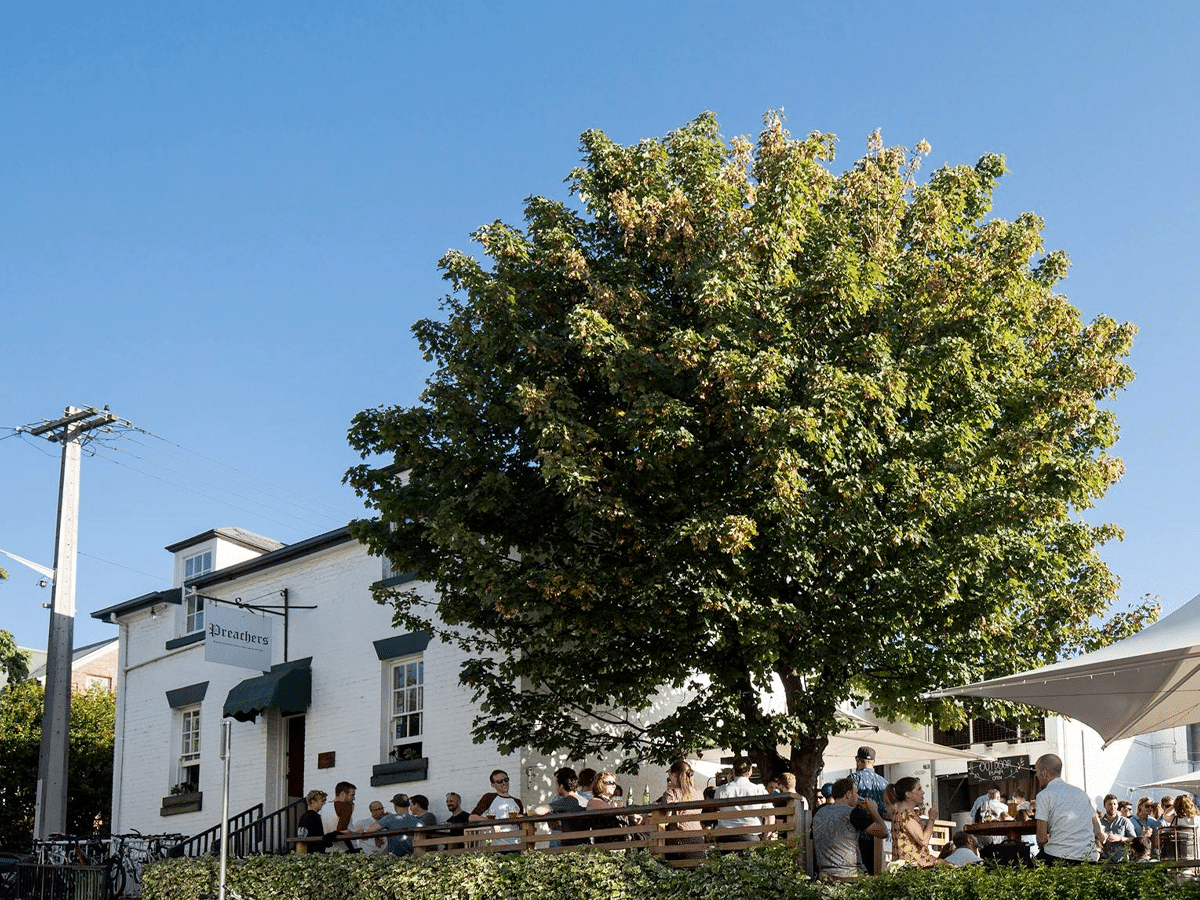 3. Preachers
If the best of Hobart nightlife is what you're after, you've gotta check out Preachers. Close to Salamanca Markets and Battery Point, it's the perfect pub to begin (or end) your evening and dance the night away. With a bus parked in the courtyard (must-see), it's the perfect place for hanging out, eating burgers (a peking duck burger specifically) and washing it down craft beers and tasty cocktails.
---
Featured Video from Man of Many
---
Address: 5 Knopwood Street, Hobart, TAS, Australia, 7004
Phone: (03) 6223 3621
Hours: Fri-Sat 12pm-1am, Sun-Thurs 12pm-12am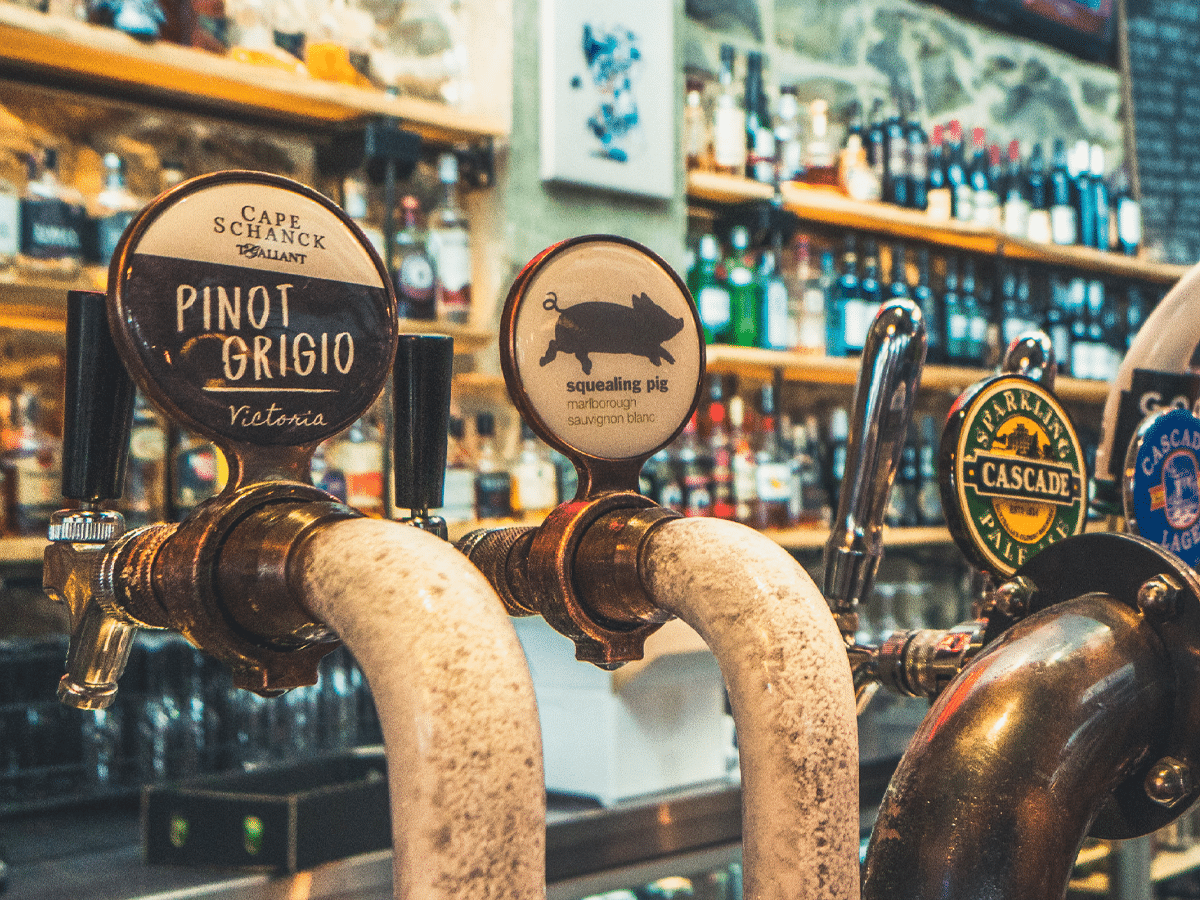 4. The Brick Factory
For one of the absolute best pubs in Hobart, head to The Brick Factory. It's more of an upmarket pub and restaurant, if that's your vibe, and the menu is full of classic dishes like schnitty and parmy, but you can also grab some sticky bbq lamb ribs w/ coleslaw & chippies. Plus, they've got one of the best ranges of Tasmanian drinks in the state. With live music on the weekends, there's no better place to experience the best of Hobart nightlife and hospitality.
Address: 55 Salamanca Pl, Hobart TAS 7000
Phone: (03) 6224 3667
Hours: Sun-Sat 11.30am-12am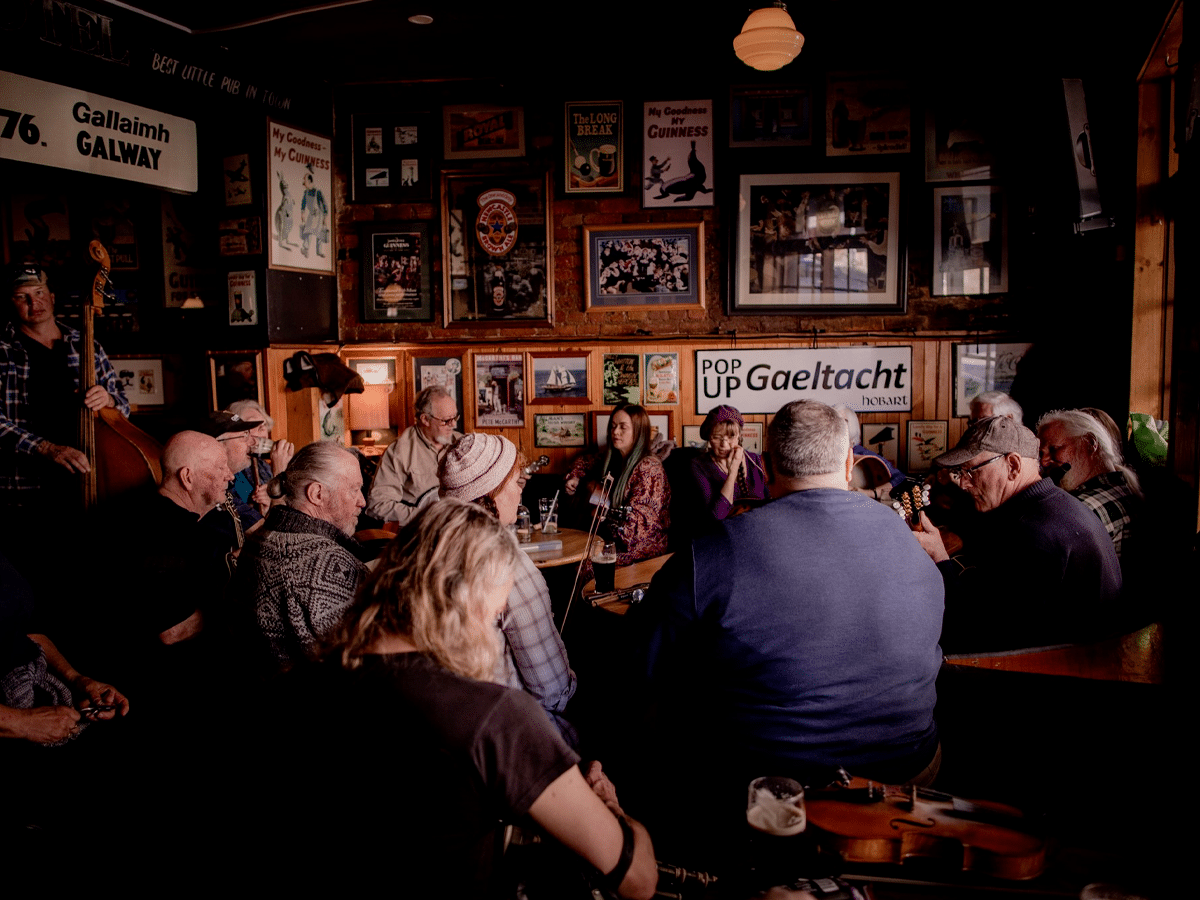 5. New Sydney Hotel
For a super chill and laid back watering hole in Hobart CBD, get your tush over to New Sydney Hotel. They've got a cosy fire, delicious craft brews, and a constantly evolving tasty pub menu. Best of all, New Sydney Hotel knows Tassie food just tastes better, so all the food is locally-sourced. You've gotta make sure you try their 'world famous' crispy pig ears with HP sauce (and some deep fried grilled pickles and cheesy garlic bread, of course).
Address: 87 Bathurst St, Hobart TAS 7000
Phone: (03) 6234 4516
Hours: Fri-Sat 12pm-12pm, Sun 4pm-10pm, Mon-Tues 12pm-10.30pm, Wed-Thurs 12pm-11pm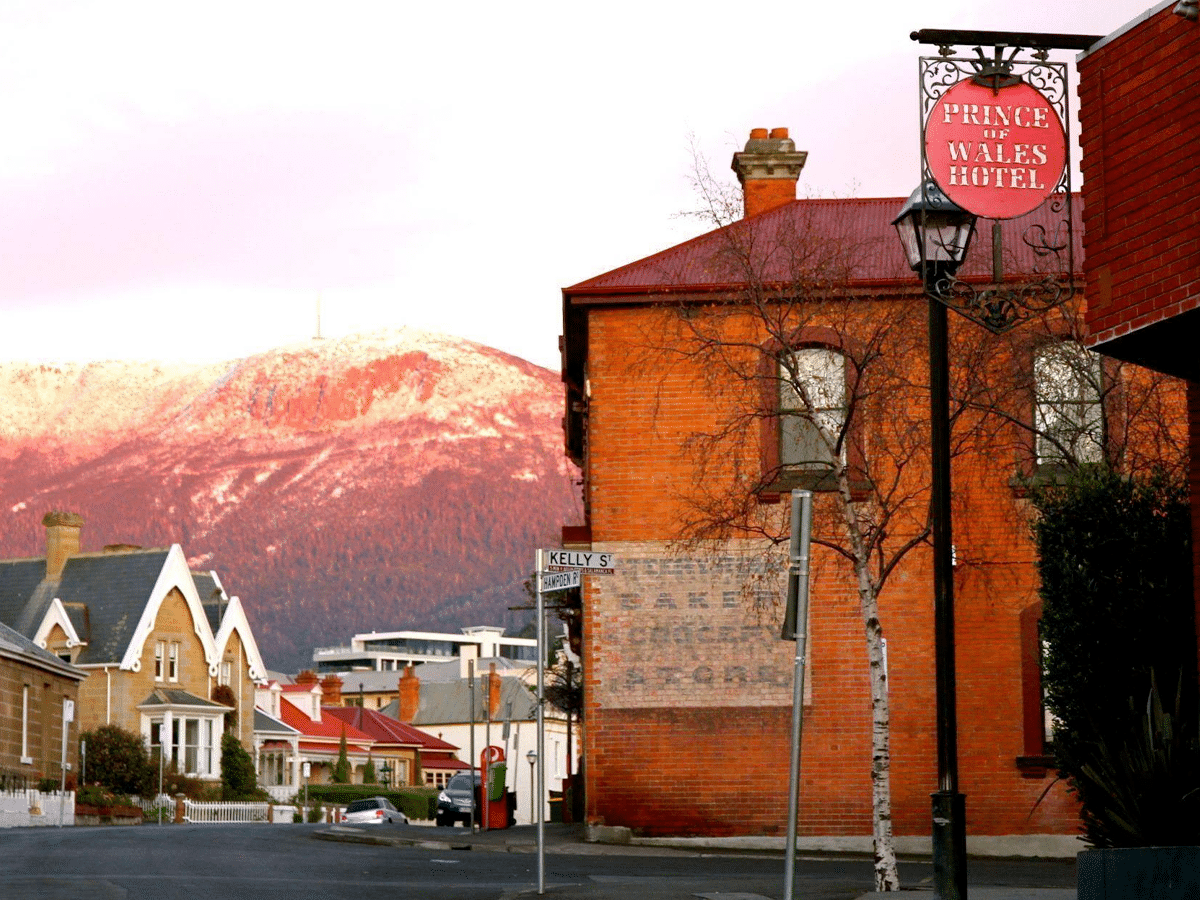 6. Prince of Wales Hotel
Feel like sleeping at one of the best pubs in Hobart? Of course we don't mean sleeping on the floor, but the Prince of Wales Hotel is an excellent pub and hotel to boot. It's got a seriously impressive pub menu with some classics like parmi steak, or you can opt for the more innovative meals, like James Boags Draught fish and chips or Baked Wicked Cheese Co. double brie and prosciutto.
Address: 97 Mayne St, Gulgong NSW 2852
Phone: (02) 6374 1166
Hours: Fri-Sat 11am-12am, Sun-Thurs 11am-10pm
Visit Prince of Wales Hotel Menu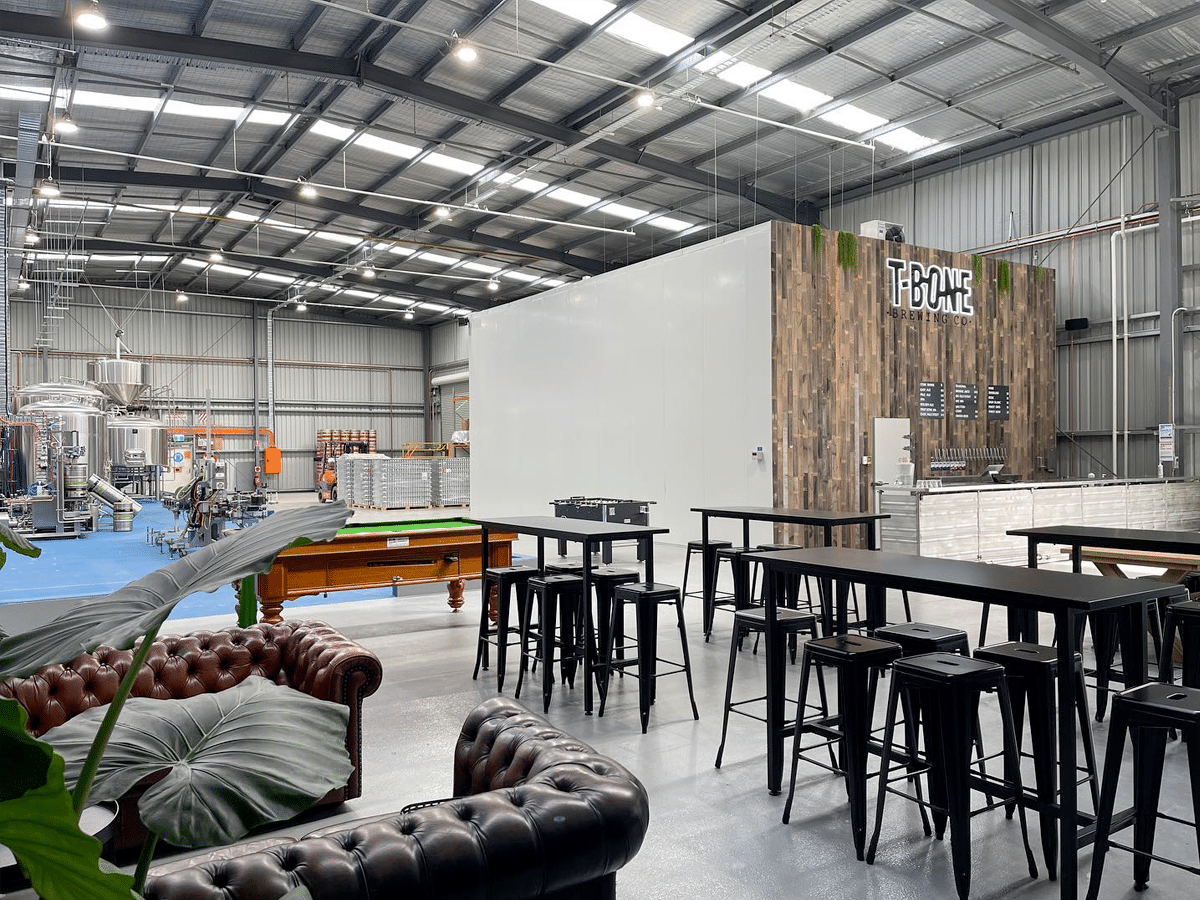 7. T-Bone Brewing Co.
For the ultimate beer experience in Hobart, look no further than T-Bone Brewing Co. Everything on tap and in cans is handcrafted in-house with a focus on quality, with ingredients carefully selected from both local and interstate sources. Their core range caters to both discerning palates and the masses, while their seasonal beers (like watermelon wheat and nectarine saison) allow for a little expression and experimentation (and typically don't last long). In terms of food, there are a bunch of tasty share plates like nachos, antipasto and garlic and cheese calzone.
Address: 308 Elizabeth St, North Hobart TAS 7000
Phone: 0402 340 092
Hours: Fri-Sat 2pm-11pm, Sun 2pm-8pm, Mon-Tues closed, Wed 4pm-9pm, Thurs 2pm-9pm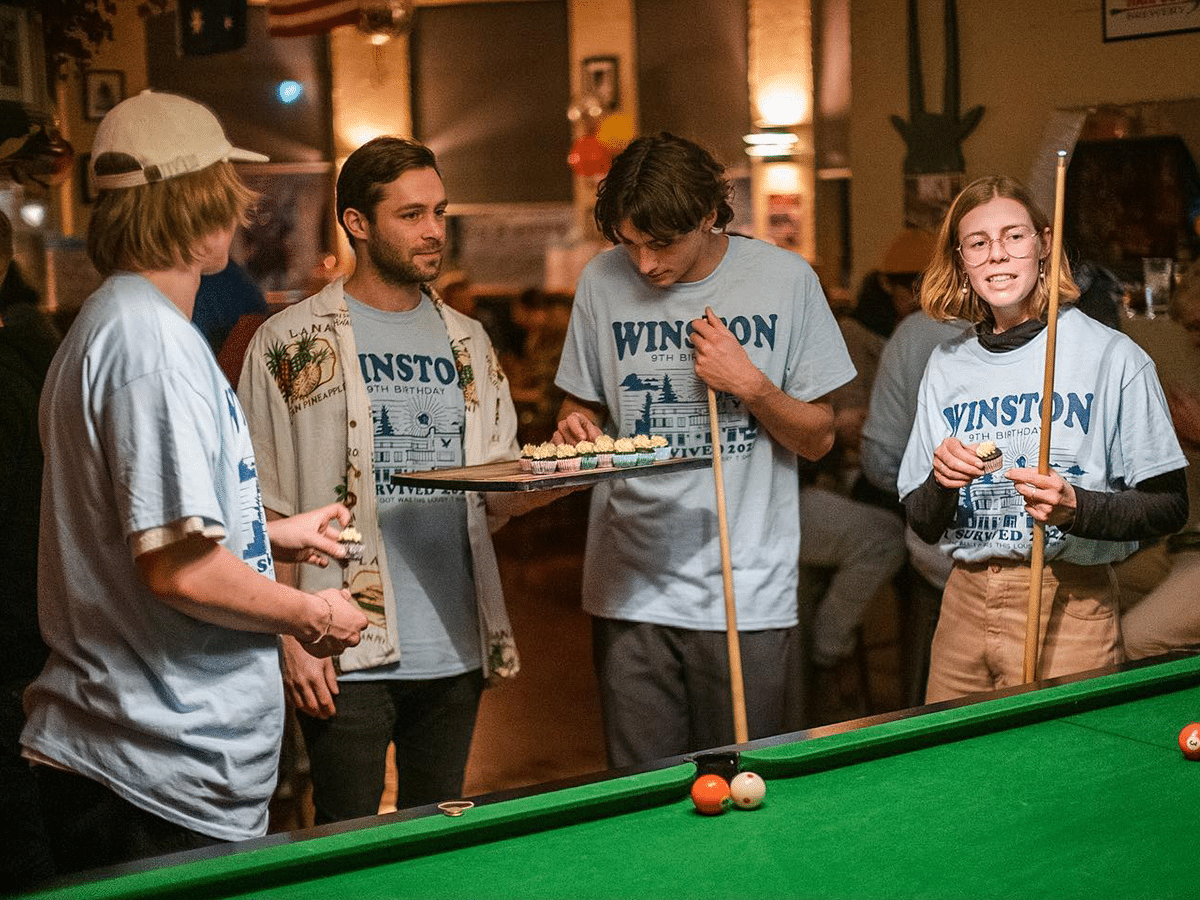 8. The Winston
The Winston in North Hobart is a thriving craft beer venue that underwent a revitalization in 2013 when new owners took over. They installed a 12-tap beer system pouring top drops from Australia and abroad, with a heavy dose of US imports. Drawing crowds from the local area and tourists, this Hobart pub offers more than just quality booze, with US-inspired food (we're talking a huge wings & tacos menu) , a pool table, pinball and live music.
Address: 381 Elizabeth St, North Hobart TAS 7000
Phone: (03) 6231 2299
Hours: Fri, Sun, Tues, Wed, Thurs 4pm-11pm, Sat 4pm-11,30pm, Mon 4pm-10.30pm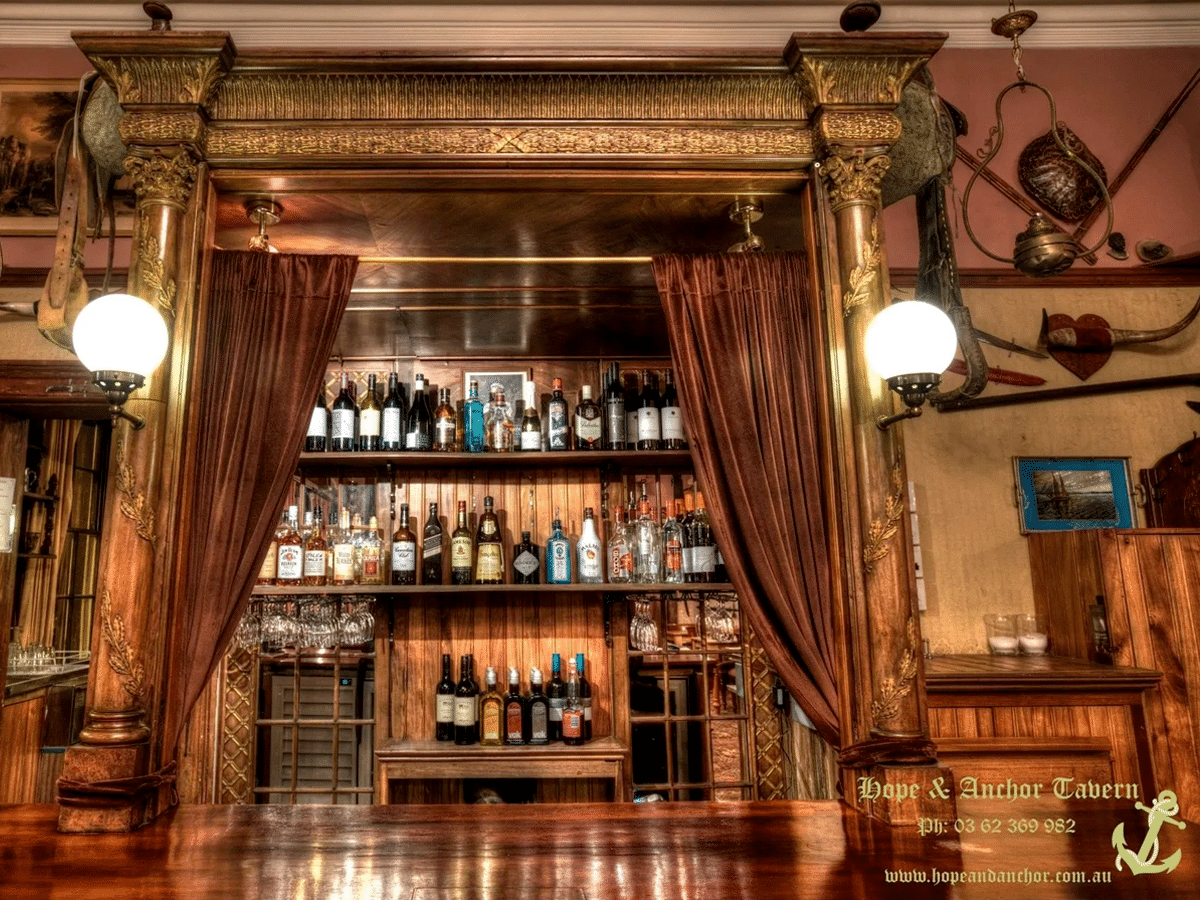 9. Hope & Anchor Tavern
Established in 1807, the Hope and Anchor Tavern is Hobart's oldest continuously licensed pub. This Hobart institution offers a menu that emphasises fresh Tasmanian produce and traditional pub fare with modern twists, from venison loin to seafood chowder, black angus porterhouse and more.
Address: 65 Macquarie St, Hobart TAS 7000
Phone: (03) 6236 9982
Hours: Fri-Sat, 12pm-10pm, Sun closed, Mon-Thurs 12pm-9pm
Visit Hope & Anchor Tavern Menu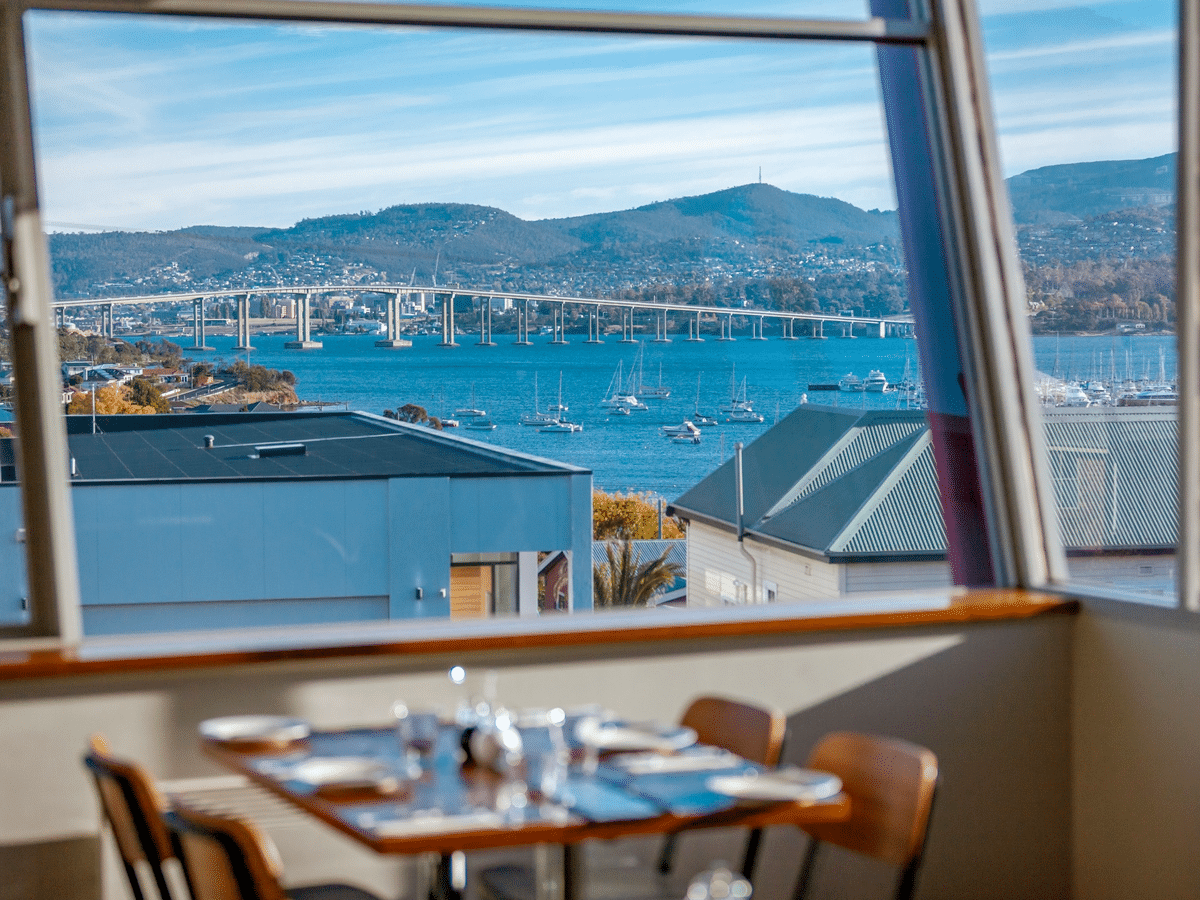 10. Beltana Hotel – Bar & Bistro
On the eastern shore of Hobart you'll find the Beltana Hotel – a local jaunt you can unwind with a classic pub meal or a quick drink. With a contemporary menu that has all the classic pub plates and plenty of fresh additions, try the baked cob loaf, BBQ corn ribs, and popcorn chicken. Plus, the dining area itself is a sight to behold, enclosed in a huge glass atrium and overlooking the Derwent River.
Address: 160 E Derwent Hwy, Lindisfarne TAS 7015
Phone: (03) 6243 8677
Hours: Kitchen 12pm-8pm Sun-Sat, Tavern 10.30am-10pm Wed-Sun, 10.30am-9pm Mon-Tues
How Man of Many Chose This List of Best Hobart Pubs
With more than 10 years of experience eating and drinking at the best restaurants around Australia, Man of Many's team of editors has selected a list of the best pubs in Hobart. The list puts quality over quantity, with menus filled with chicken parmigiana and rump steam, not to mention an assortment of local and international beers like Moo Brew and Cascade. Pull up a chair, order a cold one, and unbutton those jeans because we're diving headfirst into our favourite watering holes.
Things to Consider for Hobart Pubs
If you are travelling to Hobart, you'll quickly realise that the city has some unique elements that set it apart from its mainland counterparts. Tasmanians love to rep their own beer, wine and produce, so the pub food can often take a more local approach. Here's what to consider when choosing a pub in Hobart:
Food – As mentioned, Tasmanian food has a decidedly more local approach. Due to the proximity to the ocean, Hobart is a great spot to secure seafood, in particular mussels, salmon and scallops. Salamanca Place is famous for its Scallop Pie, which is an acquired taste, to say the least.
Atmosphere – The pubs in Hobart are a little less open and breezy than those seen in Sydney and Melbourne. In fact, these spots are closer to those you would find in London, so expect the atmosphere to be more cosy and intimate.
Local Brews – If you've ever heard that Guinness tastes better in Ireland, the same goes for beers in Tasmania. Keep an eye out for any craft brews produced locally, like Moo Brew, Seven Sheds or the classic Cascde and Boags names.
Alternatives to Pubs in Hobart
If you're looking for something else to do in Hobart that doesn't involve hitting the pub, you're in luck. A wild and diverse city, Hobart is a cultural hub that is exploding with things to do. From the annual Dark Mofo festival that celebrates the weird and wonderful, to the long list of incredible whisky distilleries and restaurants, Hobart is loaded with incredible venues to visit. Here are some great places to put on your list:
Best Hobart Pubs FAQS
What is the best Hobart pub for live music?
If you're looking for the best Hobart pub for live music, you can't go past IXL Long Bar, Irish Murphy's or The Brick Factory. Banging tunes, cold beers and all-around good times.
Where are the best pubs in Hobart?
Searching for the best pubs in Hobart? Good news – there are heaps! From The Brick Factory to Shipwrights Arms Hotel, The Winston, Preachers and more, there's a great Hobart pub on what feels like every corner.
Who serves the best pub meal in Hobart?
Hobart pubs are known for dishing out some excellent pub grub, but hands down New Sydney Hotel on Bathurst Street serves the best pub meal in Hobart. From a beef burger to a cheddar and pickled jalapeno hand pie, you've got both the classics and more innovative meals. Pair that with a great selection of beers on tap and you've got yourself a winning combo.
---
Featured Video from Man of Many