Feel-Good Friday: July 1 – Raise the Woof
Pick yourself up, dust yourself off and prepare to Push some serious P. The weekend has arrived, and we want your mental shelves fully stocked with dopamine-inducing news, leaving you firing until those pesky Sunday blues kick in. So for the love of life, it's time to dance amongst the rain of positive vibes and let its purifying water wash away your troubles. Here's Feel-Good Friday for this week.
You'll also love:
Feel-Good Friday: June 24 – Keg Kickflips
Feel-Good Friday: June 17 – Flavoursome Flow
Feel-Good Friday: Happy Royal Vegemite
Harley Davidson Australia Launch Fresh 'Free Rider' Series
Fan of the steel horse? Dive into the world of Harley Davidson with their new 12-part series hosted by actor, model and thoroughbred-built bike enthusiast, David Genat. Known by Survivor fans as the Golden God, Genat will showcase epic rides, celebrity guest rides, new bike models and interviews, as well as an insight into the in-depth customisation of Genat's very own Road Glide Special. For those interested, the project is dedicated to getting more Aussies riding and exploring the great landscape that Australia offers, as well as customising and loving their bikes. The show promises epic visuals, high-octane adventures and appearances by special guests including; Locky Gilbert, Danielle Cormack, Axle Whitehead and Luke Tocki. The first three episodes were just released earlier today on Youtube, with a new episode to be released each until the beginning of September 2022.
Mazda Australia Creates a Travelling Pub Pouring Free Beer
To raise a cold one to our tradies and showcase the towing capabilities of the brand-new Mazda BT-50 SP, Mazda Australia has unveiled The Mazda BT-50 Pub That Trade Made. Travelling along the east coast from Melbourne to Brisbane via the Central Coast from 14-28 July 2022, The Pub That Trade Made will exclusively serve Australia's award-winning, non-alcoholic Heaps Normal Quiet XPA.
Built by a team of tradies at a top-secret warehouse location in Melbourne, Mazda enlisted the expertise of carpenters, sparkies, painters, plumbers and builders to bring The Mazda BT-50 Pub That Trade Made to life. Measuring more than six metres long and weighing in at 2.5 tonnes, the centrepiece is a custom-built bar where locals and tourists can enjoy one off the wood after a hard day's graft.
Location Details:
Melbourne, VIC: Thursday 14th July (2:30 pm-6:30pm), Queensbridge Square, 3 Queens Bridge St, Southbank VIC
Central Coast, NSW: Saturday 23rd July (12pm-5pm), Terrigal Foreshore Memorial Reserve, The Esplanade, Terrigal NSW
Brisbane, QLD: Thursday 28th July (2:30pm-6:30pm), King George Square, 87C Roma Street, Brisbane QLD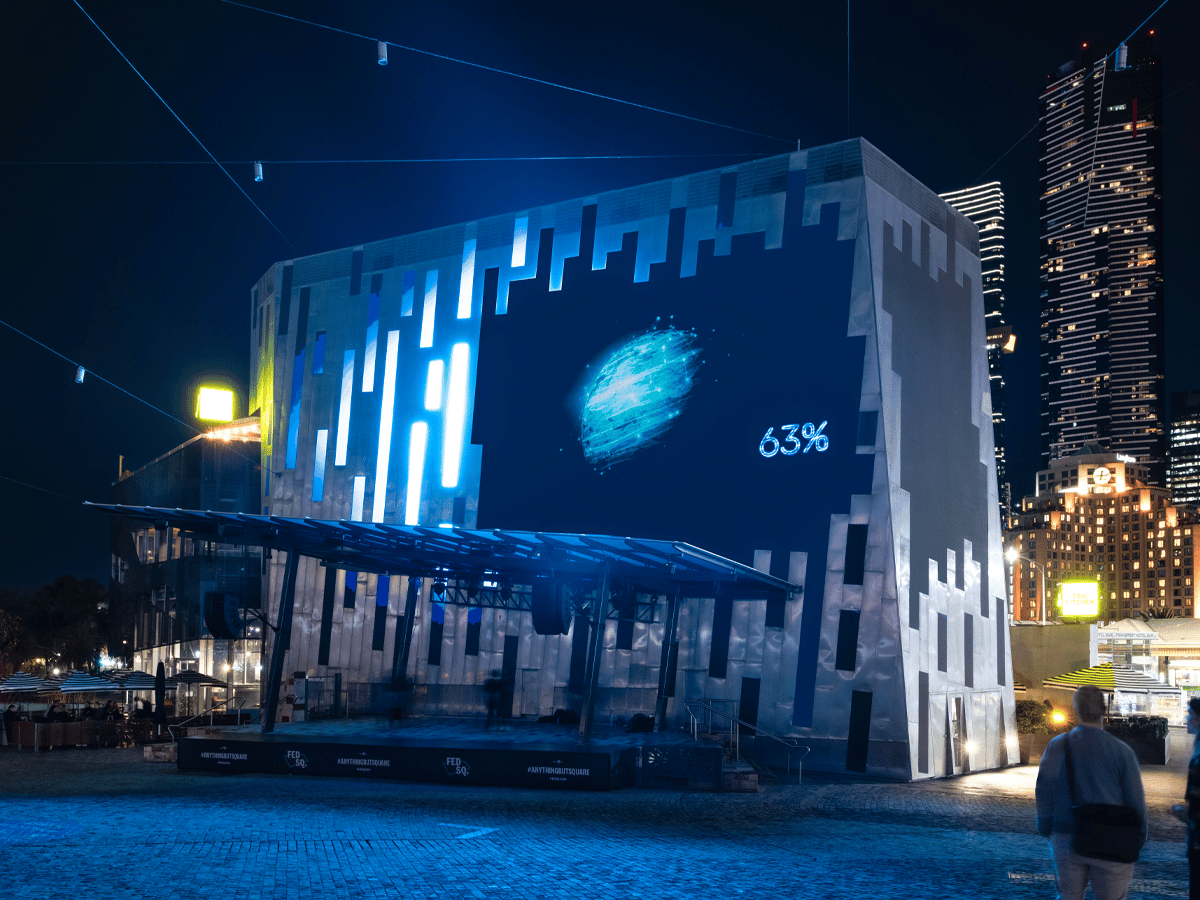 NFT Installation Raises Awareness for Digital Human Rights
The soon to be unveiled installation aptly entitled, Disconnected, is a unique, dynamic and evolving NFT artwork that feeds in live data from the United Nations datasets to track global internet connectivity rates. Deemed as a Human Rights Issue by the UN in 2016, the pop-up digital installation aims to shed light on the fact that 37% of the world's population have never used the internet, cutting them off from access to key information, education and connectivity.
The creator of Disconnected is Australian tech entrepreneur, Luke Millanta who balances his time between his role as Chief Technology Officer of Australian gaming brand Hive Gaming and his digital art-making practice. Having dropped out of school at the age of 17 to join a now defunct North American gaming team Luke knows the trials and tribulations of the tech world but also understands the immense value it can bring, selling his second tech business for $4.2 million dollars in 2020. Now Luke seeks to help spread awareness around the humanitarian issue of the digital divide.
Luke's work is supported by the Royal Art Society of New South Wales and will pop up at the following Australian locations:
Melbourne: 24-26 June: Federation Square
Canberra: 1-3 July: Commonwealth Place
Sydney: 4-6 July: Martin Place
Creators of 'Bondi Vet' Collaborate with Guide Dogs Australia to Launch Pawferct New Series
Grab the pupcorn, because Guide Dogs Australia's brand-new online TV series Born to Lead in partnership with WTFN – the creators of Bondi Vet and Mega Zoo – has officially launched. It's a heart-warming series that documents the life of Guide Dogs from birth to retirement, giving an unfettered glimpse into the love and dedication, the tears and triumphs of the Guide Dog journey. It also tells the stories of the dedicated volunteers and professional trainers who play a special role in each dog's development, as well as the stories of the Australians living with low vision or blindness who are matched with these life-changing Guide Dogs. The series first aired on June 27,  with an episode released weekly on the Bondi Vet YouTube channel.
Nel. Restaurant Explores Australia with 8-Course 'Land & Sea' Menu
nel. is hands down one of the most unique dining experiences in Sydney. The restaurant combines exceptional flavours with stunning visuals, making each course more of an edible exploration than a dish. Every 10 weeks, Chef Nelly develops a unique eight-course degustation menu with a new theme, and his latest creation is titled Land and Sea. Running until August 20, the menu captures the essence of our great southern land, from swordfish in the sea to rockpools on the beach, fungi in the field, mandarins in the tree and chocolate wombat droppings for dessert (delicious, by the way). Without giving away too many spoilers, the vegemite-inspired brisket is truly magical. Set in a bunker-esque environment in Surry Hills, the venue offers a relaxed and intimate atmosphere for both small and large groups. Delight your senses this winter, and book in before it's too late.
Salty's Brings Venice Beach to Bondi with Epic 4th of July Party
Inspired by sunset skates down the palm tree streets of LA and laid back day drinks that turn into long nights, Salty's is throwing a 4th of July party with a side of Southern Cali beach vibes. Get your crew together and head on down for delicious drinks, finger-lickin' food, DJs and more. DJs will hit the decks from 4pm 'til late on July 4, mixing up all your American faves from the likes of Bruce Springsteen, Whitney Houston, James Brown and Kanye West.
This is part of Salty's Margarita Month, with the Bondi favourite shaking up 2-4-1 margaritas every Monday to Friday in July. Whether looking to dial up the heat with the chilli-infused She's A Scorcher, or hit the sweet spot with the strawberry frozen Bondi Chill – with 9 killer margis to choose from, there'll be the perfect one (or two) to suit every taste.
KFC Release Matching Christmas in July Jumpers for You and Your Floof
As the weather outside gets more frightful, and the fire winter outfits get more delightful, everyone's favourite mid-year shindig has arrived– Christmas in July! To help celebrate the festivities this winter season, KFC has released matching limited-edition Christmas in July jumpers (live from 1 July) for you AND your fur baby. The fur-stive sweaters are available for yourself for $59.95 and your pet for $34.95 on the KFC Shopify page now, so you can recreate all the cheesy matching family sweater photos with your fluff-ball.
Since nothing says Christmas like a hearty feed shared with your mates, KFC has also created a special Christmas in July Feast. Featuring two new limited-edition Christmas Cranberry and Christmas Mayo Stuffing dipping sauces. This Feast includes  Original Recipe, Nuggets, Wicked Wings, Popcorn Chicken, Chips, Potato & Gravy plus a drink – with free delivery available when you order via the KFC App.
You'll also love:
Feel-Good Friday: June 24 – Keg Kickflips
Feel-Good Friday: June 17 – Flavoursome Flow
Feel-Good Friday: Happy Royal Vegemite