Feel-Good Friday: March 4 – Dunes, Tunes and Standing with Ukraine
Another glorious week at the Man of Many office has us thinking about ways we can help. With the ongoing flooding in Queensland and northern New South Wales hitting the Aussie east coast hard and the war in Ukraine garnering massive global attention, it's important that we do what we can to keep each other safe. If you've got the time, energy and capacity to do so, please volunteer to help with the Mud Army in Queensland, donate to the Australian Red Cross and Vinnies, and back the Queensland SES and New South Wales SES. Overseas, share your support for the World Food Programme and the Ukraine Humanitarian Crisis Appeal. With that in mind, we're looking at the other good samaritans putting their hard-earned time and effort into sending Feel-Good vibes.
You'll also like:
Feel-Good Friday: February 25 – Tears, Triumph and an Arty Barty Party
Feel-Good Friday: 18 February – Arts, Crafts and Free Margs
Feel-Good Friday: February 11 – A Sex-Toy Scavenger Hunt
Dune Rats Team Up with Volley for the Red Cross Flood Appeal
There is a lot of bad news out at the moment, but here's one we can get behind. In anticipation of their third album, 'Real Rare Whale' launching in June, Brisbane party lords Dune Rats have teamed up with iconic Aussie brand Volley for an epic new collection. The latest collaboration features two original shoe designs, socks, a backpack and a hat, all doused in the iconic Dunies quirk. But there's more to unpack than just good vibes.
In light of the devastating floods in the Dunies' hometown of Brisbane and beyond, Volley and Dune Rats will be donating $10 for every shoe sold from the collaboration to the Red Cross Flood Appeal.
"The first time I can remember Volley's, my dad's toe was sticking through the end of his favourite pair 'cos he'd worn them too much. So we had to take a trip to the shops to get a new pair," Dune Rats singer, Danny Beus said. "I continued to wear them throughout the years, as I'm sure most people have, and if you ask anyone who's been on a roof ya have less chance of falling on ya ass if ya wearing a pair of Volley's."
The range will be sold exclusively online at www.volley.com.au and in General Pants and City Beach stores around Australia. The range RRPs between $19.99 and $99.99 and will be available from Friday, 4th March.
Aussie Vodka Brand Stands with Ukraine
We've seen bottle-Os and bars turn out their Russian vodka in protest of the nation's invasion of Ukraine, but now Aussie label Grainshaker Vodka is calling on us all to help provide meaningful support. The Melbourne distillery has launched the Grainshaker Stands with Ukraine campaign, which is designed to provide positive and proactive support outside of the demands for product boycotts. To kick things off, ASX-listed Top Shelf International donated a whopping $50,000 to the Ukraine Crisis Appeal, the next four weeks are dedicated to providing humanitarian aid to those affected by this conflict. Best of all, for each specially-labelled Grainshaker Vodka 700ml bottle sold, TSI is donating $15 to the Ukraine Crisis Appeal. Get behind them.
Comedian Tom Armstrong Kicks Off Worry Wart
Tom Armstrong, the comedian that got Carole Baskin from Tiger King to send a message to Rolf Harris, convinced Beverly Mitchell from 7th Heaven to give a shout out to Ivan Milat and managed to completely butcher a $70 steak is heading to the Comedy Festival. His debut show Worry Wart kicks off at the Melbourne International Comedy Festival later this month before hitting Sydney in May. The off-the-cuff comedy champ has earned a cult following for pranking celebrities and pushing boundaries in true Aussie-style. If you're in need of a laugh, the comedian, creator and podcaster is good for a couple.
Melbourne Tickets Sydney Tickets
Young Henrys Shares the Love & Stage with Andy Golledge
We're a little biased when it comes to Young Henrys. The local beer lords have done a solid job at converting us to quality beer after years spent drinking the barroom dregs, but this time, they've gone one step further. Teaming up with Inner West alt-country champ Andy Golledge, Young Henrys is celebrating the release of Golledge's forthcoming debut album Strength Of A Queen, launching a special draught style lager AG Draught. Better yet, the limited-edition beer will be accompanying Andy on his first Australian tour taking place throughout March and April.
Much like the country music king himself, the new AG Draught is a blend of old school Aussie flavour with a modern crisp twist. Of course, in keeping with Golledge and YH's hometown focus, the new brew is best enjoyed in a frosty long-neck, the way Newtown locals like it. For Golledge and Young Henrys, the new beer and the new album have been a long time coming.
"About 10 years ago, our small Young Henrys fam were dancing, singing and testing out our newly built tasting bar, singing along to a local country artist which Richard (YH co-founder) had asked to play his 40th Birthday," co-founder, Oscar McMahon said. "That local muso (who'd played for beers as I remember it) was none other than Andy Golledge. Now a country music icon and Newtown hero, we're pretty bloody proud to brew AG Draught in celebration of our long-time mate Andy Golledge and his debut album Strength of A Queen. This record will hands down be one of my favourite releases this year!"
AG Draught drops today and will only be available at all tour dates (except for festival locations). You can also head to andygolledge.com.au to pre-save your copy of "Strength Of A Queen", available in an exclusive 12" red vinyl.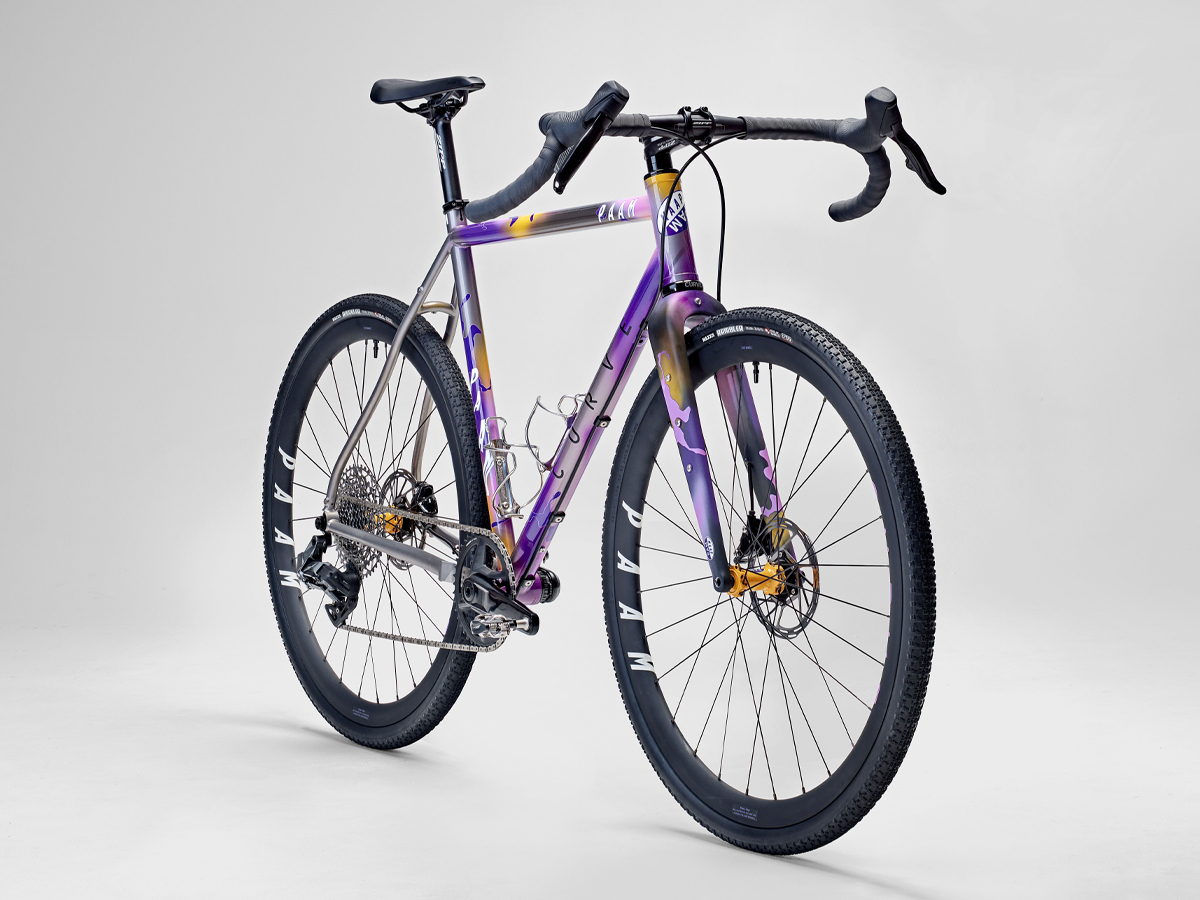 Image: MAAP
MAAP x P.A.M. x Curve Cycles
After the success of its first 'PAAM' collaboration last year, MAAP has teamed back up with fellow Melbourne based brand Perks and Mini (P.A.M.) alongside Curve Cycling to back cyclists across the country. The trio have joined forces to design and produce a one-of-a-kind Curve Titanium "KEVIN" gravel bike, hand-painted by P.A.M., built by Superbe Velo Service and finished by Delux Kustoms and Boom Studios.
The bike will be raffled between March 4th and March 22nd with all proceeds going to Good Cycles social change initiatives. Good Cycles' mission is to empower young people facing work barriers by offering them employment pathways in the cycling industry, improving their futures and contributing to more sustainable cities. To coincide with their raffle, a range of 'PAAM 1.5' T-shirts and accessories, featuring the motifs and colour palette of the bike, are available worldwide from 4 March 2022 via maap.cc and Perks And Mini.
YoPRO is Dropping Free Frozen Desserts at Sydney Beaches
It might not be the sunniest of weather, but YoPRO is celebrating its new high protein Frozen Dessert tubs by launching a roving YoPRO van across beaches, gyms and Sydney hubs over the ten days. Better still, uncover the van and you'll score free samples of the range. Offering 10g of natural protein and less than 165 calories per serving, the Frozen Dessert range is a big win for health-conscious sweet-tooths.
Sydneysiders can sample the YoPRO Frozen Dessert tubs and sticks at key locations over the next ten days, starting at Manly Wharf from 10am – 6pm on Sunday 6th March, then hitting North Bondi SLSC on Saturday 12th March from 10am – 6pm. The YoPRO Frozen Dessert van will also be visiting UNSW for the Moonlight Cinemas on Wednesday 9th and Thursday 10th March, and key gyms throughout Sydney over the course of the week. To locate the nearest free YoPRO Frozen Dessert near you, head to YoPRO's website and follow @yoproau on Instagram to stay up to date with the YoPRO Frozen Dessert van locations.